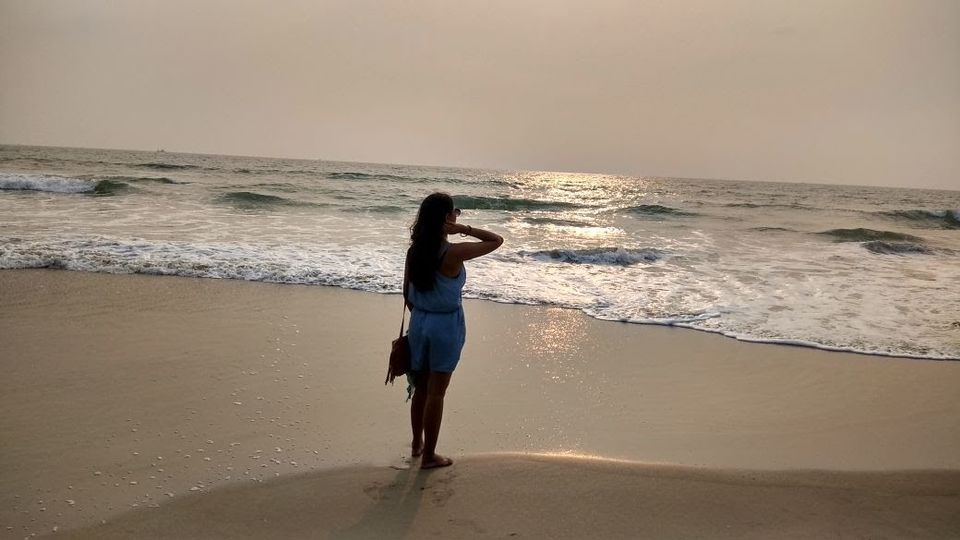 Goa is a must visit tourist spot in India. It is specifically known for it's beaches but there's a lot more Goa has to offer.
I went to South Goa rather than North Goa and at a time when Goa is at its off season due to increased temperature and scorching hot sun.
South Goa v/s North Goa
If you want to just chill and be at peace then South Goa is the place for you. If you rather want to chill less and party more then North Goa is where you should go.
How to get there?
Well, I took an overnight bus from Bangalore and reached Canacona bus stop 7 in the morning. From there, I took an auto till Palolem beach which is around 2 kms from the bus stop. The autovala charged me around 100 bucks. You can take a train or a flight too, although the nearest airport is a little far away. From the main bus stop you can even ask for a lift if you want to save some bucks. People are quite generous here.
Where to stay?
There are a lot of coco huts and cottages lined up all along the beach. They are all well maintained and come with attached washrooms. There's ac and non ac rooms depending on the location of the room from the shoreline. The prices of these rooms start from 500/- per day especially at off season. I stayed in a small cottage in Tony cottages which was non a/c and at a price of 600/- per day. Although if you wish to stay somewhere off the beach there are a lot of homestays around the town and just at the entrance of palolem there's Palolem beach resort.
How to go around?
So, I stayed here for 3 days and rented a scooty at 300/- per day for 2 days. The farthest I'd gone was till Madgoa in central Goa. Since South Goa is slightly hilly, the landscapes I encountered on the road were breathtaking. The road was filled with palm trees and backwaters and at certain points we could see the sea surrounding the hills.
Places to go around
1)Beaches
Palolem beach
Hands down, the most beautiful beach I've ever seen. The moment you step in there's this vibe which you feel which makes all your worries go away. The entire beach is covered up in shacks and beautiful multi colored coco huts and palm trees. The beach water is too clean and when it touches your feet while you're walking on the sand is like a little slice of heaven. To have a nice bath at the beach and then chill at the shacks at noon and to watch the sunset is something everyone should get to experience here. At night, the shacks are lighted up and you can enjoy a candlelight dinner by the beach watching the ocean which touches the dark horizon with music and wind and even fireworks and floating lights here.
It is just like Palolem but beautiful in its own way. There are a lot of shacks to just chill and enjoy the sunsets. You should park your vehicle at a different restaurant and enter as there is no direct entry to the beach here.
It has a stunning backdrop filled with palm trees and huts and a even more stunning sunset. The road to this beach is a little rocky.
This looks small but has a very long stretch of shoreline. Unlike Palolem, it is not enclosed between hills and the waves feel a bit strong here.
As the name suggests, one must go for the sole purpose of watching the sunset here. It has just one shack.
Where to eat in south goa?
There were quite a lot of eateries around the beach and and a lot of shacks on the beach itself. Every dish in a different restaurant had a unique taste. The cost for two is around 500/- for a meal in the shacks. But off the beach there were a lot of eateries at a cheaper rate. All the restaurants served a variety of cuisines. They had Indian, American, Italian, Chinese, Israeli and a lot of other cuisines. But one must try the goan dishes when in south goa. Fisherman's warf and Martin's corner should be a must go on your list. Their prawn balchao and chicken Xacuti was too good for the taste buds and makes you want to have more. Even if you're extra hungry after midnight and you're staying on palolem beach, there is a cafe which is opened 24/7 to solve this issue for you.
What makes this trip of yours extra special?
1. The beaches here are super clean. The feel of the water along your feet as you walk on the shoreline just makes you want to never leave this place. It's the perfect place to chill all day laying on a hammock under the palm trees.
2. Nights here are pretty windy and the atmosphere becomes sort of romantic. Waves crushing in, fireworks and floating lanterns and candlelight dinner in front of the sea is a completely different experience in itself.
3. Palolem beach seems to be very unexplored and there's a part of the beach where very few people actually go to. It comes when you keep walking on the beach towards the right after the entrance.
4. The road trip from one beach to another is the most pleasant roadtrip ever especially if the weather is in your favour.
5. If you want to party in south goa you must go to the neptune point in palolem beach where they have a silent headphones party which is quite the buzz of the place.
6. Goa is known for it's cheap liquor and the goan fenny is a must drink here.
South goa is truly a place where the time stands still. It is definitely the most perfect weekend getaway! :)