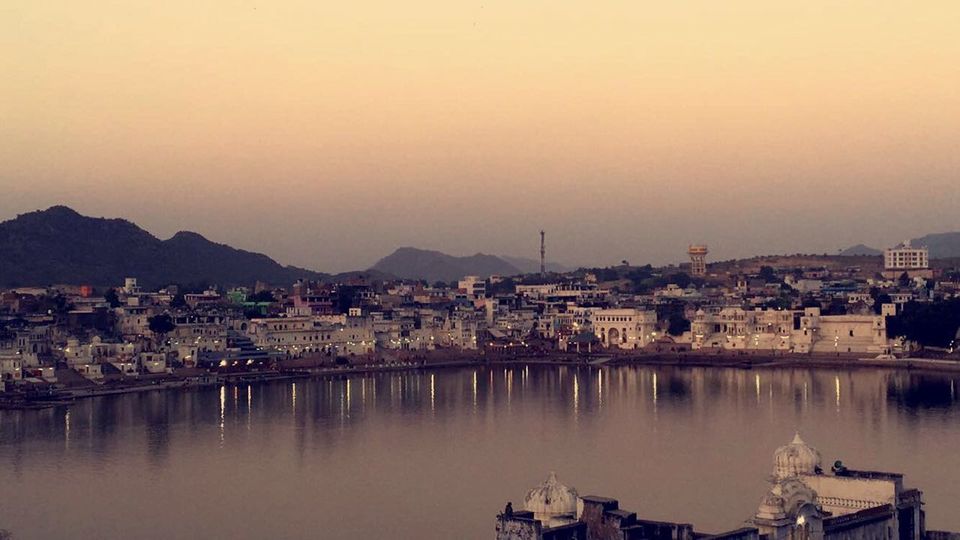 Pushkar Mela was a bucket list item since I last saw it in a photographic piece in National Geographic some 15 odd years ago! So when a colleague (who also happens to be the prince of Barli) invited us to his haveli for a weekend of royal treatment with a trip to Pushkar thrown in we couldn't let it pass.
We chose to go by train because we wanted to ease into our destination instead of just landing on it. And it turned out to be a wonderful choice. The change of colours, dialect, shades, and food after every 100 kms is a treat for all the senses. Not to forget, the conversations with your fellow travelers are good fun and give you a sneak peak into different lives!
We chugged into Ajmer around 10 am and straightaway headed for the Ajmer Pyaaz Kachori breakfast. Had heard so much about it and it matched my expectation and then some more. On reaching our day destination at Pushkar, the ladies of the gang were ready to head out in just 30 mins but the boys had to be pulled out even after an hour of waiting. So much for so much written on women and their delayed ways! (rolling eyes )
We decided to go on foot till the Mela grounds and within a short scorching walk of just 15 mins, we reached Pushkar Mela. And it was indeed a spectacle as I had imagined and much more! Colourful, chaotic, shadowed with concentric circles and, of course, camels…duh! Overpowered by the camel dung odour, tacky food stalls with the best ever bajra roti and baingan bharta, a mock up photo studio with Bollywood Eastman colour posters, the cotton candy stalls, the well of death...et al! Anything and everything u can ever imagine was on sale...including camels! 
Feeling alive like never before, it was a day spent with camel dung beneath our feet, clamorous cacophony around us and clear blue skies above! What a treat to the senses!
Evening was ushered in with the chants on the 'kund' ghats and a cold and sharp pushover to the day's warmth! A camel ride, as much a cliche, had to be done. And the only dormant sensory organ, in our bodies was suddenly alive!:)
All this was topped off with a unexpected live performance by Harshdeep Kaur, in an open arena, under the 'super moon' light, with hazzaar other nomadic travellers, a few sleepy locals and us sipping on Ukala in a Kulhad! She opened with 'Ek Omkaara' and followed it up with 'Lambi Judaai...' and I died right then and there!
Just after the performance, at around mid-night, we got on our way to Fort Barli. What a royal welcome it was, even at that unearthly hour by the prince and his trusted men. The whole havelisque atmosphere took our sleep away and we indulged in some late-night-early-morning chats in our princely suites!
The next morning, after a 'rajeshahi' breakfast of some local fare, we set out to see the prince's palace grounds. And just as it is in movies, the land as far as the eye could see belonged to the royal family. It is also true that these guys are actually called 'Hukum' or 'Kunwarsa'. While we were in our holiday PJs and sundry nomadic outfitters, our prince friend was always dressed in immaculate jodhpurs and jackets adorned with elegant pocket scarves, that matched his title - 'Hukum'. Right from the time that we woke up to the time we retired. In that attire, he couldn't be anything but! What a world of difference an outfit makes. The clothes do maketh a man, indeed!
Another day was spent in doing the rounds of the palace property with a 'super full moon' evening spent at the biggest lake in town. It was such a wonderful setting. And it was just as well that for over 2 hours our silent admiration and appreciation was sprinkled with just the characteristic conversations about families, feuds, ghosts and spirits that rule the land! At such times, you absolutely cannot doubt the folklore and the existence of such ethereal beings! They all seem so real!
And just like that our 'prince & pauper' ly weekend of staying in a haveli and visiting a mela came to an end. It is a weekend that is quietly tucked away in my travel experience diaries.
They say 'it's about the journey, not the destination'....and I agree! The train journey with friends and the monk, card games and the cheats, random hellos to the side berth wala family, the kachori chola, the expected packed aloo puri, the unexpected crunchy bhendi and achaar, the numerous chais, the toss for the lower berth and the hushed life conversations while the train passed through the 'kohra' will always, always be remembered!
Pushkar...ticked! What fun it is to fulfil such wishes on a whim and a weekend!