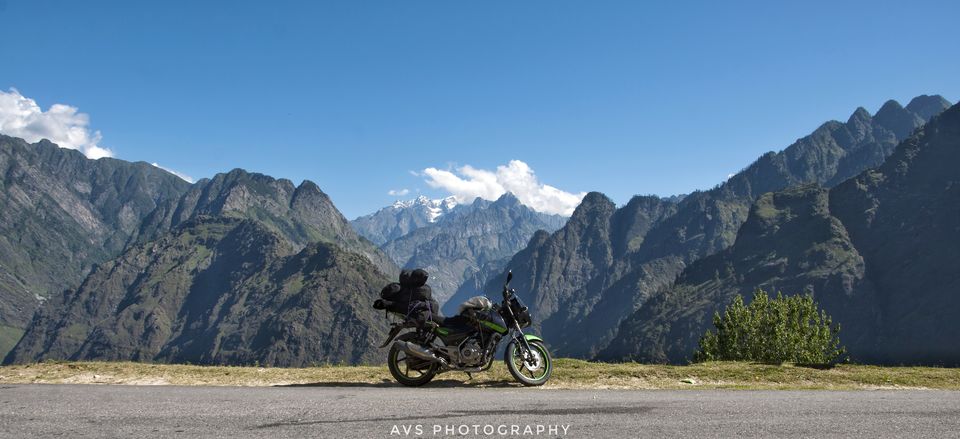 Uttarakhand also known as Devbhoomi meaning "The Land of Gods" but the meaning differs for every individual. For me Uttarakhand denoted Ganga, Yamuna, Char Dham, Panch Kadar, High altitude lakes, Glaciers, Mt. Nanda Devi and many other peaks and national parks which I intend to explore. The only places I could explore in Uttarakhand was Dehradun, Mussoorie, Rishikesh, Tungnath Temple, Kartik Swami Temple and Auli which wasn't even 5% of places I anticipated to explore in Uttarakhand.
After striving for 6 months I managed to travel again. I opted to explore the sites like Kalpeshwer Mahadev, Badrinath, Vasudhara falls, Hemkund Sahib, Valley of Flowers and Niti Village which were on my travel bucket list.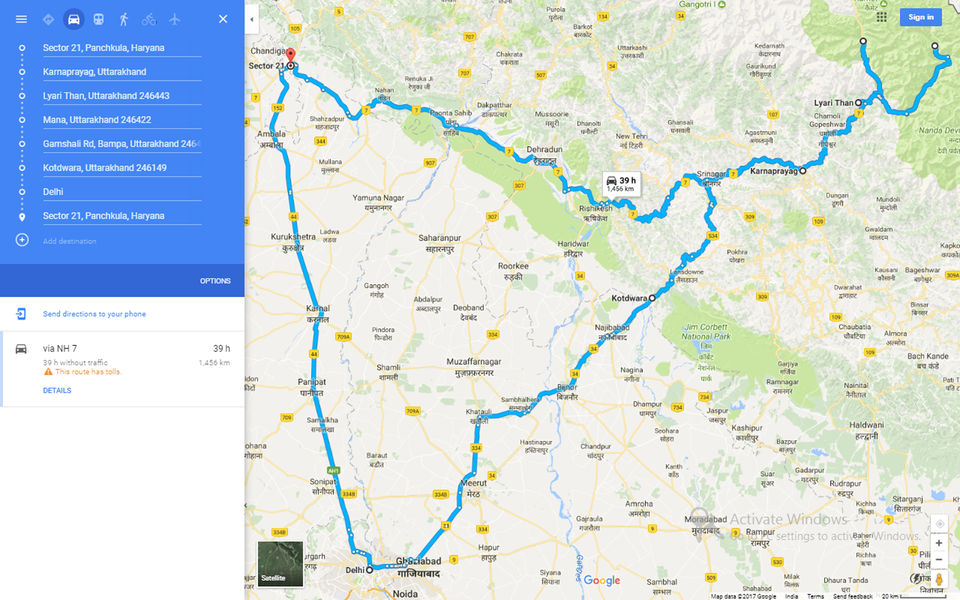 Special thanks to Google and BCMTouring for providing valuable information which helped in organizing and planning this trip. Whilst my mind was flooded with ideas for the trip, a friend of mine (Jaspreet) showed some curiosity for Hemkund Sahib and VOF but couldn't confirm her plan till the very last day.
Day 1: Jun 17, 2017
Panchkula – Karanprayag
Considering early mornings as the best hour to start the trip, I began the journey on my pulsar 150 with tentative plans of Jaspreet. This time, I chose the route via Roorkee instead of Poanta Sahib as its pretty plain and smooth with less traffic until Roorkee where I haulted for a light breakfast at 9 am.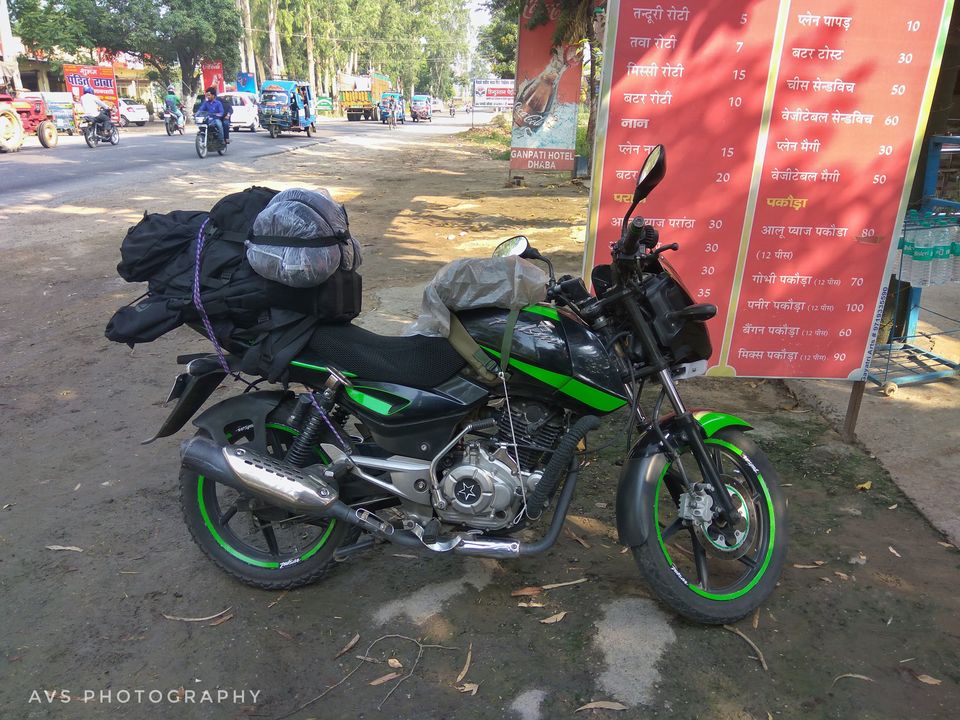 Road after that was full of traffic, under construction with frequent diversions until I reached Rishikesh. Ride became fascinating after passing Rishikesh with every sight worth capturing, very less of traffic, neat and clean roads and mindful drivers on roads.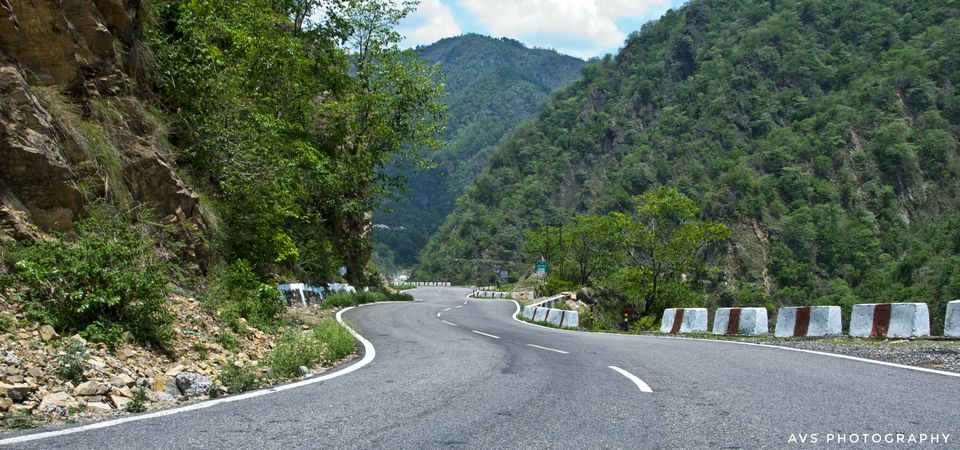 After a stretch of 9 hours of work in night shift it became difficult to ride for 12 hours and covering 388 kms without a proper sleep and rest so I started taking frequent breaks after Rishikesh to refresh myself from water/juice, some sight-seeing, capturing photographs. The temperature started to rise in the noon and riding with all the protective gears is not less than a challenge especially in the peak summers. Crossed Devprayag around 1:30 pm.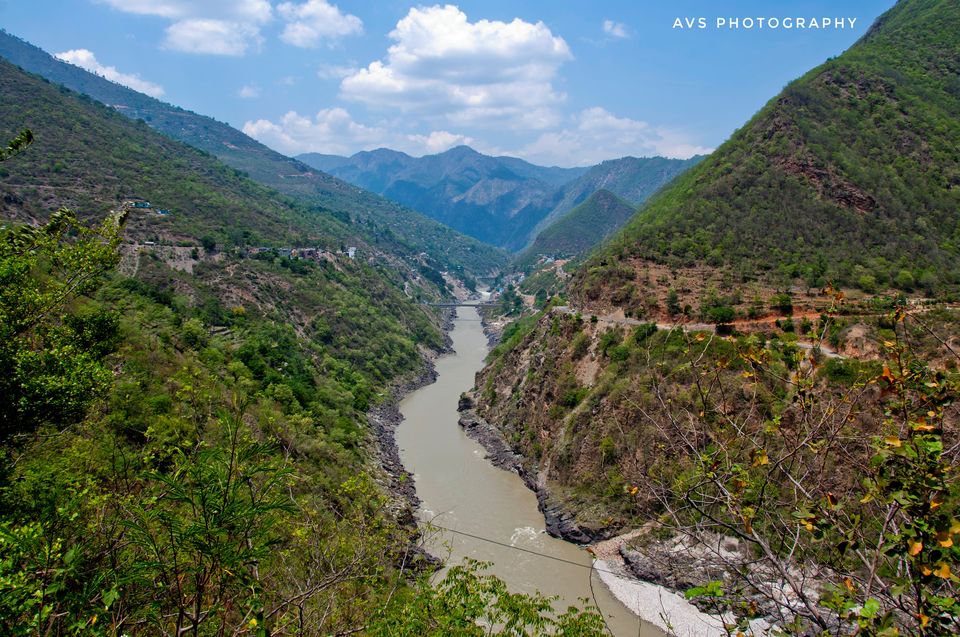 and Rudraprayag around 3:30 I arrived at Karanprayag by 5:10 pm where I quickly booked a hotel, removed the riding gears and dashed Prayag to click photographs and to behold the Ganga aarti.
Meanwhile Jaspreet called from Chandigarh and confirmed to join the trip on 19th June. After an exhausting day I returned to the hotel by 8 pm, had my supper and finally dozed off almost after 30 hours.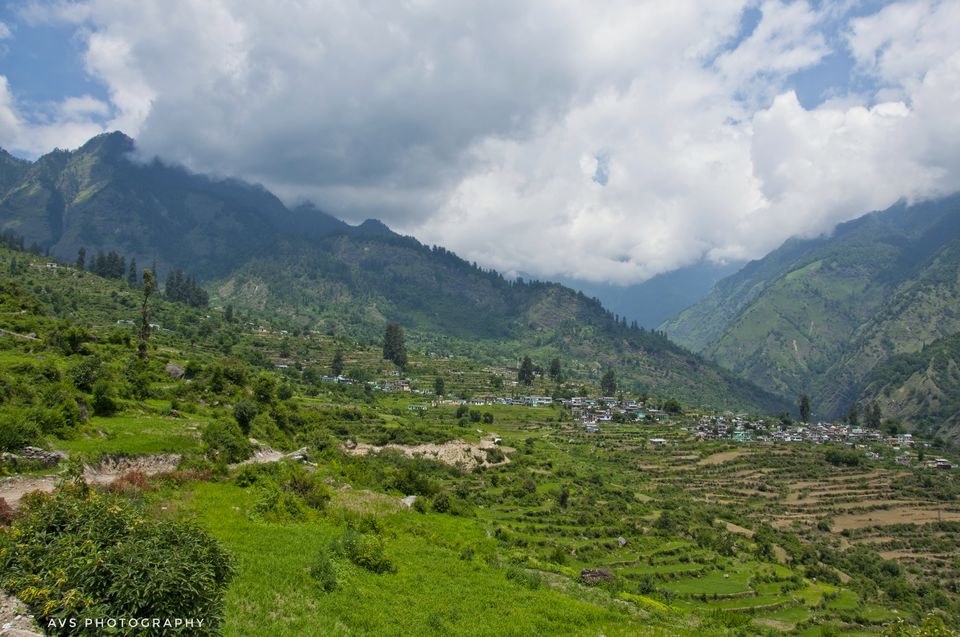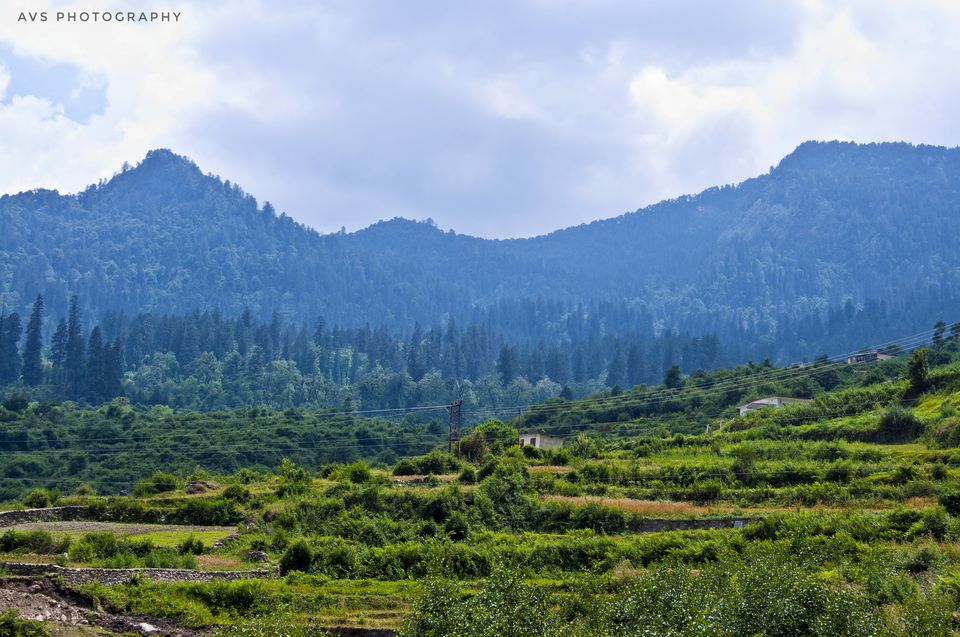 It took me 2 hours to complete one side trek with frequent stops for pictures. There is a diversion for Rudranath which is around 35 kms from the village on the way to Kalpeshwer temple. I spent couple of hours at the temple and the gigantic waterfall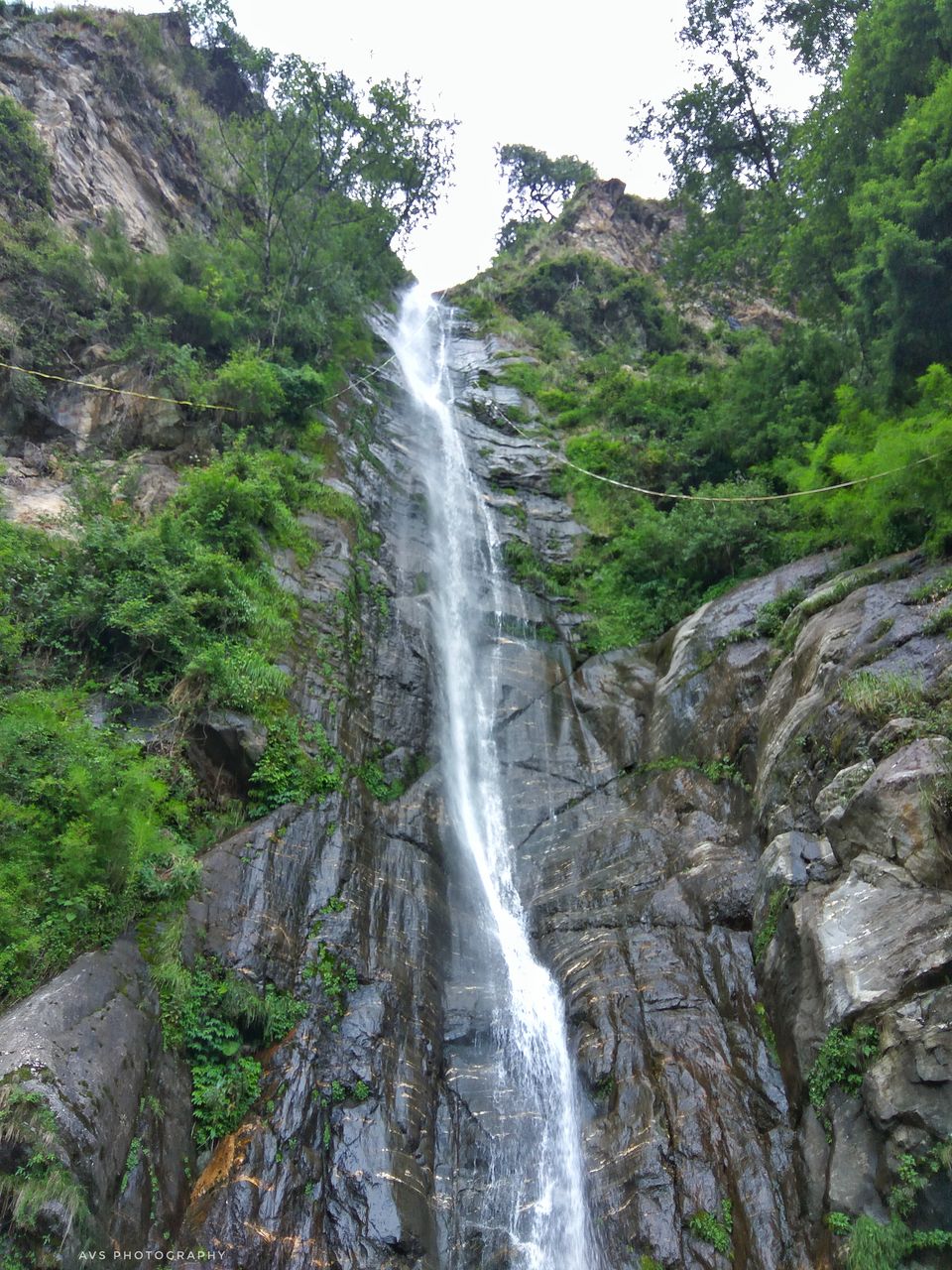 and retuned "Lyari Than" by 2 pm to have my lunch and left for Badrinath.
Temperature after Joshimath started getting cold and cloudy. A small portion near Hanuman chatti was in a very bad condition otherwise overall road till Badrinath is maintained very well. As soon as I reached Badrinath it started raining. Immediately I booked a hotel nearest to the temple, unloaded the bags, changed the clothes and went to the temple at 9 pm.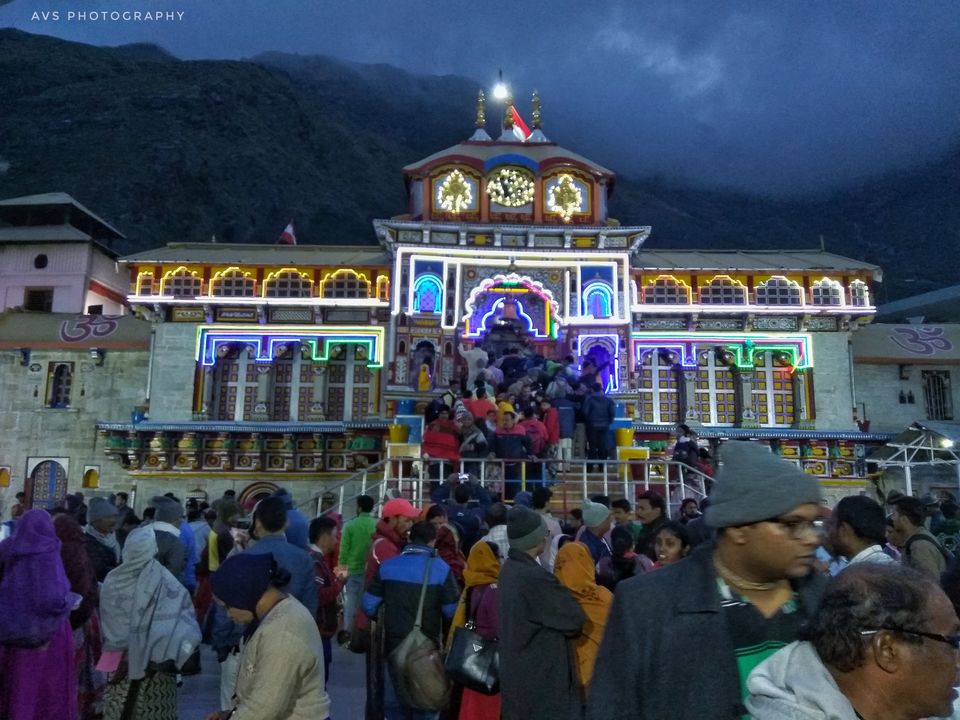 There I came to know that temple premises open at 4 am till 10 pm and there is a natural hot water spring in the temple for bathing before offering a prayer. So I decided to visit the temple again in the next morning.
Day 3: Jun 19, 2017
Badrinath – Vasudhara falls – Badrinath
Woke up at 3 am, opened the window to see the climate outside and it was still raining heavily. There was a huge fall in the temperature after elongated rain throughout the night. Left for the temple, bath in the hot springs and offered some prayer.
Returned to the hotel, packed few essentials in a bag for Vasudhara trek and rode towards Mana (also known as last Indian village) at 6 am while it was drizzling. Parked my bike at the dhaba where I munched my breakfast and started the trek for Vasudhara falls which is 5 kms from Mana village.
The trek was astounding; right from the very first step, every single view was breathtaking. My first stop was Bheem pul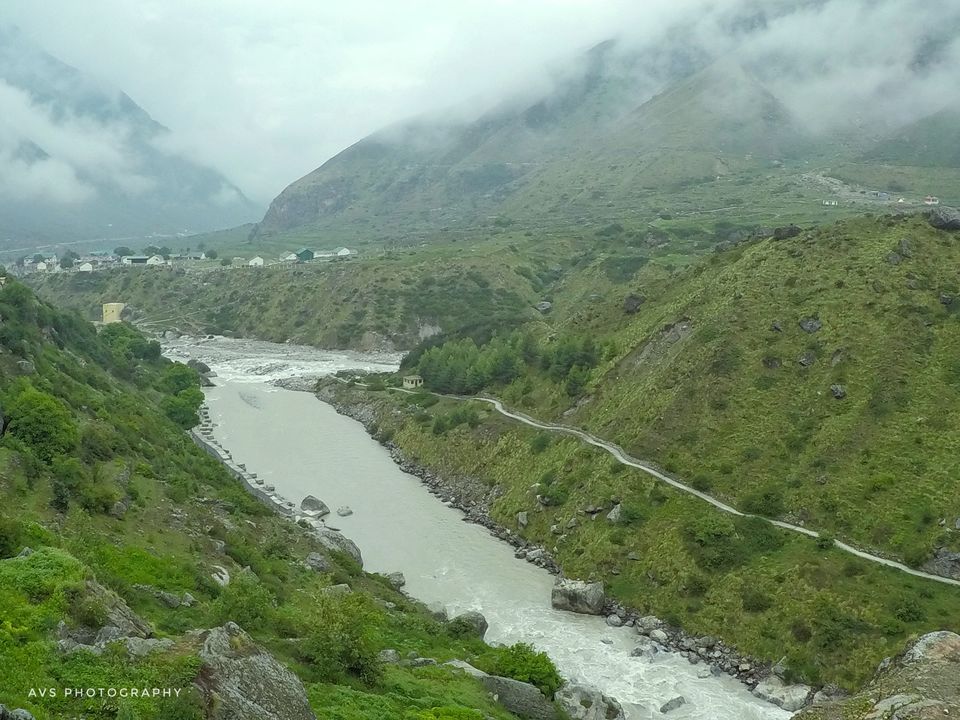 which offers a distant view of the Keshav prayag (Confluence of river Alaknanda and Saraswati). It is also known to be the only point where Saraswati river is above ground and visible otherwise it remains underground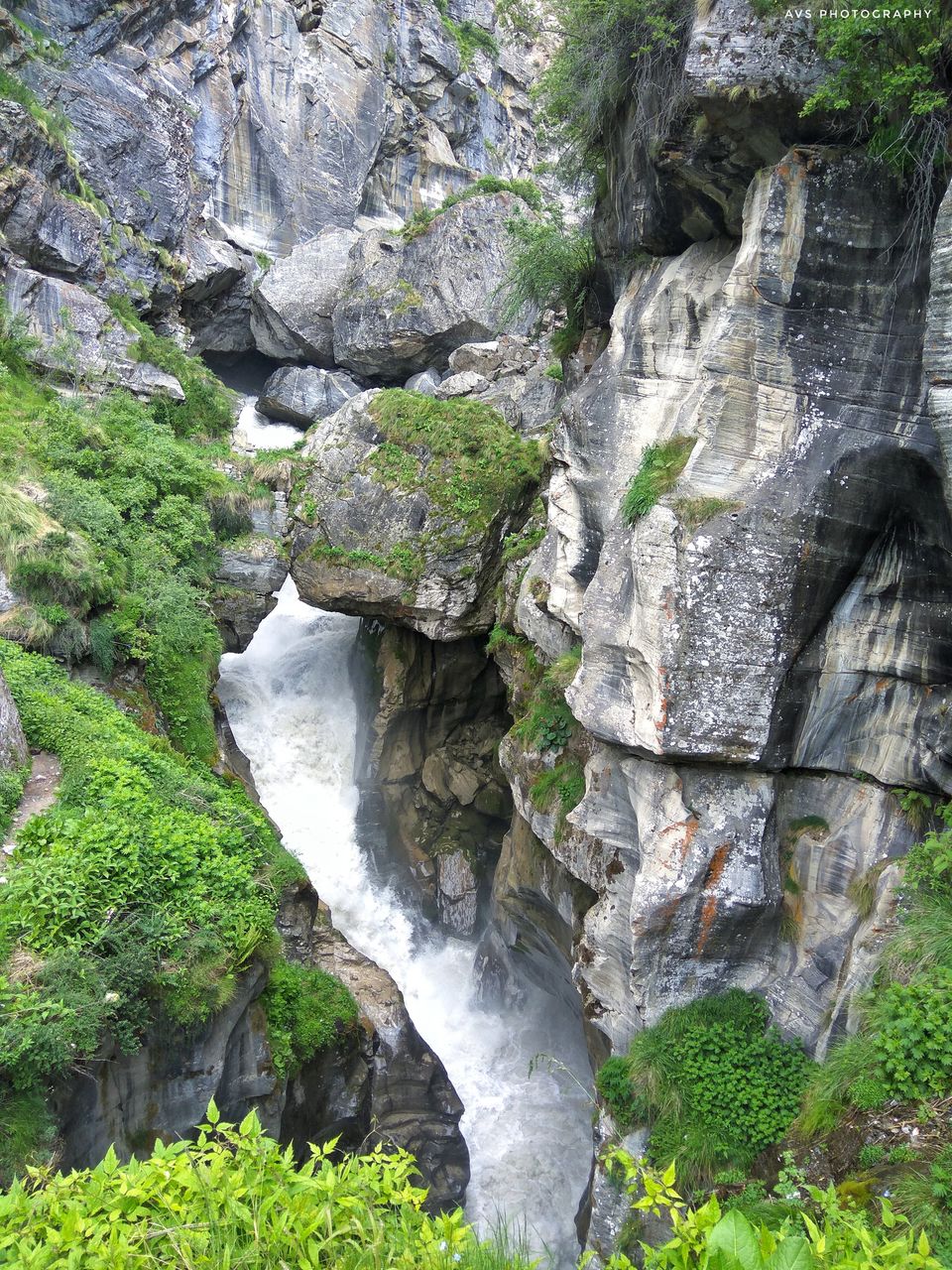 Whilst trekking to Bheem pul there were number of tourists and locals but as I crossed Bheem pul nearby 7 am, I found myself alone trekking towards Vasudhara.
Initially it felt strange being alone on the trek but later got occupied with the green grass, mighty peaks, clouds, drizzling, colorful flowers, and capturing the beauty around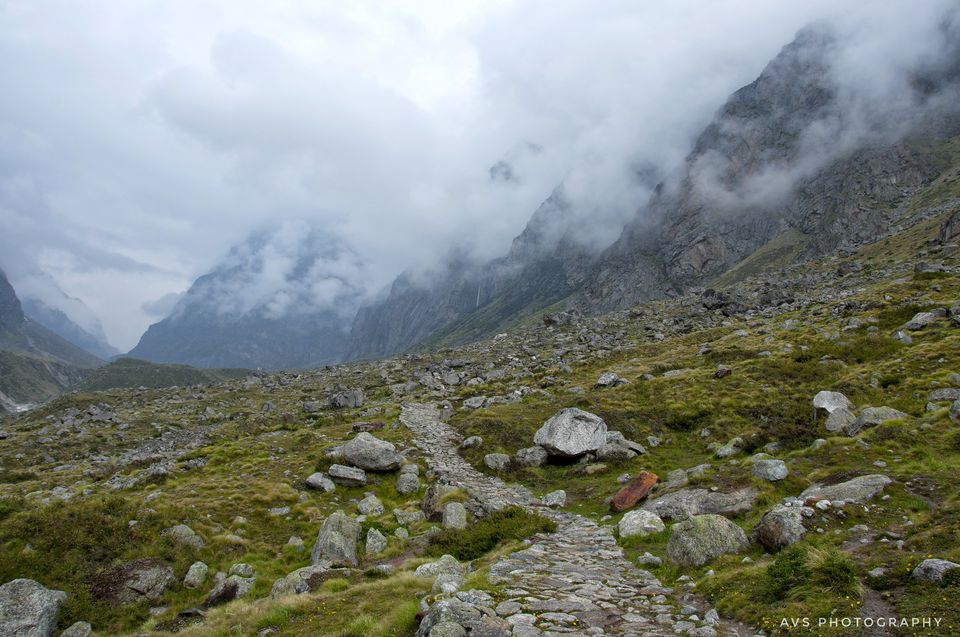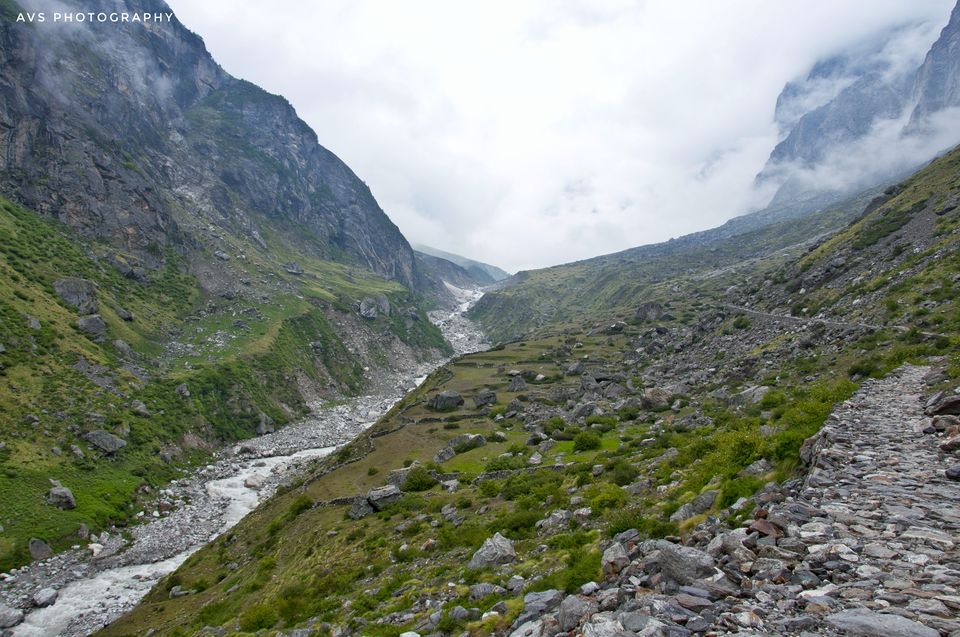 Trek is moderate but with every single step there was music of the Alaknanda river streaming on the left. While admiring the beauty I reached the Vasudhara fall by 9 am.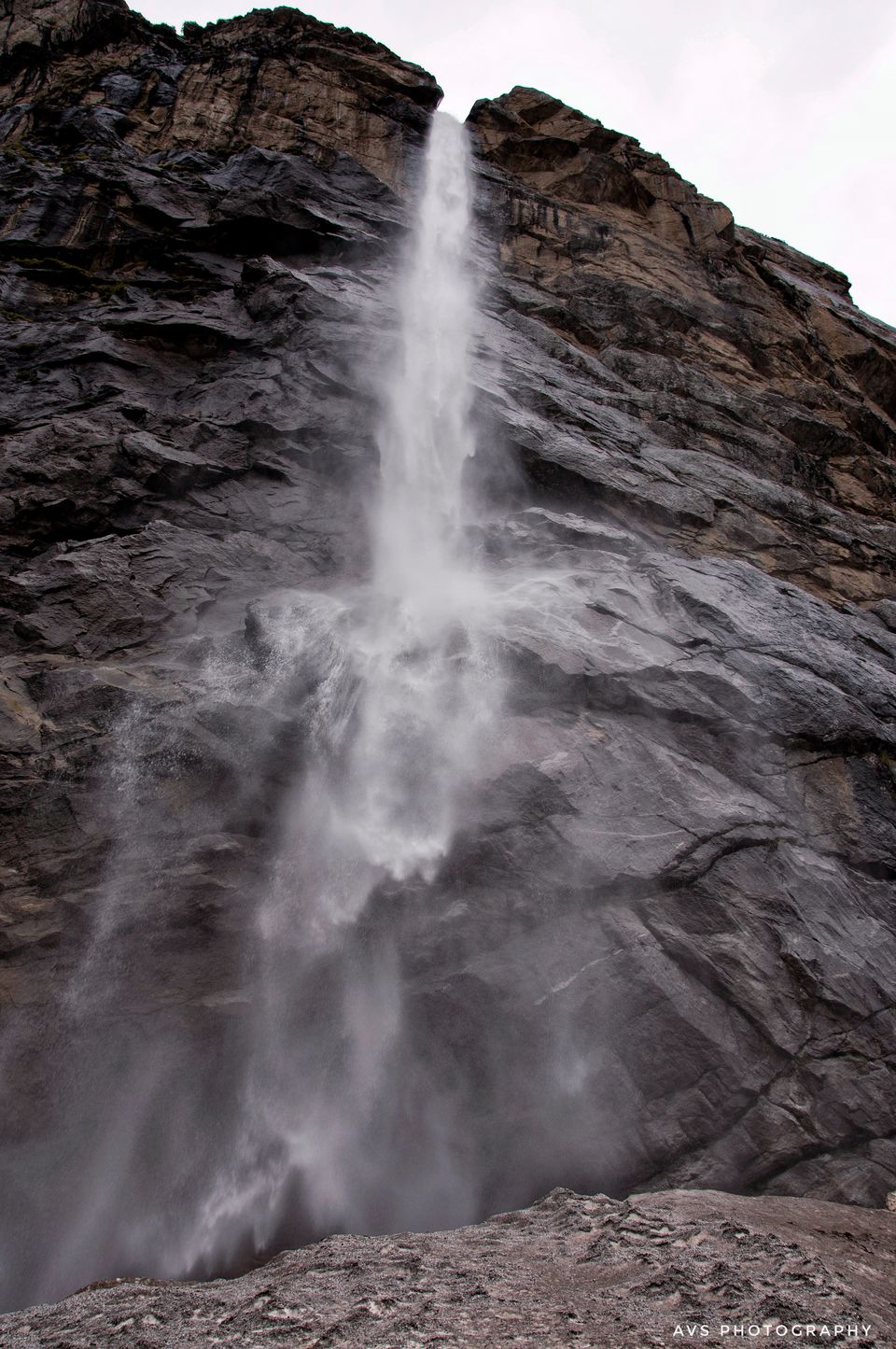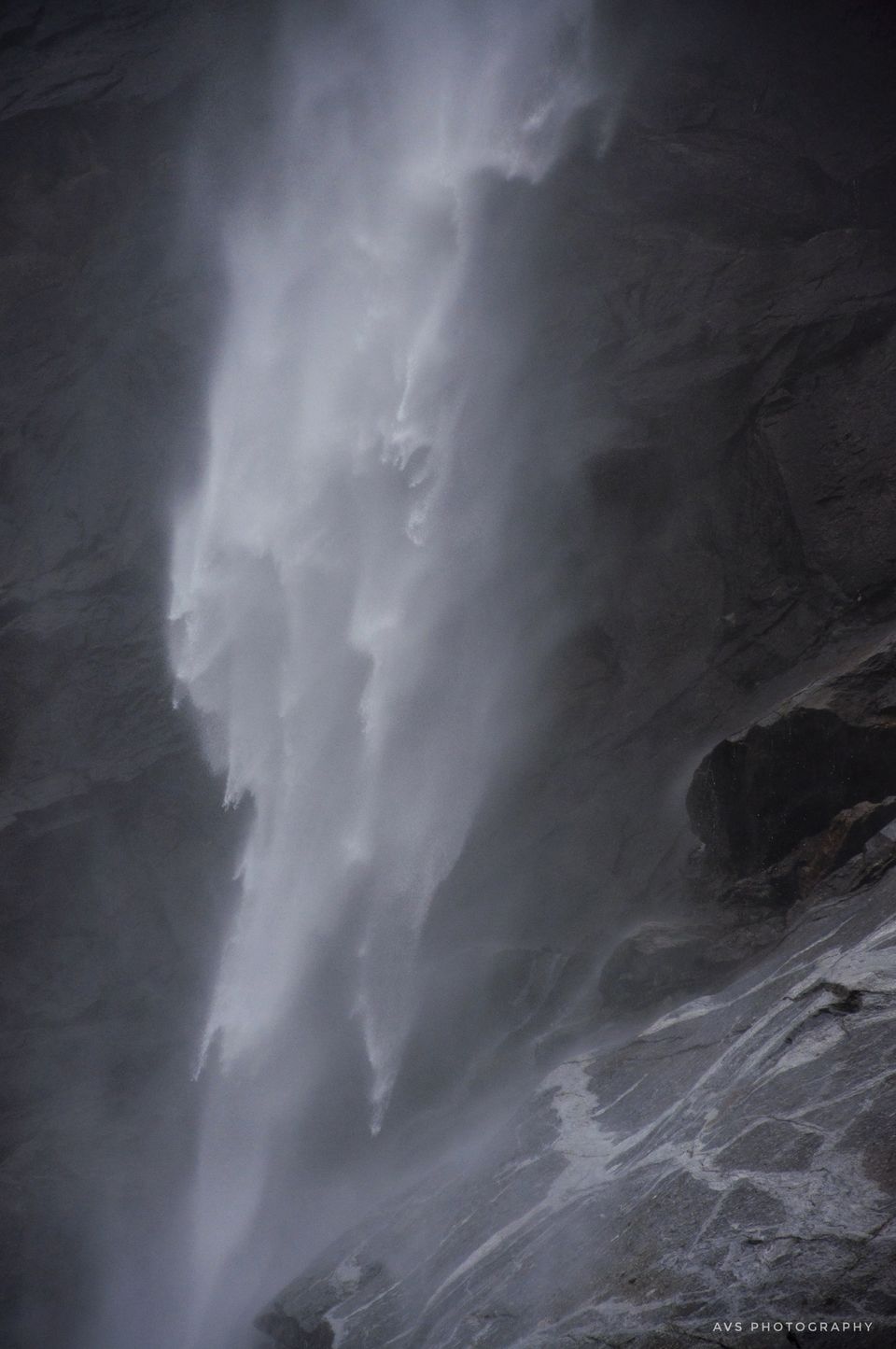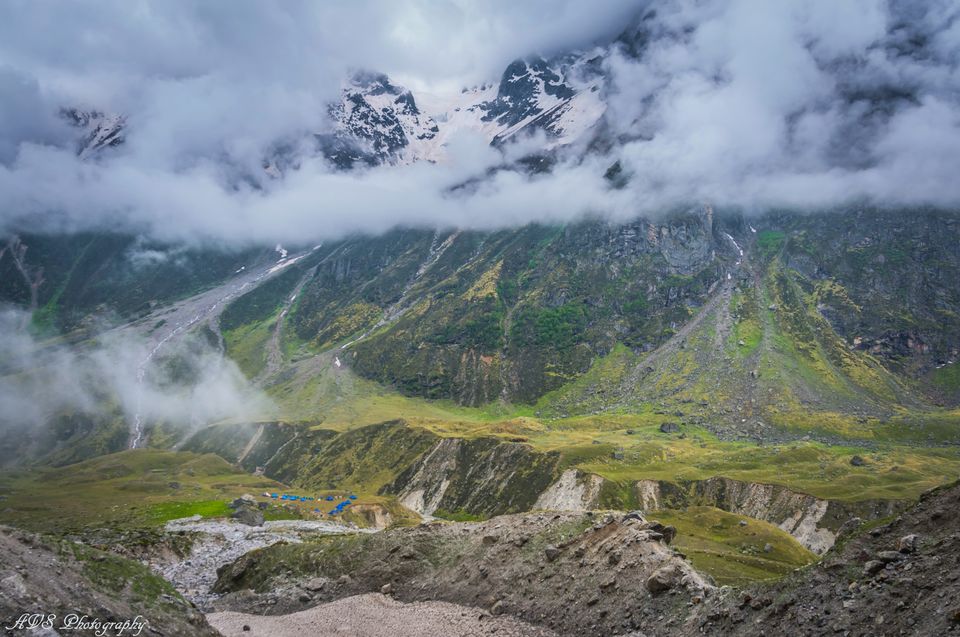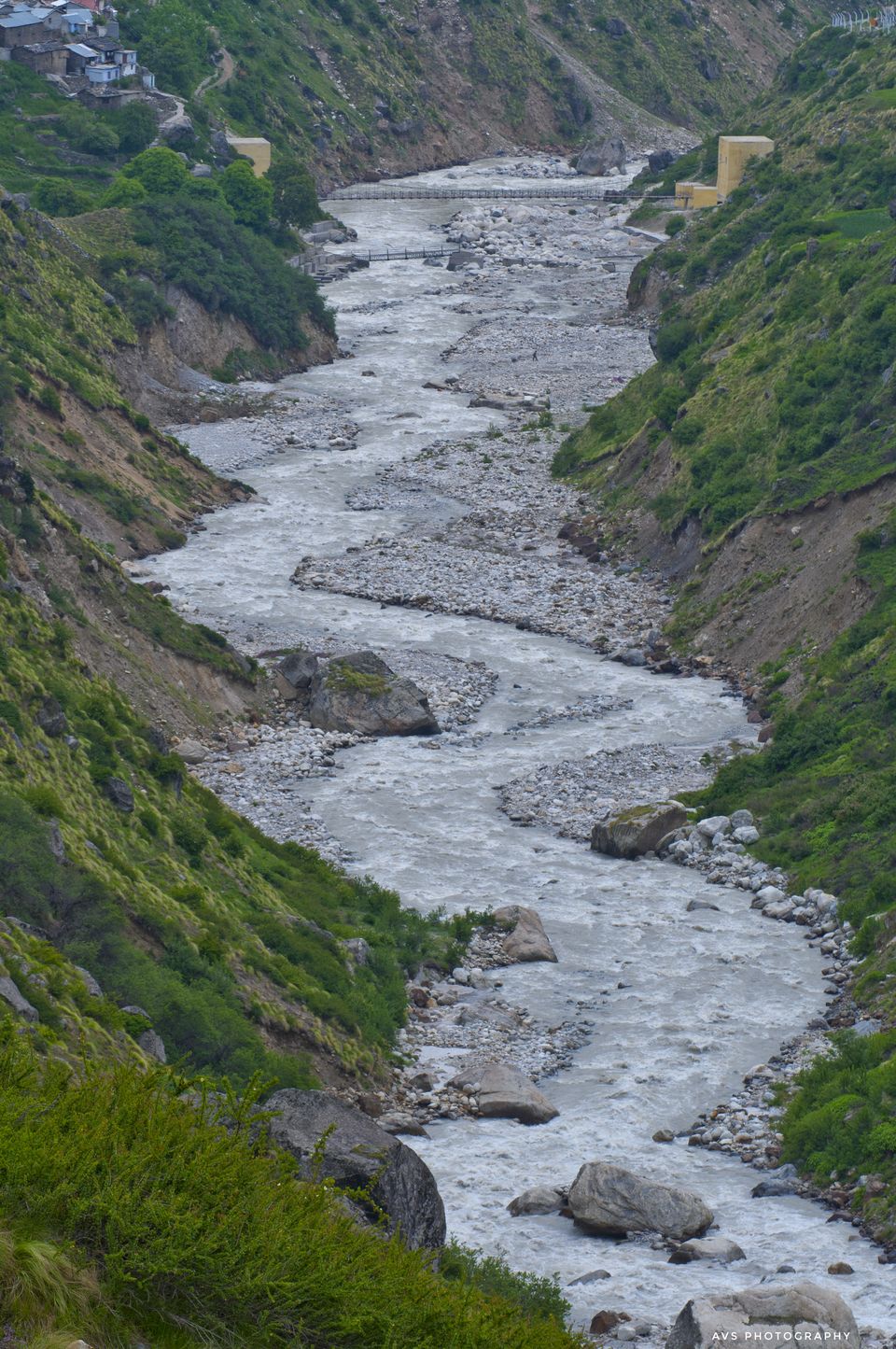 spent almost 2 hours at the fall and returned Mana by 1 pm. Had my lunch and returned to Badrinath by 3 pm. I extended my stay for another night and booked a room for my friend Jaspreet. She intended to reach Badrinath by 4 pm but reached around 10 pm due to a landslide near Pandukeshwer where the route was jammed. We planned for Badrinath darshan next morning at 4 am and to reach Gobind Ghat before 11 am.
Day 4: Jun 20, 2017
Badrinath –Gobind Ghat – Ghangaria (Gobind Dham)
Knock knock at 3:30 am, it was Jaspreet at the door to remind me to be on time.
Surprisingly, the rain stopped after 24 hours leaving behind a clear sky with stars with which I hoped to get some clear shots of the mountains around.
We left for Badrinath dham, took a dip in the holy hot water spring and then offered a prayer at the temple (It was 3rd time for me in 24 hours to offer prayer at Badrinath Temple). While returning from the temple I found Neelkanth peak shining bright covered with snow. I rushed to the hotel and brought my camera to click beautiful Neelkanth peak and few other Mountains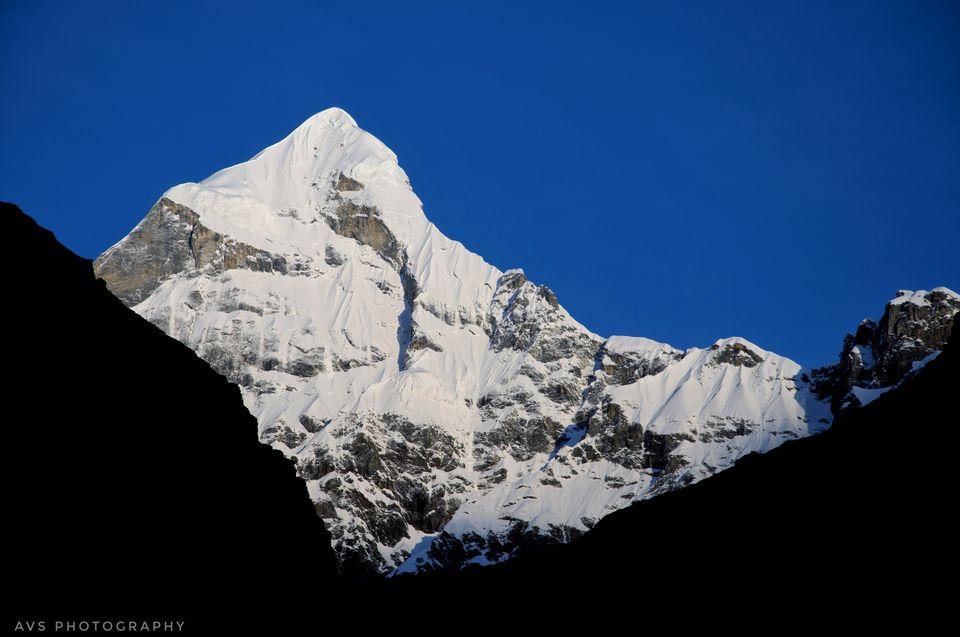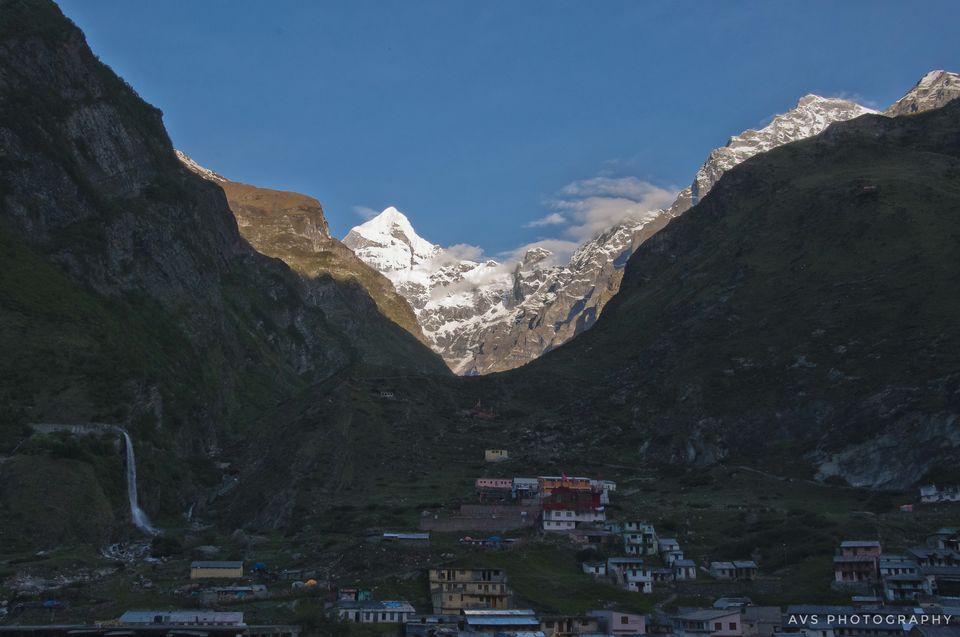 We checked out from the hotel around 8 am but couldn't find any local transport to go Gobind Ghat at that time so, I decided to ride my bike with a pillion but that was a challenge to manage the pillion with 2 heavy bags for 24 kms. Somehow, we managed and rode very carefully, reached Gobind Ghat by 10:00 am.
There, we come to know that the road has been built for another 4 kms towards Ghangaria making the trek to Ghangaria of 15 kms instead of 19 kms. Rode till the last parking lot, parked the bike and started the trek by 11 am. It's a lengthy trek but easy, only challenge on this trek was number of pilgrims, less than 10% of them goes to VoF (Valley of Flowers) rest all are towards Hemkund Sahib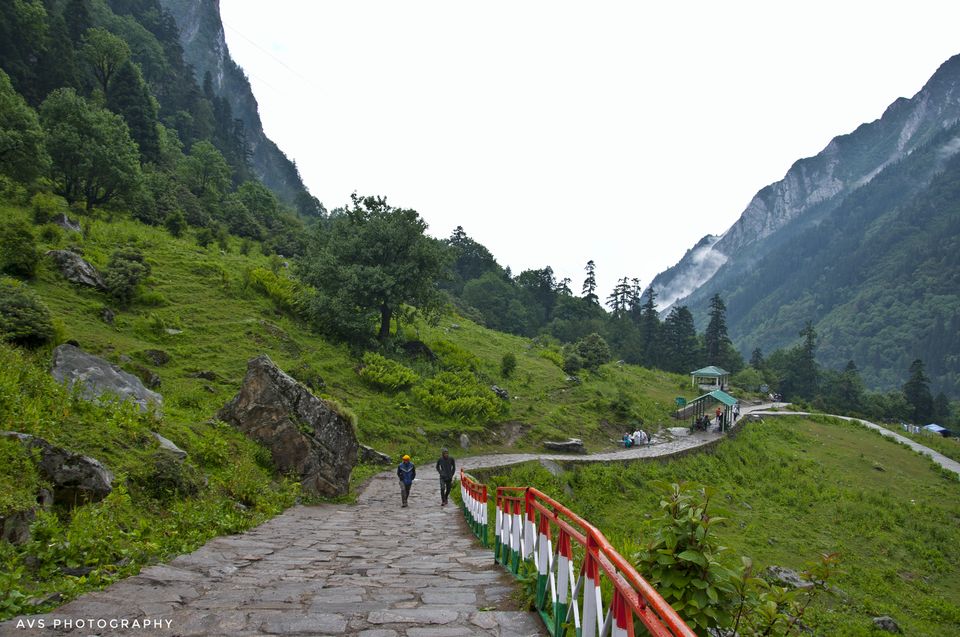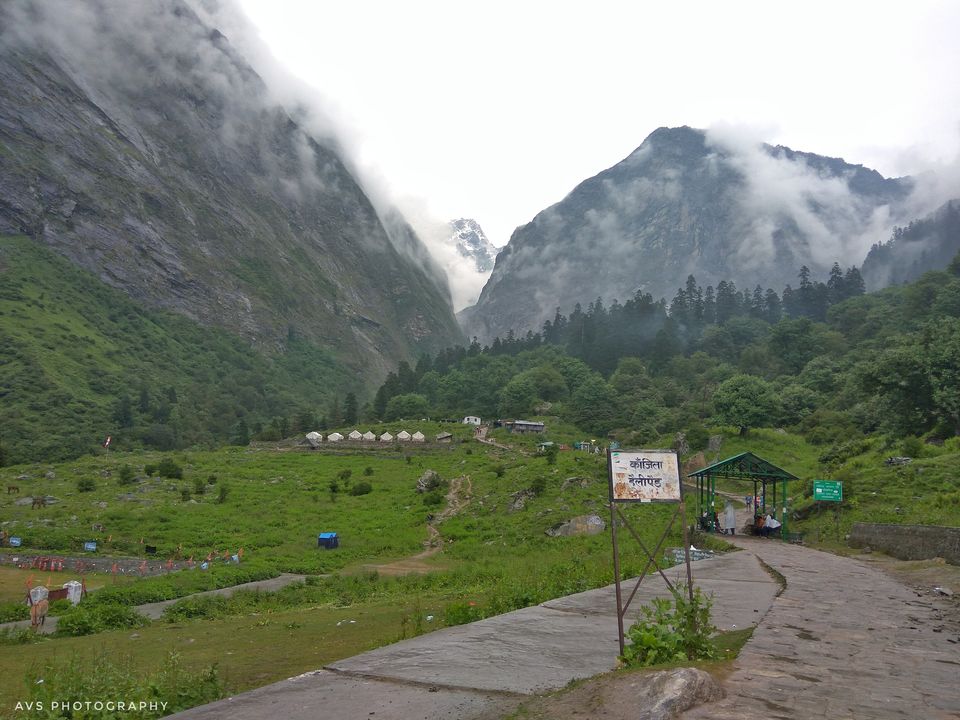 It started drizzling as soon as we reached Kaanjila Helipad which is 2 kms before Ghangaria.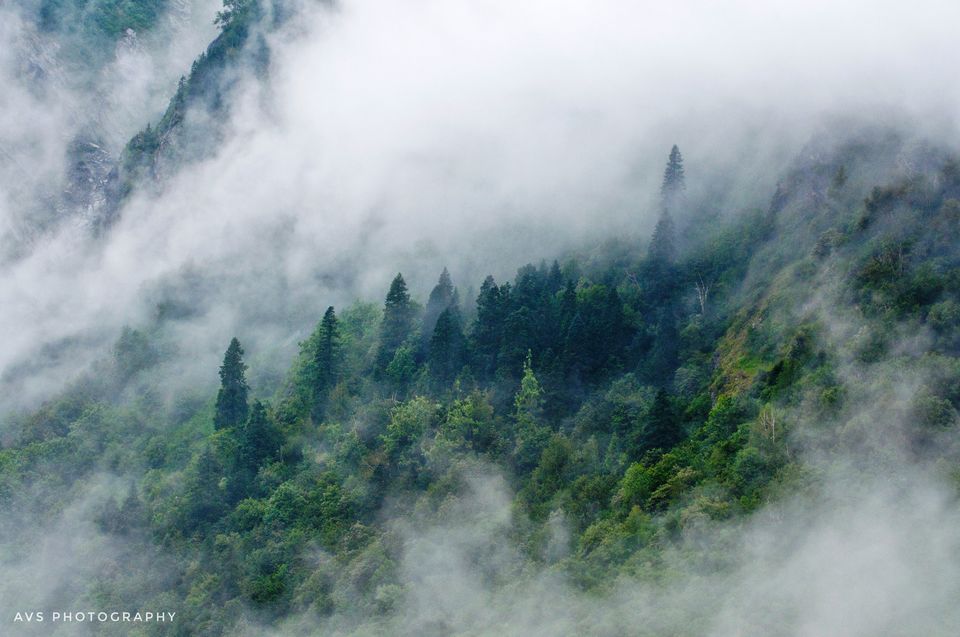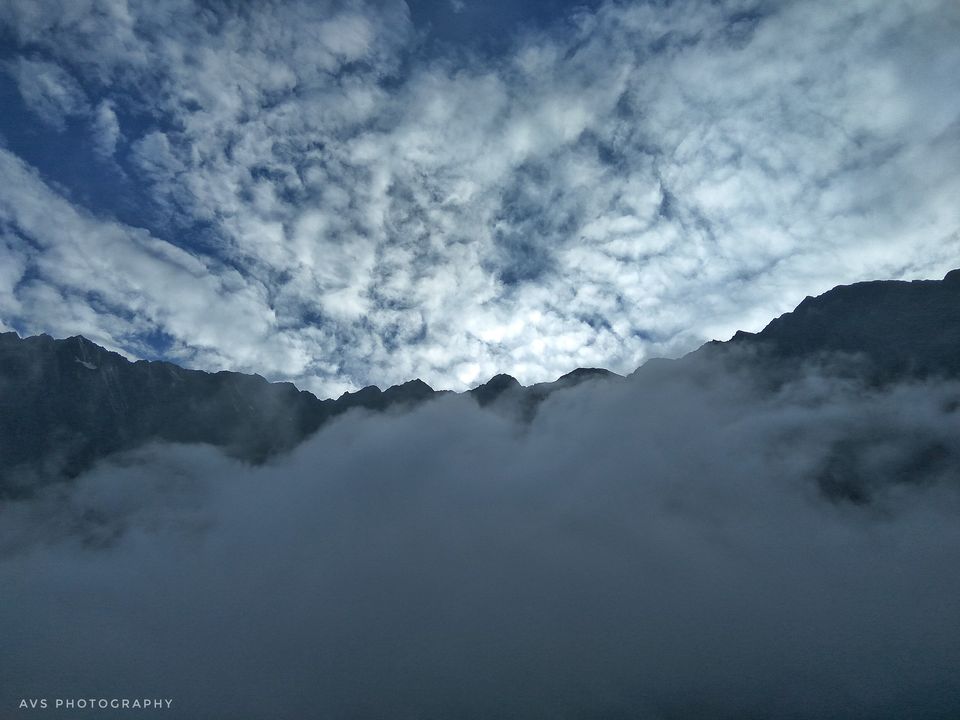 We reached Ghangaria by 7:30 pm, booked two rooms for 2 days and then had our supper while planning for the next day.
Day 5: Jun 21, 2017
Ghangaria – Hemkunt Sahib – Ghangaria
We were ready for the day at 5 am with our backpacks, however it was still raining and despite the fact hundreds of pilgrims were already on the streets to leave for Hemkund sahib. Ghangaria to Hemkund Sahib is 6 kms trek which is a high altitude trek with steep incline.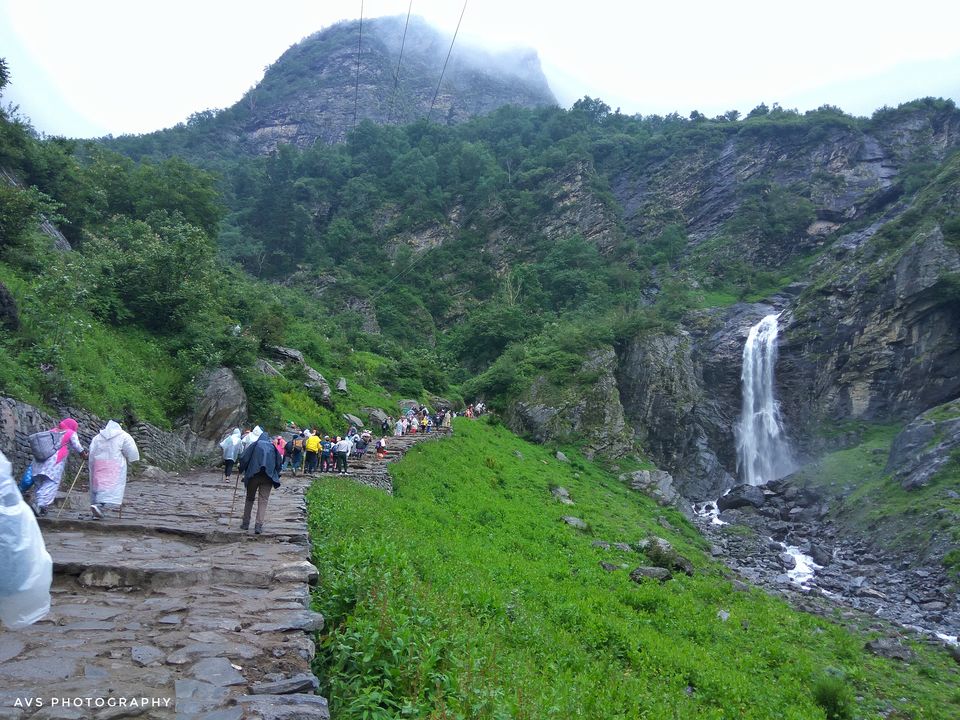 It took us more than 4 hours to reach Gurudwara sahib.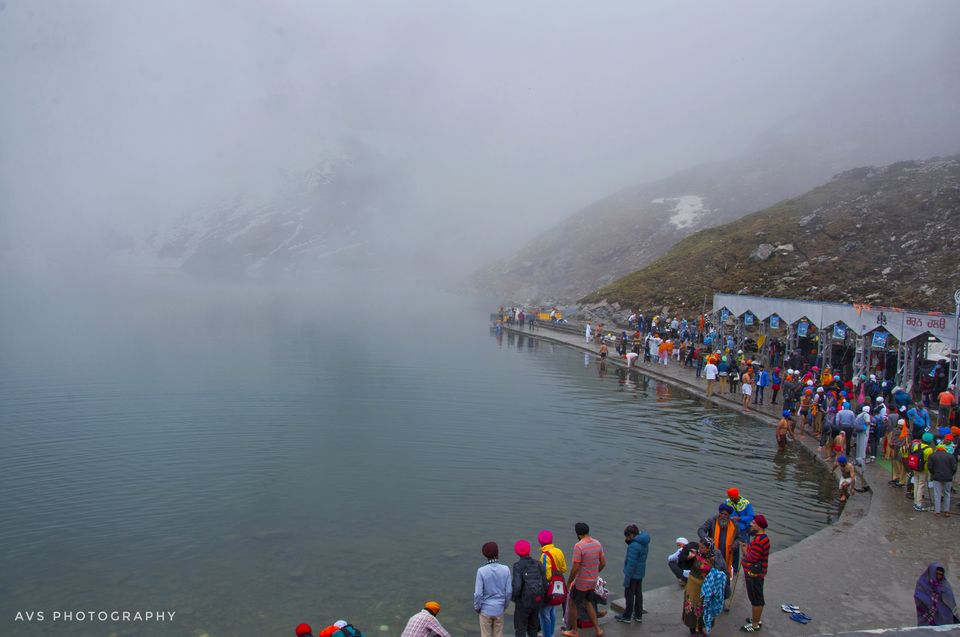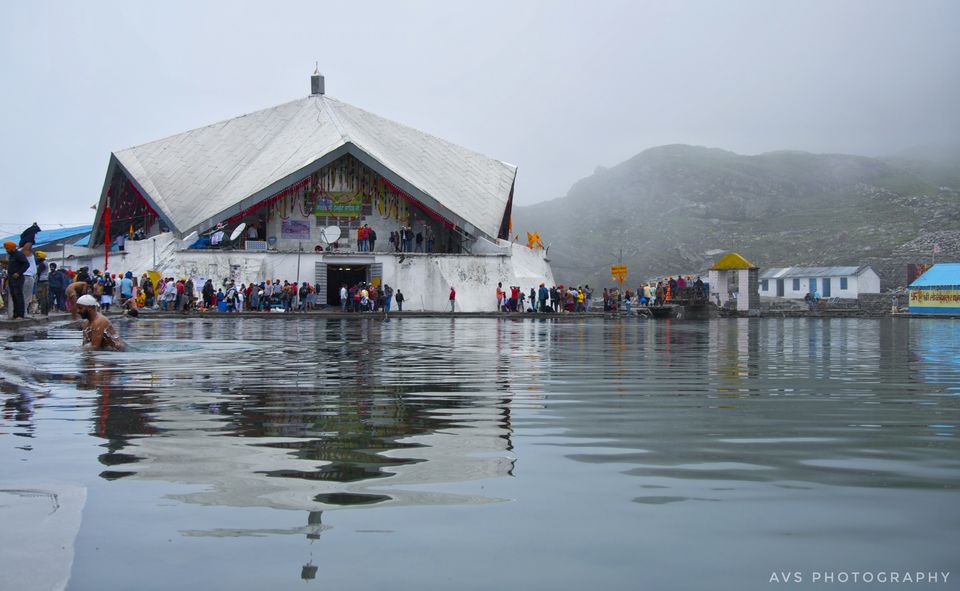 Took a dip in the holy glacial lake and joined the 10 am prayer (Ardaas) and then had Langar at Gurudwara. After roving for long, I had enough time to click photographs around the lake and spend hours to adore the beauty around.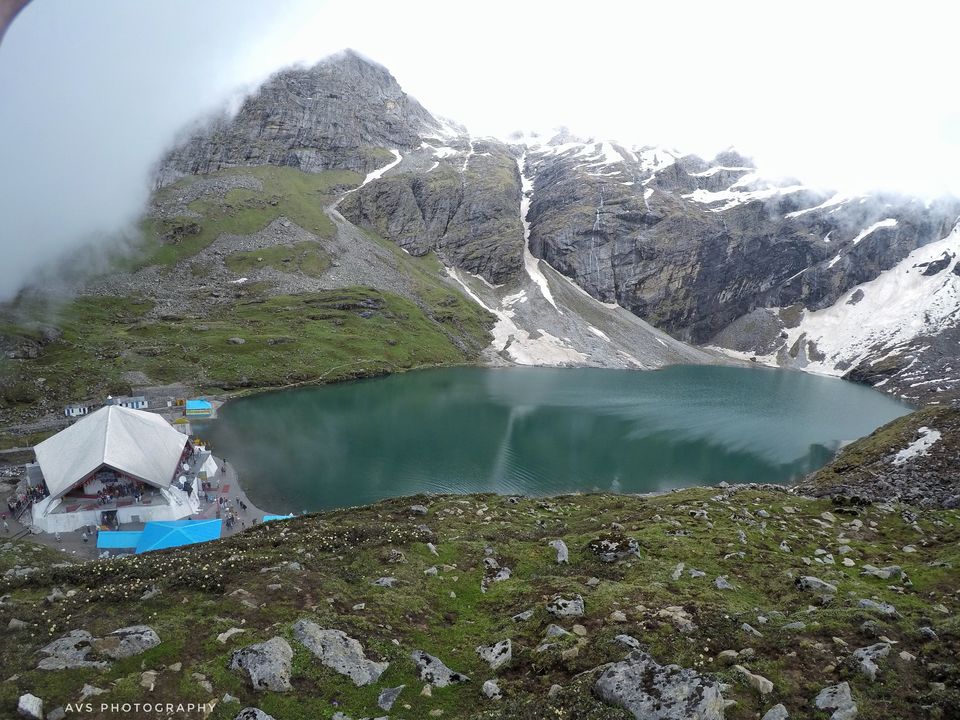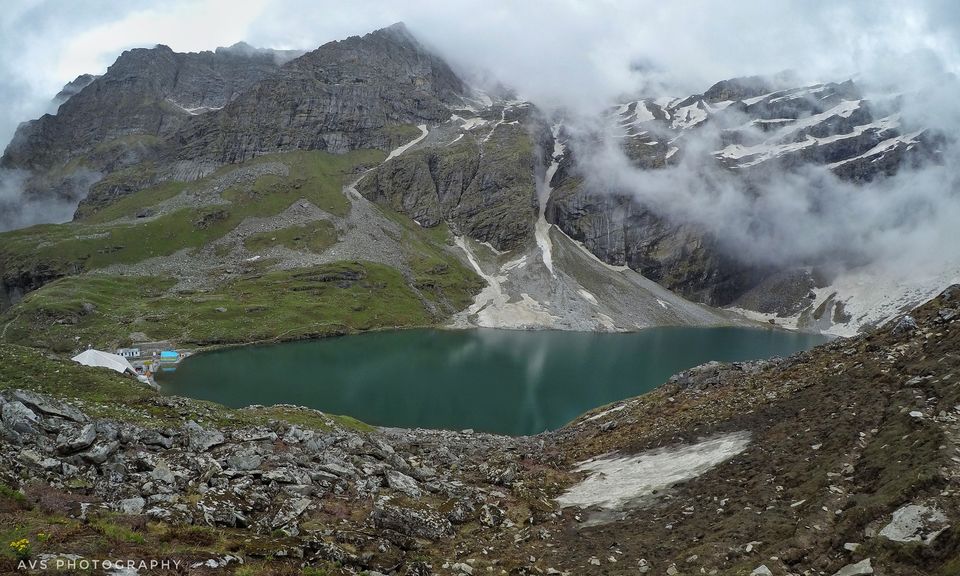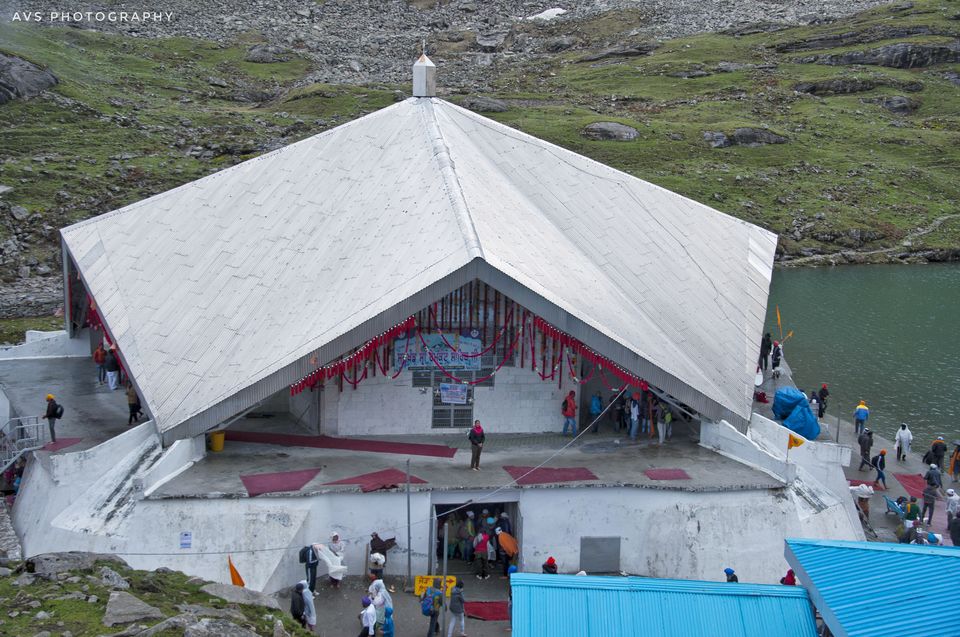 We left for Ghangaria at 2 pm and it started raining heavily.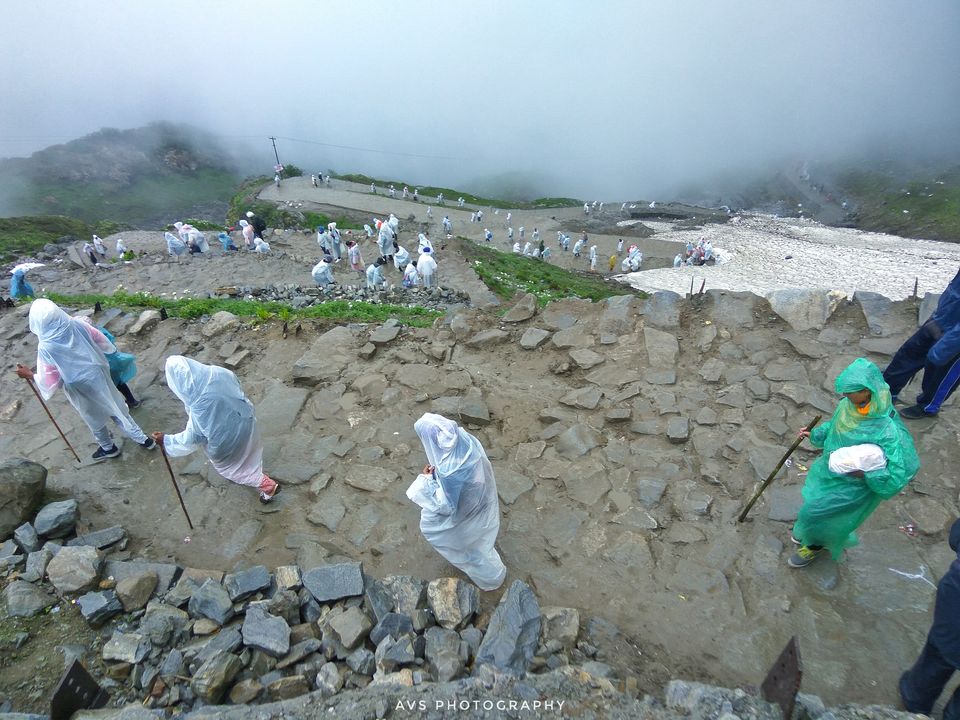 We took few breaks for lunch and snacks. There were couple of points on this trek which offers a clear view of the Tipra Glacier, though due to rain I couldn't get a clear view of mountains but somehow managed few clicks of Tipra Glacier.
We were able to make it to Ghangaria just before the sunset but our shoes were completely drenched until we reach the hotel.
Day 6: Jun 22, 2017
Ghangaria – Valley of Flowers – Ghangaria – Gobind Ghat
Finally the rain stopped after 2 days and we were also ready for the day by 5 am. Had light breakfast and packed some snacks for the trek as there are no shops on 5-6 kms of trek to VoF. At the beginning of the trek there is a check post of VoF National Park, where everyone has to mark an entry at 150/- per person and 500/- for security not to litter around (make sure that you bring all the wrappers back to get 500/- security upon return).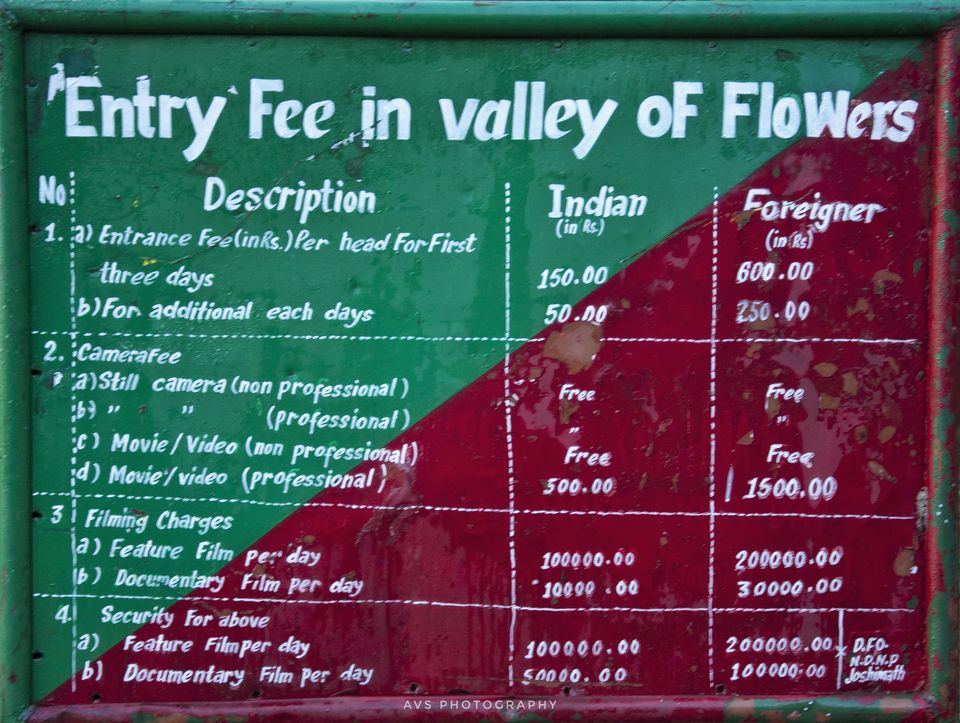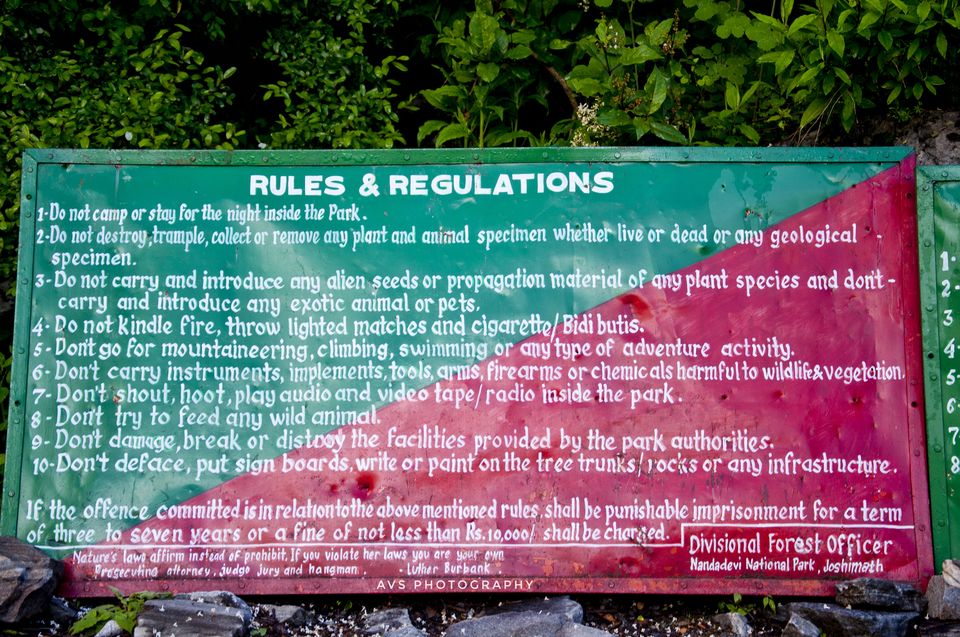 First 3 kms of trek is just to enter in the valley and after that there is another 2.5 kms trek which is optional to go deeper into the valley to see more flowers. Trek started through a forest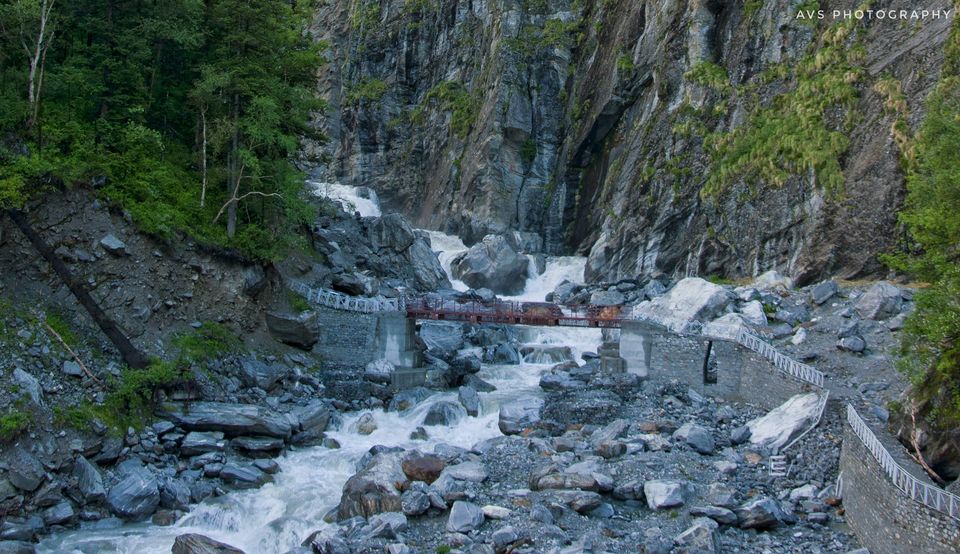 but soon a new world comes into the picture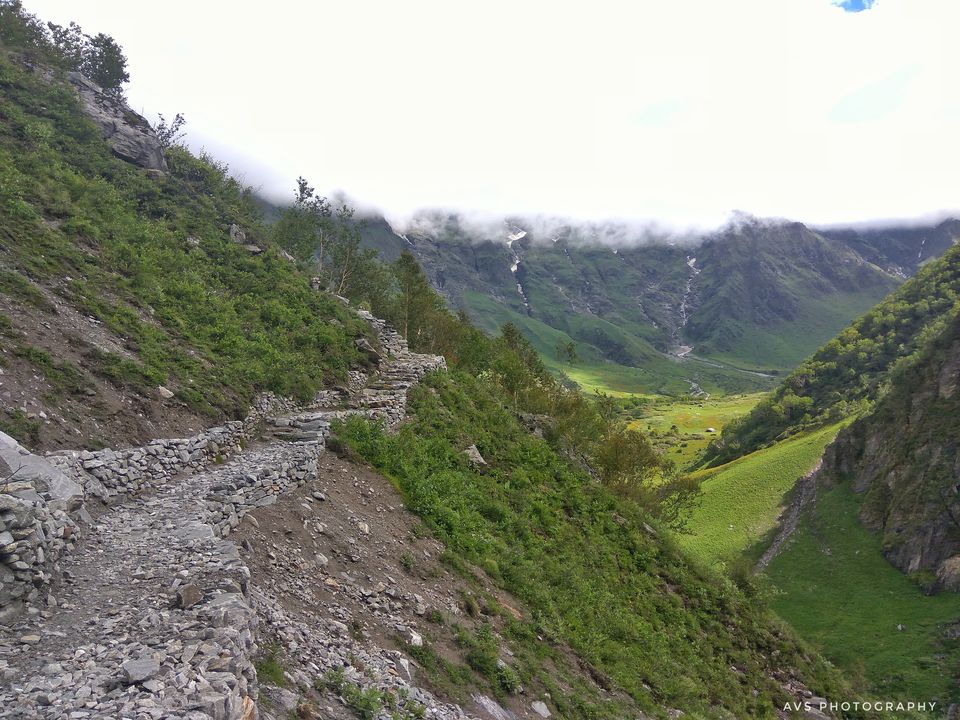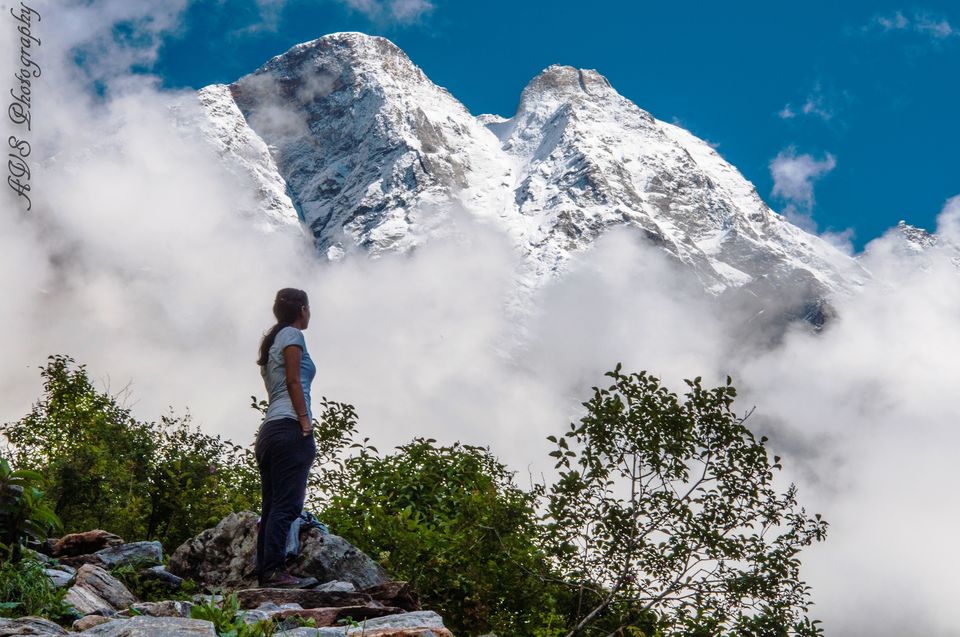 full of lush green valley, colorful flowers, snowy peaks, numerous waterfalls, clouds and constantly flowing cool breeze which gives a feeling to be in an absolutely different place.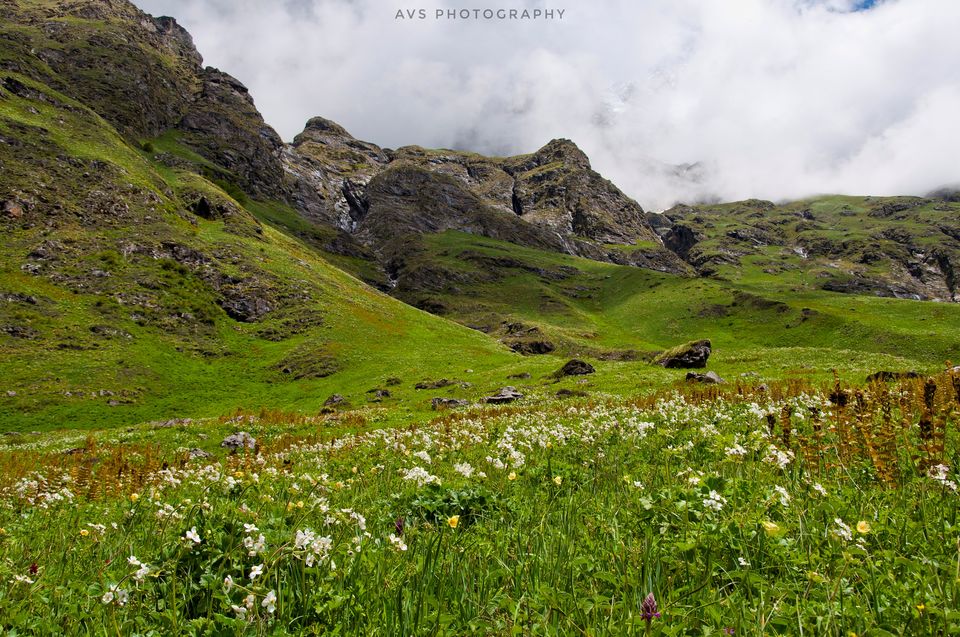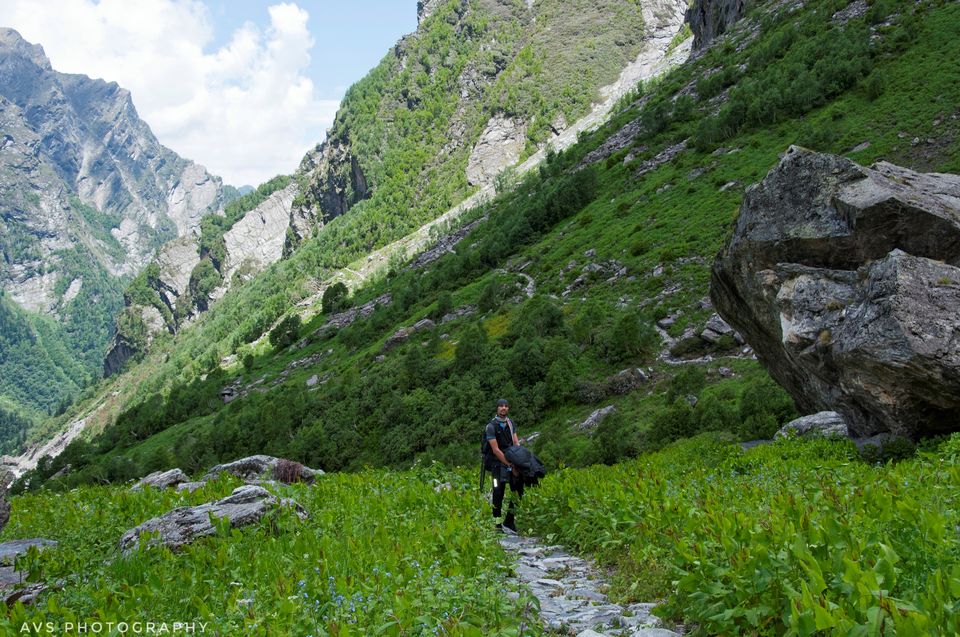 It felt more like a dream which I didn't wanted to break and wished to spend more and more time watching clouds, mountains and flowers but as per the National Park guidelines staying beyond 4 pm wasn't allowed in the VoF.
The peak season of VoF is between mid-July to mid-August. We were there before peak season so, we couldn't see much variety of flowers but whatever we got to see was more than our expectations and soothing to our eyes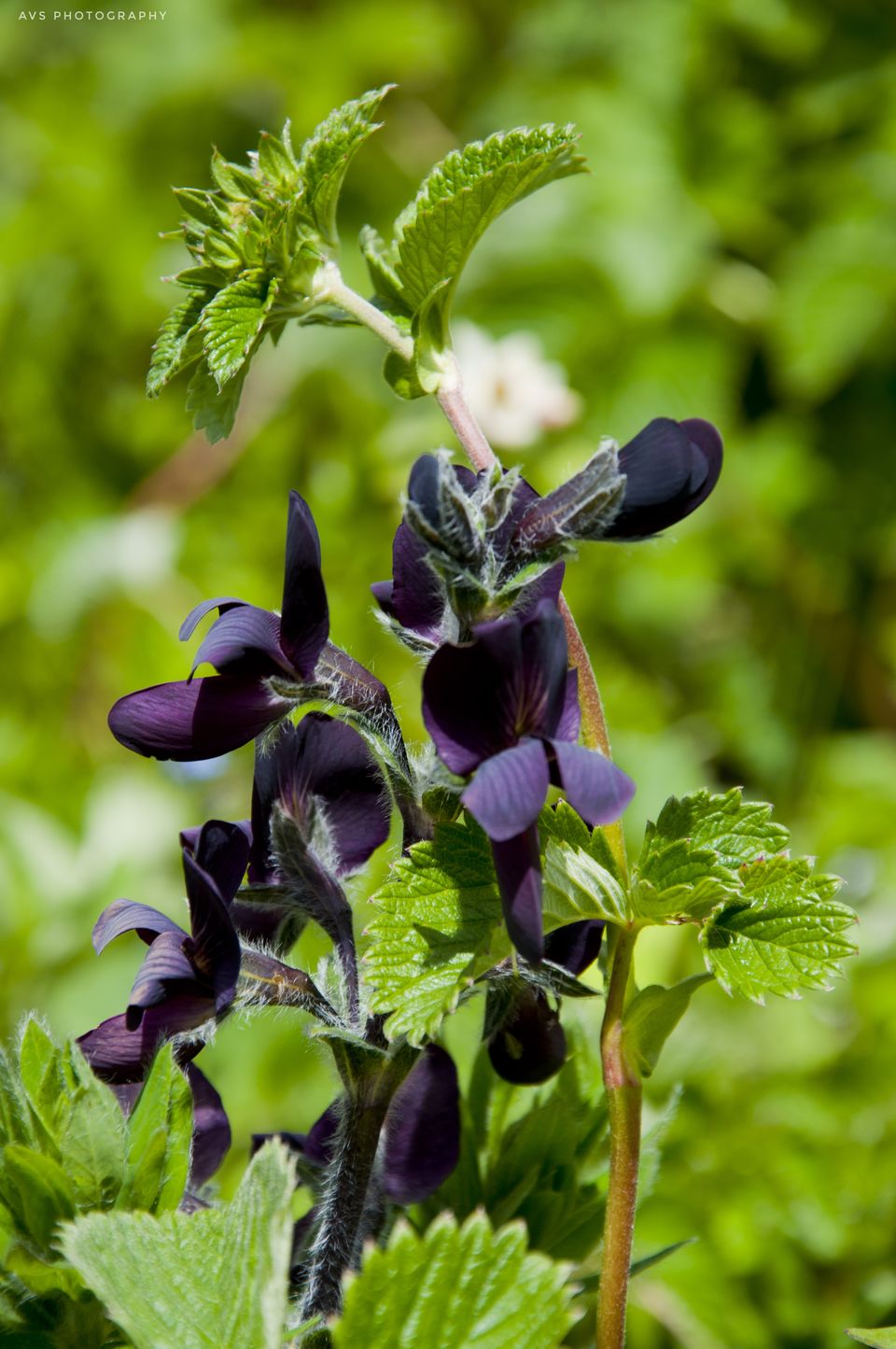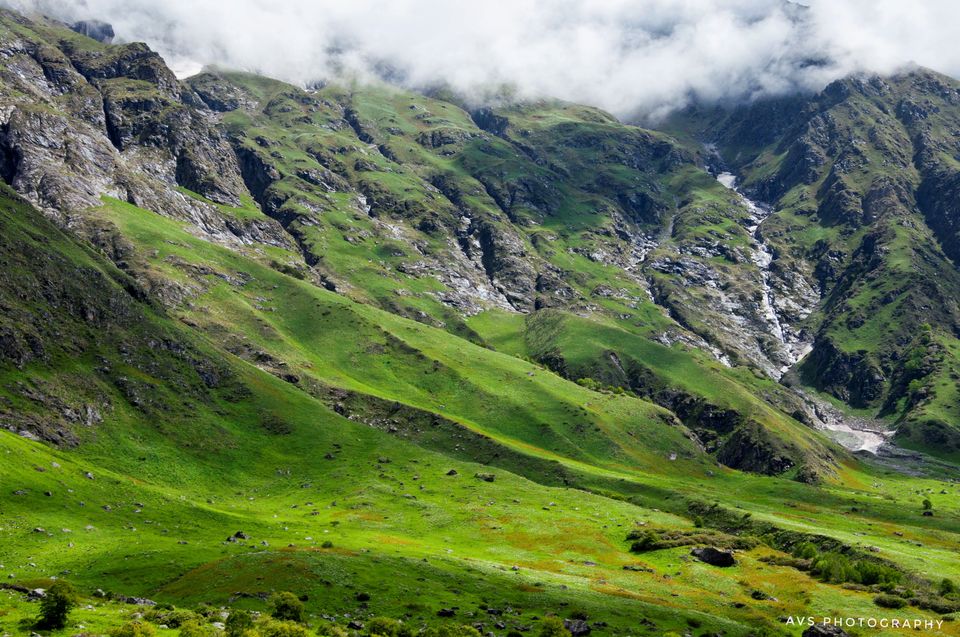 We started our return trek at 1:30 pm and reached Ghangaria by 2:30 pm.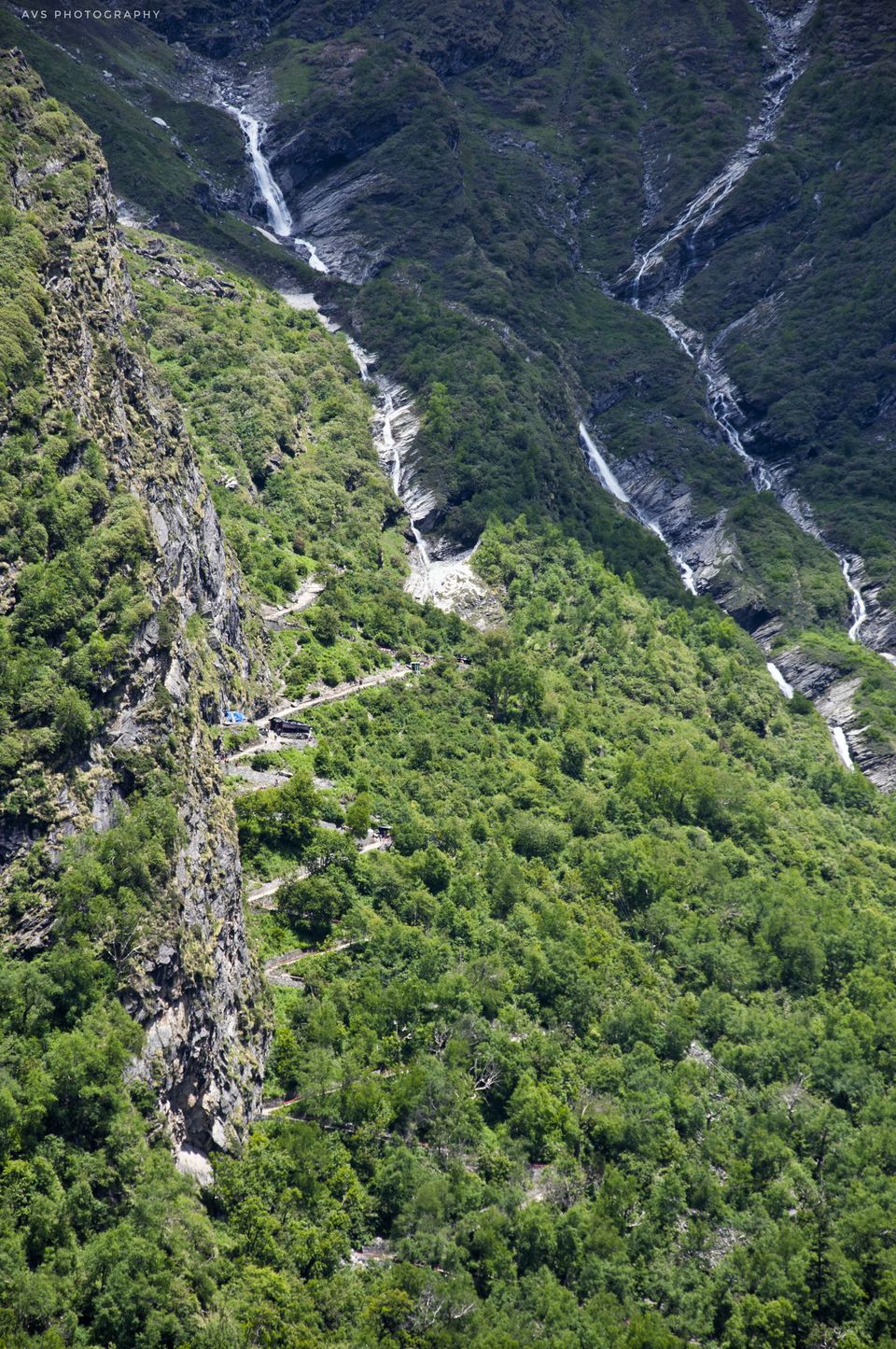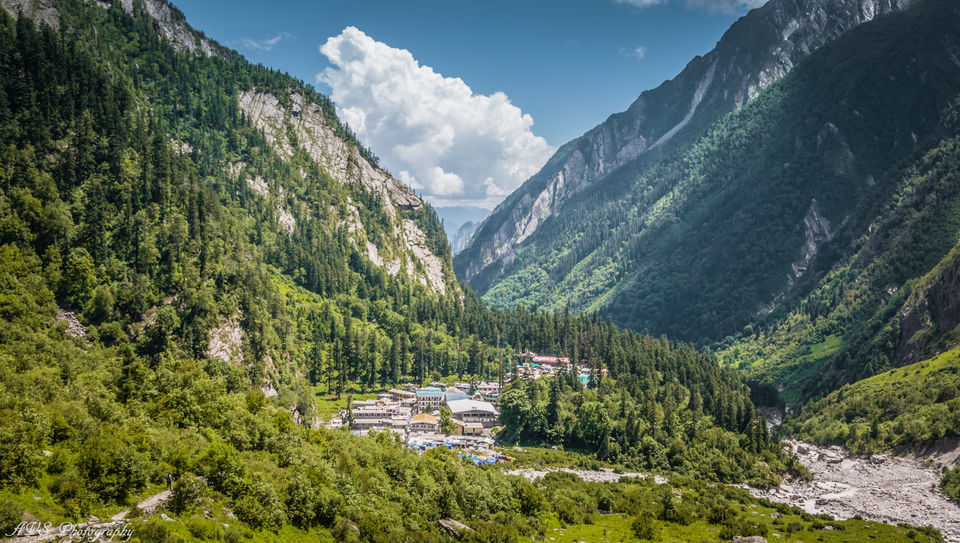 While having lunch, we decided to leave for Gobind Ghat as we still had more than 4 hours before sunset to cover 15 kms. We packed our stuff, checked out from the hotel and left for Gobind Ghat at 4 pm. Reached Gobind Ghat by 7:30 pm and stayed at Gurudwara Sahib for the night.
Day 7: Jun 23, 2017
Gobind Ghat – Joshimath – Gamsali – Joshimath
Early morning at 5 am, Jaspreet took a public transport for Rishikesh and it took me another 1 hour to pack my bags, tied on my bike and left for Joshimath.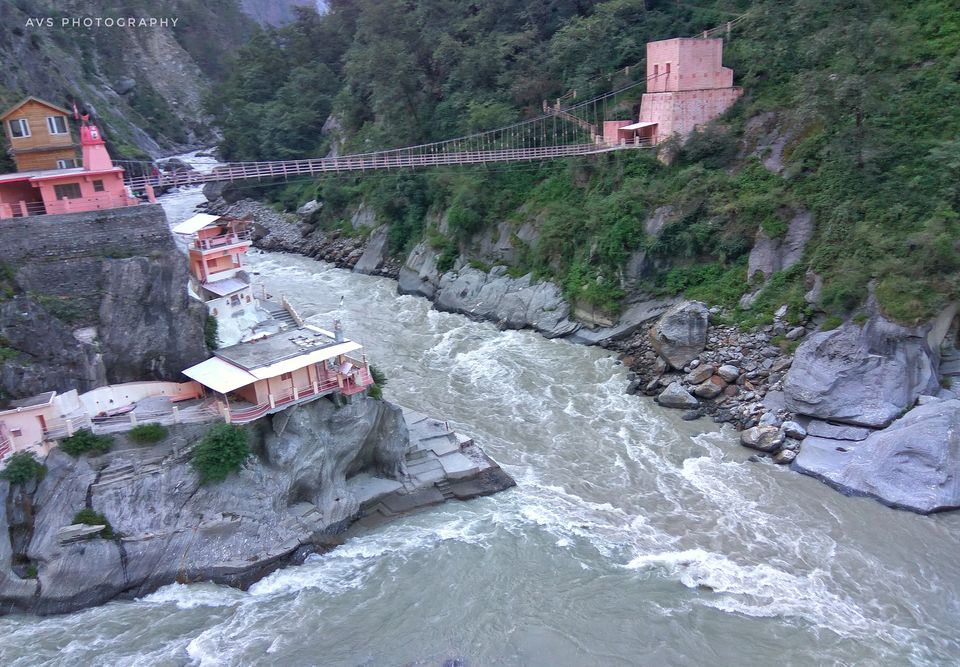 Reached Joshimath by 8 am had breakfast, meanwhile I enquired about the places which can be covered in 2 days from Joshimath but couldn't get better options than Niti Village. So I decided to go for Niti village which was approximately 85 kms from Joshimath. It was a sunny day and all the mountain peaks like Nanda Devi, Dronagiri Parvat, Kuari Pass, Hathi Ghoda and many unknown peaks were clearly visible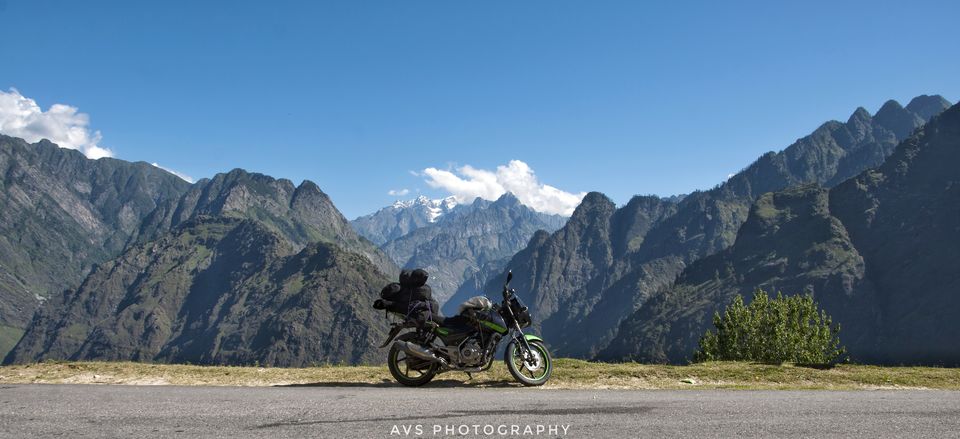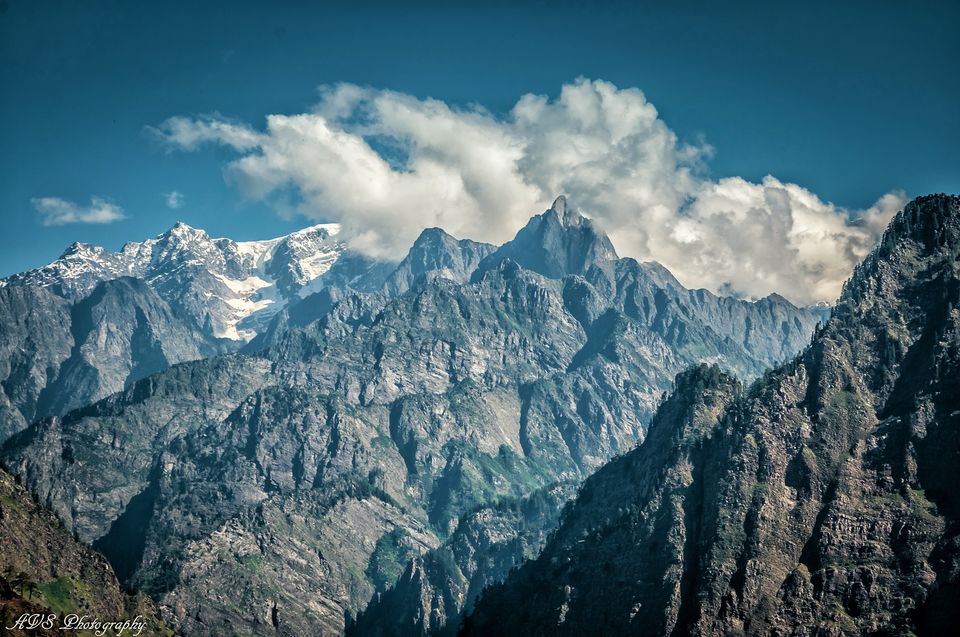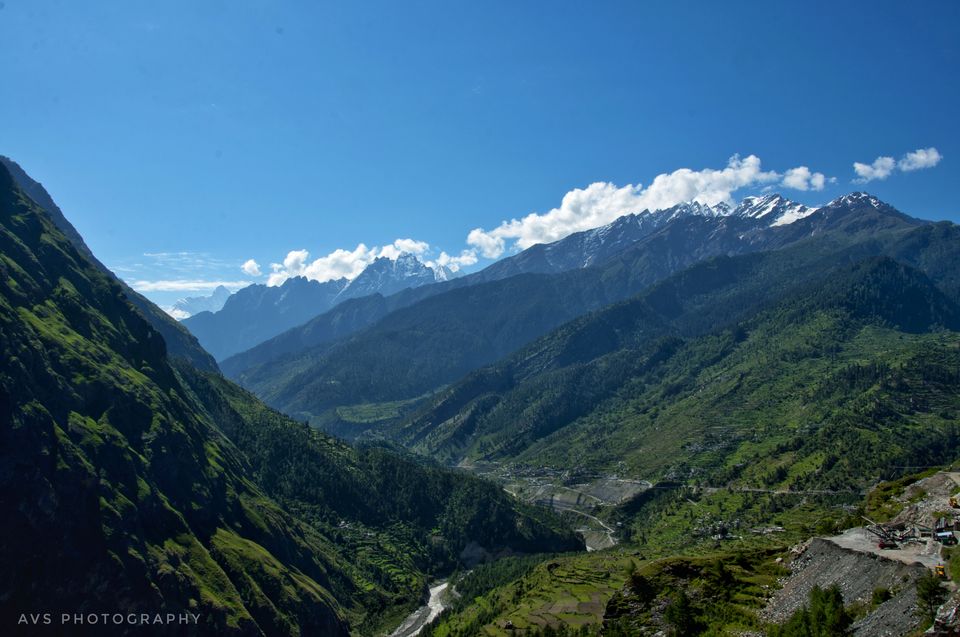 which made easy for me to click the beauty of them. Till Tapoban, traffic was less but mostly the army movements were found on the road. Dhauliganga river flowed along the road till Niti Village and there were many beautiful villages on this route with the mesmerising view.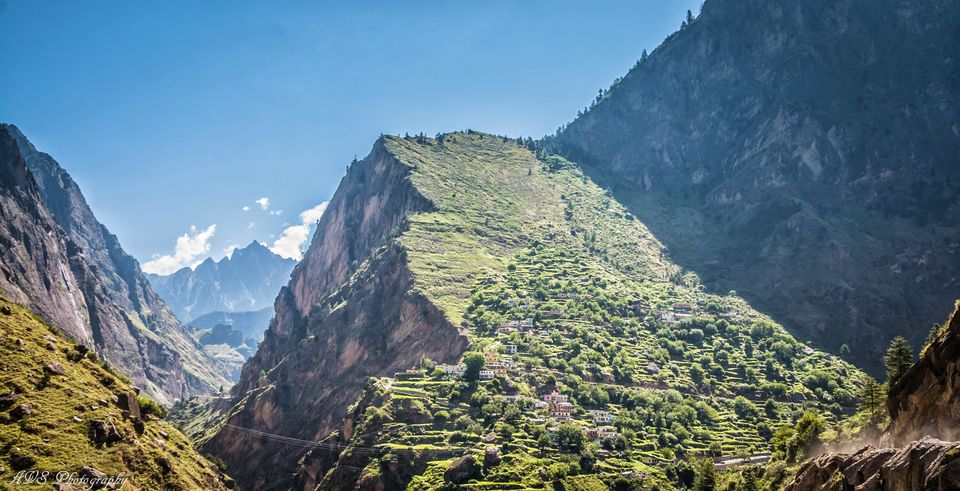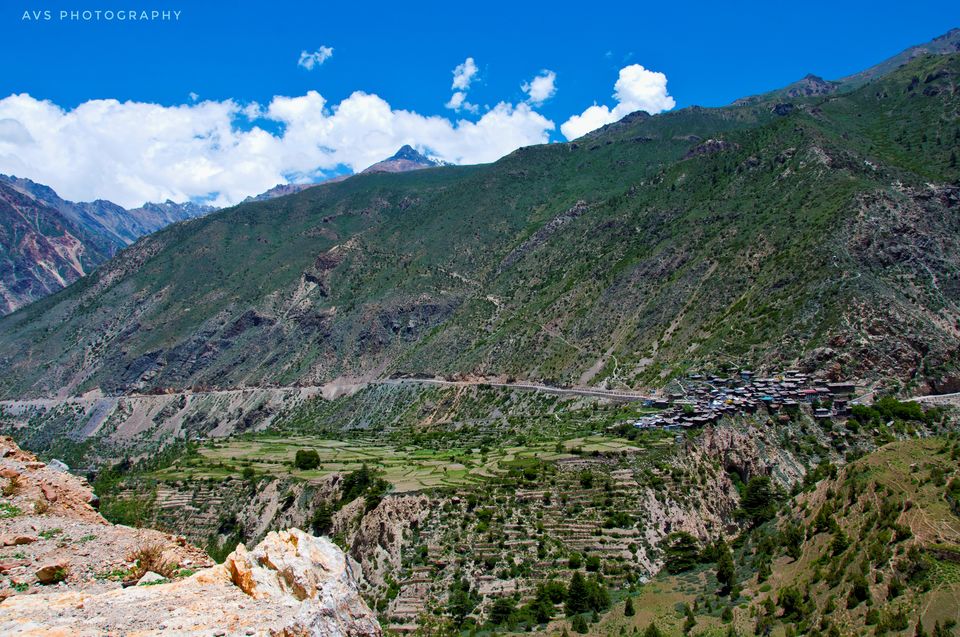 Majority of the roads were in a good condition but there were many in bad form especially before and after Malari. For the first time, I came to know about a valley known as "Valley of Perfumes".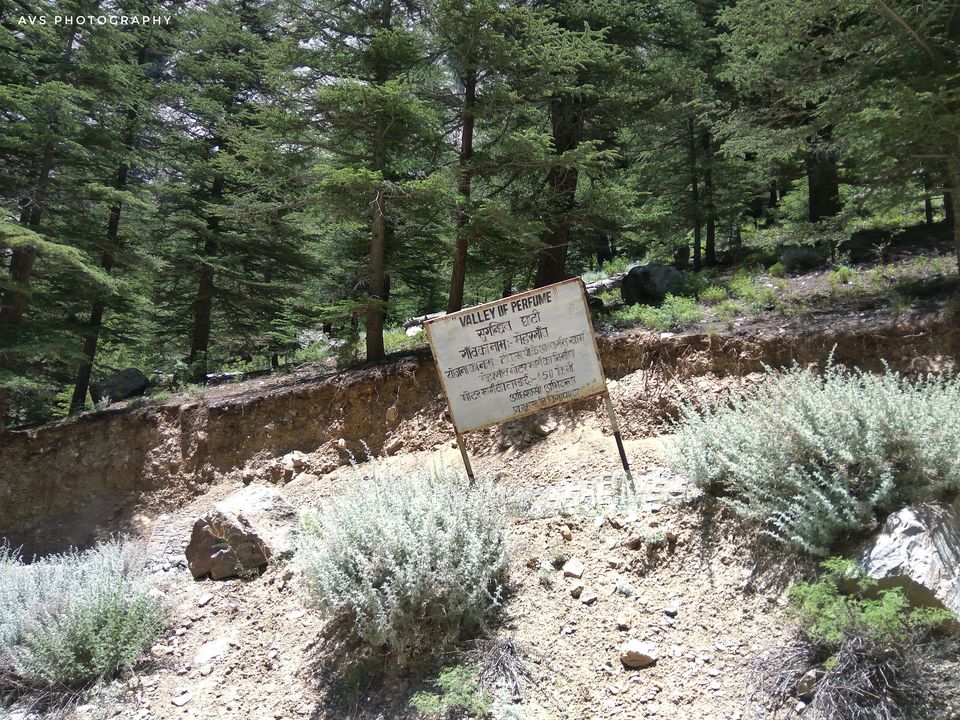 It's actually a valley covered with natural bushes which offers sweet fragrances and on the way, there were 3 villages on which had abundant amount of these bushes.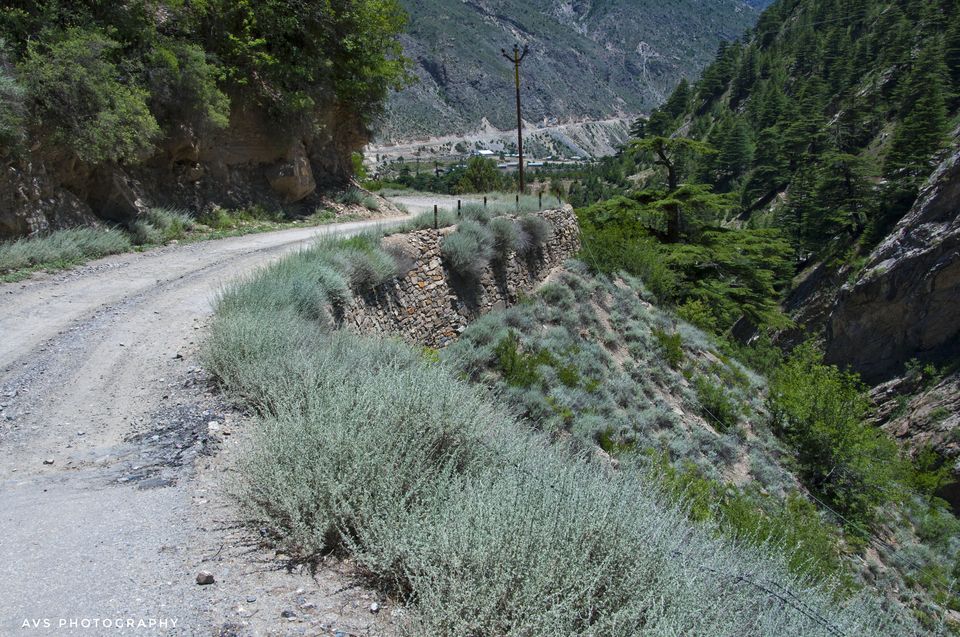 As soon as I crossed Malari, the view started getting more scenic, more vibrant and more beautiful.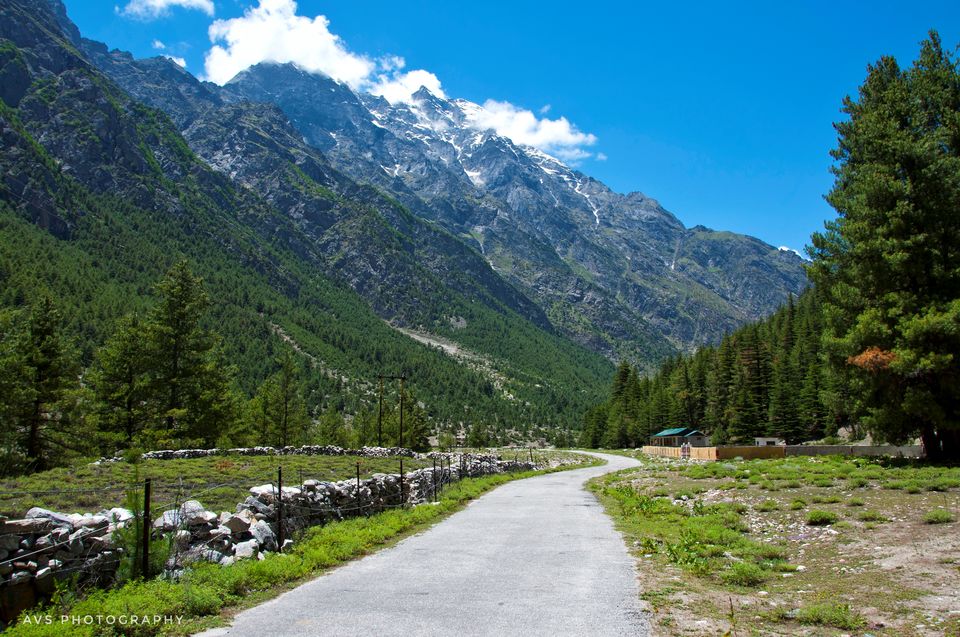 Moving ahead, many water crossing also started showing their presence, though they were not strong but something to be a threat while returning. Reached Gamsali check post before 1 pm and was told to get a permit from DC office at Joshimath for Niti village so I had to return from Gamsali as I wasn't aware of the permit.
Now, I had more time to spend while returning, to capture the beauty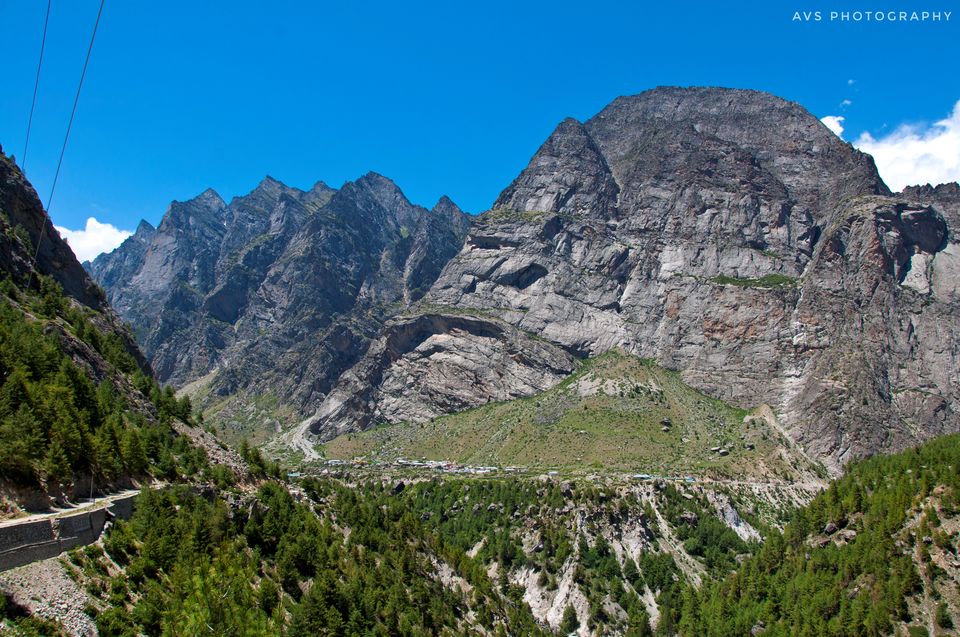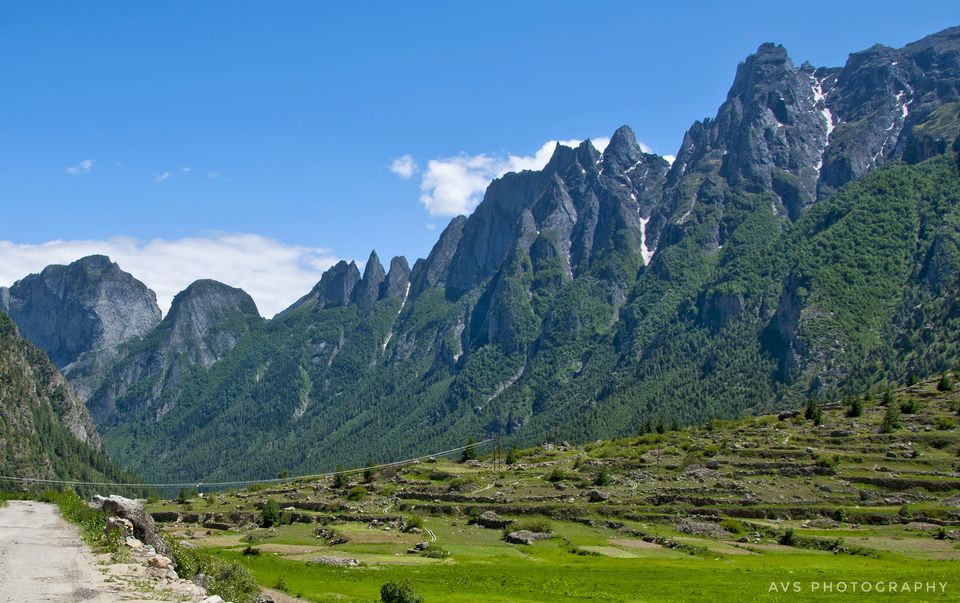 and started looking for a point to get a clear view of Nanda Devi peak. Locals suggested to go to Kurchoi village for a clear view of Nanda Devi which is a village situated 6 kms off highway just before Tapoban.
When I reached there, I was surprised to see a clear view of Mount Dronagiri but Nanda Devi was not visible at all and it was about to get dark. I decided to setup my camera equipment to capture the sunset and enjoy whatever nature offered me.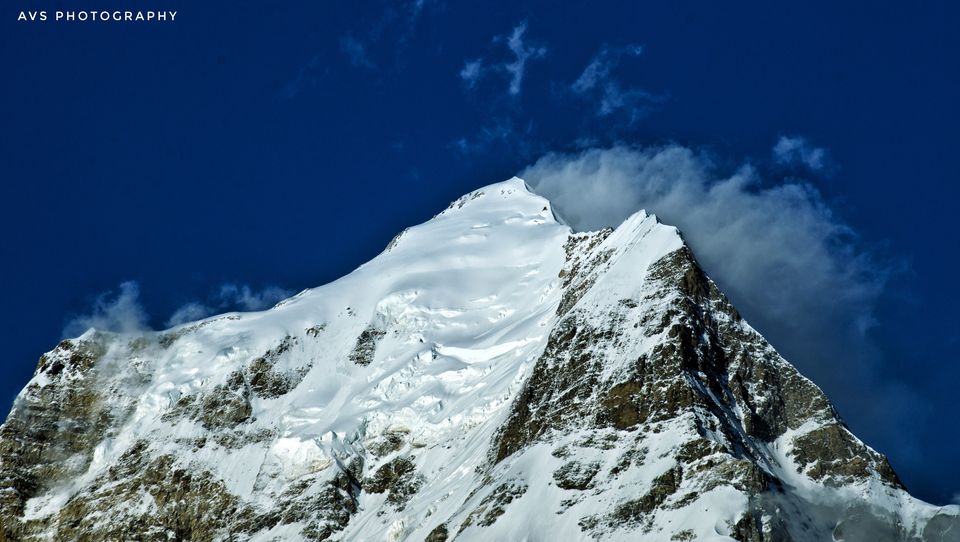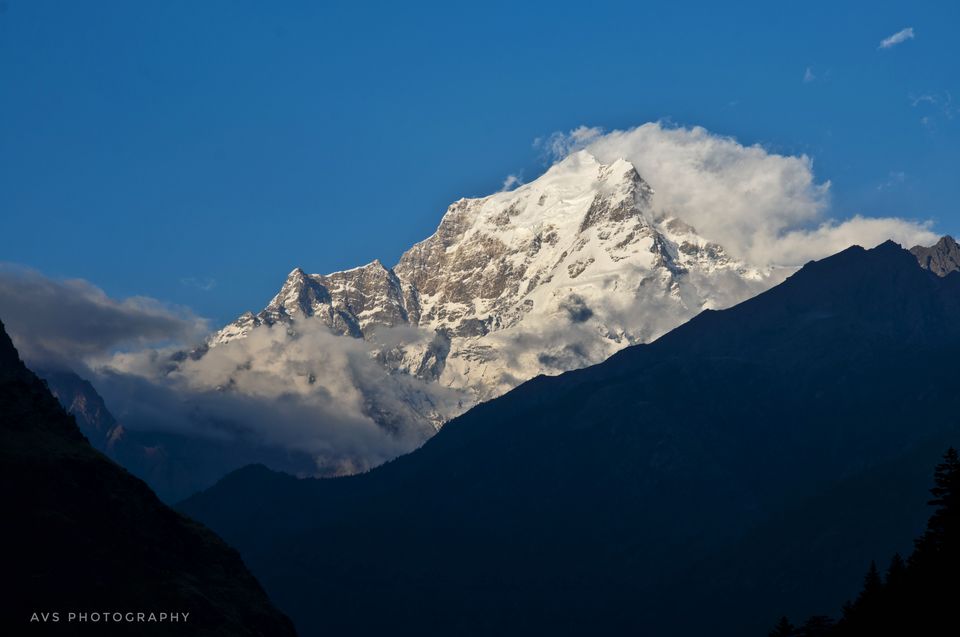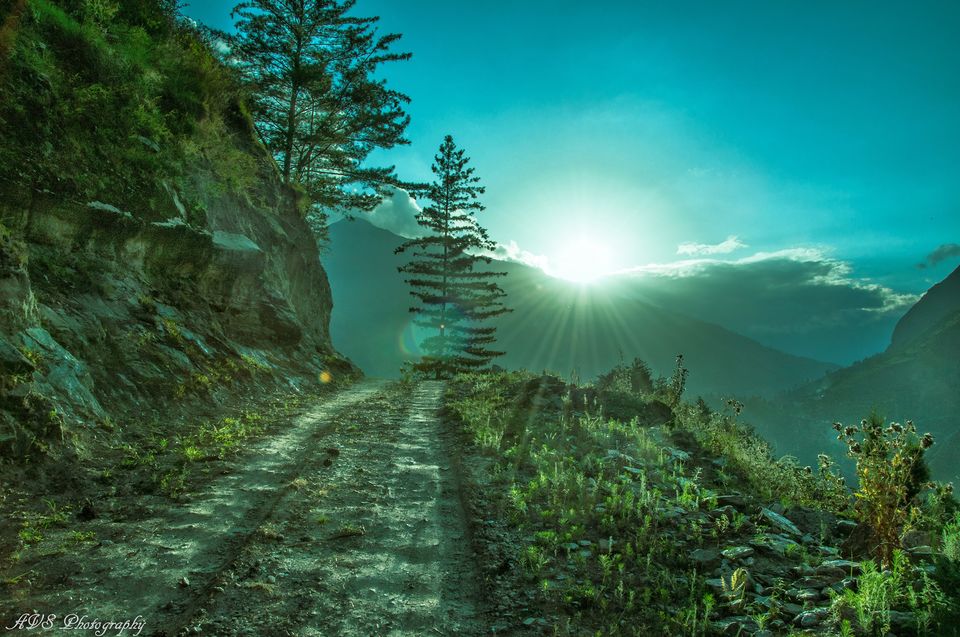 Finally I reached Joshimath by 8 pm, booked a hotel room and called it a day.
Day 8: Jun 24, 2017
Joshimath – New Delhi
I was left with one more day to spend in mountains but I decided to ride to Delhi to meet some friends and cousins. So, checked out from the hotel at 6:30 am. I knew, it would be a hectic day covering 488 kms in a single day. The ride till Kotdwara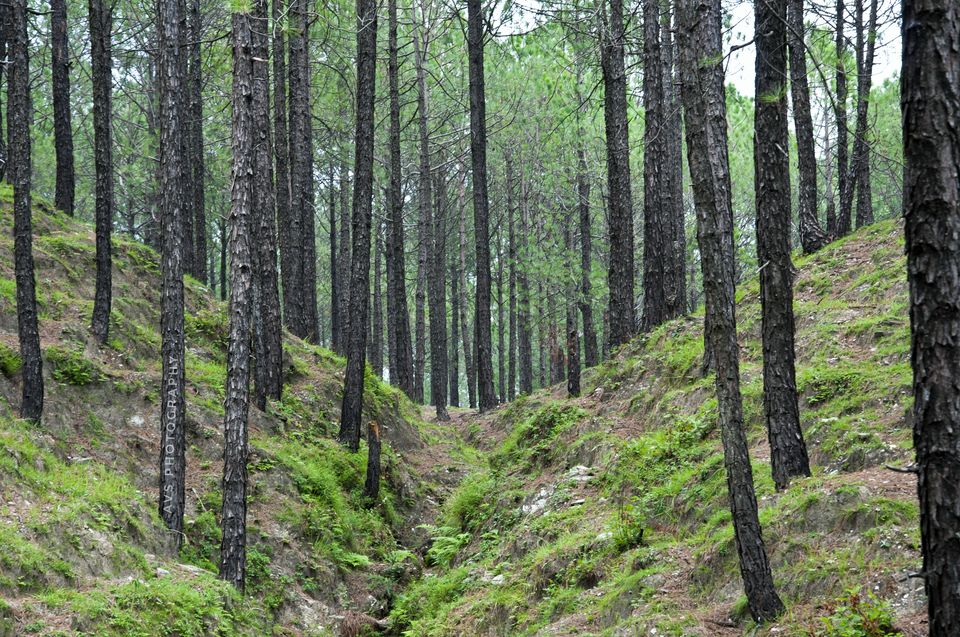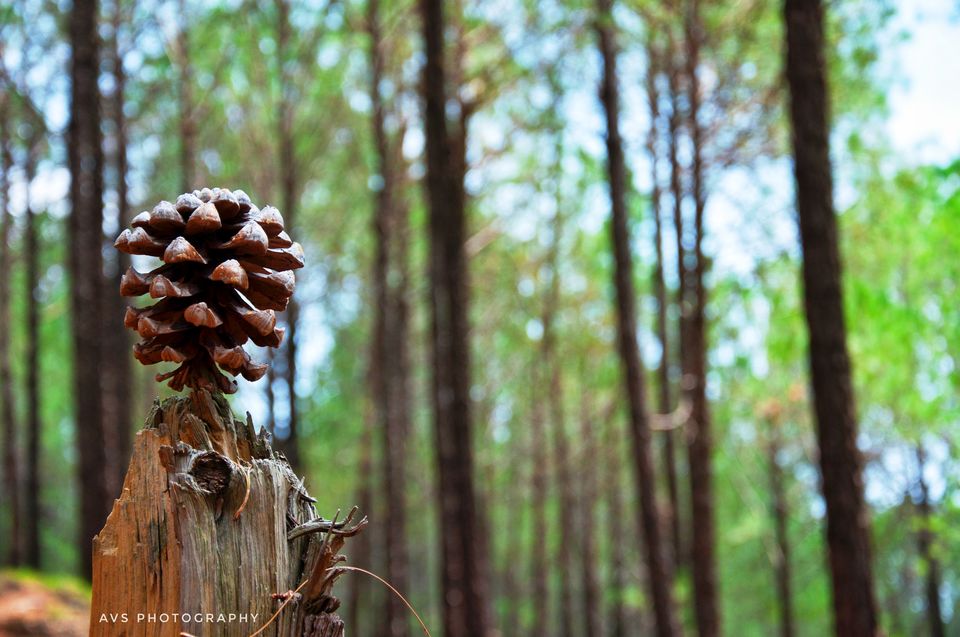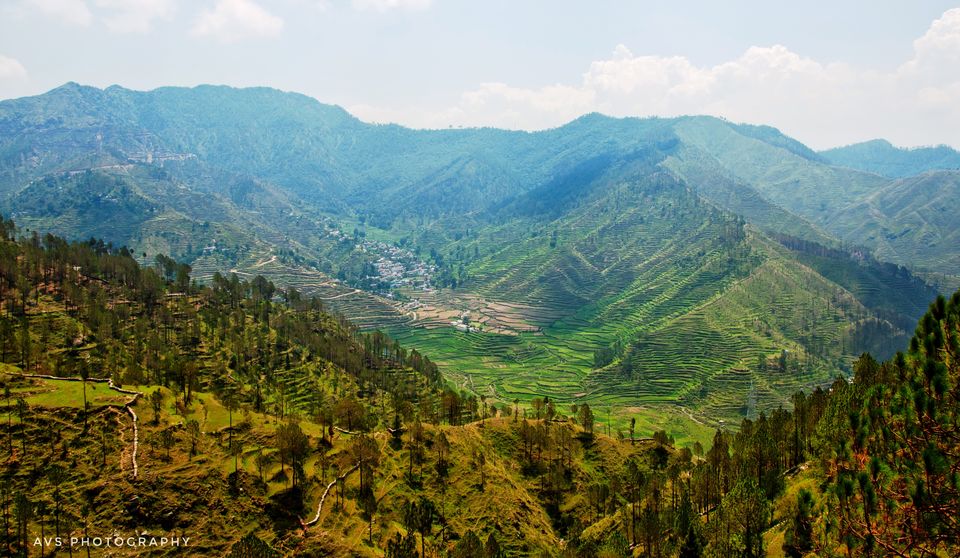 was beautiful and amusing but after entering Uttar Pradesh the temperature and traffic rose to an extend that I had to take breaks to drink water and juice to keep myself hydrated. While crossing Bijnor, Meerut and Ghaziabad I lost my way and realised that riding through the traffic of Uttar Pradesh and Delhi is not my cup of tea. Somehow I struggled through the traffic and signals in the scorching heat and managed to reach Delhi by 7 pm.
Day 9: Jun 25, 2017
Delhi – Panchkula
Finally, I was in Delhi and it was a time to relax and chill with my brothers, friends & relatives. By the noon, the temperature in Delhi got pretty elevated so I planned to leave in the night by 3 am to Panchkula and intended to reach by 7 am.
What to carry:
Things to Remember:
Liked the Blog? Don't forgot to share it with your friends and this time its not limited till blog or images only, we are bringing you the Vlog for this fascinating journey. You can check the teaser for the same below we'll be releasing the complete video very soon, for regular updates from us please follow us on Facebook, YouTube & Instagram.