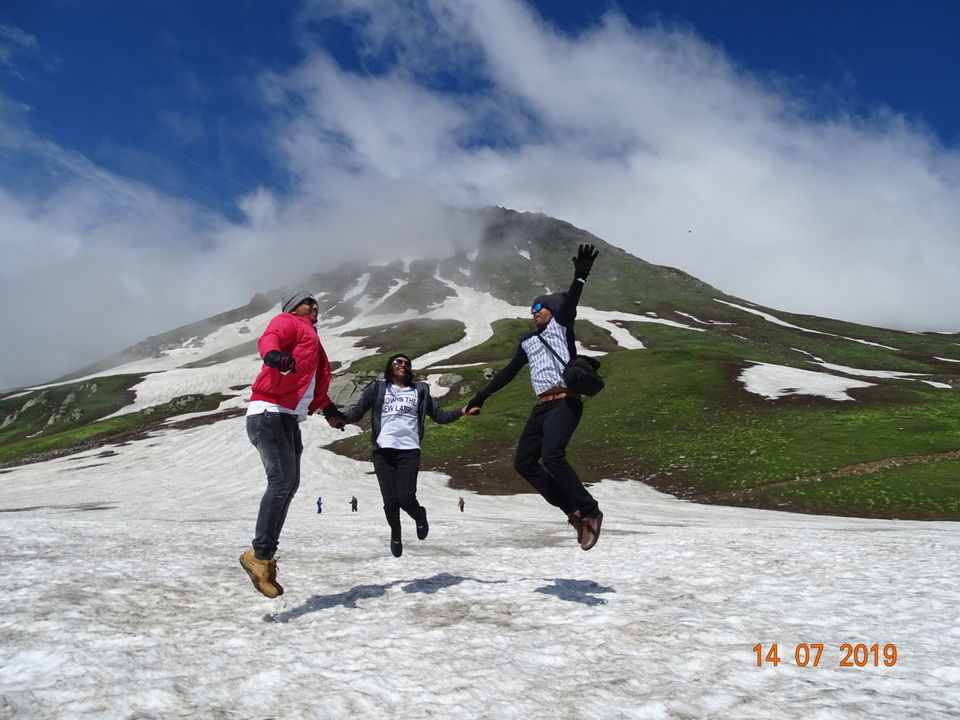 Hi everyone! This is Moy. As a child or maybe since when I was a child, I always dreamt of a road trip to Himachal. And when Instagram made its in-rows to our culture, I made it a point to follow few mountain travelers on Instagram, so that I am reminded of what I need every time I open it (which means at least twice every hour ;)). And then, on a lazy Sunday, whilst chilling with few Chet Faker tracks in my Mumbai apartment, one of my cousin, Pradil, rang me up. "Bro lets go somewhere!" he said. It didn't take much time before we decided " Himachal It Is!". Then it all came down to my wife's leave. Being from that cult which is denied few basic rights like sleeping, partying, chilling, etc, getting her leave approved, that too for 7 days, was a herculean task. "Doctors do not take so many leaves" her colleagues taunted. After the usual late drama (which always turn up before every trip), when we got our leaves confirmed, Pradil, who had lost his patience waiting for our confirmation, had made bookings for himself and his wife. After a round or two of negotiations with his travel agent, he could get his bookings canceled except flight tickets to Delhi and the bus tickets from Delhi to Manali, without much penalties. We modified our itinerary to make full advantage of the money already spent. After all that driving we had done in the last 14 years, Pradil and I did not doubt that we wanted to drive on those majestic mountains. We explored many self-drive car options available, to find that a zoom car from Chandigarh will be apt to our requirements. It was decided that Pradil and his wife Deepika will fly from Cochin to Delhi on 12th July, and thereafter board an overnight bus to Manali. In the meanwhile, my wife Sinju and I were to fly from Mumbai to Chandigarh via an early morning flight and pick up the Zoom Car. To include Prashar Lake in the itinerary, we decided to meet up at Mandi (which comes en route to Manali when we travel from either Delhi or Chandigarh) in Himachal Pradesh.
After another week spent on excitement over the upcoming trip, day 1 of our trip: We took a flight from Mumbai at 0600h on 12th July to reach Chandigarh by 0830h and the driver from Zoom Cars delivered a Fiery Red Hyundai Verna 1.6D which has done just 6000 km. Though delivered 40 mins late than the scheduled time, the spic and span car impressed us. After a photography session of the car and myself, the driver quickly finished off the formalities and handed over the car to us. The first thing we did after we got the car, was to make online reservation to enter Rohtang Pass for the car and passengers. This permit is issued daily with a quota of 1200 permits in day (400 diesel vehicles and 800 petrol vehicles).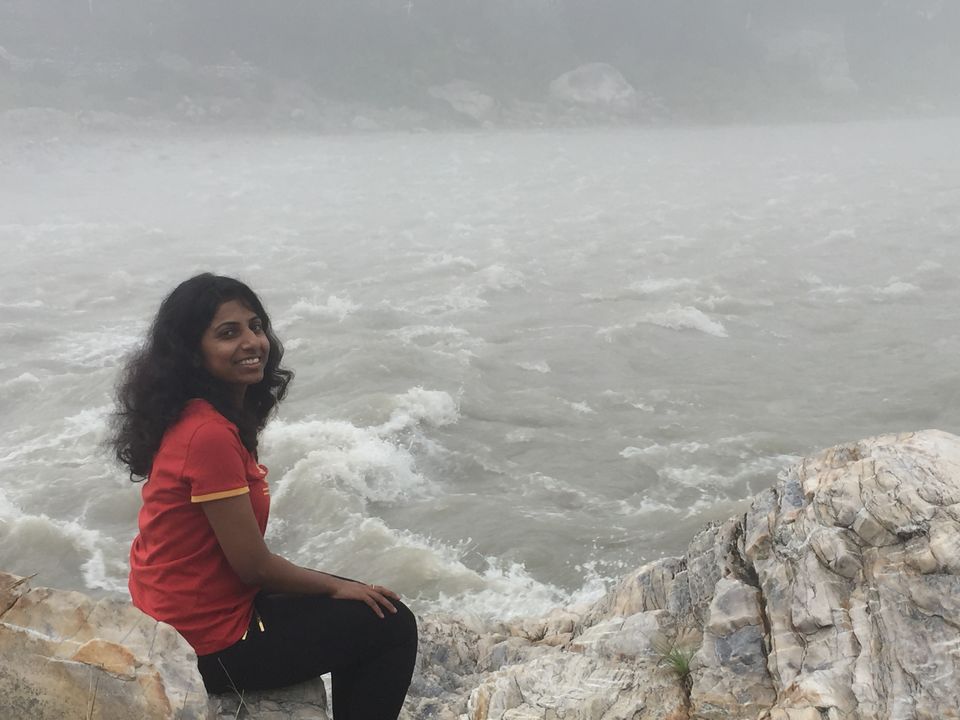 Our first stopover, Mandi, is at a distance of 190 km from Chandigarh and can be done in around 7 hours including the pit stops for meals/snacks. Mandi sits almost at the geographical center of Himachal Pradesh at an elevation of 760 m from the mean sea level (MSL). The town, which has mythological and historical importance, is sometimes referred to as Chhota Kashi, due to a large number of ancient temples in the city and on the banks of river Beas. The road from Chandigarh to Mandi will take you through the city initially, before hitting long stretches of NH 205. After enjoying some highway driving on NH 205, we took a diversion at Bharatgarh towards NH 105. NH 105 threw few twists and turns at us while gradually ascending from 260 m to around 700 m above MSL, by the time we reached Mandi. Mandi is an intermediate town offering few home-stays, restaurants, shopping areas, temples, etc. We decided to stay at a Hotel Paras which we booked through OYO. We preferred this hotel because it was right on the highway so that Pradil and Deepika can disembark from their bus in front of the Hotel. It is an average hotel that offers decent rooms at a cost of 1500 INR. After relaxing for an hour or so at the hotel, we explored the Mandi town. A laid-back town with great sense for fashion and a treat for taste buds on the offer, Mandi amused us with a different way of looking at life. After roaming around for a few hours, we dined at a nearby restaurant and decided to call it a day.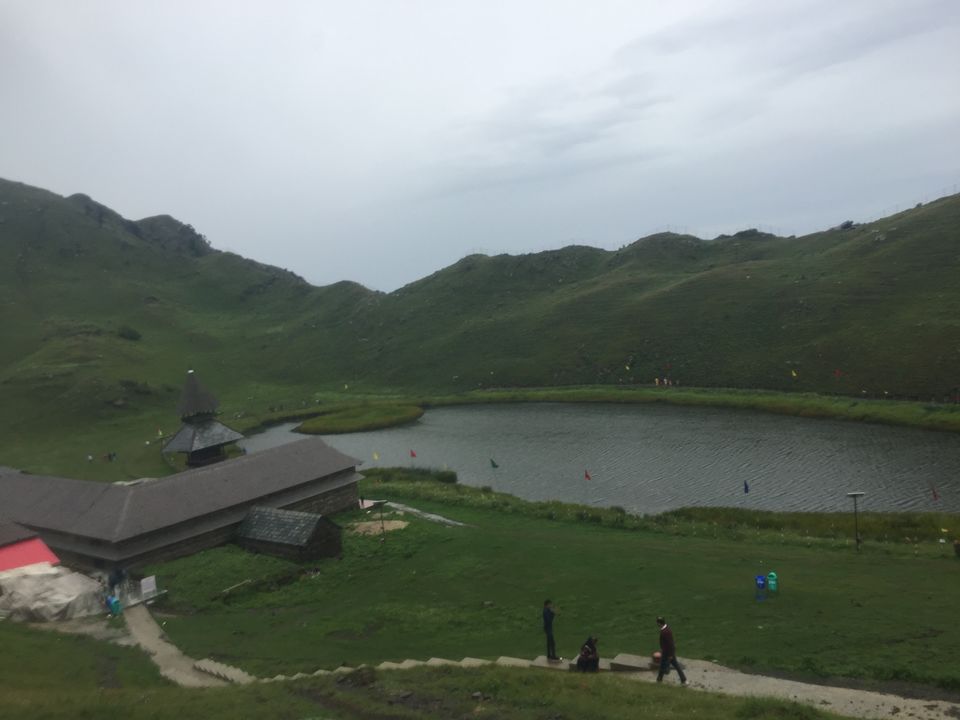 I woke up hearing my phone ring, it was 0530h. Pradil and Deepika were dropped right in front of the hotel by the bus. Pradil shared that he couldn't sleep on the bus, not because it was uncomfortable, but due to his excitement for Himachal, which was exactly my situation. After a continental breakfast at the same hotel, we started for Prashar Lake by 0730 h. Prashar lake is located at a distance of 49 km from Mandi. The route from Mandi to Prashar is very exciting and at the same time challenging. With numerous viewpoints that offer breathtaking views, the route from Mandi to Prashar goes through Kamand and Baggi. The road is quite narrow, steep and deserted for the majority of the distance. After numerous hairpin bends, few meadows, few river crossings (where the bridges were damaged by landslides) and an awesome and refreshing drive through lush green mountains, we reached Prashar Lake at around 1230 h.
With a three-storied pagoda-like temple, dedicated to Great Sage Prashar, on its banks, the holy lake Prashar located at an altitude of 2730 m is a feast for your eyes. The place which is under a thick layer of snow during winter offers its lush greenery during this time of the year. With cold weather, fresh air and dense forest surrounding this area, Prashar offers an ideal place to relax in the nature's lap. We were also blessed to get drenched in a short drizzle that added to the feel (thank God!! we had our raincoats/jackets handy) we got at this place.
After spending almost an hour and a half at Prashar Lake, we decided to drive up to Manali. Prashar to Manali is around 115 km and can be done in a car in around 5-6 hours. The picturesque route from Prashar to Manali passes through Bagi, Shayari, Bhajuara, Bhuntar, and Kullu. It takes around 2 hours to reach Bhajuara, where it joins the road from Chandigarh to Manali(via Mandi). From Bhajuara, its a four-lane highway with ongoing construction every 5-10 km. Except for the patches where the ride is quite bumpy, Prashar to Manali offers everything a driving enthusiast loves: serene forests, distant snow-capped mountains, empty roads, river crossings, viewpoints, lush green meadows, few sharp turns, up-steeps and down-slopes and what not. After a thrilling drive, we reached Manali at around 1900h where we checked into a cottage named 'Driftwood Inn' booked through Booking.com. The property offered a very classy wooden floored room with an open-air dining/cafe area at a decent price (1600 INR/room). The cottage also has a kitchen attached to it and serves home-cooked meals on giving a heads-up by few hours. Nestled between the Pir Panjal and the Dhauladhar ranges, at an altitude of 2050 m, Manali offers jaw-dropping views, lush green forests, and a persistent aromatic air. Manali is also famous for shopping, hippie villages, temples, museums, cafes, and a few restaurants that offer Himachali Cuisine. Without making an effort to visit Manali the same day, we decided to go for an early dinner and hit the bed since we had to start the next day very early.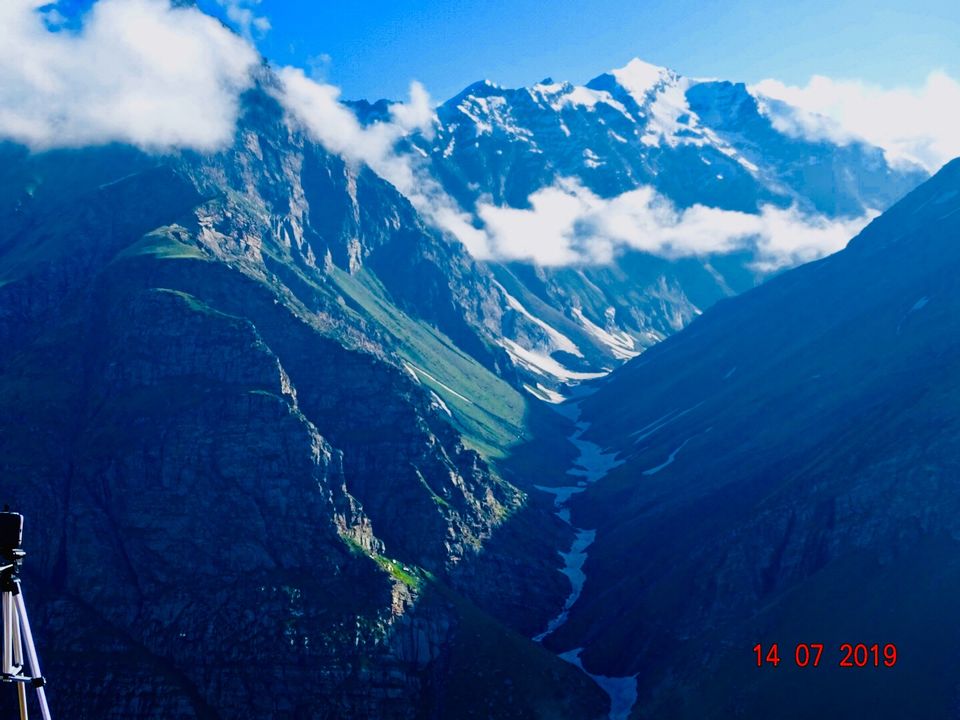 The caretaker of Driftwood Inn had suggested that we start by around 0500 h for Rohtang to avoid any likely congestion en route Rohtang. Accordingly, we started from our cottage at 0515 h towards Rohtang. It is important to carry the paper print of Rohtang Permit booked online while going to Rohtang. Rohtang/Rohtang pass is located at 51 kilometers from Manali at an elevation of massive 3978 meters. Rohtang can be reached only by road from Manali, it is this same road which further stretches out to Spiti, Lahaul, and Leh. A few kilometers after crossing Manali town, few roadside vendors rent out warm clothing to the tourists visiting Rohtang. We have driven on many picturesque routes in India, but I must say, the route to Rohtang Pass is a different kettle of fish altogether. We reached the security checking at around 0610h and thus we could enter the road to Rohtang without any congestion at all. After crossing the security gate, the road immediately narrows into one in which giving side to the opposite traffic is a skill by itself. Except for a few Tata Sumos plying tourists to Rohtang and beyond, there were barely any vehicles on our route.
The higher we drove, the more serene was the nature surrounding us with snow-capped mountains, waterfalls, mist, and drizzle. Due to heavy snowfall in winters, this pass remains closed from November to May. After covering about 30 km from Manali, we were able to spot white patches of snow high up the mountains, and in another few kilometers, we were driving on a road with dense snow on both sides. We reached Rohtang Pass by around 0830h and we were among the few others who were enjoying a hot Maggi and tea in between those snow-capped mountains. Adventure seekers can try their hand on skiing at Rohtang (not really ;), you get to ski on a snow-capped mountain for about 100 meters, that's it).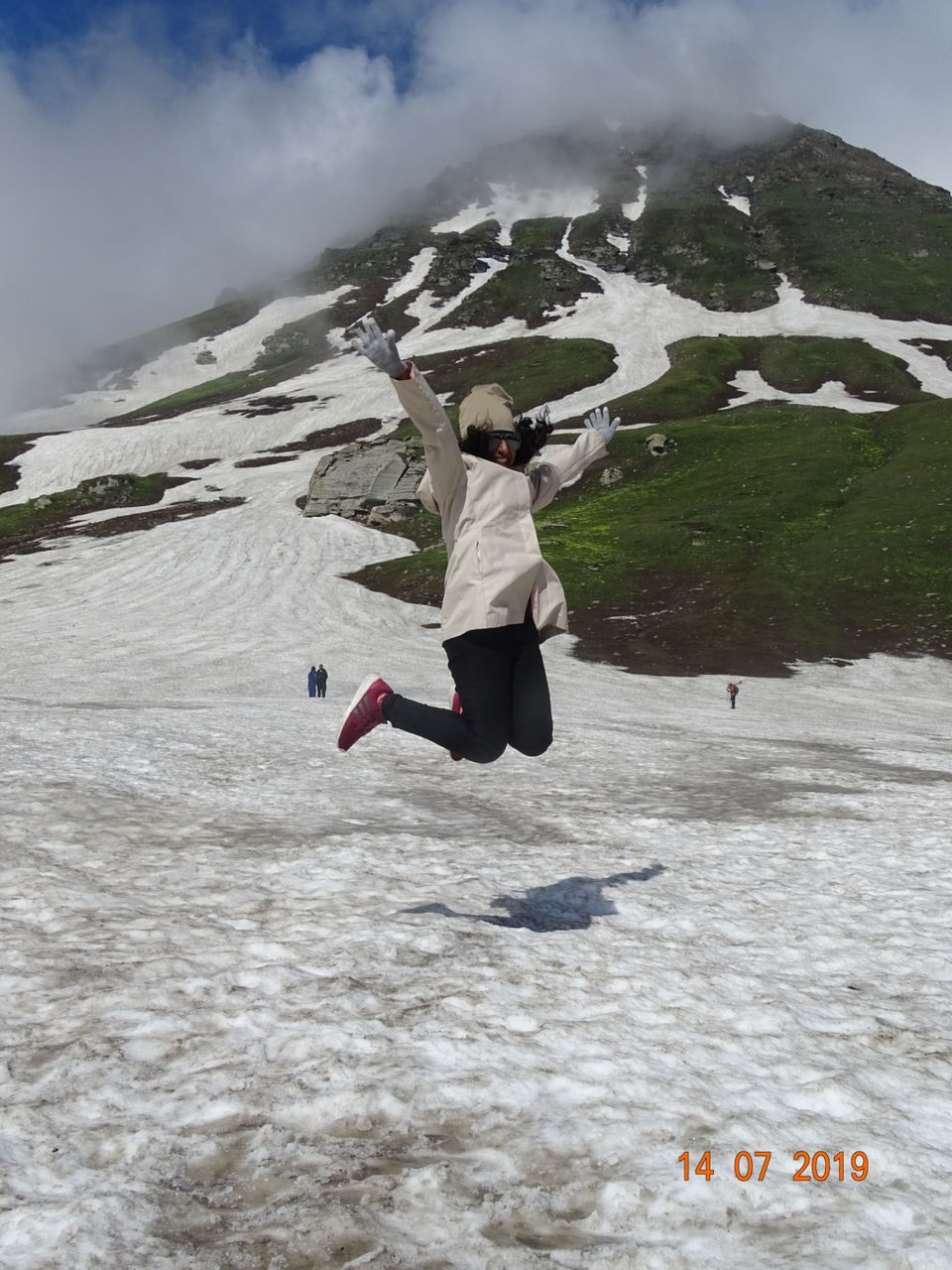 While walking up the snow-capped mountain, we were encapsulated by thick fog. When the fog retrieved after half an hour, we realized that the Rohtang Pass which was empty a few hours back was flooded with people and their vehicles. After taking a few photographs and time lapses, we decided to descend quickly before the downhill traffic increases. As compared with a calm and serene uphill drive, the downhill drive was rather chaotic with many traffic jams created by uphill traffic due to the lack of driving sense required in the mountains. It took almost 5 hours plus to descend as compared with the 3 hours we took to ascend the Rohtang. Having captured some great memories from Rohtang, we reached Solang Valley by 1300h. The Solang Valley, which is located 14 km from Manali at an altitude of 2560 m was crammed with tourists from around the country, by the time we reached. Solang Valley offers view adventurous activities like Paragliding, ATV bikes in addition to a Rope Way which takes one to a higher point that offers scenic view of the valley. The cost of Rope Way is 650 INR per head. Solang Valley offers two versions of Paragliding, a 'short ride' which lasts around 3-4minutes (1000 INR/head), and a 'long ride' that lasts near to 20 minutes (3000 INR/head). After a ropeway ride and Sinju's paragliding, we decided to head back to our hotel and have lunch. We intended to go for river rafting in the evening, but to our dismay, river rafting was shutdown in Manali due to some recent accident.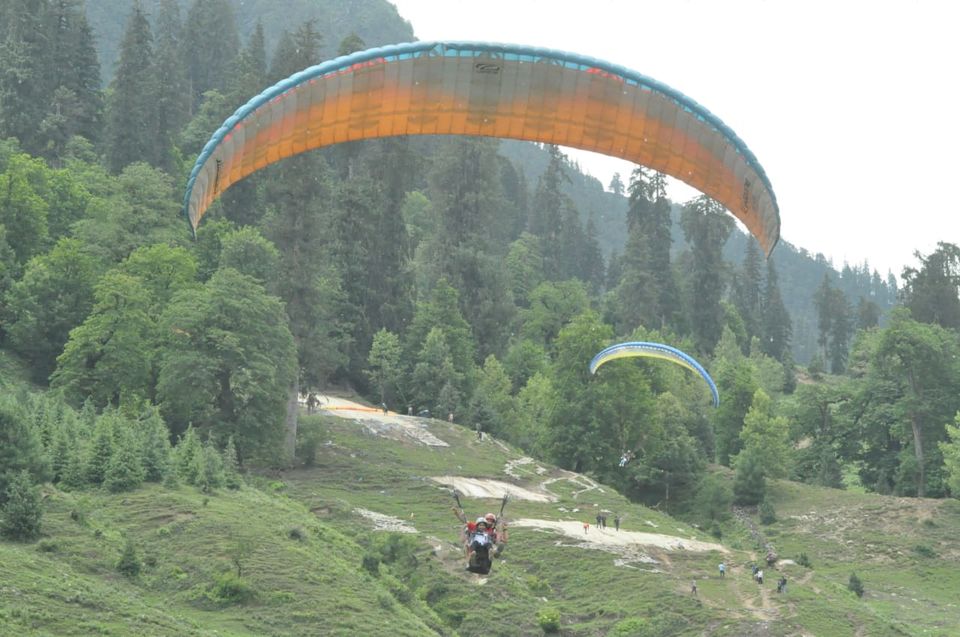 With some time in hand, we decided to explore a nearby village, let's call it a 'hidden gem'. Recommended to us by a traveler from Vietnam, who was staying in that village for almost a month, that village was simply mind-blowing. We crossed apple orchards, plantations of kiwi, plum, mulberry, and blueberry to reach this serene and calm village, where the only sound was from a nearby stream. After spending almost an hour at that village, we went straight to Hidimba Devi temple.
Hidimba Devi temple locally known as Dhungari temple is an ancient temple dedicated to Hidimbi Devi, wife of Bhima, from the epic Mahabharata. When we got out of the temple after spending some time there, we realized that we were in the midst of a Mumbai-like traffic in Manali. But that wasn't what we were in Himachal for and hence we headed back to our hotel, canceling our plans to do some shopping in Manali. After spending some quality time at the outdoor dining area and enjoying some sumptuous delicacies, we decided to hit the bed as we had to start for Kasol, the next day morning.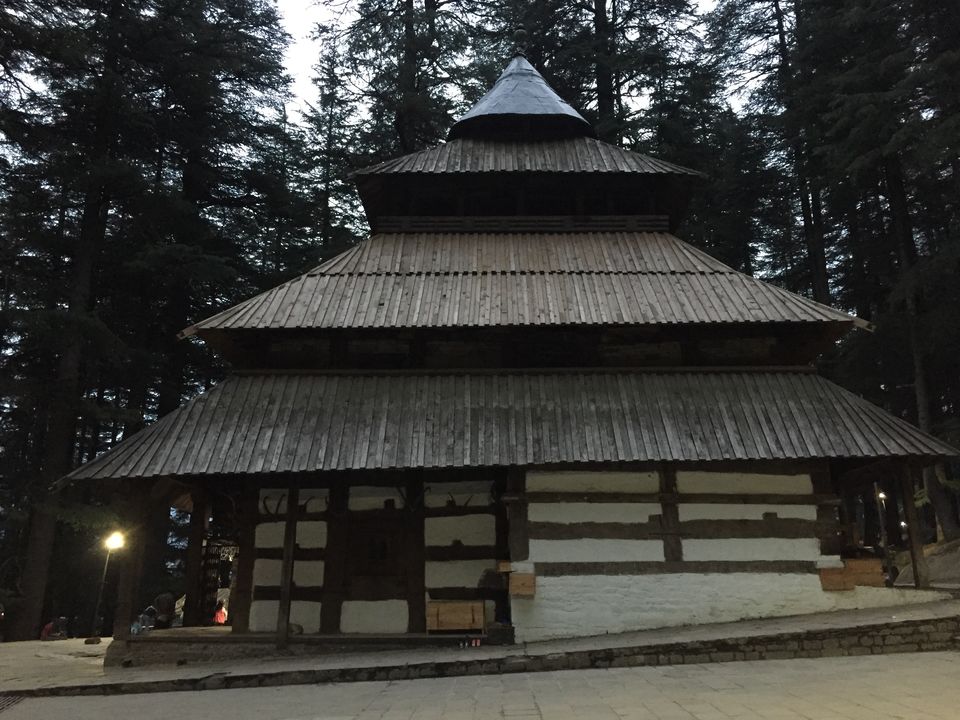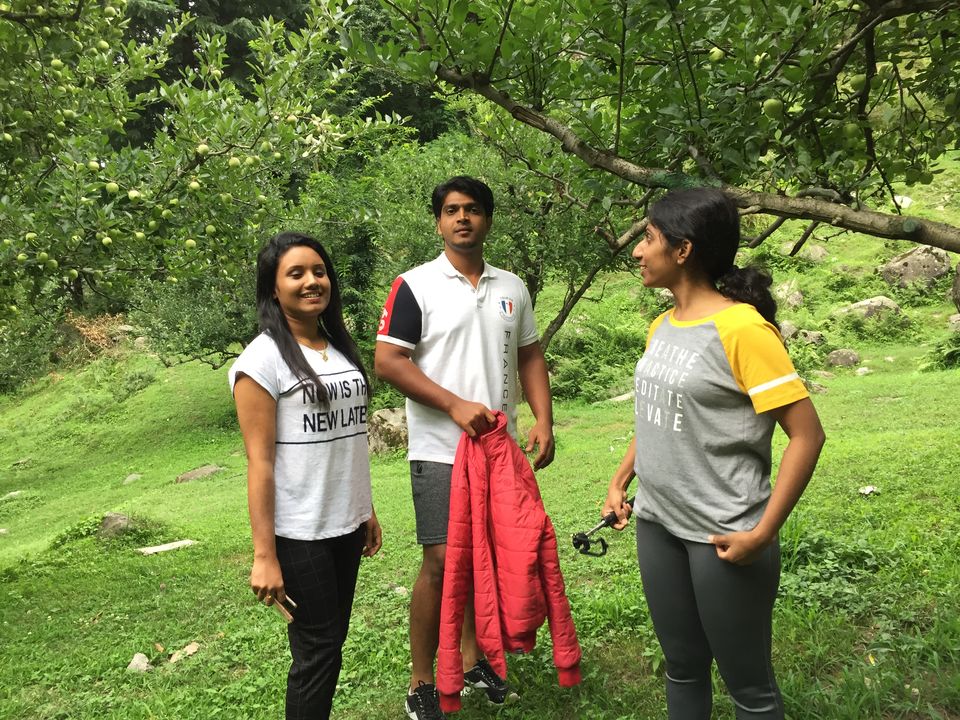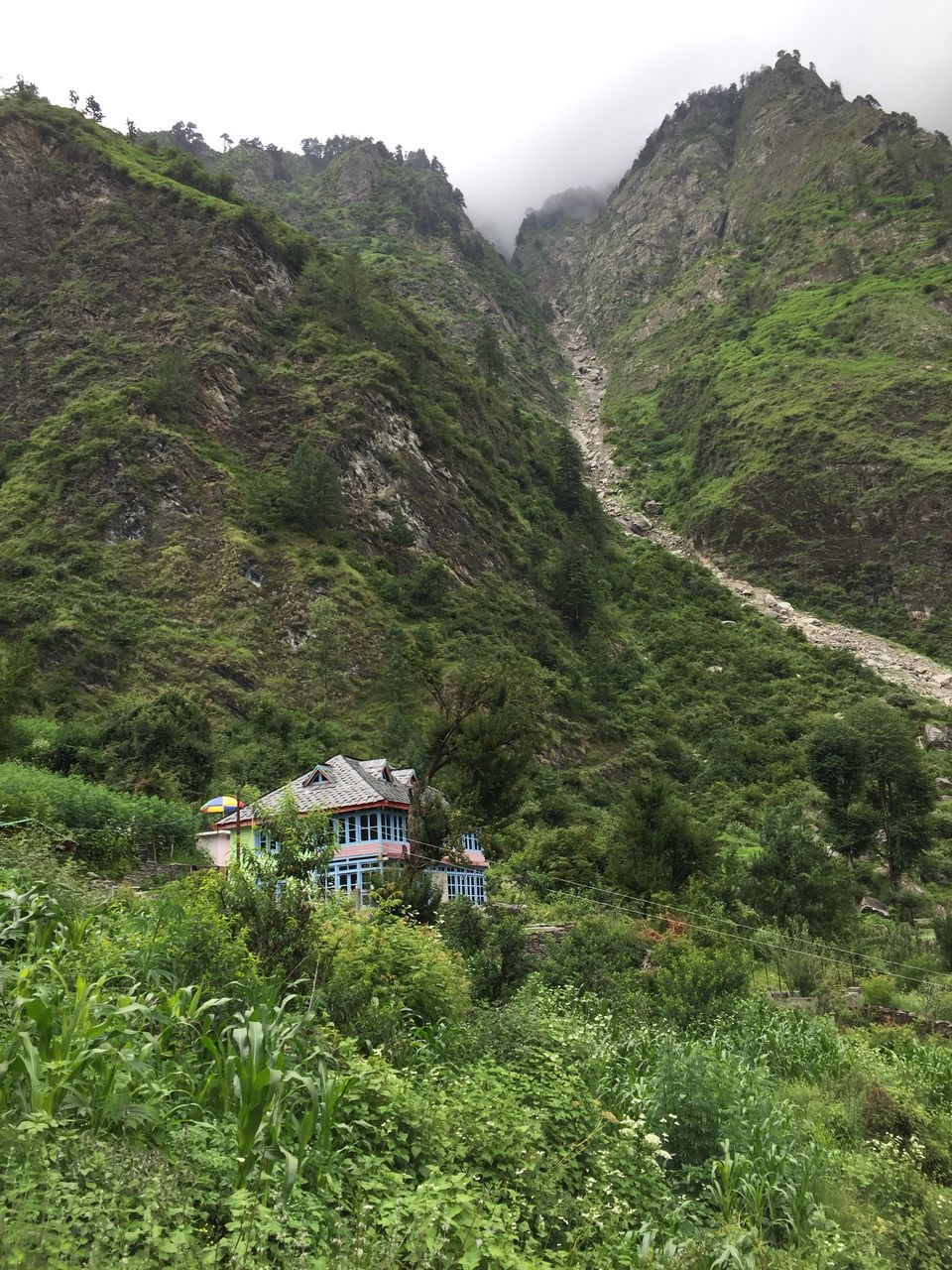 Due to some technical issues, our start to Kasol was delayed by few hours. Finally, we were able to manage to start from Manali at around 0730 h. Kasol, the Mini Israel of India is hamlet located at a distance of 75 km from Manali at an elevation of 1590 meters. Famous for its Israeli cafes and hippie culture, Kasol is a hotspot for backpackers and trekkers who go on to trek to Tosh, Kheerganga and the famous Malana amongst many other mountain trails that Kasol offers. Tosh is a nearby village that can be trekked in about 30-35 minutes from Manikaran (or 15 mins by an ill-maintained road), which is about 5 km from Kasol whereas Kheerganga is an advanced trek which takes about 6 hours (one way). There are accommodations available at both these places and can be booked online in case you need a confirmation or else you can visit the place and find one without any difficulty. Now, what we did was completely different from any of these. We found a 'high rated' Sunview Cafe on AirBnB and the reviews allured us into booking it. Sunview Cafe is located in a remote village named Gargi. The village can be accessed only on foot by a 4-hour trek from Manikaran. The trail to Gargi which starts from the Manikaran Sahib Gurudwara (where you can park your vehicle), is not for the faint-hearted. The six kilometers trail offers countless vertical steps, steep mountain trail and a myriad of breathtaking views of the Parvati Valley.
I must say "It's not the mountains we conquer, but ourselves". This famous quote by Sir Edmund Hillary was very true in our case. A porter/guide is available on offer at Sunview Cafe, and guests can use his help in case you are not a seasoned trekker.
Sunview Cafe re-asserts the old hiker's quote: "The best view comes after the hardest climb". Located on a mountain top at the Gargi village, Sun View Cafe is a mountain cabin run by a local Mr.Theku Bhai. Cafe offers wooden cabins with stunning views, in addition to a common area that can be used for dining/recreational purposes. The cafe also offers genuine Himachali cuisine using vegetables sourced from the nearby villages. This is a cafe where foreigners come and stay for months for their rest and rejuvenation. The only drawback of the cafe is the unavailability of attached washrooms. After a good night sleep at the cafe, we trekked back to Manikaran the next day morning. Downhill trek can be covered in one and a half hours. Sunview Cafe charges 800 INR/room, which may sound quite cheap, but the food is decently priced here.
Our next destination was the less heard Thirthan Valley. Perched at an altitude of 1600 meters, Thirthan Valley is an offbeat destination ideal for trekking, fishing or simply exploring undiscovered villages. We started from Manikaran at 0930 h and drove through Buntar, Banala, and Banjar to reach Thirthan Valley which is at a distance of 84 km from Manikaran. The distance, which ideally does not require more than 4 hours, took us close to 6 hours due to ongoing road construction. We did not make any reservations at Thirthan Valley in advance and decided to find one after reaching there. Thirthan Valley offers Rustic Riverside Homes, hidden waterfalls and numerous tiny Himalayan Hamlets. July was off-season at Thirthan Valley and due to the same reason, the majority of the resorts were closed for maintenance, while others were being run by just one or two staff who were not interested in hosting anyone on such a lazy day. After spending some good time at the riverbank, we decided that we will stay at Jibhi for the night. Jibhi, another hidden paradise, just 16 km away from Thirthan, is a hill station with mainly home-stays, few cafes and a couple of guest houses. Lack of commercialization makes this place an ideal retreat for travelers who wants to be away from the buzz of city life. We found a 'Latoda Eco Lodge' on AirBnB and decided to book the same. It was a 4 bedroom wooden home-stay run by a very welcoming and loving Himachali couple. The rooms also have an outdoor seating that overlooks a dense forest. The atmosphere this home-stay offered along with the tasty cuisines served made us fall in love with this place. After a night stay, when bidding adieu to such lovely hosts, we decided that we will come here again for a longer stay.
By around 0800 h we were back on the road, this time headed to the largest and the capital city of Himachal Pradesh- Shimla. Shimla, which is located at an elevation of 2050 meters was the summer capital of British India since 1864. After checking out from Latoda, we visited a nearby waterfall at Jibhi. This pristine waterfall was at 5 mins walking distance from the road and was a great experience. The authorities have constructed a pond-like structure around the waterfall where travelers can take a dip in the cold water from the waterfall. After spending some time at the falls, we started towards Shimla. Our next stop was at Jalori Pass, which was a misty mountain pass about 40 minutes away from Jibhi. There are few treks that you can do at Jalori. A trek towards Seroyul Lake and another trail towards Raghupur fort are on the offer at Jalori Pass. From Jalori Pass, driving through Kotgarh, Narkand, Theog, and Kurfi we entered the city limits of the beautiful Shimla. Shimla, the most popular of all the Himachal cities, is strung out along a 12 km ridge with dense forests in all directions. We chose Shimla on the second last day of our trip as it brings us closer to Chandigarh airport from where we need to catch our return flights the next day. After checking into Kapil Hotel very close to Mall Road which offers classy business-class rooms at a nominal rate of 3000 INR, we spent some time shopping for a few gifts and souvenirs. Thereafter, we decided to celebrate this trip and headed straight to The Brew Estate, Shimla popularly known as TBE Shimla. After a few jugs of locally brewed beer and tasty nibbles, we went for a walk through the misty mall road. As we strolled down that road in the chilling weather, we cherished the experiences we had over the last few days. Cut off from the rest of the world, exploring unknown mountains, villages, cuisines, we lived our life to the fullest. I don't remember at what time we headed back to our hotel, but we wished that this vacation never ended.
We started the next day at 0530h from Shimla. We intended to enjoy the drive, the last leg of this trip, and reach Chandigarh well in time to catch the flight. We reached the airport at 1030h and handed over the car to the scheduled pick up driver. The transactions with Zoom Cars were seamless and when the car was being driven away, we felt like parting a close friend who was a part and parcel of us over the last week.
Total Expenditure (including car, fuel, accommodation, food, beverages, Booze and other intoxicants): 18000 INR/couple. I have not included the flight tickets here.