It was a weekend when me and my friend decided to drive down to Mysore as it is the nearest city to Bangalore and well, our favourite as a getaway as well. As we reached Mysore, I had decided where I wanted to stay ... it was going to be a luxury stay because I'd just gotten my pay, so pocket full of money! Ha-ha!
We did not have any booking in Lalitha Mahal but still decided to go to the palace and check; for our luck, we got a super king deluxe bedroom which was right in the first floor, and the architecture was vintage! I am a person who loves history and stories behind the making of a great kingdom. 
Standing in the middle of what used to be a summer palace to a great king made me feel like a princess! 
This palace is known to be one of the very few palaces that incorporated an elevator. A classic grill-style elevator that literally takes you up one floor. It was the first elevator that was engineered by the ruler of Mysore. Standing in it, I felt like I was in a time capsule, and I felt extra special.
The building has a huge chariot standing outside waiting to take anyone for a ride. With a minimal charge, you get to be ferried around like a proper princess. The palace has a grand restaurant where they currently serve only vegetarian food. The food is not great and is completely over priced. I'd say skip even the free breakfast that comes with your room.
Behind the palace, there is a huge swimming pool. It is reminiscent of the old style of having large depths such as 16 feet and starts at 5..5 feet from what I remember. On the pool side, you have an almost endless lawn that stretches into a narrow fringe of trees in the horizon.
The palace itself has a shop: the Mysore Emporium. They sell different kinds of handicraft work and they are all overly overpriced. The highlight of the palace is that it is the perfect location for a photo shoot or a wedding shoot. To have a vintage backdrop like the palace is perfect for wedding shoots and portfolios.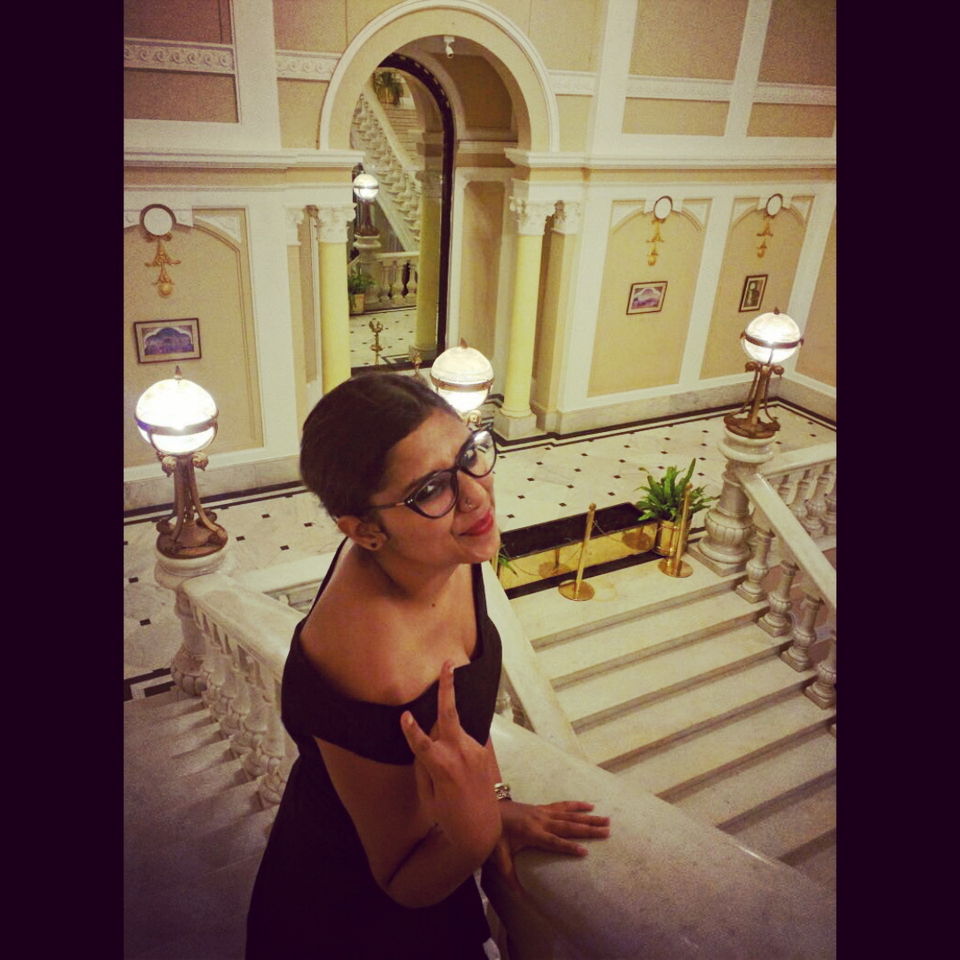 The terrace of the palace is simple marvelous. It feels almost as if you can see the entirety of Mysore. 
My rating for the palace as a whole is: 6.5/10 purely for the grandeur of the palace. 
Food and service is ok. Apart from a pool, there are no other amenities. In fact, if you stay in a lower priced room, you will find broken plug points and leaking taps, to say the least. 
It's definitely worth a one time stay.