Pondicherry, officially known as Puducherry, popularly called 'Pondi' is an ideal getaway for a short break from the daily humdrum. With its unique flavor of French colonialism, Pondi is an ultimate break to relax with some good food.
With an absolute hectic routine and no break since Hampi in January, we decided to steal a short weekend off for ourselves to explore the Indian-French colony. 3 days in hand, we booked an early outbound flight & a late night inbound flight back to make the most of our trip.
Landing in Chennai at 8am, we had a pre-booked cab waiting for us for a drop-off to Pondicherry - this was one of the best decisions as we avoided peak hour traffic and reached our hotel at around 11am getting the entire day for us to explore.
Our hotel, Villa Ecotiva, was a cozy place owned by a super-awesome owner - he himself made us eggs-to-order breakfast each morning, had us a scooter arranged right as we checked in, and also arranged us an emergency cab to the airport for our flight back since our pre-booked cab owner conveniently cancelled on us at the last minute.
We have thankfully met such gentlemen on most of our trips, and we are so glad about it!! :)
Since we only had about two and half days to explore Pondicherry, some research was essential before we actually flew down. We were located on the Auroville side of the city (although the entire city falls within a commute distance of about 20 minutes to half an hour) we decided to explore that area for the day.
Having a good brunch at a popularly recommended bakery-cafe Bread & Chocolate, we headed towards Matri Mandir. Narrow roads shaded by trees, it was fun zooming by on the scooter waving out to fellow tourists like us. Noon time also allowed us to stop by in the middle of the road to click some Bollywood-style photos on the bike with an empty long road behind us!
Going around the area, the actual walkway towards Matri Mandir is about a kilometre and half walk - a beautiful walk indeed though. Wooden arched walkways with bougainvillea creepers running all over, they make up some pretty spots for pictures. The rugged natural pathways teleport you to a world of serenity and peace and you may even feel a pleasant disconnect from the crazy world!!
Finally reaching the viewpoint for Matri Mandir, the golden disc globe against the sunny blue skies with cotton candy clouds is a visual treat to witness no matter the numerous photos you have seen on the internet. We picked a cool shady spot under a tree and sat gazing at the shiny globe of gold standing tall in the middle - some happy peaceful time spent there.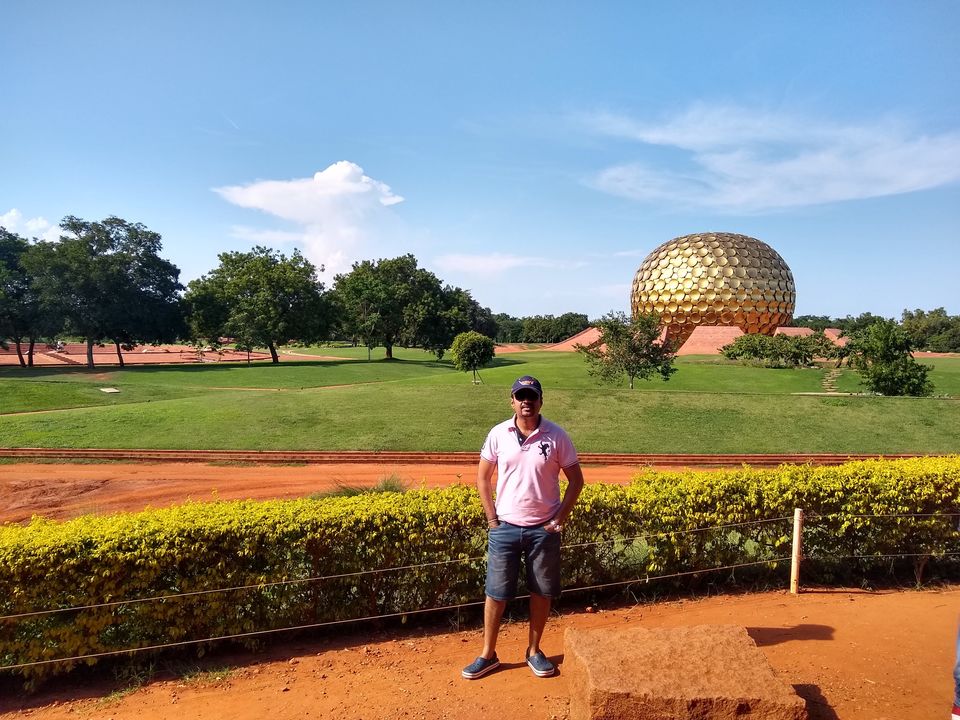 Next on the list for the day was Serenity Beach, yet again in the vicinity of the area we had picked for the day. Rocky jetty, some shades of actual blues to the sea and warm sunset hues spread across the sky - that is how I would describe the beach! We watched local boys catch some fresh crabs for dinner, walked the sandy beach barefoot and also soaked our feet in the warm waters of the Bay of Bengal. We then headed for some drinks and dinner to wrap up the day - dinner was at a highly recommended pizza place called Cafe Xtasi - a small sit down not-so-fancy but fast-serving place but it indeed lived up to our taste-bud expectations!!
Day 2 began with a sumptuous South-Indian breakfast and a plan to explore the heart of the French city - The White Town! Pretty as was seen in Pondi pictures, we dressed up to wear florals as I was all excited for the photo blast that was about to happen on my phone.
We started at the famed Cafe Des Arts - one of the iconic spots in Pondicherry with its bright yellow graffiti walls. Walking around, the entire street is lined up with cafes and boutiques having amazingly intricate graffiti. You may walk around if you wish, we chose to ride around exploring the White Town. Narrow grid lanes lined with trees, typical colonial architecture, bright walls, outdoor decor at cafes, streets called as 'Rue', and of course, the colorful Bougainvillea creepers adorning each of the villa entrances - we were living the French summer for a day!!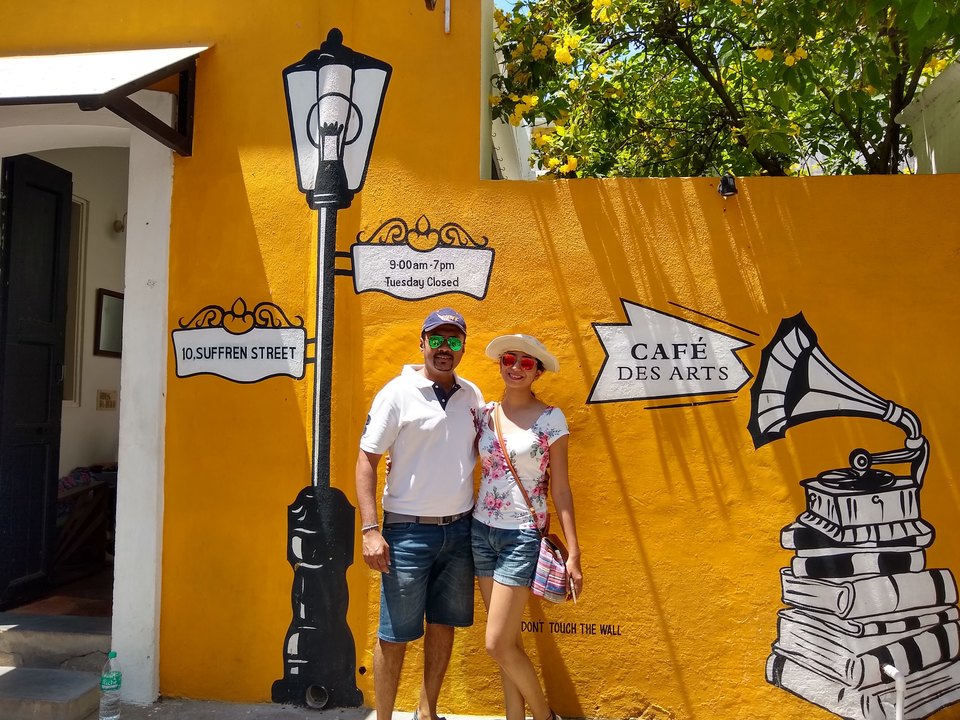 Aurobindo Ashram and the Pondicherry Museum are also tourist places right in the French Town area. A quick visit will leave you with no regret of missing out on any tourist attraction in the town.
A bottle of chilled beer and some good old chicken steak by a corner spot at a sea facing cafe will never lose its charm - we enjoyed this at lunch by the Promenade at a place called Sicilys. The highlight however, was the gelato next door at a place called GMT. Famous for their almost 300+ flavors of ice-cream, they take about 10 days to repeat their tray of flavors for the day - you are bound to be spoilt for choice at this place - and it is an absolute must visit in Pondicherry!! They close early at night, and we missed our gelato that night - so plan your dinner accordingly.
Walk along the Promenade and catch the sunset while eating some candy floss as you wrap up your evening listening to the waves crash.
Day 3 - our last half day in Pondicherry before we headed home...We wanted to make the most of it, and decided to go to the farthest part of the city to explore Paradise Beach. Almost a 35 minute ride from our hotel, Paradise Beach is open 9am to 6pm daily. One of the most pristine beaches in India, it was also one of the most scenic ones I have ever experienced in the country - probably so, the name. Some backwaters with coconut palms welcome us as we walk towards the open sea. Heading back, we grabbed some chicken pizza for lunch, followed by a generous treat at GMT (the highlight!) before leaving for the airport.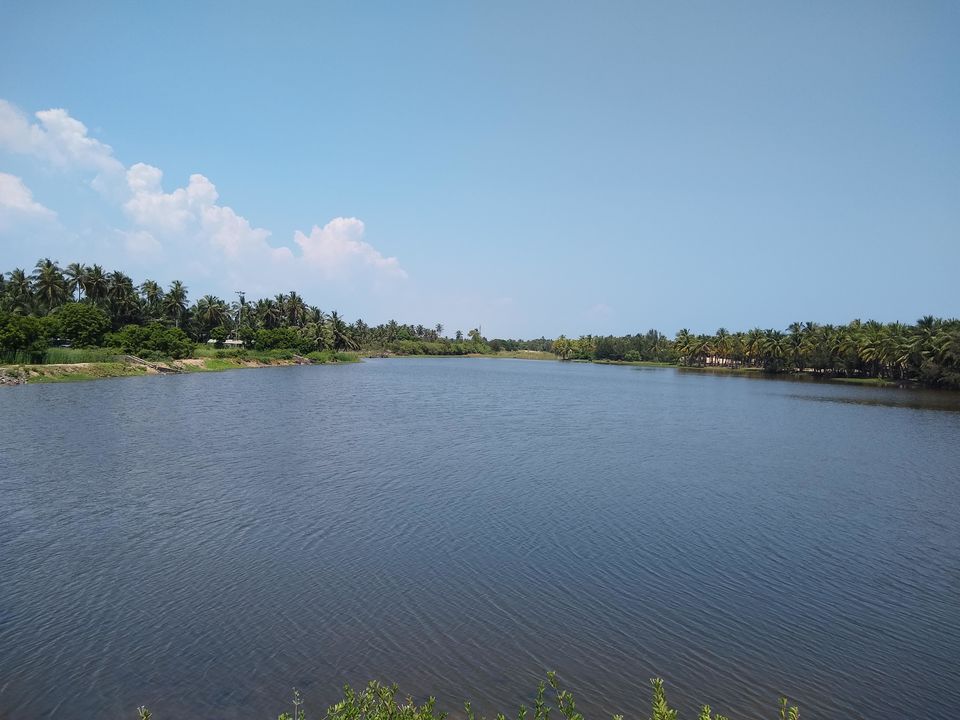 Not all holidays need to be long, some are best enjoyed short and sweet!! ????