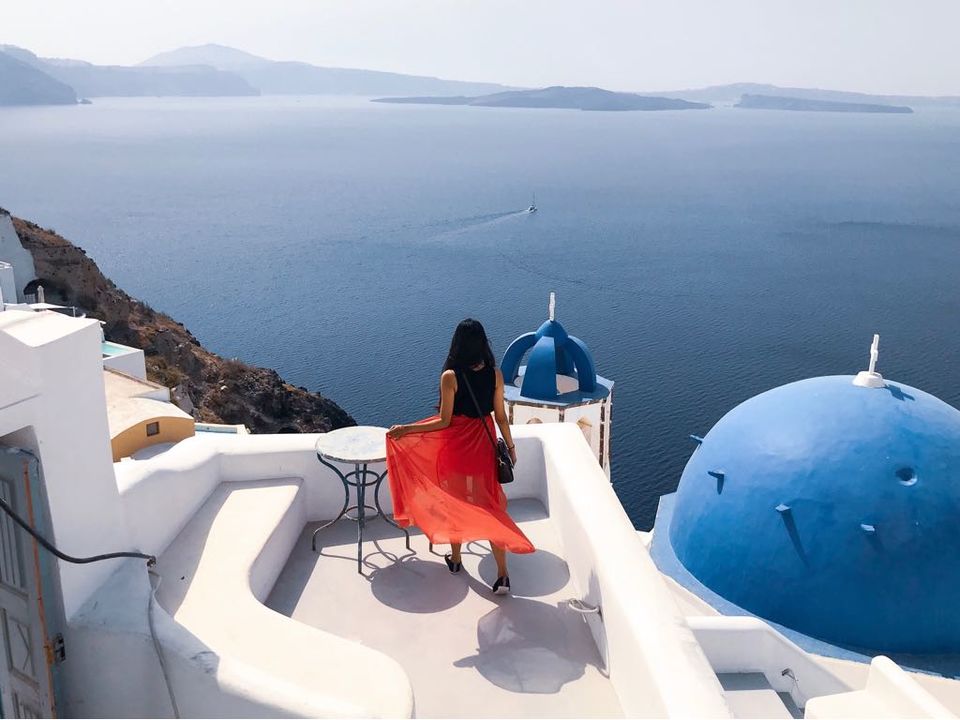 If you ever fantasized the fairy-tale romance in the songs of the bollywood movie Chalte-Chalte, then may the caldera views and windmills of Santorini alone save you. Even though most stills from the film were shot in Mykonos, Santorini is most hyped among the Greek islands and more so, FOR THE RIGHT REASONS.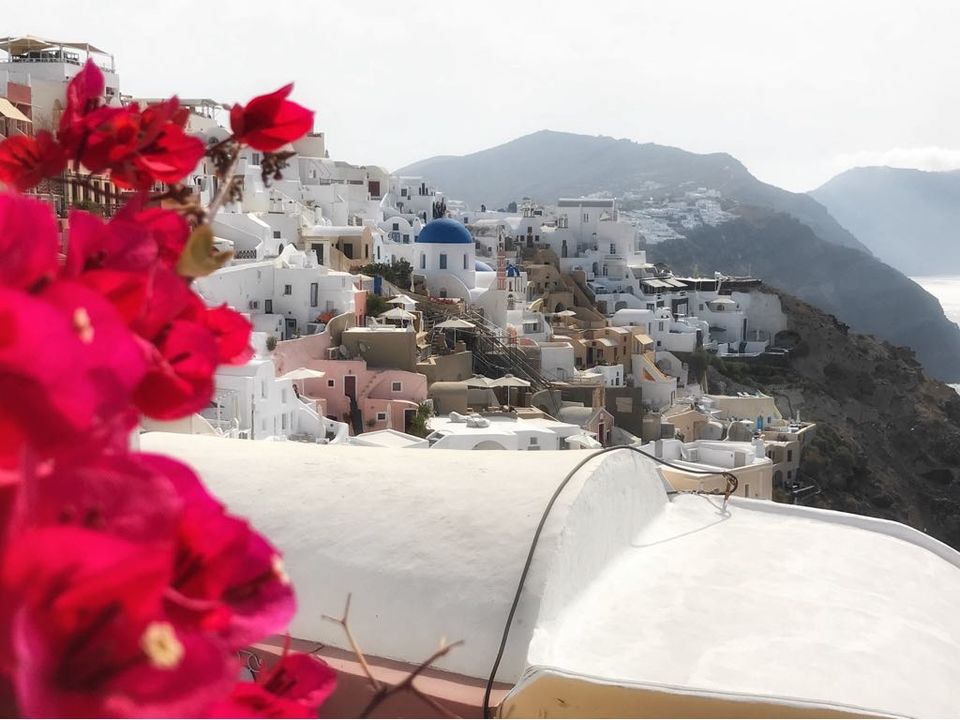 Travel Tips
1. CROWDS
It is as popular among the Greek as it is world-wide. So it is an expensive destination. That said, visiting off-season, you have the place all to yourself at a cheaper cost. Also with weather being warmer than most European destinations, the golden gleam of the rising sun over the Aegean sea all-year round is like a cherry on top of the cake!
BEST OFF-SEASON MONTHS TO VISIT: FEB END-MAY BEGINNING/MID OCTOBER-MID NOV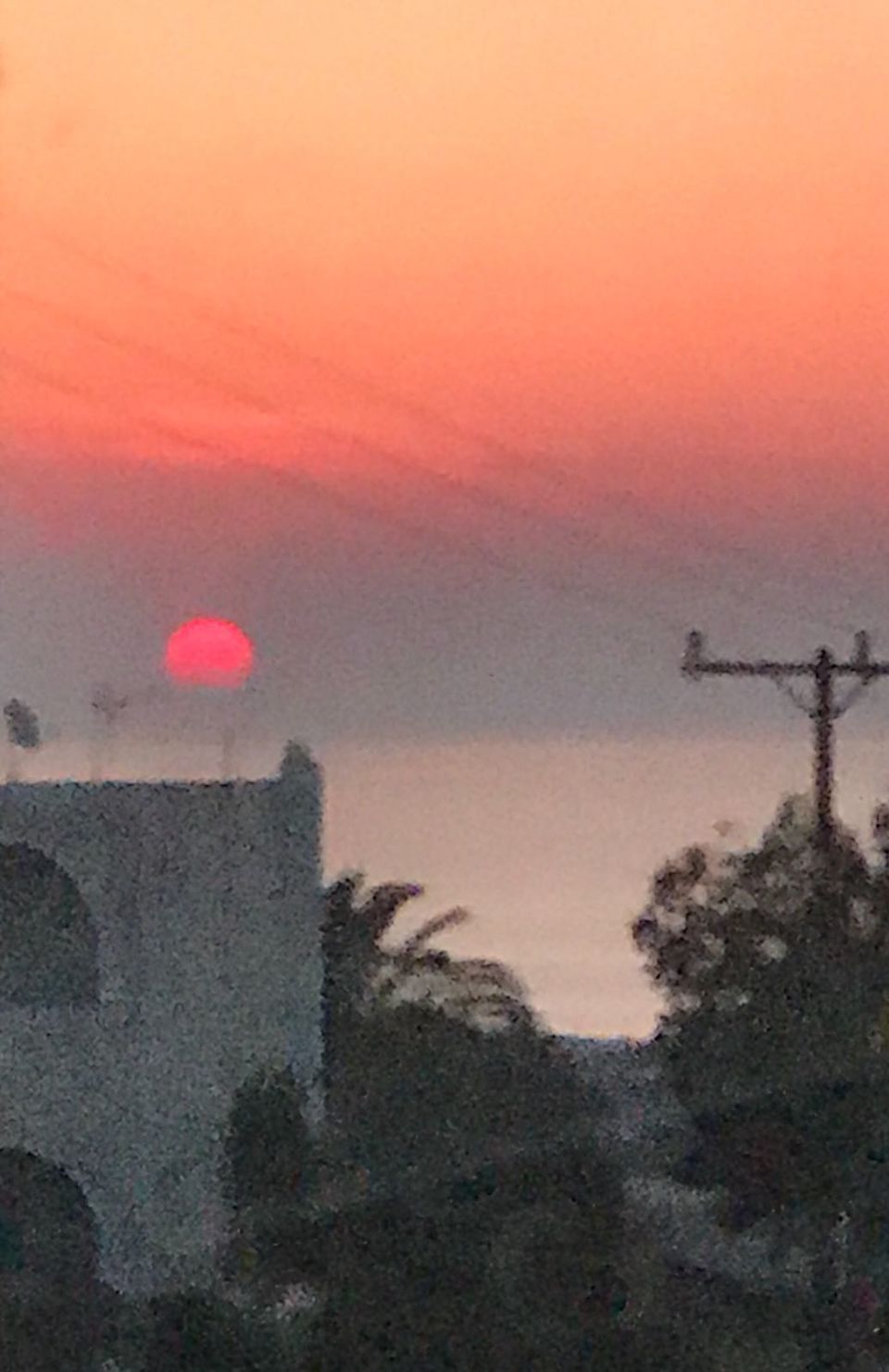 2. COST OF STAY
There are different types of accommodation on the island:
- hostels (very few and cheapest-you need to be lucky to get one on the island itself. There are certainly more closer to the beaches)
- cave apartments and windmills-these are traditional island-style properties that were built 1000s of years ago. Some were furnished and turned into guests houses for tourists. Available to rent at decent prices if booked in advance.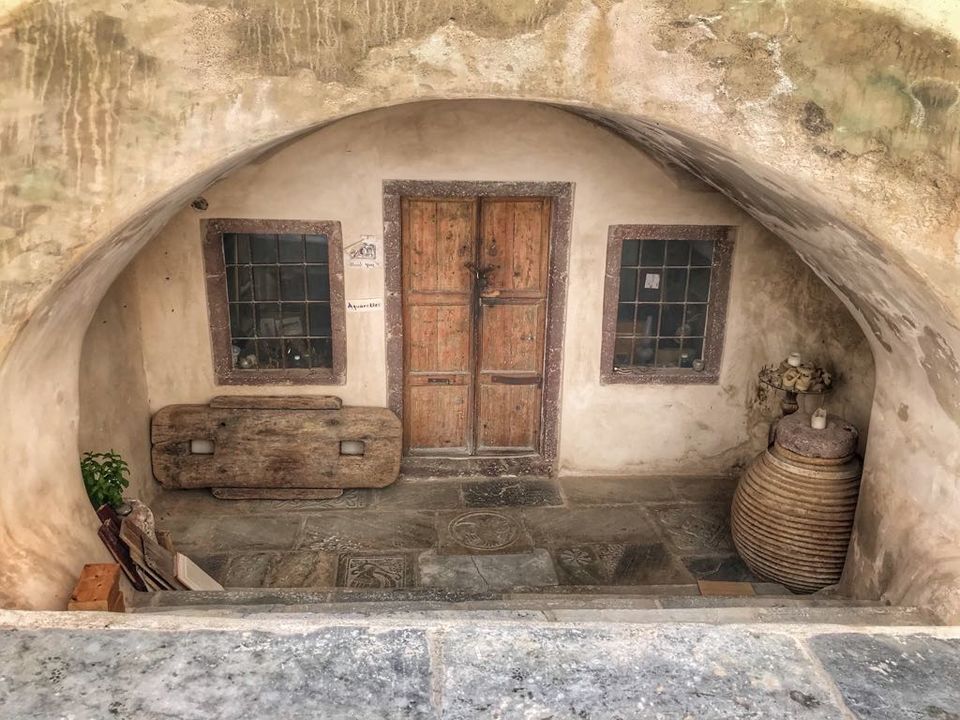 - Villas and luxury suites with pools-very popular among honeymooners and travelers that promote luxury. These are usually expensive, but it all lies in the taste
3. COST OF FOOD
Santorini is not the cheapest place to eat in Greece. But one meal of the yummy Greek salad and frozen yogurt shouldn't do much damage. Supermarkets are in plenty and can help sustain your other meals ;)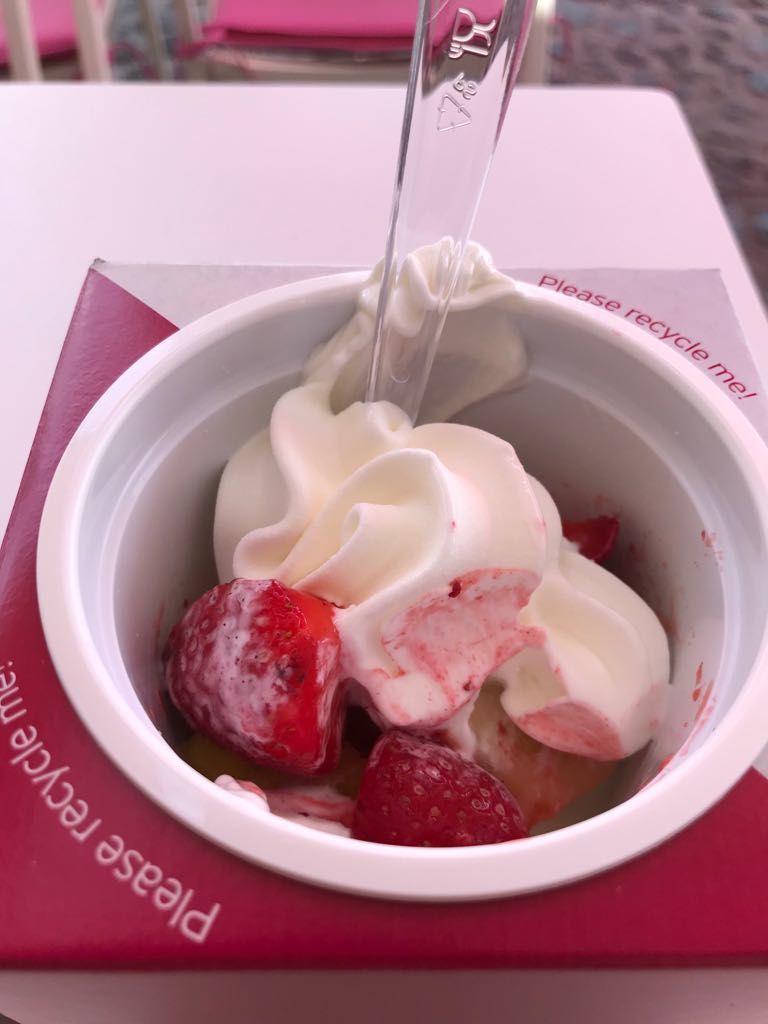 4. GETTING AROUND
This was surprisingly the cheapest thing to do on the island. A lot of travelers take the taxi. I am sure it works out cheaper when in large groups. But if traveling solo/ as a couple, the local buses run on time (expect a few minutes of waiting-time, but that's about it!).
Buses run from the airport to the capital of the island-Thira/Fira very often. An office at the bus station in Fira displays timetables to all other towns and beaches on the island. The prices range from 1.80-2.40eur (one-way).
PS: You can even rent these quad bikes and ride along the highway connecting Fira to Oia. Its the same highway that the buses take :)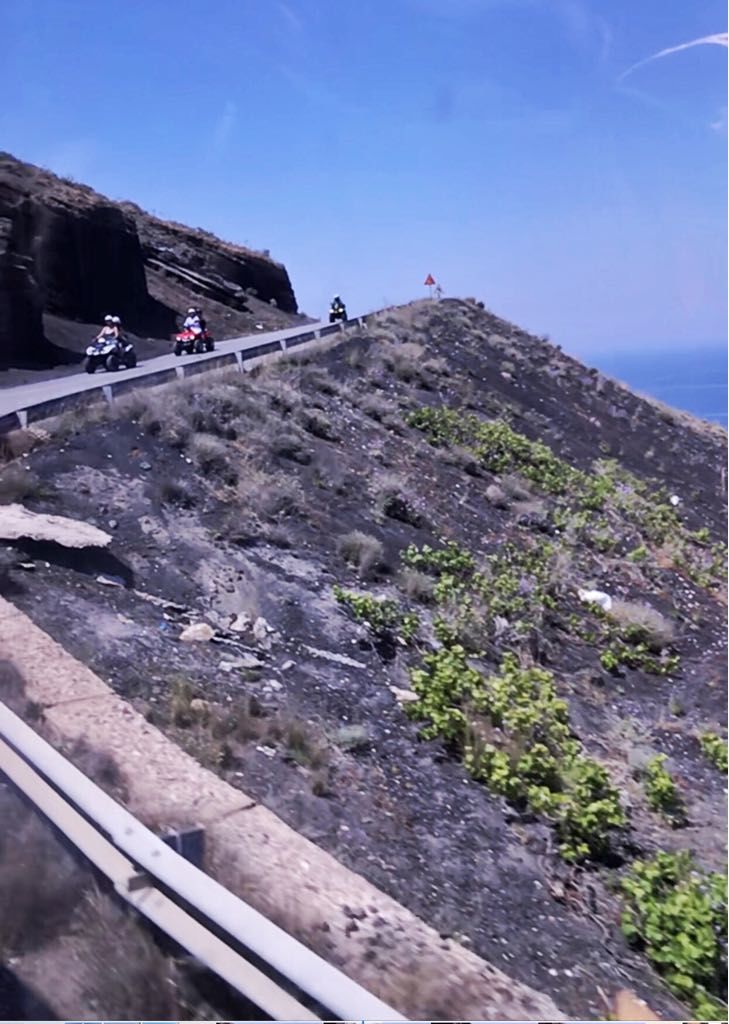 5. DIY ITINERARY
DAY 1
FIRA
From what I had seen of Santorini, it seemed like the best views were in the towns of Imerovigli and Oia. But Fira stole my heart when I arrived to a burning red sunrise over the Aegean sea. So I decided to spend a few hours strolling around before heading out to the beach in the afternoon. And lo, here are some views I was treated to.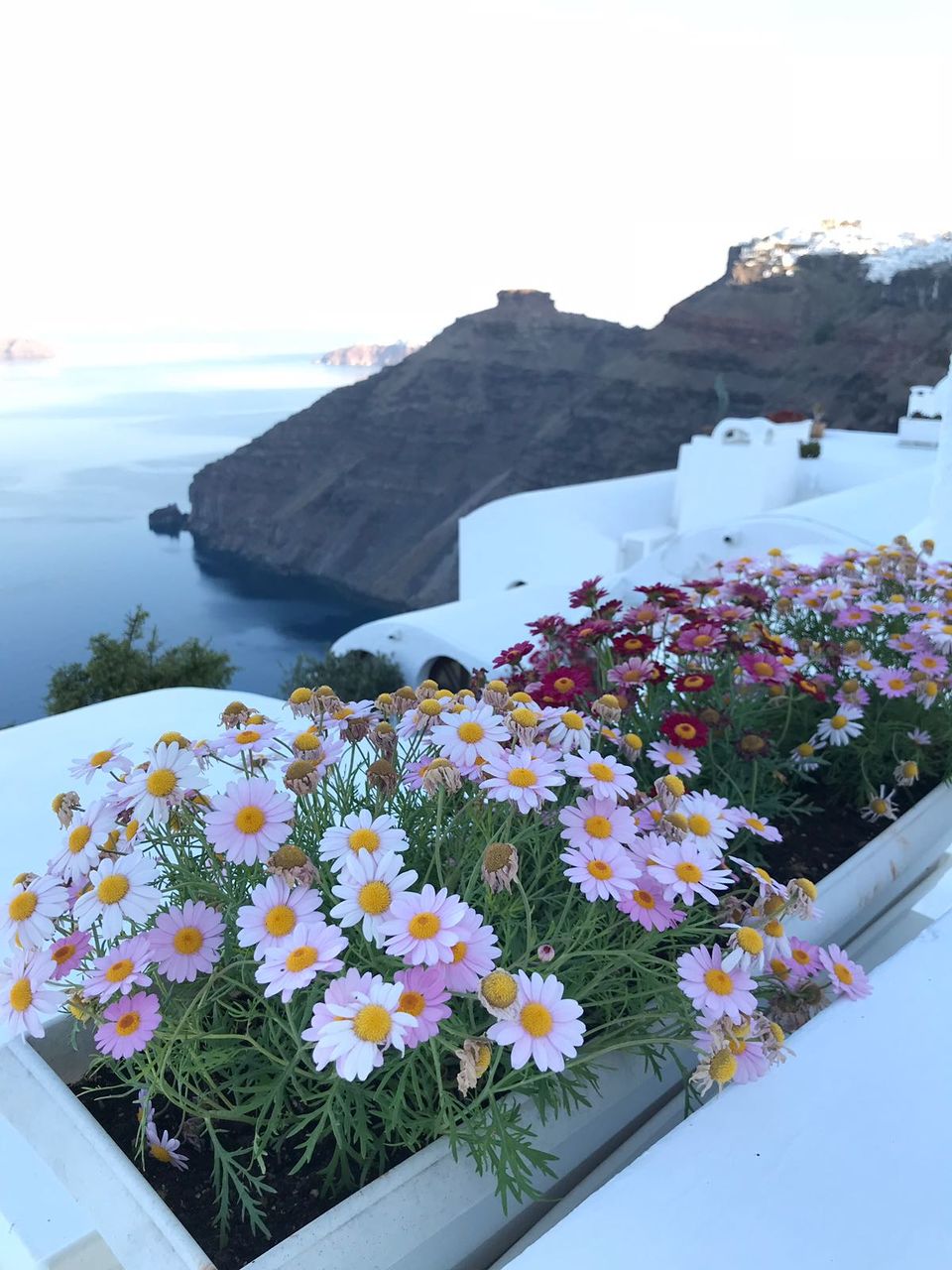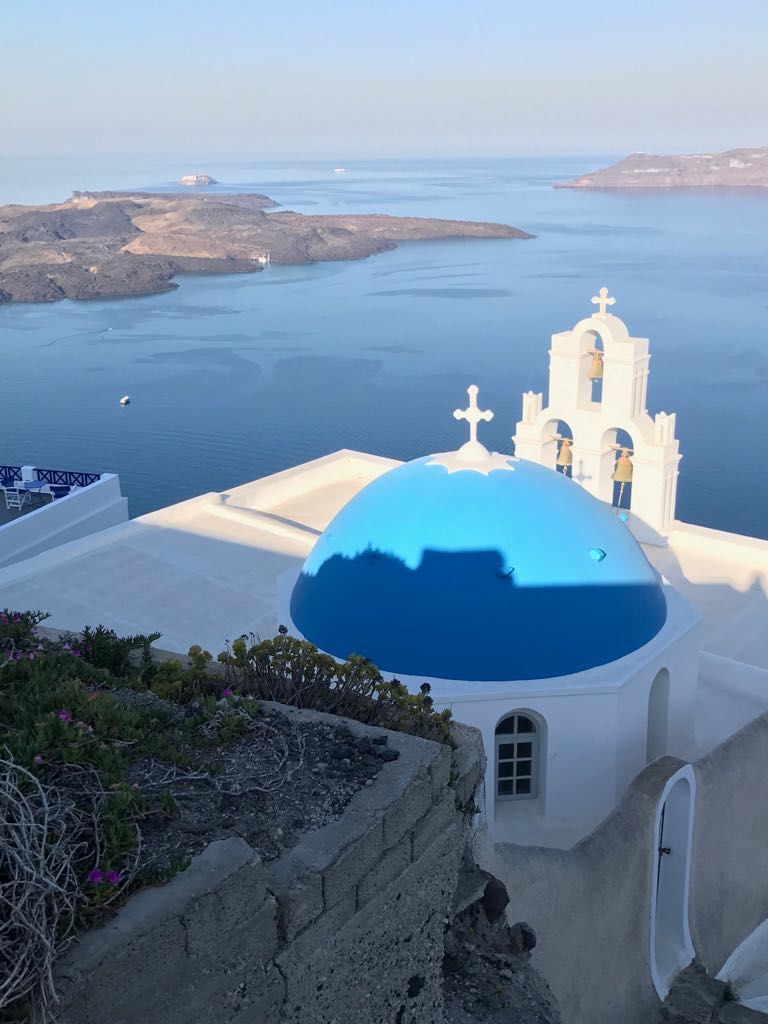 PS: Its fun to jump around terraces to find some amazing views of the caldera and the sea against the blue-domes. Be sure to TREAD ON PRIVATE-PROPERTY AND BE TOLD-OFF/WORSE BE WARNED ABOUT BEING HANDED OVER TO THE POLICE :D, because if you are traveling solo and not honeymooning, its the adventure that adds some spice to the air ;)
AN AFTERNOON AT THE RED BEACH AND AKROTIRI
FYI: Santorini was an active volcanic complex and many eruptions in history changed its shape. Some regions even separated from the main island. But that's what makes the cliff-side views here so stunningly gorgeous. The red beach is surely one fine example of the colourful landscapes that the eruptions left behind.
Also afternoons can be real hot and better spent at the beach. It was a beautiful bus-ride from Fira, offering more views of blue-dome churches and grape-vine farms.
The red-beach is known for landslides and is always under a warning-alert for tourists. But it is my policy to stay optimistic when I travel and look, it paid-off! :)
PS: The beach is an easy hike from the village of Akrotiri, where you are less likely to get told-off for trying to clamber up roof-tops and private property :P
SPEND SOME TIME INDOORS IF YOU RENTED A CAVE APARTMENT
After spending a couple hours at the beach, I took the bus back to Fira and then onto Oia where I had rented a cave apartment. Oia is known for its sunsets and finding a spot amid the mad-rush of tourists to catch a sunset is all you can do to ruin your perfect date with the setting sun. But hey, there's always plenty space in the neighbouring village of Imerovigli!
Also why would you want to spend hours in the scorching afternoon heat trying to get hazy shots of the island? Instead use a bit of the luxury you paid for and chill in your accommodation. Cook yourself a meal in the cave-kitchen where you may not have an opportunity to live again :) Its these little things I love doing the most when I am traveling!
HIKE FROM FEROSTEFANI TO IMEROVIGLI
After a fine meal, you should be good to take on a hike in another hilly town on the island. I took the bus from Oia to Ferostefani. From there, you can hike to Imerovigli. The trail is signposted and the caldera views it offers are unbeatable.
CATCH A SUNSET FROM THE SKAROS ROCK
FYI: With the first kasteli/fort of the island having been constructed here, the rock was earlier known as the capital of Satorini. Sadly it was an earthquake-prone zone and most locals vacated this area that offers one of the best sunsets in town! :(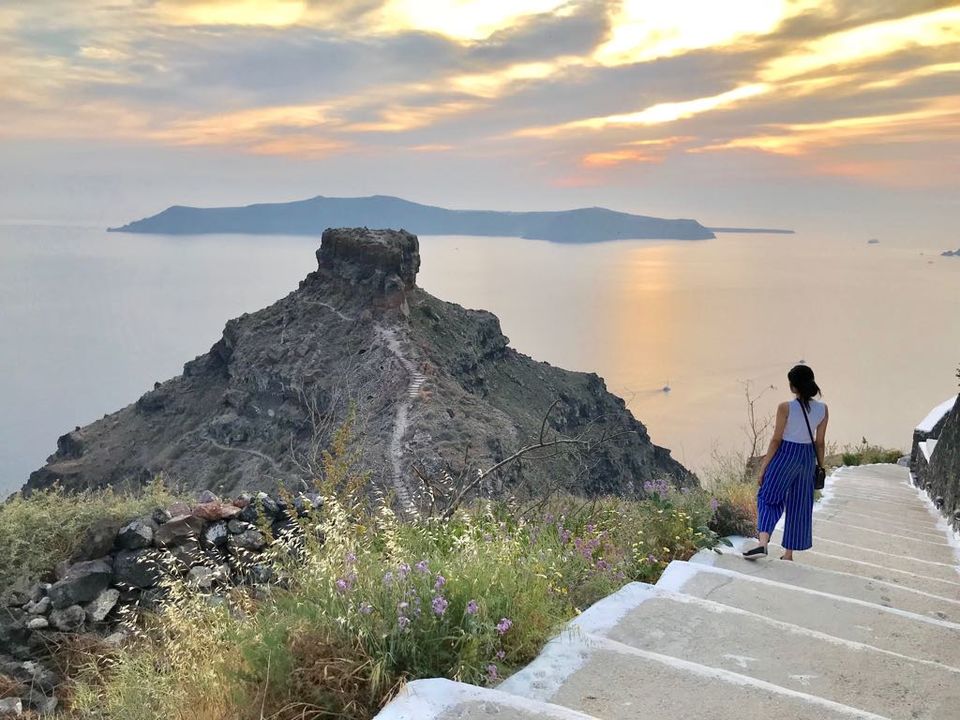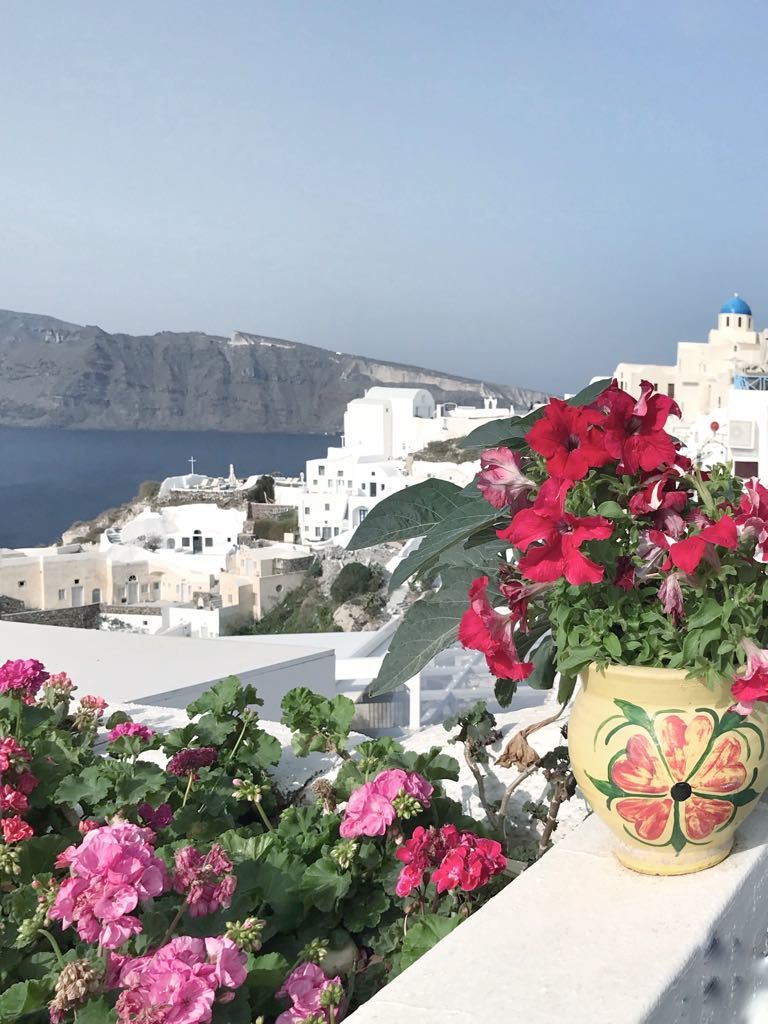 To avoid getting caught amid crowds, I set out early once again. Oia has a lot more to offer than Fira and Imerovigli. So it needs a few more hours to get around, especially if you want to catch views of the Amoudi bay and the windmills up-close. But there are too many cute-shops selling orange candy, smoothies and ice-creams for the heat to get you.
All in all, you dont need to honeymoon to fall in love with Santorini because all you need is YOURSELF if you must devote all your attention to island ;)
I stayed in a traditional cave house here. Breakfast was included but wasnt the most fancy one I have had. The host was kind and the terrace is perfect to catch a sunrise. There are many neighbouring roofs to climb too! ;) I wanted to avoid crowds and spend some time in Oia, early in the morning. So this was perfect for me. But if you are traveling as a couple or simply for luxuy, then Imerovigli is the place for you :)