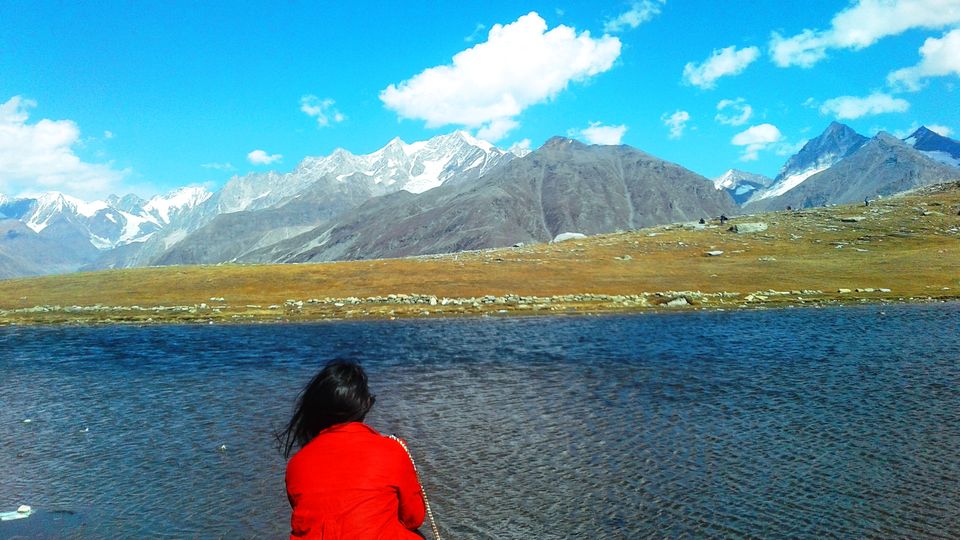 September 2016.
This year was bit tough for me. I just wanted to disappear somewhere for some time.I was sitting on my bed searching for a trip cost for random places.
No place decided, no idea how it would be to go alone, not to tell anyone to come with me (as it's always I've to cancel planned trips with friends)
After an hour of research thought of planing to go to Manali. The route was Lucknow >Delhi> (Manali Kullu Rohtang Pass) >Delhi >Lucknow.
Detail, How trip started : -
I live in Lucknow. leave girls, even boys do not go alone (very few comparatively).It was more than a trip for me.Where I would be at my own pace. I had never been to a solo one, where not only I have to be responsible for my each move but also to enjoy the outing to the fullest.
After numerous blizzard thinking, I was at the edge to leave Lucknow for 5 days. Booked the tatkal ticket to Delhi as well as a Volvo ticket to Manali.
My train was at 5 AM in the morning for Delhi. I got up late as 4 AM. It takes half an hour to reach the railway station from my resident. Well, after rushing I reached there by the time before 5 mins departing the train.
But.. but the train was late by almost three hours. If I would wait there for 3 hours, I surely had missed the Volvo from Delhi which was around 5 PM in the evening. So thought of going by another train which was about to depart with 7–8 mins. I went to buy a general compartment ticket. After taking ticket I came to the platform and saw the train which was already left for Delhi.
I was so sure of going this time so didn't panic of so much happening chaos. I opened the browser to check immediate flight to Delhi. Got the very nice deal on paytm with 1000/- cashback. Booked the ticket but wait… chaos doesn't end here. The payment was not fully executed. It was on process even after 10 mins of payment ( it happened to me many times, so thought they'll cancel the request and refund the money in the wallet ).
As I had less time to catch the flight, so thought I'll book the ticket immediately from some other website. Booked it from via.com. And then suddenly I received the ticket from paytm that my ticket has been confirmed. I got furious about it because I had 2 tickets in same flight for same person. I was like what's wrong. I called to the paytm customer care. Finally, they agreed to refund the money after sharing every small detail of another booked ticket . (Such a sigh of relief it was ).
Finally reached Delhi. Caught the Volvo. I was alone on my seat until one girl came, who was going to Kasol. She also was going solo. We talked for a while. She seemed interesting and lively. After almost 4 hours of journey bus stopped for dinner at some dhaba. The Parathas were such yum.
After having nice dinner came into the bus,wrapped myself in the blanket given at the bus and tried sleeping.
It was around 7 o'clock in the morning and the girl sitting next to me left as her destination( kasol) has come.
I had reached Manali after some time. I had booked a hotel by goibibo, which had good reviews.
Day-1 in Manali
Checked-in in the hotel as it was morning and breakfast was complimentary from hotel. So had my breakfast with coffee looking mountains out of window.I felt of needing a nap. But I kept sleeping till 3 PM. :D
Went to nearby attractions like- Beas riverside,buddhist temple, van Vihar national park. Tried local panipuri and momos. Ate chaat at mall road. Came back to the hotel and wrote something about my first day in the diary. Had dinner and slept.
Day-2
After breakfast left for river rafting at the Beas river.It was good but not the best as I have done in the Ganges at Rishikesh. In Beas, there were not good rapids. Rafting in Rishikesh is simply incomparable. After that, I went to Vaishnav Mandir, which had cave-like structure, all made of wood.
Afterwards, headed towards Dhakpo Shedrupling Monastery. one of the beautiful monasteries I came across till now. I've seen many monasteries in Ladakh also but, here I found myself more connected with.
Also met with a mini monk.He was adorable. :)
There was one more good place to visit named Naggar castle. one the way to Naggar castle, a beautiful waterfall came across. before mentioning that, would like to tell about one unique tea shop. People were sitting on benches, kept on flowing water coming from waterfall and enjoying talk with tea.
Day-3 Rohtang pass
It was so cold and calm I went downhill to the Rohtang pass, sat for half an hour there.
So, This was a virtual trip for all of you guys. I found myself more confident after coming. Now I don't bother anyone to come with me even it's a movie or going out for a meal. I find easy and comfortable. What I felt after this trip solo trip is not solo at all. you get to meet to so many people. It's the journey of thrills, adventure, risks, decision making and most importantly a journey where you meet yourself.
Thanks For reading. have a nice day :)