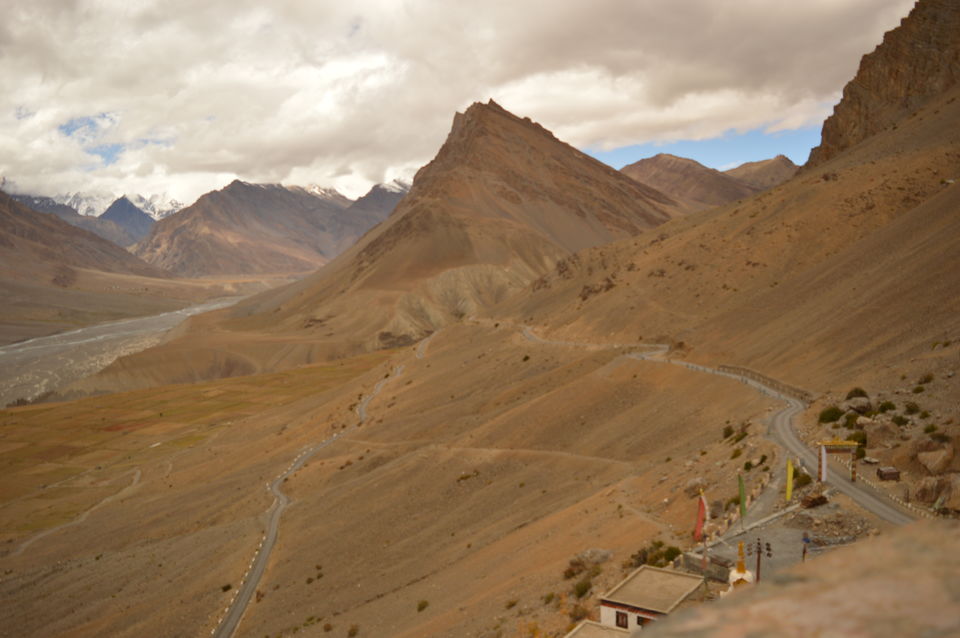 Kaza : The calling of a traveller's heart
How we all love the idea of an impromptu trip to a place unknown, a place you have been hearing so much about yet know nothing of. A place of mystique hidden behind the barren yet spell binding landscapes of Spiti valley in Himachal Pradesh. And there we were, two rookies on the rocks, bumping and thumping our way on our Royal Enfield all the way from Chandigarh. What was an extempore decision to finally take this trip has etched in our hearts as an unforgettable journey and an indispensable part of our life to come.
The moonland and monasteries :
This mystical moon land with a high influence of Budhist culture is adorned with many ancient Gompas or monastries functioning since centuries. The Tabo monastery is about a 1000 years old and has been initiating monks into meditation since 996 A.D. The Chortens and caves of the monks are preserved in their original form and take you to a tour of an ancient era of wisdom.
Finally Its Kaza:
Situated beside a deep canyon and safely nestled amidst the herculean mountains snow capped with absolutely no vegetation whatsoever, Kaza lets you encompass nature in its rawest form. Situated at a height of 3550 metres this town is the administrative capital to Spiti. The Spiti river paves its way through this gorgeous valley shimmering in the day and carries the very lifeline of survival in this cold desert. Kaza offers many adventurous activities for travellers listing from trekking routes, camping, off roading etc., has the biggest market in the whole valley and is lined up with cafeterias serving gourmet food.
Chained at Kunjum pass:
From Kaza we decide to leave for Chandartal which required us to ride across Kunjum pass. Situated at an altitude of 4550 metres this is one of the highest motorable passes in India. It was getting darker as we reached Kunjum La when suddenly fate decided to give us a thrill of its own. The chain of our bike came off in the middle of no where! Apparently something had stuck in it causing it to come off but thankfully it did not snap. We opened the tool box only to find out we had been way too extempore with our trip and we forgot to carry the tool kit!
We improvised and got the chain back on but in the effort it was now completely dark. We had no clue of the way and we hadn't seen another human face in about 3-4 hours. We decided to pitch our tents right on road at Kunjum top, the one place where everyone advised us not to stay long due to low oxygen level. We put on series of alarms on our phone for every 2 hours which had absolutely no signal. We passed the night walking at Kunjum top, gazing at the bewildering sky filled with gazillion stars and crossing our fingers while we attempted to sleep. The morning was however absolutely stunning with a spectacular view and freezing cold temperature of -6 degrees celsius. We were just grateful to have survived the night.
'A world within worlds' :
This journey, its challenges, its beauty and the welcoming tribe of Spitians gave us the comfort that is much needed in the cold, secluded lands and we realised why Rudyard Kipling described this place as a 'world within worlds'. Indeed there will always be a world beyond the horizons that we see and there will be yearning to visit these places whose deja vu will linger upon you even much before you visit them. But the ones who travel to come back to tell us the tales, we owe these men an ode which can only be sung as experience of our own adventures in these uncharted territories.
A little hack for riders:
1. Always keep a tool kit/ puncture kit handy as the stretch from Kaza to Manali via Gramphu is a no man's land with no road.
2. You can attach a secondary wire for your clutch which works fine if the primary breaks off.
3, It is better to go in a group and carry a lot of food ( chocolates count in too) and water.
4. Avoid riding at night and carry waterproof shoes if you can.
5. Carry minimal clothes unless you plan to have a glamorous photoshoot.