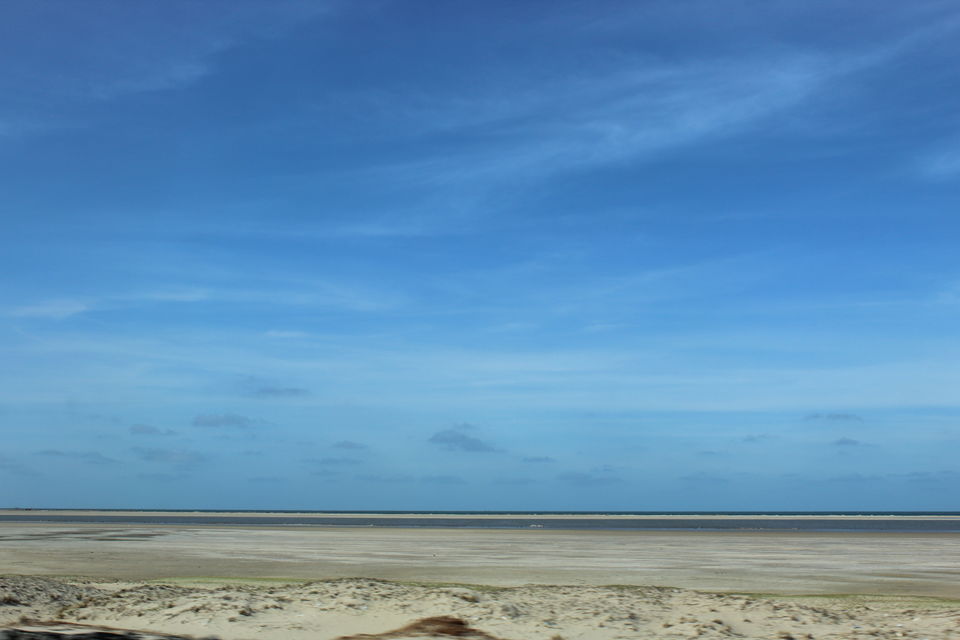 A travel blog kick started my desire to travel to Rameshwaram
I started from kannur by train reached Coimbatore. From there to Madurai by train. Reached at midnight at Madurai, contacted hotel they guided us to the location.
Hotel name hotel lotus near to Chennai silks!! Ladies go for it ????
Started late bcoz of journey and hotel bedding was too good. Then went to Meenakshi Amman Temple, just walkable distance from hotel.
There is nothing much to see in madurai, you can roam around the town you can see many temples.
If staying in West Perusal Maestro Street ladies can do tones of shopping in Chennai silk that was a unexpected bonoz for us.
So now heading to the mesmerizing Rameshwaram. Hotel arranged a cab for, started by 9 from madurai reached Rameshwaram by 12. Rameshwaram is like a island so its connected to mainland by Pamban Railway Bridge and also Pamban bridge. You must travel to Rameshwaram by road and train. Our onward journey top Rameshwaram was by road so we could have a fantastic view of Pamban bridge the great engineering work over a ocean in India.
Went straight to Rameshwaram temple, it's huge temple you can really half day inside the temple.
Then went for lunch and then to the most important place in Rameshwaram that's Danushkodi. Earlier vehicles use to half way only then we had to travel by modified vehicles that can drive through sand. Now there is a fabulous highway upto Ram sethu.
Finally reached ram setu point or dhanshukodi beach. It was around 2pm sun was high but the scenario view of the two ocean Indian Ocean(furious)and Bay of Bengal(calm&quite) combined with the ocean wind we forgot about the heat and fully enjoyed the ocean.
An important point if you wish to fully enjoy in the ocean wear a casual dress that been out dated in your wardrobe. Then you can really enjoy in water. We nearly spend 3 hours on the beach and didn't know how the time went by so fast.
Then headed back to Rameshwaram on way got down at Dhanshukodi the ghost city. You find different remains of 1964 over there also there are some souvenirs shops and food huts owned by locals. You can purchase jewellery made from pearls shells and other stuffs. On way there a Shiv temple believed to be built for Vibhishana to worship.
Then the driver dropped us at hotel Nnp, it's near to Five faced hanuman temple. Checked into hotel and headed out to explore the town by ourself. It was evening so we searched for hotel to have food you can have nice food at Hotel in Goswami madam trust dharmashala compound.
There is Krishna temple near to Goswami madam you can spent some quality time there in evening, also there is a hotel in that compound that service north indian food.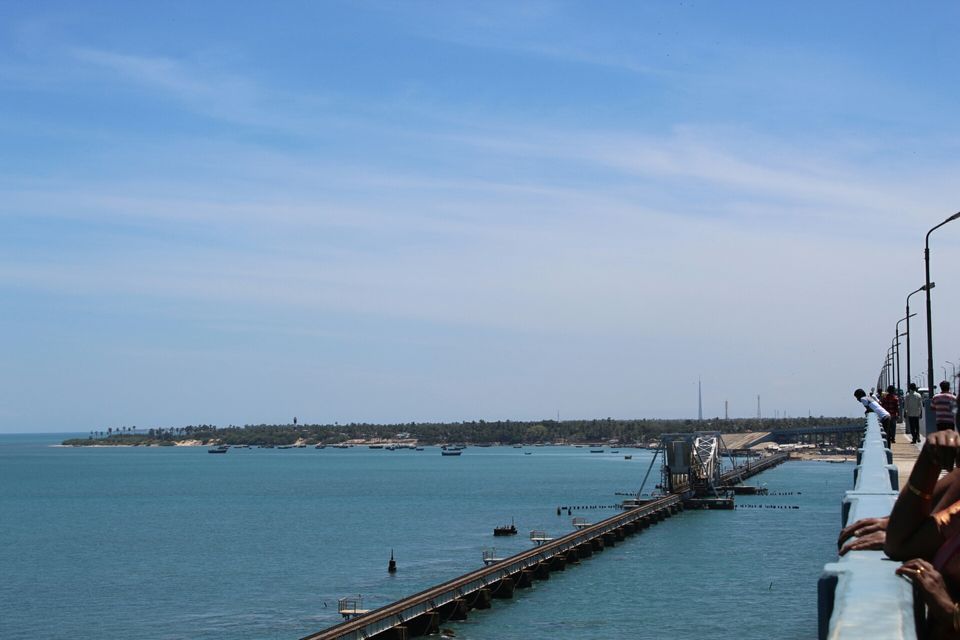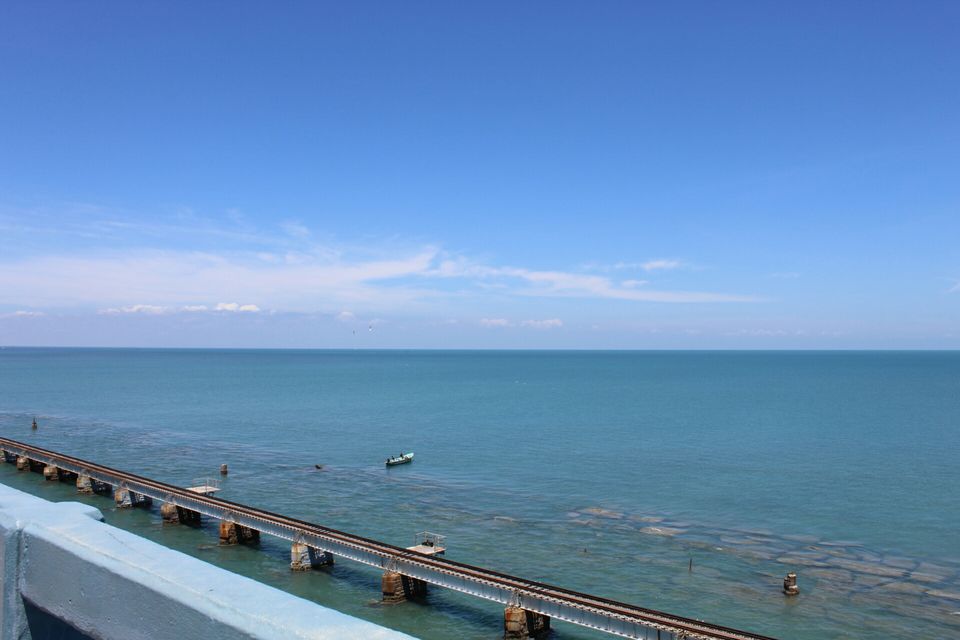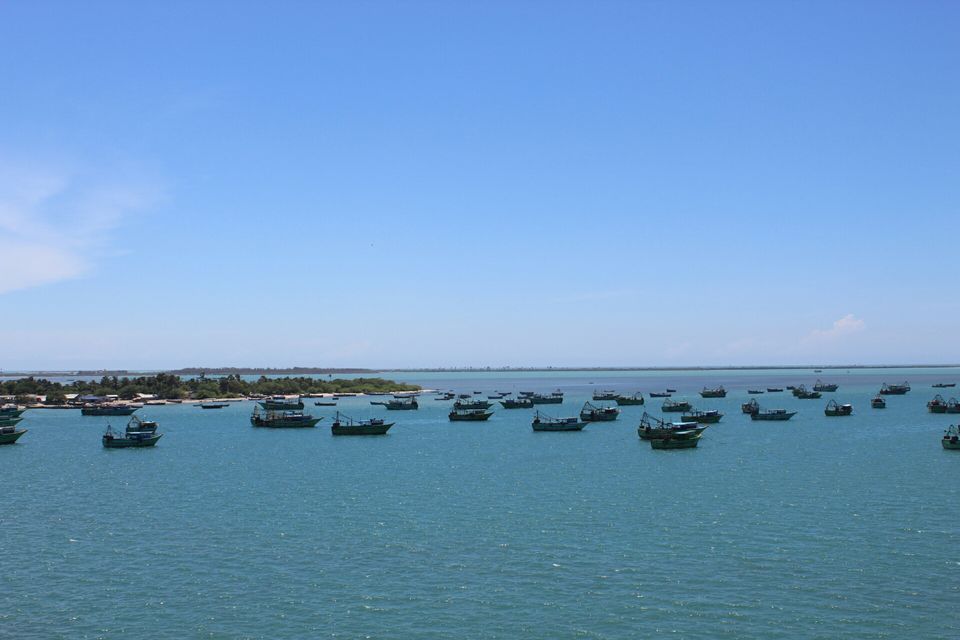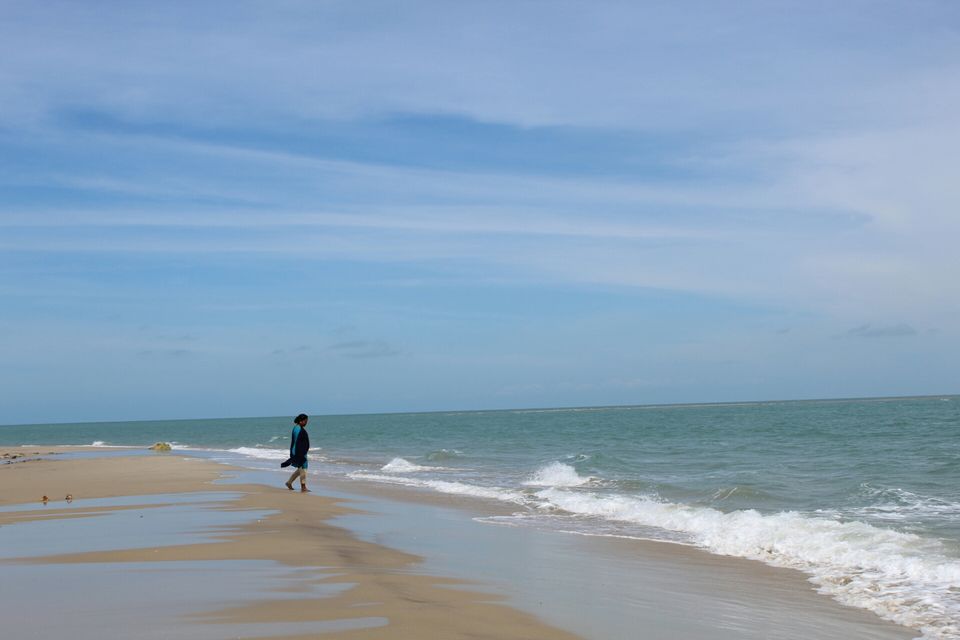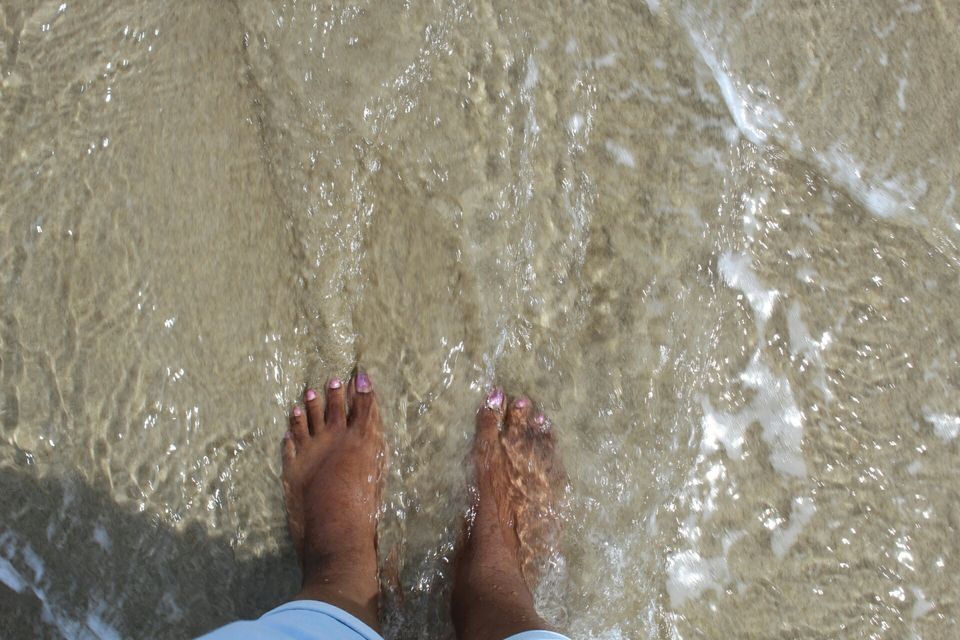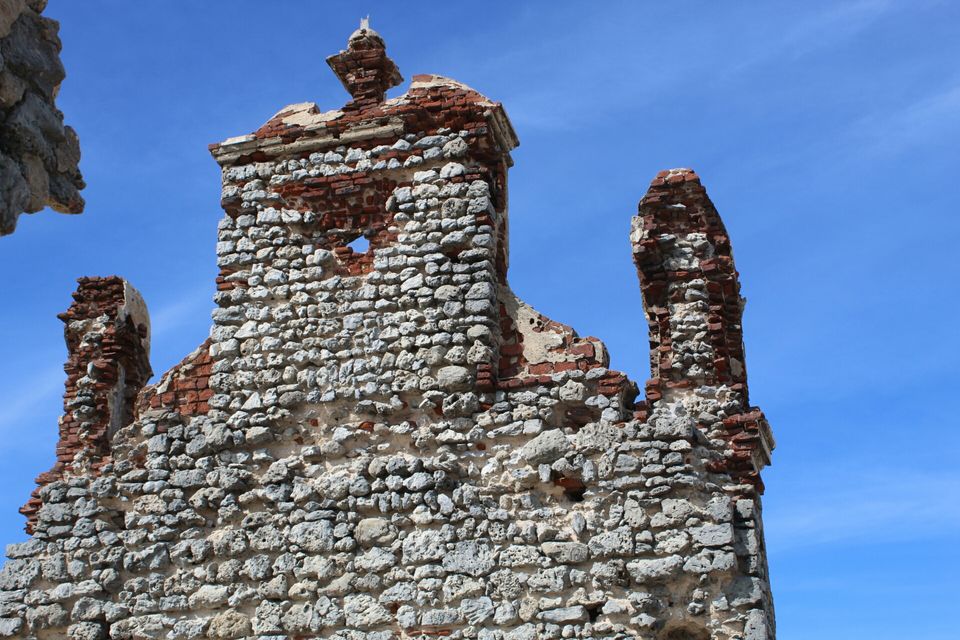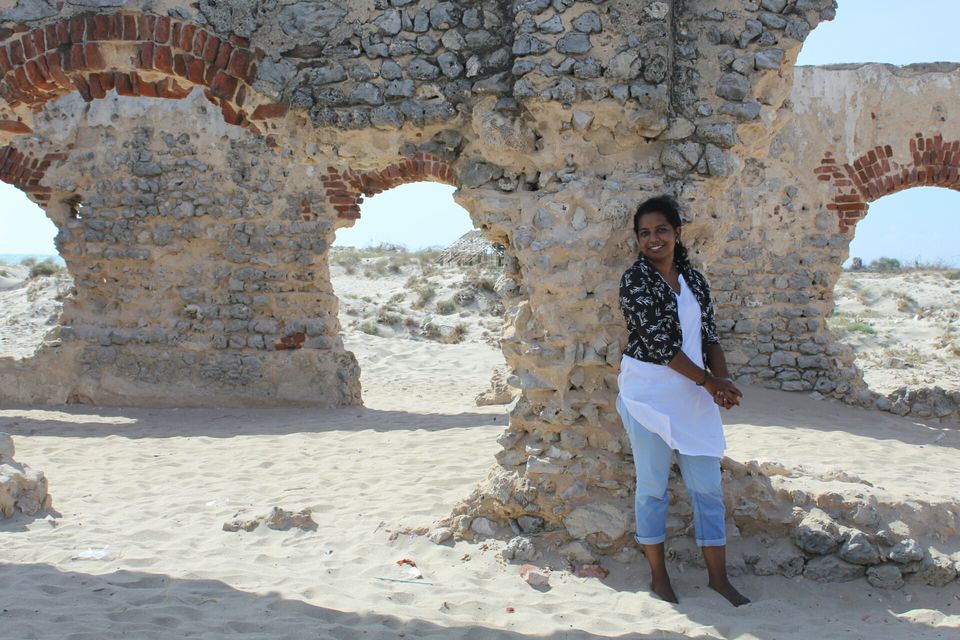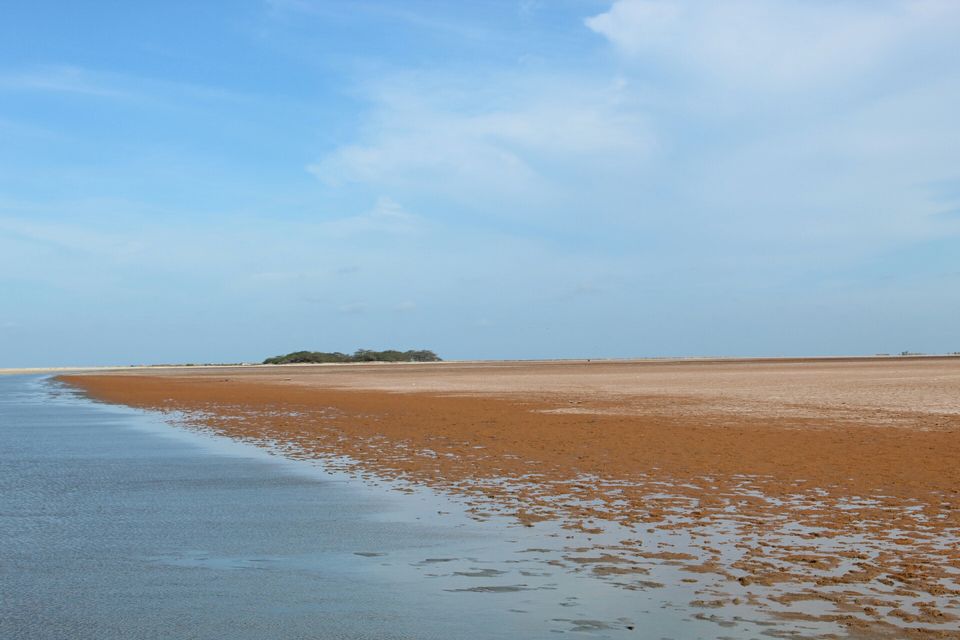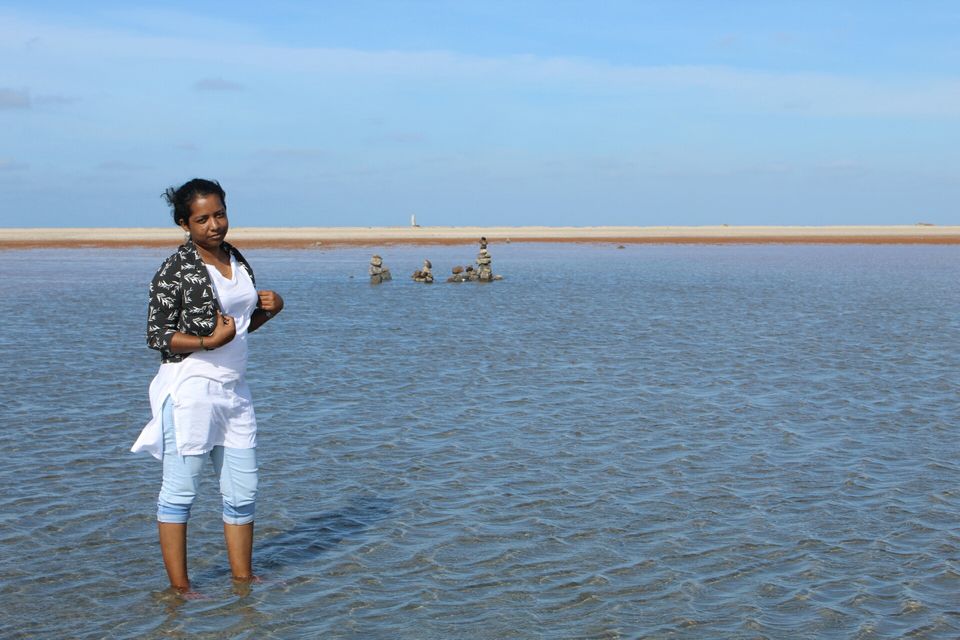 Previous night I got the idea of seeing sunrise in Dhanshukodi, I asked reception they arranged a auto for us. Morning 5am we started from hotel to see the sunrise ????, since we were going by auto it was taking some time. As we neared to the beach we could see the red and orange sky a head of us. The journey was so beautiful. When we reached the beach there was many elements of suprise for us. First we could see sand dunes here and there on the road and also the steps to get down to the beach had sand dunes on a height of a person ????. Finally suprise was the most unexpected thing, expect for us three ladies and a dog there was not a single person on beach. The beach was totally for us. At first we hesitated a bit but the dog gave us courage. We started walking on the beach with cool wind blowing it was totally awesome. Later some fishermen came for fishing it was totally different experience. The ocean was totally different from what we saw yesterday. We got a chance to see two faces of ocean in two different times early morning and the noon time. Then on way back to hotel auto driver showed us remains of old railway station in Dhanshukodi and the remains of railway track. If you lucky enough you can spot some peacocks and horses.
After breakfast we again went for temple visit. Rameshwaram temple as 12 wells inside it, believed to cure diseases. From the east side temple counter you have to take ticket for bathing in well water.
Also on East side of temple there is boat harbor, you can go for a trip on boat in the sea.
There are many hotels near temple but if you prefer some quite place you better look for rooms near by five faced hanuman temple.
In Hanuman temple main attraction is the floating stone. Also you can visit APJ Abdul Kalam memorial which is near to Pamban road bridge and Kalam house which is on way to Rameshwaram station.
The good part of Rameshwaram is that all places are near by and easily accessible by auto or any vehicle.
So our day in Rameshwaram ended and it was time to say good bye to Rameshwaram. Has told earlier our journey towards Rameshwaram was by car and return journey was by train. Train journey is also a best part of Rameshwaram trip, we get chance to travel over Pamban Railway Bridge. Since we travelled in night train we could not get outside view of the sea, but it was a life time experience to travel by train over Pamban bridge.
Note: If you plan to keep baggage in railway clock room they you should lock everything with lock, they don't accept anything that as no lock ????.
Reached chennai from there return journey back to Kannur kerala