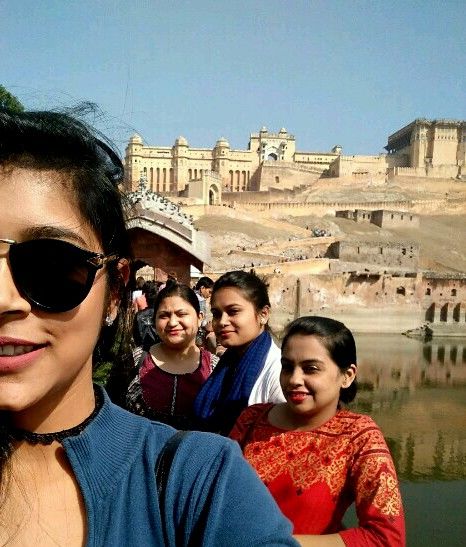 One fine day, wary of wasting our hard-earned weekend and craving for a mini-vacation, we decided to head out to someplace near. With a tight budget and limited number of days at hand, Jaipur was an easy choice.
Jaipur lies just 4 hours away from Gurgaon and taking a 'Rajasthan Roadways' bus is the most convenient and adventurous option, if you wish not to drive your own car. Board a bus from Iffco Chowk at an early hour, around 8 and one should reach by 12.oo.
The bus tickets start from as low as Rs.200 per head, increasing with the condition of the buses and the facilities they offer, which also includes Volvos and private buses. You can also choose to take a direct train or flight from Delhi to Jaipur.
We took a Roadways bus, which took around 4.5 hours to reach and we were at the Jaipur Bus Stop at 12:30. While on our way, we had booked an online hotel, planned our day and made a rough itinerary for the trip.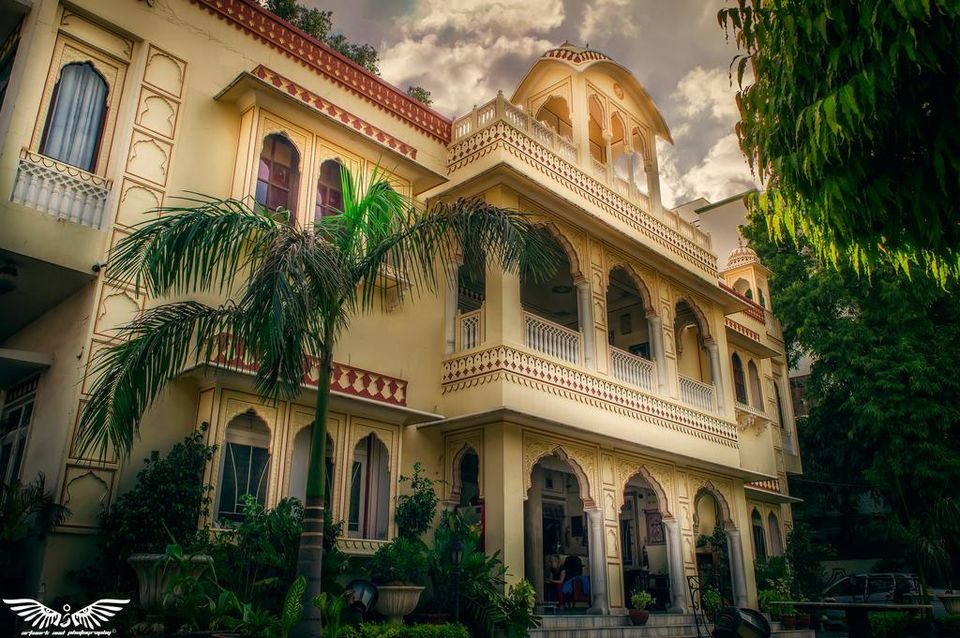 We got to first base, the hotel, located at Bani Park. It was a short 10 minutes drive from the Bus Stand. We enter and our eyes were on stalks looking at how instagram-worthy the place was.
Made like the famed 'Havelis' of Rajasthan, the Hotel named Krishna Palace is a relatively small but elegant Palace made of all things traditional. A family run property, it had everything from spacious pretty rooms and comfortable beds to decent food and swift service. What else could one want?
We wanted to spend rest of our day admiring the beautiful hotel. However, we had just 1 and a half day left to see what we had come to see. So...it was time to explore!
We started off with the must-see Jaipur City Palace. The Palace is situated very accessibly in Central Jaipur, which is why taking an auto rickshaw was a good idea. In fact, it is one of the best ways to move around the city, while the helpful autowalas can always guide you with things.
It costed us a mere 100 bucks and 20 minutes to reach.
Constructed by Maharaja Sawai Jai Singh II, the City Palace is a beautiful structure made in the signature Mughal style and architecture. Several other buildings in the complex reflect a fusion of Indian, Mughal and, at some parts, even Western styles, which is probably because they were all built by different rulers in different periods of history.
But no matter what, we felt the grandeur and glory of the rich Rajasthani history in every nook and corner of the palace. The red sandstone, in which most of it is built, adds a special attractiveness to the whole palace.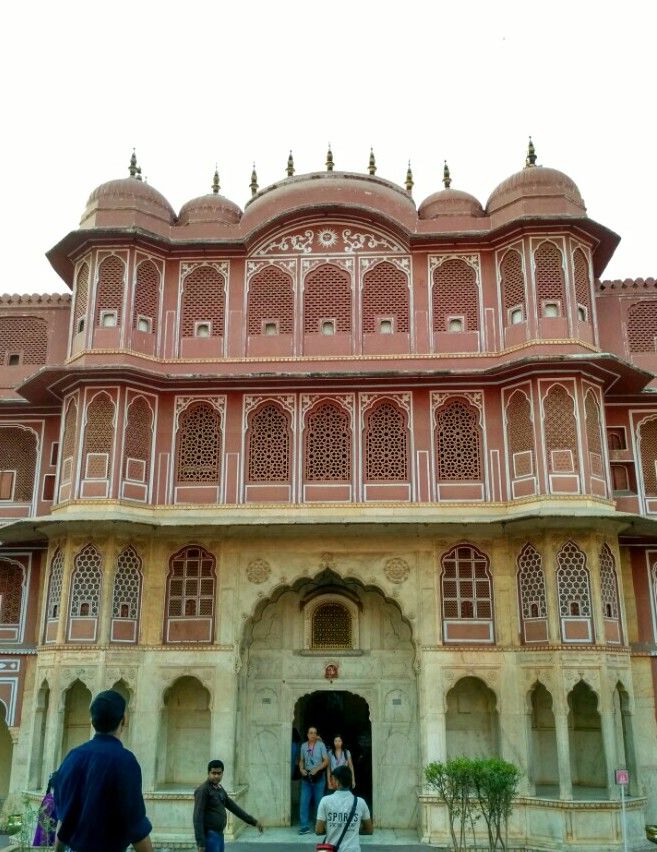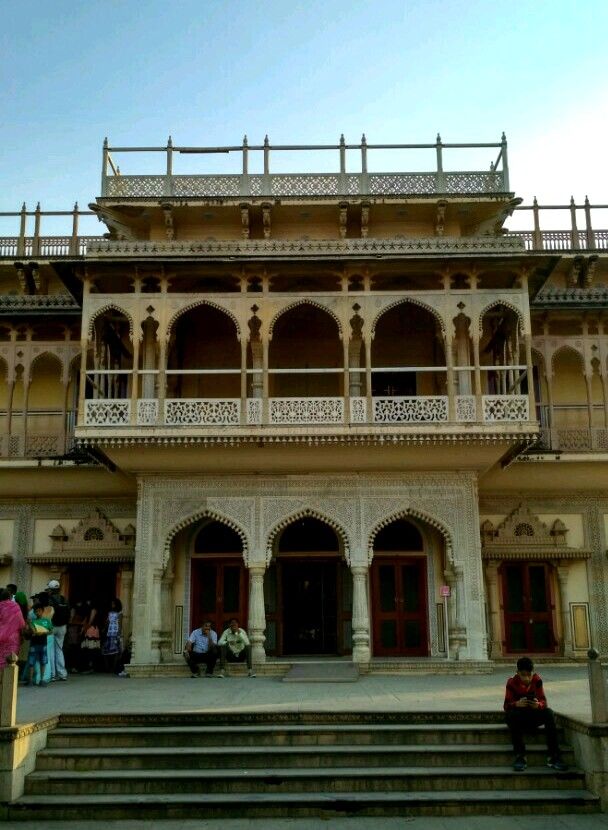 The ticket is priced at Rs.100 and this price of admission includes entry to all buildings in the complex, the Cenotaphs as well as the museum located within the complex.
It was time we head to the celebrated Hawa Mahal, which lies just 2 minutes away from the exit gate of the City palace.
One of Jaipur's most distinguishing landmarks, the Hawa Mahal is an astonishing pink-coloured building right in middle of a hustling market. It was apparently constructed by Maharaja Sawai Pratap Singh as an extension of the Royal City Palace and leads to the women chambers.
The Hawa Mahal has pretty balconies and delicately honeycombed windows that look over to the Sireh Deori Bazaar. The top and fifth floor of this dazzling building offers stunning views of the Jantar Mantar and the City Palace.
Apart from the gorgeous architecture, the breezy palace has a museum that is worth a visit, especially for the art and history admirers.
This was the end of Day 1 for us. We were too exhausted to check out the enormous market on the Hawa Mahal road. But one should sure take a stroll there if they wish to shop some traditional Rajasthani stuff at great steals.
Day 2 was going to be fun as we were super eager to witness the grandeur of one of Jaipur's most glorious Forts- the Amer Fort, also known as the Amber Palace.
The fort is situated on a ridge about 11 kms away from the main city, which is why one doesn't have many options of travelling up to the fort. And the only feasible commutes are buses that can be boarded from the city bus stops or self-drive. We chose to book an Uber for 450 bucks, which was not a bad deal either!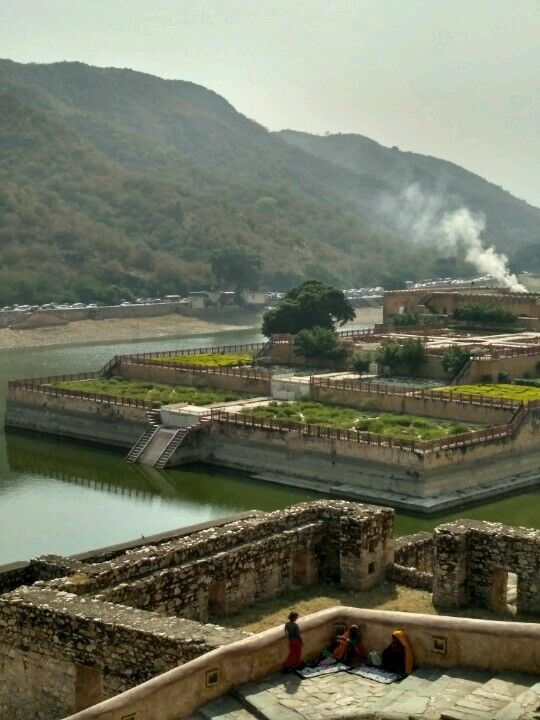 The Amber Fort is grand! It took us 3.5 hours to complete a tour around the whole area including the main fort and adjoining buildings. I'd advice you hire a tour guide here; it'll make the long tour rather interesting and of course, very informative.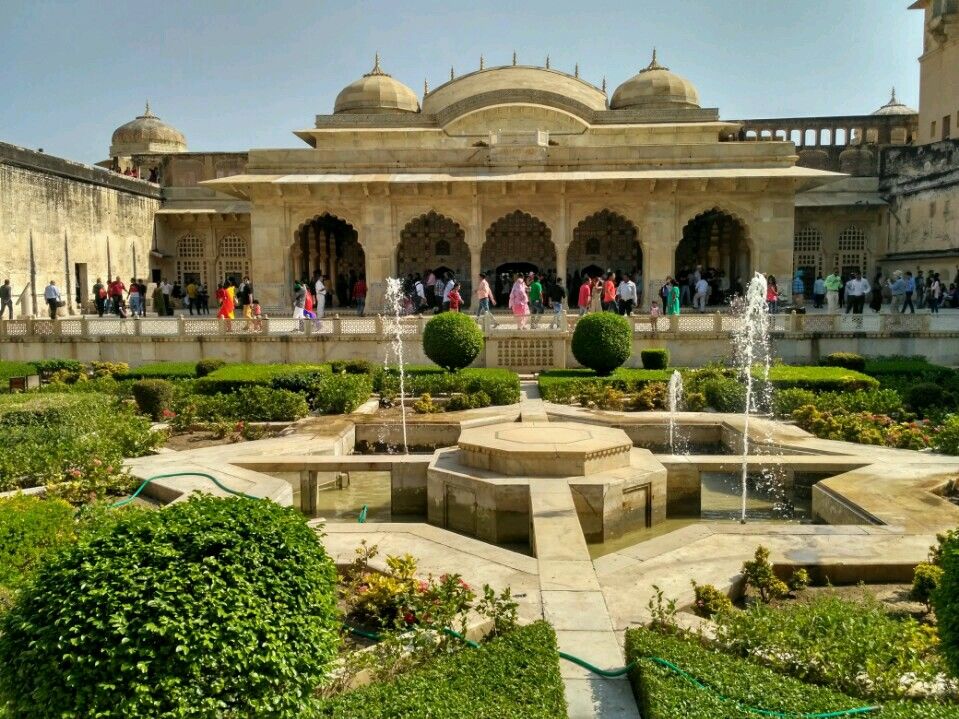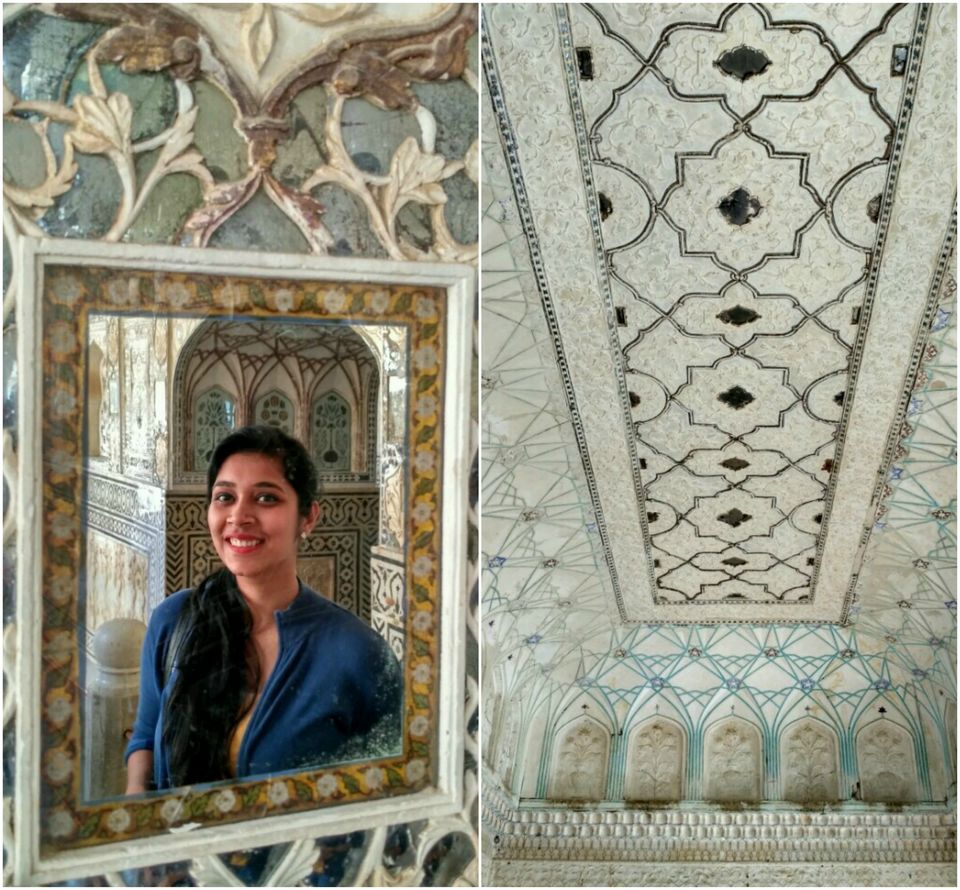 Divided into four courtyards, the front courtyard of the fort has a number of pillared halls laid out in traditional Mughal style. The second courtyard features another hall leading to a temple that has intriguingly huge doors. The third courtyard has two magnificent buildings including the Sheesh Mahal and the Sukh Mahal placed right opposite each other.
The fourth and the final courtyard is rather engrossing as it holds a gorgeous Palace that will sure leave you spellbound and thinking about those ancient times.
After the tiring Amer Fort tour, we took a brief stopover at the Jal Mahal en route to the Bapu Bazaar. The Jal Mahal is truly a sight to behold. One cannot actually enter the Palace, just admire it from a distance. FYI, I read somewhere that it is being converted into a 5 star restaurant and that is why they do not allow visitors to enter the building.
Now, after sometime of shopping and chow down around the hustling market, it was time for us to leave. Jaipur is a place you can never get enough of, or at least I cannot. The glorious structures all along the streets of Jaipur shouts "pink city" out loud and the opulent Palaces, ancient fort and the holy temples ensure that the city retains its ages old cultural heritage.
So, what else could be a better weekend choice?
Also, here's a list of restaurants and food joints we ate at and you must try when there -
1) We had the traditional Dal baati churma at a humble, unnamed Dhaba located on the Sawai Jai Singh Highway Road, bang opposite to where the Bus Stand was. They serve Rajasthani Thalis, one per person and sharing is not allowed; one can choose their portions though.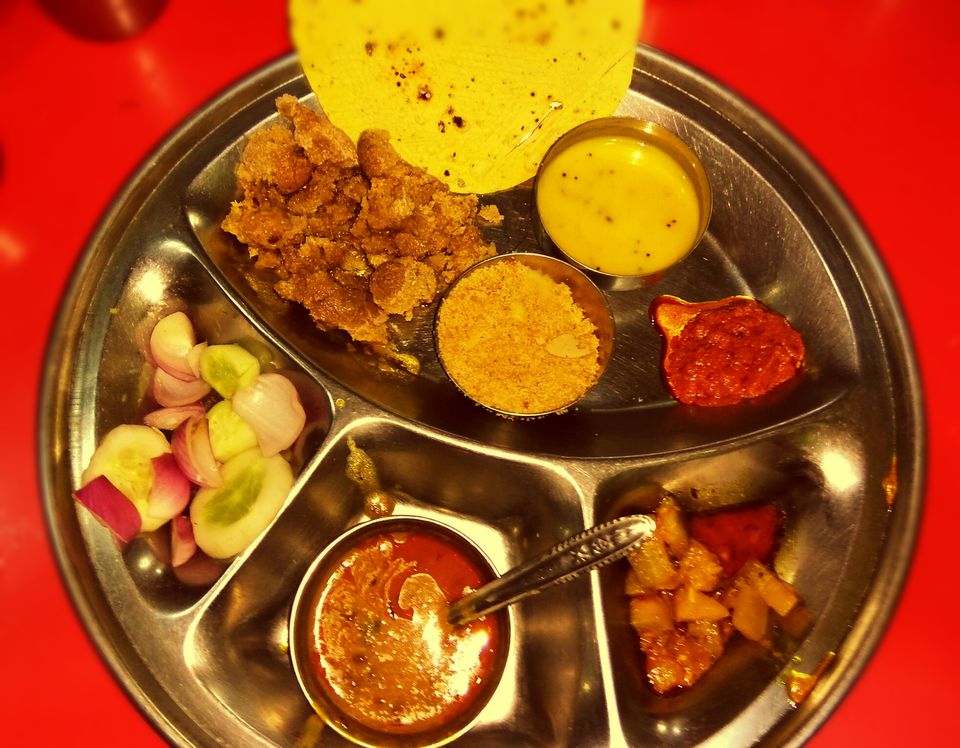 2) Who can miss Rawat Mishthan Bhandar when in Jaipur? Apart from the 'world-famous' Pyaaz kachori, you can also try mirchi-vada and a few local sweets.
3) Try Shrikhand, lassi and Kulfi faluda at the Bapu Market. There's one shop that serves it the best; you'll find a hundred people to guide you to there.
4) Venus Continental Restaurant is located on one end of the Hawa Mahal Road. They serve a different kind of North India food; something you would have not had anywhere else in North India. Warning - The food they serve is super duper spicy, so think twice before you decide to dine in there.
That's it folks! Jaipur was amazing and i'm sure going back soon!