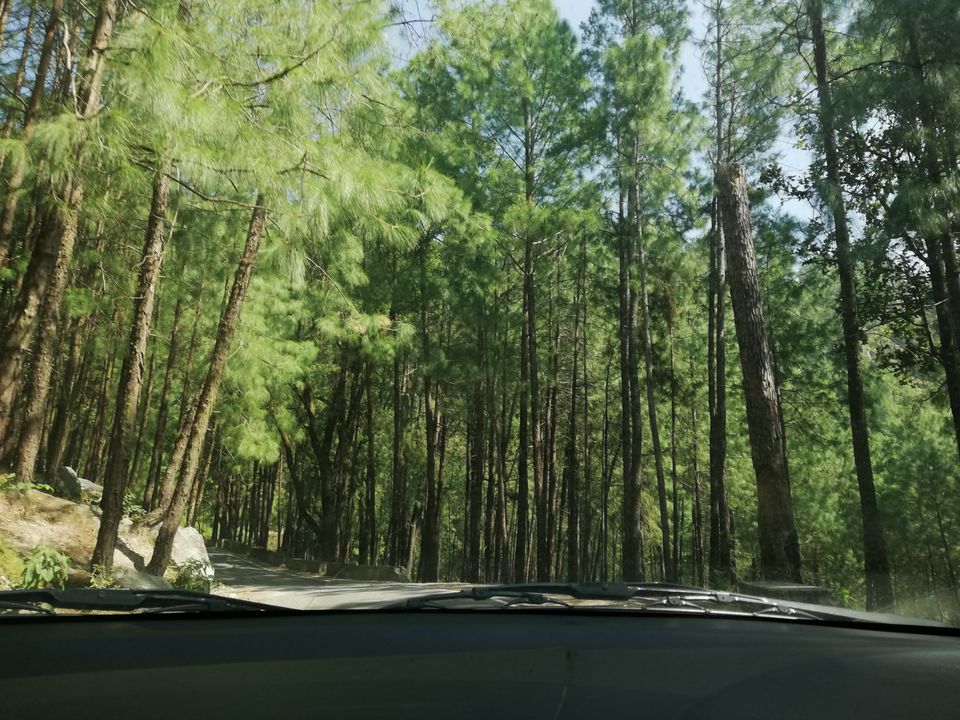 This trip was and will always be, 'The Trip of my Lifetime.' After this trip only I realised how crazy I was for travelling. This was my first self-driven road-trip. Me, being a guy from plains, born and raised in Delhi, have a good sense of road-rules. In plains, usually we have 3-lane, broad roads. But, after I drove myself on the mountains for the first time, the experience in itself was completely insane and crazy. The roads on mountains are very narrow, sometimes it is under-constructed, so roads are just one way. And driving at night on mountains is a task in itself.
Trip to Lansdowne, was like a call from the mountains. The stars, the nature, even the universe, was trying to push me away from plains and take me to the peaceful mountains. My girl, as always did her background research for the same. We watched some videos on youtube of few fellow travellers. Both of us did our packing, loaded the car, and off we started. Completely relying upon GOD ALMIGHTY for everything, we started at 6:30am from Noida, crossed some villages, few highways and many fields, after travelling few hours we reached Kotdwara.
Lansdowne can be a good weekend getaway for people residing in Delhi and Noida as it is approximately just 250km, and you cannot find that much of peaceful untouched place within that distance. After crossing Kotdwara, both of us decided to first visit Tarkeshwar Mandir, before heading for Lansdowne. The Tarkeshwar Mandir, is a Lord Shiva Temple, it is beautifully situated amidst forest of huge pine and oak trees. The road for Tarkeshwar is rough, rocky, raw and very untouched. Mostly you find private taxis and big trucks on the way, few personal cars are seen on this route. After exploring the temple for a few hours, we headed for Lansdowne, and by 4:30pm we were in the lands of Lansdowne.
We took a decent bamboo cottage rooftop stay for Rs. 2200/- per night. Rested for the night, and next day explored some other places to visit like, St. Mary's Church, Bhulla Tal, Tip 'N' Top, and Thandi Sadak.
The mountains teach you infinite things, it's upto you what you are willing to learn. They taught me the value of patience and calmness. They taught me, that in Life, whatever is troubling you, the problems, the difficulties, the so-called 'Mountains of sorrow', they are all very small, it's just that we create them big enough and give them the right to hamper our normal being and processing.
Some basic things which I would like to share with my fellow travellers, who are planning to go on a road trip to mountains:
*Always check the basic vitals of your car before starting any trip/journey. If required, before the trip, take a trip to the workshop.
*When on mountains, follow speed-limits. Your Life is worth more than the adrenaline rush you're getting from the speeding.
*Be extremely careful while over-taking. Never over-take on blind curves.
*Sometimes, due to cold weather the engine temporarily breaks down. In this condition, you would have to start the car in-motion, by taking help of some people in pushing the car.
*Try finding a place where you could park the car front-facing down the hill. It is easier to start the car that ways.
Most of the important thing, localites of mountains are very welcoming and extremely helpful.