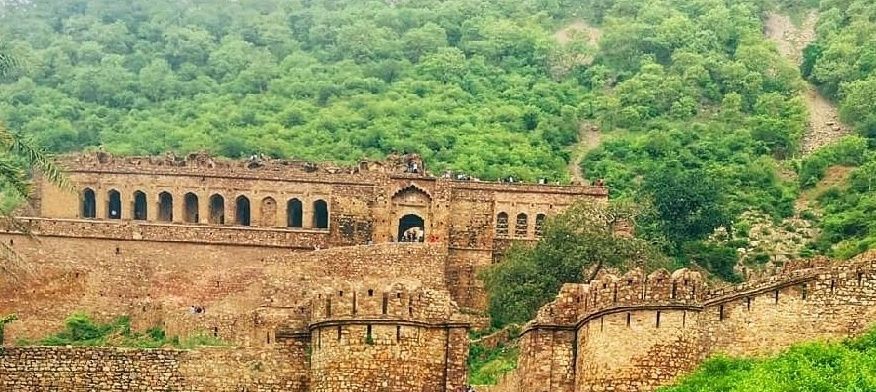 Visiting the spookiest place of India was at the top of my travel list. While my stay in Alwar, I took a road trip to Bhangarh fort and this experience cannot be described just in words. It was not just reaching Bhangarh, the whole journey was a complete package. So if you ever want to visit there try to take a bike or scooty trip.
It took me around 4 hours to reach Bhangarh Fort. The roads were well maintained except for some remote areas where it was quite difficult on a motorcycle. The view all along was beautiful and myself and Priyanka felt like stopping for a moment and admire the beauty of Rajasthan. Do stop at any Tapri for some local Rajasthani snacks.
Although the fort is almost a ruin but the very idea of being there sent me chills down the spine. It took me 2-3 hours to explore the whole fort. It gave me an overall idea of how beautiful the palace must have been when it used to be whole. Beware of the monkeys because if they spot you with snacks in your hand they will try to snatch it away. There were several temples inside. It depicted some marvellous architectural skills of that era.
I saw peacocks, moneys, kangaroos, pigeons and some other birds in the campus. All the stories that i heard about Bhangarh were running through my mind. I cant say whether they were true or not but as a traveller I enjoyed the whole journey and my trip to Asia's most haunted place.
📍 Bhangarh Fort, Rajasthan | July 2019
Photos shot on iPhone SE