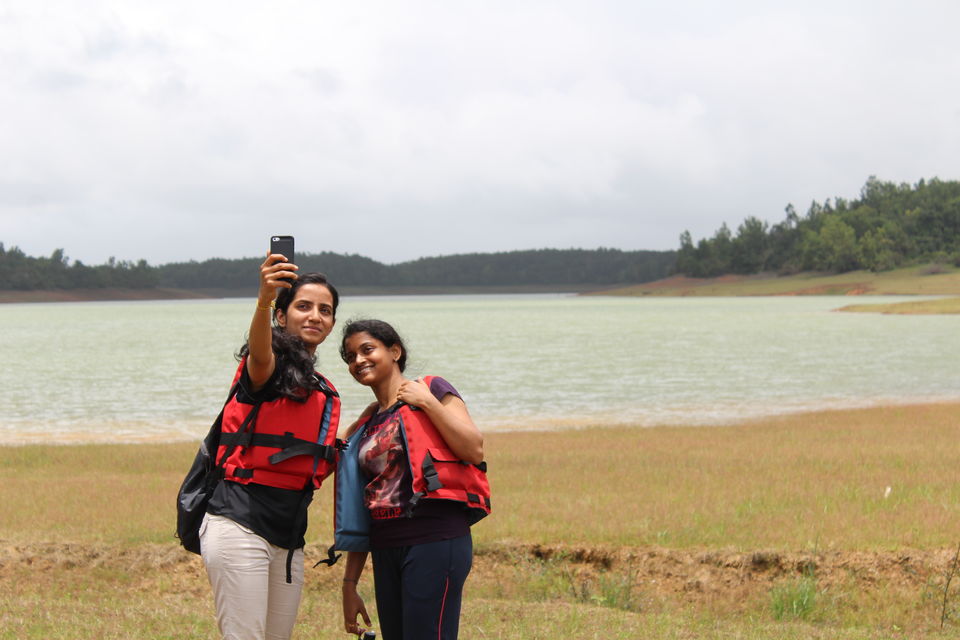 When I went for the Stok Kangri trek last year in Leh-Ladakh I was not sure what to expect. I mean I had done few day treks but this was a diff ball game altogether. Surely the stakes were high. Although I couldn't complete it (I got AMS at the base camp, at around 16,400 ft.) I had an amazing experience, lost in the mountains the calm yet towering mountain ranges all around you. That day, at that moment I decided 1 thing; trekking is something I loved, and will do it more often now.
Bangalore Trekking Club (BTC) is a premier trekking community which promotes and conducts a lot of trekking and outdoor adventures on most of the weekends. Their fan following is big, with abundance experiences, and an professional approach to everything.
Anyways. I was trying to get myself in a group going to Mullayangiri, Kudremukha, Kodachadri, or Dudhsagar falls, considering 15th & 16th Aug are holidays. Next day I received a mail from Ankit that there were few dropouts, so few spots are available for the Jog Falls Trek. I literally pounced on it! I really wanted to go. Although I was sceptical of my chances since I've never done a trek with BTC, let alone 2 days trek with BTC. But to my luck I was in!
So the prep started. I had already marked Saturday as Leave in my attendance register. I had almost all the trekking stuff (baring the sleeping bag) so I was not much worried about what to carry. I came back from office early, and left for Majestic bus station by 7 pm. Being a Friday evening, there was an expected huge traffic. But I was chilling since we only depart at 10 pm. I reached the meeting point at 9:30 pm, only to find myself there alone. So I went to take a quick dinner, and returned by 9:50 pm. This time there were suddenly 50-60 people all rejoicing and chit-chatting! I quickly gave my attendance to Gaurav and Ankit. Soon I realised there were 3 different groups; 1 going to Jog Falls trek, another to Gerosoppa Falls trek, and the other was on its way to Coorg. I was feeling a little awkward considering all of them knew each other (thanks to their previous trekking experiences together). But Gaurav and Ankit made me feel comfortable, and met Deep who was also a first timer.
Quickly after taking few group pics we boarded our respective buses and started off at around 10:30 pm. I seated myself before the last row of the bus. Behind me were Ankit, Shweta, Sourav, Sagar, and Ahmar who were continuously cracking us up! We introduced ourselves by playing Dumb-Charades! Quite a way!!! After few rounds of fun picking on others, and Antakshari everyone dozed off. For the upcoming 2 days were to be exciting, and challenging…
We all woke up early morning thanks to the driver speeding away on rumble strips placed on the highway! It was like the driver thought, "Here I'm driving all night long, and you bunch are snoring. Lo, behold!" Anyways, we woke up to a road surrounded all around by lush green forests. We reached Sagara at around 7 where our guide Mahesh sir was waiting for us. We followed him to his home which also served as the base camp.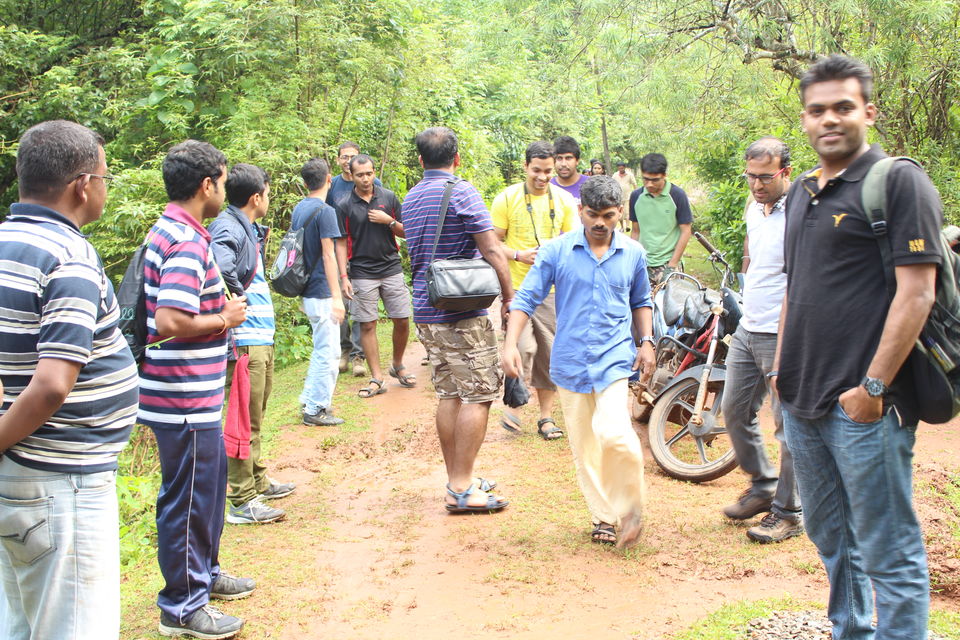 Our first activity of the day was to visit a local primary school and get involved with the kids and the school staff. A flag hoisting was also on the agenda, but we were late & the flag hoisting was already done. Quickly we dropped our bags, started brushing (few just dashed towards the loo!), got freshened up and headed on foot to the school.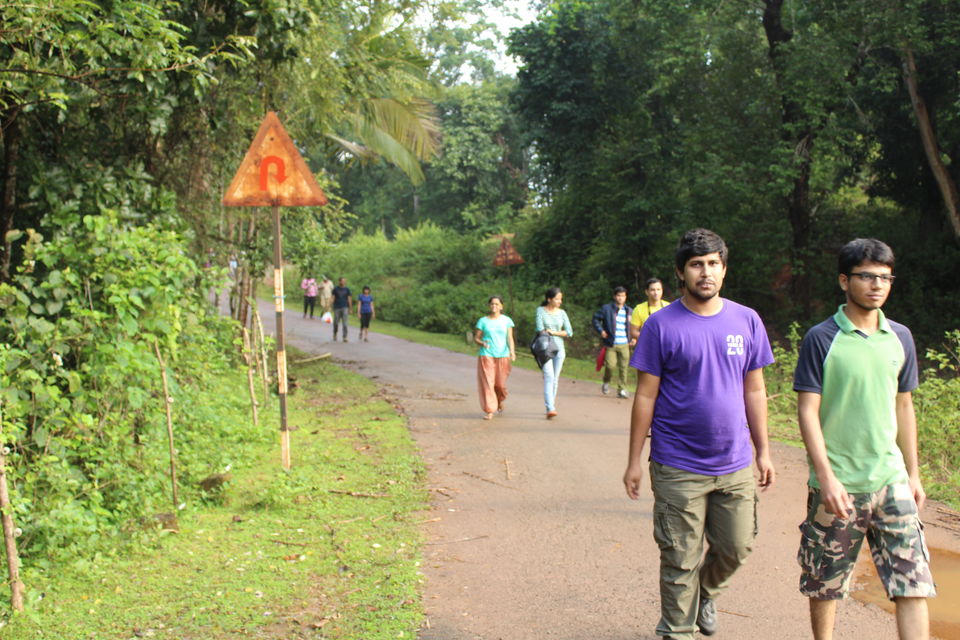 Within 5 minutes we reached the school, and to our surprise there were hordes of people waiting in anticipation for us. None of us were expecting such a reception. We went inside the classroom, and all the toddlers were inside. Seeing them all of us got excited and started behaving like kids again! Surely, the room was small to accommodate 21 of us+the Kids+the school staff+the people from Gram Panchayat and few social workers. But we managed!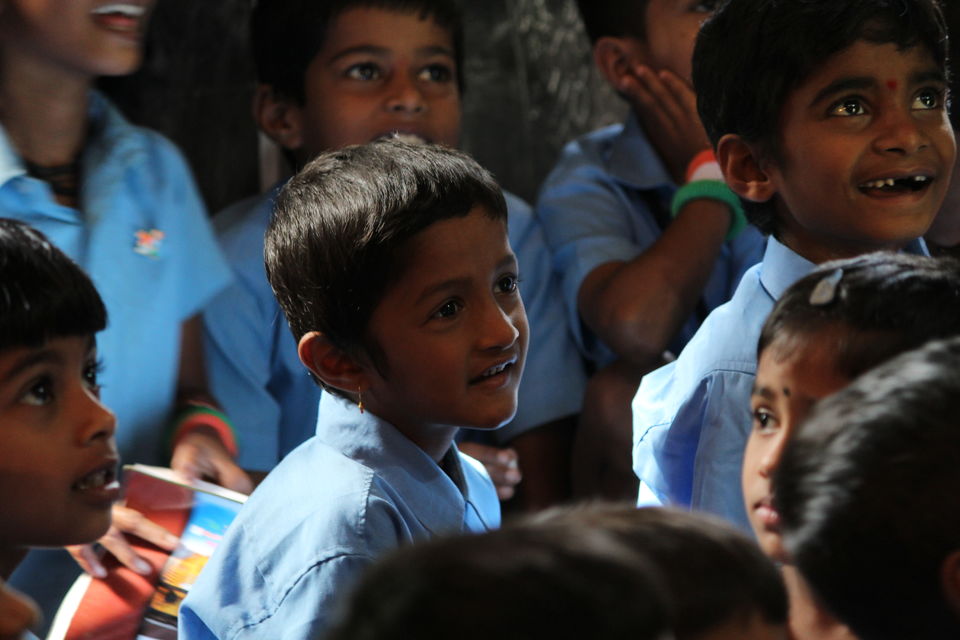 We brought with ourselves lot of stuff like wristbands, drawing books, crayons, sweets which we distributed to the kids. Needless to say, we were all excited to see and meet each other! We quickly took our seats at the back and the school principal and the Gram Panchayat representatives heartily welcomed us. We were all watching this, me a lil' bemused considering such a big and humble reception they gave us. Then the beautiful kids one by one started performing in front of us by reciting poems, patriotic songs etc. We were all spellbound by the innocence and the lovely efforts they put in for us.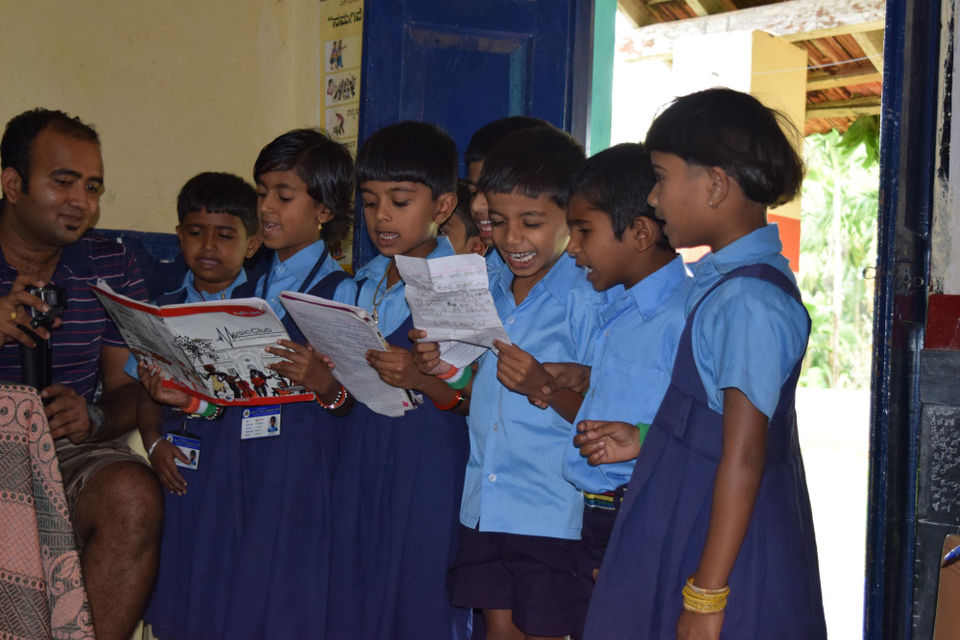 After this a drawing competition was organised in the adjacent room. You should have seen the kids; they were super excited! I mean who doesn't like drawing? Just look at Sagar below!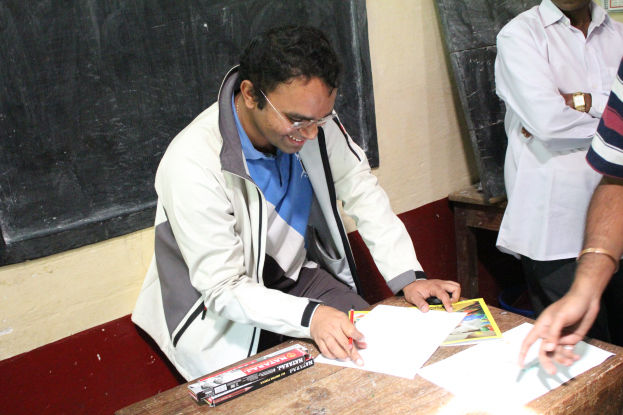 Quickly after this we decided to head out. But not before a parting group pic.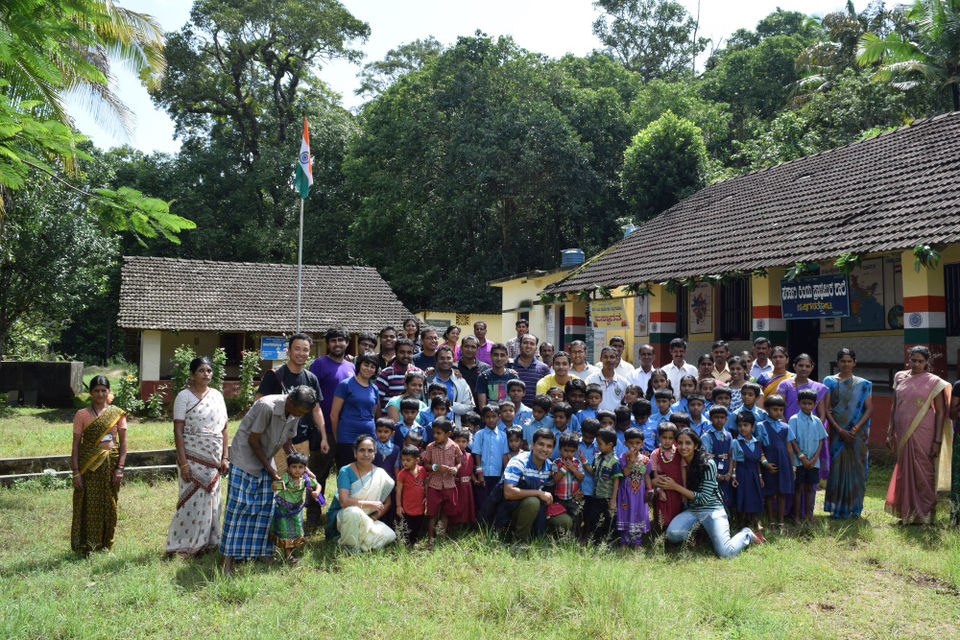 We said Bye Bye to all the beautiful budding kids out there and headed back to our camp. Breakfast was ready and served. And boy, were we hungry. It was simple, it was tasty, & it was TASTY! Mahesh sir was forcing us to eat up as much as possible for it was to be a long day, and we would surely be late for lunch. How true he was.
After hogging on some delicious breakfast it was time for the next activity. This was to be swimming (read floating) in the backwaters of the Sharavathi river, which was around 1 hour ride from the camp. But safety first; so regardless of our swimming skills everyone had to wear a life jacket. Didn't make any difference to few of us; we didn't know swimming anyways (LOL!). Anyways, we quickly headed out, and after maybe an hour of tumultuous ride we reached the place. It looked straight out of a fairy tale. From a concrete jungle to the arms of mother nature was not only a bliss but breathtaking. This view was good enough to take away any stress (if any) we had.
All of us were excited. Mahesh was a little extra maybe. So much so that he started running towards the backwater with the India flag in hand, only to take an epic fall on his bums in the mud! Don't worry he was alright and got up straight away.
We all got ready. Few important instructions from Mahesh sir before the dip, and after that all jumped in. But I didn't go there instantly because I wanted to click some pics of everyone having a good time in the water. Fortunately the sun was not hard on us and I got some good clicks. Then what? I just put the cam back in the back and followed everyone's steps to the water. Although I don't know swimming wearing a life jacket and going into deep water was not difficult as I had done before. So, went inside like a pro! Quickly I was in trance state; eyes closed, body floating and facing the sky, hands behind the head (like a pillow), and nothing but tranquility. I didn't want to talk or play around, was all by myself.
We were inside the water for around 3 hours, and I kid you not it was much needed. Everything was suddenly so much peaceful. I wished we got to experience such 'luxuries' more often. Oh well!
Once everyone was out we quickly dried up (we tried to) and boarded the bus back to our camp. Now the problem was that everyone was damn hungry. Even a flash of Parle G would have felt like a divine intervention now. But that was not to be. So another 1 hour of bus ride to camp. After reaching there all dived in to have some much needed lunch (at around 4-4:30 pm I think). And during the lunch the next announcement was made; we will do a chotu trek once everyone is done with food. Without much adieu we headed out. This was to be through dense jungles, but private properties of villagers, separated by electrified wires/fence. Initially everyone thought there wouldn't be any electricity through them. I mean who would bother to. So I thought of giving it a try. How wrong was I!!! After around 2 secs I got a jhatka! Then I told myself; nothing to be taken for granted here in this wild!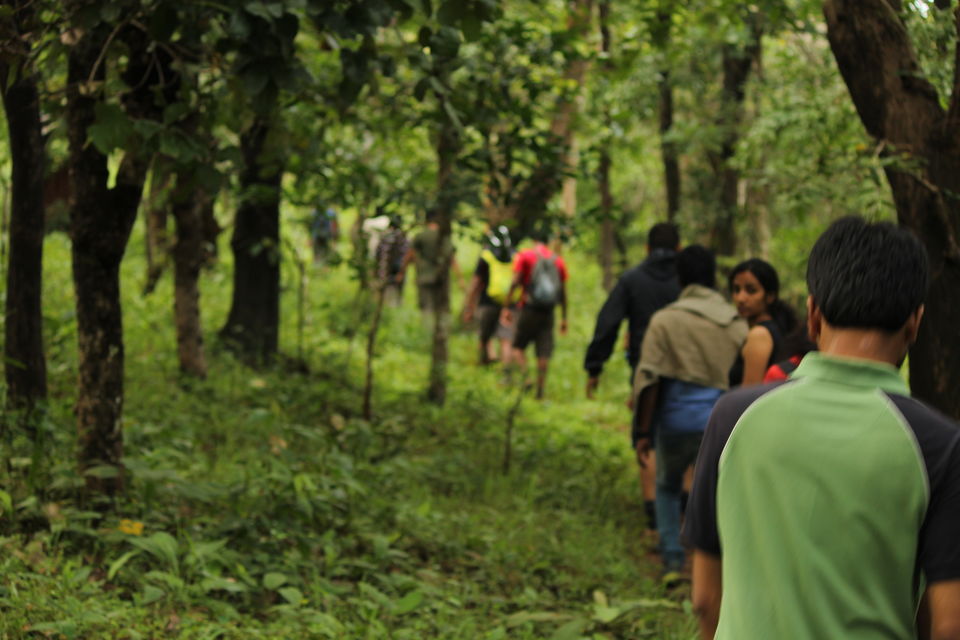 After numerous struggles and road blocks we reached our destination; Kumriguda viewpoint. It was already dusk when we reached. Nonetheless, it was a breathtaking panorama view, and the cool breeze only added to it. That's when Mahesh sir felt that we needed to stop chattering among ourselves and absorb as much as possible from the view. So he ordered everyone to stay chuup for the next 2 minutes. Mahesh sir, if you are reading this blog then Thank you! We often tend to ignore the charm around us, that if we forget all our worries and people around us and just enjoy the gift of nature it becomes such a pleasant experience. But do we listen? And that's why you made us literally stop-talking-and-start-relaxing!
So after our brief meditation it was time to get down and to the camp. Flash-lights were out and the down-ride was easier than trekking up. By the time we reached the main road it was pitch black and we were all spread on the road wandering. Good for us! After a brief walk we reached the camp where a campfire was organised. There we all learnt the types of campfire. Once the fire was up what better than Antakshari with lights off. Within no time two groups were made and we all started singing. Mahesh sir thought we were howling, so asked us to keep our voices a bit low. Here Kanu, Kislay, Sagar, Shweta, and Vijay (he was popping up with songs from nowhere, like you've heard them after ages) stole the show with their good repository of songs.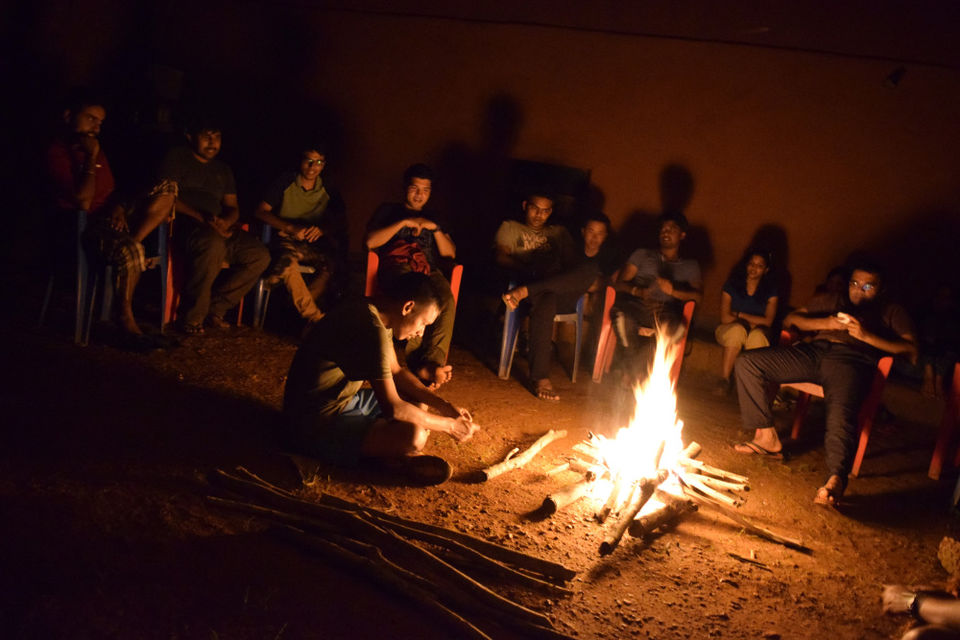 It was good fun. Actually, great fun! And for a change we were not glued on to the internet (so temporary bye bye to FB, WhatsApp, what not!), and interacting with each other. Sooner than not hot dinner was served, and lights turned on. After having some hot-piping dinner it was time to set up the tents and clean the camp-fire area. I knew how to set a tent up thanks to my trek last year in Stok Kangri. Those who didn't know patiently watched Gaurav and Mahesh sir do it. All in there were 4 tents put up with 3 trekkers to occupy one. The rest were to sleep in a much bigger tent. Instructions were clear: we wake up by 6:30 am and be trek-ready by 7:30 am. Good night!
Next day most of us were up by 6 am, the remainder by 6:30am. I could hear few of us grumbling how they could have slept a bit more. Never mind, we completed our daily chores, folded up the tents and sleeping bags. And by 7:30 all of us were ready to be launched. Breakfast ensued, and what better than everyone's fav Idli-sambar-chatni. As you can see below we all love Idli!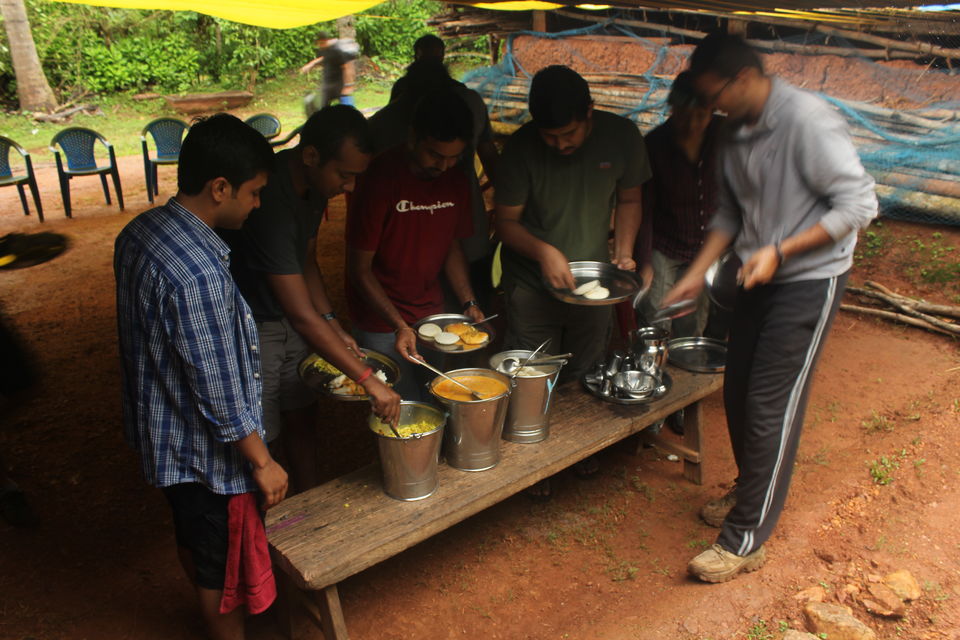 After filling our tummy with mouthful of idlis it was time to say bye to our camp. Today's activities were laid out by Mahesh sir. We travel nearly 30-40 kms by bus before we set foot for next trek. Lunch will reach us at Bachagaru, midway through the trek. And we set out. I had a small nap while on way. We also noticed peacocks. I tried to capture it with my 250mm lens, but still was not good enough. We reached our start point. Mahesh sir laid down the do's and dont's, and to be extra careful of leeches! Yes, leeches! Those small, creepy, treacherous, blood-suckers! For people wearing trousers they were asked to fold the ends of their trousers inside their socks. For the rest, like me wearing shorts, BRING IT ON, Leeches!!! Gaurav and Hema went one step ahead; they would be trekking wearing sandals! You'll know the consequences later.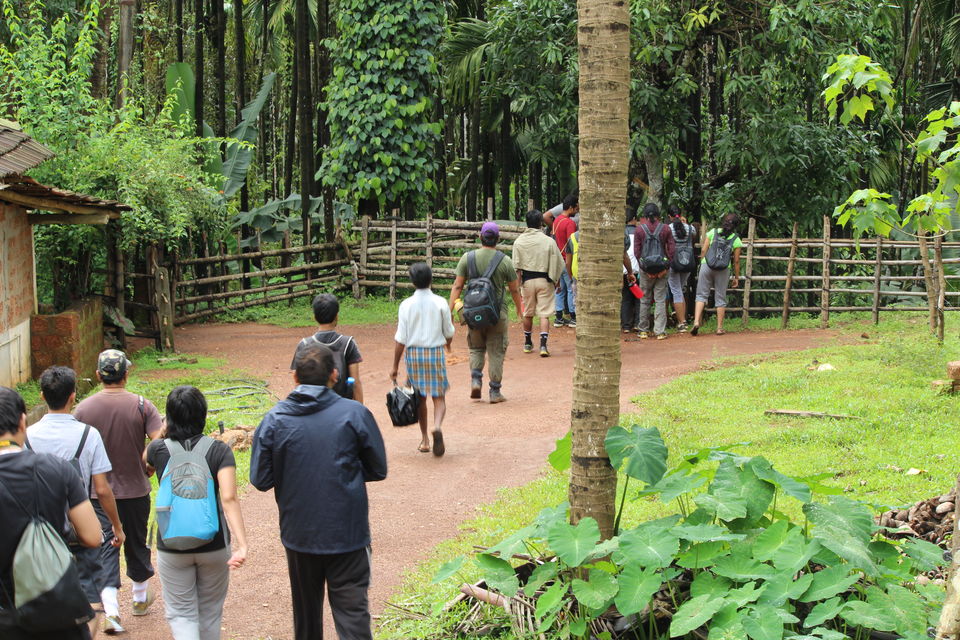 The initial part of the trek consisted of negotiating through betel nut plantations. I must admit the irrigation facilities were impressive. We slowly climbed our way out. And out of the forest it started to rain. So out all ponchos and rain-cuts. And then this magnificent view happened…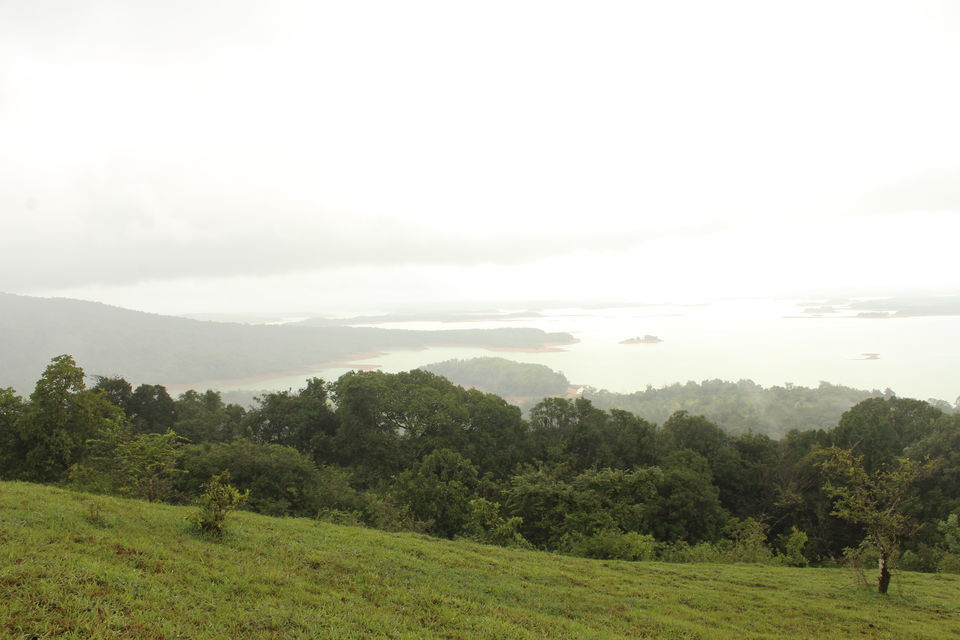 We marched on, and again entered the dense jungles. We were in now Leech territory. Gaurav became the first victim thanks to him exposing his feet! The rain also stopped by now and we were greeted with sunshine. Gaurav's feet slowly started turning bloody-red, with him pulling out the leeches thus leaving the wound bleeding for a while. But we continued. I was sweating a lot inside the poncho, and it was so big that it was very complicated to take it off and fold it back in the bag. But the good thing is it covers you till your knee, including your small backpack.
But the leeches wouldn't make it any easy. Now everyone were slowly getting the pinch. I had around 7-8 leeches at a time on my shoes, climbing & wriggling around, trying to get slice of the feast (we are the feast here!). We kept on going for few more minutes and the jungle opened up again. We had reached Bheemana Hejje.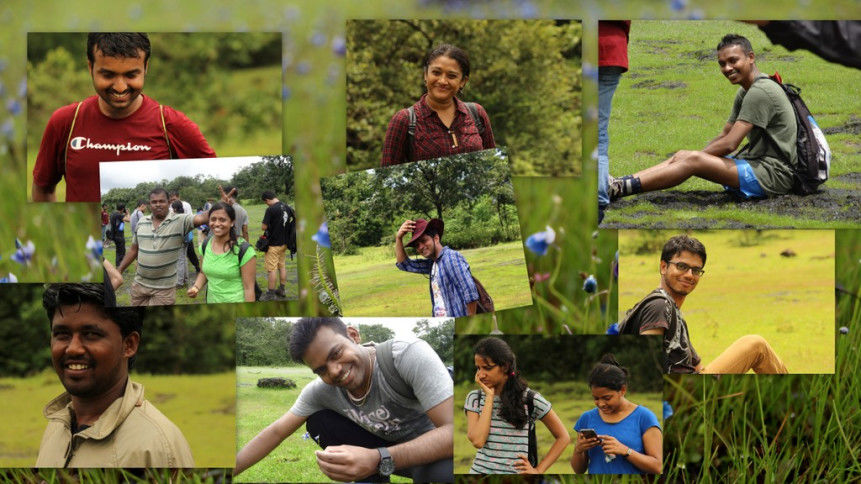 It was cloudy and misty. One can feel the dews and the rains that just re-freshened it. The grass looked as it has been just painted green and you can see the beautiful tiny flower carpet along the grasses. As much as you try to avoid one or the other ended up stepping on it. It was a glorious sight. It also served as a welcome respite from walking and the leeches! While me and few others engaged in clicking around the others helped themselves by enjoying the scenery and cleaning up themselves from the leeches. We spent close to more than 30 mins here.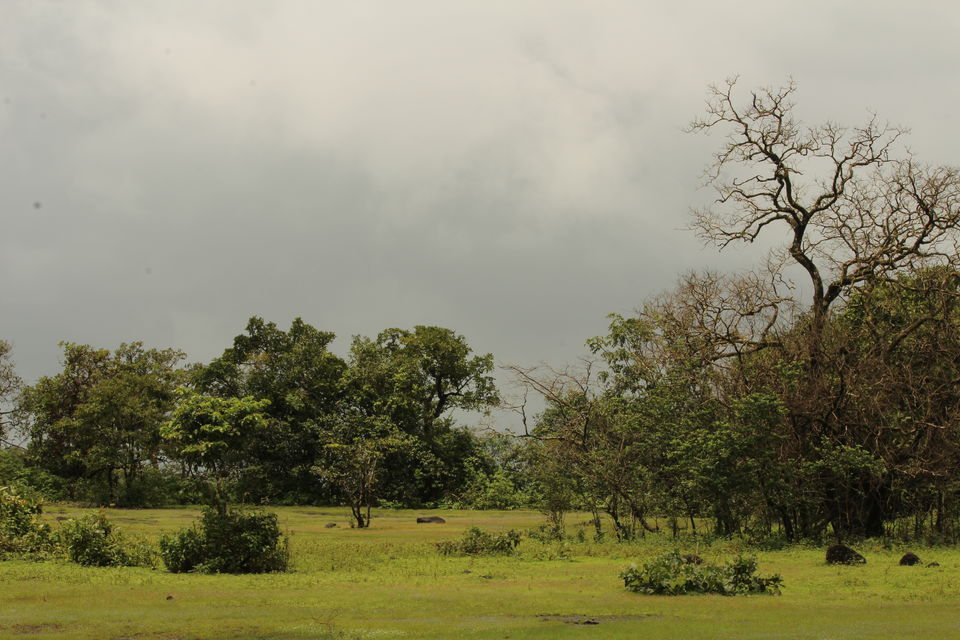 We continued on our trail & soon entered the jungle. But this time it was a bit different. We could notice tire trails and fallen leaves and branches on our route. Also noticeable was the vast number of cut trees along the way. This was sad. To see full-grown trees cut down was painful. Especially for people like us who have left concrete jungles to enjoy amidst nature.
We reached the highway, and it was time for lunch. The trekking staff were supposed to bring the lunch to us in our bus. We patiently waited there on the side of the road, all hungry and tired. The bus was there soon enough and we were served with lemon rice and curd rice. Delicious, especially after an arduous trek. We placed ourselves wherever we could find spot; on the road, stones, under the tree-shade, and started hogging.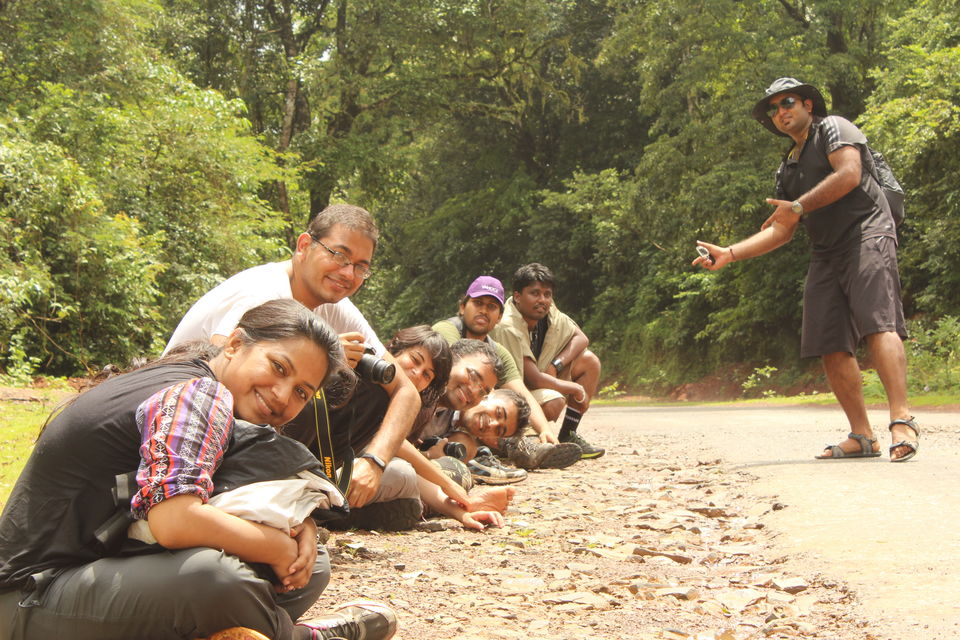 Since we decided to take the road tougher we also needed to prepare (or to say brace ourselves). Mahesh sir brought with himself a mixture of Oil and Tobacco powder to "fight" against the "evil" forces of leeches. We smeared our legs and feet and shoes with the yellowish oil (it was very sticky and the last thing I wanted in an already hot and humid afternoon). Once done we set out. The sky has opened up and was getting hot and sticky, that too after a heavy lunch.
After walking for around 1 hour, in and out of jungle, we reached a village. Here we re-filled our bottles and took some rest. Continuing with our trail we soon entered yet another betel nut plantation. Soon exiting the plantation it started to drizzle again. Now this is the unique thing about rain-forests. You can never be sure when it will rain when to expect sunshine. We walked for few more minutes in the open grassland before we entered the forest. This is where things got real!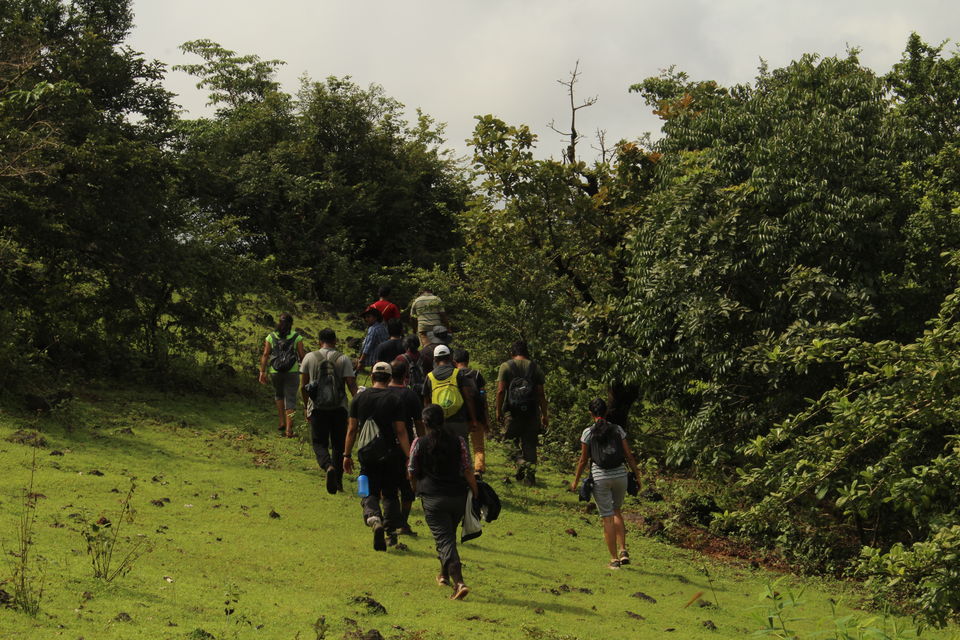 Now unending stretch of jungle was lying in front of us. With the initial thoughts I felt I won't make it alive! Once I entered these mighty forests there was not going to be any clicking for a while now. The trail was muddy, extremely slippery, and the only way to move ahead was to take the support of the trees and branches. You could hear the gushing streams, it was raining but not a single raindrop on us, and the suspecting guests; leeches. They were everywhere here. One of it even jumped (?) and stuck on Deep's throat! Yikes! Few of us were wearing sports shoes. They were the ones slipping the most. The jungles were so dense that I was freaking out at the thoughts of snakes or giant spiders leaping on us from anywhere. Sagar even rightly compared it to the jungles of Jurassic Park, with the only missing element of the Dinos!
After slipping, sliding, our way we finally exited the forest much to the excitement and adrenaline rush of all the trekkers. Exit the jungle and enter the watery fields. Unwantingly I had to step in the water. I felt like out of the jungles from being a prey to Raptors, to enter the swampy land where Anacondas are waiting! Never mind, we quickly crossed that too, and once I looked back I was like, "Oh teri! We came out of THAT?" with my eyes gazed on the jungles.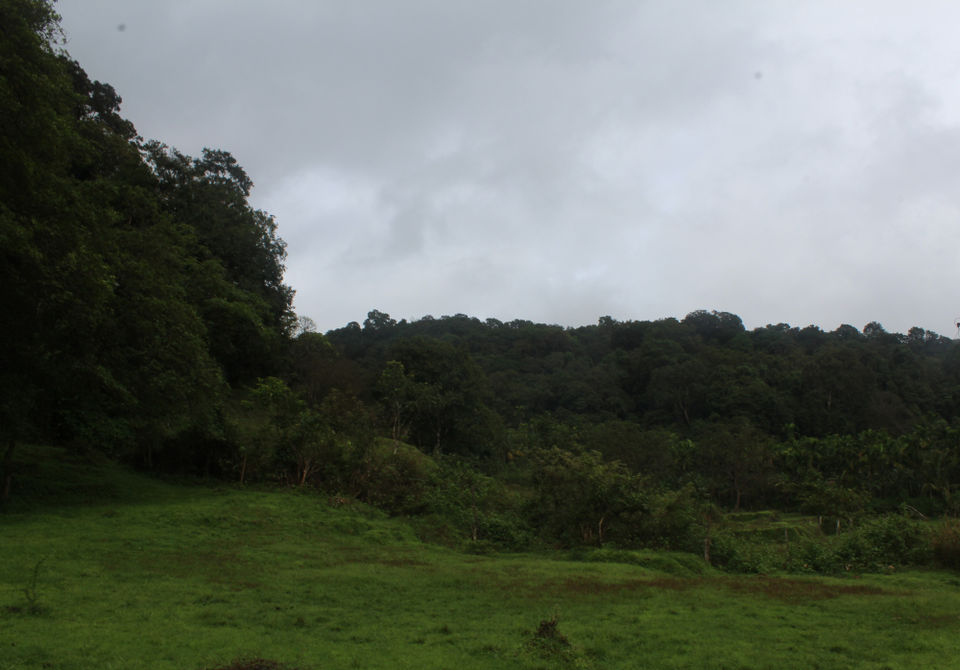 Moving forward we stopped in a hut to catch some breath. And then Mahesh sir asked the magical question, "Do you guys want to get into water?". To which it was a resounding, unanimous YES! So, a small walk of 10 mins and we were introduced to a nearby stream. Seeing that everyone lost it, everyone went bonkers! It didn't take long before most of us were inside the water (baring me and few others). Vijay, Deep, Sagar, and Mahesh sir ensured most us were drenched. A water-splash ensued! I made sure I was out of it since I had the camera and wanted to capture everyone playing in the water.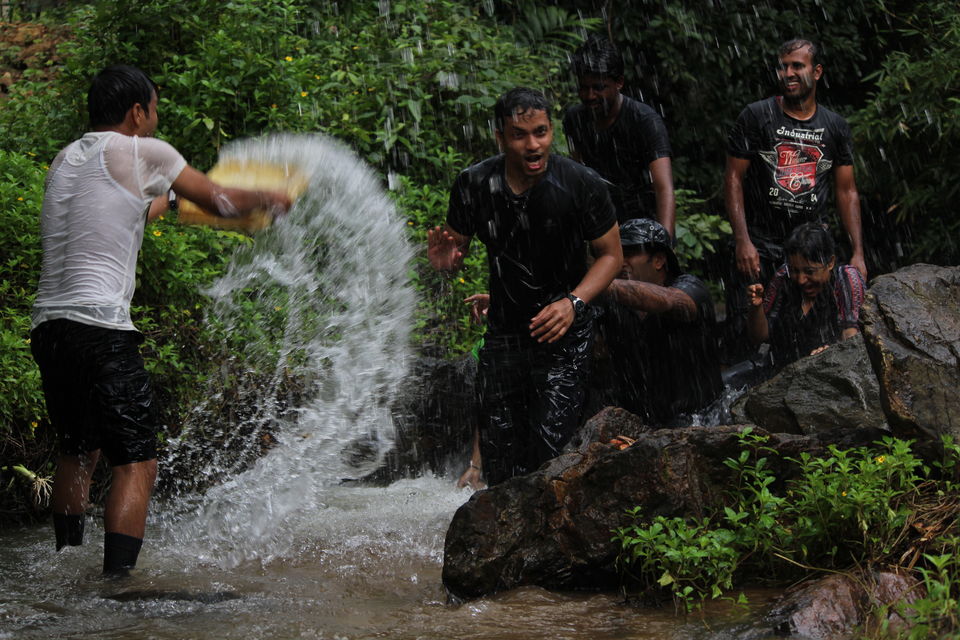 As you can see no one wasted any time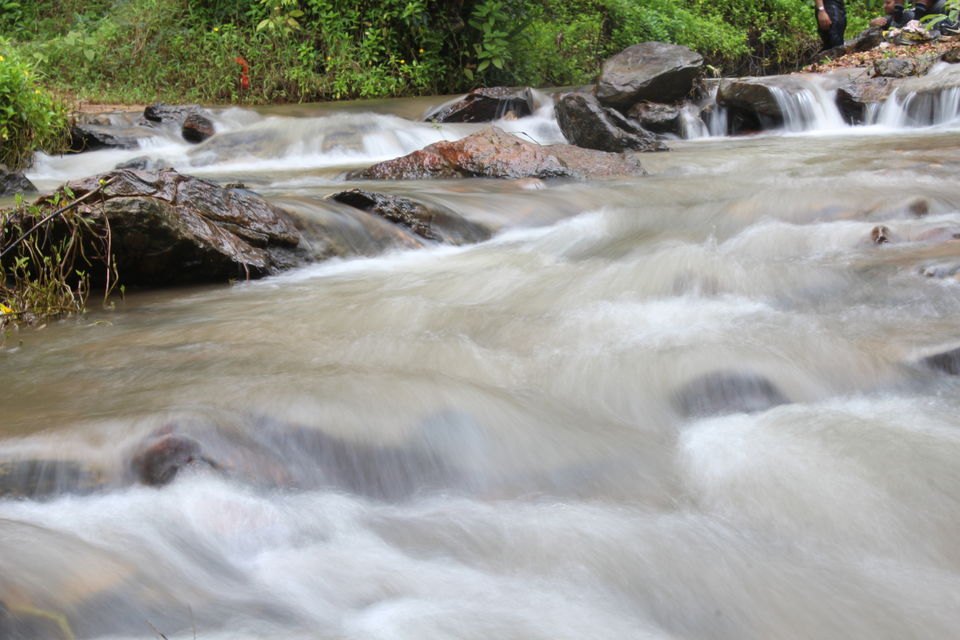 After playing around for 1 hour it was time to move on for it was getting dark. On the way it again started to rain. Though I was optimistic that it will stop it didn't, and reluctantly I had to take out my poncho again. It was almost getting dark and we reached the highway, again. We decided to take the bus to Jog Falls instead of going on foot. Everyone quickly changed to fresh clothes. 
Quickly we boarded the bus and rushed to Jog falls. I realized that had we trekked then we would have surely missed out on the view of Jog. No sooner we reached Jog falls and everyone just dashed out of the bus. Such was the excitement that I didn't realize I was wearing my tee inside-out! Never mind, who's watching anyway!
I've heard a lot about Jog falls how it is one of the tallest waterfall in India, and seen its pics. But this was the first time I was witnessing it upfront. And boy it was beautiful. The clouds hovering above it only added to the enchantment. Others were saying that water was very less at that moment, else it gets majestic. I can only imagine.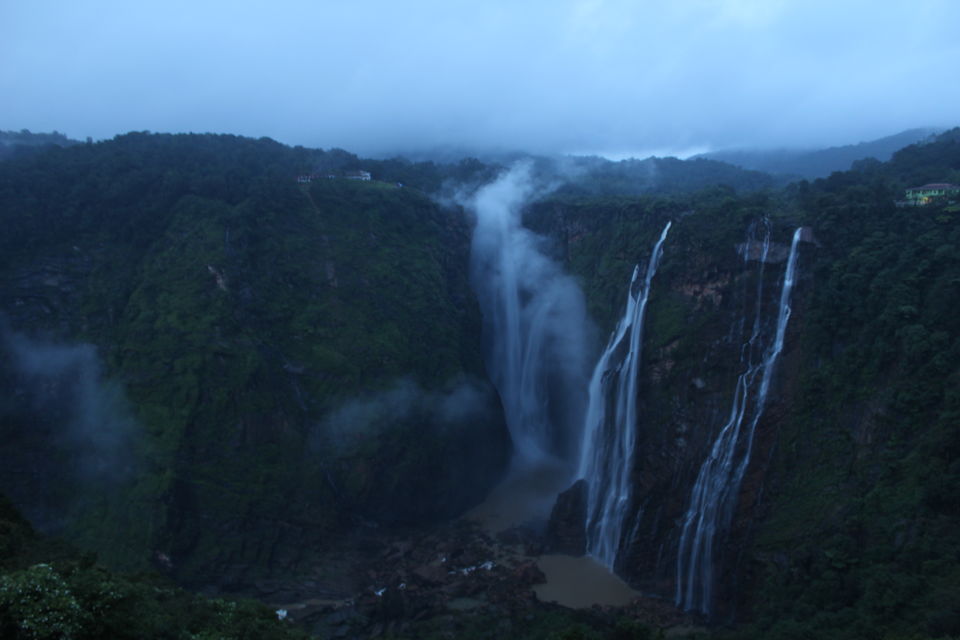 So we all shutter-bugs withdrew our weapon (camera) and started clicking. . But it was beautiful and you do feel the worth of earning such a view after an arduous trek. Glorious indeed.
After clicking and posing for tons of pics it was time for the laser show. I was expecting a lot. In fact the whole amphitheater was filled and bustling. I thought some crazy technology is up to be seen. We ensured we sat at the back, seated with a central view. It was also dark btw, so no more views of Jog possible (unless you have a badass camera).
And once it started we were like, "abey! ye kya hai!". It was more of an orchestrated fountain, coupled with laser lights. I was like Meh! But it was the day post Independence Day, so there were a lot of patriotic songs played, including Rahman's Vande Mataram. We made sure our voices were heard when all these songs were played. And soon after the laser show was also over.
So, with this came the end of the 2-day trek. We regrouped for one last time to give our feedback to Mahesh sir. As someone rightly said Mahesh sir treated us as one of their own. We never felt as if we are outsiders. Such was his generosity towards us.
We boarded our bus. We had nice veg dinner at Sagara, before bidding adieu to Mahesh sir and his team. We reached Bengaluru by 7 am, and we all said goodbye to each other before heading back to our busy (normal) lives. Sagar was like, "Aaj koi kaam nahi karega. Sab log photos upload karenge". Well, Sagar I don't know about others but my mind was not able to focus on work for sure…