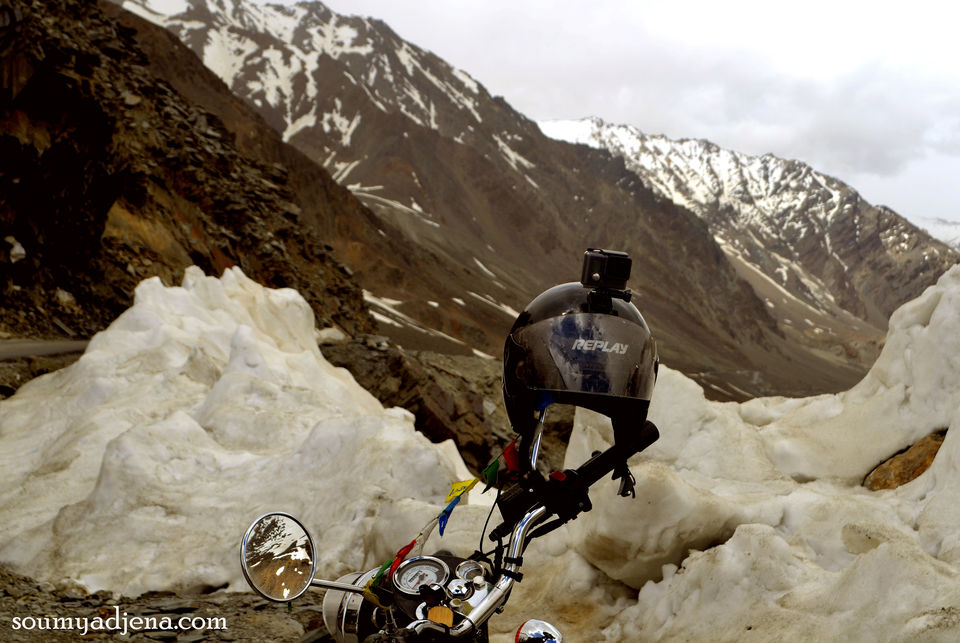 This was all about a plan that went wrong , but that is life anyway. As all people who take the bike to the high mountain roads, the initial plan was to do the whole route – Manali to Leh all the way but as it turned out...the mountains had other plans for us. But as the age old adage goes – if you worry too much about reaching destinations, you miss the fun on the road.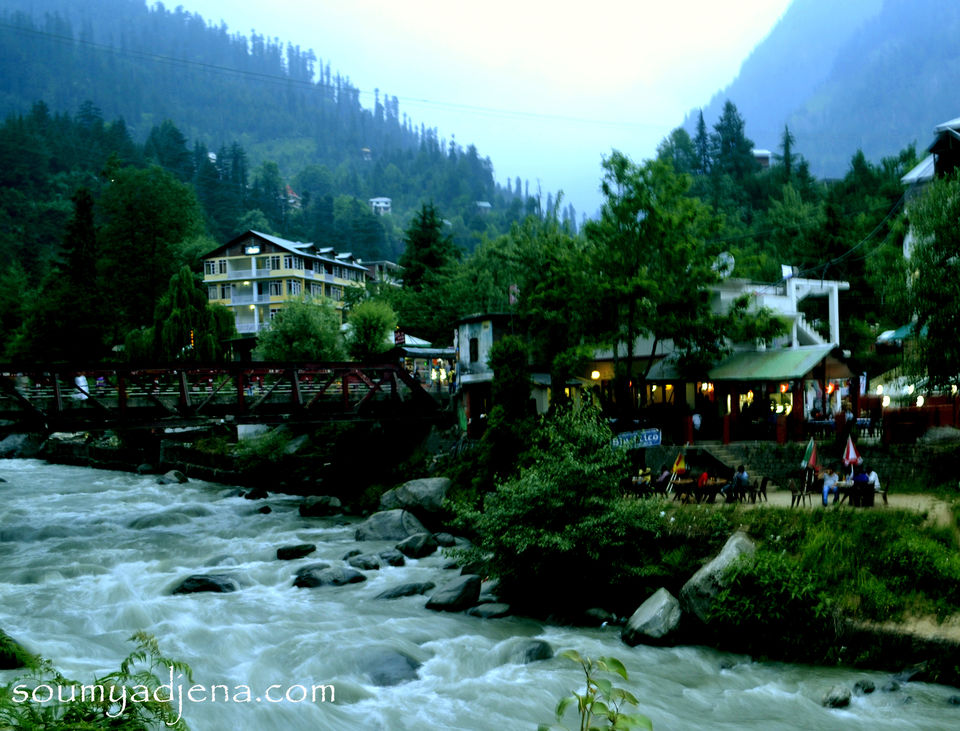 The few of us who lazed around in Manali were thinking of what to do next. The plans of biking all the way from here to Leh over two days road trip was jeopardized by a small issue – the tour operators on both sides, Himachal and Ladakh got into a tiff a few days ago and which soon escalated into a full blown stand off. As a result, vehicles from either side were not allowed beyond state borders at Sarchu, midway on the Leh-Manali highway. So there we were , laid up in Manali with HP registered Royal Enfields and a thin chance of crossing over at Sarchu.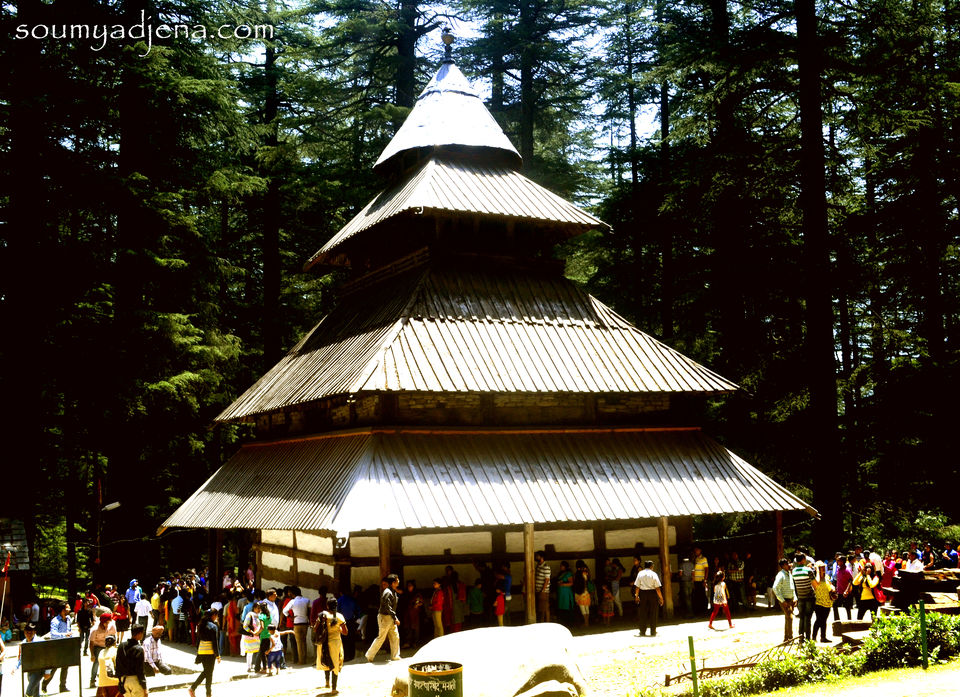 And therein lies life's biggest ironies – we were giving up on the road just because we couldn't reach our coveted destination?
Enough of waiting and racking our brains. One fine sunny morning in June, we filled our tanks, checked our spares, throttled the bullet engines and off we went, what the heck, we thought. The open road is ours to take, brace up and ride out to meet the horizon. Let's see how far we go. We were five people in three bikes and I thought of hitting Sarchu atleast.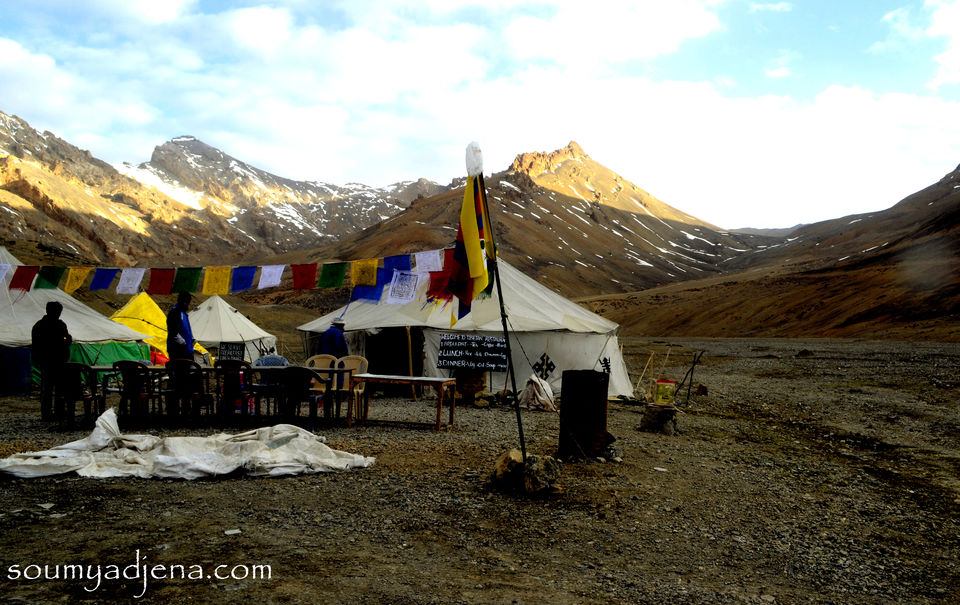 It is not for nothing that the route from Manali to Leh is so sought after in the books of riders, travelers and tourists alike. It is indeed one of the grandest and most dramatic road trips in the high roads of the world's highest mountain ranges, having few parallels in whole wide planet. Fraught with challenges and adversities and hence it is so alluring to men who would drop everything in life to take the wheeled machines up on the high passes for a ride. Things we do to find meaning and validity in our lives. The route goes in and out of some highest mountain passes in Himalayas , into strange valleys that range from lush green to dry and arid deserts and of course the wonderful people that you meet at each new bend on the road.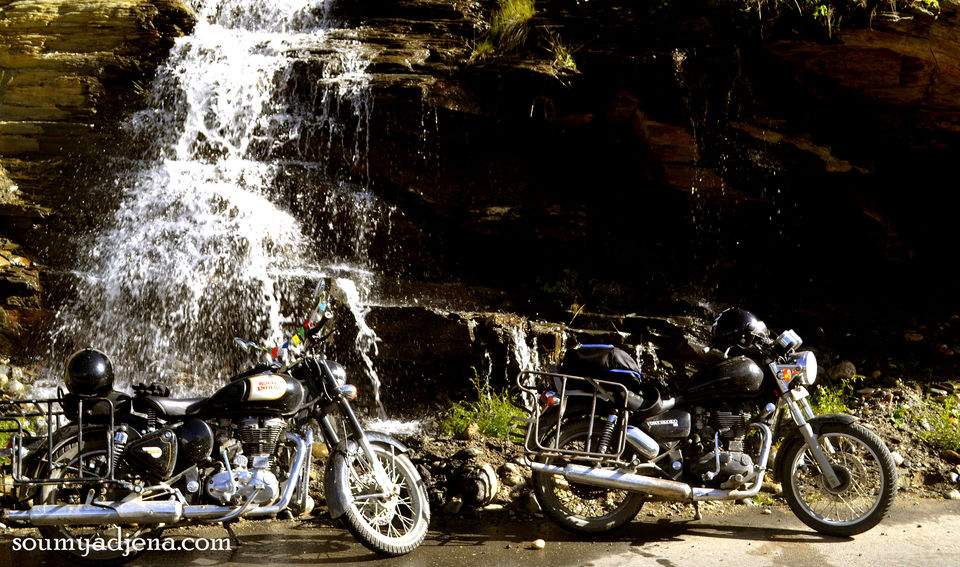 Start as early as you can, in fact you must do so to utilize the day light available properly. You are at mercy of natural elements while in these desolate mountain realms. And hence we throttled our way up from Manali early morning towards Gulaba check post, enroute Rohtang Pass, the first cross over. The season's traffic was just picking up in early June and I have been told that later on towards proper summer, the traffic jams at Gulaba can be a nightmare.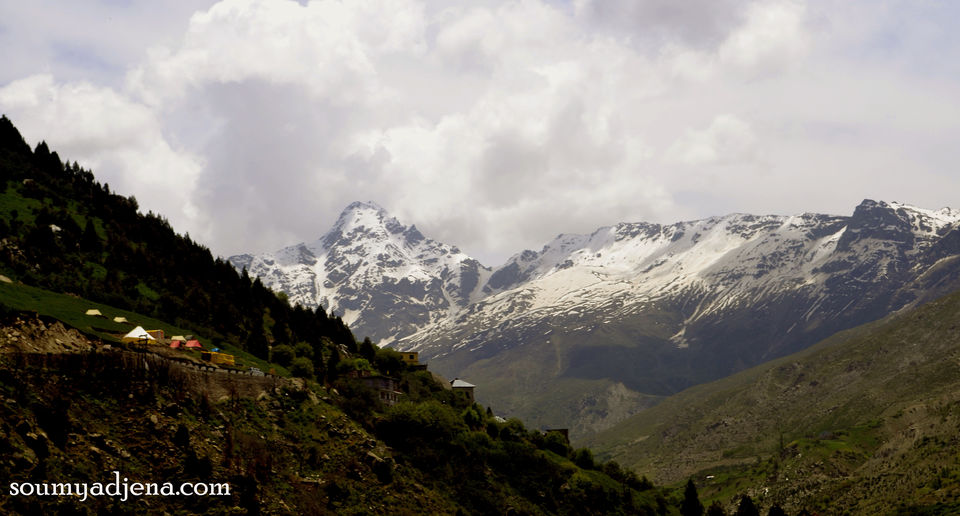 After crossing over the queue at the checkpost , we gradually ascended towards higher reaches of the pass, leaving the valley of Kullu behind. You can see the top most ridge from Marhi – a busy stopover choc a bloc with travelers, vehicles, bikers and even paragliders. Spring would give way to full summer soon and hundreds of waterfalls were already cascading down on mountain slopes from molten snow higher up. Now up towards Rohtang Pass – perhaps the only Himalayan pass with so many foot falls each year, and why not,it's only fifty one kilometers from Manali, easy to ride up to and Bollywood songs and sequences have made it all the more desirable recently. Remember Kareena dancing away in the icy roads while Sahid Kapoor trailed behind in a jeep – the song from Jab We Met ?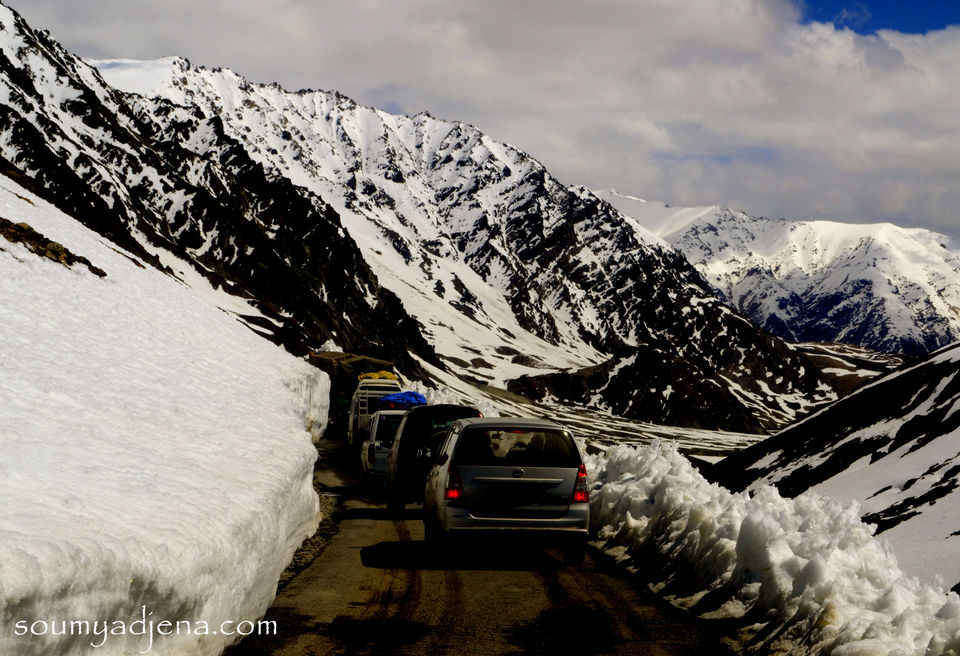 It's one thing to look at a snow peak from a distance and quite another to ride over it through the high passes. You have to do it to understand the rush of adrenaline it brings.
As we approached the top of the pass, the road was narrowing down because of the recently cleared snow and as a result, vehicles were squeezed into a single file. To make matters worse ( or romantic, depending on your mood) a thick fog was ready to assail the ridge. And finally when you reach the top, the road is just a narrow strip of slushy tarmac lying between eight to ten feet of ice walls on both sides. At 13000 feet are parked the lot of vehicles out of which pour out – children, grannies, worried mothers and the whole lot to stomp around on the already muddied snow on the pass. To be honest, it's a small fair like scene at the top of Rohtang Pass, from chai-wallahs to snacks vendors to men offering jackets and boots for the much anticipated 'snow expedition' for the whole family. There was a huge group of pilgrims walking down to the temple of Maharshi Ved Vyas near the pass and then there were a lot of bikers too, like us.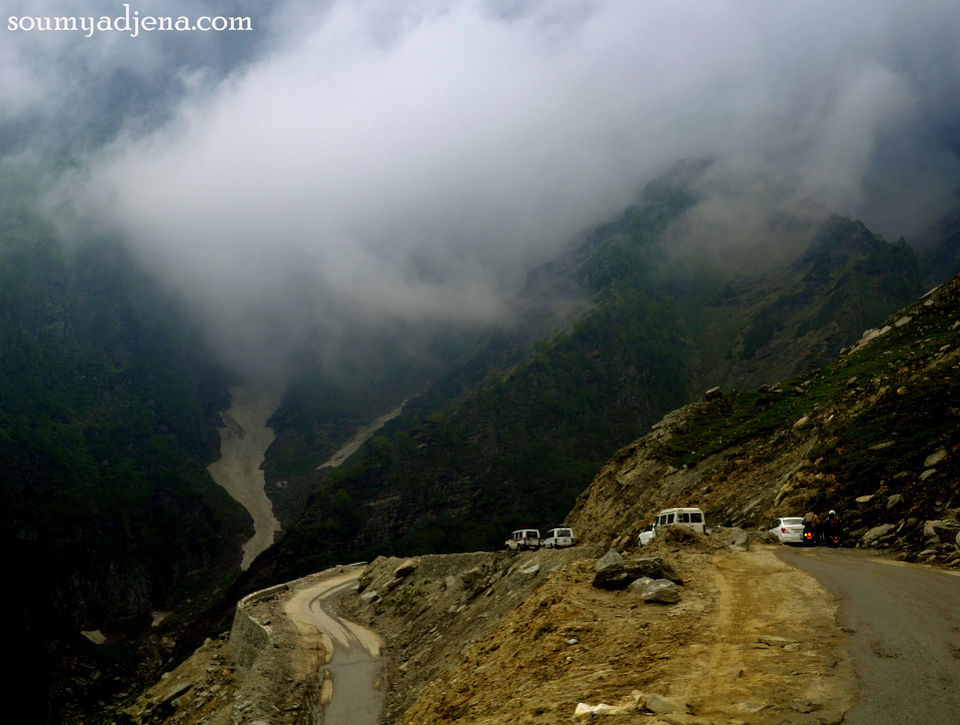 Everything is amusing and fun-frolicky till a fierce gust of cold wind hits the pass from nowhere. This happens all too often and then you see the panicked crowd rushing back to safety of their vehicles and other adventurous ones bracing up for the cold slap on their faces. Linger here too long and you will hear funny music in your numb earlobes. I guess how many of the revelers around the place, running around and throwing snow on each other would like to know that Rohtang actually means – a field of corpses. It owes it's macabre name to the numerous travelers and road workers who never returned from the place in earlier days , mostly because of the sudden and unpredictable blizzards hitting the pass, too often notoriously.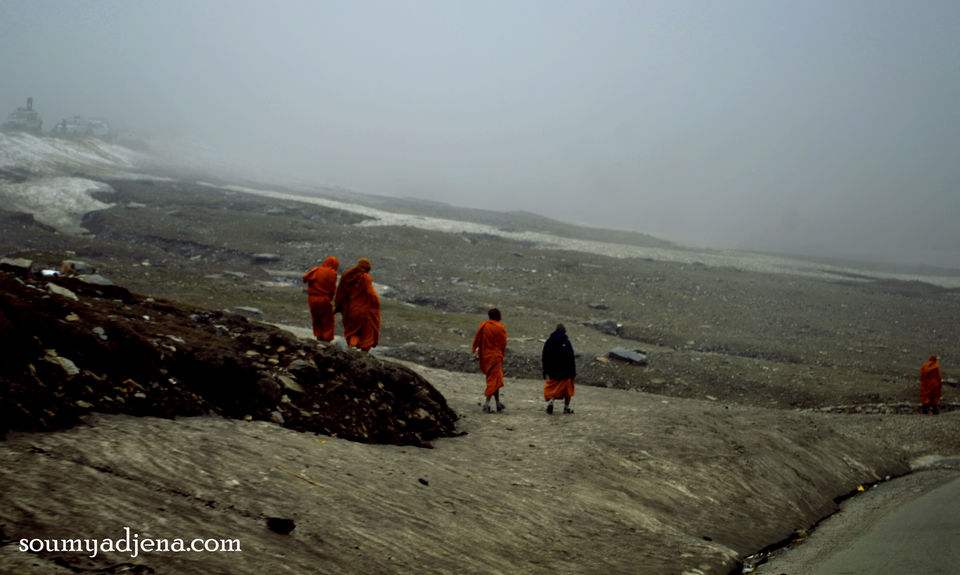 Rohtang Pass in the Pir Panjal range connects Kullu valley to Lahaul valley in Himachal. Both places geographically and culturally distinct from each other . Lush greenery of Kullu which has a traditional Hindu society and culture changes over to arid and dry Lahaul which is sparsely populated and sprinkled with Buddhist monasteries on the route.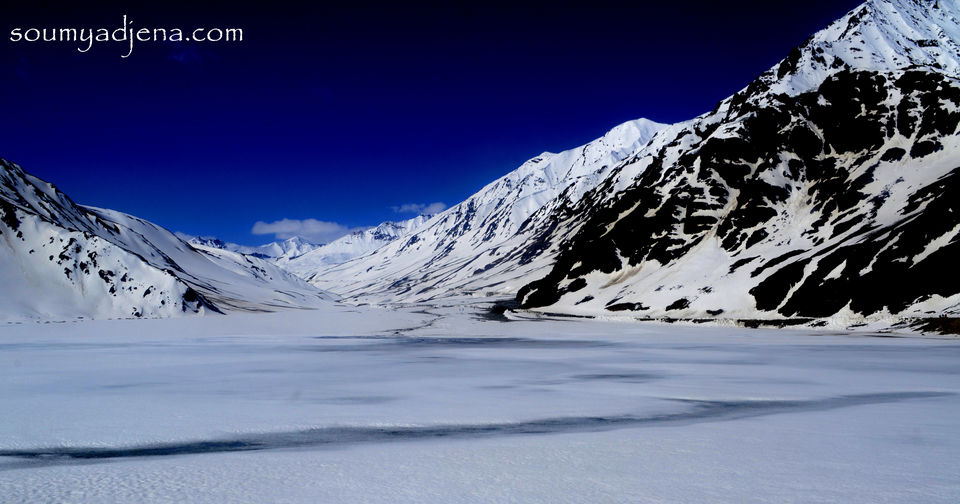 Descending down on the other side of Rohtang towards Lahaul is a harrowing task to say the least. It is always advisable to cross over Rohtang by 9am or 10 am in the morning , if you are headed further north – because of the rising water levels in numerous 'nullahs' en route which happens as a result of rising sun in the day and hence melting of more snow. After the arduous descend from Rohtang to the village of Gramphoo , there leads a road away from Manali-Leh highway towards Batal and further to Kaza, into adjoining Spiti valley over Kunzum pass. But we take the road left to Keylong – district head quarters of Lahaul.
After negotiating the challenging conditions downhill, we made a pit stop at Khoksar. Rugged tent cafes like here dot the high road all the way till Leh. Oasis of nourishment and rest for tired bikers and travelers. A bowl of steaming egg maggi and coffee is the need of the hour and then you're ready to take on the road again , your spirits soaring higher. Now we rode along the valley of Chenab river after the climb down from Rohtang pass. From Khoksar to Sissu and all the while being enamored by the looming mountains around us. Hundreds of waterfalls trickling down the face of brown and green mountains – Middle Earth , so it seems , straight out of the pages of Tolkien's high fantasy.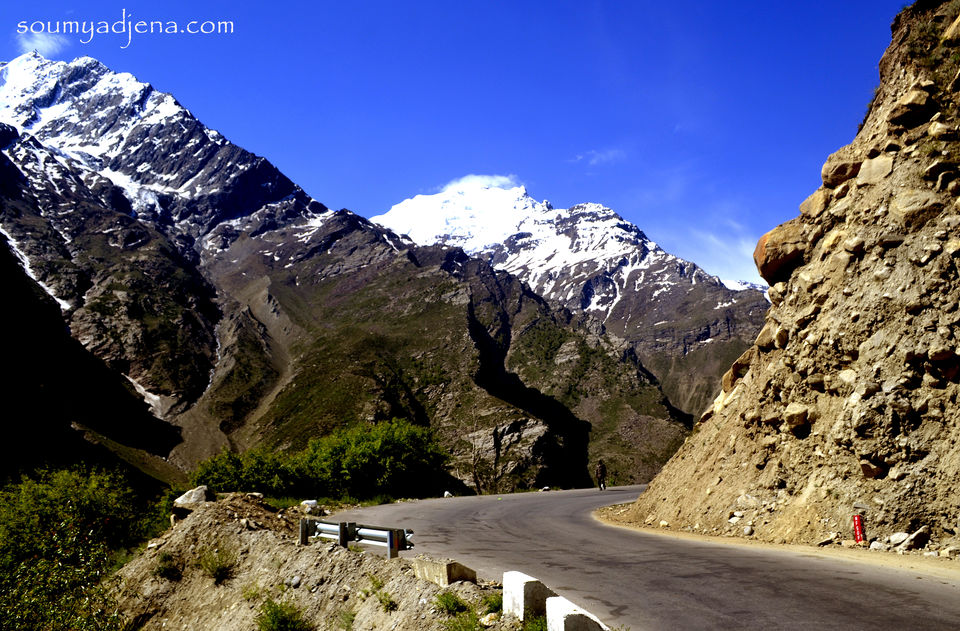 A few kilometers short of Tandi, the river Bhaga meets Chenab at a junction point from where we take the road right to Keylong, the valley of Bhaga river by our side now. Tandi has the last petrol pump before you see the next one at Leh, a stretch of 380 kms. So carrying fuel reserves is a must if you are in for the long haul. Finally by late afternoon, we land up at Keylong – a secluded and sleepy place perched at 10,000 feet altitude. Mostly the travelers on Leh-Manali route treat Keylong and adjoining Jispa as a necessary stopover but when you actually put up and see the place in your own time, you'll be amazed at the simple endearing beauty of Lahaul's biggest town.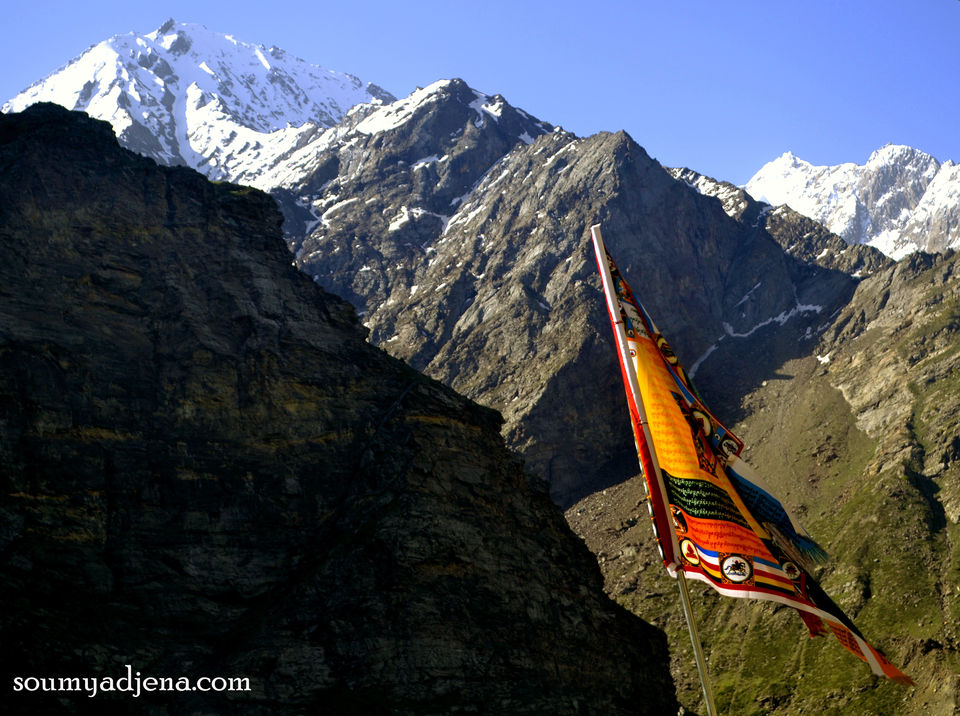 We have covered some 127 kms from Manali in the day and we spend a cold and peaceful night at Keylong , in soothing lap of Bhaga valley. Near the town lies the Kardang Monastery- the largest and most well known in Lahaul district, for which you have to go down the valley floor, cross the iron bridge over river Bhaga and then trek for two hours up the slope on the other side.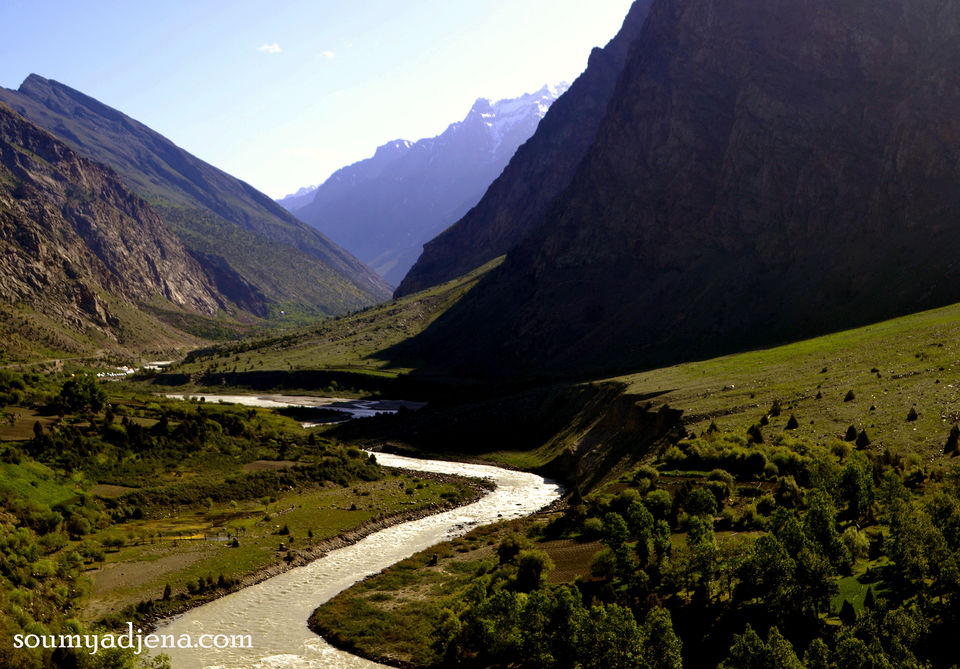 The next morning was one of anticipation and joy, the sun was shining brightly on the road and sky was amazingly blue. The valley spread out it's arms near Jispa, some 20 kms north of Keylong and further onwards we were well and truly on strange looking roads towards the next high pass, Baralacha La. The Lahaul – Spiti area and the Ladakhi region lie on the borders of the Tibetan plateau – roof of the world, devoid of much vegetation , cold, arid and starkly phantasmagoric in it's natural elements. And now our road forward hit the barren borders of Tibetan plateau in all it's wilderness.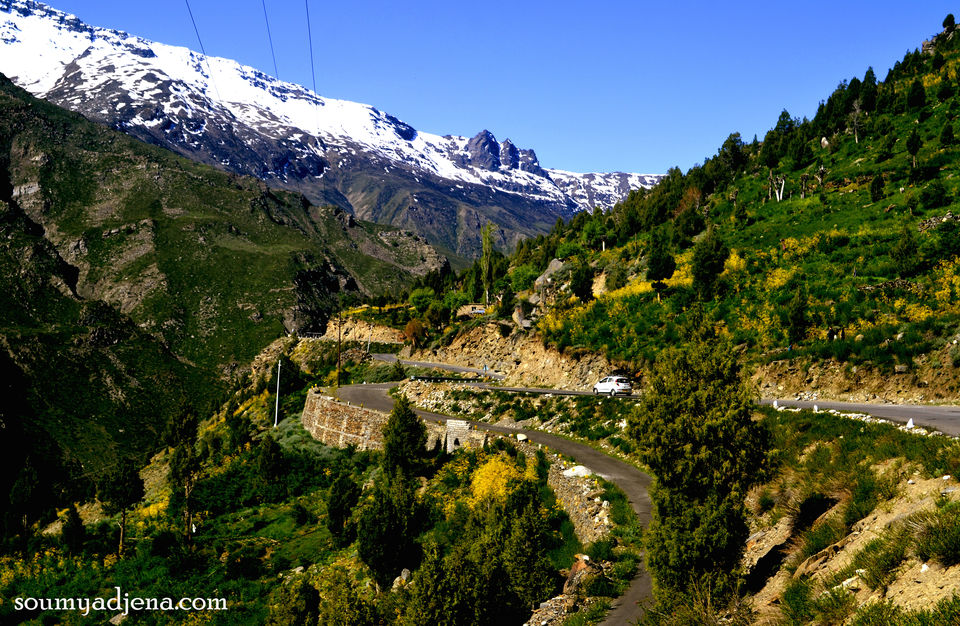 Barren rock faces laden with snow, small low vegetation toiling hard with the less oxygen at this height , gushing blue water in the fiery streams below and rock solid iron bridges bedecked with colorful prayer flags flapping in the strong wind. The joys of the mountain road trip.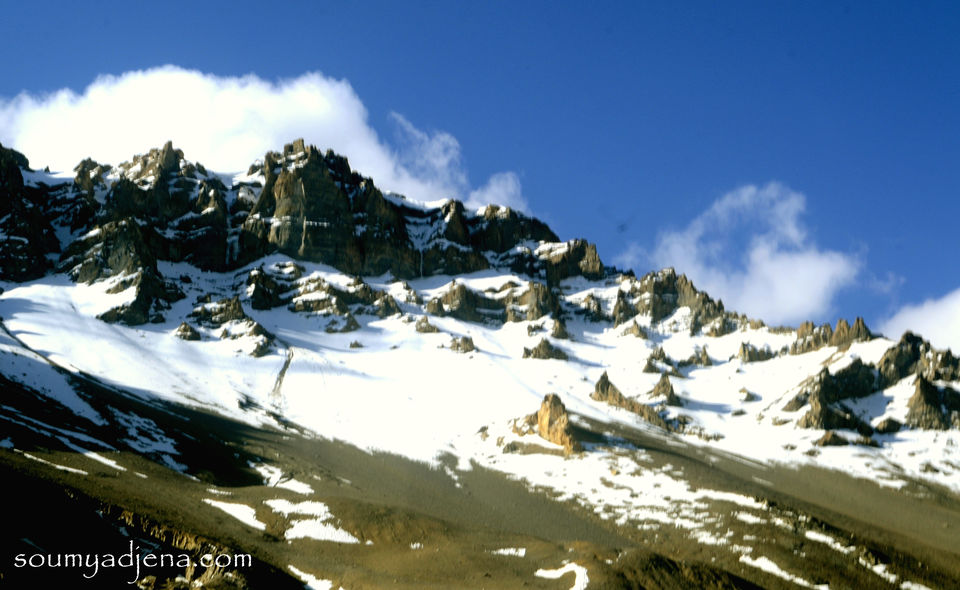 Around 55 kms from Keylong towards Leh, lies the strangely named place called Zing Zing Bar , the point from where the climb begins for Baralacha La. To prepare ourselves for another high pass and to take a quick pit stop, we pulled over at Deepak Tal , one of the many small lakes formed by the water coming downhill from Baralacha pass. And then extra protective clothing was adorned on faces and hands, cameras were checked , bullets were throttled and up we went the Baralachi. Black serpentine roads winding up among a desert like landscape.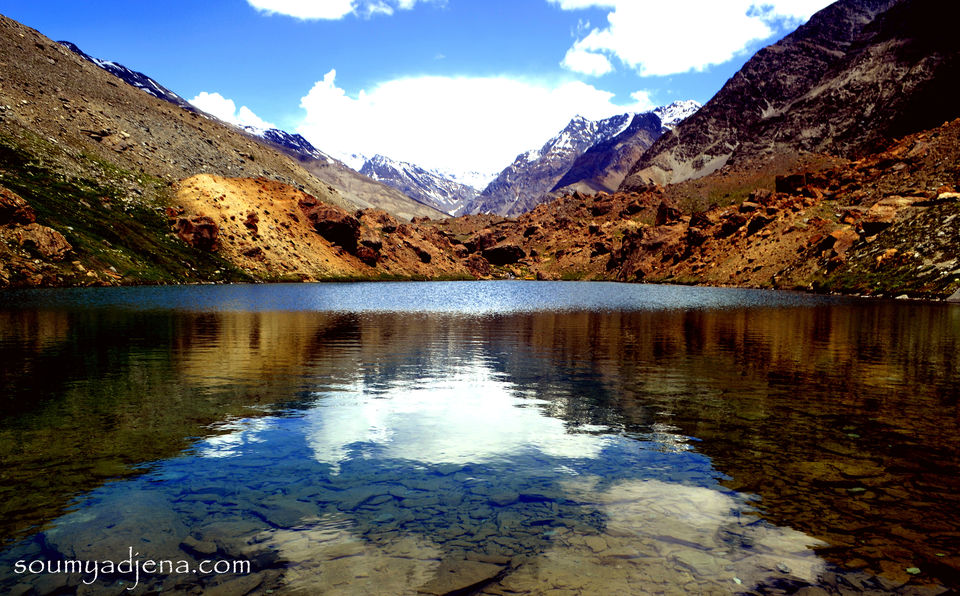 If Rohtang is a teaser, Baralacha is a movie altogether. This gigantic and long mountain pass on Zanskar range divides Lahaul valley from Ladakh and is a historic cross road of four regions – Spiti, Ladakh,Zanskar and Lahaul. At 16000 feet altitude , Baralacha La is an unforgiving world of ice, snow and punishing blizzards as we were soon to find out.
The term Baralacha La means a 'meeting of many roads' and it indeed is thus.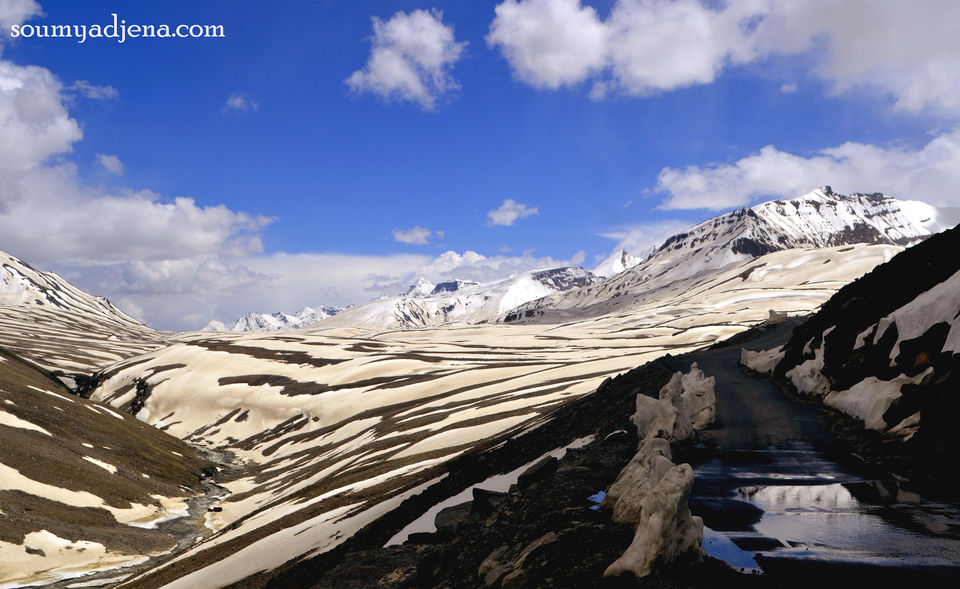 While riding on to the upper ice ridden roads of the pass, it's hard to miss the beautiful emerald lake – Suraj Tal, the lesser known cousin of Chandra Tal . Surrounded by white rock faces , Suraj Tal sits like a secluded hermit , hidden in the mountain passes. And like the little daughter of an old sage playing at the feet of the old man, the river Bhaga in it's infancy trickles down the slopes from here. Suraj Tal is the source of Bhaga river and like all Himalayan rivers, it is fed all the year round from melting snow from high Himalayan peaks.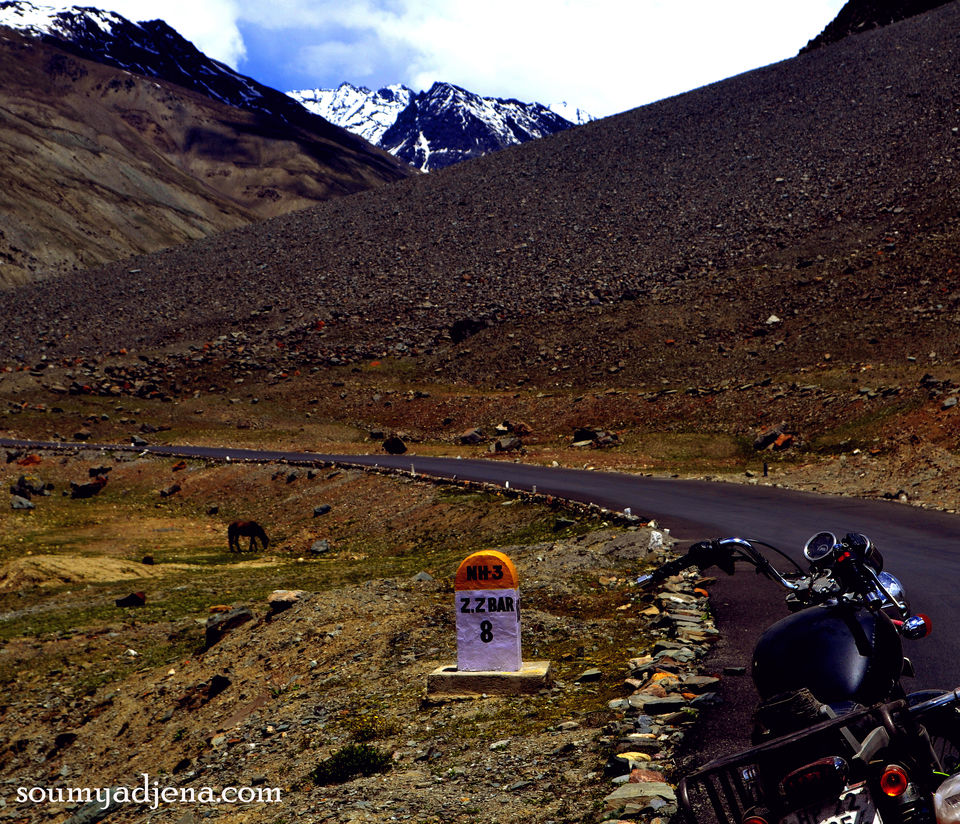 We were then riding at a small strip of black road , narrowed all the more by cleared ice. Turn after turn the ice increases and the road workers gang is still toiling to clear the road for transport. You have to be on your toes literally while riding a bike here, the ice is still gripping the road at some places and if not careful, the tyres can easily skid off the road. Riding a two wheeler at close to 5000 meters above sea level – mesmerizing and yet it will take a toll on your mind and body. Linger at these heights for far too long and you will start hallucinating of things – like people talk of terrible myths of Baralacha La, there are talks of cannibals living in the high caves near the pass, men who killed and ate guarding soldiers a long time ago and then got a taste for such things. Mostly these stories are local myths and hearsay but it doesn't take away the fact that Baralacha can be punishing if you loiter around here, more than necessary. We soon learnt it the hard way.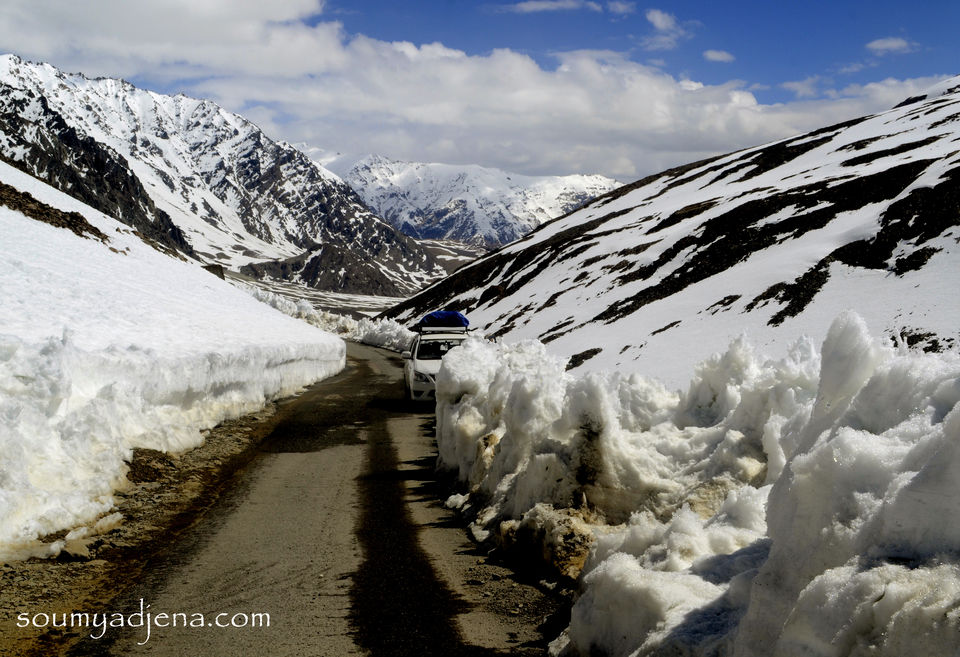 Five of us and our three bikes stood amazed at top of the mountain pass. And then out of the clear blue sky came the rumbling dark clouds and a wind so cold that you feel slapped several times by a frozen dead man. Within a span of ten minutes , we were hit by a blizzard out of nowhere and as soon as we got our wits together, we were on our bikes down the road from the top. And finally when I decided that the visibility was drastically coming to a naught, I almost drove the bike inside the Siva temple by the road side. Thirty minutes of howling snowstorm put all adventure seekers right back in their humble places. With much apprehension,we waited for the sky to clear up again. But it didn't.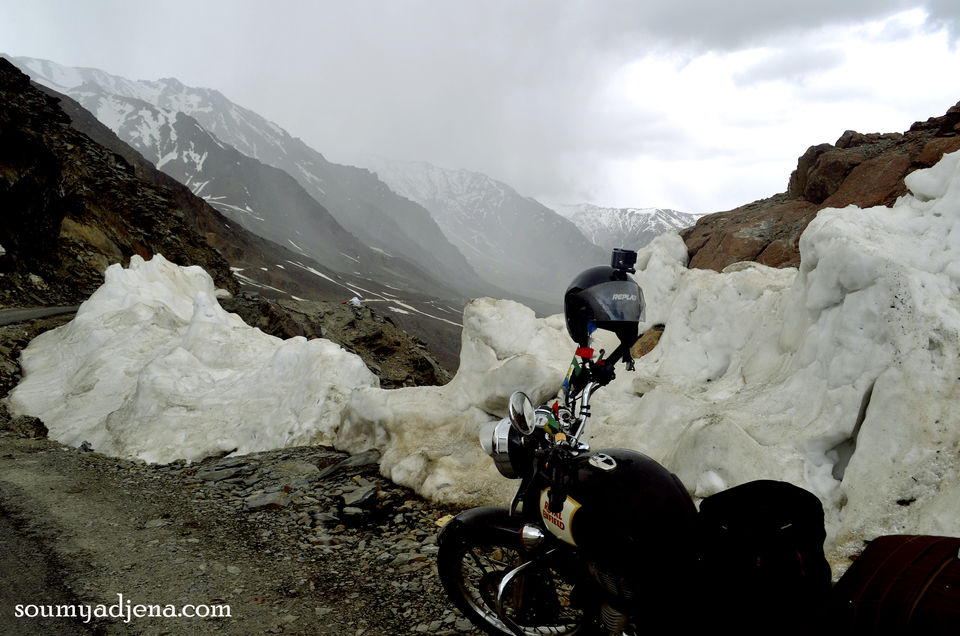 There was the looming fear of the inevitable – being trapped because the heavy snowfall would close the roads going down. With heavy breaths we waited till the snow abated a little and then we decisively hit the road again , trying our best to negotiate the road going down from the pass. As I passed Suraj Tal once again, it was visible no more due to the heavy veil of snow and mist hanging around it. So we throttled down in anxiety, even if I could barely see the road, I rode and cut corners keeping the black tarmac in mind while the snow fall was hitting the face like a hundred needles at a time.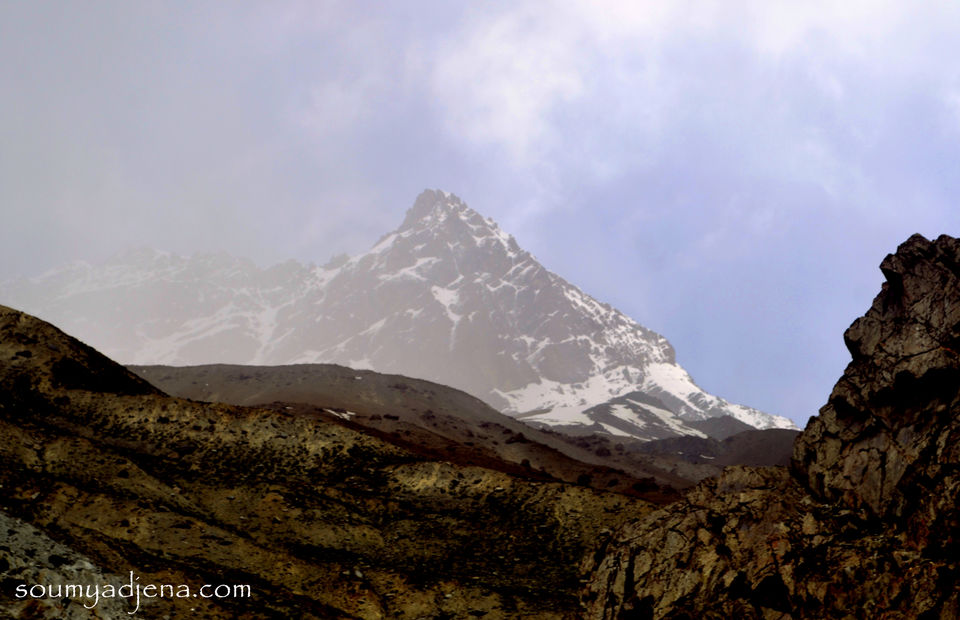 We kept going down and down, down till the sun shone again on our numb faces and hands, a little short of the road leading down to Zing Zing Bar. Going further to Sarchu and Ladakh was out of the question now , the standoff still existed as on that date. That evening, back at Keylong once again ,we congratulated ourselves on escaping the snowstorm at Baralacha La and then laughingly decided that it was no big deal anyway. Where to go next, if Ladakh was out now? – the question loomed large.
before hitting bed that night, we came down to a mutual conclusion – maybe we can try out Kasol and Parvati valley next.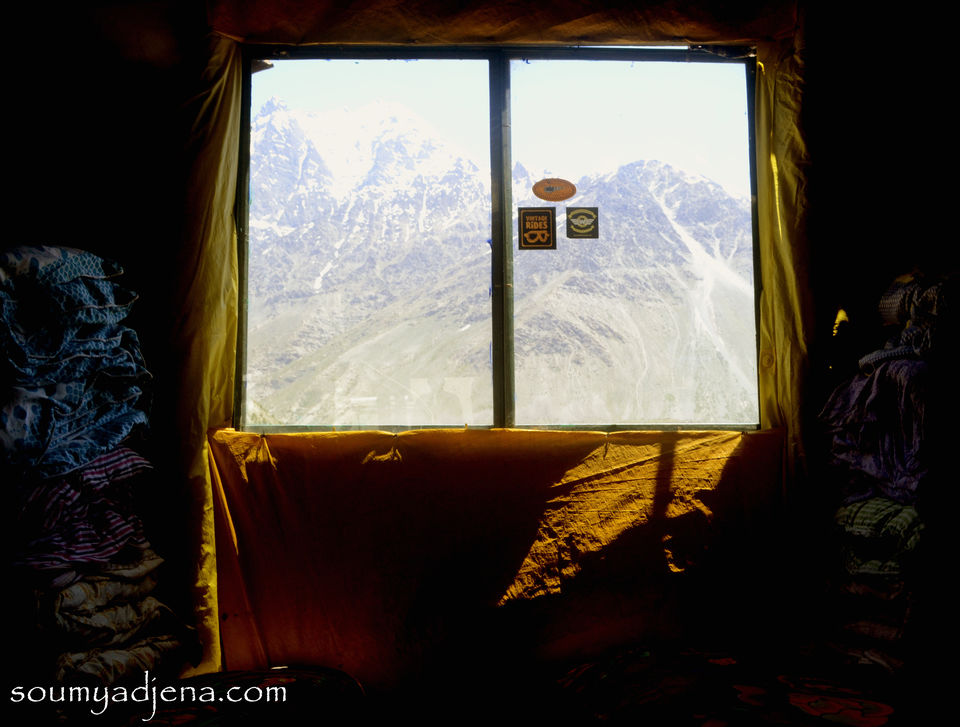 Here I would reserve a few words on riding two wheelers into mountains, few because no matter how many words I use, they will never be enough to give you the right picture of what it really feels like. Try it out once in your life and you'll thank yourself for the rest of your lives. Two wheels give you a freedom to wander like nothing else on the road. Someone said it I suppose – driving a car is like watching a movie on screen but riding a bike is like being a star in the same movie. 
Good Luck.