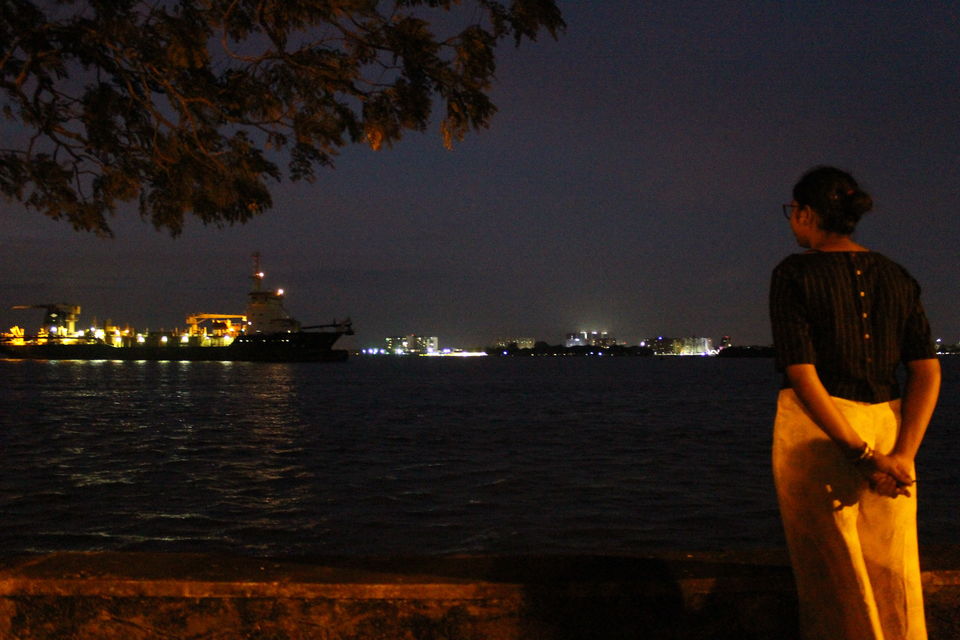 #CoffeeWithTripoto
Keralaaaa! What can I say? I'd been itching to go to Kerala ever since I was a kid. I'm not particularly sure what got me interested in the place; it isn't just the fact that I have a lot of Malayali friends, I think it's the culture and the serenity of the place itself that I admired as a child.
My biggest confusion was which part of Kerala to visit. Almost every region in Kerala is distinctly different from the other. I didn't want to particularly go towards the beaches. Wayanad is a good choice but being a hilly area, the option of staying in a boat house appealed to me more.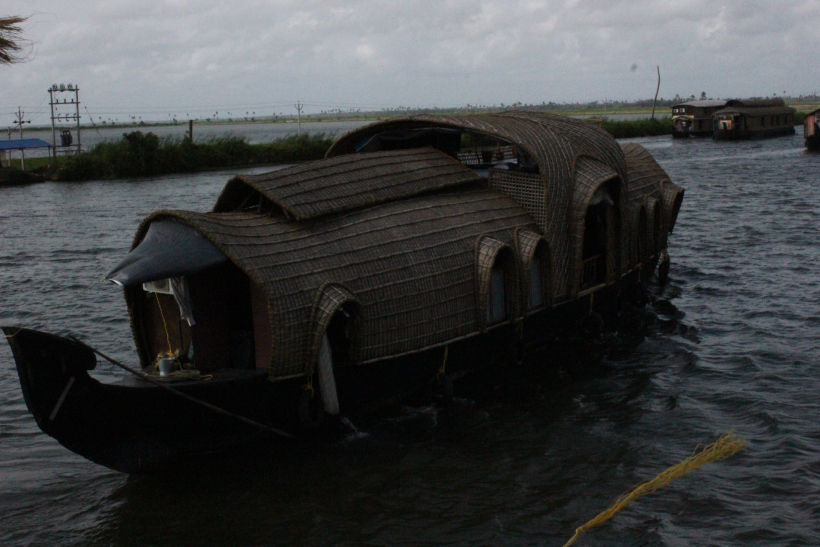 Boat houses are literally houses on a boat. They vary in size depending on how many people want to stay in it. Allappey in Kerala is famous for boat houses since they dock and sail on India's second largest lake, Vembanad Lake. But, you may hear the name differently in Allappey since it's called different names in different cities and villages. Yup, that's how big it is!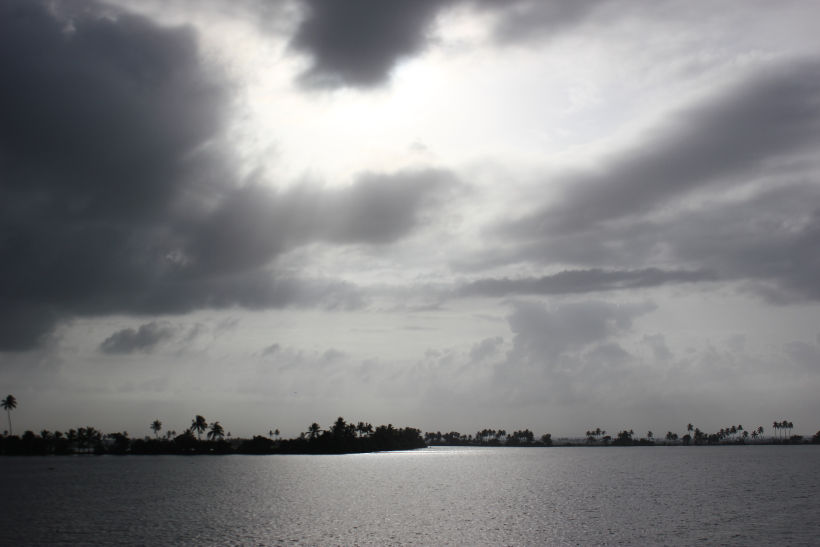 When I travel to any place, I do extensive research on all the options possible. I love to travel. And I want it to be the perfect experience. I asked a lot of my Mallu friends and they suggested various places, each one citing their native towns and villages. This time I didn't want to go as a typical backpacker. For a change, I wanted to splurge a little extra and not compromise on luxury.
So I decided I wanted to stay in a boat house. Practically everyone I spoke to told me not to stay in one beyond one night since the second day can get very boring. I hunted around for resorts and that's when I found Kumarakom Lake Resort.
I absolutely fell in love with the place!
The videos I found and the articles I read made me want to go there. However, as luck may have it, there weren't any rooms available … okay, there were, but I wanted one with a private pool and that wasn't available.
Finally, a deal came across. One night in a Kumarakom House Boat and another in Aveda Resort, Kumarakom. I instantly checked the place out and it looked beautiful. Not as big as Kumarakom Lake Resort, but it was definitely worth the offer that came to me. The house boat looked fantastic as well and I was sold.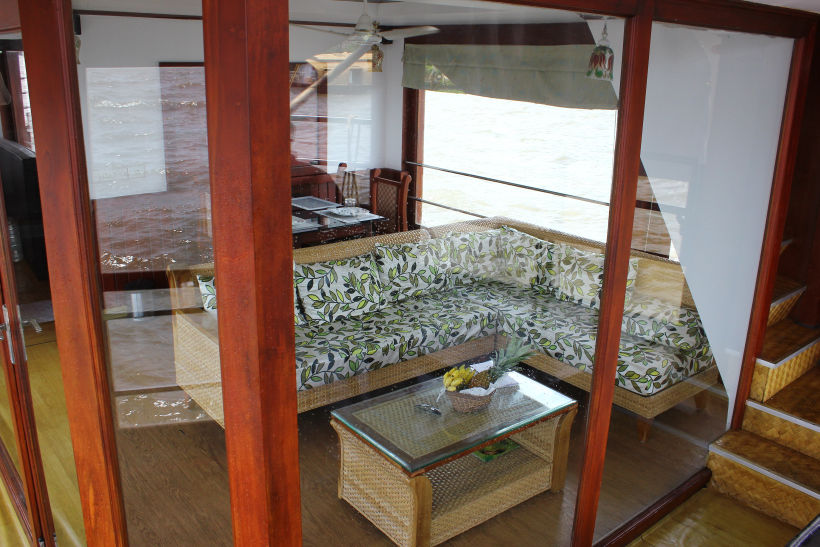 I travelled mid-August by flight and landed in Kochi. Kumarakom is about 80 km away from Kochi and even though that isn't very far, it took a little over two hours by cab from the airport. The roads are narrow but my timing to visit Kerala was perfect! The incessant rains had stopped only to be replaced by a bout of rain once every hour. When the rain stopped, the view was filled with lush green plants and empty roads.
My cab drove me straight to where my house boat was docked. I was instantly relieved to see that it was the exact same one that I had received photos of. The moment I dropped my bags on the ground, we were given a welcome drink that I happily passed on to my friend. I don't like pineapple juice.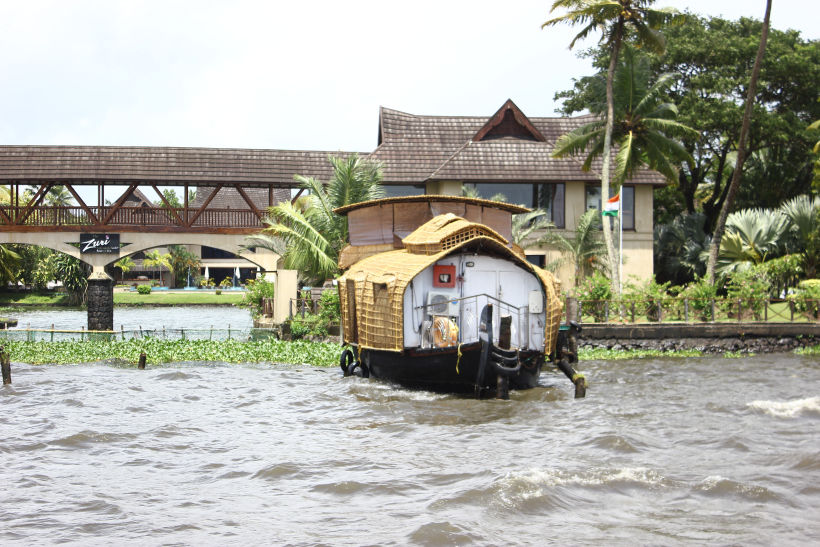 In about ten minutes, two men boarded the boat along with us and they would be our host for our stay on the house boat. One was our personal cook and the other would steer the boat. According to him, they would take us quite a distance into Vembanad Lake and dock in the middle of the lock during the night for us to enjoy the serenity and solitude of Kerala. The next morning, they would take us directly to Aveda's docking point. These resorts in Kumarakom typically had their own docking area for guests like me.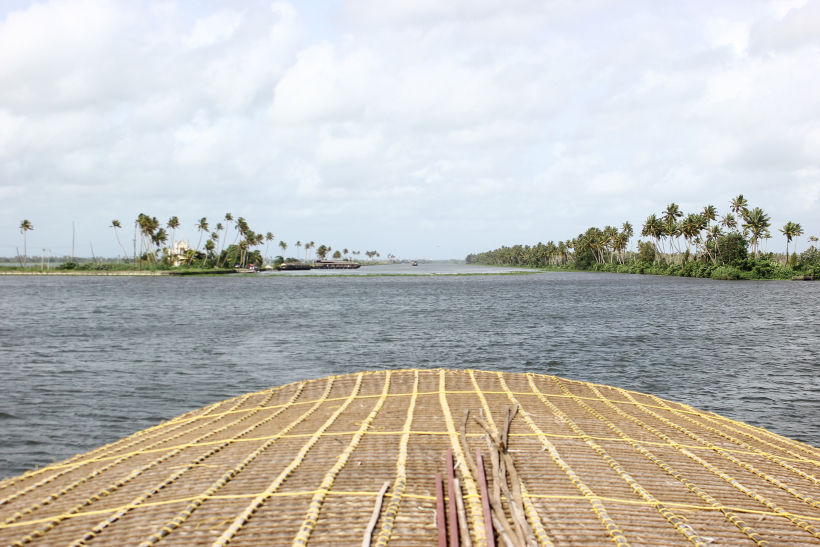 I'll be honest, I felt a bit like a princess.
I don't eat seafood unless my mum cooks fish. And while I ate my rice and dal watching my friend gorge through his lobsters and rice, I thought, "He seems to be having more fun than me". Their biryani was on the sweet side with a sufficient dose of dry fruits. I'm not normally a sweet person, but it was good, and hey, it was biryani.
After lunch, we climbed onto the deck using the stairs and the wind instantly caught me off-guard. The view was beautiful! I couldn't spot a single human structure. There were other boats around, but it wasn't crowded. There wasn't a single building. On both sides of the lake, all I could see were coconut trees, farm lands, and wilderness. I couldn't really enjoy the view continuously; the clouds rumbled overhead as a constant reminder that it could drench me any moment. Squatting down right at the edge of the deck, I played my favourite songs on my Bluetooth speaker, and enjoyed the gentle rocking of the boat.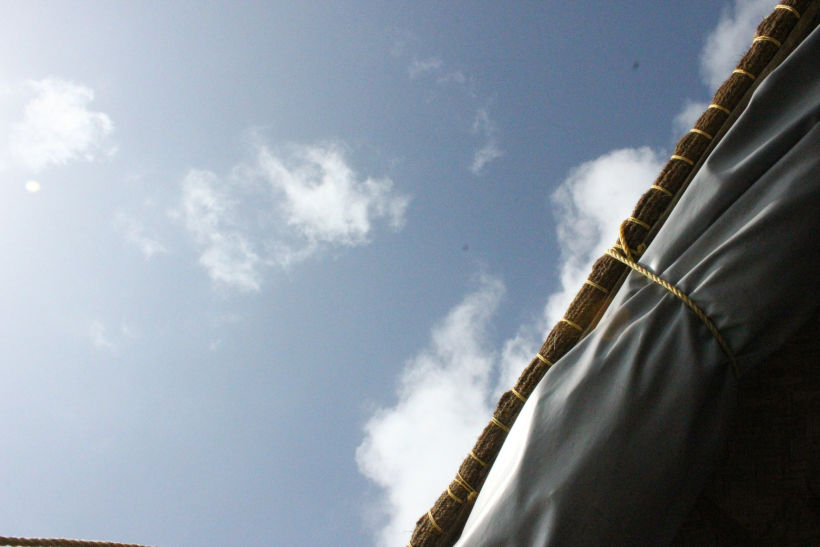 We laughed and talked for hours until the boat docked as the sun began to set. They docked by the side of the lake where we could dismount and walk along the lake for about 200 feet. The spot was the perfect location for photographs. I had planned this and hence, my photographer came loaded with his camera to take pictures. What more can a girl ask for?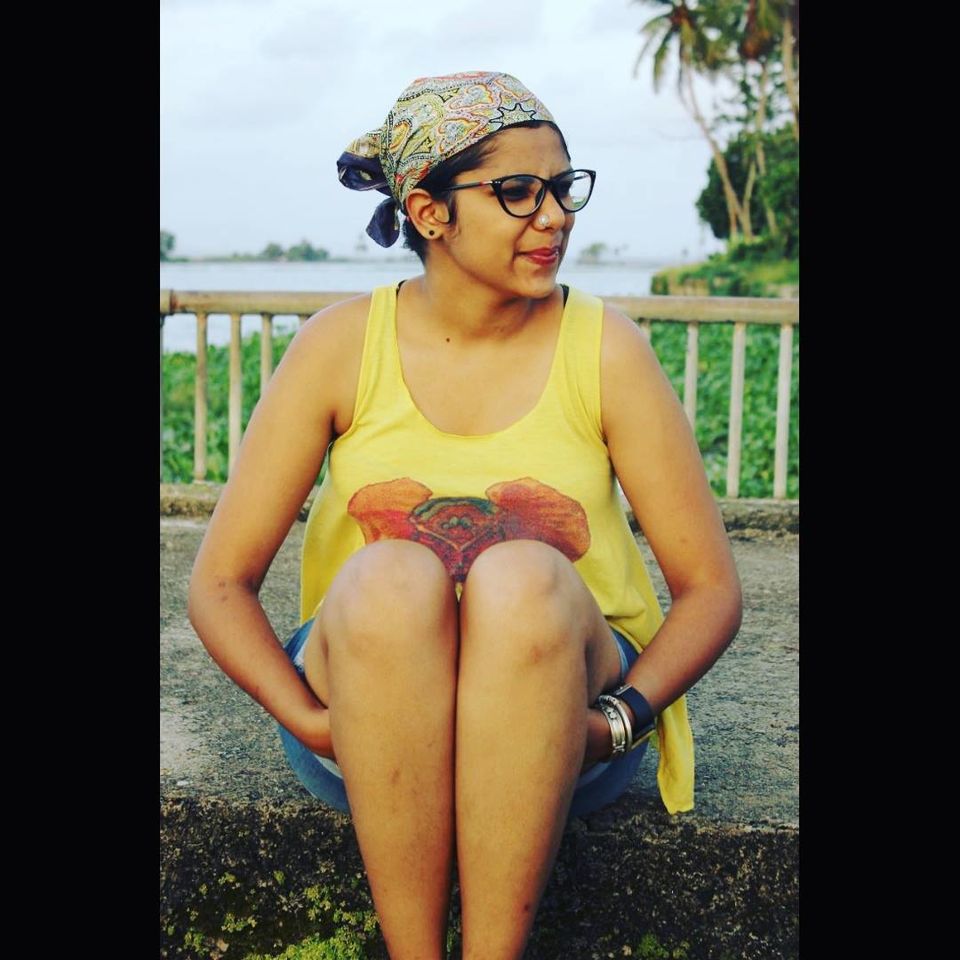 We later lay on the deck of the boat later watching the stars as the sun set gracefully over the horizon.
The moment I felt the constant buzzing of mosquitoes around my legs, I decided we'd spent enough time take photos. I headed back inside, took a shower, and settled in bed to watch a movie. Travel does stress you out because five minutes into the movie, I was fast asleep.
I woke up to the rumbling of the boat's motor the next day. They were speeding through the waters. I got up sleepily and asked the cook where we were headed. He said that we would be reaching Aveda shortly. I'd overslept.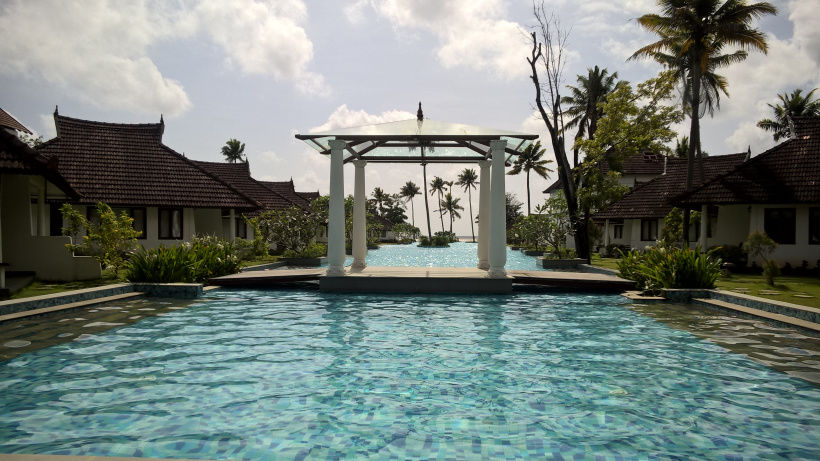 I was desperately hoping they would remember to give me a villa with a private pool. So far, the trip had gone perfectly well. The food had been good, the boat was impeccable, and everything had been on time.
The boat docked at Aveda and we bade farewell to our house boat hosts. I dragged all the bags as my friend recorded videos of the place, happily. We had arrived a little too early at the resort according to the reception. Not wanting to waste time, I asked them what alternatives we had. We could either sit and wait for a few hours in the reception area or we could take their bicycles out and ride into the town.
Kumarakom isn't a bustling city. It has frequent spots of civilization with each spot divided by a good number of coconut trees. The narrow roads that connected these spots were perfect for riding a cycle. We rode a few kilometres into the town and spotted activities that we could do to kill time. There was a village experience available and since I had nothing else to do, it sounded like the ideal plan.
The plan was that they would take us on a boat along the backwaters and teach us the village ways. Rope making, making a roof using banana leaves, making a mat out of a particular type of grass, and climbing coconut trees were some of the things they would show me. I love learning about people and their cultures and I didn't care if I was going to get tanned in the process. It would be worth it.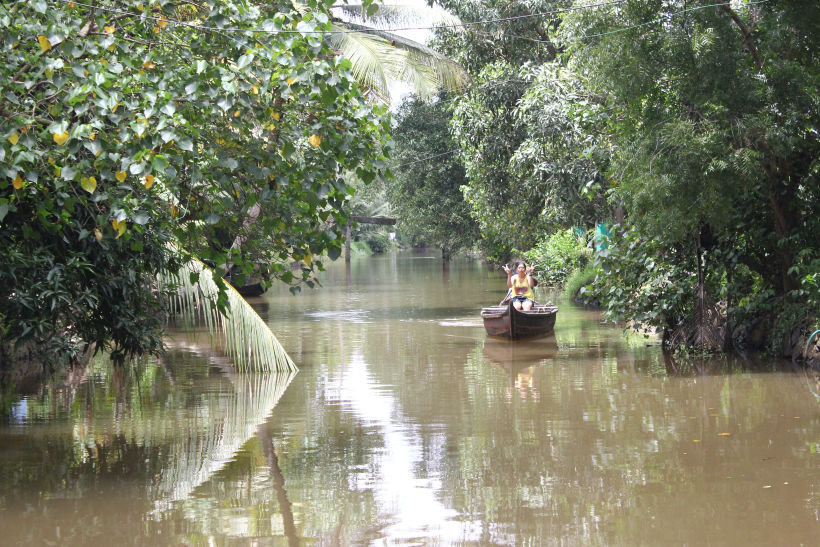 I didn't have to worry much about tanning. Every ten minutes, it would rain and shine. Our boat man had retired from the army. He had some land here in Kumarakom, so he came back to enjoy the serenity it offered. One thing I noticed was that houses here didn't have a compound wall dividing their property from their neighbour's property. I said, "But, what about security?" He said, "Security for what? Who's going to steal? This is a small place. We know everyone."
Smiling, he reached into the water with his oar, pulled a water lily to himself and began to do something to it with his hands. As the boat rocked gently forward, he handed me a necklace made purely out of nature. He had split the stem artistically and tied it into a loop with the lily right in the middle. I blushed as I wore it, I'll admit! It looked beautiful. I said to him, "Yours is a love marriage, right?" He chuckled to himself and nodded shyly.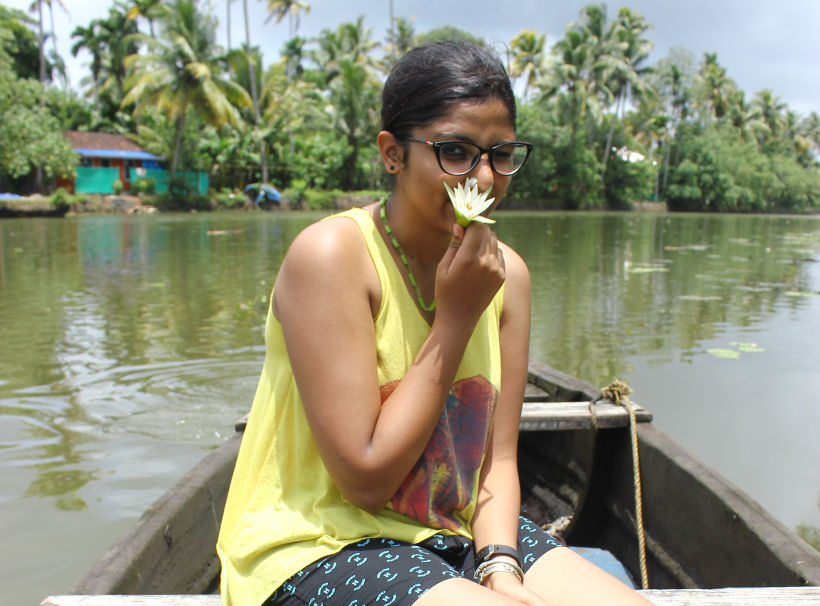 The first place he took us showed me how to make rope with my bare hands. A strange sort of machine held the fibres of the coconut husk together and the rest I had to feed with my hands. She showed me later how to do it even without the machine. The speed and dexterity of her hands amazed me. An old lady next door came by and showed me how to make a mat out of dried grass, and a roof thatch using banana leaves. I made an entire thatch!
At the end of three hours, I'd seen how to tap and collect coconut milk from a coconut tree to make into toddy, a local alcoholic beverage. I even climbed a coconut tree using a … um, a coconut tree climber? I'm not sure what it's even called. It was definitely not as easy as it looked, though!
We headed back to the resort, hungry, but satisfied with the experiences. As they showed us to the villa, I was taken aback. We were lucky enough to get the corner villa away from other ones. It had a very pretty private pool and a back view that opened into a green lawn where I could lie down, gaze at the lake and watch the houseboats sail by. The room was spectacular and the bathroom was traditionally an open ceiling bathroom. This allowed ample light and ventilation.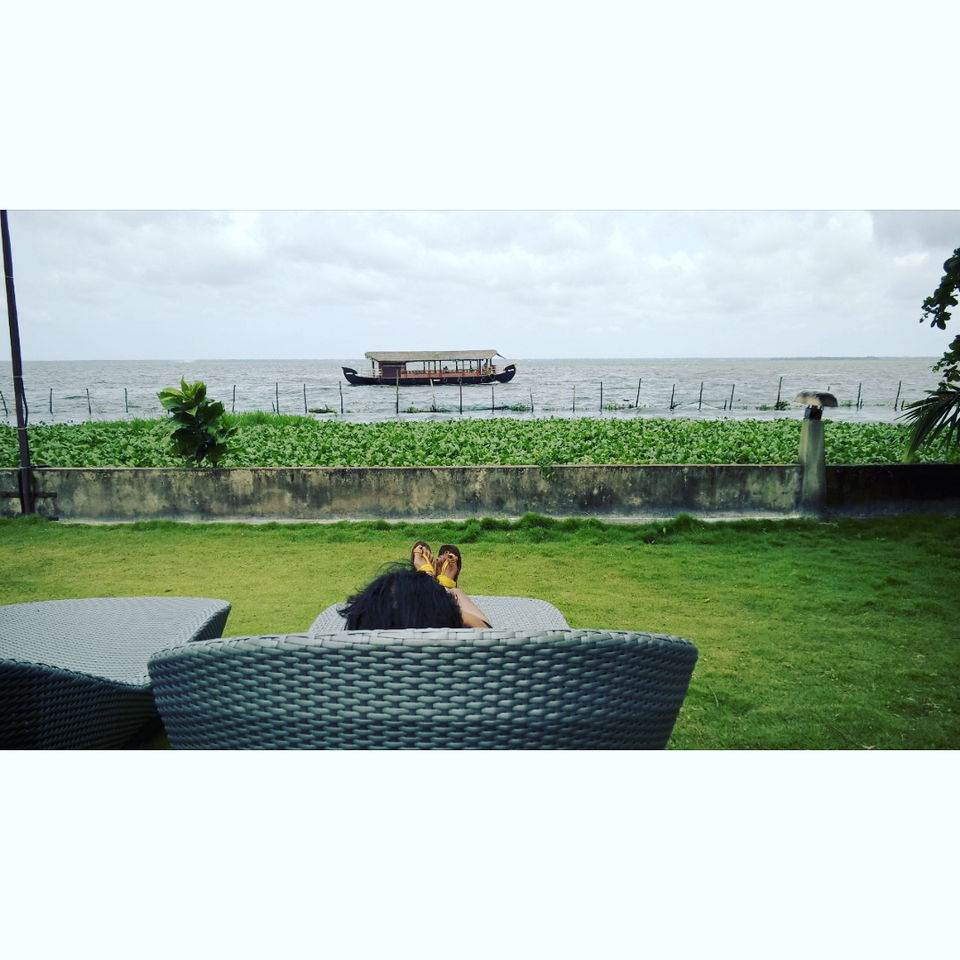 We unpacked, changed, and headed for lunch. To be honest, I was tired of eating Malayali food, so you can imagine my happiness when I realized they had pasta and fries on the menu! The restaurant looks right into the resort's "infinity" pool. A pool that's about 250 meters long and almost spans the entire breadth of the resort. At the end of the pool, the lake is visible making the sunset a beautiful picture from where I was sitting.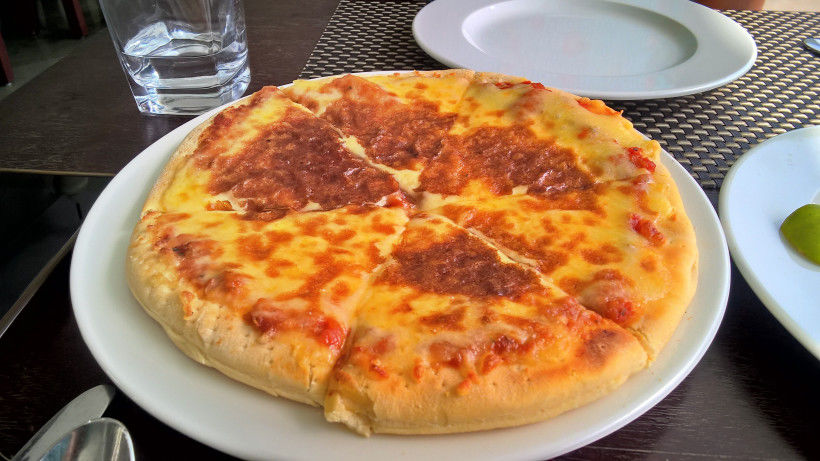 Later in the evening, we watched a Bharatnatyam performance by a a dancer who performed for about five songs. The resort was filled with a mixed crowd; not too many Indians, some Iranian, some European. They watched in awe as she spun and moved with grace.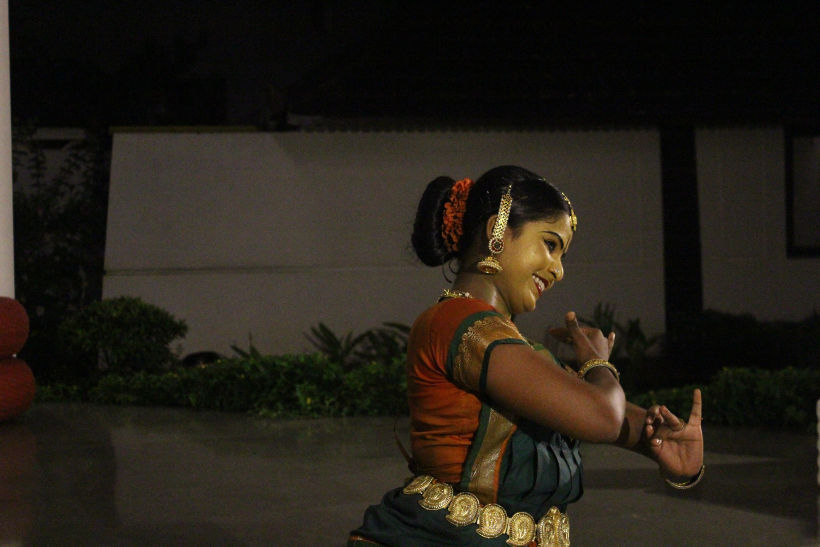 With all the cycling and exercise I'd done, I wanted to sleep in that soft bed. How it sank in as I lay on it! We walked for a while on the lawn by the side of the infinity pool talking about the resort and watching the stars. I don't remember falling asleep which is a shame because I would be checking out the next morning.
The original plan was for me to leave early from Kumarakom and head to the Kochi airport to catch a flight. But, I felt it was too early for me and I hadn't had enough of Kerala. The only other option was to take a night train back to Bangalore. A dear friend of mine in Kochi said he'd take us around and spend time with us so that we'd have something to do. We skipped the flight, booked the night train and happily checked out while our friend drove out to meet us halfway to Kochi.
Writing this now, I feel it was probably the best decision I ever made.
He took us to a cafe called Kashi which had one of the richest chocolate cakes I have ever had. Following which I embarrassed myself in the car by making a tube of body lotion explode all over my face much to the entertainment of both my friends. We cleaned the car after they stopped laughing at me.
Next, we headed to an antique store. This antique store has most of India's prized possessions and have spent decades collecting artifacts and murals from all over India. I felt like I was in a museum. Since people liked to spend time there, they opened a cafe where I had an extremely satisfying plate of biryani while my friend ate his fill of prawns. As the sky began to dim, I realized that my trip was coming to an end.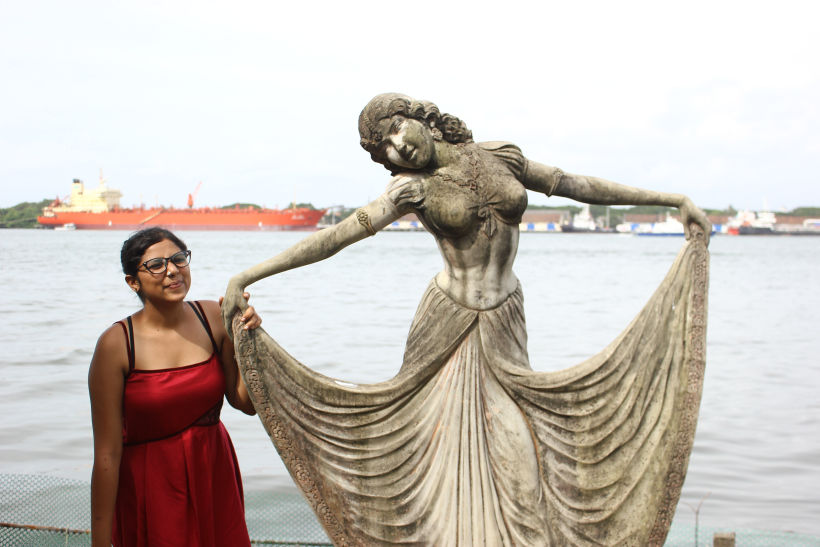 My Mallu friend decided to cheer me up and we drove to the beach where I bought my all-time favourite item: a bubble blower. This place was called Fort Kochi and there were several shops dotted along the road. I bought a few scarves and tops for myself and we headed to a part of Kochi that gave me the clearest view of the Kochi docking area.
The lights, the size of the ships, the coat guard zipping by, the cargo, and the cranes looked majestic from where I was standing. It was by far one of the most mesmerising moments in my life. I now desperately want to visit the inside of a ship and docking area. However, since the defence was involved in these areas, nobody had access.
After eating a plate of chicken fried momos, he dropped us off at the train station and drove away. It was definitely one of the most satisfying trips I've ever had. You can imagine how I felt; I forgot to eat my standard plate of Maggi!
This time around, I tried something different. I've made a short travel video that I'm including here. From the feedback I've received already, I'll be making more. So, please be sure to subscribe to my Youtube channel and like this video!