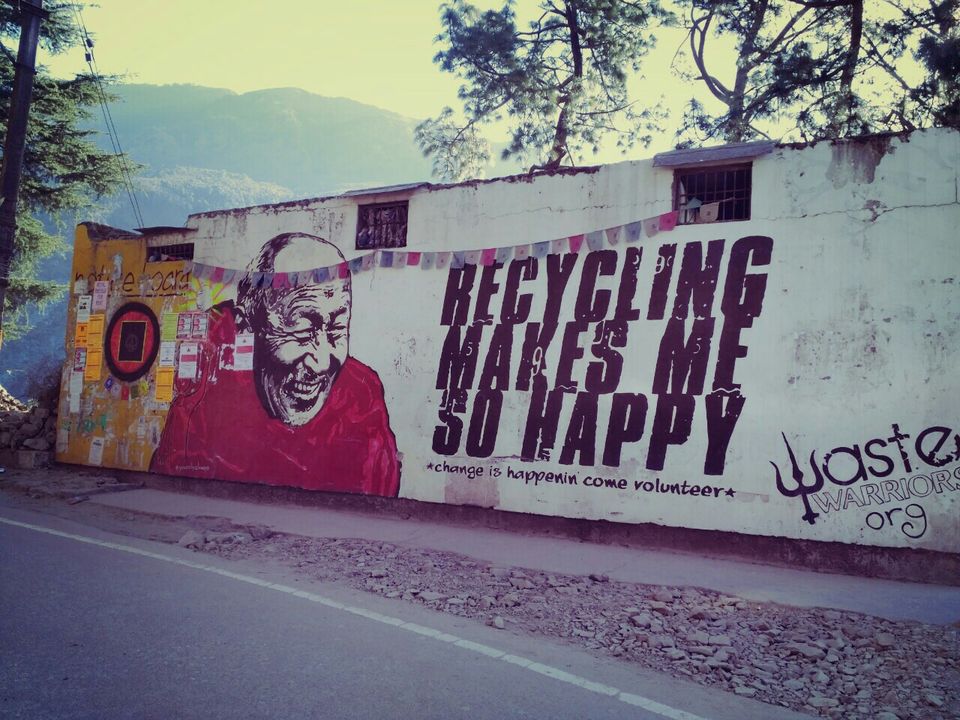 It was Friday afternoon and I was sitting idle in my office, in Delhi ..To kill the time, I was browsing internet when I saw this notification about Ind vs Australia test match to begin from tomorrow at Dharamshala.
It was one of the most picturesque cricket Stadium in India and I always wanted to see that, not that alone actually.. I was more interested in a place just about 15 Kms from Dharamshala, which was Mcleodganj, the home for his holiness 'Dalai Lama'.
Buddhist culture has always amused me in several ways. I grew up in that culture, among those people. My Nani's place was in Uttrakhand, about 80 kms from Dehradun, which mostly had traditional pahadi people called 'Jaunsari' and tibetians. They have this peaceful way of living the life. Meditation, colorful prayer flags all over their terraces and dogs. Yes, each family would have atleast one hairy dog.
Coming back to Dharamshala, a very bleak thought came to my mind to go there but I knew I will not get the leave for Monday and I had no one to accompany me ( though I like solo travelling more, was just adding up reasons in my mind why I cannot go).
I was indulged in the work that followed and forgot about the cricket match, Mcleodganj.
Untill, I receive a call from my flatmate - Satyam. We share similar passion about travelling. The ones who will prefer a strong tea in the open with the real people rather than succumbing to a dingy pub with alcohol.
He works in a private bank and had Saturday off. Just as he said that, let's plan for something, near to Delhi.. I knew it's gonna be Dharamshala ????, which was not actually, very close to Delhi.
It was already six in the evening and we decided to go to Dharamshala or, to any place but we are gonna escape Delhi this weekend.
I checked the tickets for bus and they were all full, because of the weekend and the match. We thought of giving it a try after reaching the ISBT bus stop in Delhi. Worst will be that we have to go to Haridwar/Rishikesh as the buses are available 24*7 for that.
We both reached our place and stuffed our clothes and left for ISBT to test our luck.
It was all crowded when we reached there. We went to the HRTC counter (Himachal transport) to check for the tickets and there was long queue for the tickets. So Satyam joined one, which was for Dharamshala and I standed in the other, for Kasol ( people call it mini Israel, another beautiful place in Himachal).
But both of our luck went out as the tickets were sold.. First for Dharamshala and then for Kasol.
We both were disappointed, literally disappointed. We had this adrenaline rush running through us when we were in the queue but it all just blew up.
The bus to Dharamshala was just standing infront of us and was ready to leave. As it was a Volvo, no scope of seat sharing or anything, each seat was booked.
The bus started and slowly began moving backward for the journey ahead. We were standing as mere spectators..
The conductor of the bus came out for some paper work and me and Satyam rushed towards him. We literally begged to give us two seats but as expected, he denied. We were again asking if it could be possible and just when he said 'kitne log ho' ? We knew we had a chance.
We said we can sit anywhere, just let us come.. ????
To which he agreed, but had certain conditions, we were supposed to sit in the front cabin alongwith the driver and conductor and we're not supposed to sleep during the night (to avoid distraction to the driver), if at any point we sleep, we would be out from the bus! ????????
It was a 12 hour journey and there was not a single person deboarding in between, so that we could get atleast a single seat.
We agreed to conditions after looking at each other's face and jumped into the bus.
As agreed, we were sitting in the front cabin, smiling at each other for the adventure we were supposed to experience.
The bus left from Delhi and was on Delhi - Chandigarh Highway. It was just half n hour that passed and I had Satyam's snoring sound in my ear.
He was the one who could sleep standing and that too on one leg. I poked him as the driver first looked at him and then at me.
He woke up and we started talking. Just to distract his mind.
After an hour journey, the bus stopped for dinner break.
We washed our faces, had a tea and were all set to battle everything that would come our way to reach Dharamshala.
While we entered the bus, the driver lit up his 'bidi' and the first smoke that came out of it had strong fragrance of, you know it 'Gift from Himalayas'.
He dimmed the light, played a casette that one of the foreigner left in the bus and it had all shiva trance songs in it.
The bus was speeding on the highway, there was this fresh Himalayan fragrance all around us and that music.. It gave us pure bliss.
We forgot everything that surrounded us. Jobs, our boring routine, credit cards payments, and everything less important.. We both were in a different state of mind all together.
Satyam took out one of his cigarette and took a little stuff from the driver and started rolling ????????
We both had tried it but we were not very experienced in the same. But to keep us awake, we had to do something, either drive the bus (which was not possible) or do all this.
We had the first puff, the best one. We three (me, Satyam and the driver) shared the cigarette as we moved on.
The conductor of the bus looked and felt envy of our friendship I suppose. ???? He was dozing too in between, which I noticed so we had a slight chance of taking a nap.
I asked Satyam to sleep, with my shades on so that he can cover his closed eyes. ????
I stayed awake sitting at the front, seeing the roads lit with the yellow highway lights and talking to driver in between. I have played that role a couple times more, being the best supporting actor to the driver.
At around five in the morning, we halted at a small tea joint. We could see the mountains, and that fresh/chilled breeze coming through the dense trees.
We washed our face and had our sip of tea ???? It was a mesmerizing experience.
Dharamshala was about 4 hours more from that place.
We stepped back in the bus and now it was my turn to take a nap while Satyam stayed awake. One of the passengers deboarded so luckily, I got a seat to rest my head.
I woke up with sunshine on my face as we crossed Kangra (a beautiful town famous for woolen shawls and temples).
In another hour, we reached Dharamshala, and we could see people with India's flag and their faces painted in tri-color.
We were excited... Very excited. We left the bus, saying goodbye to our driver friend and the conductor for bringing us here.
I wanted to visit Dharamshala first but we left for Mcleodganj, which came out to be a good decision.
Mcleodganj is about half n hour bus ride from Dharamshala and you can get regular buses with minimal fare.
It's a beautiful landscape on the way from Dharamshala to Mcleodganj. There was this beautiful church/cemetery on the way.
We reached Mcleodganj by 11 and had a light breakfast.
We then looked for a place where we can dump our bags, get a bath and could leave for the exploration.
We got a room in 500 INR for one night ( Yes, we were a bit tight on our budget).
One can get n number of places to stay near by the central Mcleodganj, depending upon how much time you will actually spend inside the room. We just wanted a place to keep our bags so we opted for a little cheaper one.
You can also get homestay in the nearby villages (for a week or longer) where you get the homestay kind of feeling.
We left the room in another half n hour and went to explore the local market.
I could see the same Tibetan culture there, being the hub of the same. Colorful flowers at the balcony of homes, peaceful surroundings, people sitting with a rosary in their hand and chanting holy mantras.
We went to one of the very famous cafe (must try) and then to the Dalai Lama monastery. It was a great experience. Little Lamas running everywhere in their maroon and orange dresses.
It's all in walkable distance. We tried the local momos there which had boiled potato stuffing. Bought a few beautiful handcrafts from there and, prayer flags for my avenger.
After exploring the market of Mcleodganj, we came to Mcellos, which is at the centre of MCLEODGANJ to have a beer.
It was about 3 in the afternoon and we had our lunch there. It's the favourite place for cricketers who visits Dharamshala and Mcleodganj so one might get lucky of seeing a celebrity during the visit.
It was a beautiful view of the mountains, trees and the city from there. After getting happy high, we left from mcleodganj and headed towards Dharamshala because, it was the time for HPCA cricket stadium.
We reached Dharamshala and it was the last session being going on. We didn't had much time as we had to leave the next day to reach Delhi by Sunday night so we rushed towards the stadium to see the last overs of the day.
As we entered the stadium, it was beautiful. One that I saw yesterday on my desktop screen and I was actually here. I felt happy after experiencing all this.
We clicked photographs while the local police asked us not to, to which we even asked one of the lady police to click ours (Himachal lady police officers were soo beautiful and polite that we couldnt deny their requests of not clicking pictures)
We stayed at the stadium for about an hour seeing Virat, Cheteshwar, Jynx in front of us.
We left the stadium and it was such a beautiful view just outside the stadium where we could see the entire Dharamshala.
It started raining lightly so we left for our place, in mcleodganj.
It was evening by then and we tried some Tibetian and Nepali cuisine as we were starving. We didn't knew what it was but we just ate like.anything.
All tired, we slept like babies in our room. We had our bus, the next morning at 11 from Dharamshala to Delhi (this time we had proper seats).
The next morning, Satyam woke me up at 7 in the morning to go for a small trek (part of triund trek) to Shiva Cafe. We heard about it and it's a must try place and you just cannot afford to miss it. We started with our morning trek while, satyam was lucky enough to get a beer (the frst beer from the liquor shop I suppose) while we headed towards Shiva Cafe. It was about 7-8 kms from Mcello.
We walked, stopped at a beautiful spot on the way where we had our morning beer ????
There was this beautiful waterfall that came in our way -Bhagsunag waterfall. It had beautiful paintings being done on the rocks. Shiva Cafe was still, about 1 km away from that place.
We climbed the natural stairs, which was the way to Shiva Cafe with beautiful flowers and prayer flags surrounding us.
Shiva Cafe- well, it was the end point in the nature's lap. A beautiful cafe, which had paintings on rock, books, prayer flags, the best Maggie and coffee and the best view to have all that.
It was our second day and we sat there. Contented with what we did in just the 24 hours that passed.
The best two days we could have spent.
It was already 10 and we had our bus. So we left that place keeping all the memories with us and came back to Dharamshala from where we boarded the bus.
Just an icing on the cake, we had the same pair of Driver and conductor on our way back to Delhi ☺