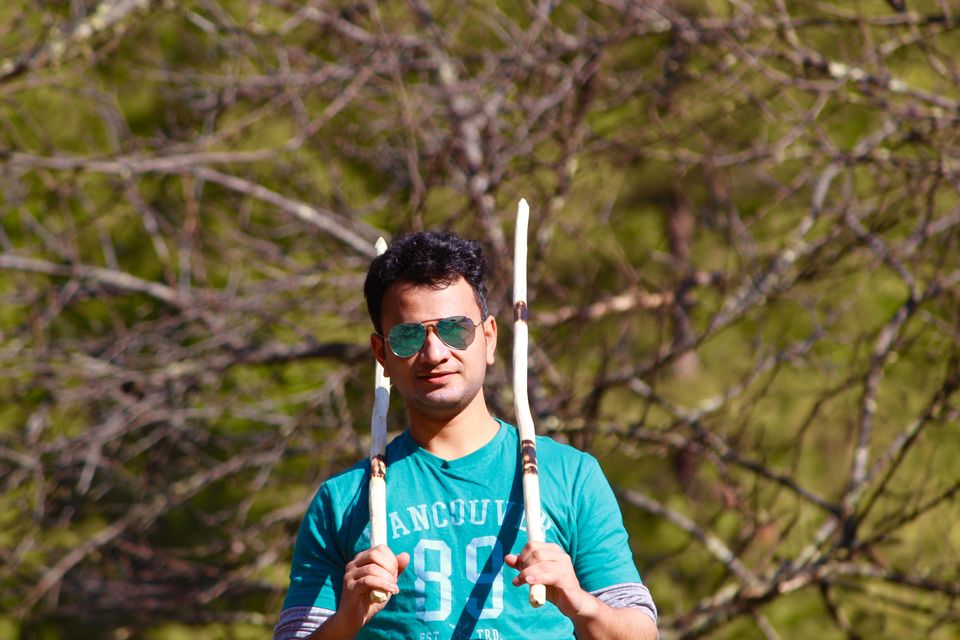 The energy can neither be created nor be destroyed. You lose energy while doing a hike but you gain more of that when you reach the destination. The same got proved in a trek to Tiger's Nest in Paro.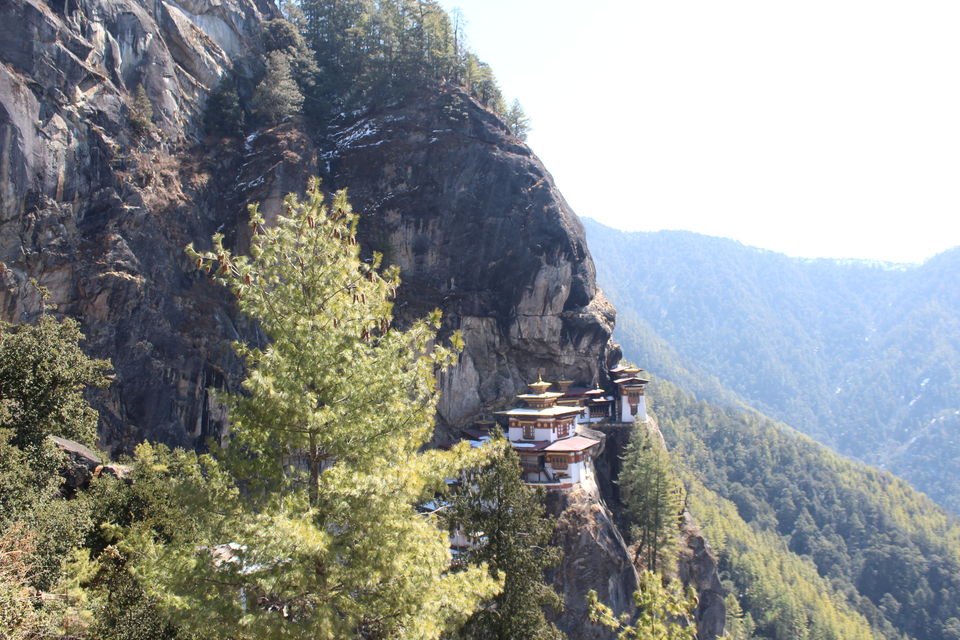 3,120 meters above sea level
Fitted in a mountain cliffs and above a beautiful pine and rhododendrons forest is a prominent Buddhist site known as Tiger's Nest.
Guru Padmasambhava (Second Buddha), who introduced Buddhism to Bhutan is said to have meditated here.
To reach here you have to hike through the forest and it takes around 3 hours (4km) walking on a comfortable pace.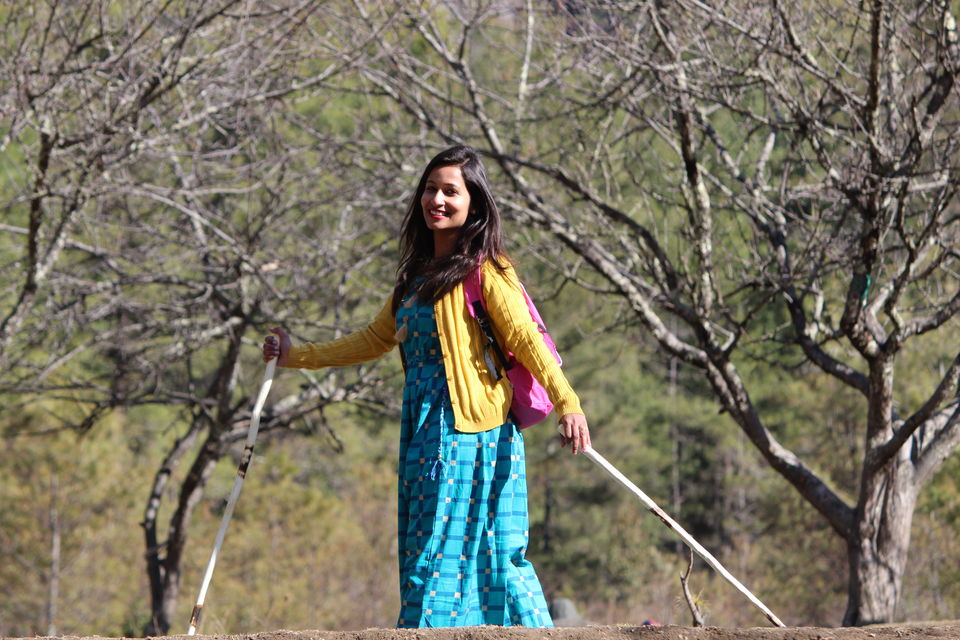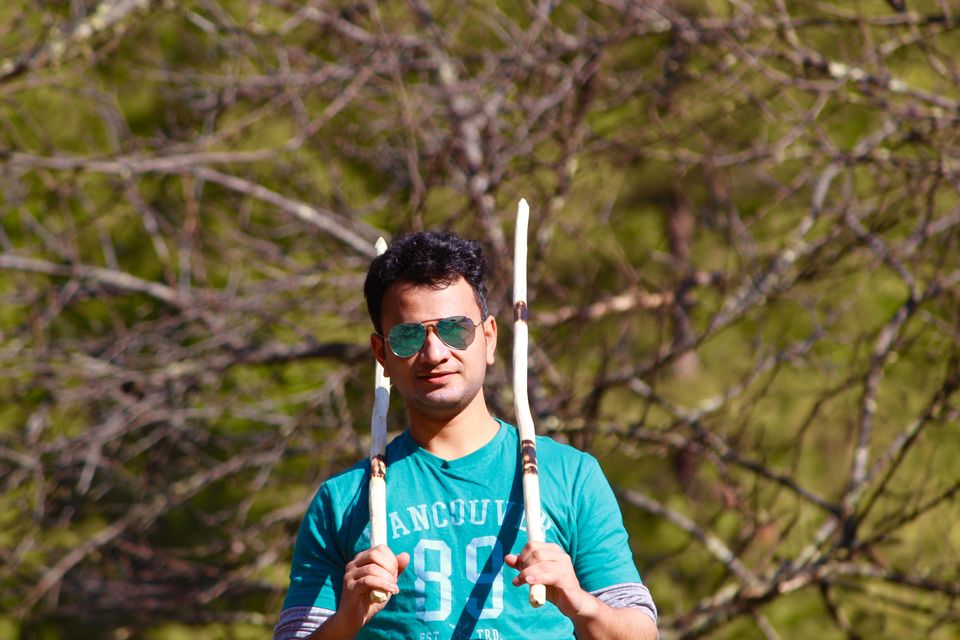 You need to buy a stick from the entrance to help get support during the trek. So we started with full energy (so we clicked many photos) but kya pata tha ki upar jaate jaate you want to throw away every weight you carry, but badi mushkil se camera liya hai aisa nhi kar sakte the.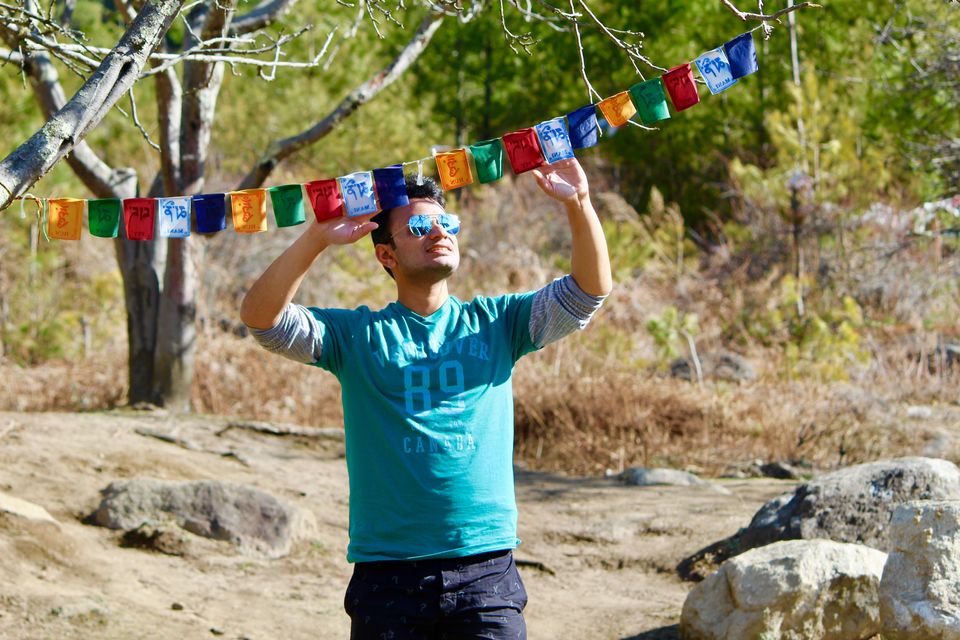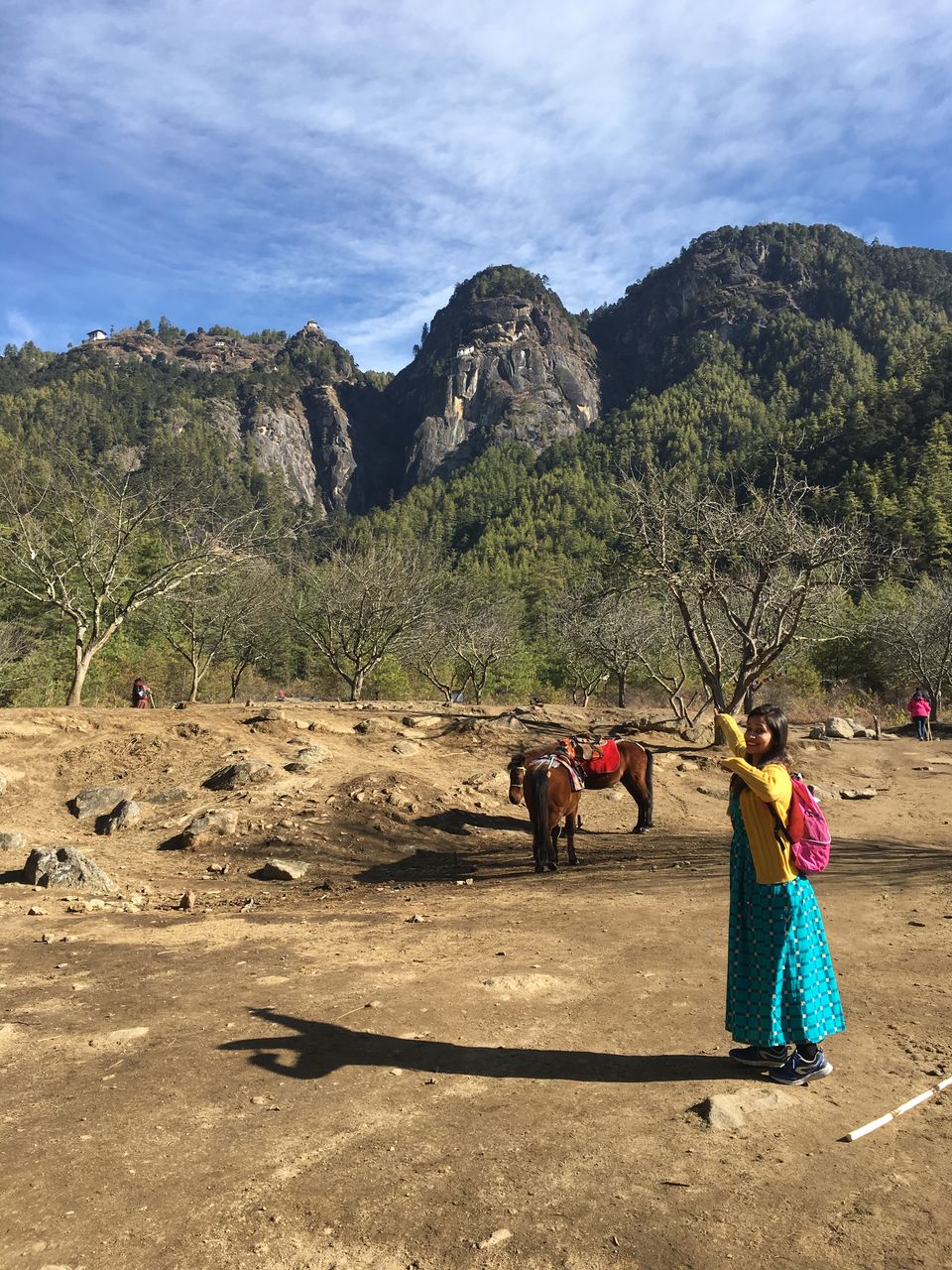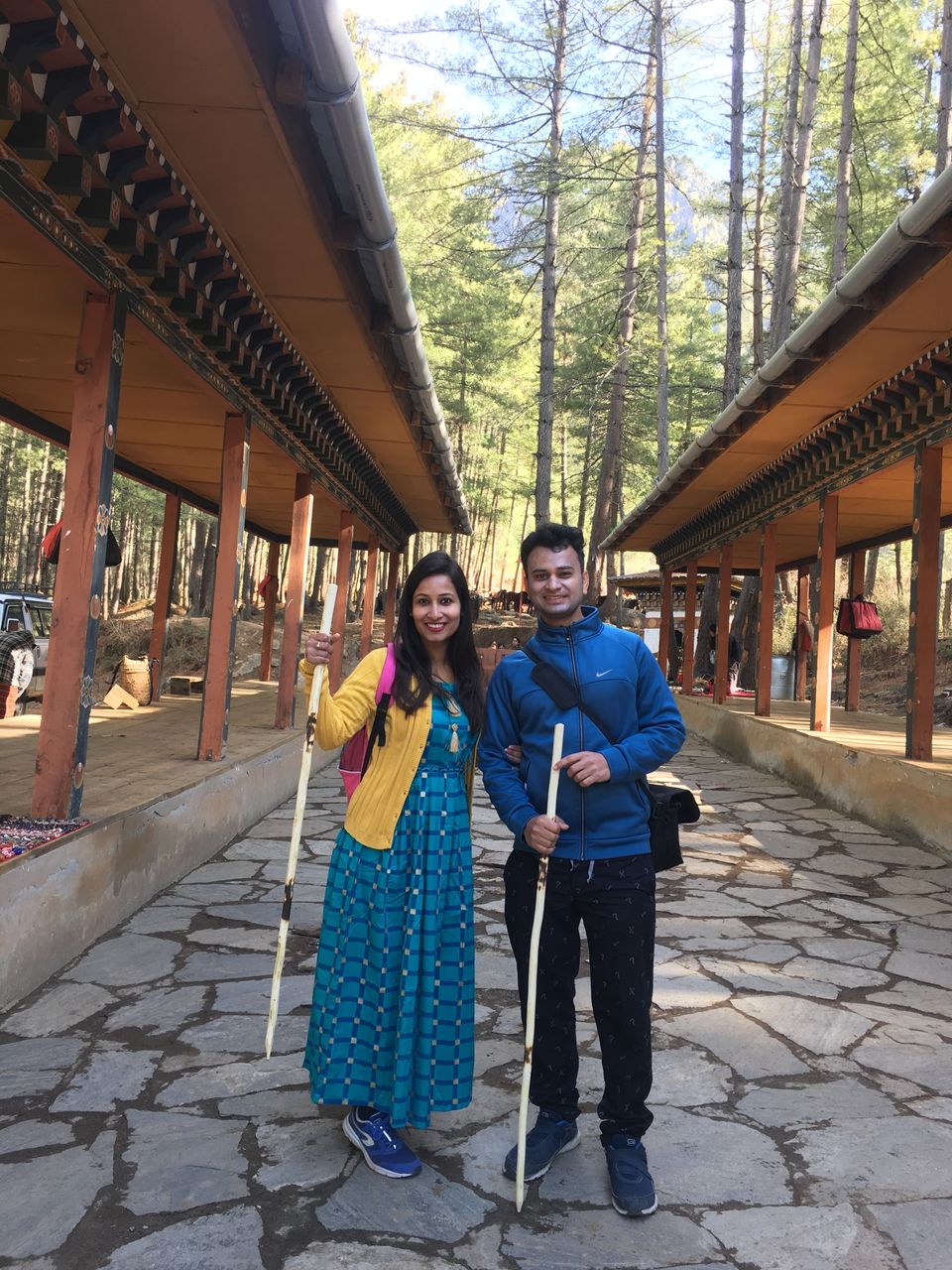 The trek consisted of many breathtaking views and sacred small small temples with religious people all around. The best part of them that they always smile when you see them and you get the energy to move ahead.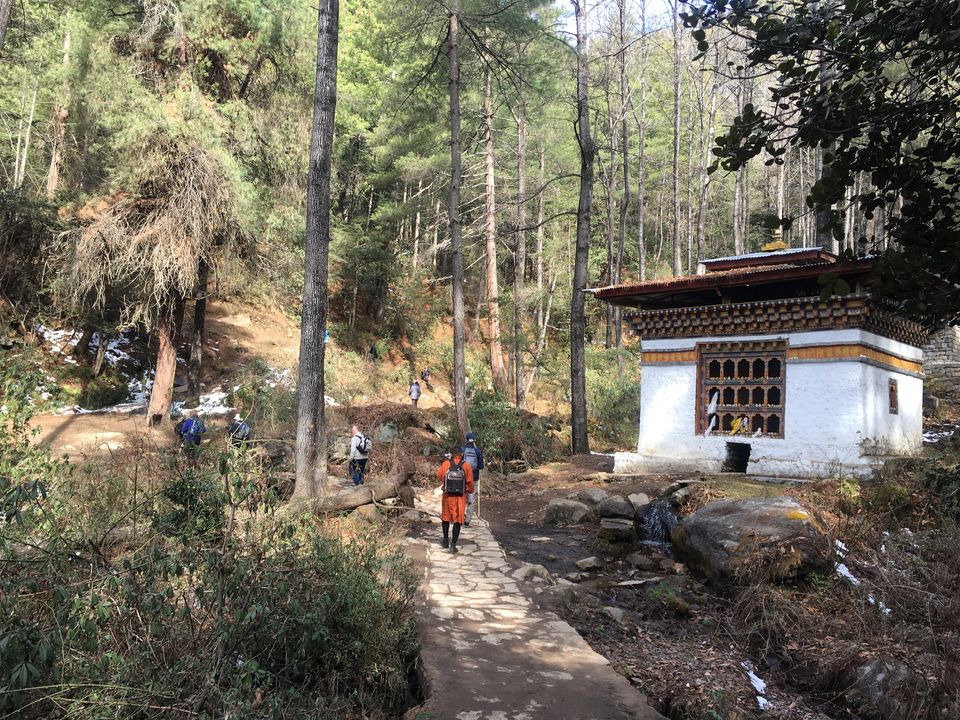 The view of snowcapped Himalayas as you ascend and far off tiger's nest gives the inspiration to continue.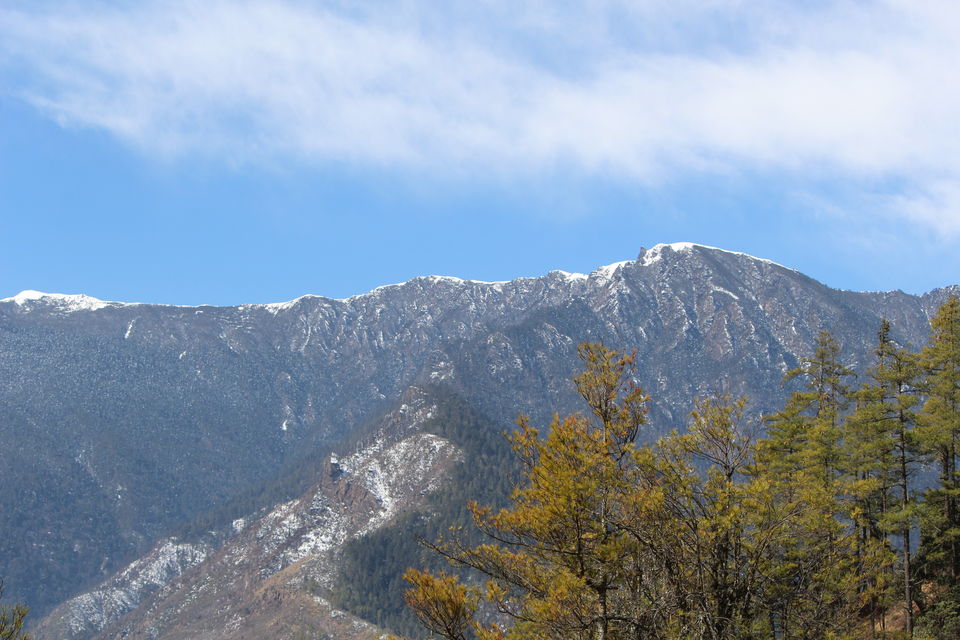 Toh aise hi hum thakte, masti maarte hue half way pe pahuch gye and we found the creativity of the people using the plastic bottles. It is said if you rotate it clockwise god forgives away all your sins.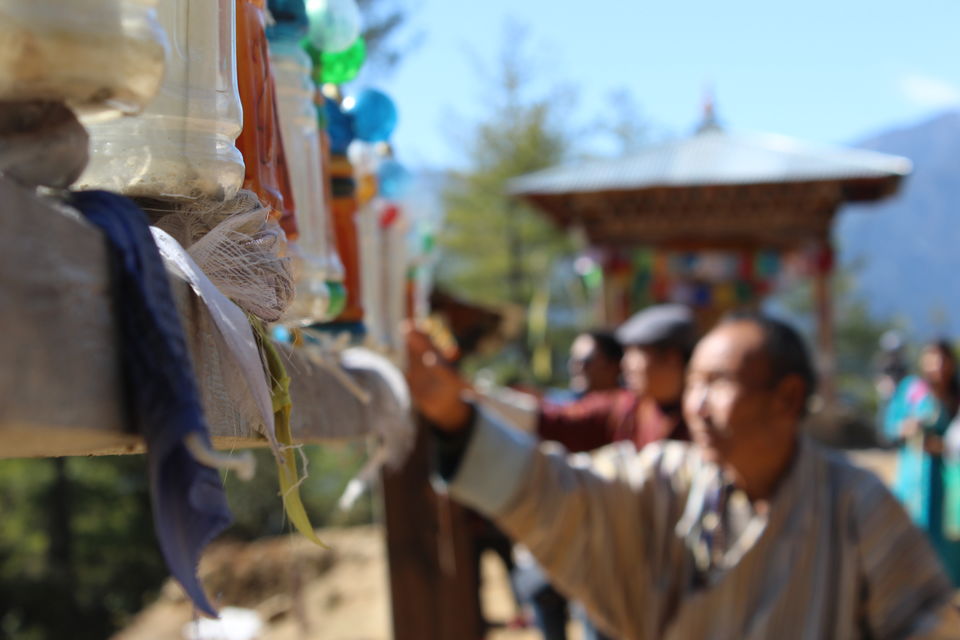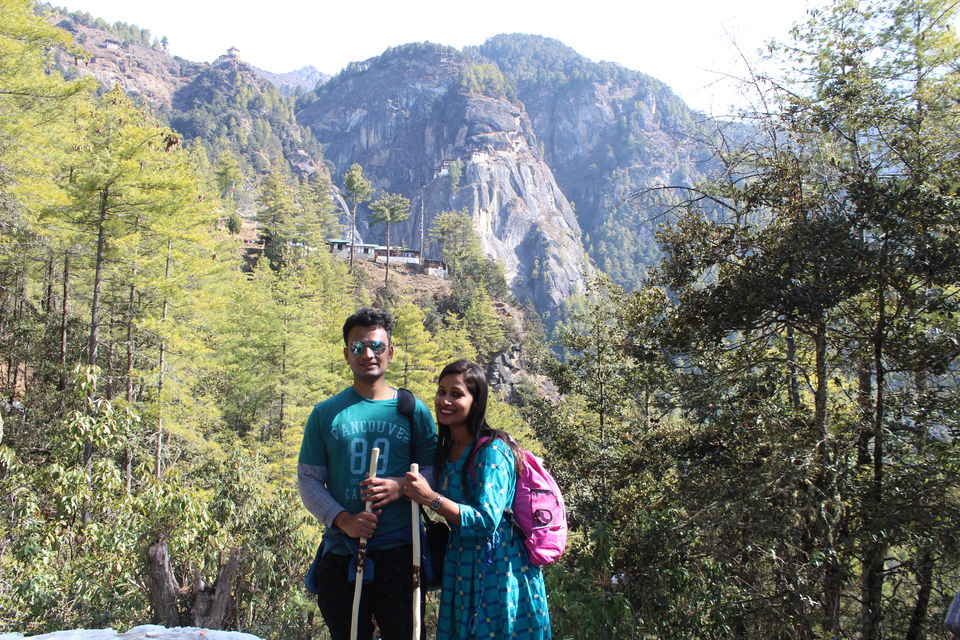 We took rest over here as it's important to do that to maintain your heartbeat. Stay hydrated is what i recommend during this trek.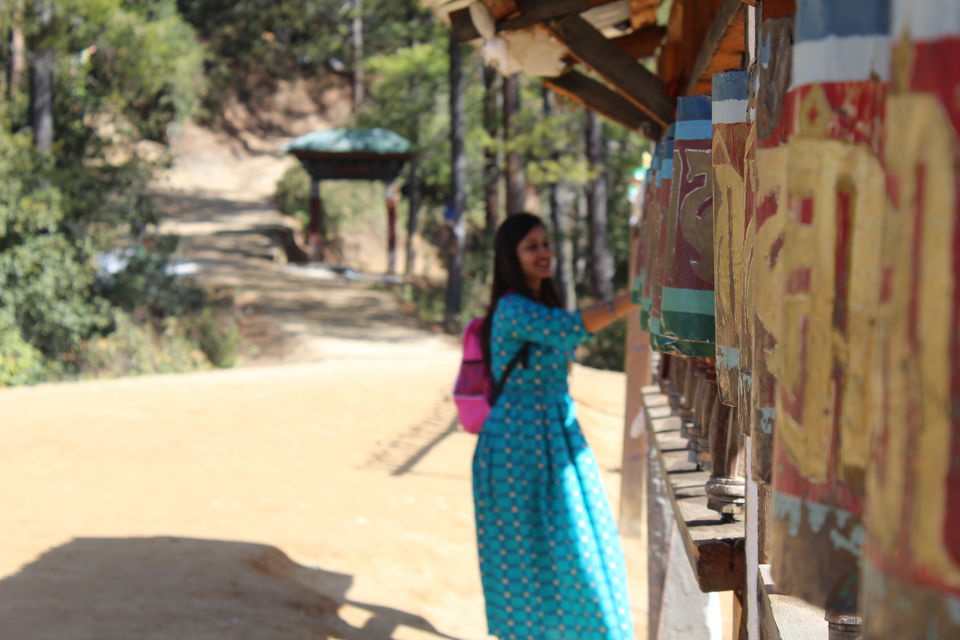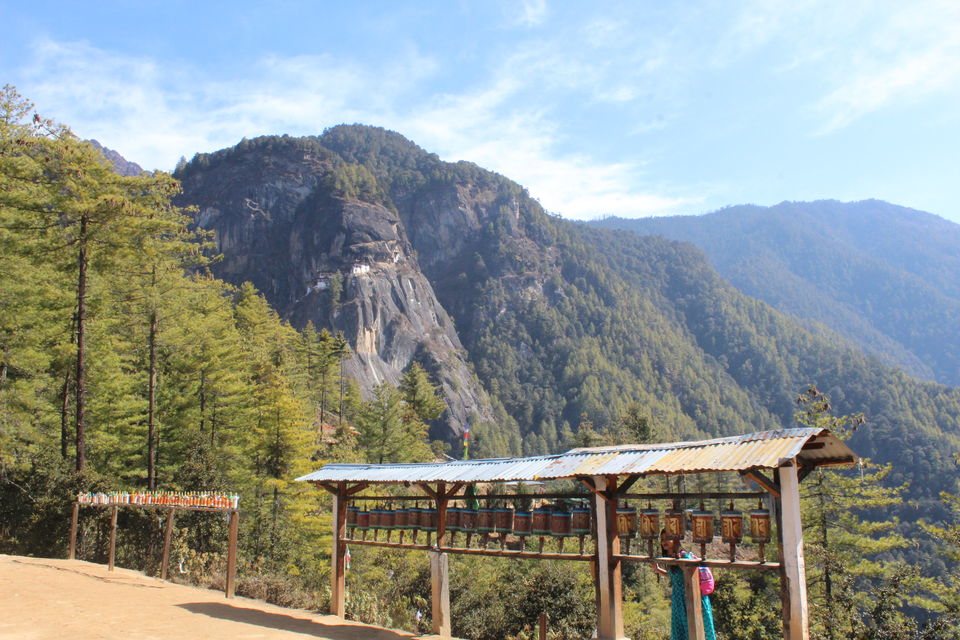 After half an hour we started from the halfway and saw a board just 100 mt away to a restaurant. Khaane peene mein toh ustad hai hum. We sipped a coffee with a might view in front.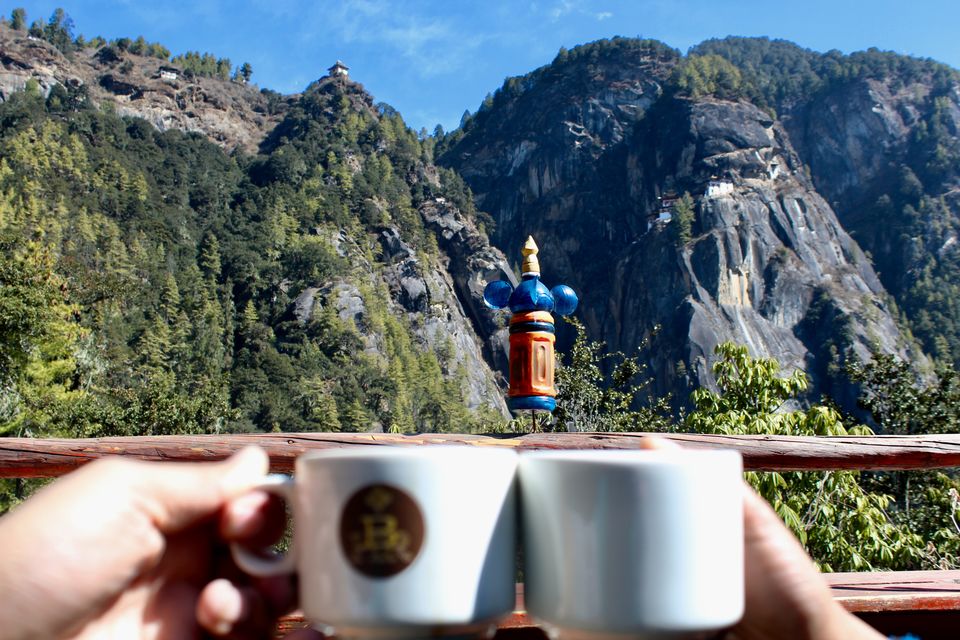 Now it's all fresh and energy is the same the time we started. The far we ascended we started to see the snow covered over the floor.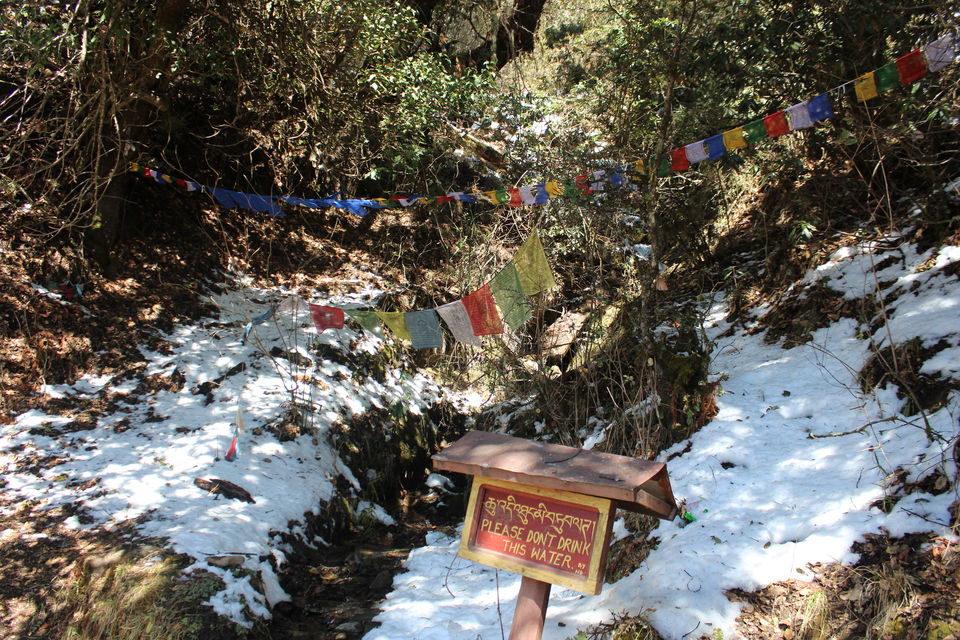 Toh ab hum pahunch hi gye. This was the point where you get a lovely view of tiger's nest. Most of the photos of tiger's nest are clicked at this point itself. I reached earlier so i started to communicate with people around (my favorite part during travel) and he became my friend.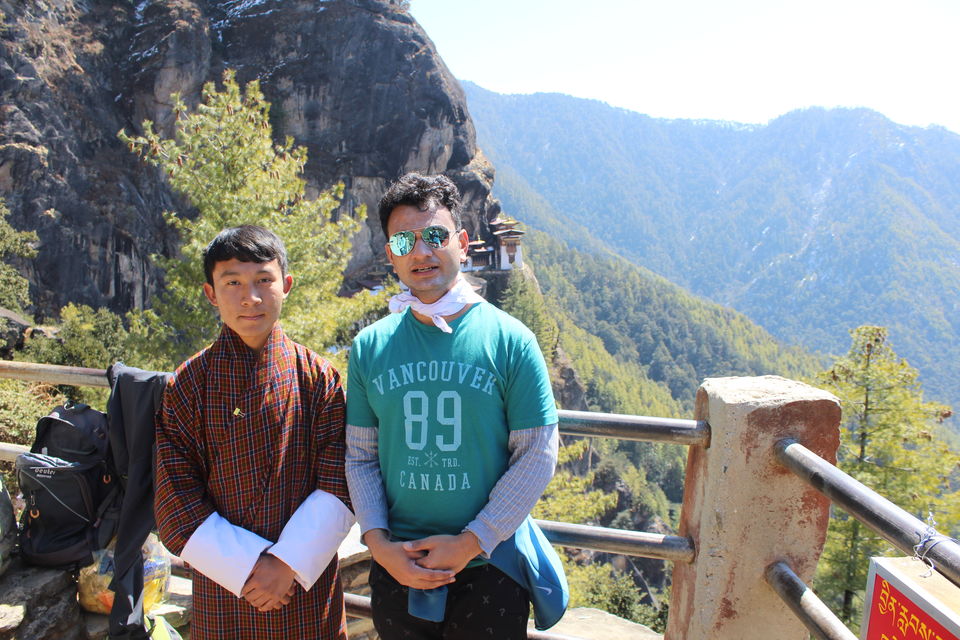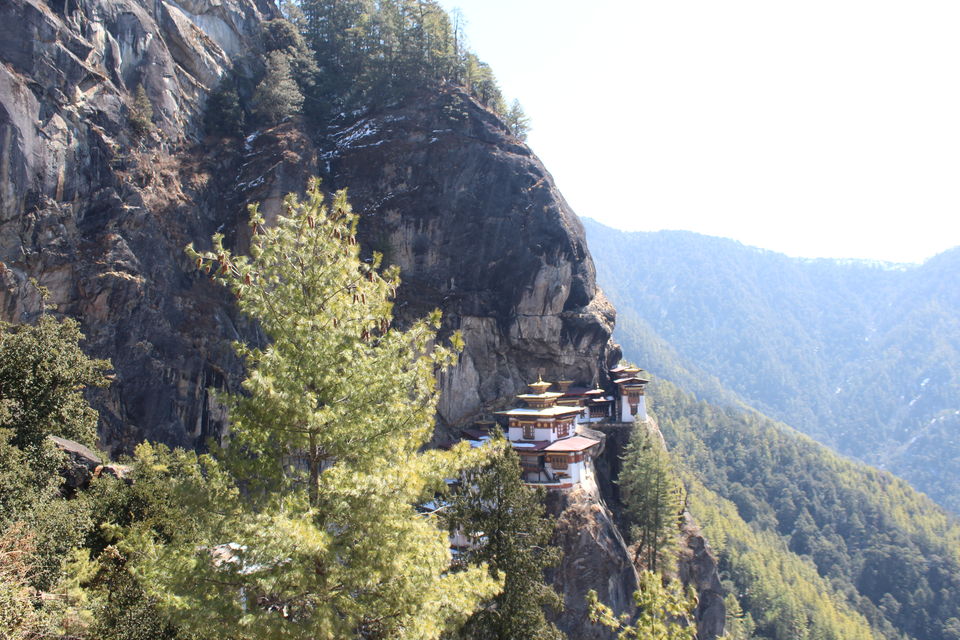 There are 4 main temples connected with each other by staircases and having balconies with fine views over the deep valley. We were not allowed to click pictures of the temple.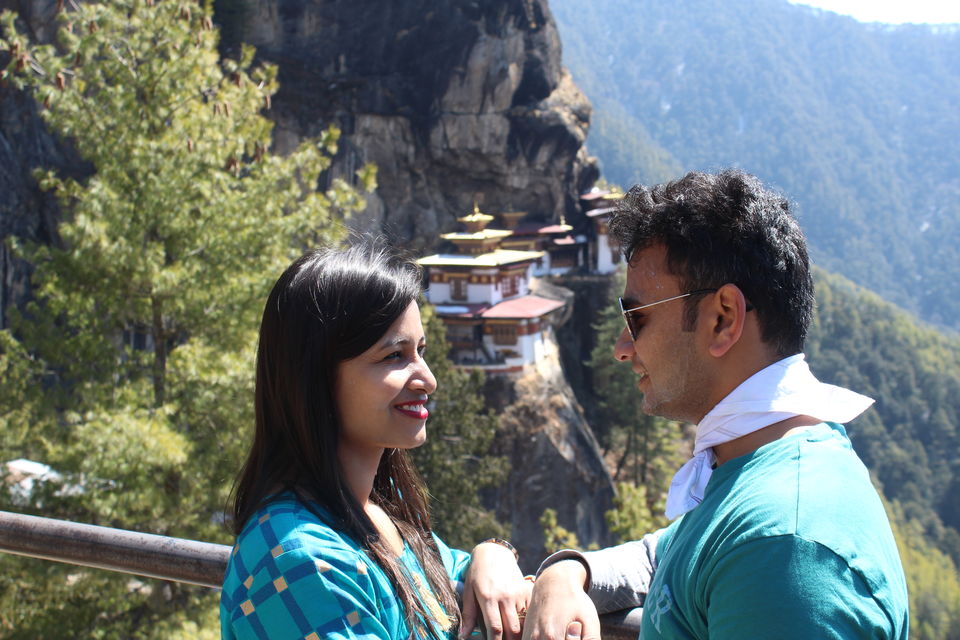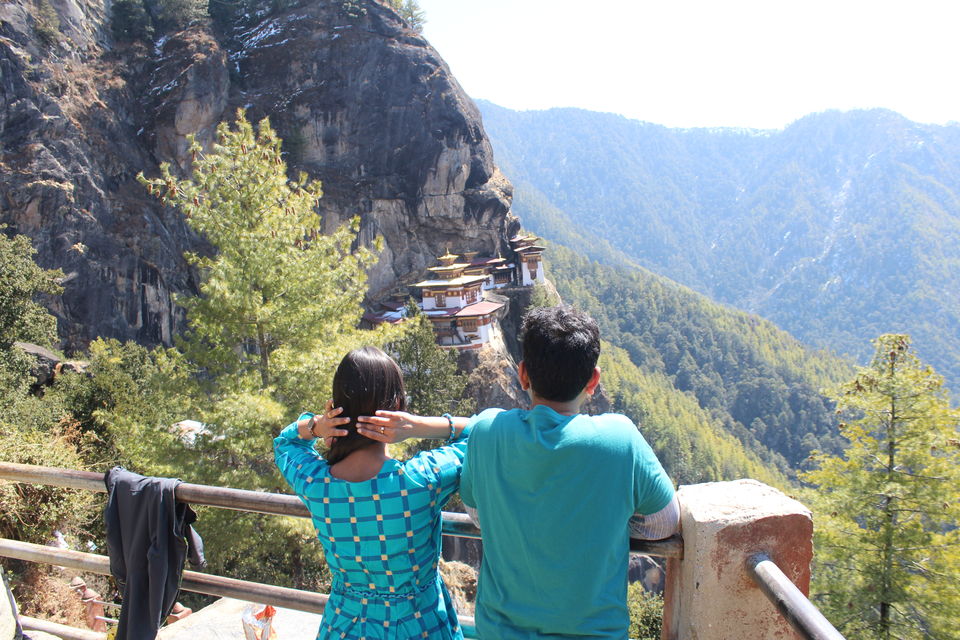 We meditated there and the vibes were very strong which made us concentrate. Mehnat ke baad kuch haasil karne ki feeling hi kuch aur hai.
How to reach – If you have not booked a taxi already, you can use a taxi that may charge around 1200 Ngultrum per side.
Entry Fee - Rs. 500
Timings - Winter (Oct-Mar): 8 AM to 5 PM (Bhutanese Time)
Summer (Apr-Sep): 8 AM to 6 PM (Bhutanese Time)
Note – Make sure to cover your arms and legs while visiting Monasteries/ Temples in Bhutan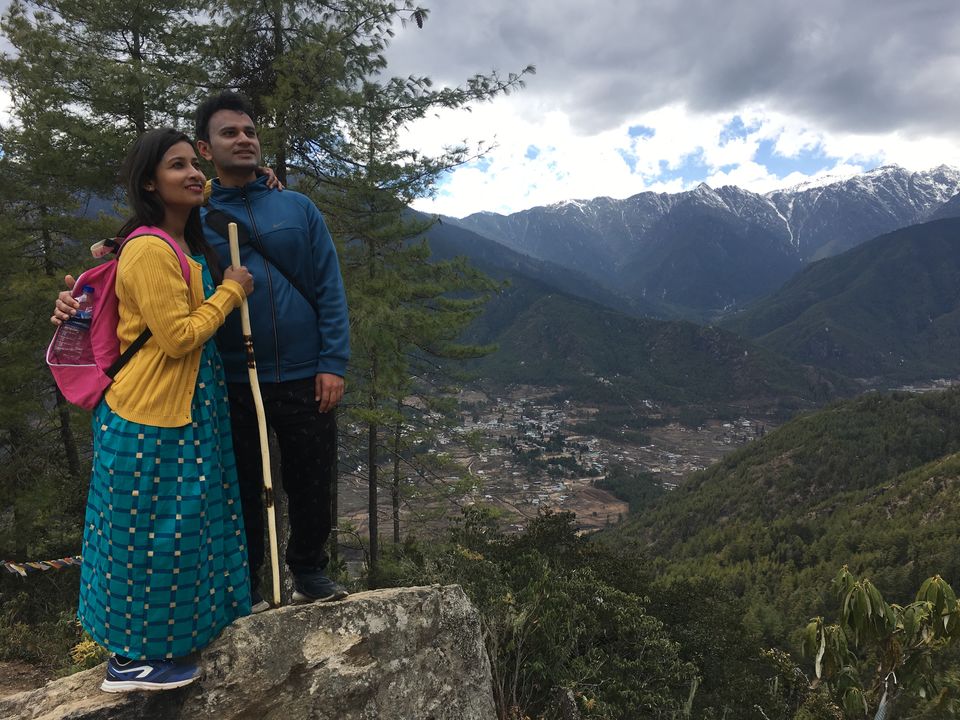 We travel, people ask why do you travel? jab aana hai wahin pe toh jaate kyun ho.
We say Thankyou and smile because it cannot be explained to anyone, it is the feeling which you take with till you die.