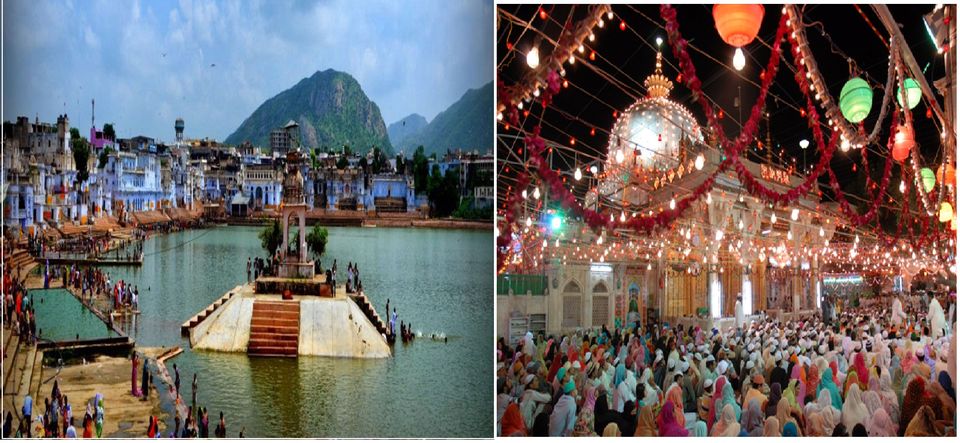 From Jaipur you can take a bus, Train anything because it's only 131km. I would like to suggest you that if possible and the weather will be pleasant then took a 2 wheeler and drive yourself.......
When you will reach Ajmer Shariff you will find out that so many people come to pray of every religion... I also gone there with the hope that he will listen me and give me what I want(I know it's lil bit selfish) But most of time we only remember God when we are in trouble or we want something....
First thing I do that I will go Directly to the Dargah(Holy Place)
I saw there so many people and so many flower shop....If you want you can Buy Chadar and Flowers... It's not necessary... But one thing that is important that you didn't enter with bare head... you have to put chunni, or rumal on your head for boys they can wear Topi or rumal....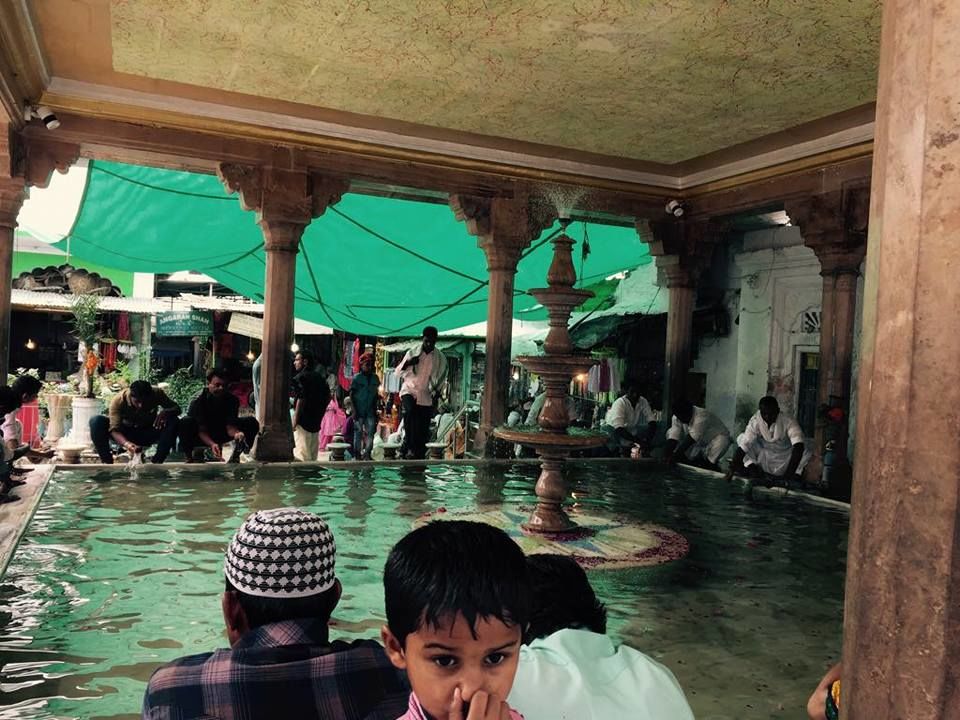 Wash your hand before enter in main main dargah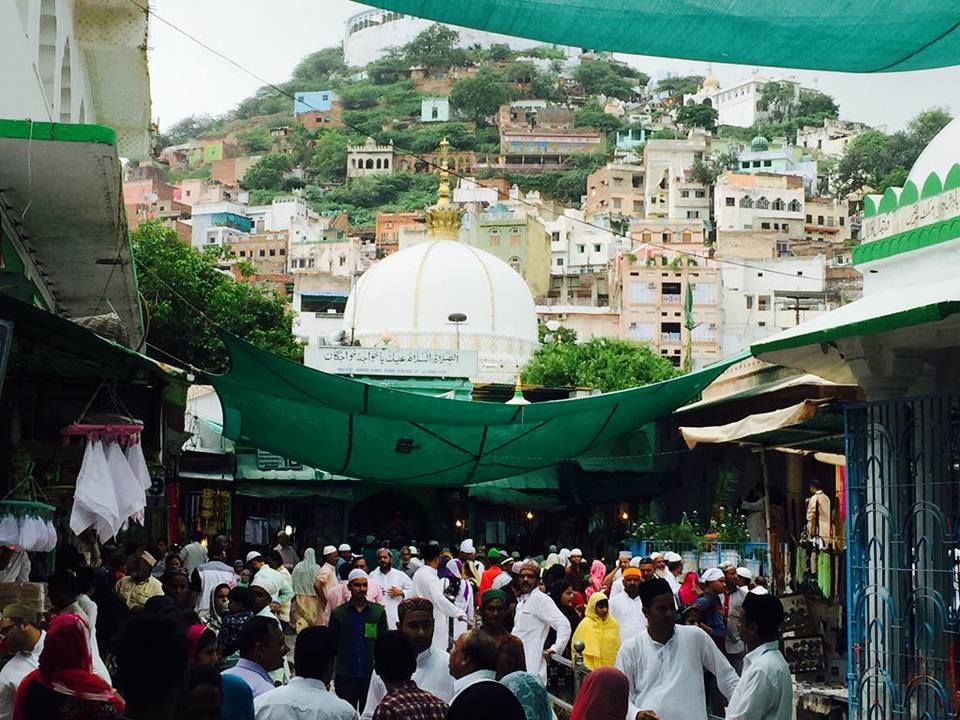 It's a Holy place where you can find peace and feel spirituality. Many people believe that if you pray with pure heart then your payer will be listen here and you get what you want.... "I also believe This"
Here you can find so many good hotels with nominal price...
Here you can eat Delicious food... I tried Mango Masala Restaurant I can say it serve quality food with amazing taste... you can also drink tea on street and eat some pakoda,samosa with it...
We didn't stay there because we have to go pushkar and Distance between ajmer shariff to Pushkar is only 14KM So you can enjoy till eve in the ajmer and after that you can go to the Pushkar and enjoy lake side view in late evening.
PUSHKAR LAKE (history attached with this Lake)
History: According to Hindu theology, the pond at the Katas Raj Temples near Choa Saidan Shah in Chakwal District of Pakistan has a theological association with Shiva; it was formed by the tears of Lord Shiva which he is believed to have shed after the death of his wife, Sati. The story goes that when Sati died, Shiva cried so much and for so long, that his tears created two holy ponds – one at Pushkara in Ajmer in India and the other at Ketaksha, which literally means raining eyes, in Sanskrit. It is from this name that the word Katas is derived. It is often called "Tirth Raj" – the king of pilgrimage sites – and has in recent years become a popular destination for foreign tourists.
Next Day we gone to visit Brahma Temple (history attached with this temple)
History : According to legend, Brahma was in search of a place for Mahayagna and he found this place suitable. After a long time, Brahma came to known that a demon, Vajranash, was killing people here so the Lord intoned a mantra on a lotus flower and killed the demon. During this process the parts of flower fell on three places which were later known as Jyaistha, Madhya and Kanistha Pushkar. After this Brahma performed a yagna to protect this place from demons. The consort of Brahma, Savitri, were needed to offer Ahuti for the yagna but she was not there that time so Gayatri, a Gurjar girl, was married to brahma and performned yagna. This act made first wife of Brahma, Savitri, angry and she cursed Brahma saying that he would be worshiped in Pushkar only.(Wikipedia)
Other Places to see in Pushkar:
Paap Mochani Gayatri : Presided by the deity Ekadashi Mata, the Pap Mochini temple is believed to provide respite to followers from their cardinal sins.
Atpateshvar Mahadev: This beautiful 12th century temple is dedicated to Lord Shiva and has an underground component.
Savitri temple: Dedicated to Lord Brahma's first wife, Goddess Savitri, this temple is situated on a hillock right behind the Brahma temple
Temple of Rangji (New and Old) or Shri Vaikunthnathji: The influence of South Indian style, Rajput style and Mughal style in the temple's architecture is highly noticeable
Man Mahal: Built as a guest house of Raja Man Singh
Gurudwara Singh Sabha: was built in the beginning of the 19th century to commemorate the visits of the first and the 10th gurus - Guru Nanak Dev and Guru Govind Singh.
108 Mahadev Mandir: it has a very beautiful inner sanctum having lord shiva's idol similar to pashupatinath temple. the inner sanctum is surrounded by 108 small shiva idols.
Varah Temple: This temple is to God Vishnu. It is one of the most visited temples in Pushkar city. It is said that Lord Vishnu gave a visit to this area to kill an atrocious demon Hirnayaksha.
One More Big Attraction in Pushkar is "Pushkar Fair" The Pushkar Fair (Pushkar Camel Fair) or Pushkar Mela, as it is locally known as, is an annual five-day camel and livestock fair held in the city between the months of "October and November". It is one of the world's largest camel fairs. Apart from the buying and selling of livestock, it has become an important tourist attraction. Competitions such as the 'matka phod', 'longest moustache' and 'bridal competition' are the main draws for this fair which attracts thousands of tourists. In recent years, the fair has also included an exhibition cricket match between the local Pushkar Club and a team of foreign tourists.
These two place are very beautiful and you can find peace here...
after wondering you can go back to Jaipur and take anything which you want and go back to pavilion with peace, spirituality, happiness and with lots of Hope....