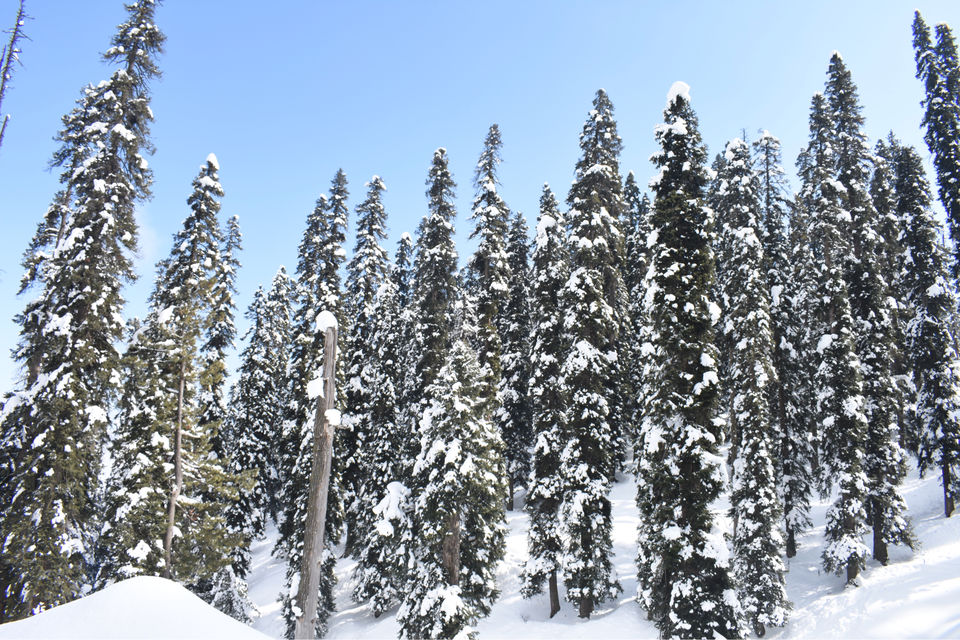 Date: 25th Jan 2019
The trip began with the delay of my early morning flight from Chennai which finally managed to land Srinagar at 11:30AM and my adrenaline rush had reached par my level.
Its's Winter and the biggest problem is the changing Climate. There wasn't any delay /cancellation in flight to Srinagar due to bad weather and we were damn happy.
It was freaking cold in Srinagar even at afternoon with temperature of 6-7 Degree Celsius, people from Chennai who always survive in temperatures above 30 would definitely feel the difference of north and south.
Hired a taxi to Tanmarg from Airport. The road trip from Srinagar to Tanmarg was amazing as we couldn't take our eyes out of the views in the road side. Chinar trees and the surrounding full of snow was pleased to watch.
PS: Taxi gonna charge b/w 1000 to 1500 or more if you don't bargain.
We ended up finding an amazing hotel in front of taxi stand itself. Dumped our luggage in hotel, wore warm clothes and enjoyed the heavy snow fall which we were desperately waiting for. With gods grace we were lucky enough to witness the live heavy snow fall on our first day of the trip and we were super excited. Snow fall continued for at least 3 hours and we couldn't stop ourselves enjoying the fullest coz this was our first live snow fall which we desperately missed in our last trip to Brahmatal(Uttrakhand).
With freaking minus temperature we spent the night dancing to bollywood thumkas.
Today is Republic day and time for Gulmarg which is 13km from Tanmarg. Hired a packed shared taxi . Nevertheless, for a minute we completely forgot that we weren't comfortable in our sitting posture as the mesmerizing view on the way to Gulmarg were freaking us out.
As it was one way road and few of the cars were struggling enough even with chain tiers. At 11:30 AM we reached Gulmarg and here starts the exciting phase of our journey. The Gondola Ride.
Caution: Beware of the guides in Gulmarg !!
Though the cost was too high for both the phase of Gondola ride but we decided to ride through the thrilling experience of 14000 ft.
First we went to phase 2 which was at 14000ft, had an amazing view and god was too kind to share another piece of gift with snow shower and we were amazed by it. Though people visit phase 2 to have an amazing view of snow clad mountain alone as no activities are done here. All Skiing and Sledging activities are done in phase 1.
After 1 hour of entertainment in the phase 2, we headed towards phase 1 where you gonna find most of the tourist enjoying the skiing and sledging. Due to time constraint we crazy lads decided to just have a photography session alone as we were nearing the closure of the ride. The cable car ride ends at 3:30pm from phase 1.
That was the end of our Gondola ride and the experience was literally amazing, speechless to share our experience unless someone comes out here to experience the same.
It was 4:30 pm and we headed back to hotel in Tanmarg. Spent half of the night playing cards and we decided to stay back in Tanmarg for onemore day so that we can do these snow activities.
Date 27th Jan 2019
2nd day in Gulmarg with full excitement of skiing, we boarded a shared taxi and this time we were comfortably enjoying the ride from Tanmarg to Gulmarg as the crowd was not as much as comparted to yesterday due to Kashmir Bandh. The fun fact on the ride was the local KASHMIRI kid sharing the ride with us was entertaining with her non-stop funny talks and we were literally laughing out loud.
A guide was appointed for a group of Skiers who first trained us in the plane snowy road and then ask us to do the actual skiing in steep snowy road which was quite exciting and interesting too as a beginner.
After half n hour training session, we were ask to perform on the steep road. My excitement landed me up hurting my left arm and elbow. It was funny though I enjoyed every bit of it.
After Skiing we decided to explore the area as the complete view was mesmerizing and we couldn't take our eyes out of it. It was afternoon and we decided to spend rest of day sightseeing.
That was the end of our Gulmarg phase and we headed towards Srinagar where our hotel was booked for the night stay . Though we started a bit late, a Kashmiri friend who literally helped us in reaching Srinagar. Thanks to Junaid.
Date 28th Jan 2019
This day on Srinagar was quiet pissed off as we were literally tired last night and we couldn't wake up early in the morning which led to postpone our Pahalgam trip to next day. So we decided to explore the beautiful Srinagar but ended up with shopping the Kashmiri stuffs and that's how our day passed in Srinagar.
Date 29th Jan 2019
So we started our trip to Pahalgam at 9:30 am morning and we were quite excited about the pony ride to explore valley. Again with the amazing views on the way from Srinagar to Pahalgam was making us go wild. The experience was quiet different in this beautiful valley of Pahalgam.
Around 7km up and down pony ride around the steep valley with mini heart attacks given by our pony was thrilling. As we started our ride to 3 major valleys- Baisaran valley, Kashmir Valley and other name I literally don't remember at this point.
Baisaran valley which is also called as mini Swiss was the first stop of our ride. We visited the mini Swiss which was as beautiful as paradise. Zorbing, Sledging were few activities which were did in this valley.
Next we headed towards Kashmir Valley where the famous bollywood movie has been shot like Rock Star, Jab Tak Hai Jaan etc. and we were amazed to check this out. But keeping this things aside, I was amazed with my pony who was making my ride more thrilling and exciting.
That's how we ended our pony ride with heavy heart. "Mastana" my pony you were amazing and riding with you was an thrilling experience I can hardly forget.
Date 30th Jan 2019
Last day in Srinagar!! And to our fate we woke up with drizzling snow fall and it made our day. One of the best moments of our life which we can never forget. People say Kashmir is Paradise and Dreams do come true.