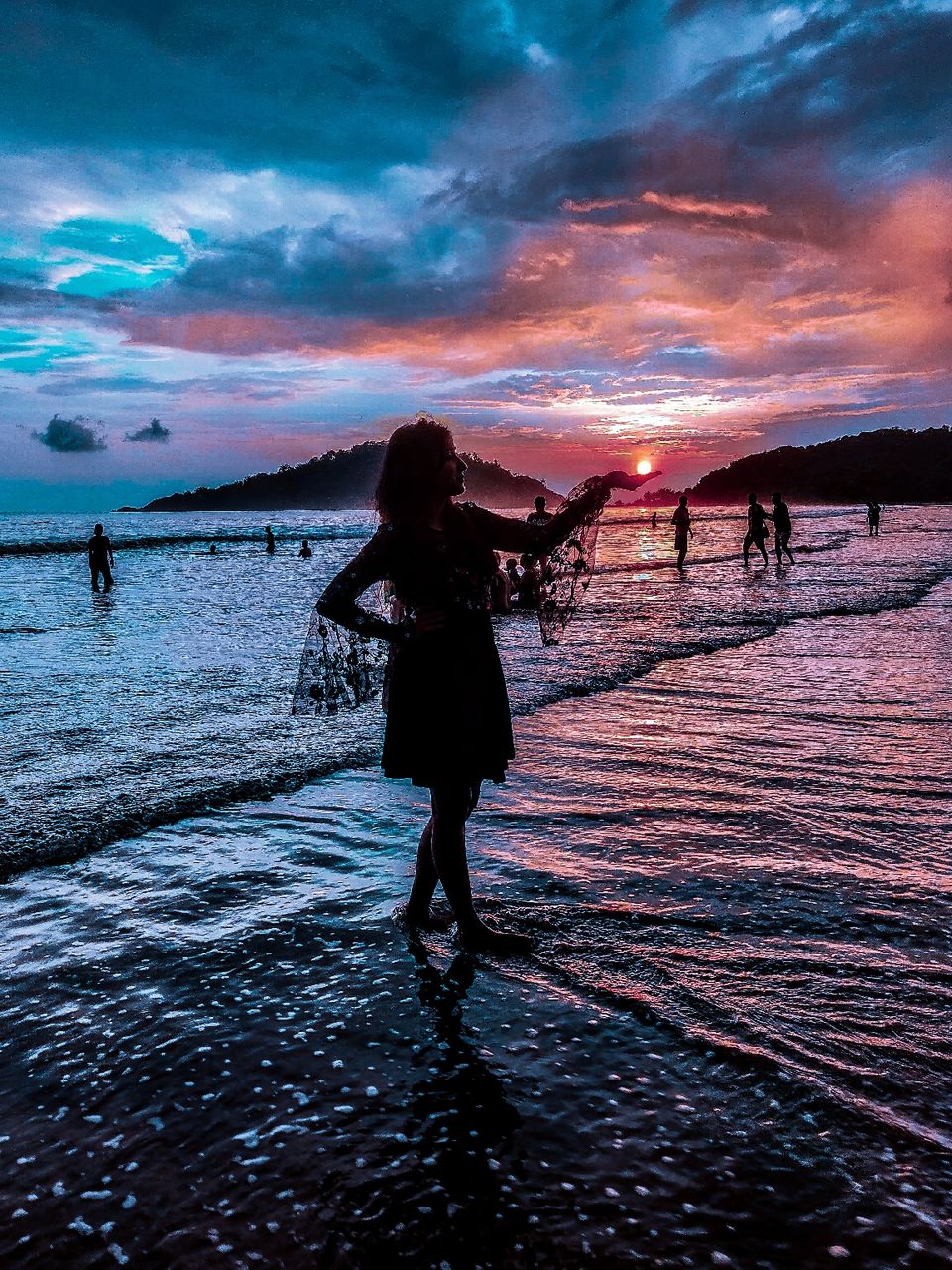 Hola everyone!
I just came back from a very refreshing tropical trip(Trip to the " Party capital") and would love to share my experience and encounters…
Now Tell me honestly, what does your mind anticipates when you think of GOA?
Beaches?
Parties?
Beer?
Oh, yes! I know your mind just pondered of these and you already started fantasizing yourself partying hard somewhere in the beach of the sea.
But trust me there are a hell lot of other things if you wish to explore beyond beaches and parties in Goa. read more to know… by the way I write some awesome and interesting Travel content. click to read https://wanderuffles.com/2018/09/love-vizag-lets-explore-city-of-destiny/
Goa, located in the western ghats and being the smallest state in India attracts a chunk of tourists(Indians as well as foreigners)every year especially in the post-monsoon seasons(November -February) to have the time of their life.
The capital of Goa is Panjim or Panaji and the largest city is Vasco de Gama where locals are known to speak a regional language- Konkani.
Interestingly- Goa is affectionately called the "Rome of East" or "Pearl of the Orient" by the international peeps and we call it "Tourists paradise" or "Party capital".
But do you know what makes the state distinctive?
Let me breathe in the fresh breeze!
The Portuguese influence in the city?…
It all started when the Portuguese established their community in Goa in 1510 bringing D'Souzas(Christianity) and European culture with them. But they left Goa, post independent, in late 1960's giving Goa its freedom while leaving their influence behind.
Did you know?-Goa was ruled by the Portuguese one upon a time?
The Portuguese ushered in introducing the cashews, Tomatoes, and pineapples to the Goan cuisine. Left behind their hippy and Boho culture in terms of Fashion, which later the locals and also the tourists found it comfortable enough to opt it.
Video Player
00:00
01:07
Also if you catch sight of the ancient Churches in Goa, you will distinguish that the architecture belongs to southern Europe.
Wouldn't you be looking around some respective means to reach the Party capital now? Let's go…
By Flight-you can land Dabolim Airport (Goa, which is 26 km from Panaji) directly from any major city such as Delhi, Hyderabad, Banglore, Pune, Kolkata, Indore, and Mumbai. It is a domestic as well as an international aerodrome with 2 terminals. Check out the cheapest airfare here http://flights.makemytrip.com/makemytrip/search/O/O/E/1/0/0/S/V0/HYD_GOI_26-11-2018?lang=en
By Train-You can easily make it to Goa via railways which will definitely make your journey more enjoyable if you are traveling with your loved ones. Railways are easily linked from major cities to Margoan and Vasco da Gama(the main railway stations of Goa).
By Road-wanderers just like me can travel via road through Karnataka state board transport corporation andMaharashtra state board transport corporation from neighboring cities like Pune, Banglore, and Mumbai.
So we the gang of 6 backpacking girls(Hena, Jyoti, Mridula, Vijju, Shweta and me) with all the zest and fire inside us, thinking of rocking the most buzzing capital of India turned out to be not so fruitful for us.
Beautiful Arabian sea!
We made to Goa via bus at the night.
A Tip?-always take the night journey so you can relax and keep yourself up for the next day until you have gossip friends just like mine.
September-Trip to the" Party capital"(Goa) calling you? Is it a Good time?
Before I opened my eyes in the morning, I partially remember the conductor calling out Margaon! Margaon!. we quickly got off the bus and I realized a sudden rise in temperature and humid which made us itchy and sweaty.
We enquired about the bus to Siolim as we did the hotel booking at the Humble Bee resort in Siolim(far flung from the city).
The distance between Margaon to Siolim is 53 km.
And when I specify this distance, I want you guys to pay us sympathy to cover this freaking long distance(2.5 hours) by changing 3 buses and one auto(no direct bus) while dying out of that tropical hotness.
At last, we reached our destination and we outstripped our smiles and contentment over exhaustion and fatigue.
HUMBLEBEE resort is a pet-friendly apartment based community with A, B, C and so on blocks in it.
The resort seemed beautiful with the palm trees here and there and a big swimming pool just increased our expectations where we girls who withered with the scorching heat and humid already decided our chances to get captured inside the pool and how(pose).
We being tired flocks, gushed into our rooms to find out one shared kitchen, two bedrooms with AC accommodation.we quickly got freshen up and decided where to head.
Humblebee -a good resort to stay. Is it?
Humblebee Resort.
But it was a bolt out of the blue when we found that there are no beaches and sightseeing nearby except Morjim beach which is 8/9 km from our stay as it was a remote area. (hotel booking was an impromptu plan where none of us researched well).
Before we could realize what to do next, an air of melancholy surrounded us just because of our failure of vigilance and lack of research about our stay.
And also the sun was all day out on monitoring us.
We understood that we gonna waste our three-day trip staying here because the main beaches of Goa(Baga, Palolem, Calangute) were quite far from this place and none of us had an experienced driving license (and cabs could loot us).
So we like a whirlwind, started penetrating ourselves into our phones to find some resorts or hotels near the main and happening part of the Goa.
We might have made 50+ calls to resorts and hotels of north Goa and found out that those were opened could make a hole in our pockets and some will open after mid-October(because September is an off-season) until our last call converted our gloomy faces into happy faces.
By the way, was my phone on Roaming? I am afraid it was.
We were dying of hunger but then, doorbell ringed! I opened to see our food arrived. we gulped some of the Tandoori chicken and other stuff and rested for a while.
Oh! Did I tell you there is no restaurant in the resort but you have food delivering at your rooms?
By 4 pm we thought of getting into the pool so we can pretend that we did something on Day 1.
But I think it wasn't our day because as we went and sat aside the pool with our legs half damped into the water, a guard came from nowhere and asked our ID card.
"We submitted to the Auntie who came to drop our luggage as she asked for it"-we answered.
He said you need special permission to get into the pool with the proper costume and also asked us not to sink our legs as such.
Morning? or Night? or Dreamy?
One of my friends got into argument with him saying this wasn't intimidated to us nor mentioned in terms and conditions and how are we supposed to give our Id cards when it is already taken?
Then we somehow got our minds back and decided not to waste our time plus energy and head to Morjim beach. we booked a cab for 400 rs to drop us atMorjim beach.
Morjim beach is one of the beaches which is clean as a whistle and its sand is whiter than white. It is quite a peaceful and tranquil beach which possess of exquisite and stunning sunset.
If you ever visit this abandoned beach, do not ever miss out the turtles nesting there.
Coming back! As we started the ride, it bloody rained. we reached the beach, we ordered Maggie and sipped some tea from the stalls near the beach. It was raining quite heavily.
Let me tell you guys that I and Rain are the worst combinations ever so I decided to stay in the car. So are you my twin?
They (except me) decided to pitch into the beach and get drenched which I thought was a very very bad idea.
But what happened next is hard to believe at least for me…My best friend(Hena) dragged me and said do you think I'll let you be here alone?
Ever got drenched blindfolded on the beach?
I smiled at her, held her hand and ran in the rain towards the eternal sea where all I could only feel my inner soul filled with ecstasy who wanted to splash on the wet sand flapping her skirt in the air.
<3
The sun was setting and rain was pouring, trust me guys the feeling was out of the world with no regrets of being drenched and crab stings.
Moment to remember!!!
The moment was so magnificent that could replace all the materialistic pleasures of life.
Then we headed back to our hotel as the sun was fading out. We bought some snacks and drinks for the night from the Kirana shop in the resort.
Ten we quickly packed our scattered belongings because the next morning we were heading to Blue corner resort in Benaulim, Goa, did some gossip and went to sleep.
Next morning, we woke up to birds chirping and winds humming. we quickly overlooked our luggage and started our journey for the next resort in Benaulim(55km) with the same cab driver as we had a talk with him in 1600 the last evening.
We were just hoping that the day holds good surprises for us so that we could cherish it until our next trip.
For good 2 hours, we tuned ourselves to loud music in the car and lots of hilarious acts by myself and other fives. It was fun!
But before I take you people to the good part with me, shall we be noting on some tips? ( that I learned in Day 1).
TIP 1-Do a minimal research of the city or the place you are going to travel or stay.
TIP 2-Never compromise on your stay for the sake of money until its too urgent.
For instance-The stay at Humblebee resort,siolim was nice and pleasant but the fact it is too affordable also should make you think twice . 300 rs each with a swimming pool for 3 days was enough to make us extremely joyous and carefree at the same time. But we never scrutinized about the area and the sightseeings nearby.
TIP 3– Carry your Driving license as you do not wish to get caught by the police here. right?
TIP 4– I would strongly recommend this resort if you have a stay for more than 10 to 15 days because this area is more off beaten track and remote. But for the travellers like us, who are here and will be in Goa for good 3-5 days, DO NOT ever book resorts or hotel far flung from the city as that will be wastage of time and money.
Now the best part of the Trip? Bring it on!
"Did we reach?"-asked the curious me when that ambient and tranquil sound of the sea started echoing in my ears.
Me- Is this angle fine? Hena- Ya. Me-ok, then click!
Me-is this angle fine? Hena- Ya. Me-ok, then click!
yes!!-all.
Two of their service staffs came to help us escort with our luggage to our rooms.
Then As we entered the resort…
O.M.G !!-we all said unitedly. The view just blew our mind and we were all tickled pink of happiness. The sea was just 5 meters away from us.
And our rooms?
Please tell me it was a picture perfect artwork without a flaw!
Oh, God…It can not be better than this…Blue corner resort in Benaulim is a Beachfront Resort which proves correct for a perfect hideaway from all.
So mesmerizing..right?
The tiny huts made up of bamboo and woods will definitely make you feel best of both words. The resort provides all the basic amenities including wifi, restaurant and room services.
We were high as a kite (excited), and could not wait to make the most out of the view but deprived of food by then.
Close your eyes, cannot close the door of the washroom? It doesn't have one? WHAAATTT?
Hold on! Let me get some Tan.
So we quickly got freshen up and were amused to find out tiny washrooms having no door or a hinge. Nevertheless, we got groomed and head to the restaurant to stuff stomachs with lot and lots of food.
Interesting thing? I and Hena would always end up ordering prawns and then laugh.
While consuming prawns, we would talk about how beautiful is the sea and would say aww to cute dogs taking a dip in the sea and all other random facts about marine life which was fun!
We could also feel saltness all over our faces but I didn't want to go from here. Life was good then and there.
After inhaling some fresh air and blissfulness around, a feeling of contentment aroused in me that could last all day long.
Meanwhile, Jyoti, Mridula and Vijju went to inquire about the sightseeings nearby after having their morning meal.
We took some really cool pictures after the meal session to bomb our social handles. And trust me!those toy sized huts looked so fascinating in the real world than in the pictures.
Me in Sea or Sea in Me?
Later, they people came and announced about the program for the following day which included The Cape Goa, Cabo de ram fort, Palolem beach, and the Market. It was going to be super fun!
We booked a cab for 2500 which came with the most talkative driver ever as a complimentary. HAHA. But as we reached The Cape Goa(Cabo de ram beach), all went into low of spirits as it was blazing hot plus the intense humidity made our blues.
Finally a treat for us in Goa( Trip to the" Party capital")?
The cape Goa is a resort in paradise located in Canacona of South Goa.
The view is jaw-dropping when you spot the sea from the above which descends from the land or the plateau and that's what I think is the most unusual thing about this place.
Celestial Horizons is what, did we see?
This must be a painting worth lakhs…
Also, the view boasts of sea, land, and sky meeting up in the most beautiful way it could, along with private and exotic resorts. The resorts are located on the cliffs and the viewer gets the perfect eyeshot of the panorama.
This resort is quintessential for those who want a perfect nest away to bask in the lap of mother nature which is unblemished and not disturbed by many. Having said that this resort possesses open jacuzzi, Wifi, access to the beach, open restaurant/bar, spa, and an amazingly breathtaking view.
Did you just visualize yourself in that fancy open jacuzzi with your man/woman enjoying the sunset? yes you did, right?
Then go ahead and reschedule your planner. You know what I mean.
Isn't that unique on it own?
So as you walk down the stairs, you can notice rare and unique plants and their flowers all over.
Hena was feeling nausea by then, due to the weather, so we let her breathe and inhale some air from the green Earth there.
Tip-Do carry water bottles with you.
After she got herself fixed, we headed to the Fort (Cabo de Rama fort) which is half a kilometer from the beach.
A little History about the fort shall not harm anyone. Right?
A millennium ago, Soonda rulers built the fort. The fact that the fort(named after Lord Rama) is very beautiful, battles started between Portuguese, Hindus, and Muslims to conquer it.
But finally, the Portuguese claimed the fort in 1763.
A magnificent holy church!
The gate of the fort is covered with lush green grass and thatch. There is no entry fees, so as you enter the gate, you will have to walk a few footsteps to find a whitewashed Santo Antonios magnificent church in the left.
You can stop for a few minutes to say hello to Jesus.
As you move ahead in the right you can find large rock stairs which will lead you the top of the fort. Just as you reach the top, you will find a big gun cannon.
View-Larger than life?.
Perfect!
You can locate the gorgeous Arabian sea whos wave crashing sound will reverberate in your ears and you will feel ultimate solitude for being there.
Trying to balance on Gun cannon.
All I can say is that this fort is a visual treat for everyone to watch out the nature doing wonders.
You can even spot some vultures on the trees around the fort. Also, it was drizzling then, the humidity could kill us. So we quickly made out some cool clicks and rushed into the car.
By the way, does the fort seems familiar to you?
OK, so hum with me… three… two..one.. go…
Dil chahta hai, kabhi na beetein chamkeele din..
Now? Did you remember?
The scene in this Bollywood song where three of the boys were sitting on the fort wall discussing their love life was shot here.