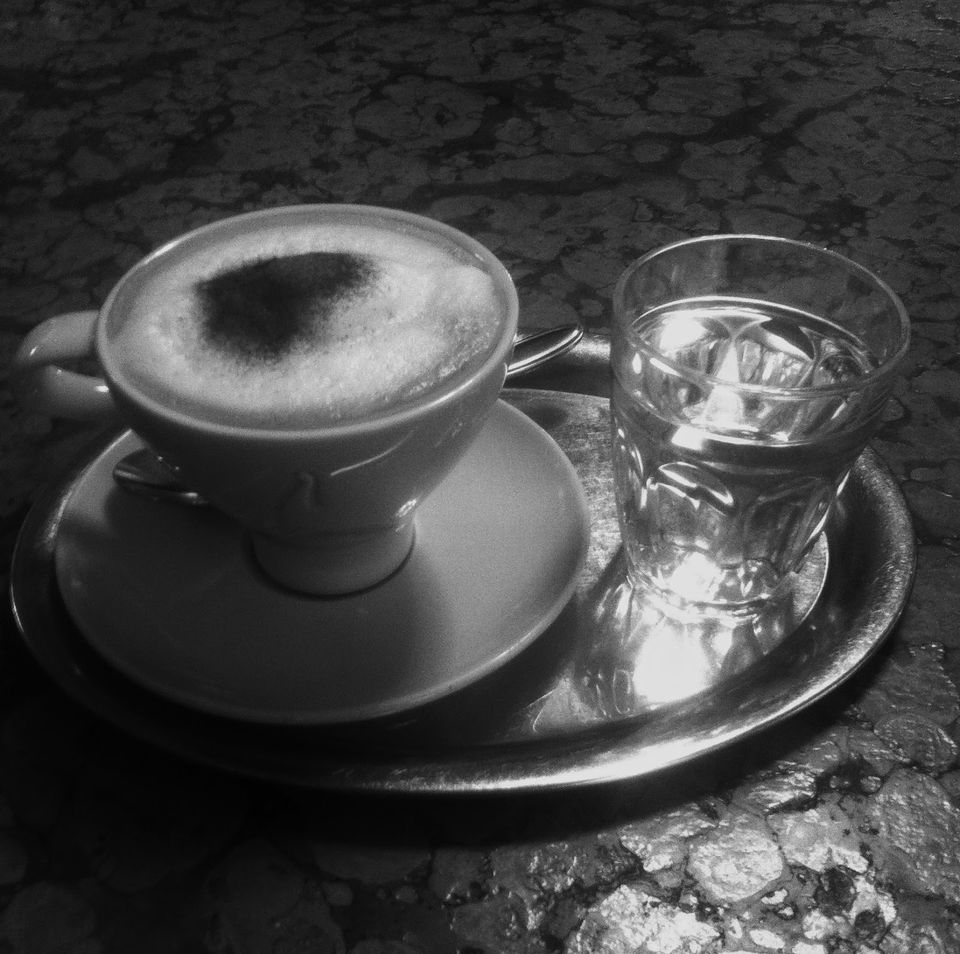 The menu read something in french. I couldn't even pronounce it properly. I was struggling through the contents of the dish written below in the italics font. I knew it was something with cheese and tomatoes and nothing non-vegetarian in it. The waiter looking at me from a desk not far was curious about my behavior as probably I was the only one looking so curious about knowing the ingredients of any dish. I asked her if she had anything in vegetarian without egg, and I knew the answer. She answered in a very expected french accent, Monsieur, you can go for a vegetable salad. So I ordered one. This is one of the ways how I have been finding out my meals to fulfill my gastro needs whenever I could see a menu during my travels. Being a traveler is all together the most beautiful experience of a person but few things have to be compromised to become one, at least for a vegetarian.
This type of events have been a part of my travels since I have left home. From the daily college canteens to the posh restaurants of London, I have been struggling with the menu every time. In college I was skeptical about the hygiene of food, as I never wanted to taste a lizard or cockroach in my food. And after college, it was mainly the Veg and non-Veg fight. During my outings in the north India, I very seldom had to struggle with choosing my order. But things changed when I first came out of the nutshell and traveled to eastern India. I knew I would face challenging situations there. I was skeptical about every restaurant. And I have been the same since then. Though this vegetarianism has kept me away from several what could be one of my memorable dining experiences, like enjoying lunch at the best lake side eatery near chilka lake in India,  I still hang on to pure vegetarianism. I was still able to satisfy my taste buds in different ways. From the roadside breakfast kiosks to pure vegetarian restaurants, I had them all. Or atleast I sat and enjoyed the places where I couldn't eat.

India was still manageable, but Indonesia was a different game. It was 4 in the morning and my hunger was at its peak. All I could find was a McDonald's outlet nearby. I somehow tried to explain my vegetarian order to the guy across the counter. "ga pake telur, ga pake ayam, tidak no-veg", and what I got in the paper bag was two pieces of buns with lettuce leaves in between. Or when I asked the pizza hut waiter for a vegetarian pizza takeaway order, I found out fish chips pizza served to me. But thank god I could guess that whatever it was, it was not vegetarian in any sense. But these experiences made me more adept in selecting out most suitable vegetarian dishes in any restaurant.  I also lived on tofu and boiled vegetables with rice for almost three to four months, though it helped me reduce my weight a lot. Things become more difficult when you come to know that your friend sitting near you is enjoying complete pleasure in having a shark for his lunch or cow soup for his dinner. Ohh!! The smell itself used to drive me mad.

All the south-east Asian countries were the same in this manner. I had to refrain from experimenting with dishes. Because if they can have a vegetarian chicken rice or beef in cheese burger, then a vegetarian man is left behind with very few options. I had to also avoid going to the local eateries as they probably used the same oil to cook everything. Though I visited all those places and selected out best possible order for me, even if it was a lemon soda, just to enjoy the ambiance of that very place. To experience, rather to a limited extent, the food habits of that geographical area. I was now confident in gliding through the hurdles of being a vegetarian traveler.

But, when I thought I had mastered the art of finding veg food for myself, I traveled to Dhaka. South east was still better in a sense that people at least didn't eat non-veg in all three meals of the day. Here in Bangladesh, people could easily enjoy mutton in the breakfast even. So I thought home cooked food will be the best option for me or pizza hut that sometimes served as a good mood changer. There I learned how to manage a common kitchen between veg and non-veg dishes. Separate utensils, separate spices etc etc. So, finally things got managed well. Except one day, when I learned to read a little bit Bangla language, I read Egg in the ingredients of the bread, which I had enjoyed daily for past three to four months. Damn!! But things happen and you learn new things. Since then, I have been very conscious about the ingredients, no matter in which language its written.

Now pure vegetarianism means, I cannot taste most of the bakery stuffs, which I would have loved to taste. From the famous bakeries in Paris to a local eatery in remote parts in India, I have missed them all. And sometimes I do regret about missing those beautiful chapters from my travel diary, but its something that I have inherited from my parents and have to religiously follow and pass it on to my coming generations. Its like a discipline to me that makes me what I am. Tests me for my will power and sacrifice. It teaches me that I can follow my passion, Travelling, without even changing myself.