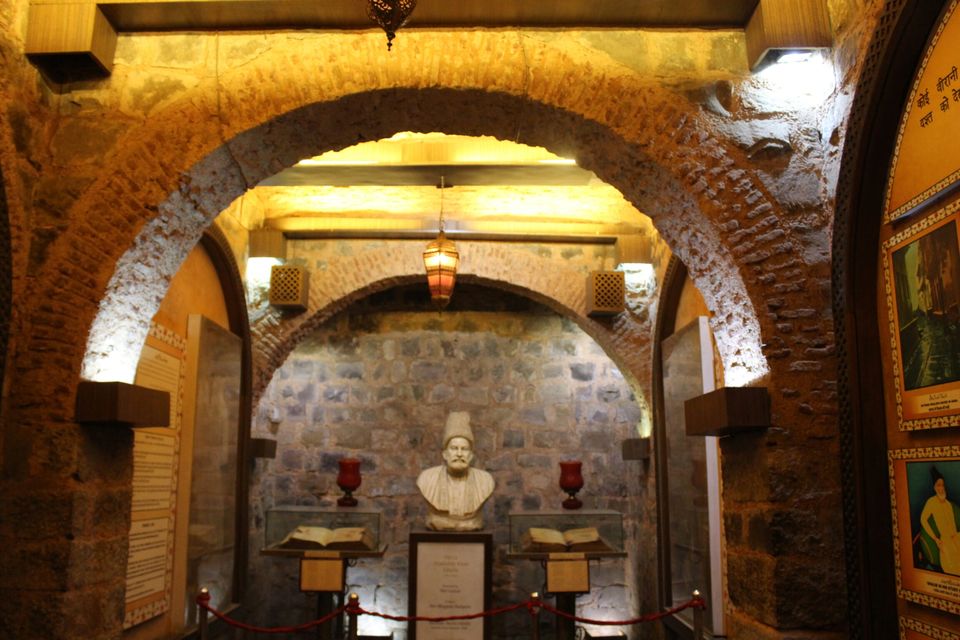 Hai aur bhi duniya mein sukhanwar bahut ache

Kehte hain ke ghalib ka hai andaaz-e-bayaan aur.
(Though many, indeed, have made their mark in the practice of poesy's art; Ghalib, they say - with his way with words - stands in a class apart!)
Who could've described Mirza Ghalib better than he himself!
I was excited for my visit to the most well-known address of Dilli:
Ghalib Ki Haveli
Gali Qasim Jan,
Ballimaran,
Chandni Chowk,
Purani Dilli.
The address was immortalised in a tribute by Gulzar, to the great poet.

As I stepped into Gali Qasim Jaan; an odd and sudden sense of nostalgia brushed off me. Though it was the first time I was visiting Mirza Ghalib ki Haveli but it felt like I've been here quite a times. Gawking at Haveli, all I could visualize was Naseeruddin Shah, who portrayed Ghalib in Mirza Ghalib teleseries directed by Gulzar.
Mirza Galib, the most celebrated Urdu and Persian poet of it's time has been my favorite since teenage days. I have been an ardent fan of Ghalib's couplets and shayari and used to maintain a journal as a teenager with all of his writings. I never knew when and how the hobby of collection of Ghalib's verses turned into a devotion. The devotion has been flourishing ever since. 
Visiting to the haveli brought back all the memories of teenage days and thus I felt an affinity and instantaneous connection. Mirza Ghalib is presumed to have spent the final days of his life here and wrote some of his finest ghazals and verses here. 
Ghalib died here in Feb 15, 1869 and the haveli turned into a coal storage place. It remained in a ruined state until Government of Delhi acquired and restored it in 1999. This 19th century haveli with domed aisles on three sides and courtyard inside was converted into Ghalib Memorial Museum by The Indian Council of Cultural Relations and the Delhi Government and opened for public on his birth anniversary on Dec 27, 2001.
Some of the belongings of Mirza Ghalib has been preserved nicely. The place endures a retro and rustic charm. Ghalib didn't own the haveli; he was a tenant; so only that portion of the haveli has been converted into a museum and the rest of the part has residences and shops. I was told that haveli was gifted to the poet by a physician (hakim), who was an ardent fan of Ghalib. 
Mirza Asadullah Baig Khan fondly known as Mirza Ghalib was famous as 'ladies man' in Mughal court. He was awarded the titles Dabir-ul-Mulk,   Najm-ud-daulah and Mirza Nosha by Bahadur Shah Zafar II. So, the inclusion of 'Mirza' to his name.
"Hui muddat ke Ghalib mar gaya par yaad aataa hai
Woh har ek baat pe kehna ke yooN hota to kia hota."
( It has been a long time since Ghalib passed away, but he is still remembered.by his saying of what if this or that had happened).
Truly, He lives on in his verses. Rest in peace, Ghalib.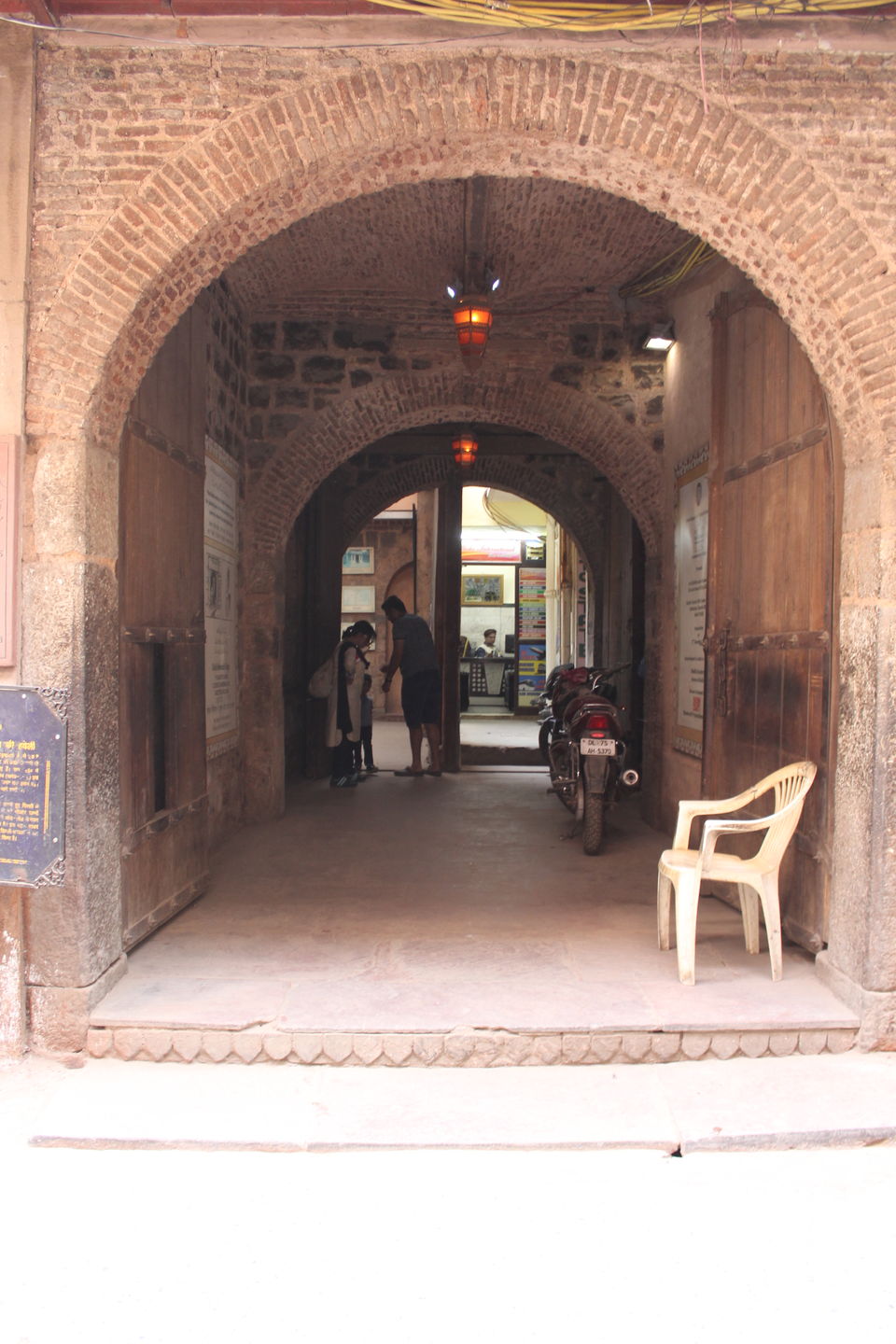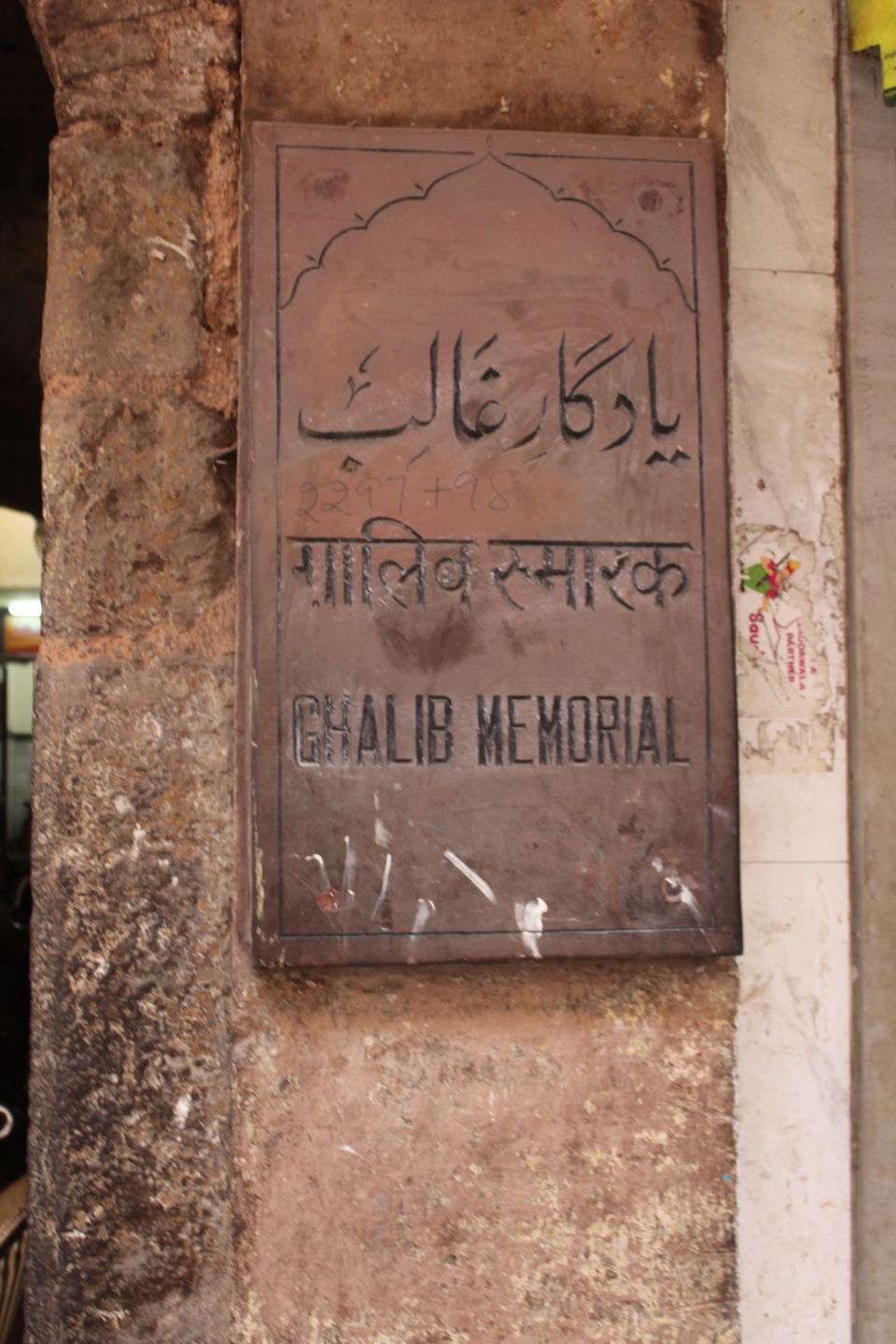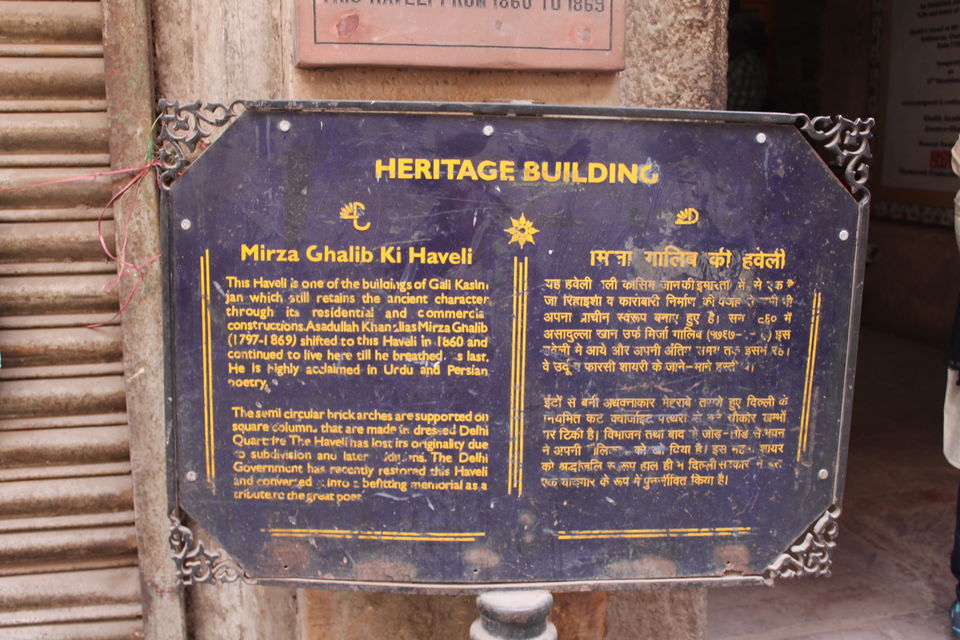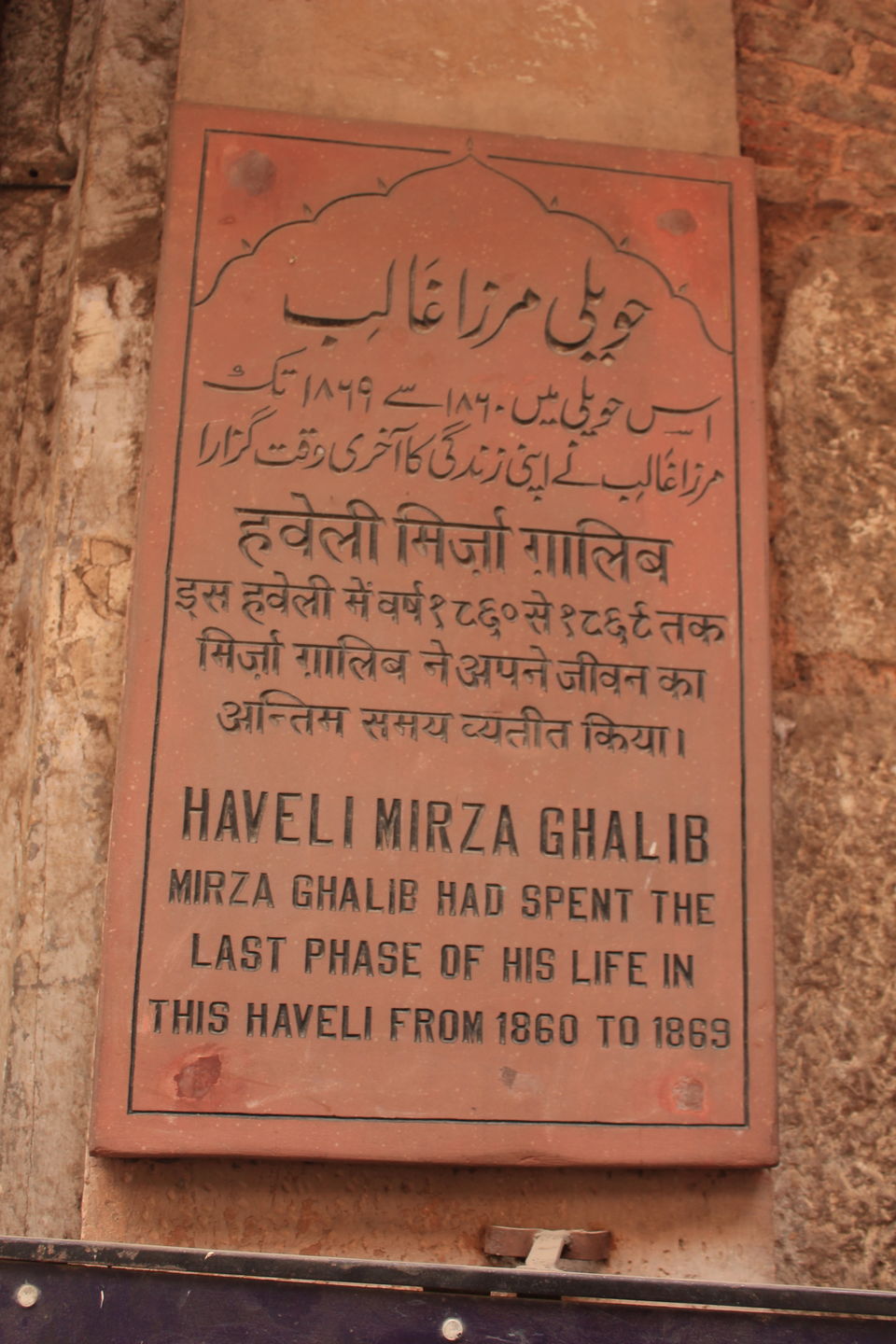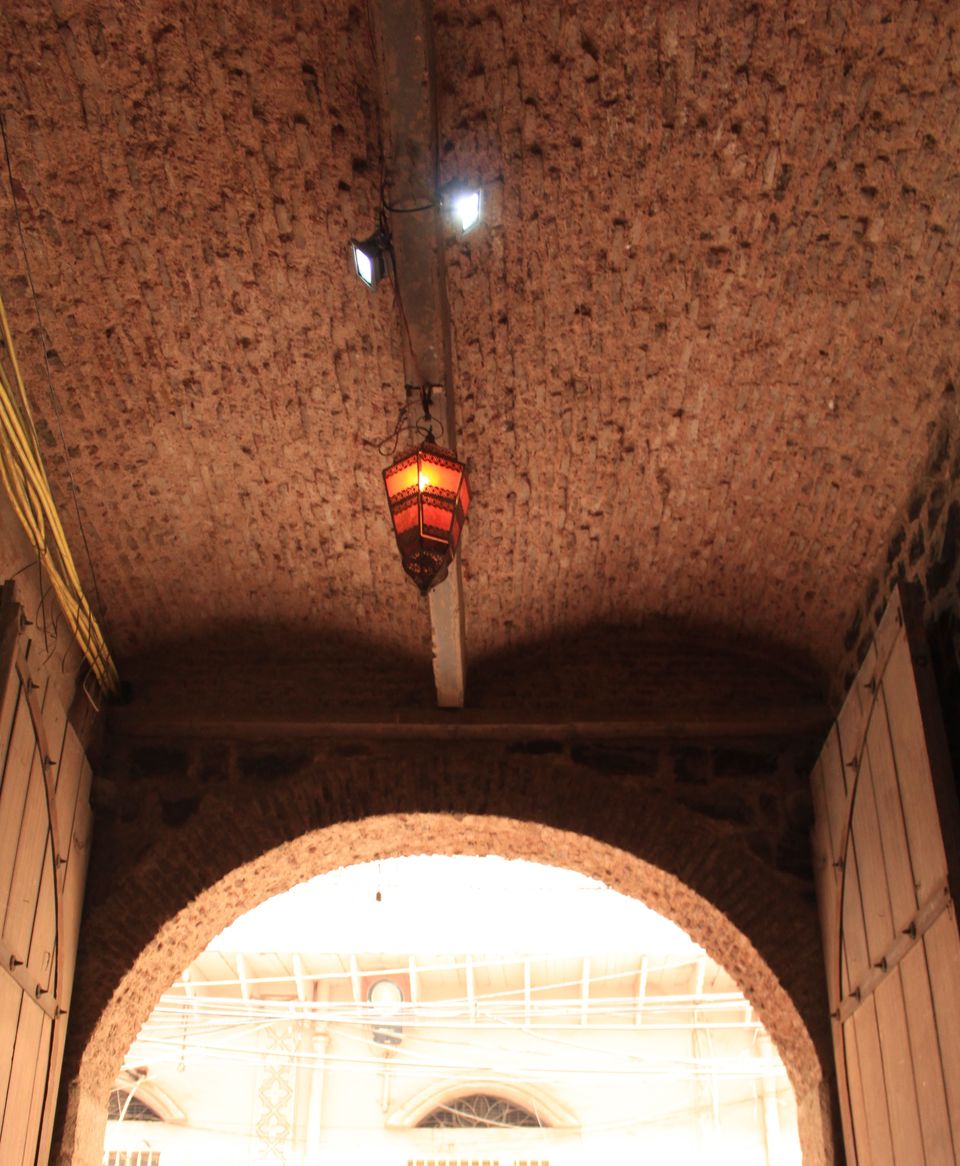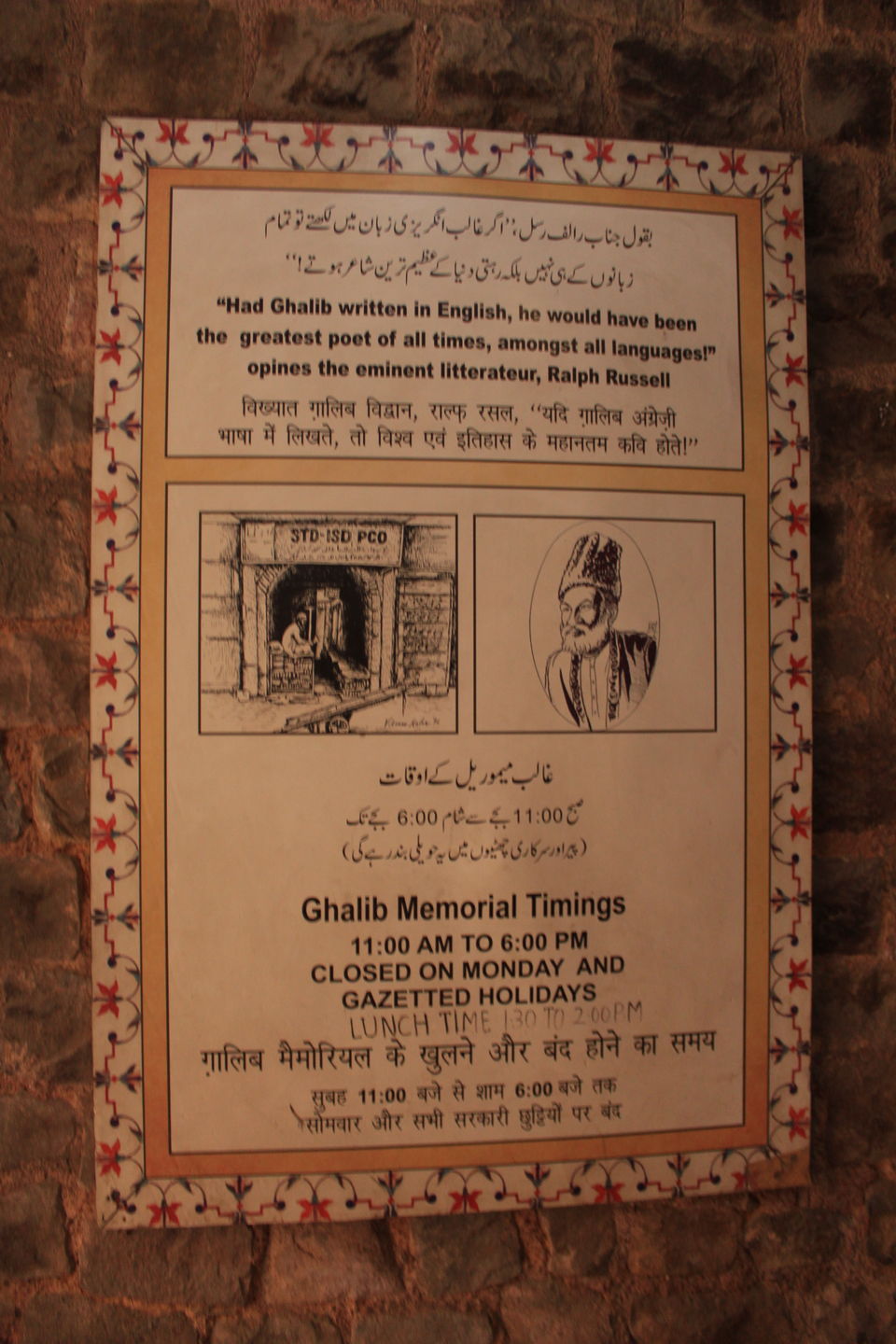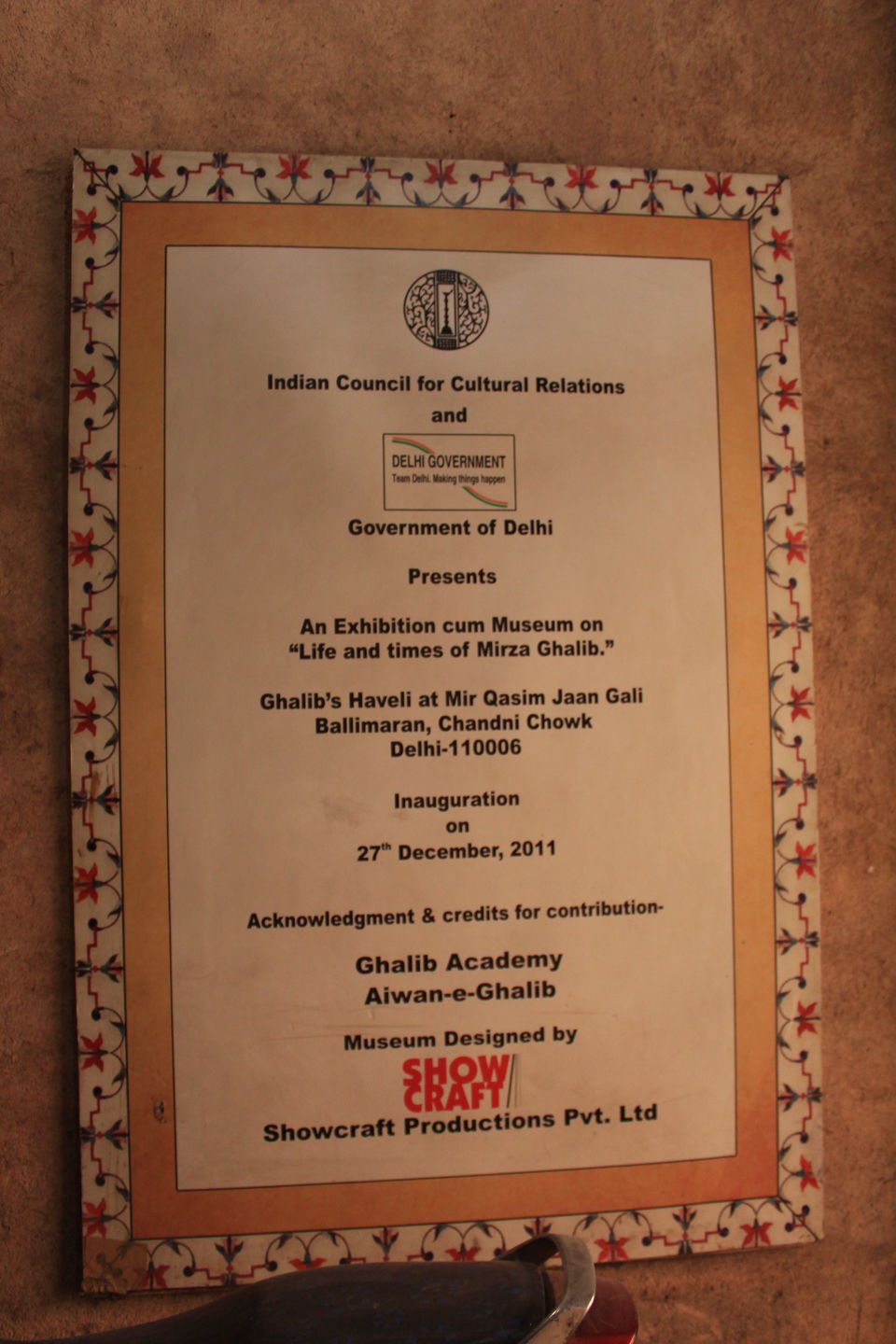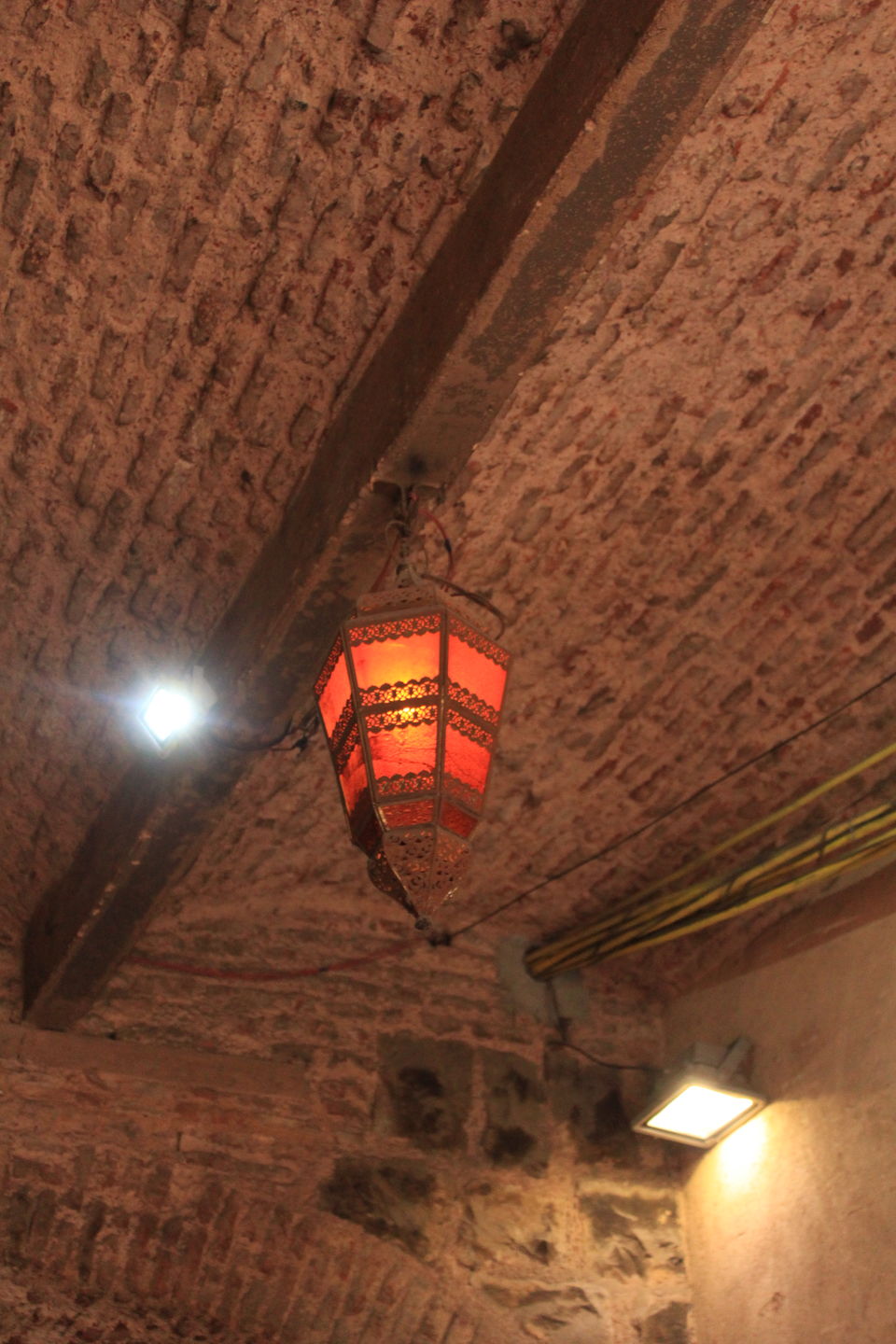 As you step inside the haveli, to your right is a room where Ghalib's statue on display along with illustrations of his manuscripts.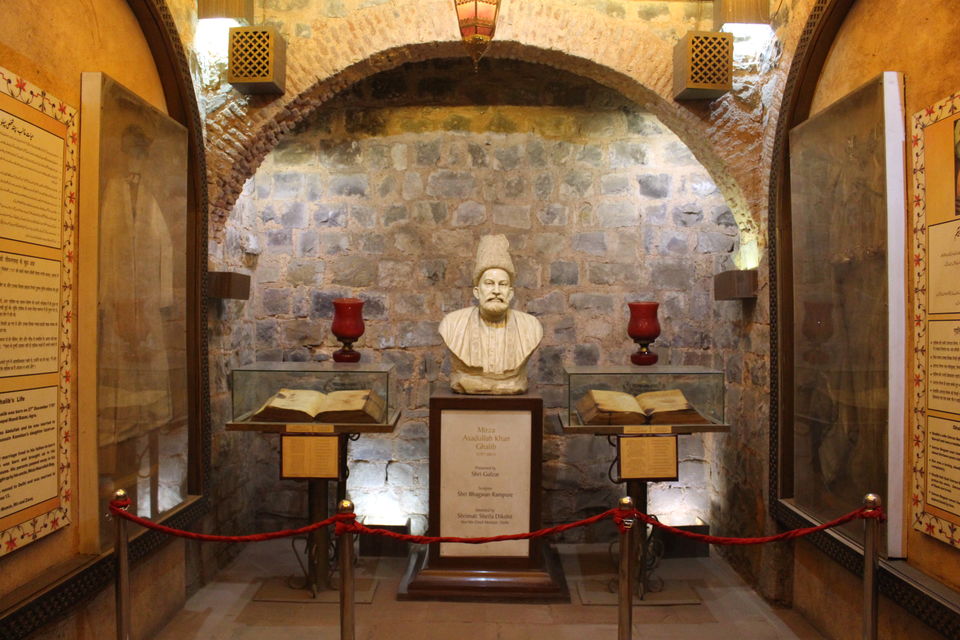 On the walls hang the traditional clothes that Ghalib and his wife wore.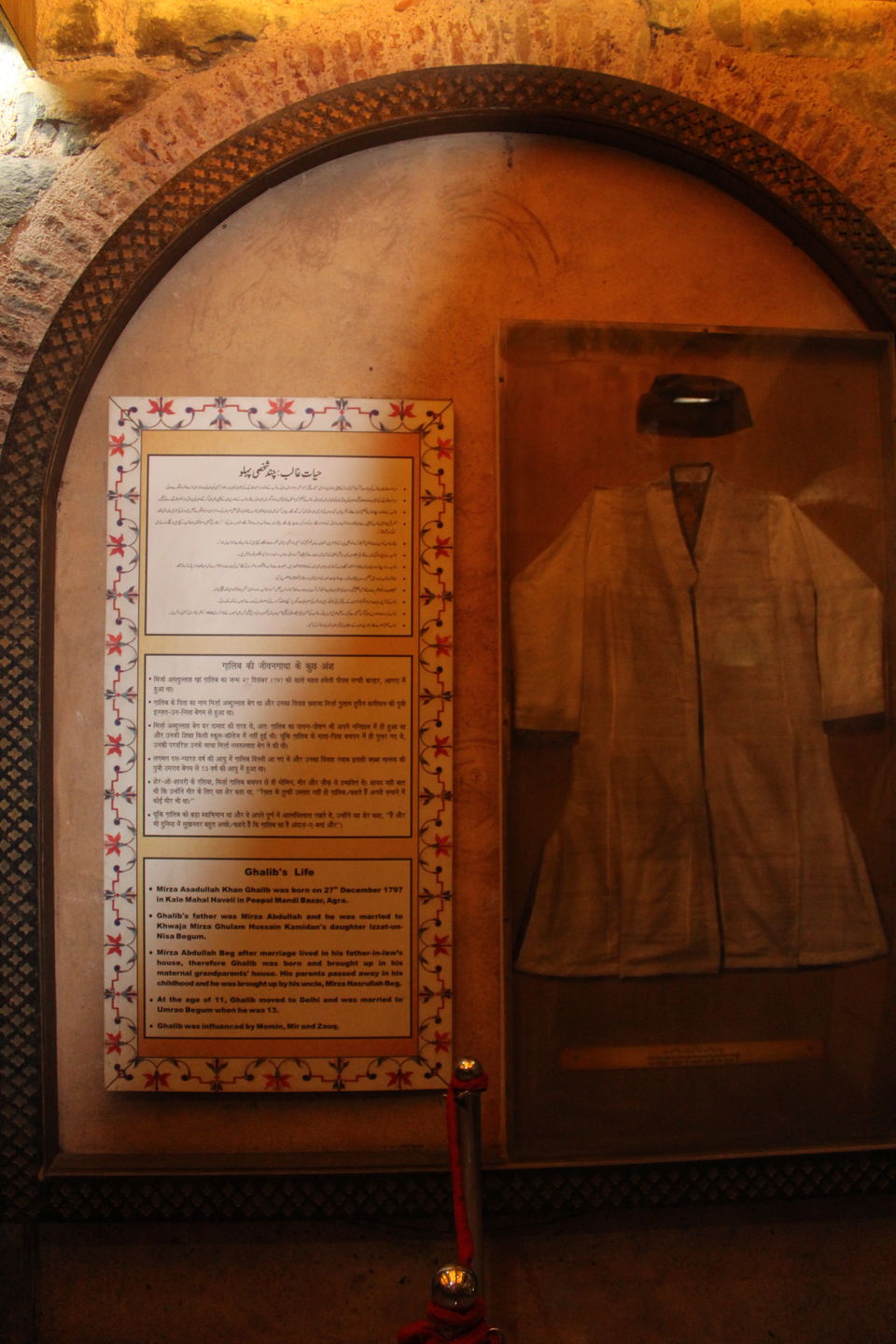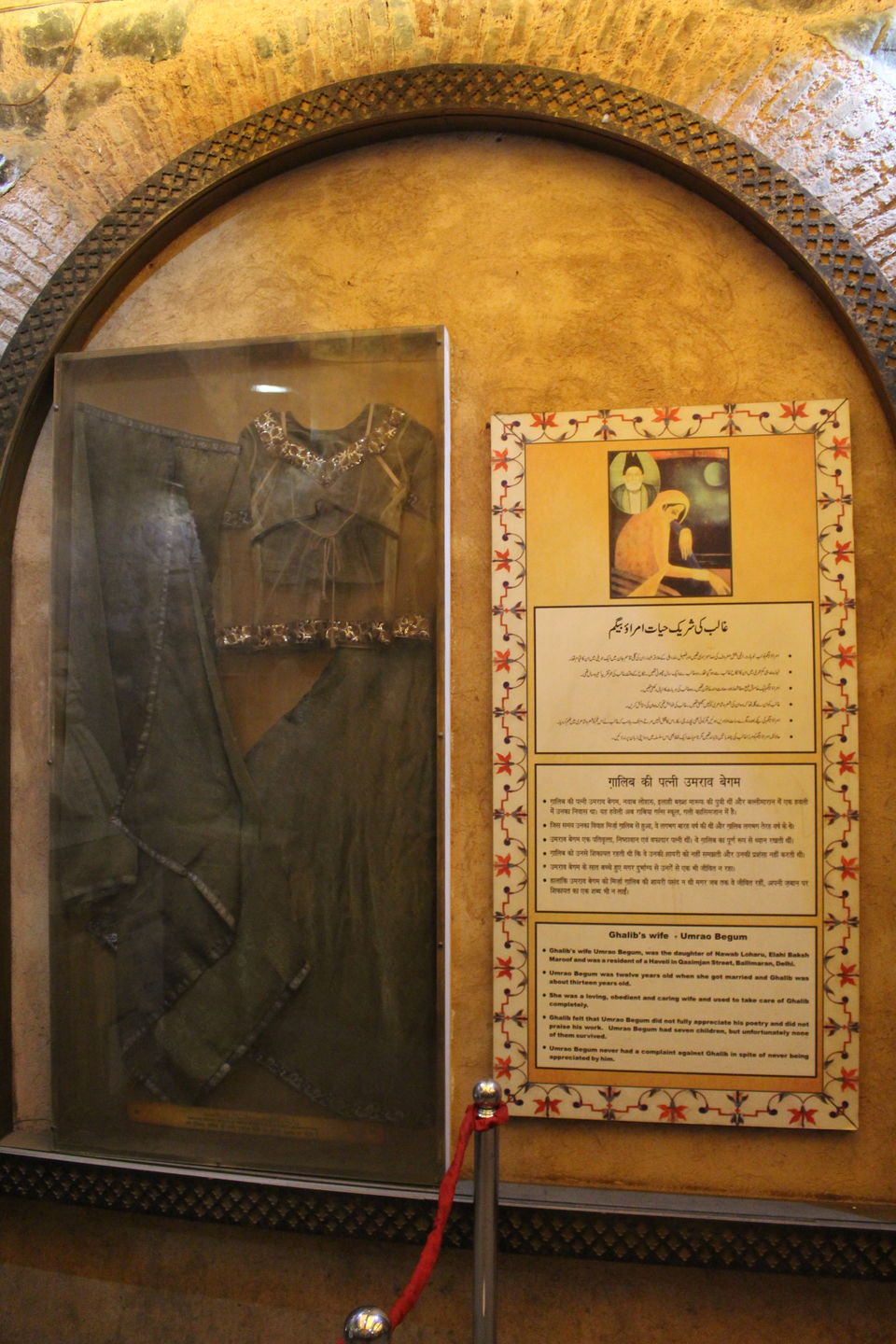 Ghalib and his wife Umrao Begum had seven children, but none survived.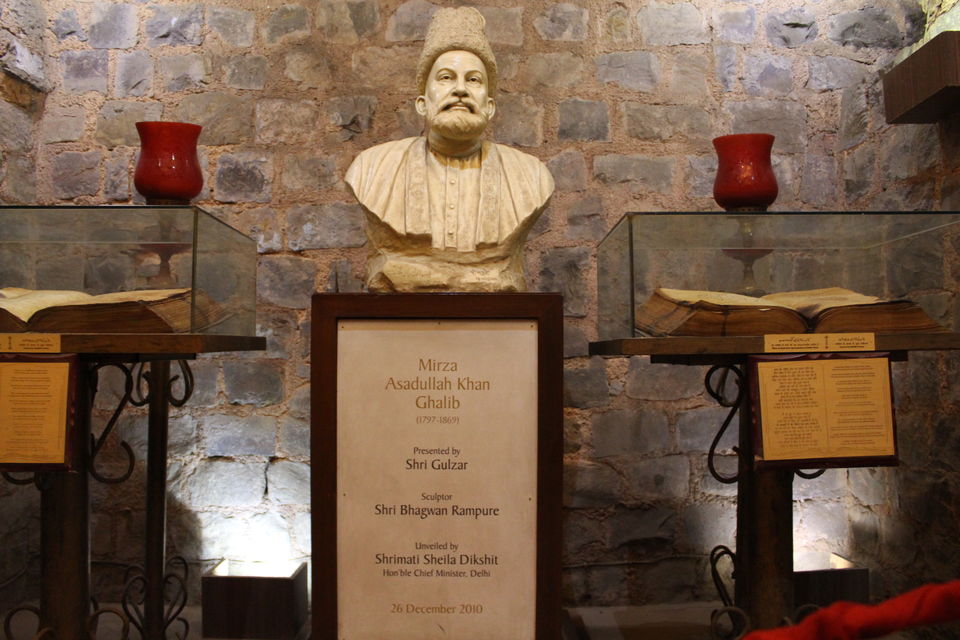 Ghalib's debt amounted to Rs 40,000 at some point and it was a huge sum of money in the 19th century.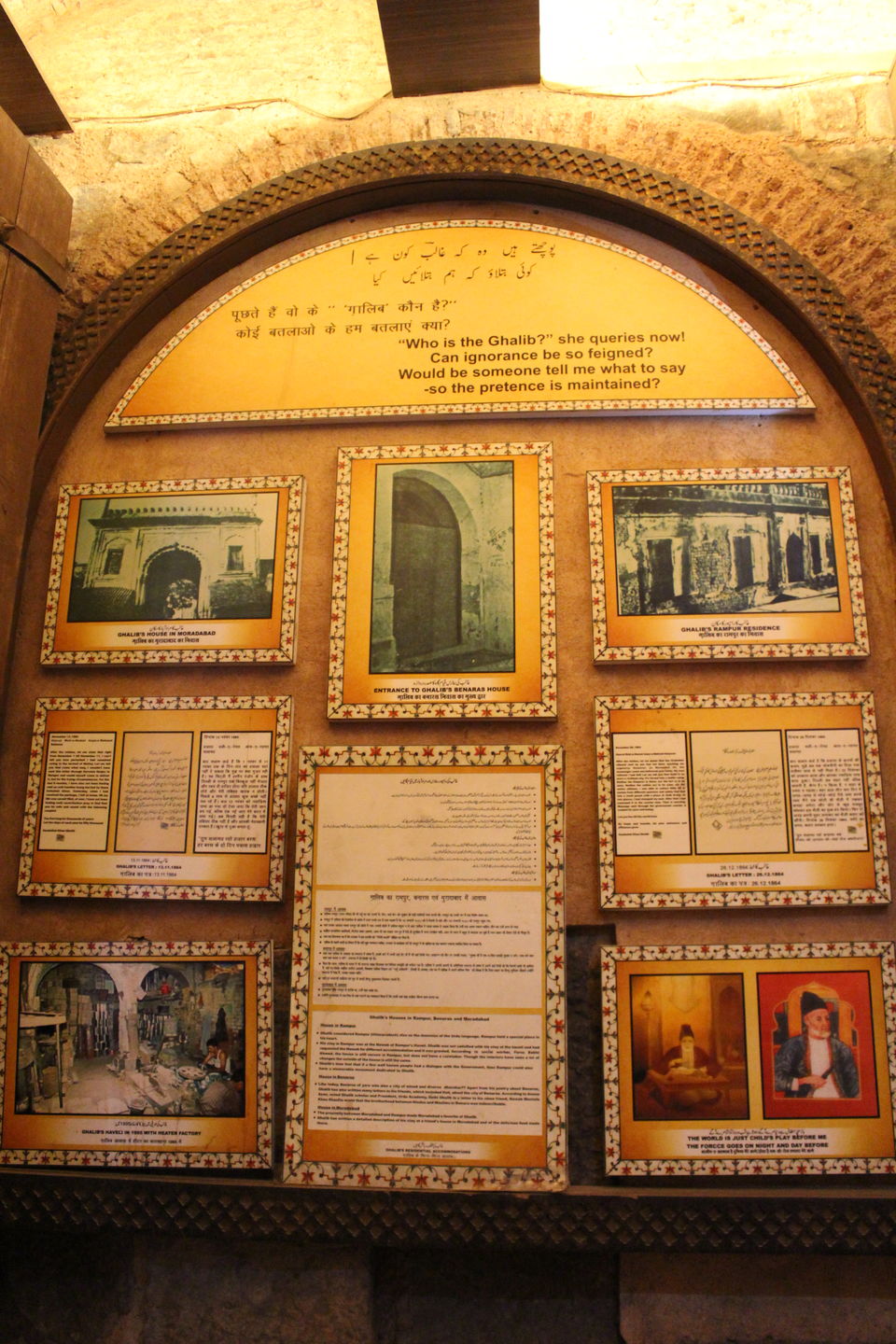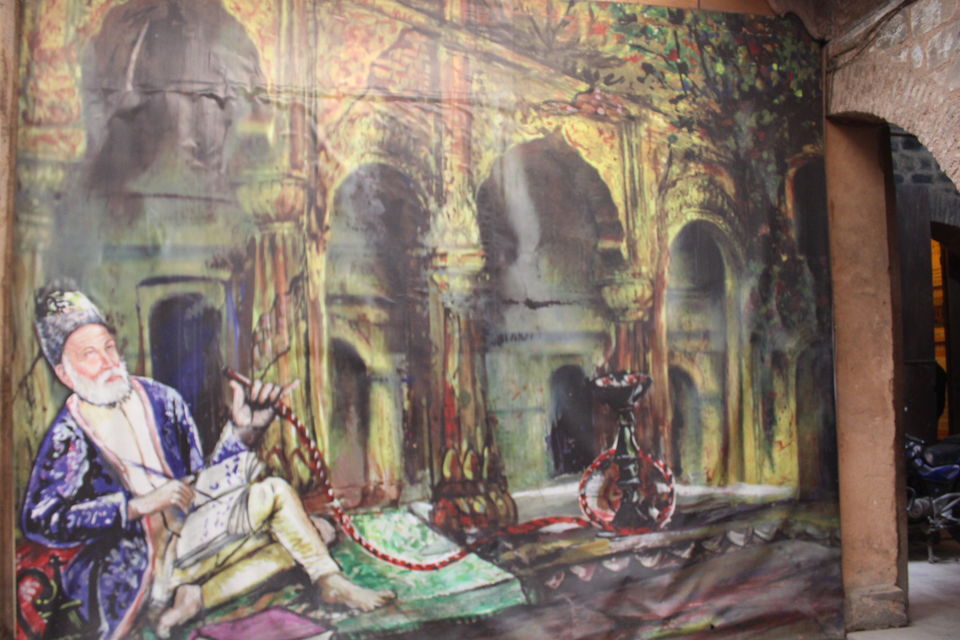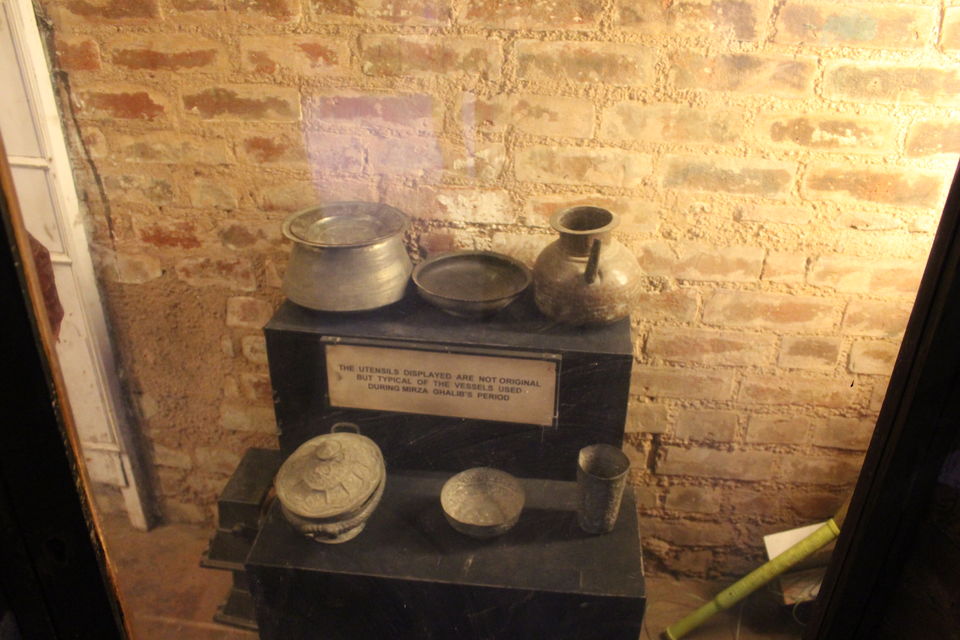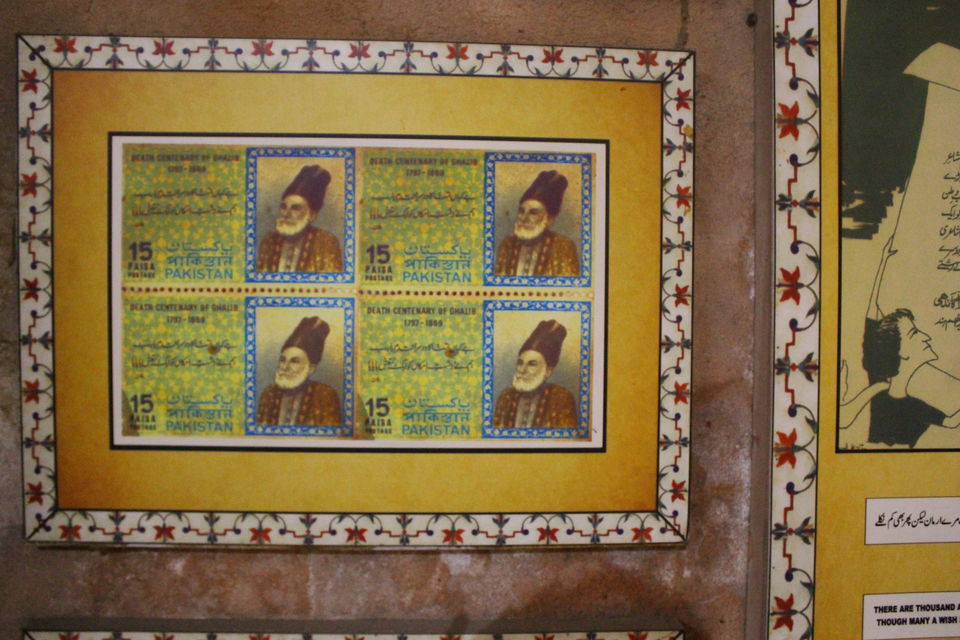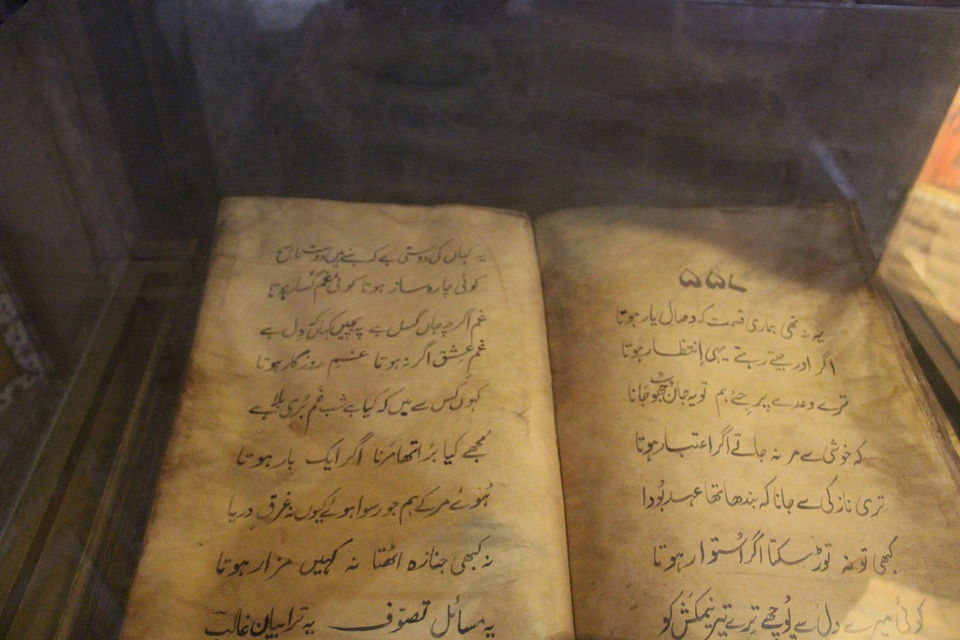 One notable feature of Ghalib's poetry is that he never disclosed the gender or identity leaving it to listener's imagination.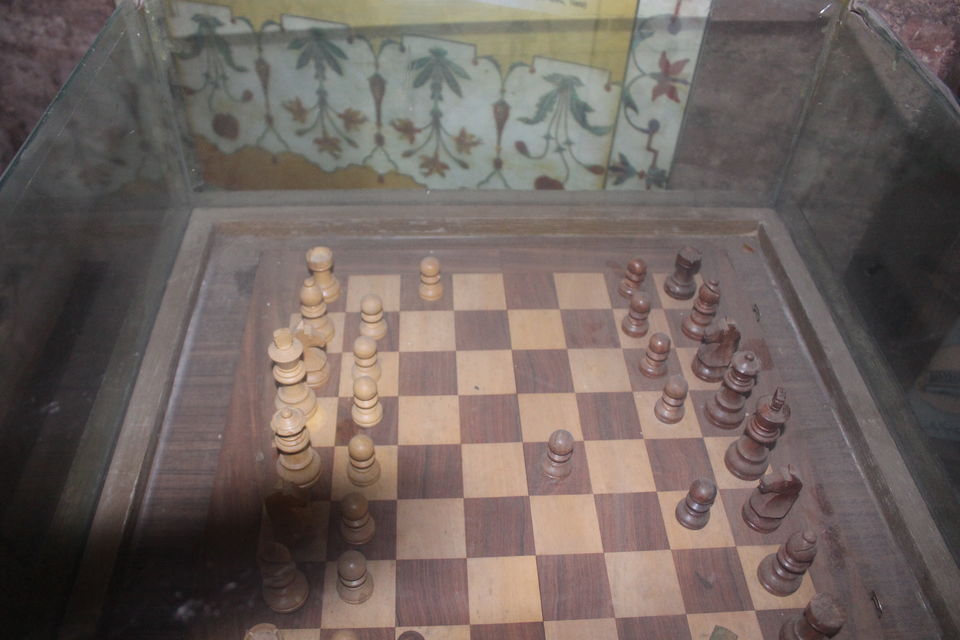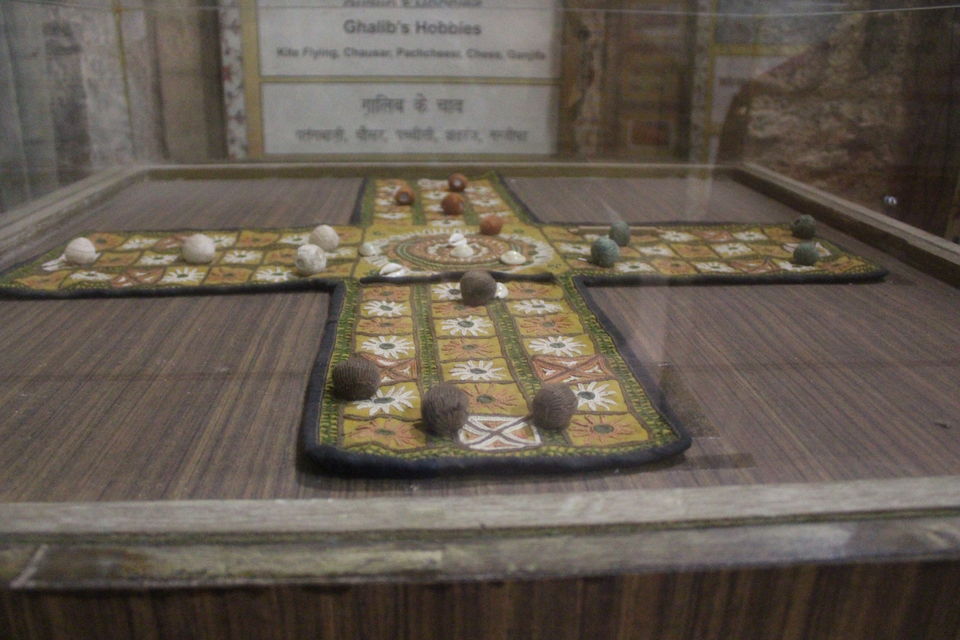 His interests as mentioned on the wall of haveli included  kite flying, playing pachcheesi - an Indian cross and circle board game, and ganjifa - a card game of Persian origin.
His favorite foods included shammi kababs, besan kadhi, sohan halwa and he ate ground almonds and mishri while taking puffs of hookah.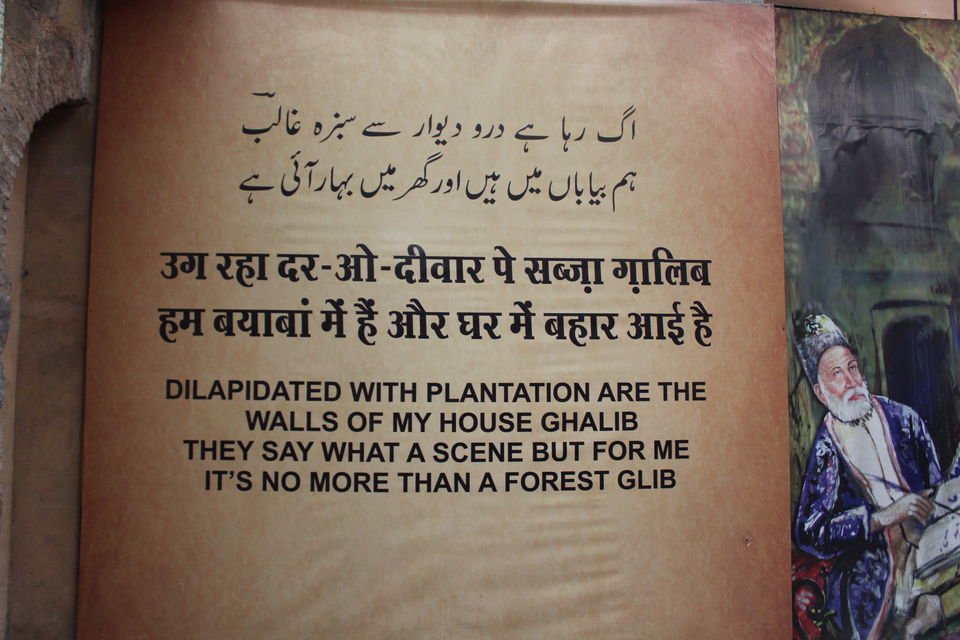 The haveli's walls are adorned with plaques which have couplets by Mirza Nosha, as Ghalib was popularly known.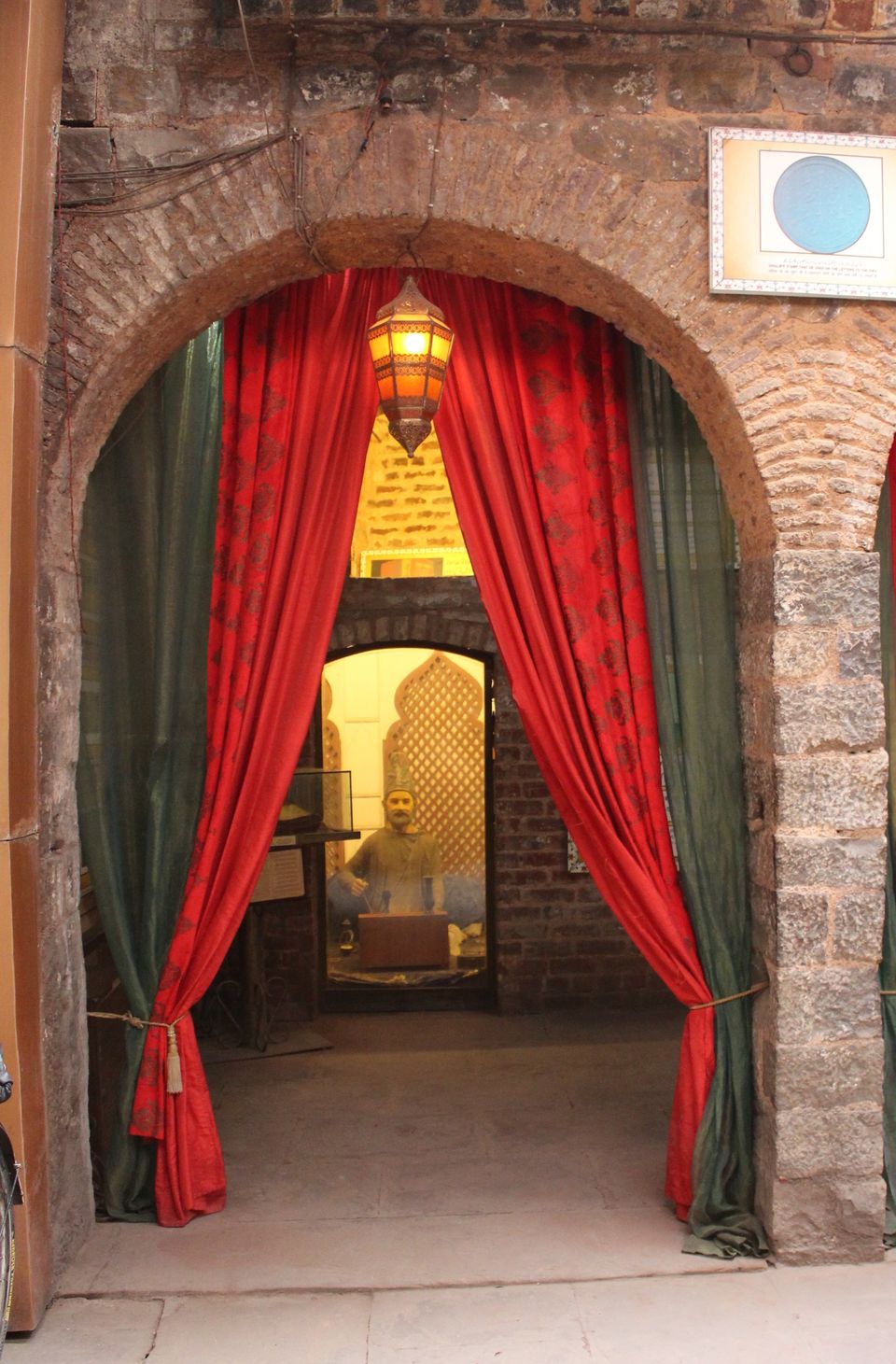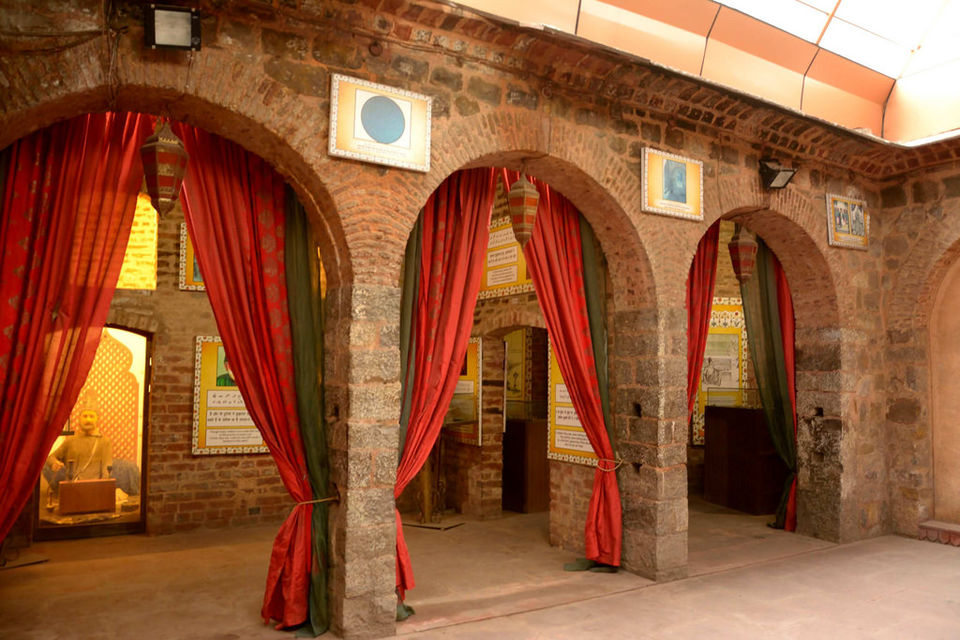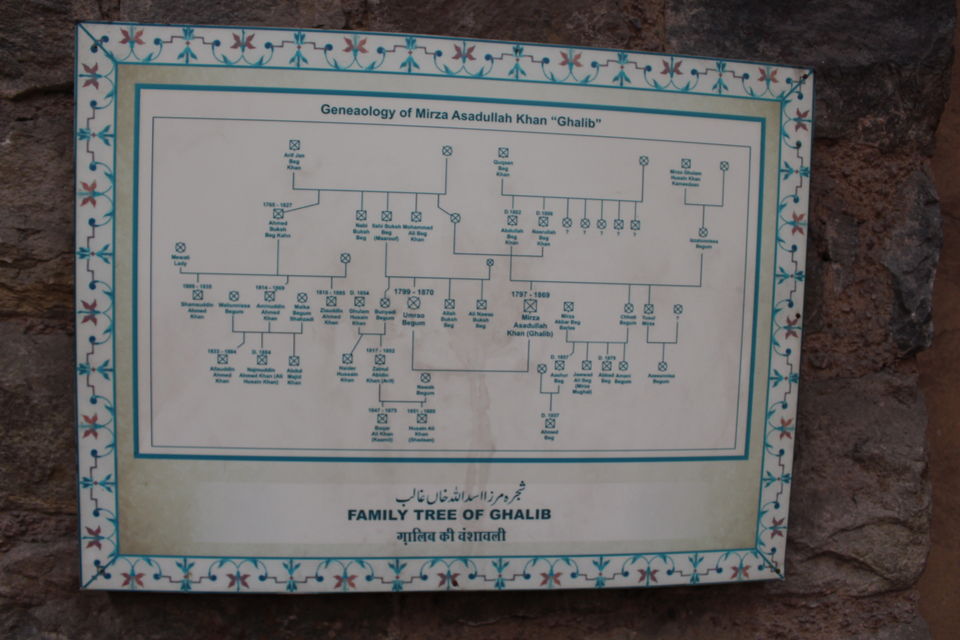 A place certainly gives an insight into the legendary poet's life and times and worth a visit even if you aren't a poetry fan because it holds history and heritage too.