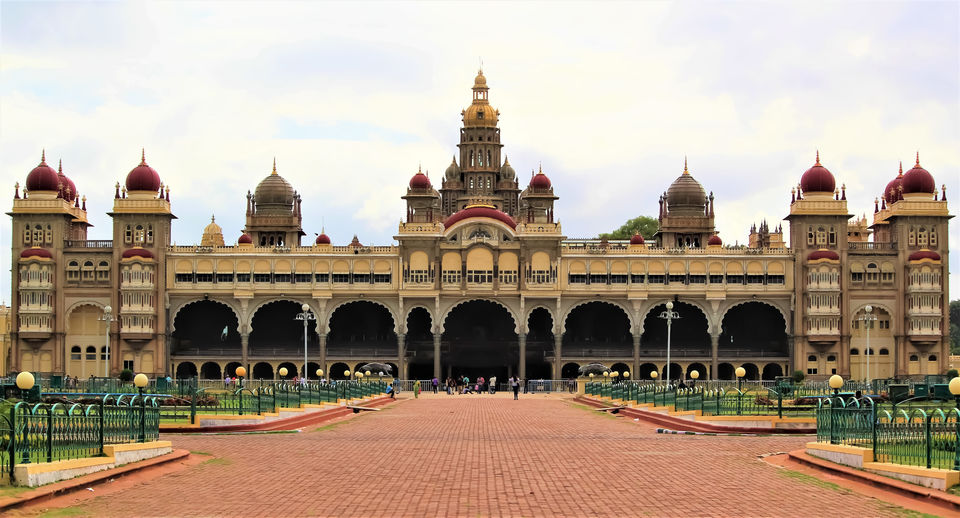 Mysore, the Southern Delight, is in the heart of Karnataka. It is around 160 kms from Bangalore which is around 4 hours journey by car. Buses are also available from Bangalore. It's also accessible by train and airways.
PLACES TO VISIT
Mysore has a number of attractions for the travellers. It took us 2 days to get the flavour of this beautiful city. We reached Mysore around 3 p.m. and so that day we were able to cover only Mysore Palace (it remains open till 5:30 p.m.).
Then we left for Srirangapatnam (20 kms from Mysore), which is famous for Dariya Daulat Bagh (Tipu Sultan's Summer Palace), Tipu Sultan's Tomb (Gumbaz) and Tipu Sultan's Fort (destroyed by the British).

After spending an hour there, we left for Brindavan Gardens. It is one of the most beautifully laid out terrace gardens in the world located in the Krishnaraja Sagar dam site. Like the Shalimar Gardens of Kashmir, it is structured in the Mughal style.
-Garden Timing: 6 am – 8 pm
-Music Fountain Show: 6:30 pm – 7:30 pm, 6:30 pm – 8:30 pm (Weekends)
Next day, on the way to the Bangalore airport we covered Channapatna & Ramnagar. Again, Ramnagar is the place where Bollywood blockbuster Sholay (1975) was shot. So Sholay's Ramgarh was actually Ramnagar. No one can forget Gabbar's epic dialogues from Sholay: "Tera kya hoga, Kaliya? Kitne Aadmi they?" Yes, those rocks and that valley is Ramnagar, a small town you will cross while travelling between Bangalore and Mysore.
THINGS TO SHOP
I'm not shopaholic, but I love to collect the souvenirs, which will connect me to the places even after years. Though Mysore is famous for sandalwood, there are much more to shop. In my opinion, the best place to shop is Cauvery Handicrafts Emporium, a unit of Karnataka Government. You may try out Mysore Silk saree, Sandalwood and Ivory show-pieces, Hand crafted wooden wall hangings, Sandalwood sticks, perfumes & soaps and Chocolates. Channapatna Toys are very famous. You can choose it to buy from Mysore or Channapatna itself.
Read more about Channapatna Toys
PLACES TO STAY
Mysore is a small city with decent hotels. We stayed at Grand Mercure, which was around 2 kms from the Mysore Palace. Though the city is well connected by auto rickshaws and cabs, it's better to stay near the palace as most of the spots, shopping arcades, restaurants would be in close proximity.
TRAVEL TIPS
1.Dussehra is the most important festival here. So, if you want to see the beautifully illuminated Mysore Palace and the grand Dussehra procession (Jumbo Savari), then the best time for travel would be during Navratri. Otherwise winter would be a better option.
2.Also while shopping do bargain before you purchase anything.
3.Try the famous Mysore Pak.
Read more about Mysore & its fascinating History: The Sandalwood City of India with a great History