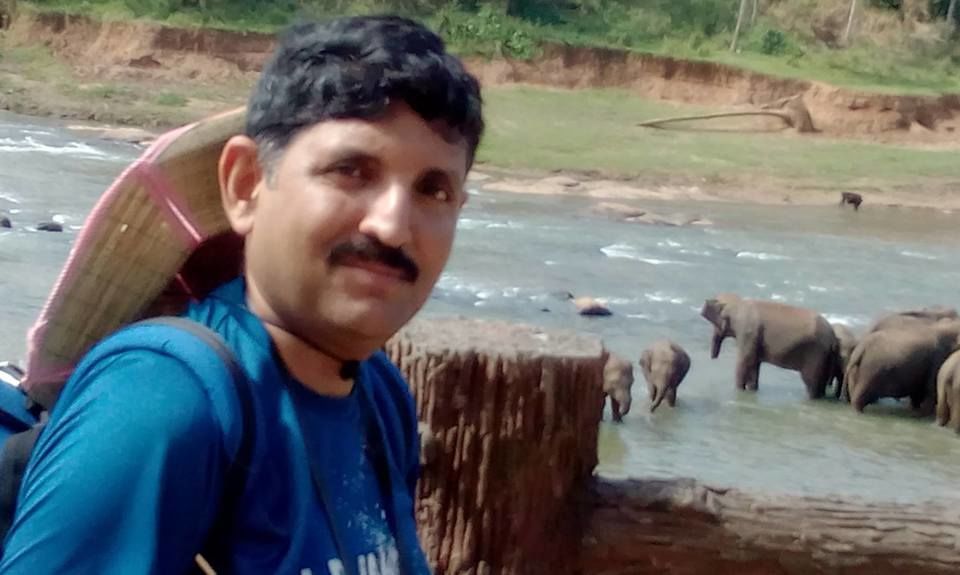 From Kolkata to Colombo.
A visit to the island nation closer to our home was long overdue.How could I not see the land which had captivated my imagination since my childhood days when The Ramayana was taught as a text in our school?It was there in my travelling bucket list but somehow or other it was not just happening.But if you sincerely wish something to happen it happens.My long cherished dream was about to be fulfilled and I was thoroughly excited, as excited as a child on the Christmas morning.
To me travelling is not just seeing places but getting to know its people and their culture.Sri lanka is a melting pot of cultures and perfectly suited to my taste bud of travelling.The seven days that I spent there is deeply etched on my memory and I can still vividly recall every single moment of my stay there.
Waiting for the departure of the Mihin Lanka flight to Colombo at the Kolkata Airport I chanced to meet a Sri lankan family returning home from a pilgrimage to different places of Buddhist interests in Nepal and India.Mr.Manjula Gunawardane was a gentleman in every respect and I cannot but recall the sweet meeting that morning.He approached me with a smile after having come to know from his son(whom I had befriended before)that I was travelling to his country solo .He seemed to be more excited than I was and after exchanging pleasantries sat down with his laptop to show me the places where I should be visiting without a miss. We exchanged our visiting cards and I found that he was a higher official of Sri lanka's telecom company,our own version of BSNL. He asked me not to hesitate to call him if I faced any difficulty or needed any kind of help in Sri lanka.Then it was time to board the plane and we parted wishing best of luck to one another.
On board I found myself seated beside another gentleman from Sri Lanka, a bald headed ,clean shaven, smug faced man who introduced himself as Mr.Fernandez ,a Catholic minority from sri Lanka travelling on business purposes.Soon we befriended each other and I came to know that he was a very big shot , a business Tycoon (you may call him) who exports coir- mattresses in 78 countries across the world and has a factory in Negombo where from he hailed.We chatted as the plane flew over blue sea underneath.He was pleasantly surprised that I was travelling 'solo' and wanted to know his people and culture.Like Mr.Gunawardane he too gave me his mobile number and offered any kind of assistance if required.He also invited me to visit his home ,if I could squeeze out time.
Srimati Bandernayaka International airport at Colombo was not as swanky as other airports that I had seen in South East Asia but was very very organised and clean.after completing immigration formalities I was wondering how to proceed to my pre- booked guest House at Negombo which would be first place of stay for me in Sri Lanka , when I once again met Mr.Fernandez and he offered to give me a lift in his Jeep Car .I did not hesitate to grab the offer.He so kind to drop me to my guest house,La Grande by the beach at Negombo.After checking in I wasted no time for the emerald green ocean dotted with so many white and orange sails were beckoning me and it was hard to resist.After watching the traditional fishing boats ( called catamarans) and watching the sun go down I was back at the guest house with tired limbs but with a rejuvenating spirit.After an early dinner it was time for some good sleep in a three star comfort.
DAY 2: Whenever I go to a sea side I make it a point that I should be on the beach before sunrise and it was no exception this time.Negombo is not the finest of beaches in Srilanka but a worth visiting one to see the activities of the fishermen who venture out to see and bring back fresh catches.I just spent some time with them before my breakfast and then set out for Dambulla,my next destination 105 Km away.Bidding adieu to nice host Ravi and Noami I started my journey with Meril ,a tri-cycle driver who was to drop me to the Bus Station before showing me some important sights of Negombo. Coming to know that I was going to Dambulla he offered me to drop there.At first I was a bit reluctant but then thought it would be an adventure and a deal was finalized.Driving through the countryside which was so green and picturesque I thanked Meril for making such an offer.I could have travelled by bus but that would not be such a fun,besides I would have missed the charm of the journey itself.We stopped for lunch on the way and had a wonderful Sinhala food at a roadside restaurant where mainly locals go.Then we had a narrow escape as a tree got uprooted and fell on a car which was barely 50 meters ahead of us!It was almost a 6 hour drive and by the time we reached Dambulla it was already dark.Finding my home-stay was bit of a challenge for I had no charge in my mobile and had not saved the contact number of the host.Meril came to my rescue and took me to the right place.Meril was supposed to go back to Negombo but decided to stay with me and continue the adventure with me the following day.For dinner I had Kattu which was cooked on a flat frying pan in front of me with a lot of clattering sound.
Day 3: It was bright sunny morning and I was woken up by the twittering of the birds.There were many tall trees around my home-stay and it was a indeed a bird lovers' paradise.Coming out into the veranda I was greeted with the sight of hundreds of parakeets and other birds of some unknown species.We were to set out for the next leg of the journey.I was getting ready to check-out when somebody knocked at the door.Opening the door I was surprised to find the hostess standing in front of me holding a plate of traditional Srilankan rice and curry.She told me that it was 'free' .She had prepared it specially for me.I was speechless.Such was the Srilankan hospitality.
We decided to proceed to Sigiriya,the lion rock fortress in Malale district,a UNESCO listed world heritage site .I had read a lot about the place and had seen the rock so many times before that when I approached the rock it seemed I had already visited the place .What was shocking though was entry fee.I had to cough up Srilankan Rs 2200.00 ( INR 1100.00 approx) which I felt was a bit too high for us to bear.The climb was an arduous one.The place was teeming with tourists and it took me 5 hours to make it to the top.Midway I saw the ancient frescoes which still retains their colour. The huge paws of a lion cut from rock are reminiscent of the great Sphinx of Giza and no less spectacular than the later.The final ascent was very stiff and challenging but once atop all my tiredness vanished.The 360 degree view from above was was absolutely stunning.The forested plains below just bathed in rain was a treat to the eyes.Atop I could see the ruins of a palace which was built more than 800 years ago by a King called Kashyapa. According to the ancient Sri Lankan chronicle the Culavamsa, this site was selected by King Kashyapa (477 – 495 CE) for his new capital. He built his palace on the top of this rock and decorated its sides with colourful frescoes. On a small plateau about halfway up the side of this rock he built a gateway in the form of an enormous lion. Probably the name of this place is derived from this structure — Sīnhāgiri, the Lion Rock.The capital and the royal palace was abandoned after the king's death. Thereafter, it was used as a Buddhist monastery until the 14th century.Legend has it that Sigiriya was the Alakamandava (City of the Gods) that was built up before 50 centuries ago by King Kubera who was the half-brother of Ravana (Ravan) as described in the Ramayanaya. Whatever the real history was there is hardly any doubt that it is an ancient wonder.I wondered how they could build such a huge palace on a rock which pops up out of nowhere in a vast plain. After spending sometime I descended .Meril was anxiously waiting for me .We were hungry and it was time for a traditional Srilankan rice and curry lunch at a roadside restaurant.
Before leaving the place I looked back to have a last view of the rock fortress.As Meril drove past the rock gradually receded and was soon out of sight but the image of the Giant rock lingered on.
The next stop was Dambulla cave temple , justly famous for its frescoes and statues of Buddha and other monks of Theravada Buddhism.The temple is composed of five caves of varying size and magnificence. The caves were built at the base of a 150m high rock during the Anuradhapura (1st century BC to 993 AD) and Polonnaruwa times (1073 to 1250). They are by far the most impressive of the many cave temples found in Sri Lanka. To access it one has to climb along the gentle slope of the Dambulla Rock which offers a panoramic view of the surrounding flat lands, which includes the rock fortress Sigiriya, 19 km away. With the dusk fall hundreds of swallows assemble at the cave entrance. The largest cave measures about 52m from east to west, and 23m from the entrance to the back. This spectacular cave is 7m tall at its highest point. Hindu deities are also represented here, along with the kings Valagamba and Nissankamalla, and Ananda - the Buddha's most devoted disciple.It was getting dark and I had to quickly descend as we had to make it to Kandy that very night.A word of caution: as an Indian traveller you would not be treated differently and will be made to pay Srilankan Rupees 1600 ( almost INR 800.00) which was rather frustrating for a budget traveller like me.
It had already started to drizzle before I could come down and Meril was hell bent to proceed to Kandy that very night.I was told that Kandy was only 75 km from Dambulla and we could make it in 3 hours going at a normal pace.I wanted to stay back for I thought that travelling in rain through highway in the dark would not be wise but Meril would not listen and I had to give in.We rode at a good speed the first 25 km when it started to pour heavily.The visibility was getting poor every minute and I felt  a little unnerved.We stopped at a roadside tea stall to have some hot Srilankan tea .While we were sipping tea a man in uniform approached and spoke to me in Sinhala.Meril again came to my rescue.He was from Srilankan Police and was doing his nocturnal patrolling duty.He asked me if I could show him Indian currency.I showed him a Rs 10 curency .He took it in his hand, inspected it carefully and then returned it to me.I gave it back to him saying that he could keep it as a present.The man was very pleased and said something in his language which I could not make out. Meril told me that he was saying that he would keep it as a Christmas gift.I was overwhelmed.He also asked Meril to drive safely as we would have to cross a hilly terrain ahead.We resumed our journey and it was 8 O'Clock by my watch.But the intensity of the rain increased and I felt really scared driving through the highway.I asked Meril to stop if we found any road side Motel or guest house.As luck would have it, we found a motel at a bend and immediately decided to halt there for the night,we were 40 km away from Kandy and we were just about to cross the hilly tracks.
( to be continued....)