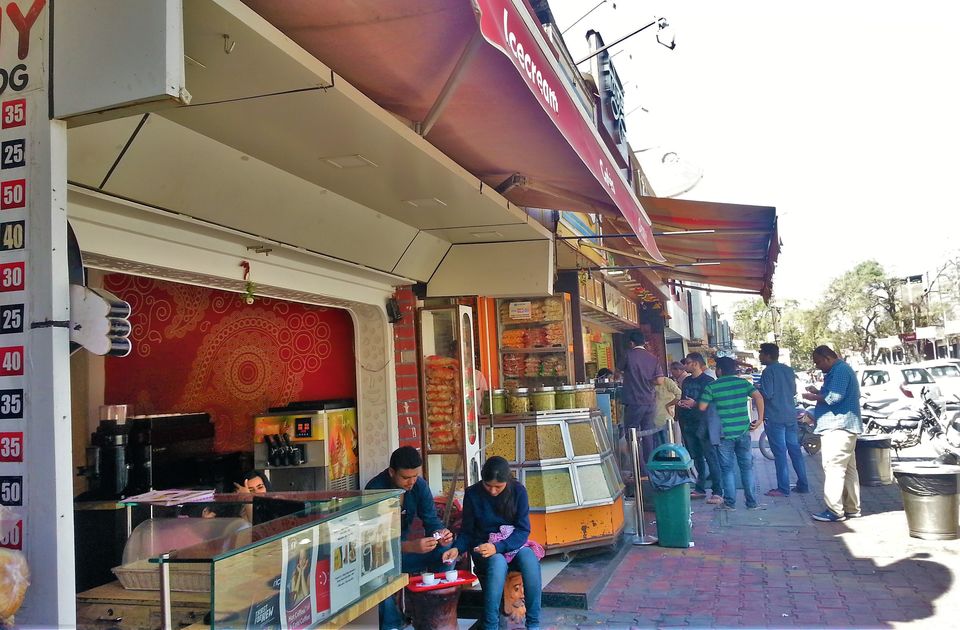 The minute I told my Indori friend that I was going to visit her city, she gave me a list of places to see. Excited that a Mumbaikar was interested in Madhya Pradesh, she made me promise I would try Indore's street food (even though she knew I was primarily visiting the city to run a marathon).
Before I could feed my stomach, I wanted to feed the travelbug inside me. My sister and I headed to Rajwada Palace - a fine example of Maratha architecture, now over 200 years old! The palace was once inhabited by the Holkars, and I learned (during the light-and-sound show in the evening) how highly venerated Queen Ahilyabai Holkar is. Indore's airport is named after her.
By the time were done strolling about the city's old part, it was time for lunch and we were hungry. A friendly local chap suggested we should eat the popular vegetarian thali at Shree Chotiwala in Indore's South Tukoganj area. The platter of laccha parathas, phulkas, salad, raita, spicy chhole, paneer, mixed dry veggies, kadhi and gulab jamun satiated our tummies, and we knew we'd last till dinner. I remembered then that I still hadn't eaten at my Indori friend's highly recommended place.
The next day, we decided to spend our afternoon snacking on junk food at Indore's most talked about eat-street: Chhappan Dukan. The name literally means 56 shops in Hindi. And these little outlets have the city's best fast-food! Armed with a suncap and a bottle of hand-sanitizer, we made a pact to try one dish from almost every stall.
We first tried the egg-banjo. This is actually a British sandwich dish which Indore serves in its own style - buns served with fried egg, to be enjoyed with mint chutney, tomato ketchup and onion rings.
Fried Goodies With Curd & Mint Sauce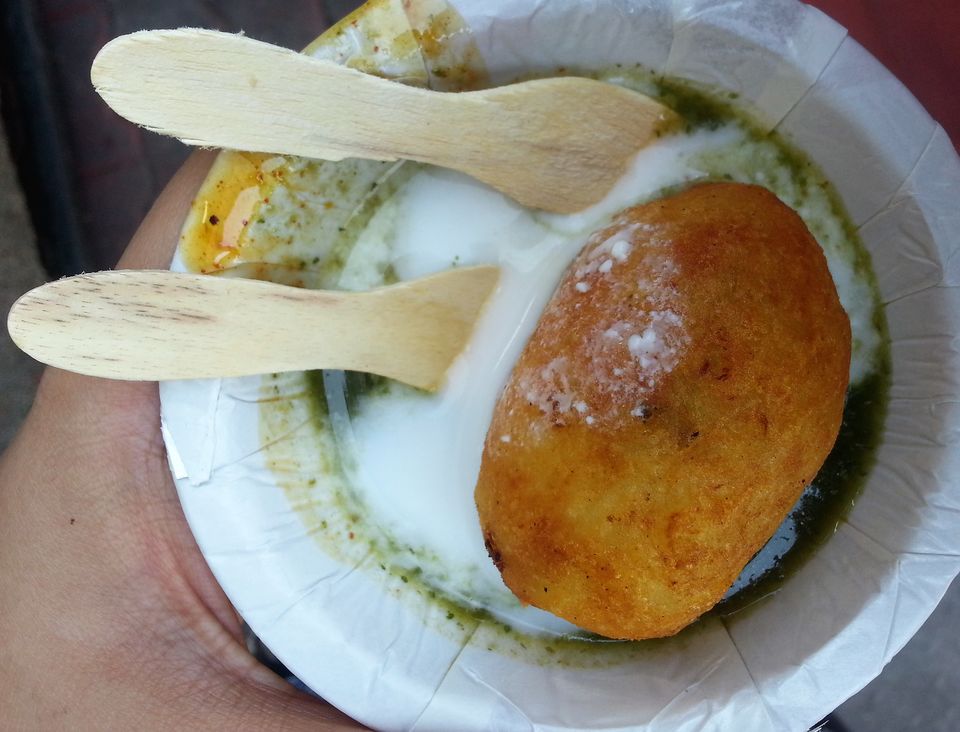 Our next stall specialized in "pattis" - maida-coated patties with assorted stuffing. We tried a batala pattis (stuffed with green peas) and khopra pattis (coconut filling). They were served in disposable bowls with a layer of green chutney and curd mixed together. I loved the crispiness of both the freshly fried items. It was interesting to eat a savoury dish with ice-cream sticks.
Watch The Cooks At Work - LIVE!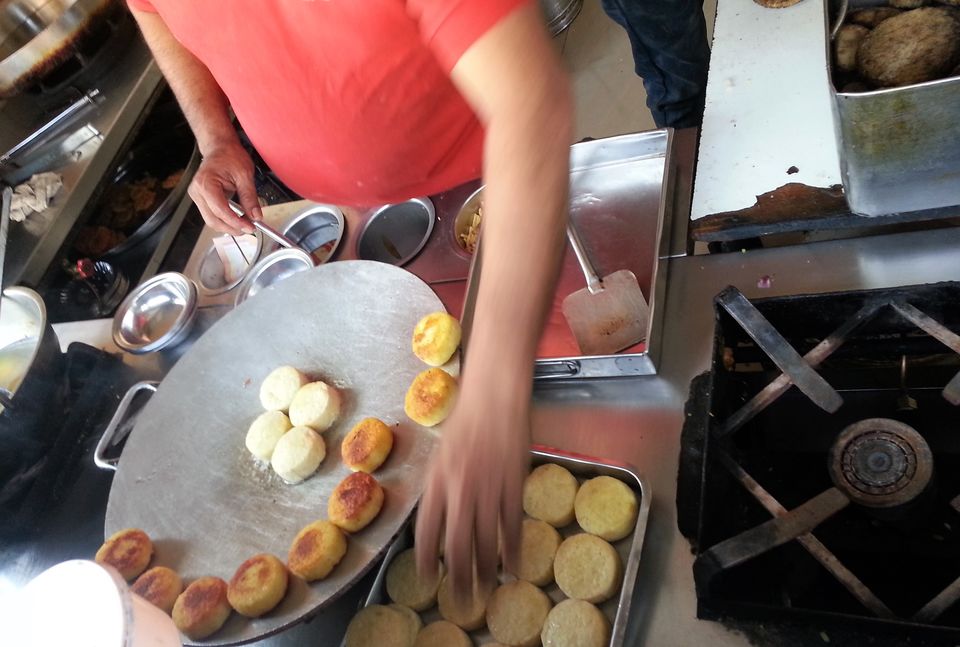 A walk through Chhappan Dukan is cathartic not only for the delectable array of mouthwatering treats on offer, but also the live culinary viewing experience. Here, your chef will cook everything right before your eyes. It is a delight to watch buns being slathered with butter, eggs breaking out of their shells and plopping on the pans, patties turning from creamy white to golden brown in the re-fried oil, and shikanjis bubbling in the tall glasses.
If you are into people-watching, even better! The pleasure of watching strangers eat to their heart's content is vicarious but satisfying.
Pomegranates And Their Popularity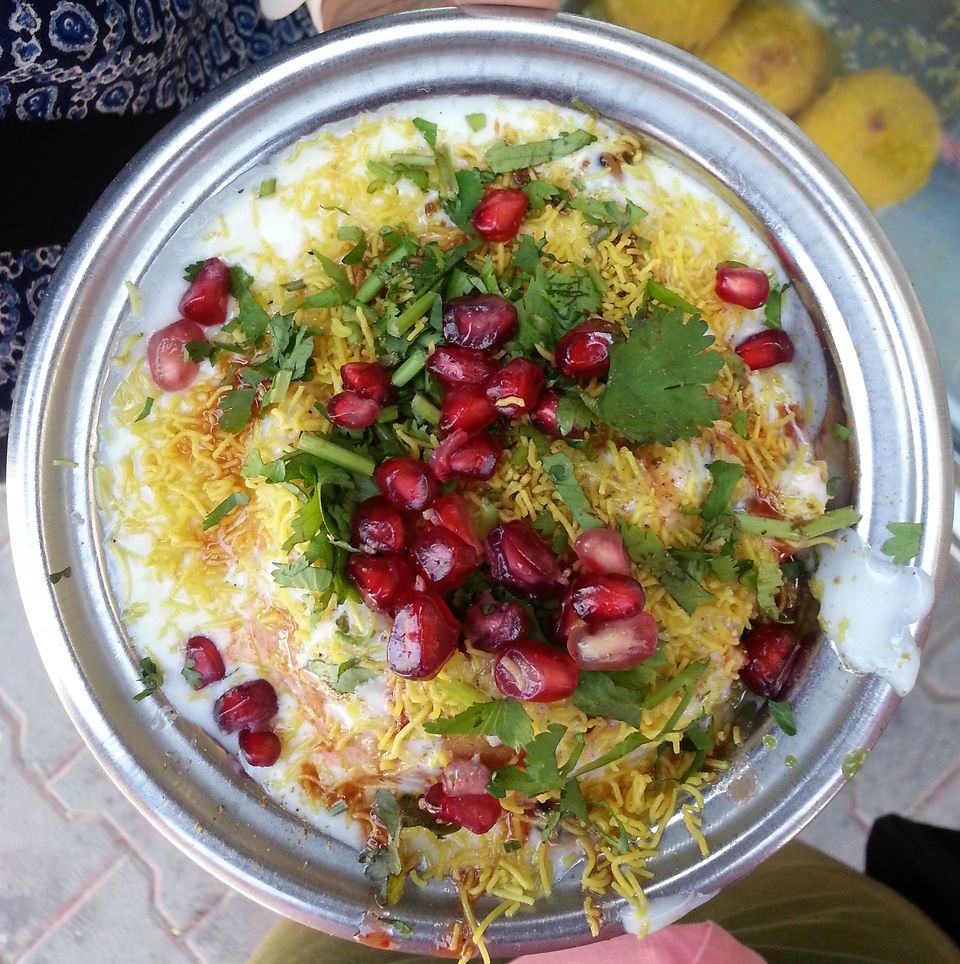 The use of pomegranates in every other dish in Indore's fast food repertoire did not go unnoticed. While most of the platters had an element of spiciness in them, the pomegranate seeds lent a nice sweet crunchiness to the preparations. This is a terrific way to boost the sweetness of a dish while keeping it healthy! This is also what makes MP's dabeli the best in India!
Faith And Food From England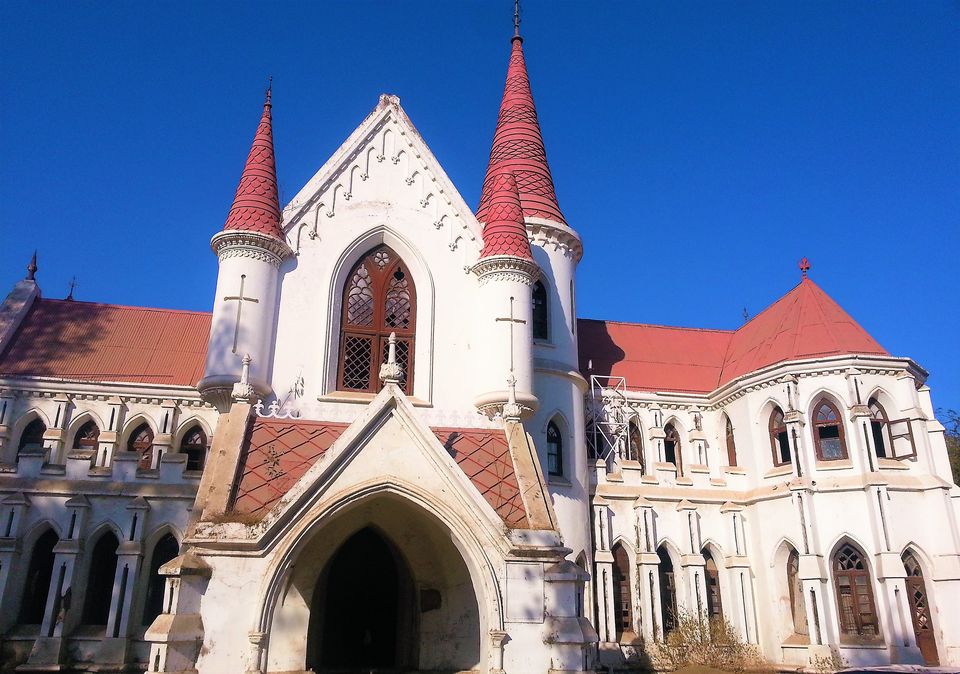 The Britishers, during their rule in Madhya Pradesh, influenced not only Indore's food scene, but also the faith scene. I went to 3 churches during my short trip, but I noticed that the regular public avoids going to the church. Barring the Red Church, all other churches stand as showpieces - without any maintenance, worship sessions or transformation to museums.
Perhaps the concentration of Christians is very small in Indore. Or perhaps the people are irrevocably withdrawn from the faith that Britain brought here. Regardless, they love the egg-banjo that the British troops brought to Indore's kitchen.
Health Food Disguised As Street Food?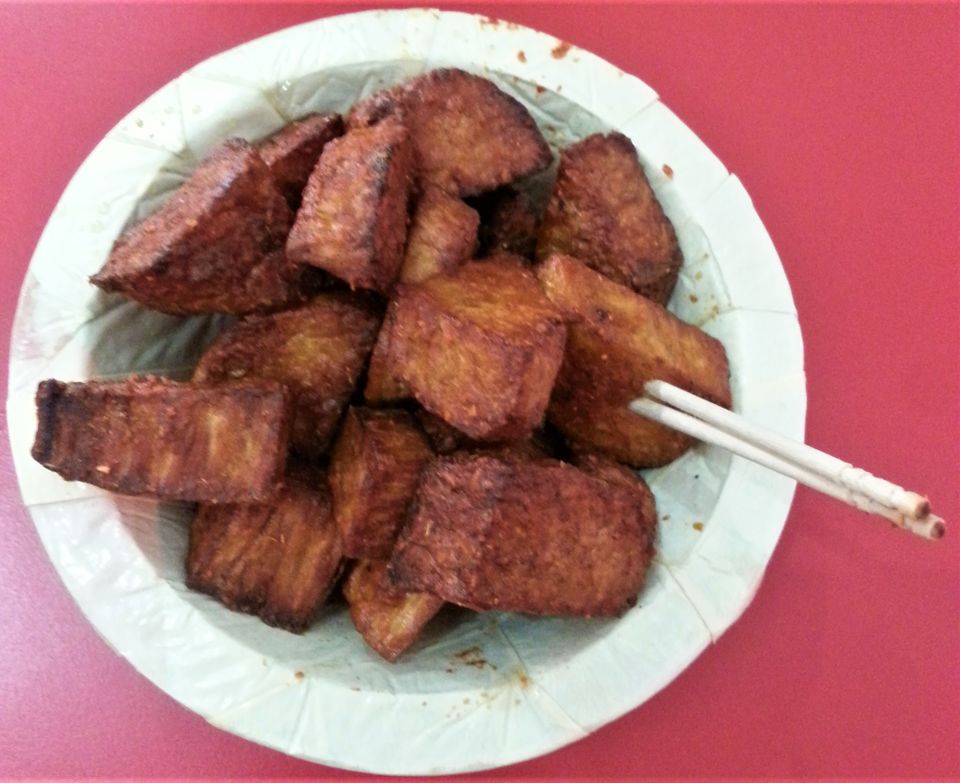 One does not feel very guilty gorging on the roadside food at Chhappan Dukan because almost everything has nutritional value. Take, for example, fried garadu (yam). Your stomach will actually thank you for snacking on these!
Some Inspiration From Gujarat - Fried Khaman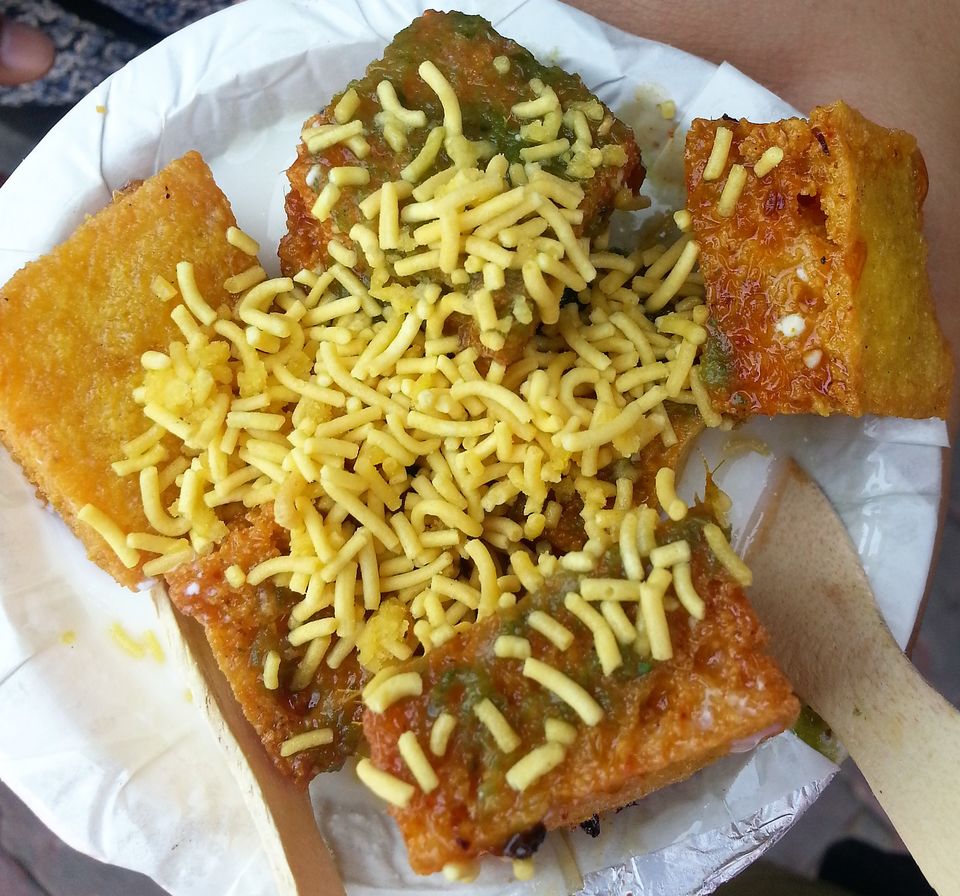 Just because you are in Indore, you won't have to eat only Indori street food. This food lane serves up dishes from North India (pani puris, kachoris, samosas, chaat, etc.), North East India (momos, kotheys, etc.), Gujarat (mostly khaman) and Maharashtra (dabeli, vada pav, sabudana vada, etc.) also. I don't recall seeing any South Indian dishes, but I most likely must have been too full to venture out for more. There's also some Western influence (think hot dogs and burgers). I particularly enjoyed the Gujarati shop that sold a variety of khaman, made the Surat way. It was nice to eat these fried chick pea-based cubes dunked in curd and sprinkled with farsan.
Time For Some Dessert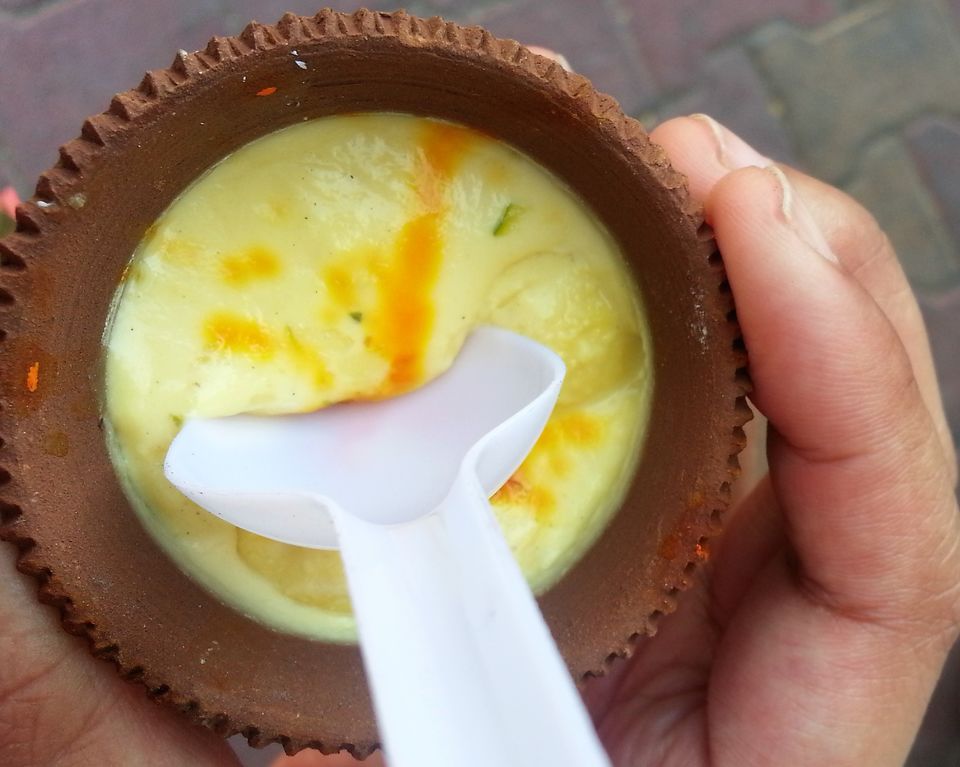 The assortment of spicy and savoury dishes demanded that we end our meal with something cold and sweet. One can opt for flavoured ice cream, falooda, milkshake and more. We shared a kulfi condensed with dry fruits (pistachio, cashews and almond slivers) and served in a kulhad (earthen cup). That was decadently delicious!
In Case You Crave For More...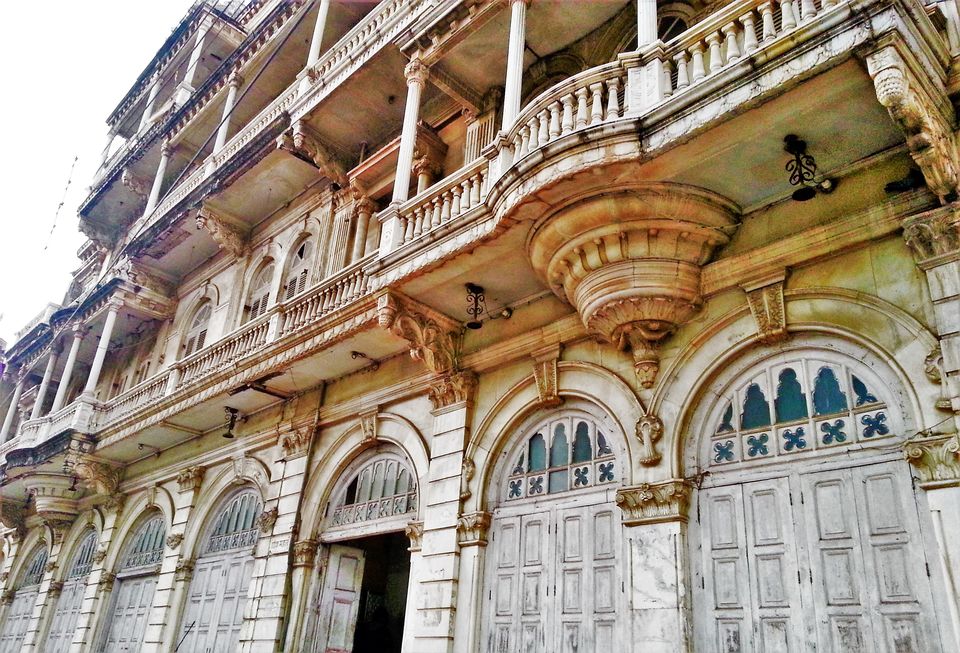 Big eaters are never satisfied with one eat street. This is why, Indore has an exciting night food lane at Sarafa Bazaar, barely 4km from Chhappan Dukan. This area is full of jewelry stores, but late nights see the shops shut and food stalls open all over. Open well after midnight, this place allows one to keep eating long after Chhappan Dukan has shut (at 11pm). If you are here in the daytime, you should be able to visit Sheesh Mahal - a dazzling marble Jain temple adorned with mirrors and coloured glass. It is always good to do a lot of walking before you eat (so you can cook up some appetite)!
Read more about my food escapades on my travel blog - Oindrila Goes Footloose. I also share "foodgasmic" photos on Instagram, Twitter and Facebook! ;-)