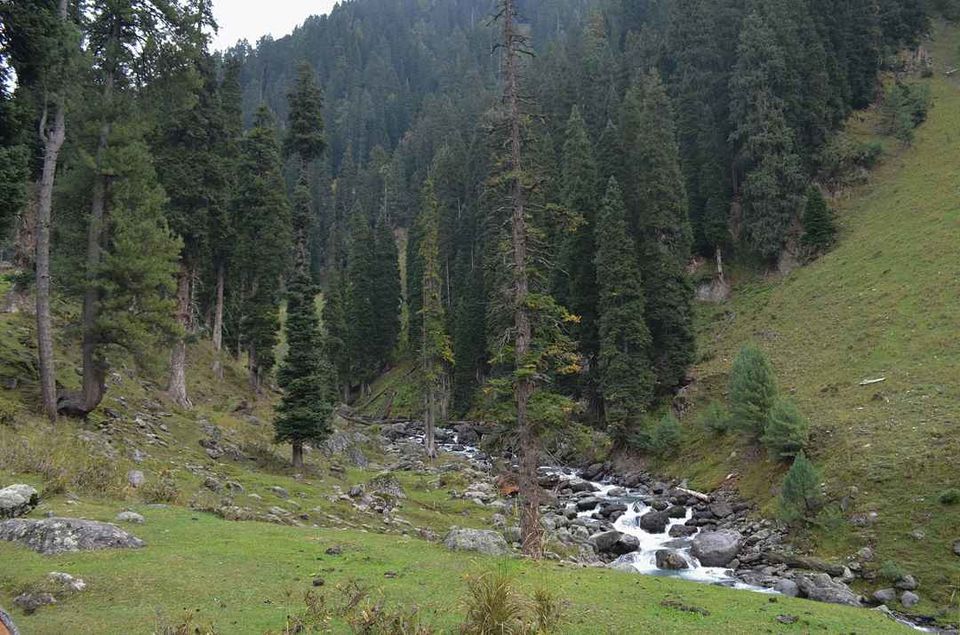 Only 22 km from Srinagar, Dachigam National Park is India's only coniferous forest — the last home to the Kashmiri stag. The population of the Kashmiri stag or Hangul as they're called, the only surviving sub-species of the Elk in the world continues to decline. Today, less than 200 of them survive in the shelters of the Dachigam National Park. Conservation of the Kashmiri stag has become as important as India's tigers and more so after IUCN's (International Union for Conservation of Nature) Red List has classified it as the most critically endangered.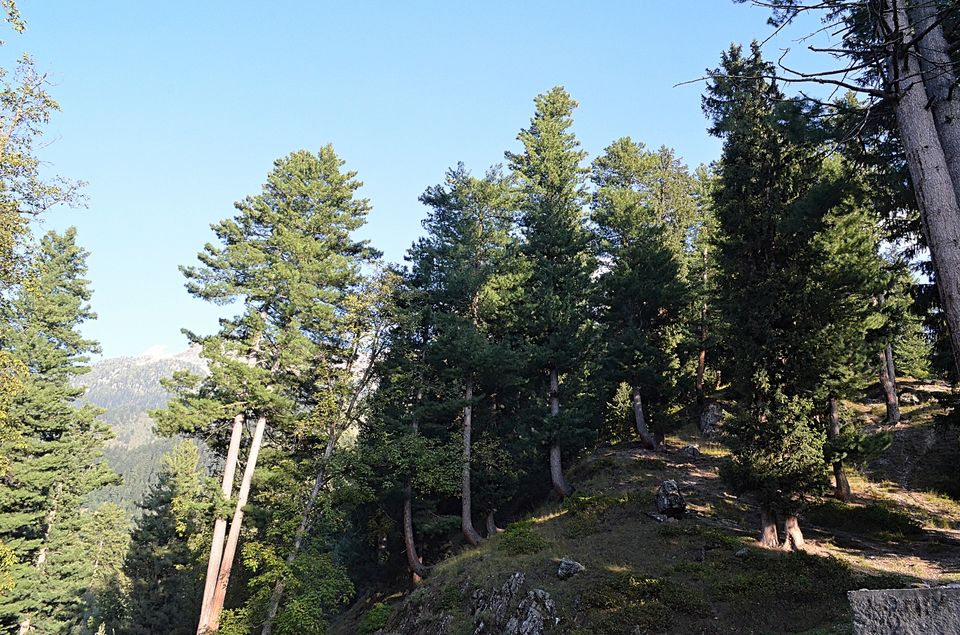 Being a wildlife lover this information was compelling enough to bring myself here for a new adventure. I was thrilled to see an endangered species up in the mountains, plus the idea of a wildlife walking safari excited me and I had no idea of what was to come.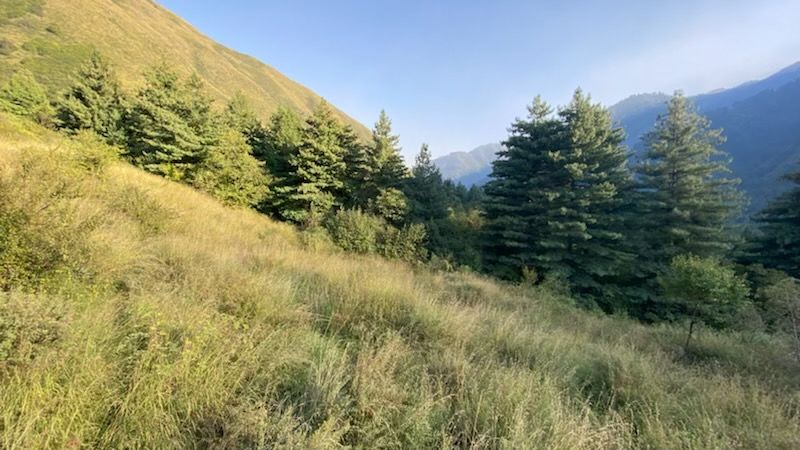 A forest bathing experience
Forest bathing, a simple act of being among trees, has been part of the national public health program for almost four decades in Japan. I felt I experienced something similar in India.
"It covers an area of 141 sq km enclosed by the Zabarwan range of Himalayas," our forest guide filled us in before moving into the forest. During the era of Maharaja Hari Singh (1895-1961), Dachigam became the hunting ground of the king until it was declared a national park in 1951. Over the years, the zealous efforts of conservation have pushed the meagre population of hanguls to 400.
At 3.30 pm, the forest light faded under the canopy of wood creepers and pine trees. Before we could fathom the forests gargantuan landscape, the trail vanished into the woods. We toiled up on steep undulated slopes after our guide Muzammil, who took quick easy steps cutting across thorny bushes. I was the slowest in the group.
We walked through impenetrable sections of the forest and used our hands to ward off the thorny bushes and creepers. I felt the forest getting denser at every ascent. This was not a usual wildlife safari like in other parks in India. No particular trail to walk on, just following the instincts of the guide who has spent half of his life in these remote woods. This is a walk in the woods in its purest form – with no safari jeeps or canters!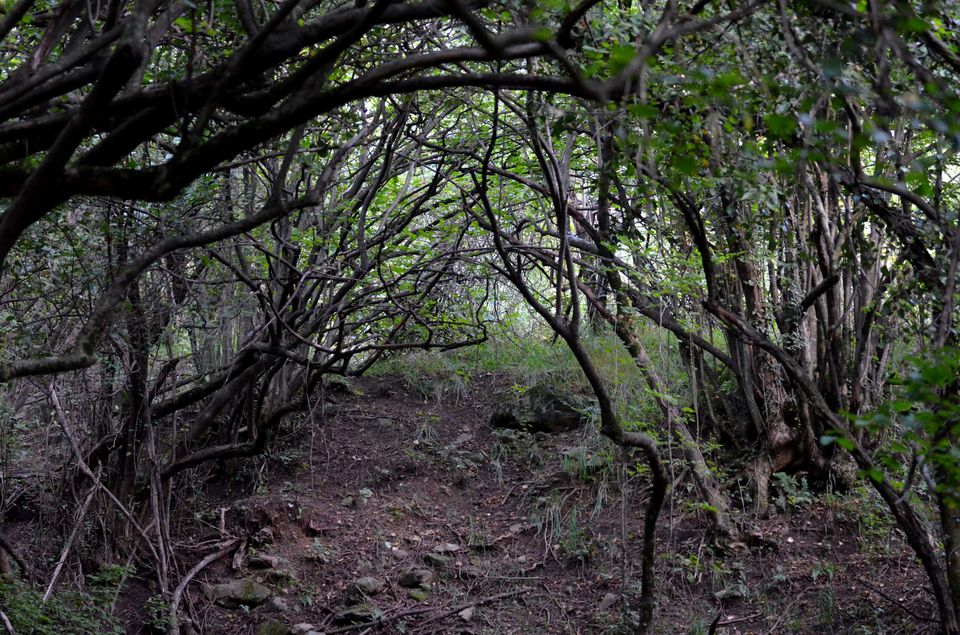 Spotting the magnificent Kashmiri stag
I was told to keep apace as the Hanguls might be out in the lower reaches of the mountains. After a slightly uphill hike, we reached a meadow enclosed by wooded mountains. I could only recognise deodar trees that stood in high density. Oaks, pines, chinar, poplar, birch, elm, and willow added to the alpine beauty of the forest.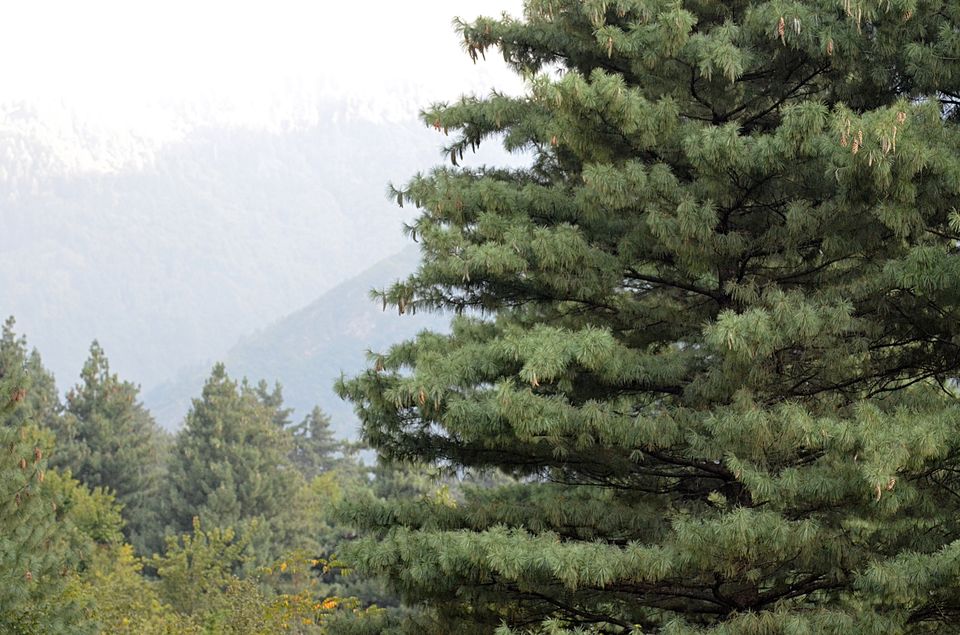 There was a watchtower standing as a vantage point to survey the surrounding mountains and the undisturbed shelters of the Hanguls. I thought the prospect of sighting one on a late afternoon was up in the air, knowing early morning sightings are most frequent. It turns out that afternoon is grazing time for Hanguls. In the meadows the overcast sky glittered in the sun. Through my DSL's viewfinder, I located mountain trails and scanty bushes, all possible grounds for sighting the animal.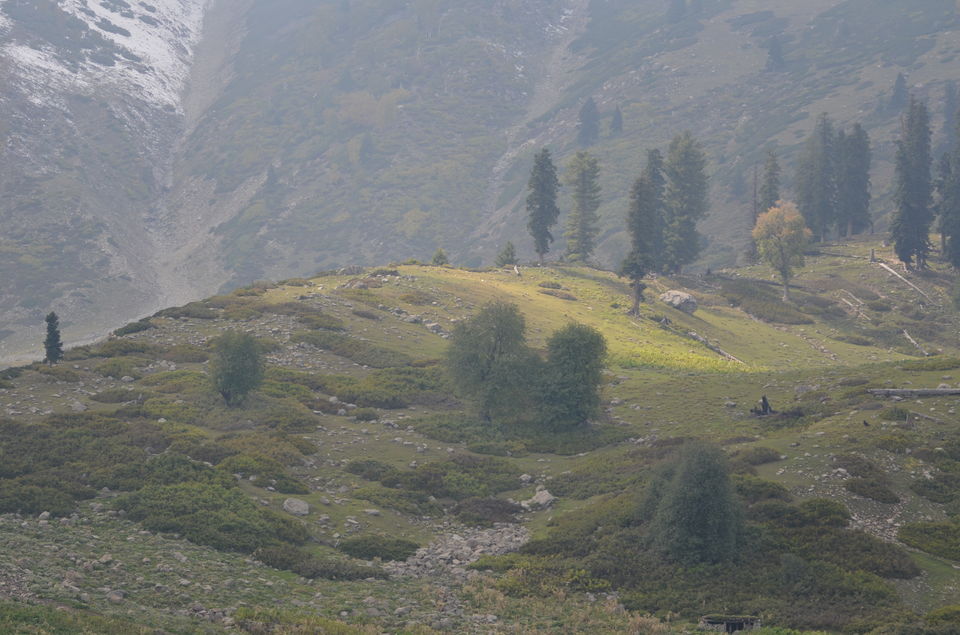 We waited in silence, carrying the camera in hand when a long barking sound echoed down the valley. In a flash, a dark brown coat with big antlers looked at us and then vanished out of sight. We stood alert, and Muzammil (our guide) said, pointing his hand towards the hill, "see that's the alpha male calling for the female".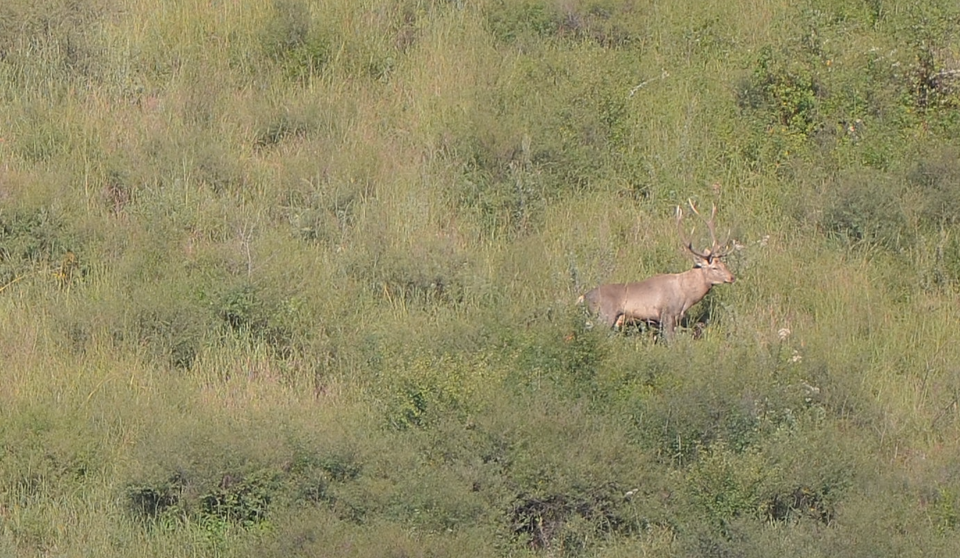 Muzammil was absolutely right. The male came out several times. I got to look at his game and stood mesmerised looking at his spread-out antlers, 'a-crown-in-brown' if I may. A collared female made her appearance. However much I tried getting her shot, the forest made me aware that this area was starkly different from the other national parks, and one cannot fathom the distance between two points. On mountainous terrain, the animal could be only 800 metres away and yet uncapturable owing to the elevation. Long story short, one needs a 600 mm lens to cover the spectacle with clarity.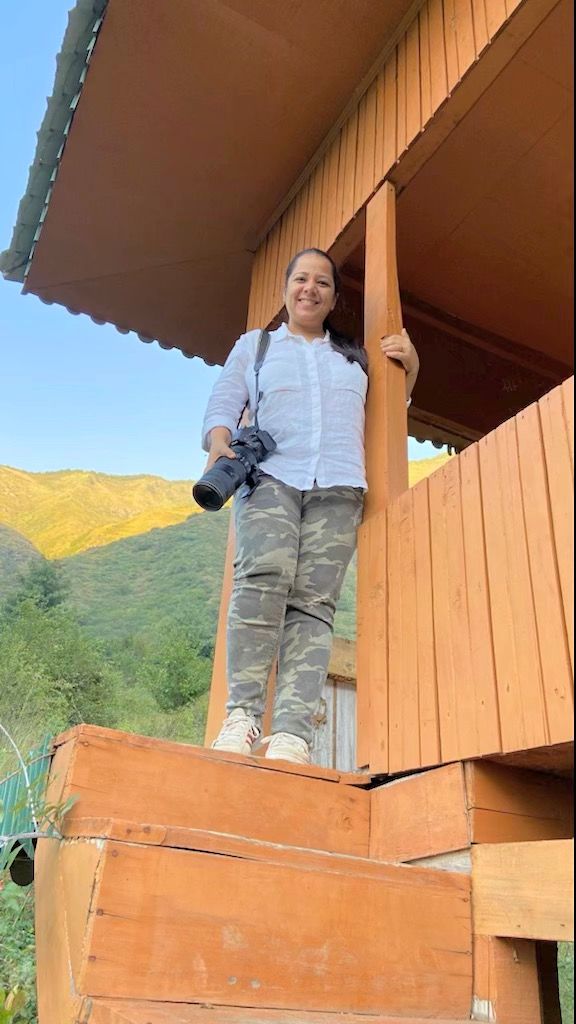 We left the watch tower to another wooded trail with a purposeful briskness. This time it was towards the Dachigam River, formed by glacier waters that gush down the mountains. Before reaching the riverside, we passed through a wooded trail, carpeted by dried fallen leaves and packed with rows of tall trees on both sides — walnuts, thorny berry bushes and parrotia, an alpine tree with bare, serpentine branches. From a distance, the tree seems like an artwork made of branches.
As we walked on, the light dimmed and silence ruled. We could hear each crunch of leaves, crack of wood we stepped on and the gushing sounds of the river in the distance. At one point I felt the overpowering smell of leaves and branches and breathed chlorophyll-filled air. Many trees and plants give off a type of natural essential oil called phytoncide – a secretion when inhaled has positive effects on the immune system. This was forest bathing at its finest.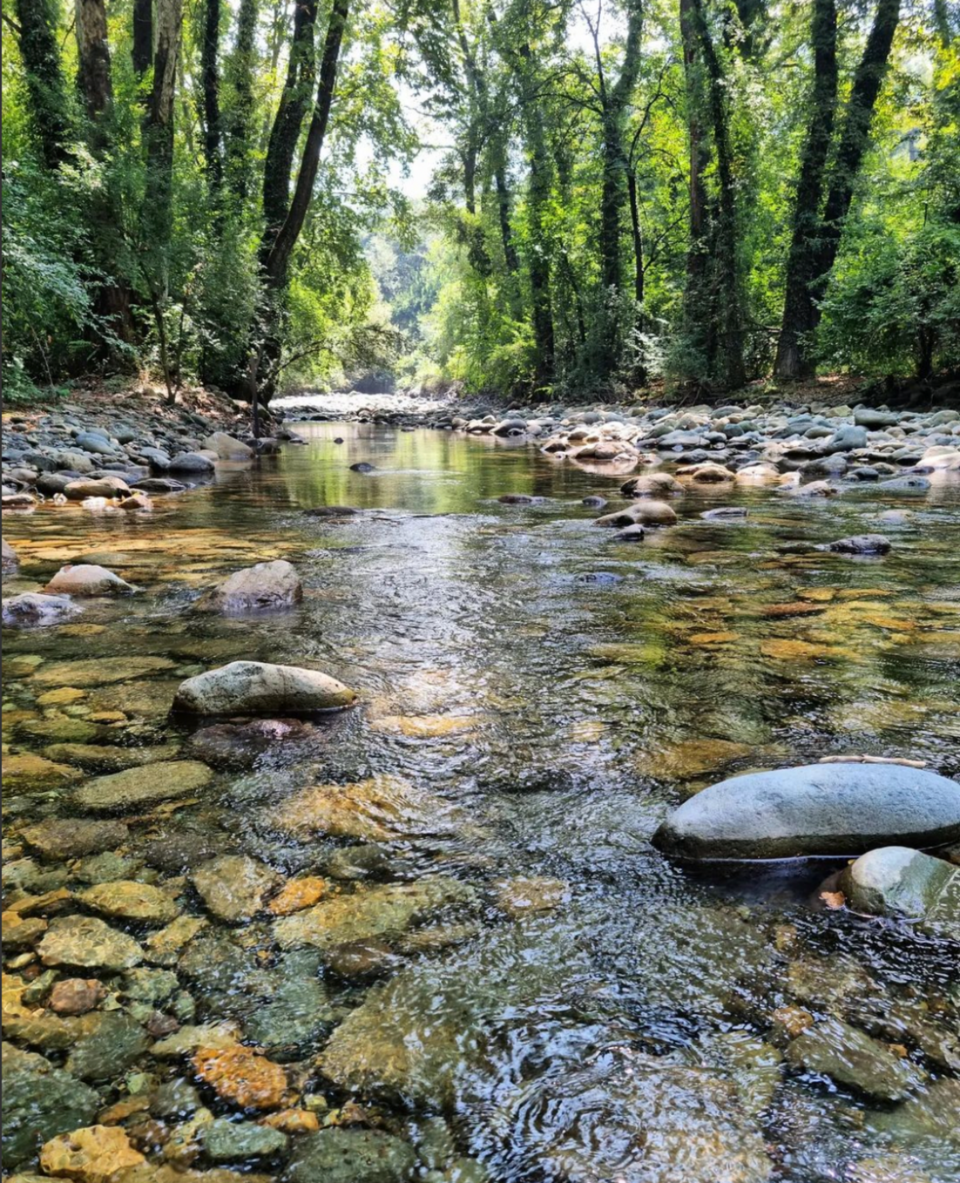 Close encounters with wild denizens
Hiking in Dashigam reminded me of Bill Bryson's A Walk in Woods where he trekked through Appalachian Trail and said, "distance changes utterly when you take the world on foot. A mile becomes a long way... the world you realise is enormous in a way that only you and your fellow hikers know".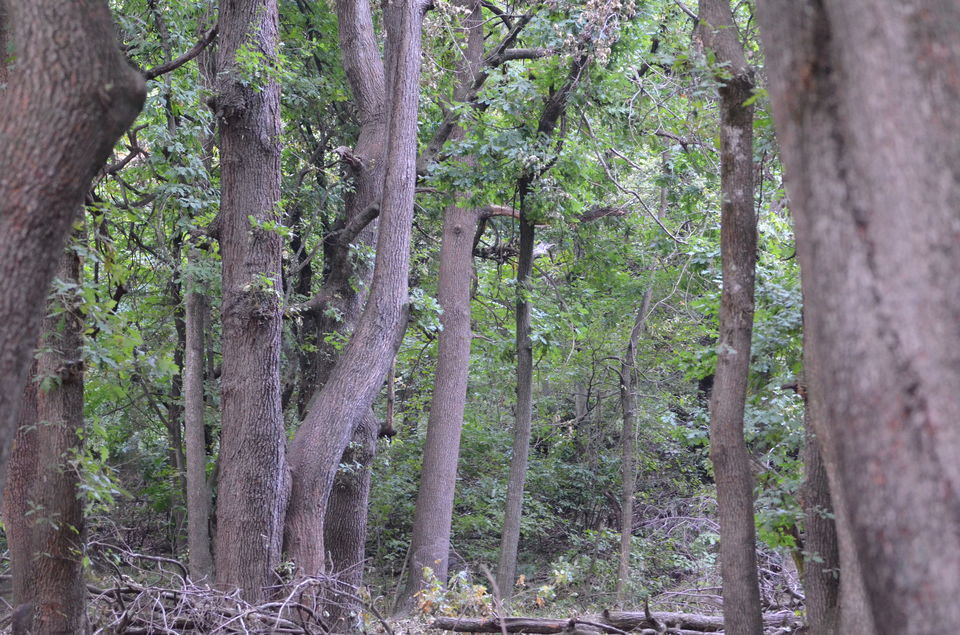 At one point I couldn't see anything through the deep foliage on either side of the path. Never had I walked with so much alertness. We headed through a heap of dry leaves and broken branches when we heard an unfamiliar noise of breaking branches followed by snuffling. I saw something sizeable ahead but wan't sure what it was. Our guide gave us a stick to hold on to.
He whispered that there is a bear near the walnut tree. I stood tiptoe, peering into the leafy stooping branch. A Himalayan bear appeared ahead and I could see him coming toward us. Quietly I went behind the Chinar tree, my heart beating very fast. I remembered what Muzammil said earlier, "this is a territory of Himalayan bears and snow leopards and we are trudging into their paths, completely alone, unarmed".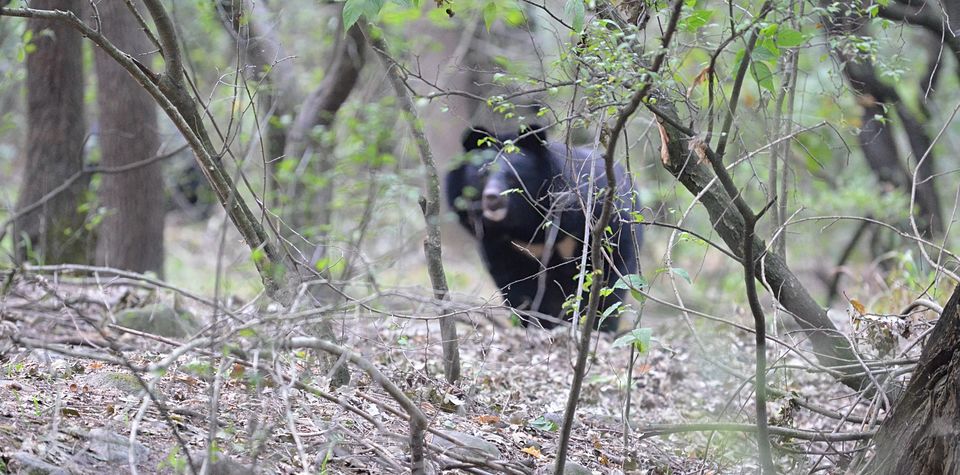 Another bear appeared on the same path, two of them snacking on fallen walnuts and berries. I thought what if they change their mind in search of a bigger meal? Muzammil took my camera and walked unnoticed behind them. I was left behind for a good 15 minutes inside the forest with no knowledge of how to fight a wild animal.
Muzammil came back and while we spoke to each other in whispers, the bears saw us and ran away at a thundering speed, bouncing wildly. Both vanished in a jiffy. I took a long moment to catch my breath and wiped a river of sweat from my brow.
You could wait for hours, days, weeks even, for that one single golden moment of spotting a rare animal that could last just seconds. I got many such moments on the entire walking safari in the deep woods of Dachigam that I shall not forget soon! Mostly importantly, this walk in the forest taught me that travelling is also a test of our wits, our nerve and our endurance. It takes us far beyond our comfort zone.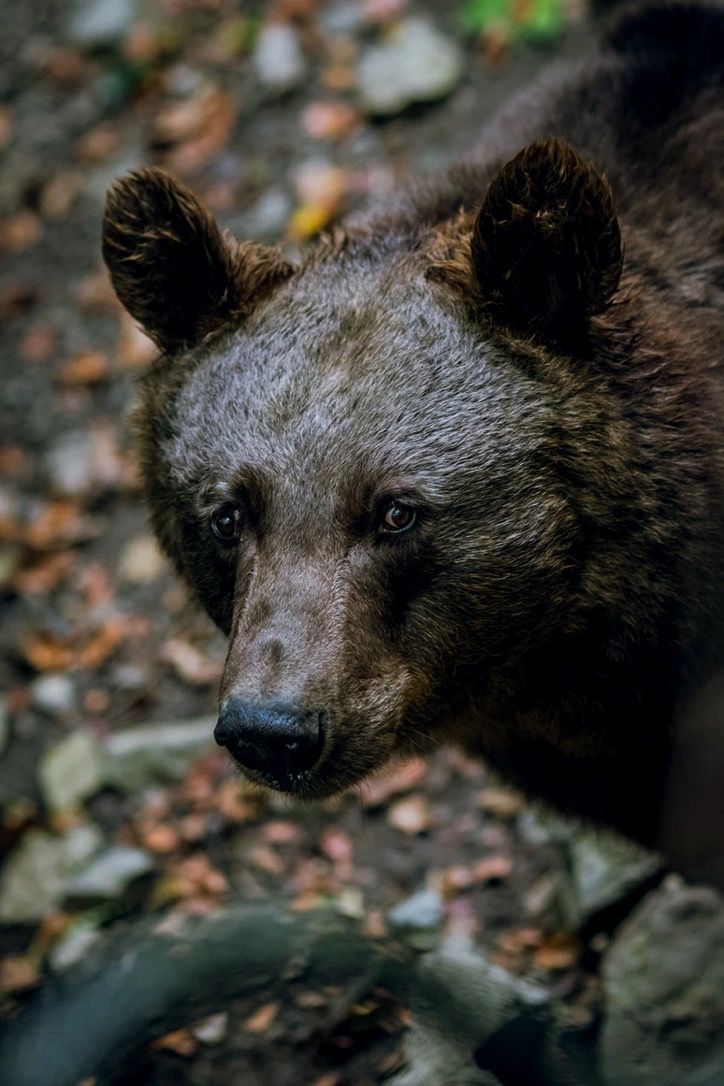 How to plan a trip to Dachigam
Unlike other national parks, Dachigam doesn't aim to profile the national park. The department of wildlife protection, central division, Srinagar manages the park. During, the mating season i.e. October, the park is closed for some weeks to ensure an undisturbed environment for the hanguls. It is open all year round save this period.
Rah Bagh, 17 km from Srinagar and in the fringes of Dachigam, organizes these wildlife safaris with prior permission. Apple orchards, views of Dal Lake, impeccable hospitality and wooden chalets with Zabarwan mountains in the backdrop make Ragh Bagh an idyllic retreat in Kashmir Valley.