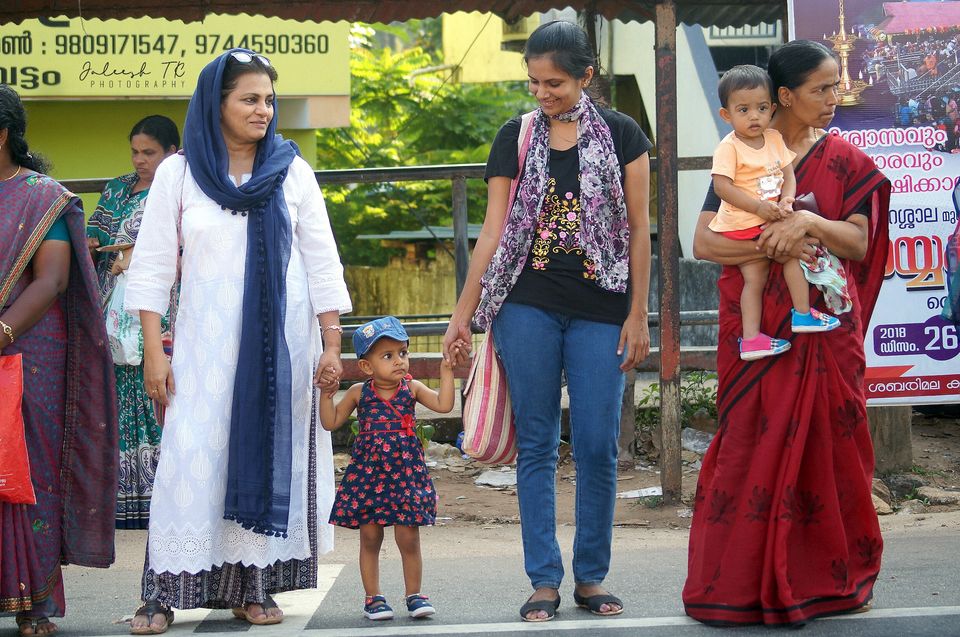 No, I wasn't visiting. I actually live here, in what everyone calls God's Own Country. Right in the capital city of Trivandrum too! Well, it's a rather dull place and the people could be described tongue-in-cheek as the Devil's Own People, but all of a sudden on New Year's Day 2019, the place sprang to life. Women of all hues and denominations started pouring in from all directions to line the national highway.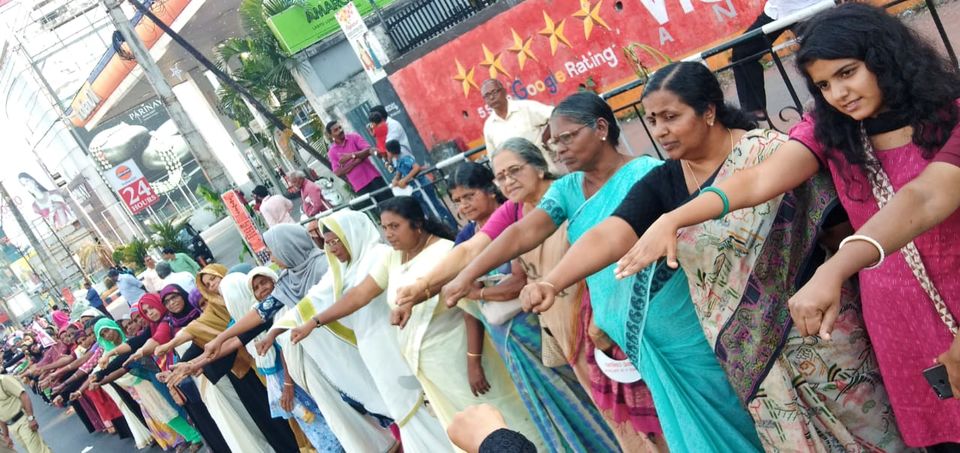 It was a government-sponsored program to stand up for women's equality and a new renaissance. Yes it was blatantly political. Yes there were the detractors and the naysayers. The plan was to build an unbroken 620 kilometre feminine wall from Kasaragode in the north to Trivandrum in the south. 30 lakh women were expected to attend the event. When the sun went down on 1st January it looked like 50 lakh women had turned up, though authentic numbers are yet to surface.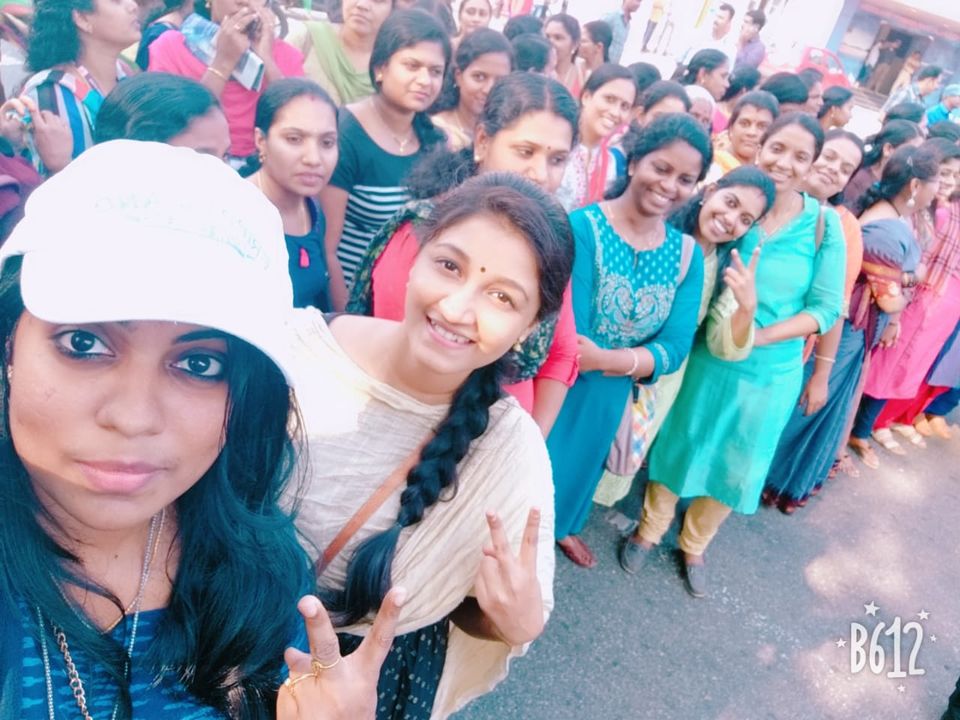 I'd been offered a prime slot at Vellayambalam where several political bigwigs were to assemble but I politely declined – not because I don't like them but because I didn't want to be caught in the traffic jam. (And incidentally I'm neither a bigwig nor a political animal.) I chose Kariyavattom Junction instead, a few feet away from the Kerala University campus. I did a surveillance drive around 3 p.m. from Kariyavattom to Kazhakoottam and Technopark and found no women on the roads. Some music could be heard from the University gate and a few girl students were hanging around. At Kariyavattom junction, a few women were sitting at a bus shelter. That was all.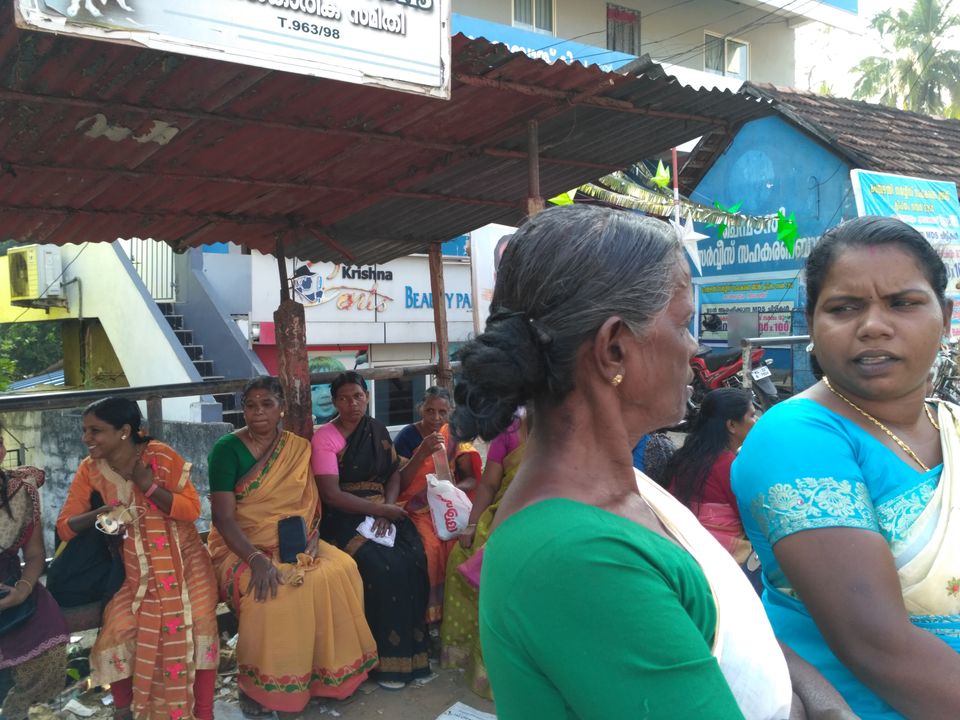 Once again at 3-30 p.m. I made an appearance and found that many more women had arrived. They were lining up. The old and the young, the rich and the poor, the privileged and the downtrodden, mothers with babes in arms - all lining up to construct the Great Wall of Kerala. There were some men too – helping, guiding, taking photos. On the whole it was very calm and peaceful, no shouting, no slogans (except a few posters contributed by yours truly!) no confusion, no in-fighting, no cribbing, no complaints, no demands. Thankfully it wasn't too sunny, and there were a few trees to provide shade.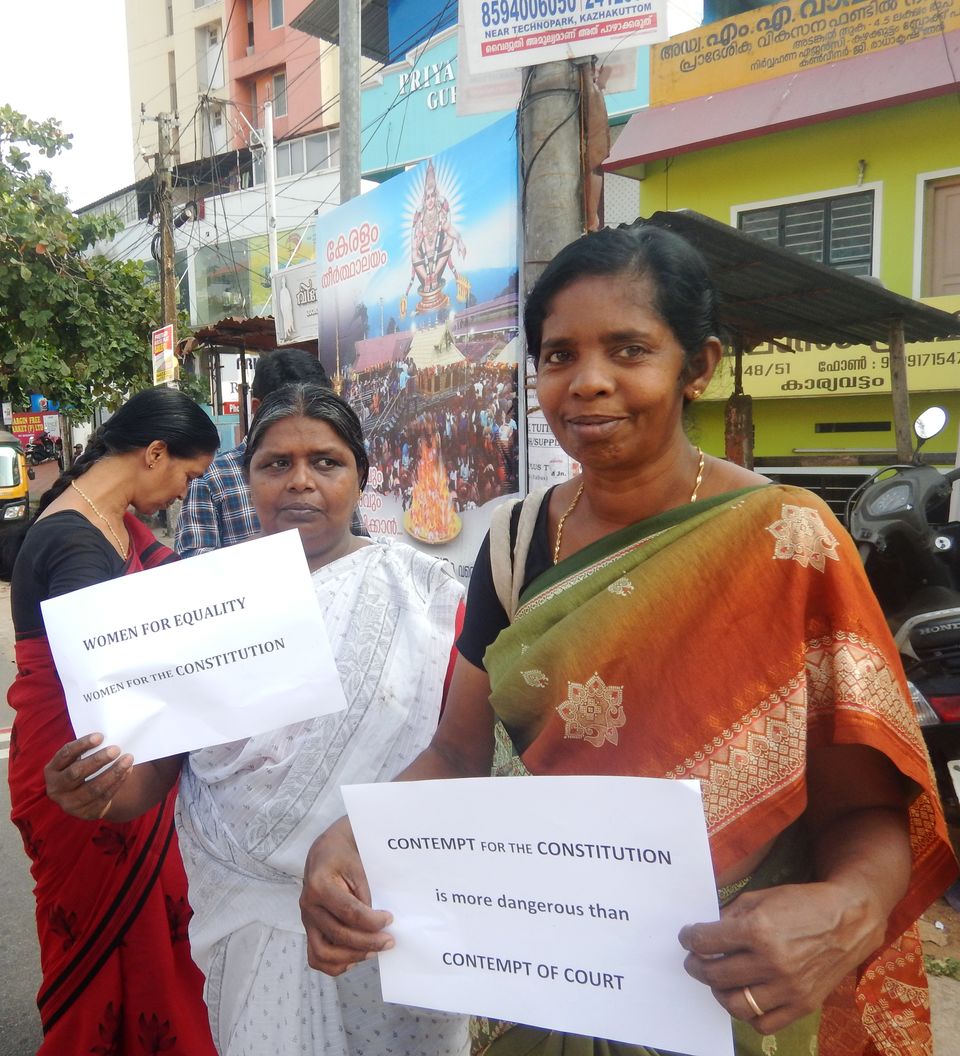 I bumped into a family with two infants in arms and got talking. Imagine my surprise when I found out that they hailed from my own village in faraway Kannur! The young woman was employed in Technopark, my former base, so that was another thing we had in common. Some of the women in our midst were villagers who had come along in a van. When I distributed English posters to them they faithfully held them up without a murmur. One woman even held it upside down, until a companion reversed it for her!
For international tourists who were in Kerala on the great day, it must have been a rare treat to see millions of women assemble in absolute solidarity and absolute grace. I'm sharing a few pictures gathered from across the State: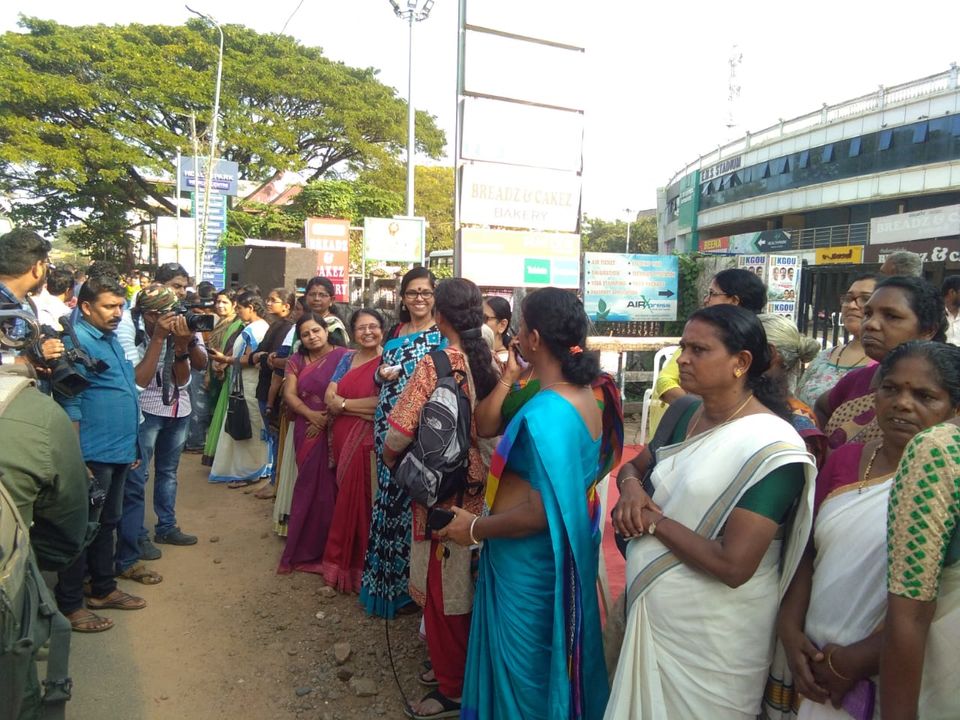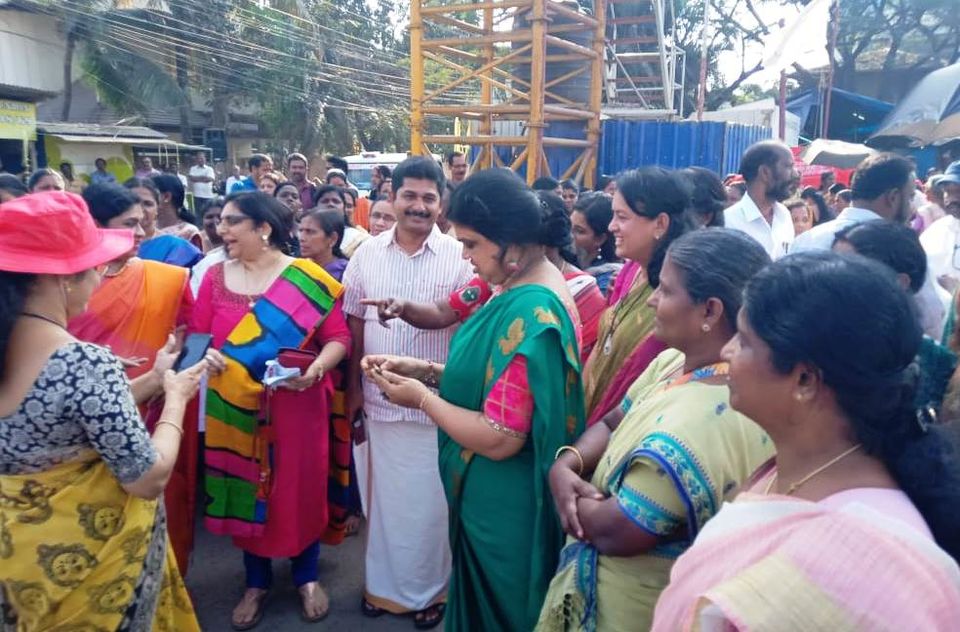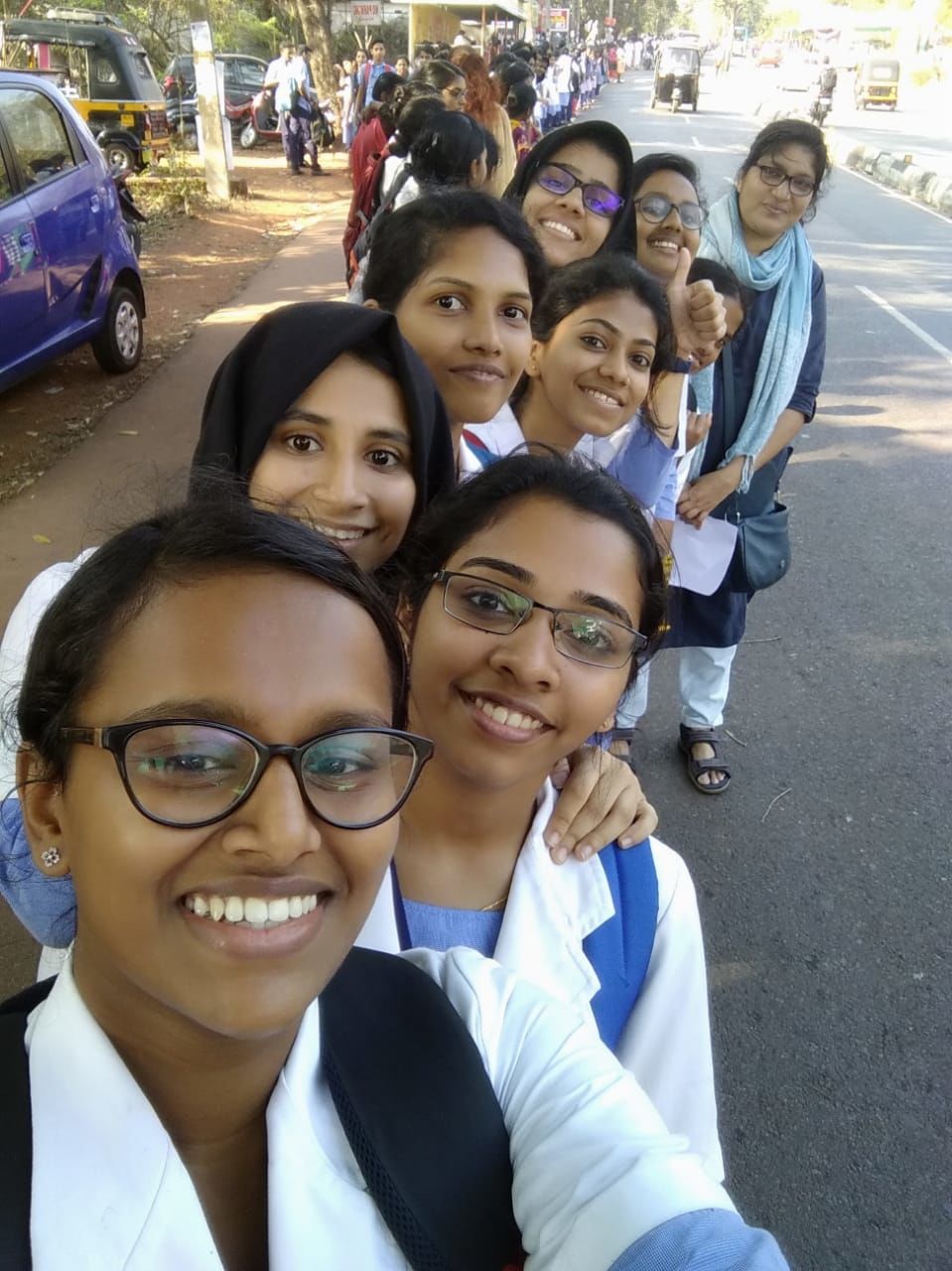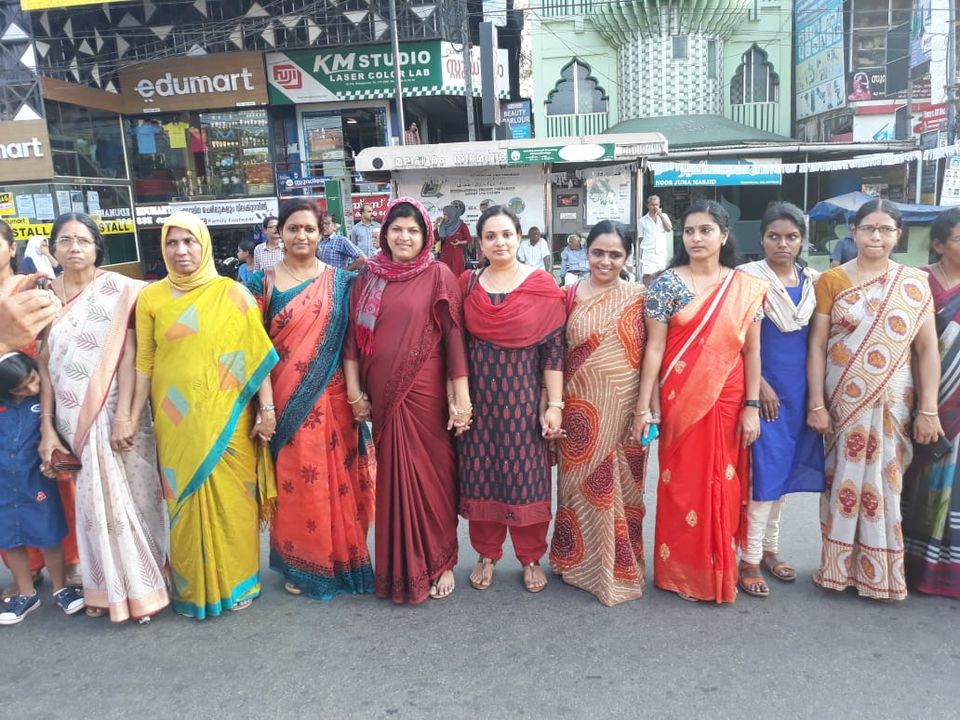 Such a spectacular display may not happen again for several decades, so if you were lucky enough to be a witness stay blessed.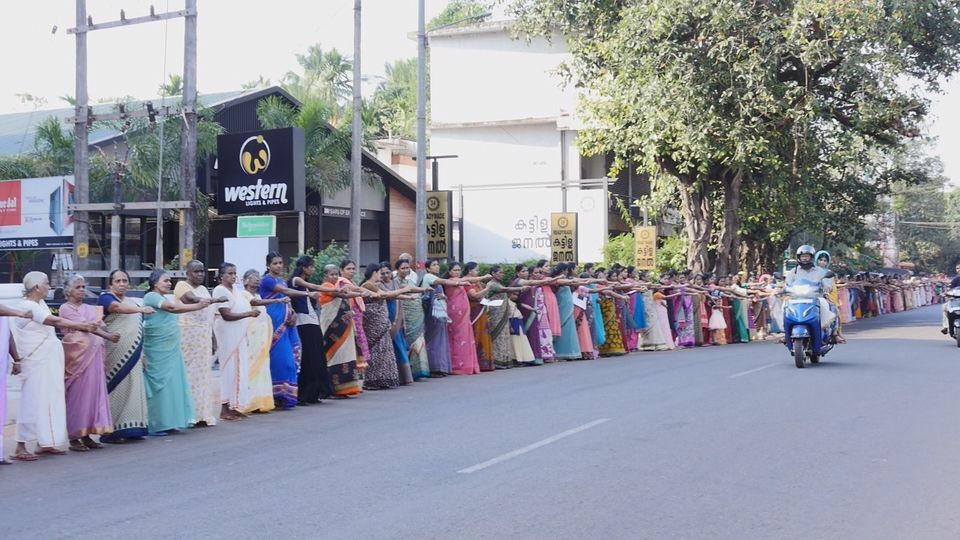 By the way Kerala is a great place for monsoon tourism, health tourism, hartal tourism, bandh tourism, black flag tourism and red flag tourism. If you don't believe me just come along tomorrow and find out. It's a combination of black flag and bandh (they don't use that word any more thanks to a High Court verdict banning it –hartal is the politically correct usage). But do make sure not to get caught in the midst of tear gas and water cannons and the volley of stones! No, we haven't progressed beyond the Stone Age yet! But let me tell you, this place is a lot of fun. We don't call it GOC for nothing!