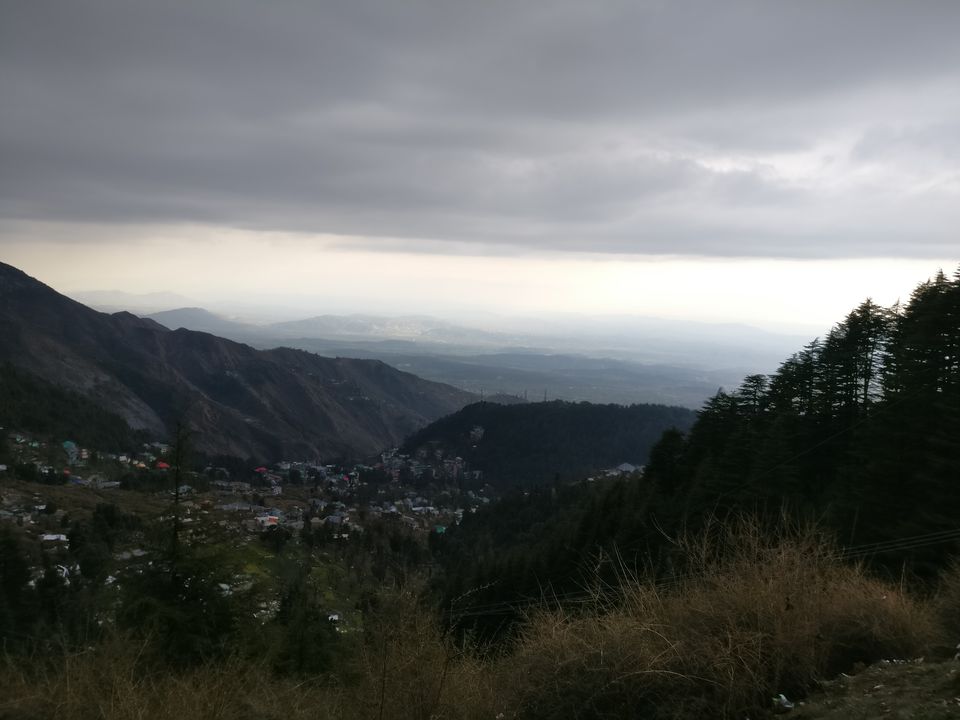 Every person who wishes to be a serious traveler and has frequent visits to hill stations, has all but one dream, to be able to witness snowfall at some point. I had the same dream and every time I saw someone walking through the fluffy white snowy roads of Himachal, I wondered just how happy these people might really be. Being from a big city like Delhi, being surrounded by snow, is even big a dream than breathing clean air in the city. But, like everyone says, no dream's too big if you keep believing and working for it.
The weekend of Holi in March '17 was a day away when a friend of mine from Dharamshala invited me to spend the weekend in Dharamshala. But, there's a catch. I had to be the delivery boy, who was supposed to pickup er parcel from a stranger and deliver it to her in Dharamshala before the weekend. Me, being a very good friend, actually agreed. I took her parcel from a very beautiful stranger, who was actually on her way to Bir Billing when we met. I felt, a spark. But about that, we'll talk later....
See, when you're a working professional, you're supposed to stay at home for festivals with your parents so that you can be assigned the task of doing every household work. My case was no different. And it wasn't really that easy to convince everyone that mountains are priorities. So, I had to work quite a lot for their 'Okay, You may go.'
I took the overnight bus to Dharamshala and got off at the Bus Depot around 6 AM on Saturday. It was cold. It indeed was really cold. Things turn out to be most beautiful when you least expect them to. That morning in Dharamshala is my best morning getting off of a HRTC bus.
I waited for around an hour when my dear friend arrived in a car with a smile on her face and two other friends of her form Chandigarh. Meeting her after a long time was a delight. But, what i was more excited about was just how the day was going to unfold. We decided to go to Triund the moment we met when my friend told me she had a surprise for me.......... But, What Could It Really Be? I kept thinking over it but Nothing. Nothing came to my mind.
And then, I saw snow. A little bit of it, on the road side that kept on increasing as we moved further. I screamed in joy. I saw my surprise.................................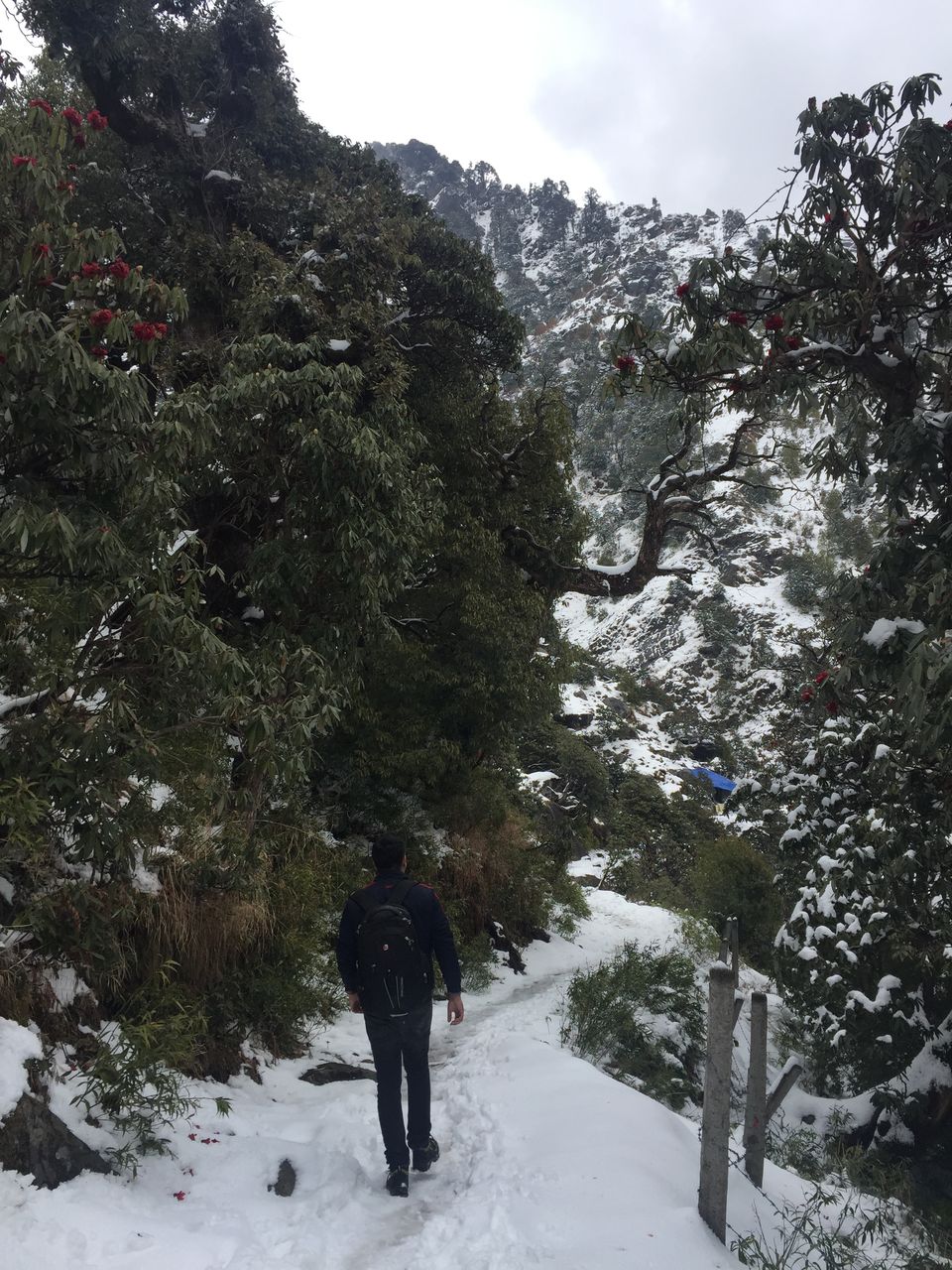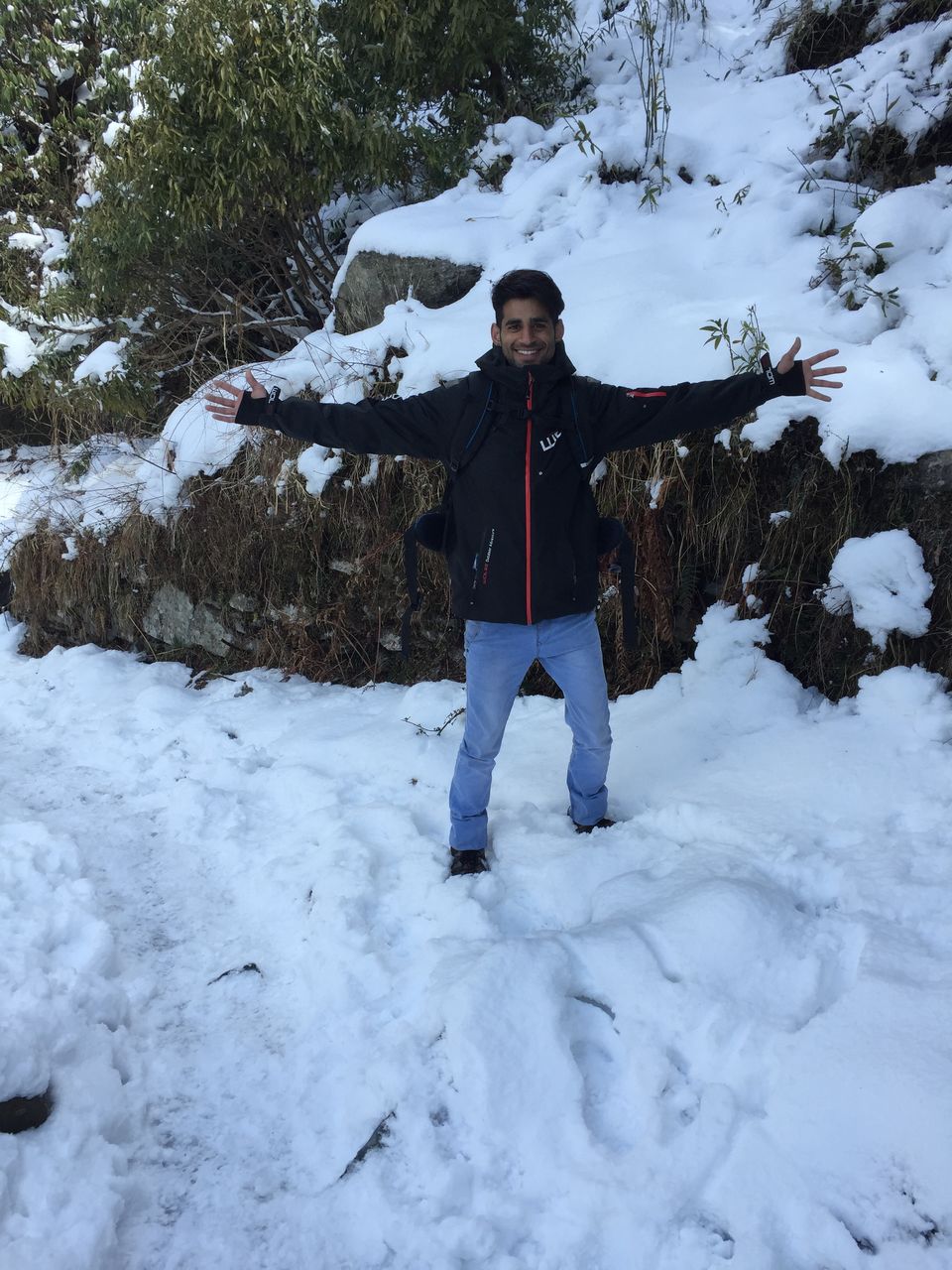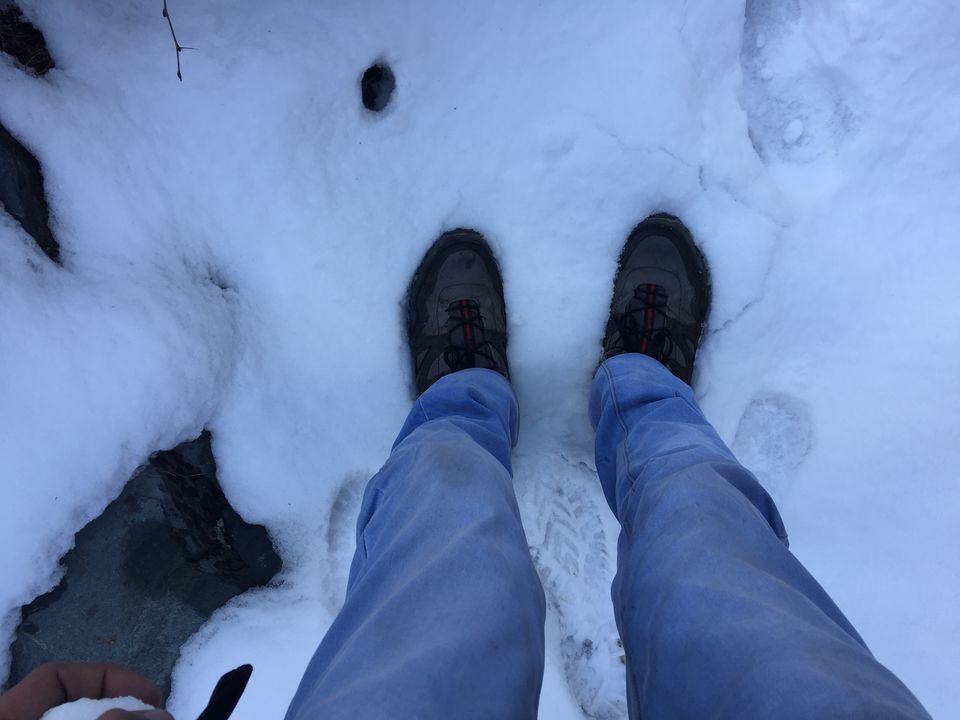 I could not believe my eyes. I had walked on this very path in October '15 and there was no sign of snow at that time. And now, it felt like this was a completely different land, in a completely different place. I actually wanted to just sit down and watch the gorgeous valley from there for it was something I had never experienced.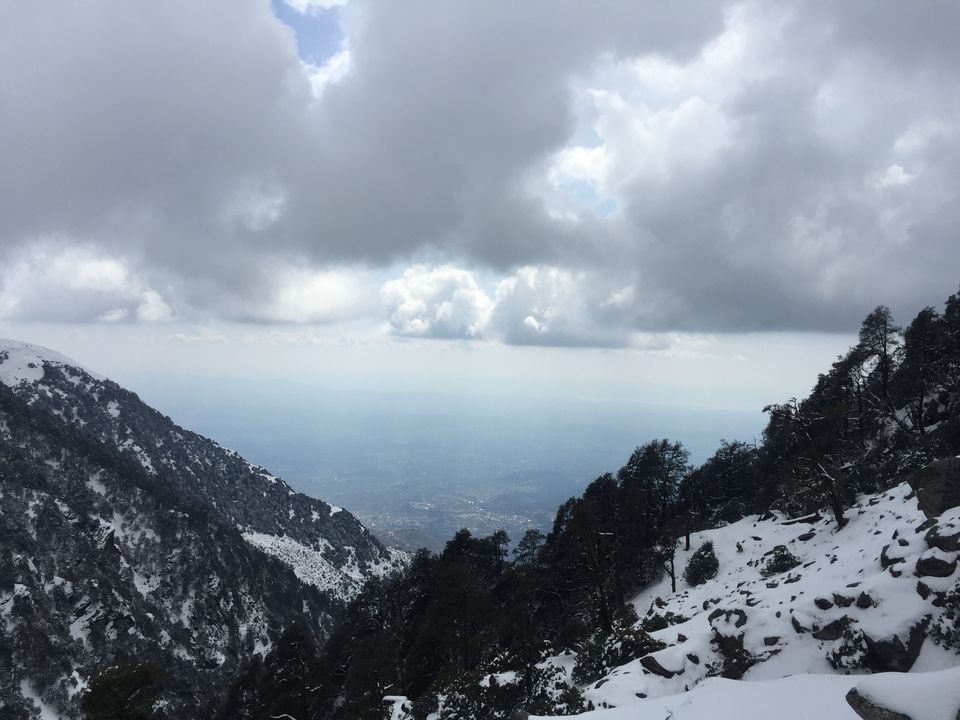 I sat there for a moment. I wanted to sink in the feeling of amazement because it was indeed a surprise of inexplicable proportions.
We were moving up at a steady pace because we had to be back at Dharamshala before sundown. But we did not miss any fun at all.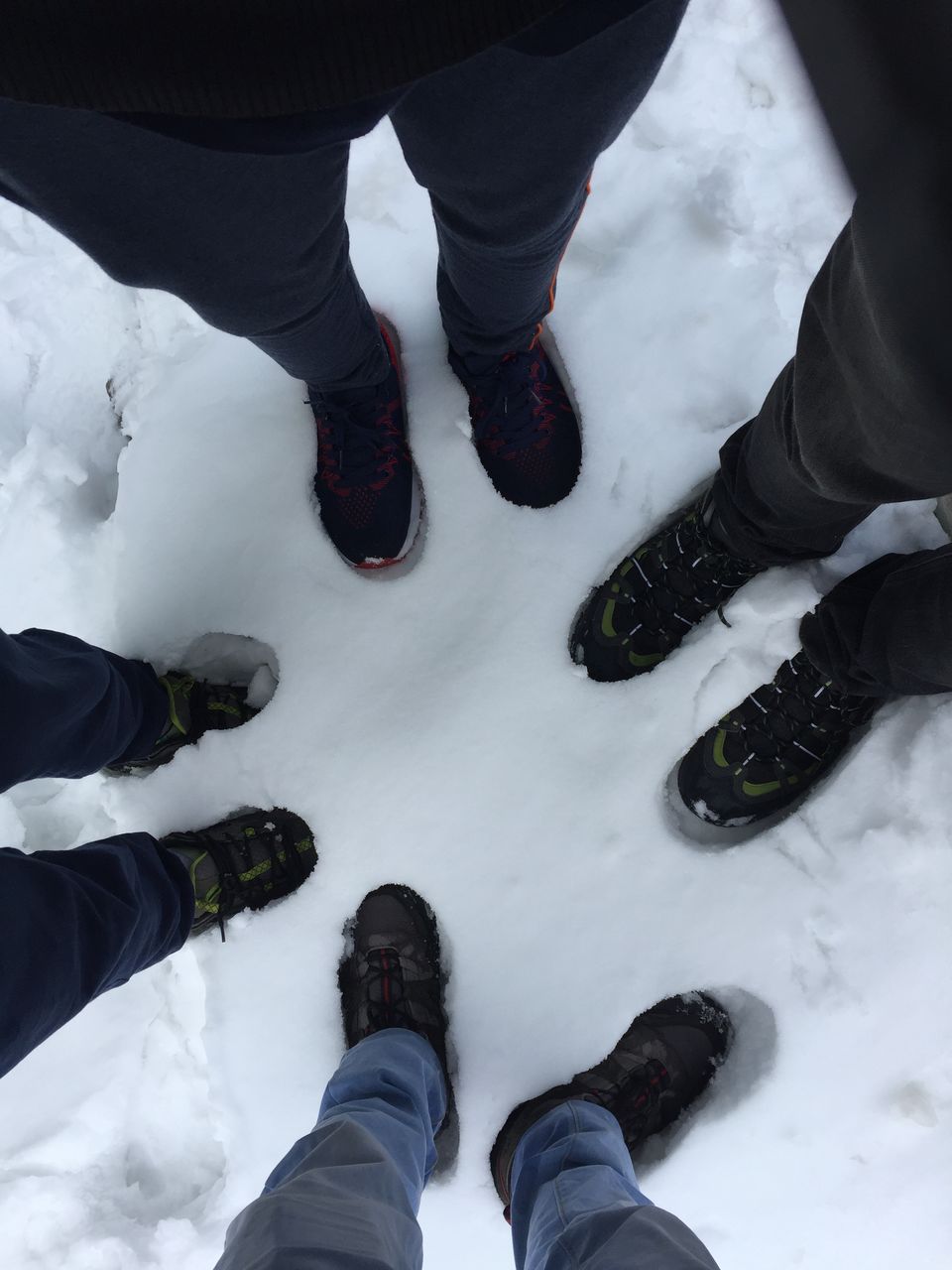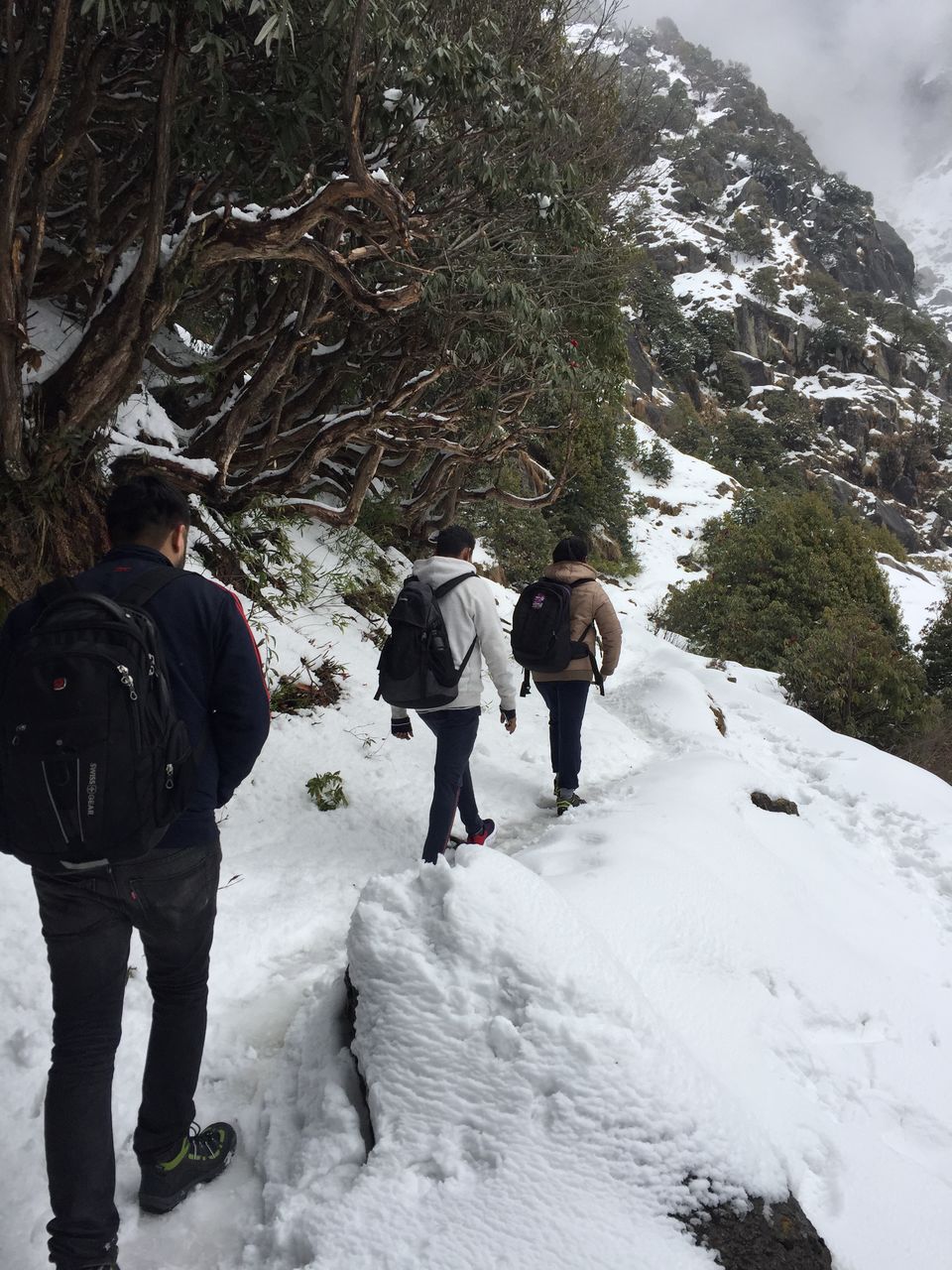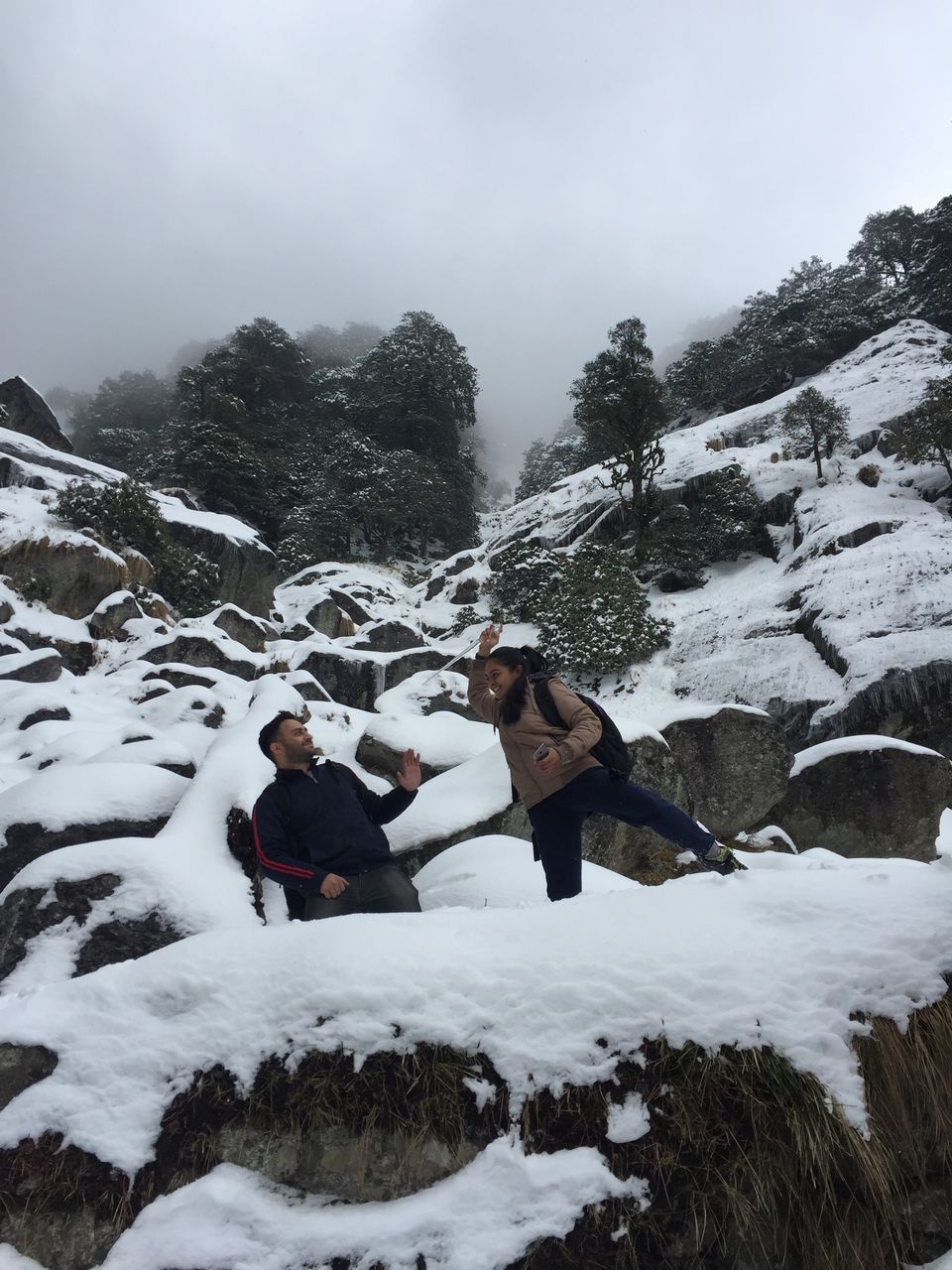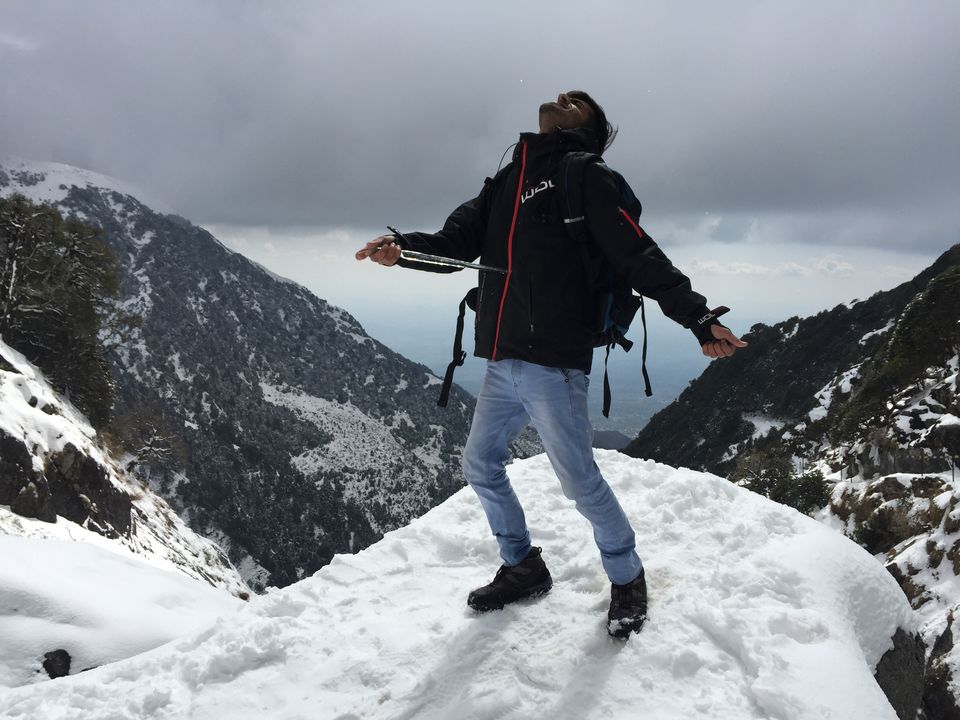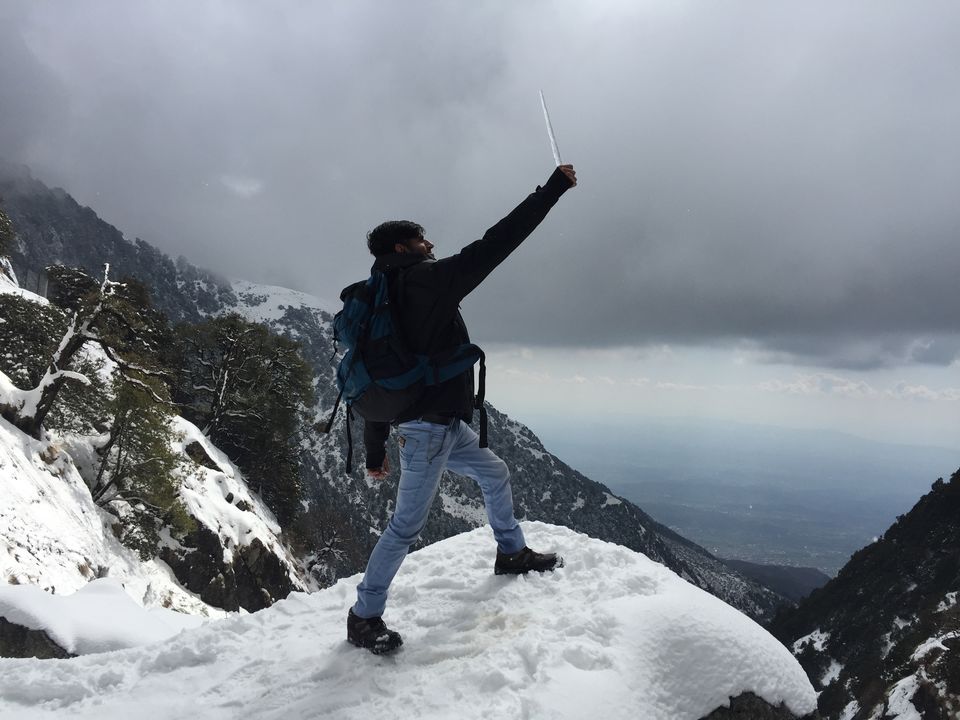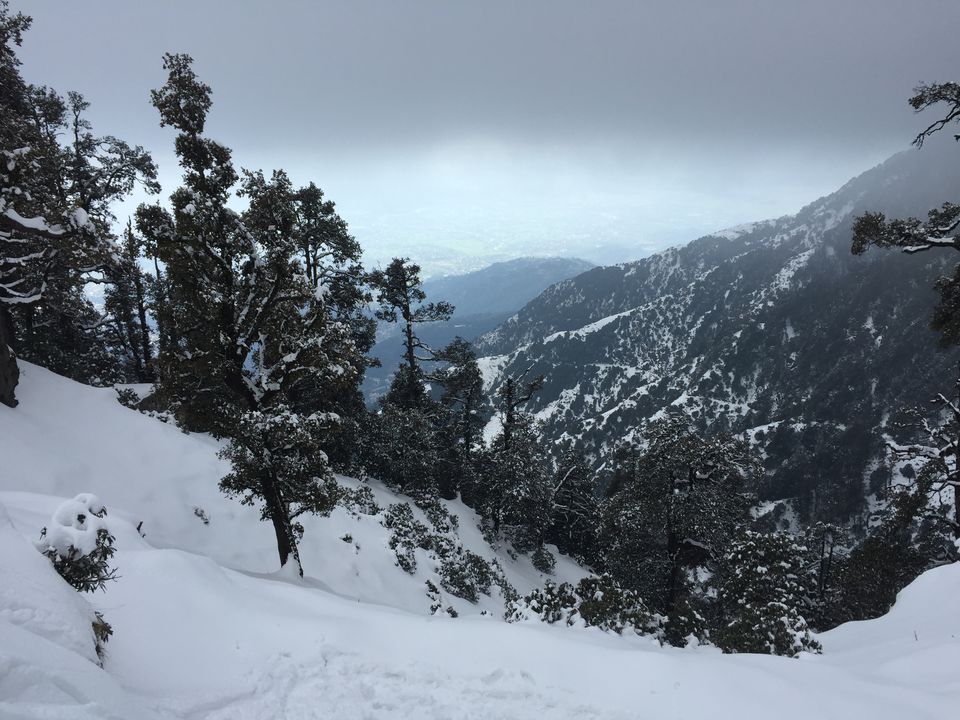 I wanted to thank my friend Neha for such an amazing surprise. So, I decided to capture her during a moment of happiness that I myself felt was the best of that particular day.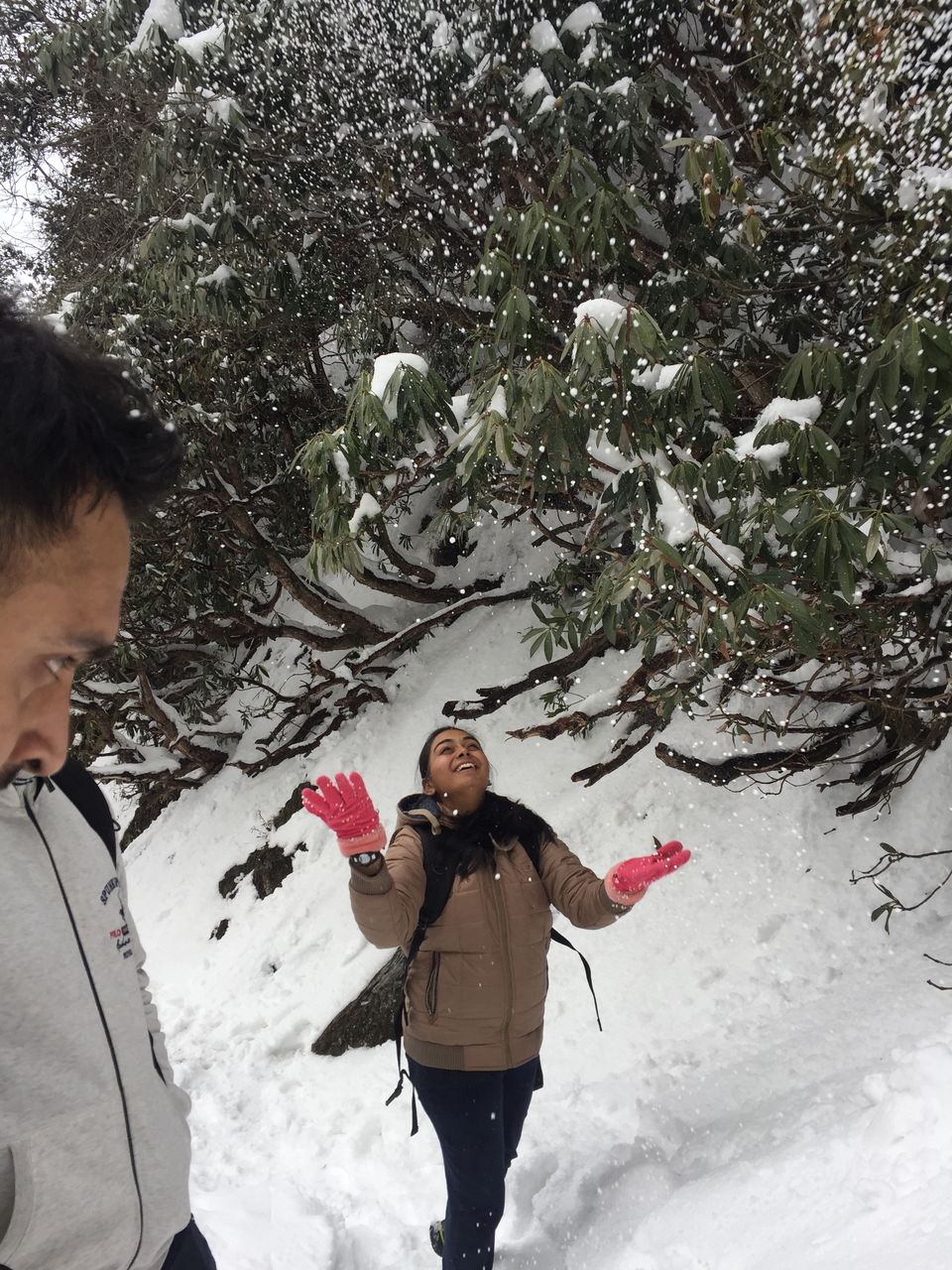 In some time, we made it to the top. And it was Magical. It was white. Everywhere. Look as far as possible. It was all white. It was beautiful. It was magnificent. I had never imagined i'd be seeing Triund like that. But, Thank God I did.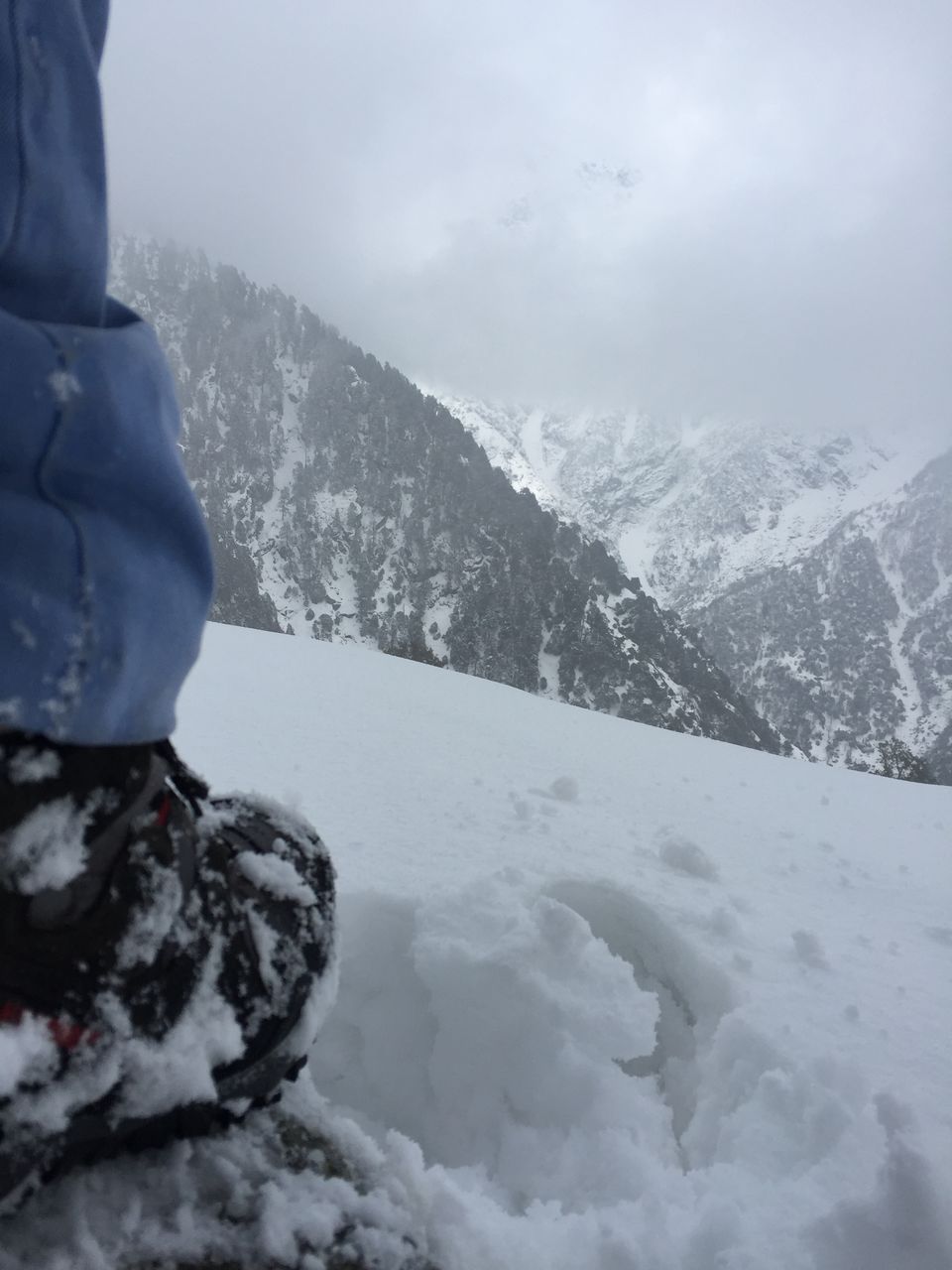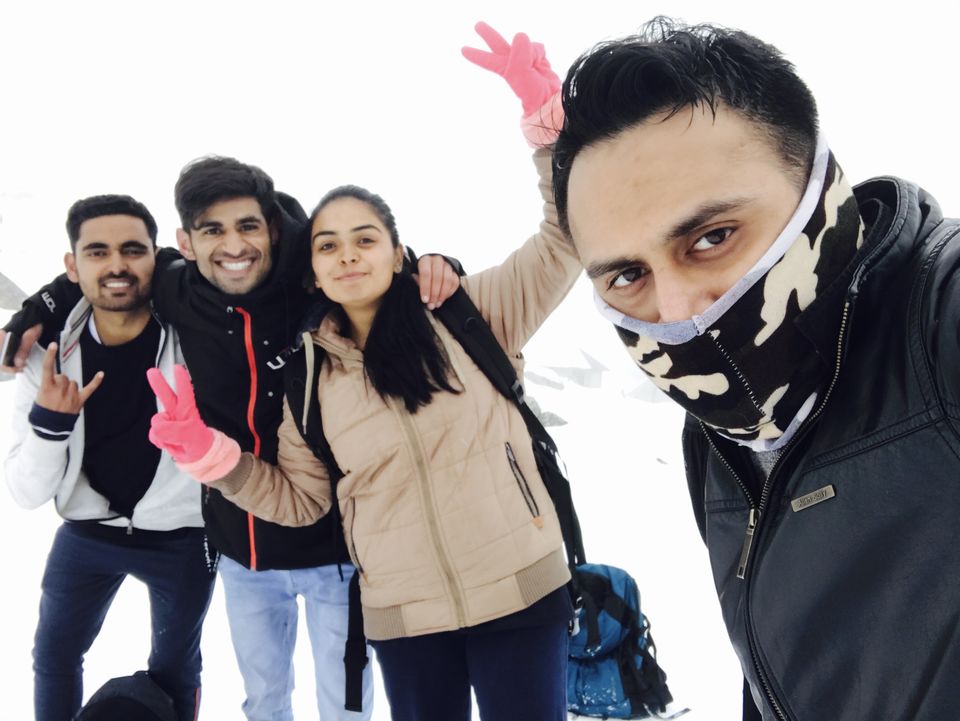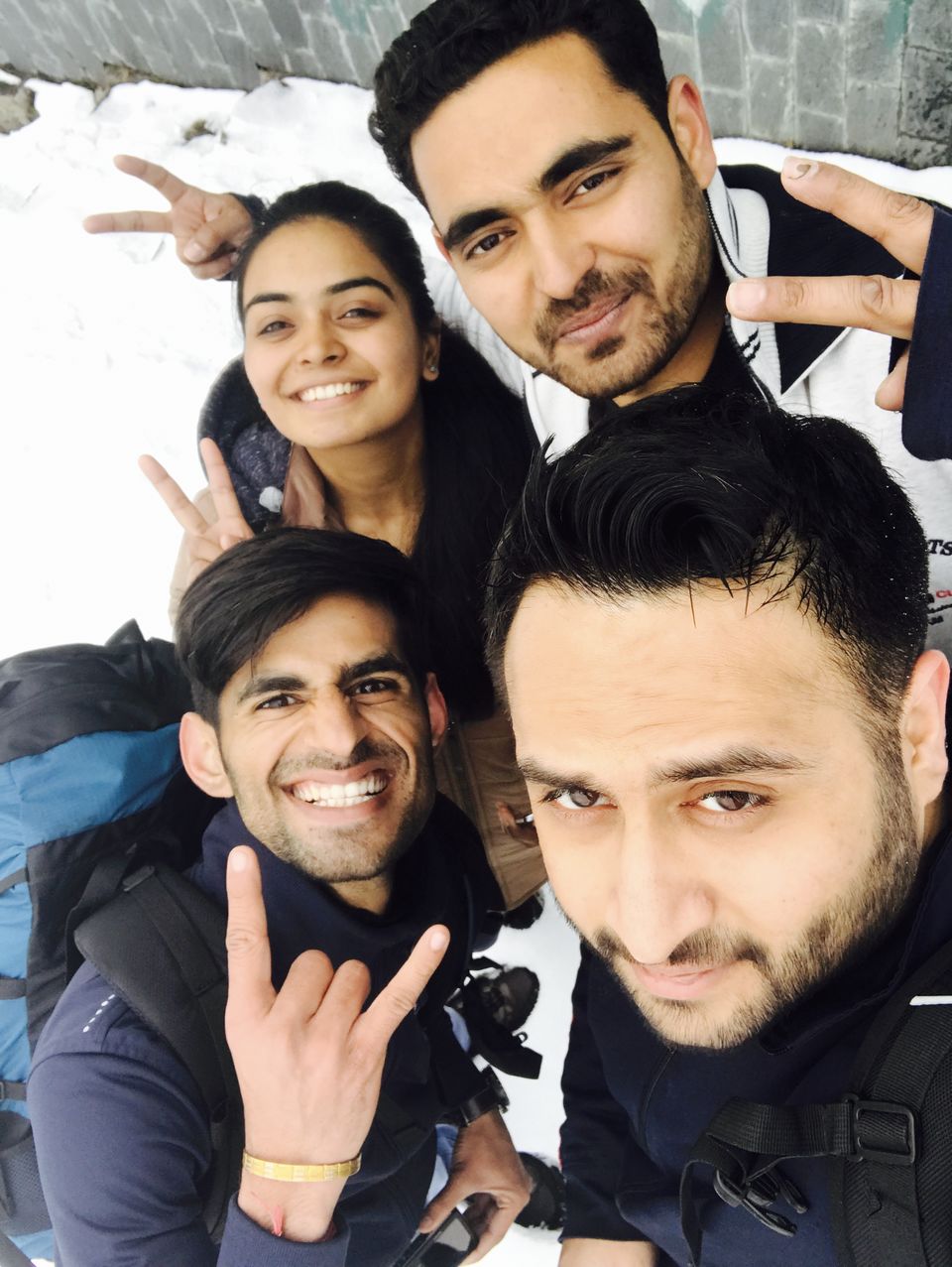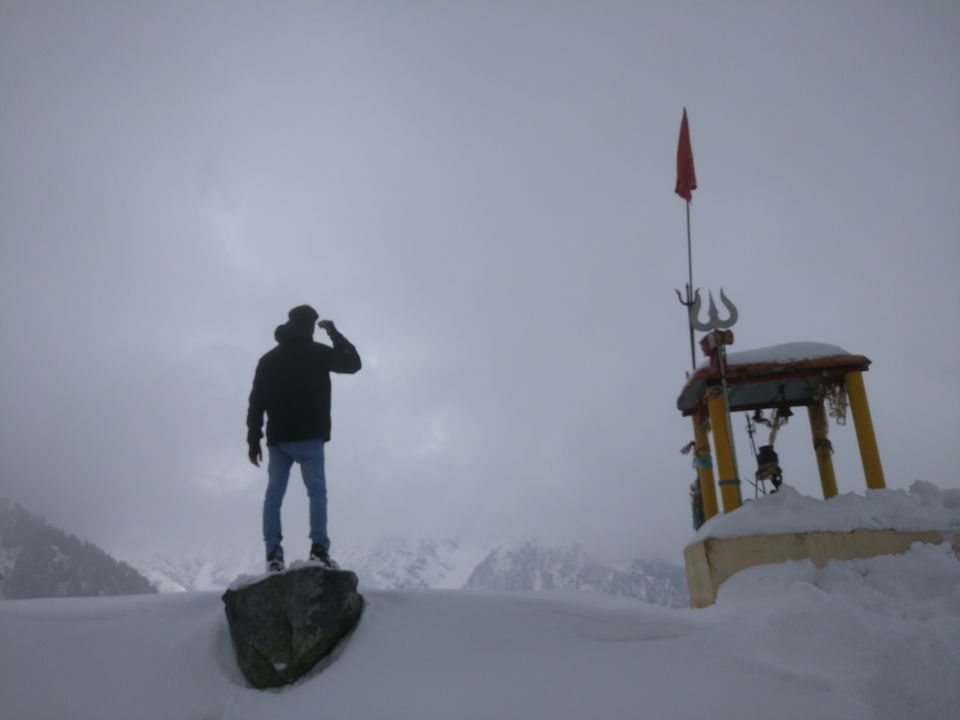 We started our journey back to Dharamshala. And at a moment, I was so shocked to hear Neha's phone ringing with 'Dexter's Laboratory.'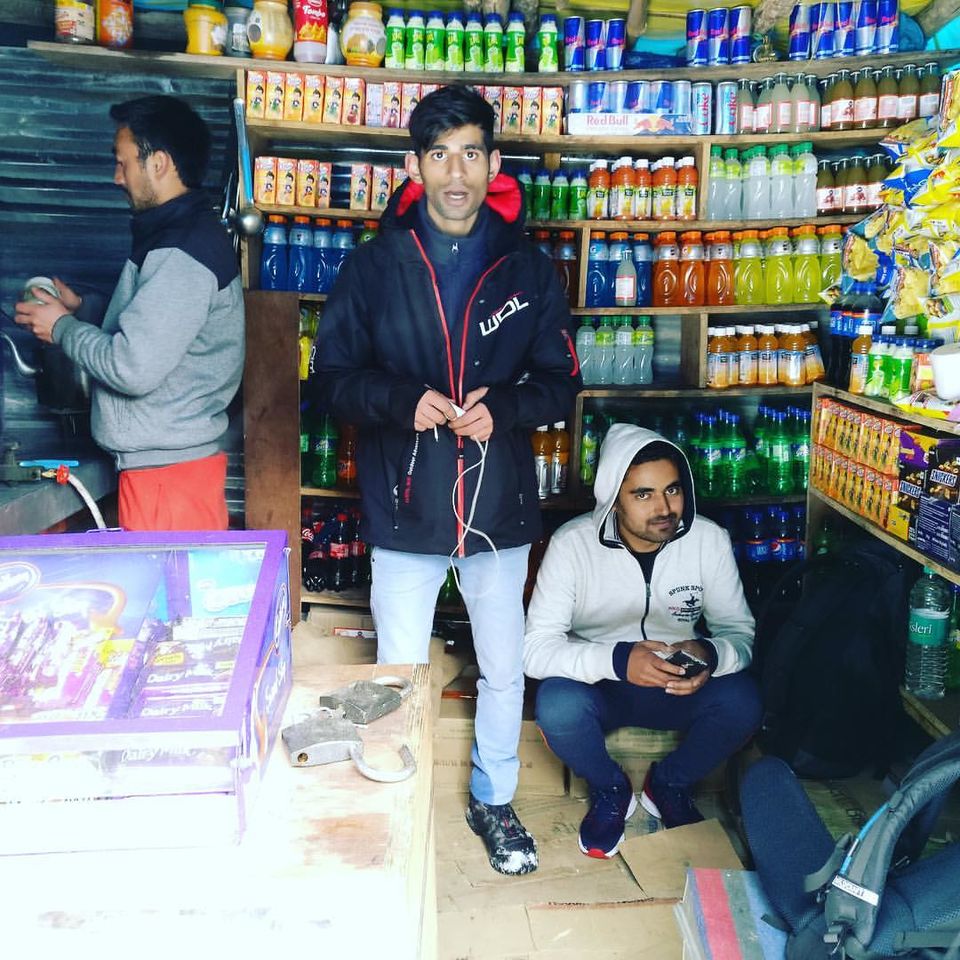 We stopped by Magic View for a brief time watching the valley from there and I felt such peace.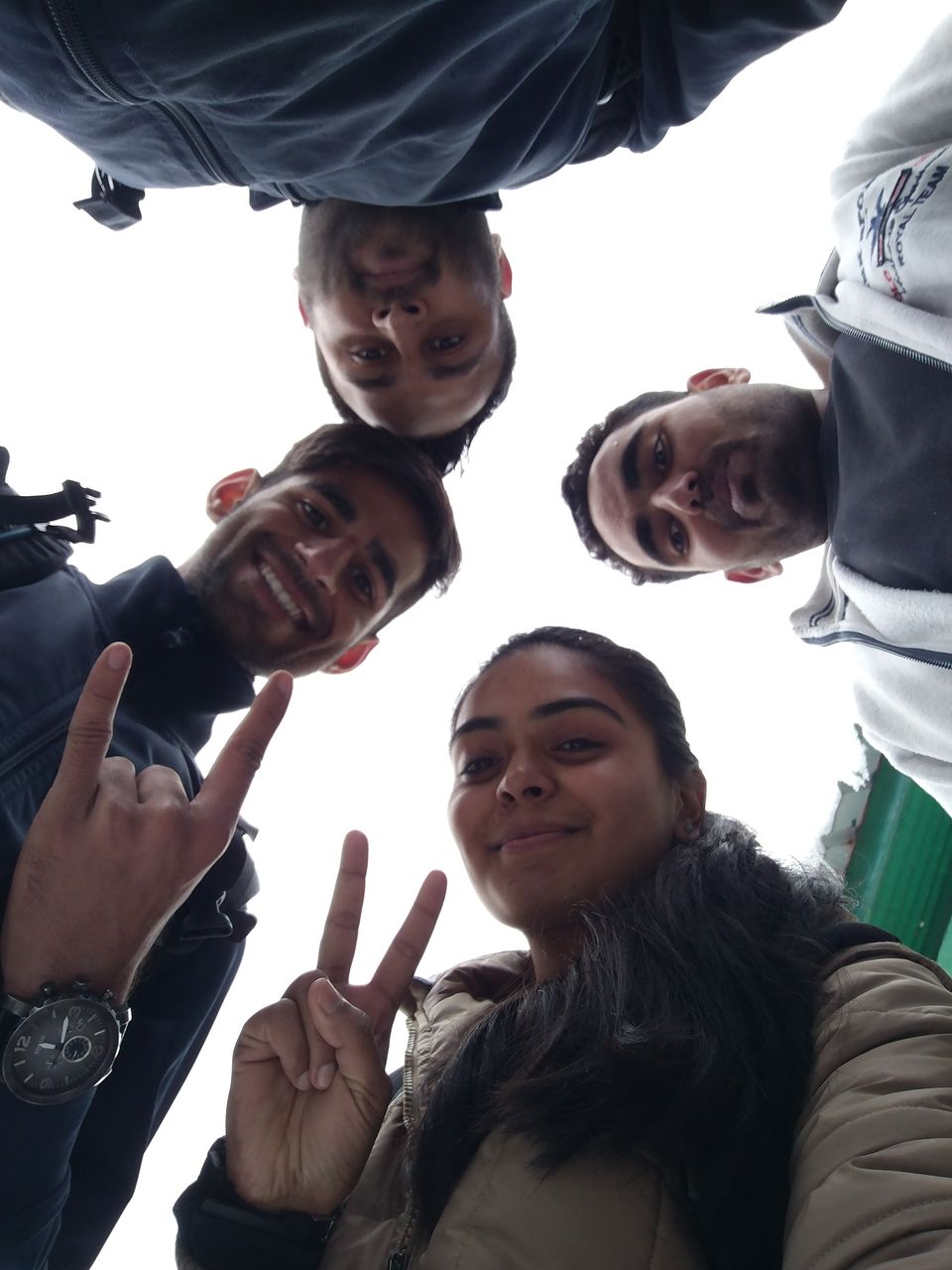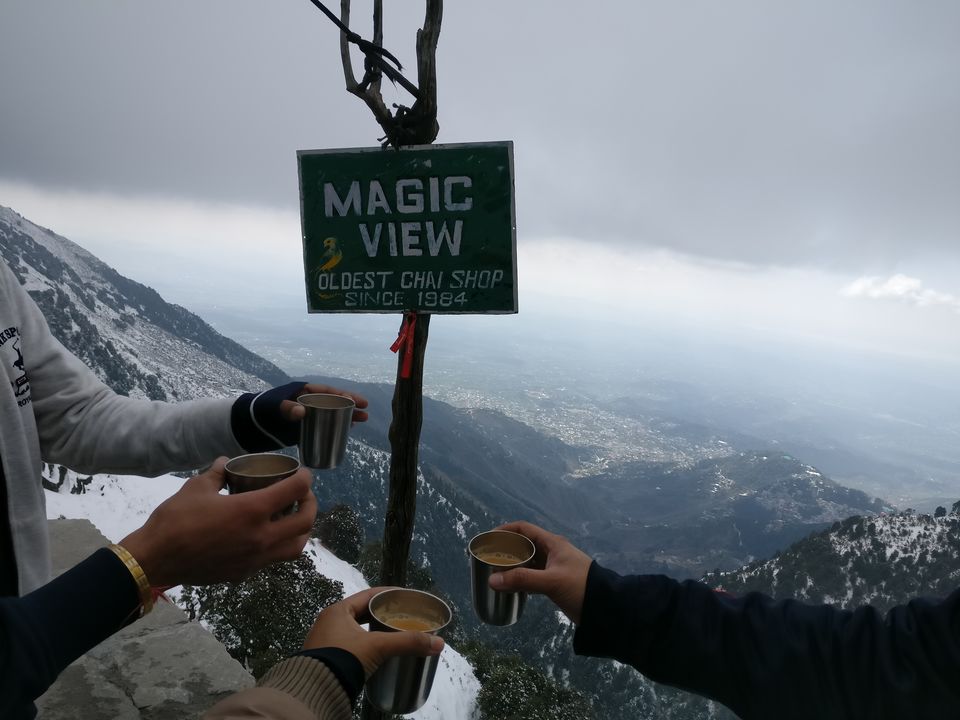 We hadn't had anything to eat all this while so it was obvious for us to be extremely hungry. Me and Karan Bhai being foodies were actually thinking about ordering we fancied the name of since we were planning to eat and sit at Jimmy's in McLeodganj. Jimmy's Italian Kitchen is one of the finest places that I had visited while in McLeodganj. And, we actually did order all the pretty looking stuff.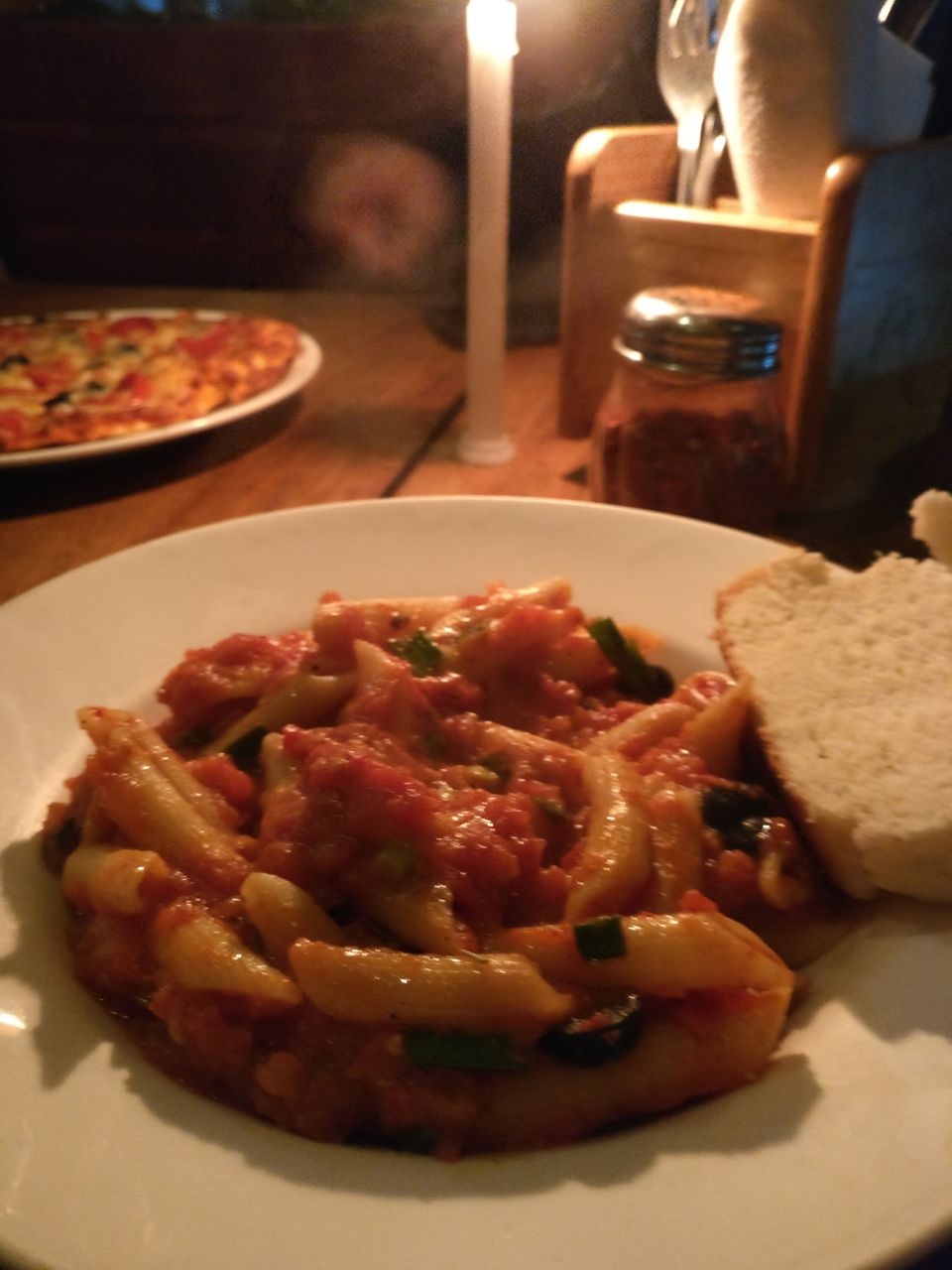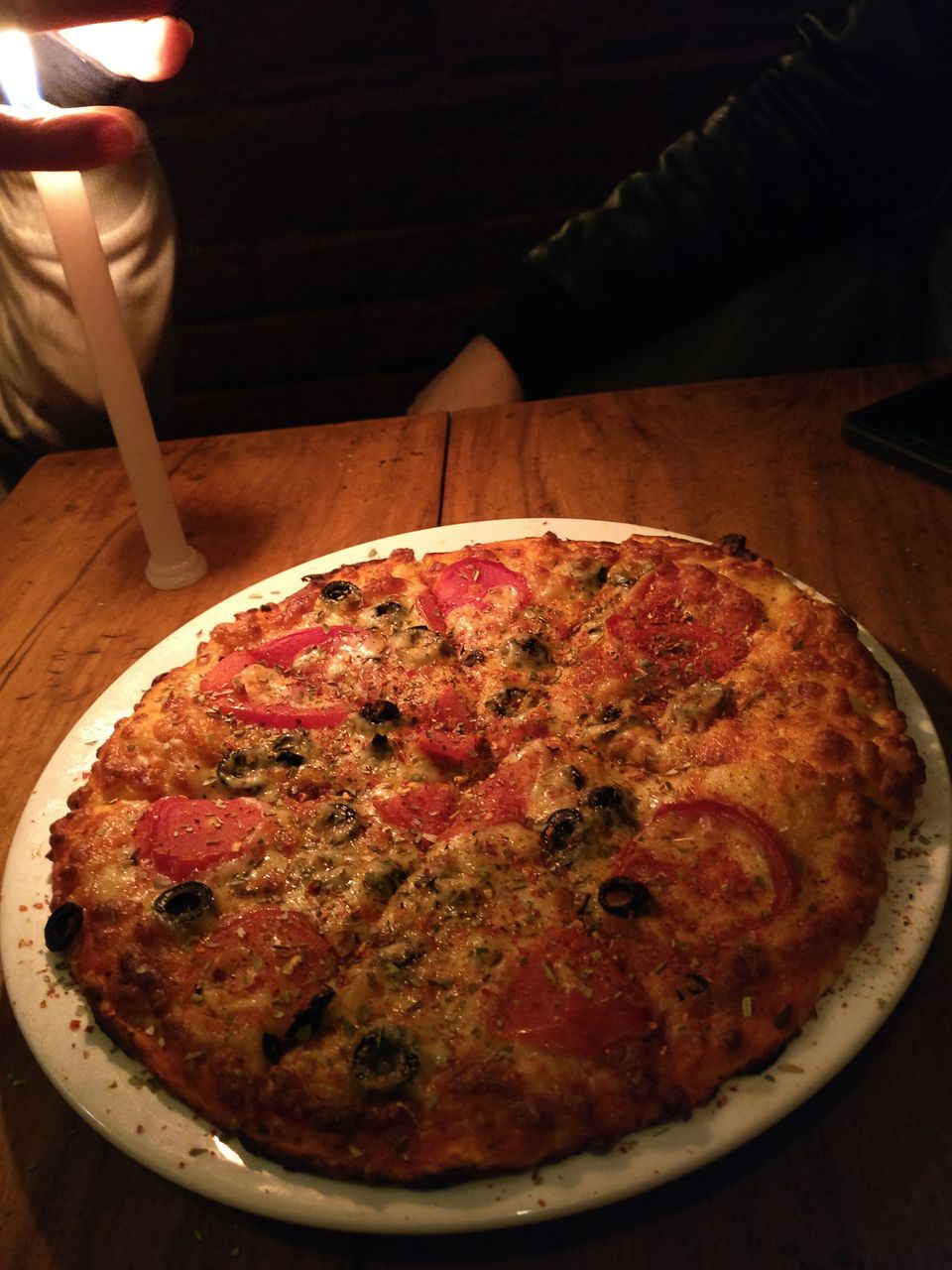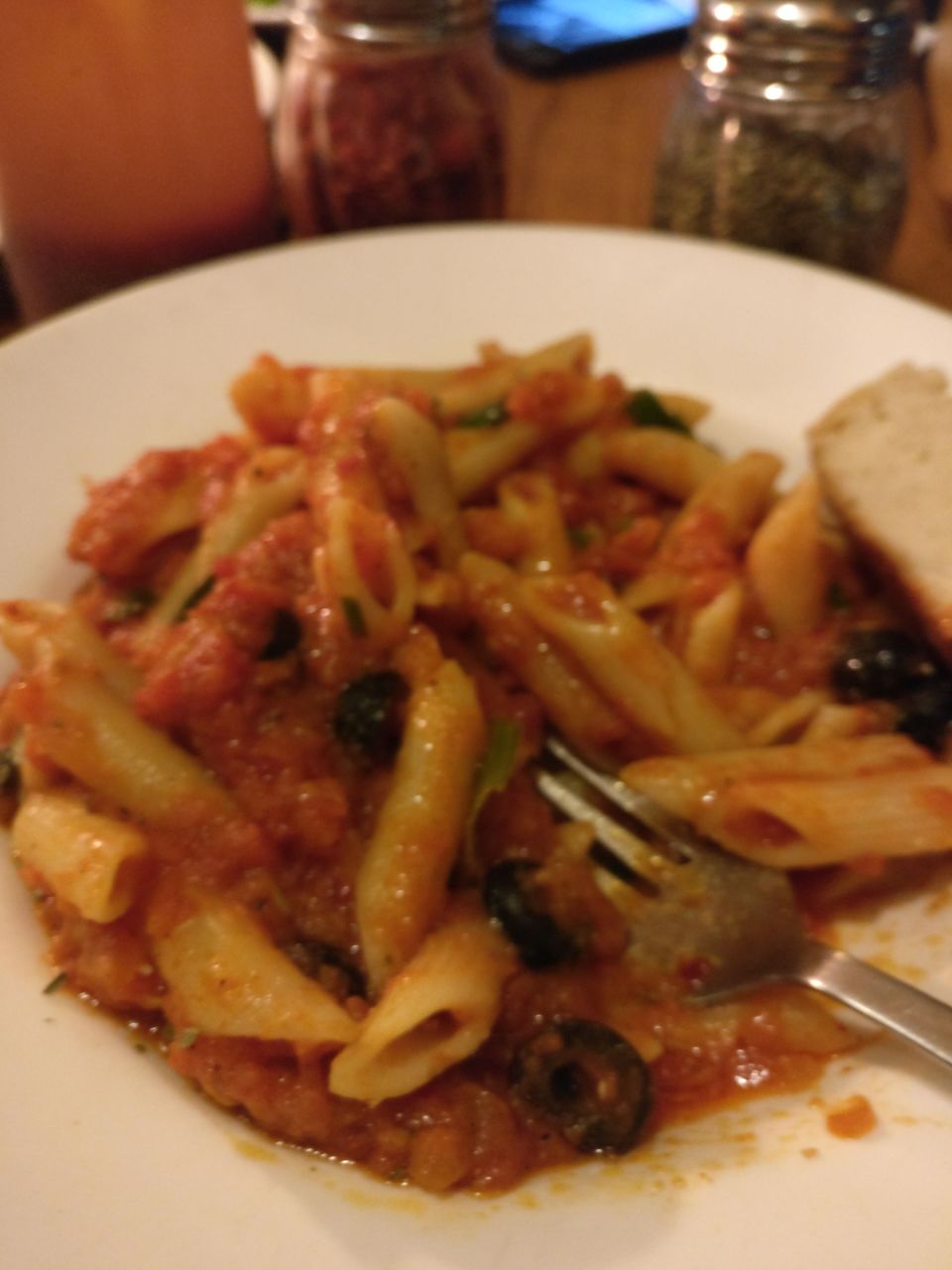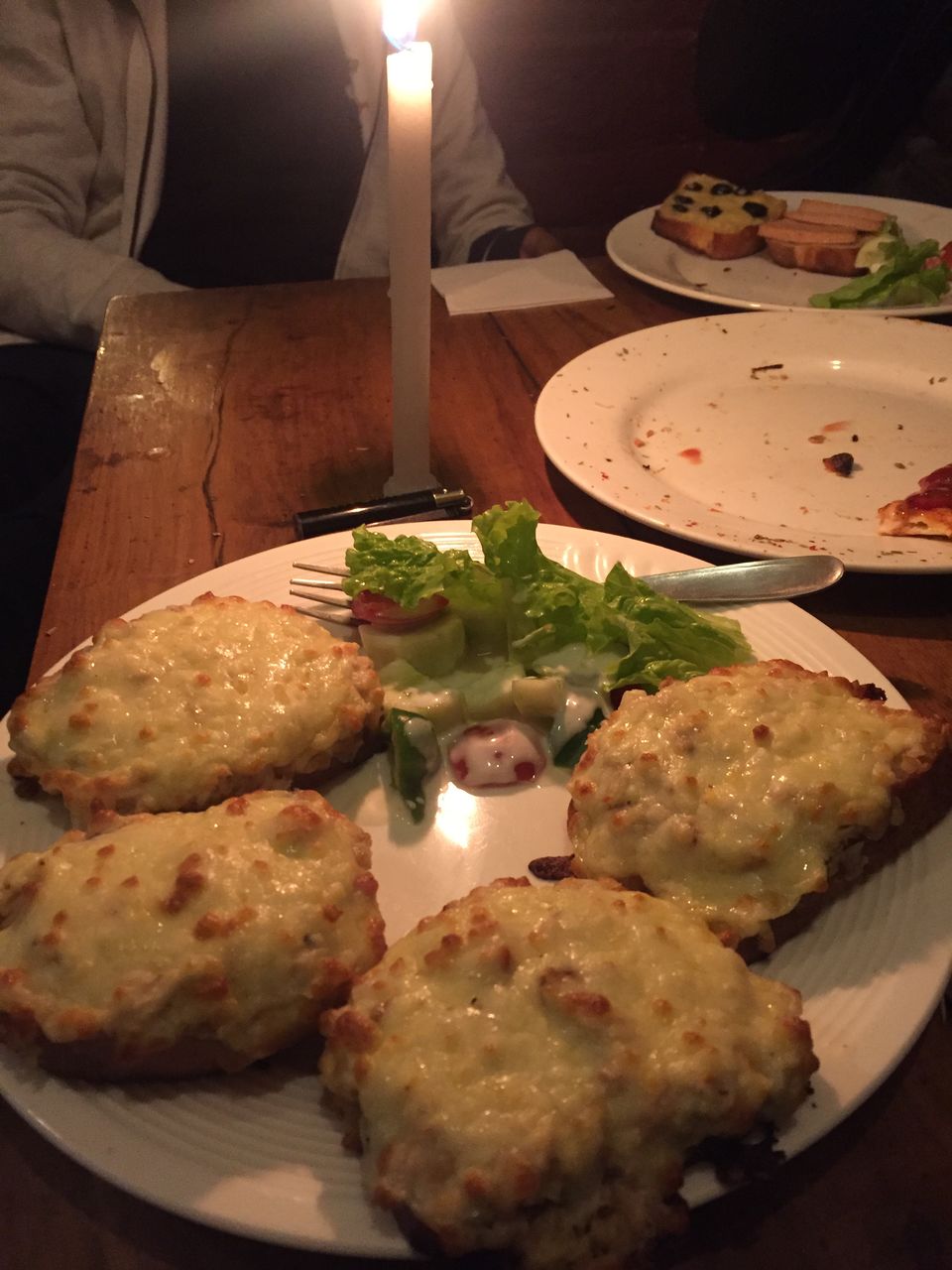 And we had fun eating too.....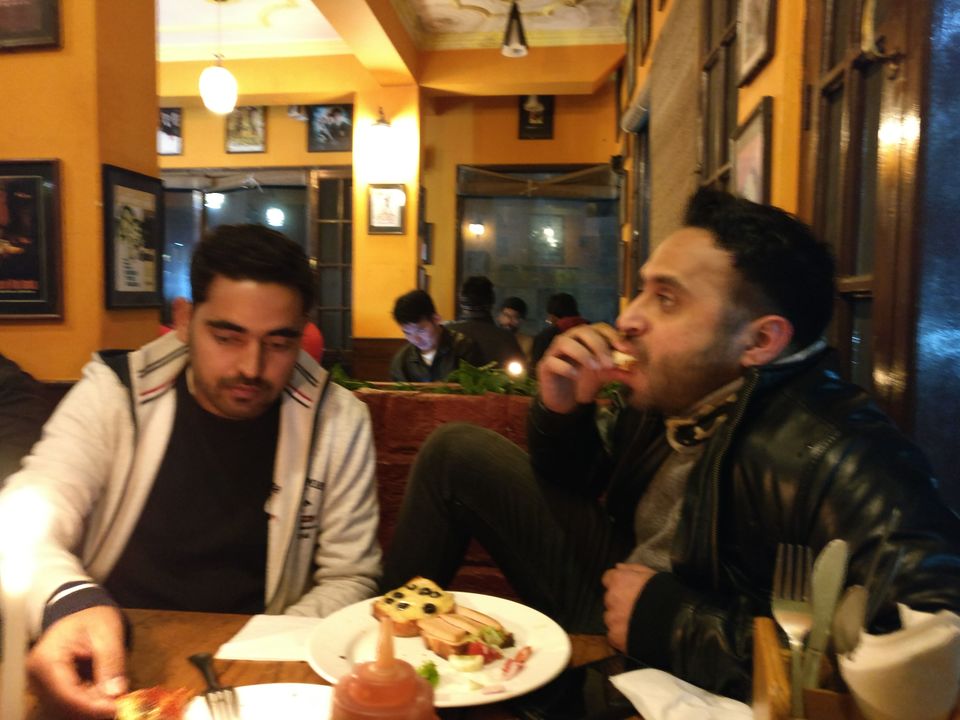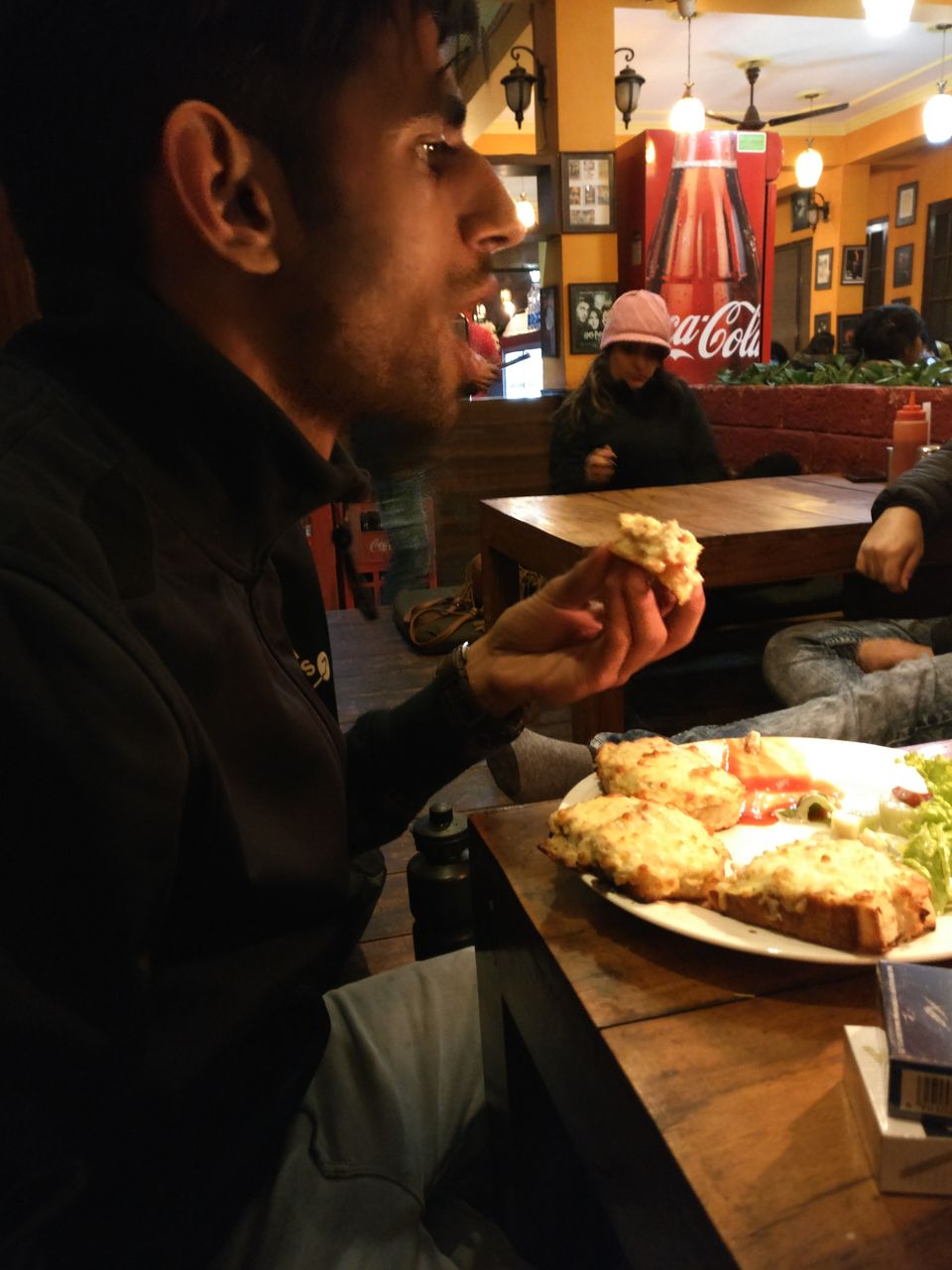 And with a heavy dinner...We closed our first day.......