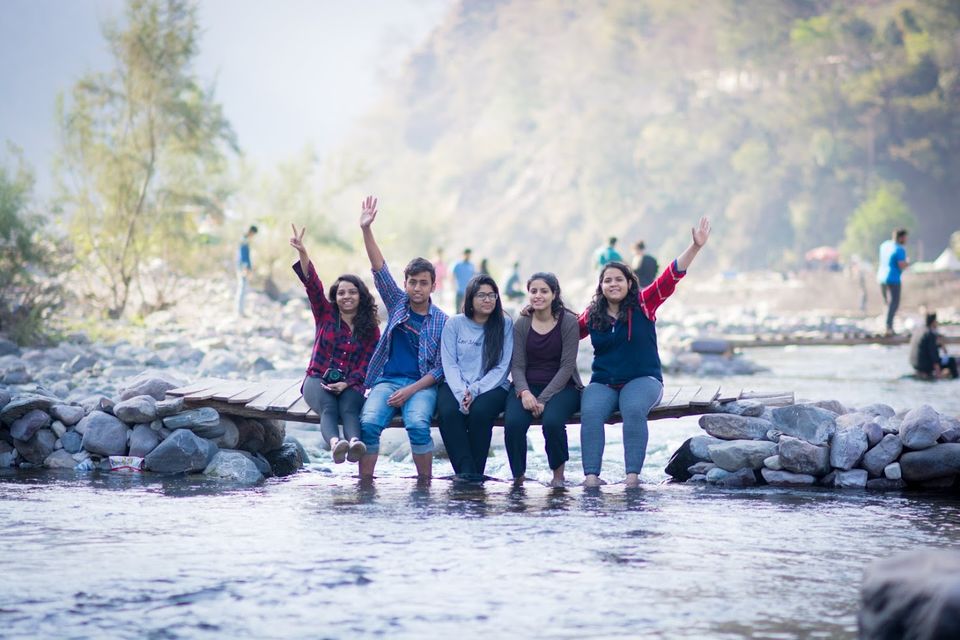 When we talk about the perfect weekend getaways, Haridwar and Rishikesh have a lot to offer. Be it a blissful and divine session of yoga and meditation, an overcrowded yet glorious Ganga Aarti or an adventurous river rafting and bungee jumping. They have got something for everyone. This place provides adventure, tranquillity and stunning vistas.
We started our journey from Delhi by bus at night and to make the best of the first day, we reached Haridwar by 5 AM and went to Har Ki Pauri Ghat.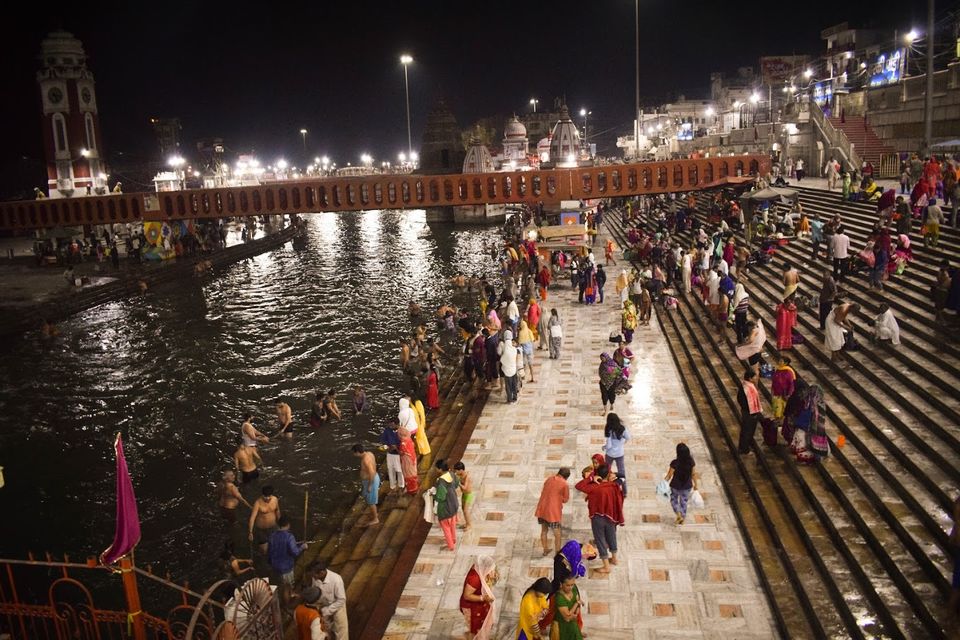 We were mesmerized by the peaceful environment. The havans on the ghats; people bathing in freezing water; hawkers selling pooja items and chants of prayers all around.
"Har" means "Lord Shiva", "Ki" means "of" and "Pauri" means "steps". Lord Shiva are believed to have visited Har Ki Pauri in the vedic times. It is believed that it is the precise spot where the Ganges leaves the mountains and enters the plains. This place is a major landmark of the holy city of Haridwar and thousands of pilgrims visit this place for Ganga Aarti. River Ganga is not just a river in India, it is the Divine Mother. So, Ganga Aarti means prayers are dedicated to River Ganga. We attended Ganga Aarti and visited a few temples.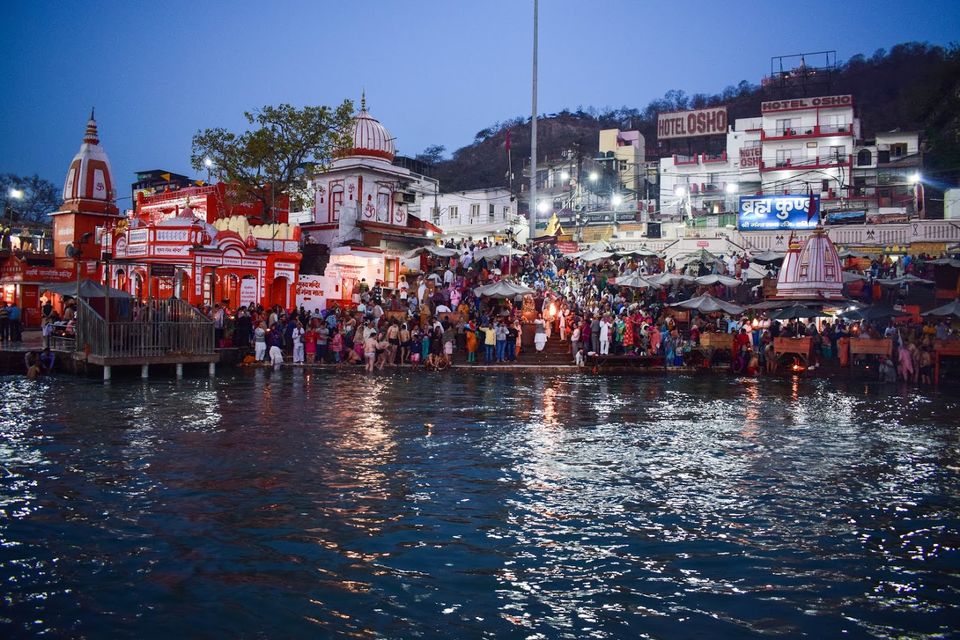 Then, we took a bus to Rishikesh from Haridwar bus stand which is at a distance of about 3 kms from Har ki Pauri. The shared autos are also available but, unless you are a group of seven or eight, it is not advisable to go for shared autos as you will either end up wasting your time waiting for other passengers or would have to pay for the vacant seats.
We reached Rishikesh in about an hour (it's 20 km) and we went to Chotiwala restaurant at Rishikesh taxi stand near Ram Jhula. This is a riverbank restaurant with a stunning view, opened in 1958 and serving regional Indian cuisine. Don't stress for their slightly slow service because I am sure food will cover that up.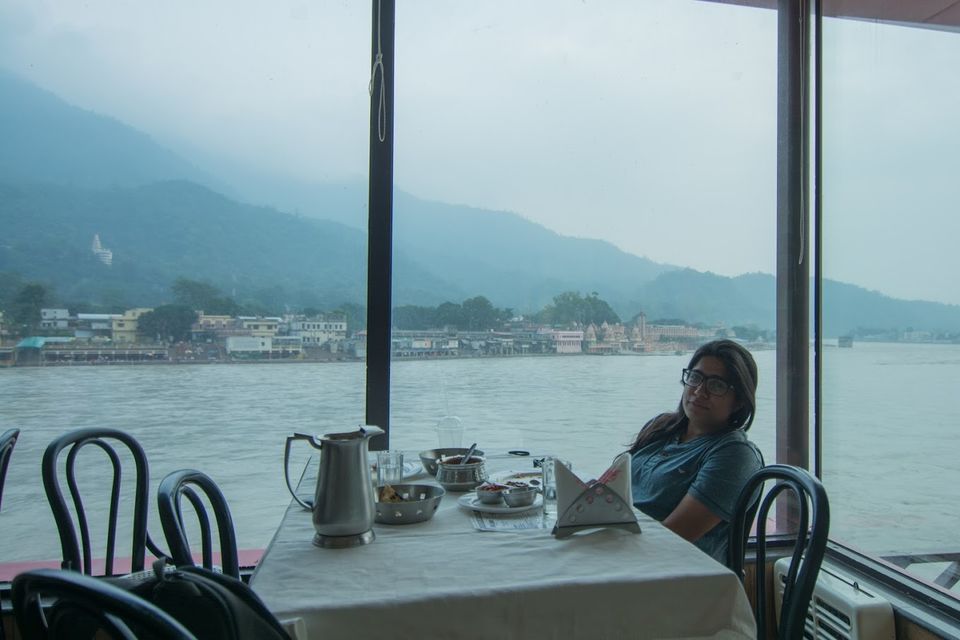 We had a heavy breakfast as next we were going to Neer Garh Waterfall. Oh wait! Before that, we rented a two-wheeler.
Why? Autos in Rishikesh are permitted for limited routes. Also, shared autos are not advisable for smaller groups and yes, you can always have private taxis but if you get stuck in traffic jam, you will spend hours waiting for it to be cleared. So, in all cases, a two-wheeler would do wonders. So for once, rent a two-wheeler, move up the mountain, explore the hilly areas, and you can thank me later :)
Info: You will find a shop for renting vehicles, rafting, camping at every 500 metre distance in Rishikesh.
Neer Garh Waterfall is 6 km from Ram jhula and is on a different mountain. There are three levels to this waterfall. For each level, we had to trek. So, we parked our vehicle at the base of the waterfall and we were ready for the challenge.
I have to admit, level one was easy. It acts like a natural pool in the mountain. Swimming in the pool with the stunning view is a bliss.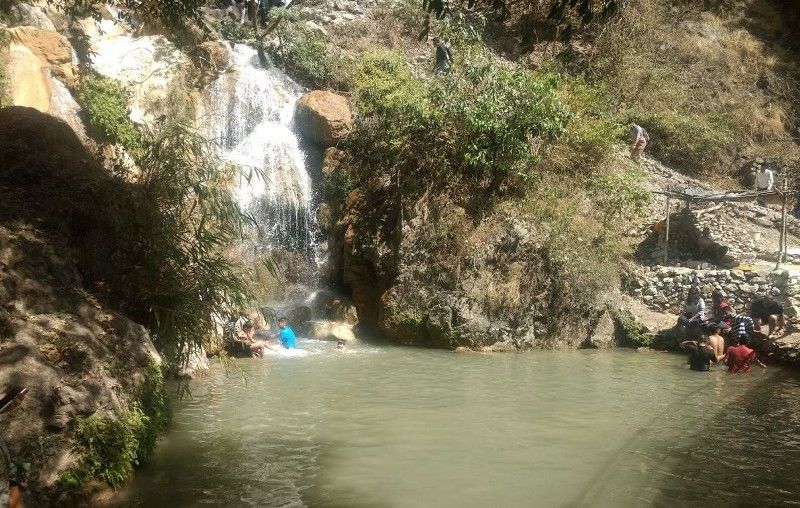 But, we wanted more. We moved up the mountain and reached level two. It was a bit commercialized and snacks were served with dining inside the water. We observed people meditating, clicking photographs, admiring the view, and having maggie (of course!).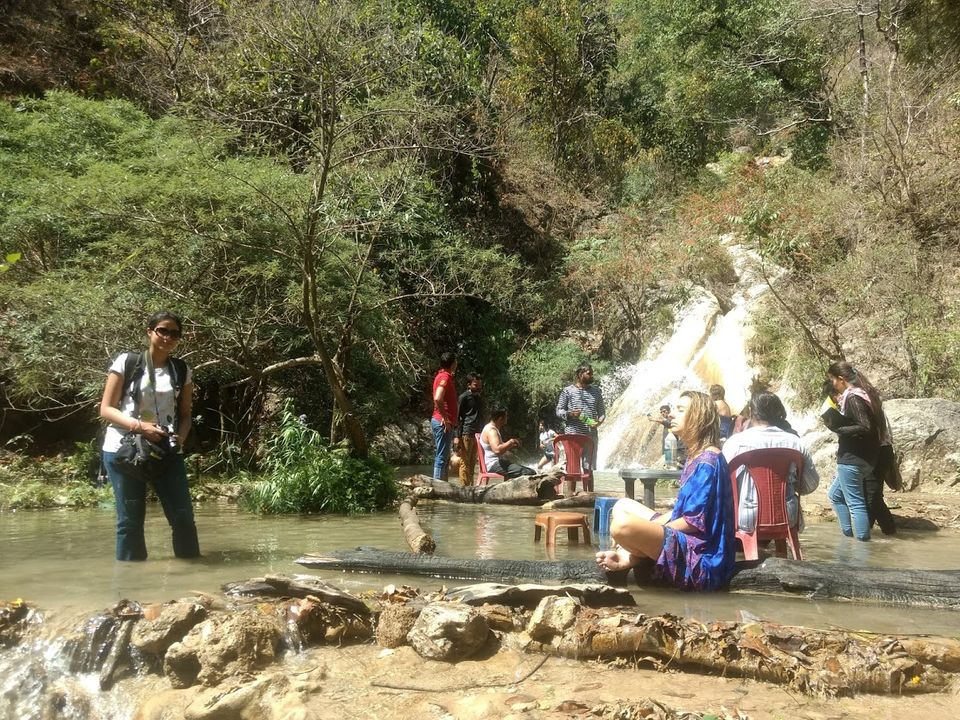 Then came the hard part - level 3 of Neer Garh waterfall. The trek became difficult, no proper path to follow, we might have lost the track if there was no trail of people ahead.
And my dear readers, this was our destination!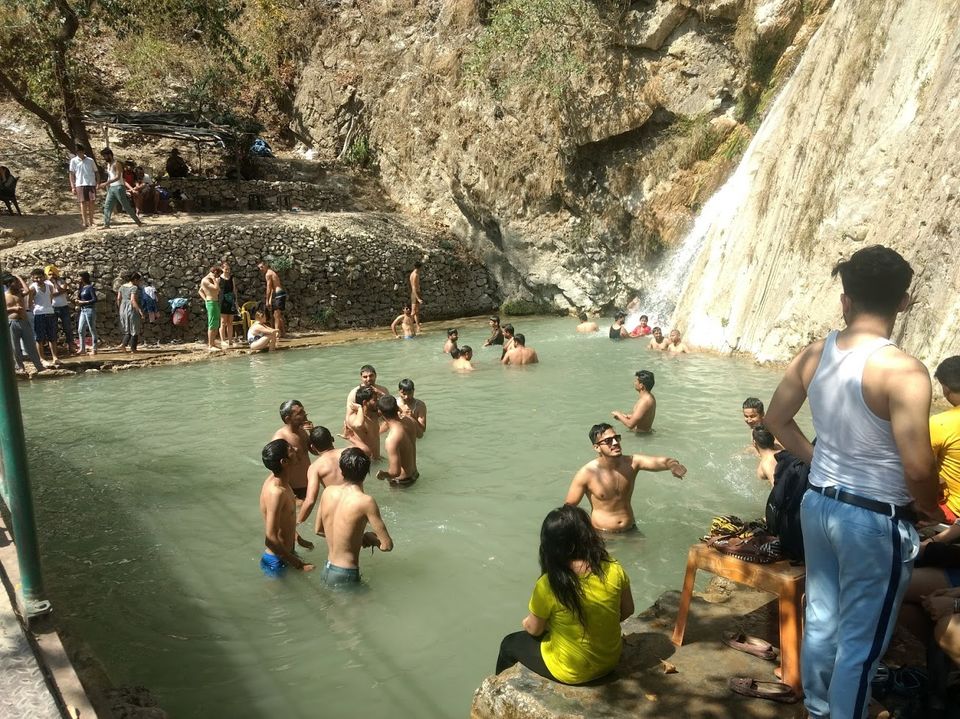 Level one and level three were similar except this had more depth. But view became more beautiful at this height of the mountain. So, without wasting any time, we just jumped into the water.
The beauty of this place is that you can follow the waterfall inside the mountain and find your own space around it where you can enjoy cutting from the rest of the world. Once during my visit, we started searching for a mini version of this waterfall starting from the base of the mountain ( and not from the base which holds all the levels). To our delight, there stands a place isolated in the middle of the mountain and we spent an entire day around it.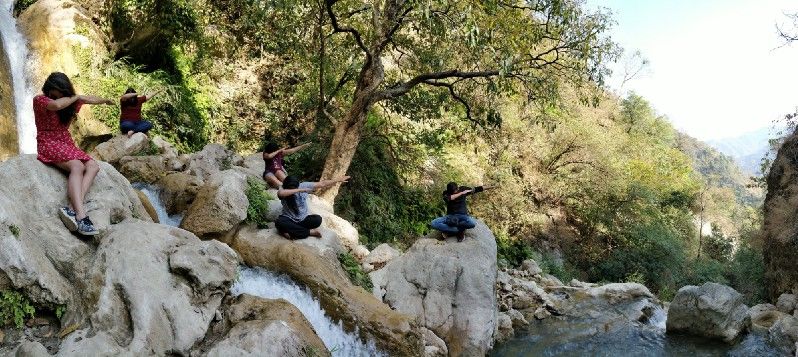 Then, for the night we decided to camp. We returned our activas and booked camping near Shivpuri. We went for a package that includes our transportation to Shivpuri, from evening snacks to breakfast next day, camping and river rafting till Ram Jhula. Shivpuri is 13 kms from Ram Jhula and is the starting spot for river rafting. It is a place where clouds come floating, lush green mountains with a heavy flow of water.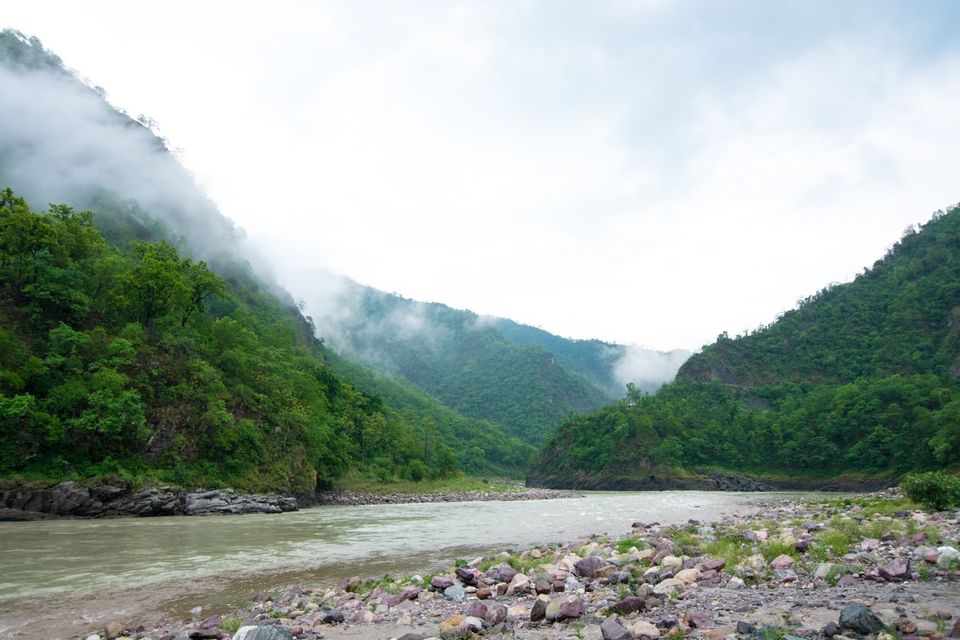 The campsite was clean, we stayed near the stream of water till late and woke up early next morning and the view kept us spellbound.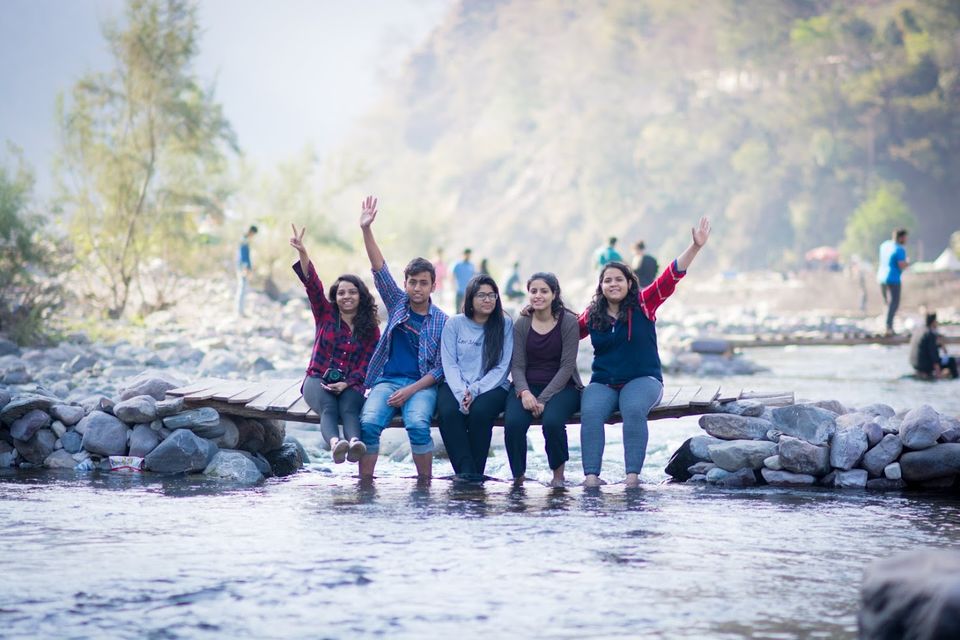 The major highlight of the trip was river rafting. We captured our best moments of river rafting. If this doesn't kick your adrenaline, then I am not sure what will!
Rafting took 4-5 hours and we were back at Ram Jhula. We had an entire day as it was just 1 PM. So we rented an activa and we started with unexplored routes.
Info: You can book bungee jumping, giant swing and other activities at Jumpin Heights official website. Book your slot minimum 15 days prior and plan for the rest of the weekend accordingly.
Roaming around, we went a few kms into the outskirts of Rishikesh towards Dehradun and we found bunch of kids bathing in the heavy flow of water. We got amazed and intrigued.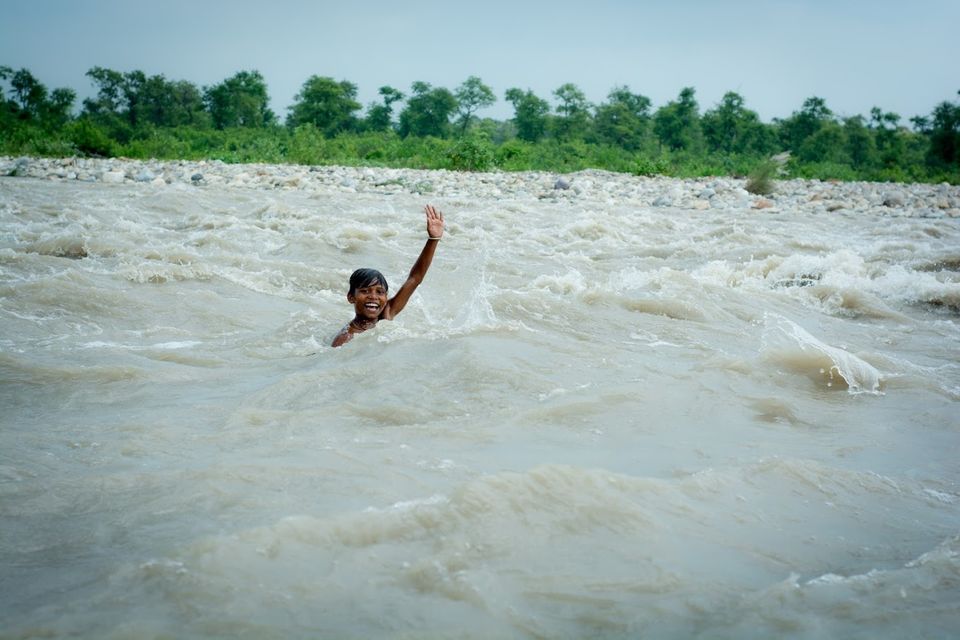 We jumped into the water trusting the kids. I have to say - Never try this alone, it could turn out to be very risky. In no time we were in the middle of the river and four kids jumped to get us back and I must admit - this is the peak of a daring experience I ever had!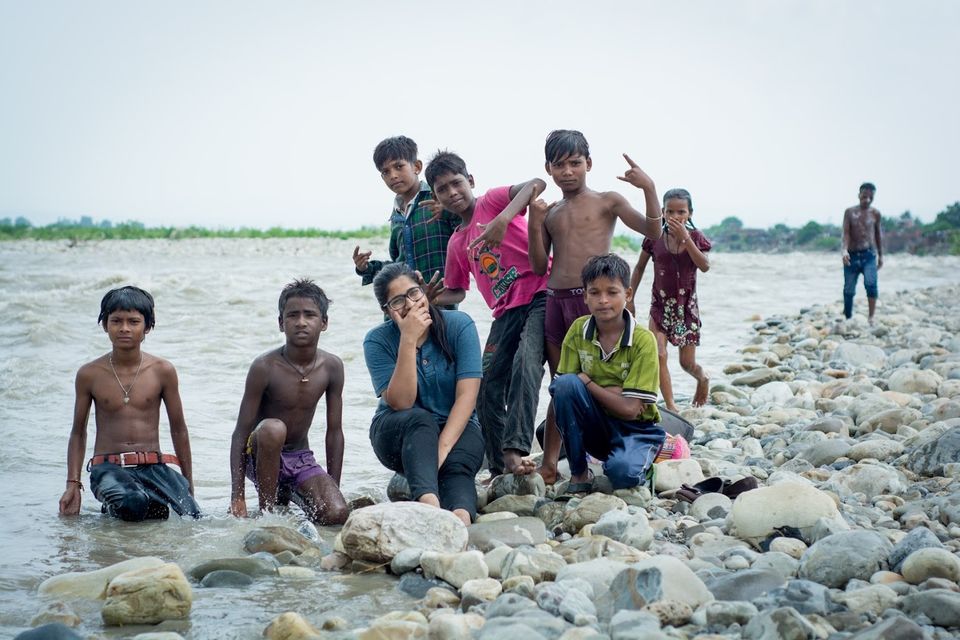 After an entire day of adventure, we returned the vehicle and boarded a bus to Delhi from Rishikesh bus stand.
Rishikesh is what I would call my second home where I go whenever I need an escape from my daily routine. Every time I have visited this place, it has offered me something new and different. Be it river rafting or cliff jumping, be it white sand beach or meeting the bunch of kids living nearby; be it natural pool I once discovered around Shiv Puri or the vistas of mountains during the rainy season. I have been to many unexplored isolated places in this city and the more I see, the more beautiful it becomes.
Travelling is often unpredictable. It's surprising, messy and beautiful all at the same time. I would suggest everyone to visit here at least once and enjoy the glory of this historic place yourself.
So, what's your plan for this weekend?
Frequent searches leading to this page:-
2 day trip to haridwar and rishikesh, one day trip to haridwar and rishikesh, one day trip to haridwar and rishikesh from delhi, two day trip to haridwar rishikesh, char dham yatra package from rishikesh