Travel has something about itself that moves something inside you. The bliss you experience, the beauty you come across and the cultures that bring out a new you every time you pack your bags and set your feet out is something most of us yearn for. So when we were jaded with professional commitments, work, kids and family, we decided to take a break and go on a lazed out vacation. As we wanted a relaxing break and not something adventurous, we decided to play safe and stick to a simpler destination and not something fancy like Goa or Pondicherry (I don't know why they renamed it later). So, we ditched the obvious and headed to a rather laid back, rustic destination of Jim Corbett. While picking out on this destination, we were pretty sure that morning jungle safaris would be the only adventure and we would be able to relax on poolside the rest of the day.
Feeling too lazy to even drive down to Ram Nagar, we decided to book a cab (we booked from our local operator, but now Uber and Ola are also providing outstation services) and began our jungle sojourn. A three-day stay at the Golden Tusk Resort was something that we were literally craving for. The resort was everything that we would have wanted in our accommodation (For more on the Golden Tusk resort, read our review, the real tusker). A landscaped estate, nestled at the edge of the reserve forest, on the banks of river Dhela, the resort has well-appointed accommodations, multi-cuisine & specialty dining, a wellness centre, and a gamut of recreation facilities. We booked ourselves a luxury tent, only to realise later that a tent in summers is not an intelligent idea.
Early next morning we began our jungle sojourn with a jeep safari to the southern part of the Jim Corbett national park. Early mornings are like a trance in the wild as the surroundings are so dew-dipped that an entirely different view is available for our eyes to feast on. As soon as we entered the jungle, the beautiful chirping birds reminded me of my tour to the majestic Ranthambore national park, where we were greeted by about seven-eight dancing peacocks just at the entrance of the park! The sight even here was amazing, but the number of peacocks we came across was far low. Chirping birds, deer, antelopes, monkeys, baboons and what not. Our eyes were wide open as we did not want to miss any opportunity to spot a wild.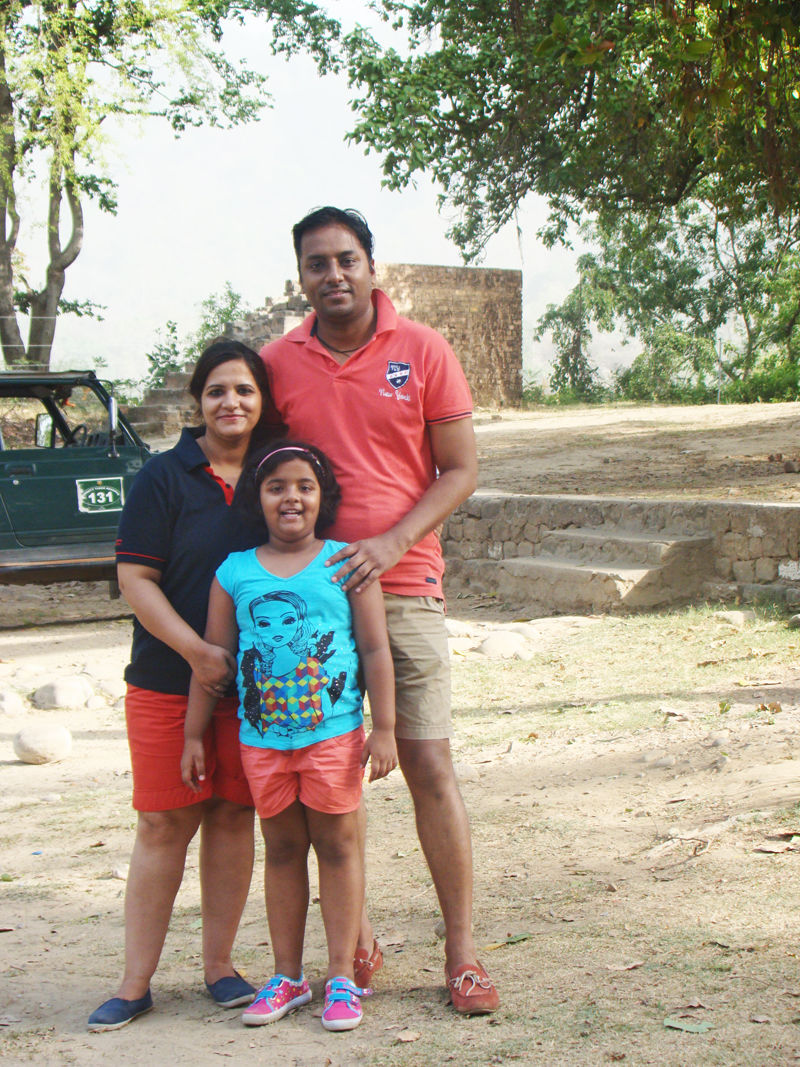 As we went deep inside the woods, we heard a strange, loud crying. Our guide informed that this is a call made by the animals when they spot a tiger. We followed the call and reached a place in deep woods where about 7-8 other vehicles were parked and were waiting for the giant cat to show us a glimpse of its majesty. About half an hour and we see the unprecedented sight! A tiger emerges out of the bushes and starts walking towards a lake that lied ahead. We were watching the movement from about 20 metres away but still the look and grandeur of the animal was awesome. I can personally vouch that everyone there was spellbound for a few moments as none had experienced this grandeur before. It was a while before we all came back from our bewilderment and started clicking pictures of the animal before it vanished in the woods after quenching its thirst.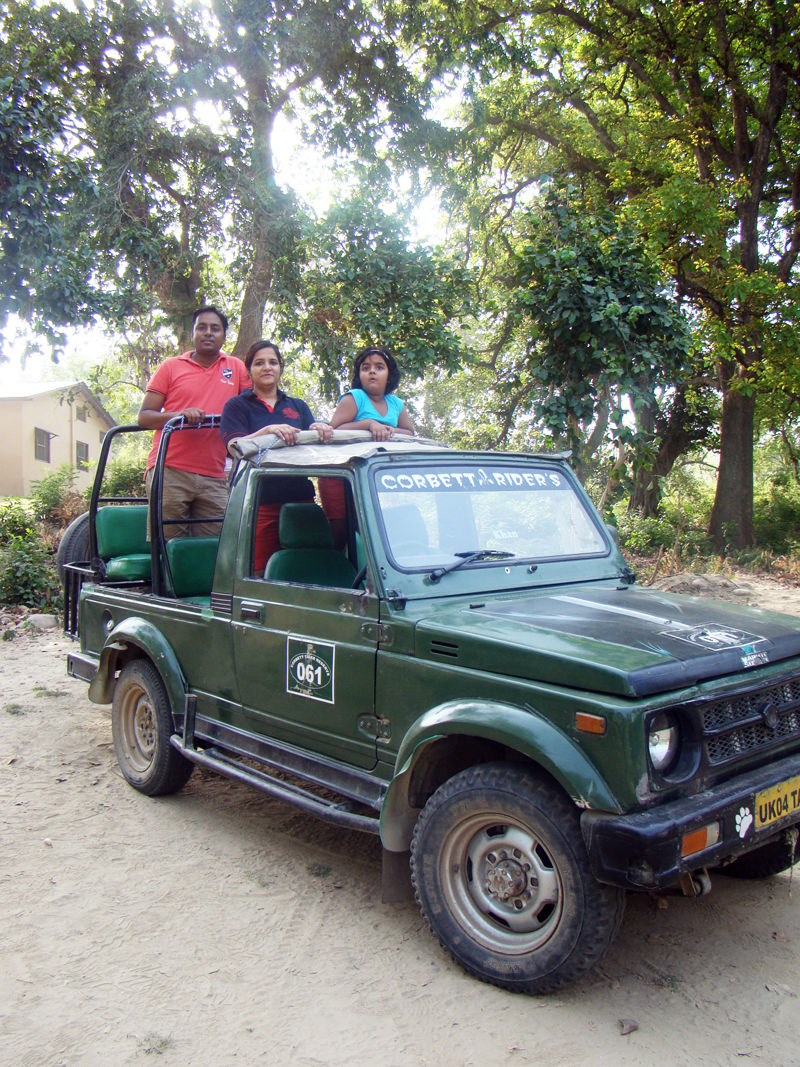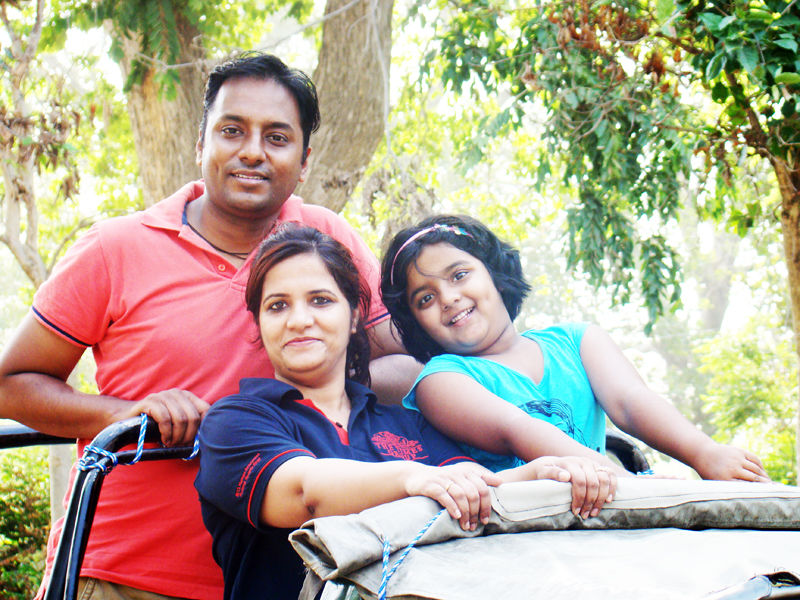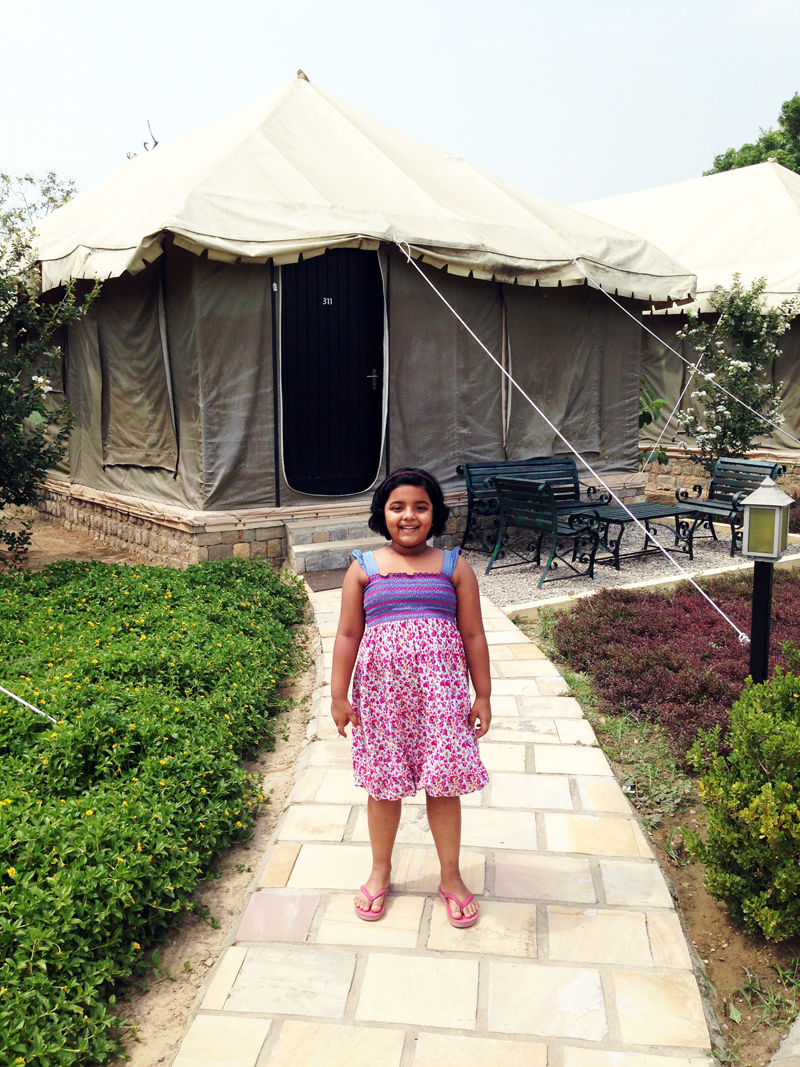 Our safari had ended in a magnificent way and we were still in awe of the wild. Back into our resort, we treated ourselves to some sumptuous breakfast and even indulged in some delicacies without thinking about the extra pounds. After all, holidays are meant for indulgence. The rest of the day was spent in the pool and in-house activities that were available at the resort.
The next safari we undertook was a trip to the Sitabani buffer zone at night. Our guide had promised a never-before ride and we were actually looking forward to it. Our trip started post sunset and it started getting extremely dark as we went deep inside the forest. With barely the light of the vehicle lighting our way, it was a completely new and slightly scary experience for all of us. That drive in absolute darkness of the woods with a background of animal sounds and whines, this was something adventure freaks would surely die for. Although, we did not come across any major activity in the wild, the two hours that we spent in the woods were simply priceless. Overjoyed with our drive, we returned to our resort for a quiet dinner and drinks over some soulful music.
The next day was assigned to shopping, but as is the case with most other popular tourist destinations, there was not much of a catch. Most shops that we hopped only sold the clichéd souvenirs like tiger paw-shaped ash trays, hats, tiger print decoratives and scarfs. Unimpressed, we stopped at a restaurant in Ram Nagar to cut into our lunch of fusilli pasta and a delectable pizza that was loaded with veges. We also visited the Corbett museum for some time.
Unbelievable for myself even, I was extremely content with my visit to the Corbett. A stay at one of the best resorts and a sighting of the wild had made my day and I was prepared to go back to my routine life and work.