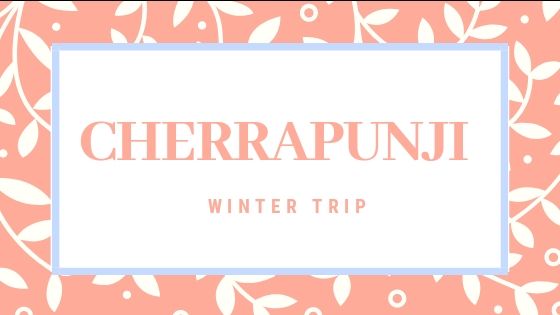 Winter in Cherrapunji is surreal. This Winter I went to Cherrapunji as it was always on my list. I stayed there for three days and tried to cover many places as much as possible.
When to visit Cherrapunji- Cherrapunji is a popular tourist destination of India and is visited by tourists throughout the year. The weather conditions of the town remain pleasant and comfortable for most part of the year. Cherrapunji receives heavy rainfall throughout the year. So, the best time to visit Cherrapunji is between the months of October and May, when the weather remains cool and pleasant.
How to get there-  Nearest airport is Lokpriya Gopinath Bordoloi International Airport(Guwahati) and nearest station is Guwahati Railway Station. After reaching Guwahati you can travel by bus or you can book a cab. Or else you can travel by sumo if you want to save money.
Sumos are basically shared Jeep taxis. Sumos for Shillong leave from Khanapara bus stand. At Khanapara, you'll be accosted by plenty of Sumo hawkers. It's good to walk around a bit, since Sumo's don't leave until full. So if you enter an empty Sumo, you might have to wait for  a while. Some drivers will try to get you to charter the whole Sumo. Friendly but firmly decline their offer (unless you want to, of course).
Getting from Guwahati to Shillong by shared Sumo costs 200 Rs per person. In our experience, drivers are honest about the fare, but be wary of shysters. 200 Rs. is the standard price. It takes 2-3 hours to get from Guwahati to Shillong.
From Shillong to Cherrapunji  I booked a taxi for 2000 Rs(they will drive you to places). It will take 2 hours to get from Shillong to Cherrapunji.
What to pack for your winter trip in Cherrapunji-  Full body thermals, warm hats or beanie, warm jackets or coats and jumpers, and tights.
Budgeting for your winter trip in Cherrapunji-  Shillong and Cherrapunji is quite expensive. I spend at least 11,000 Rs for three day trip. This includes accommodation cost, taxi cost and meals.
DAY 1: AT SHILLONG
I stayed at Shillong for one day to explore the city. And went to Wards lake, Don Bosco Museum, Elephant falls and Umiam lake. If you are in Shillong you cannot and should not miss out on the Ward's Lake. Located in the heart of the city, this lake is a popular spot to take a lazy walk or admire the green lawn dotted with multi-colored flowers. Don Bosco Museum is an excellent museum and gives a detailed information of North-East culture and heritage. Though entry is little bit expensive but worth it.
Umiam Lake is a lovely lake in Shillong with great views and scenery of the hills around. Serene and peaceful atmosphere and quite popular attraction.
Elephant Falls is a place on the way to Cherrapunjee and near to Shillong peak road. The entry fee is Rs.30 per person and one has to descend to see the fall at lower level. It is one of the recommended place in Shillong trip itinerary.
DAY 2: CHERRAPUNJI
Next day I woke up at 5 o'clock and headed to Cherrapunji. One of the more famous view points in this district is the DUWAN SING SUYIEM view point. You can find this view point on the road that connects Cherrapunji to Shillong. The wavy green hills and valleys, the dense forests, the meandering river and the clear blue skies make this view point a spectacular setting.
One of the most obvious things to do in the Abode of Clouds is to chase waterfalls. Whether you are in the capital city Shillong, or on a highway to some other place like Sohra or Mawlynnong, you are bound to find plenty of cascades lining your path. The first significant waterfall of Sohra appears just before you hit the main town and is called the WAH KABA WATERFALLS. The most amazing thing about this waterfall is that you can trace it down from its fall into the valley below.
Next I went to NOHKALIKAI FALLS which is the tallest plunge waterfall in India. The waterfall is located near Cherrapunji, one of the wettest places on earth. Nohkalikai Falls are fed by the rainwater collected on the summit of a comparatively small plateau and decrease in power during the dry season in December- February. Below the falls there has formed a plunge pool with unusual green colored water.
There are many things I enjoyed there but my favorite part was the trekking in NONGRIAT.  Most people visit Cherrapunjee to visit Nongriat and various root bridges. Nongriat is a small village in the jungle, home to several living root bridges, of which one is a magnificent DOUBLE-DECKER. Nongriat can only be visited by walking for about 1.5-2 hours from nearby Tyrna, and the surroundings are absolutely gorgeous. I highly recommend it.
From Tyrna, it takes about 1.5-2 hours to reach Nongriat by way of 2,500 steep stairs through the jungle.
Located in the thick tropical forest of Meghalaya, cloaked with rain during most part of the year are the fantastic man-made cum natural wonders of the living root bridges. Created by the people of the Khasi tribe, these roots grow from the ancient rubber trees, seen only in the northeast region. These roots are trained by the Khasis to grow in such a manner as be in the form of bridges on the top of a river. These bridges are an amazing alternative to wooden bridges that dwindle with so much rain falling on them. The most popular tourist attraction of Cherrapunjee, these double decker living root bridges are 2 bridges that are stacked one on the other, made because of the entanglement of roots. A new root bridge takes about 15 years to get strong enough so that it can bear the weight of people who would be crossing it. Over a span of next few years, the roots become even stronger. It is believed that some of the root bridges are over five hundred years old.
With this my Winter trip to Cherrapunji drew to a close and it was time to go home.
If you want to see more photographs of our trip then check our Insta account – Travel_and_foodspoons.