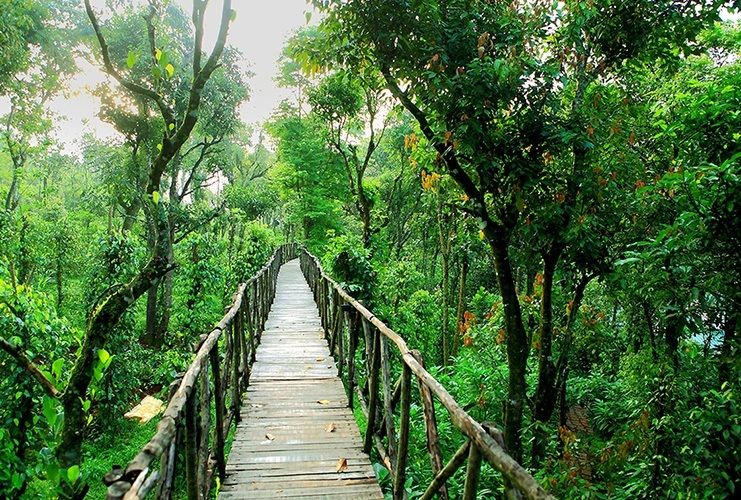 While Thekkady gained prominence for the Periyar Tiger Reserve, there is a place here that draws a steady stream of connoisseurs of superb hospitality for a relaxed and experiential holiday.
The town of Kumily, gateway to the tiger reserve offers gourmet dining, for example, the Dosa de Thekkady with its menu of 100 types of dosas. There are excellent demonstrations of Kalaripayattu and Kathakali at the Kadathanadan Kalari & Navarasa Kathakali Centre. Choose from excursions aplenty into the splendid countryside with its forest, brooks, waterfalls, villages, temples and plantations. Partake in trekking, bamboo rafting, and boating, and night patrolling in the tiger reserve and of course the holistic Ayurveda treatment, best undertaken during the rains when pores of the skin are soft and receptive.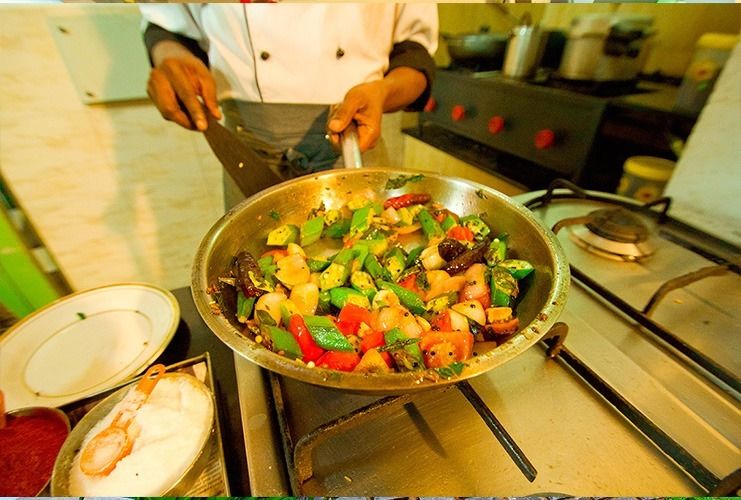 Farmer, photographer and publisher, Salim Pushpanath created Aanavilasam, literally "The Abode of The Elephants", for inspired relaxed and experiential holidays.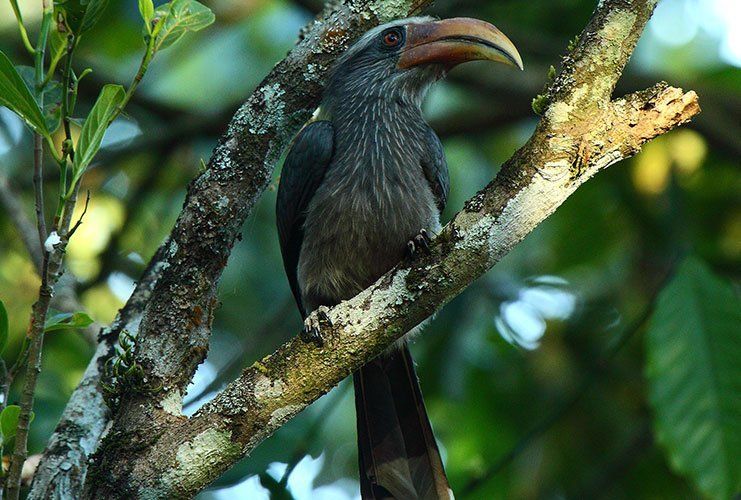 Made for
The Aanavilasam Luxury Plantation House is comfortable for individuals, couples, and small families.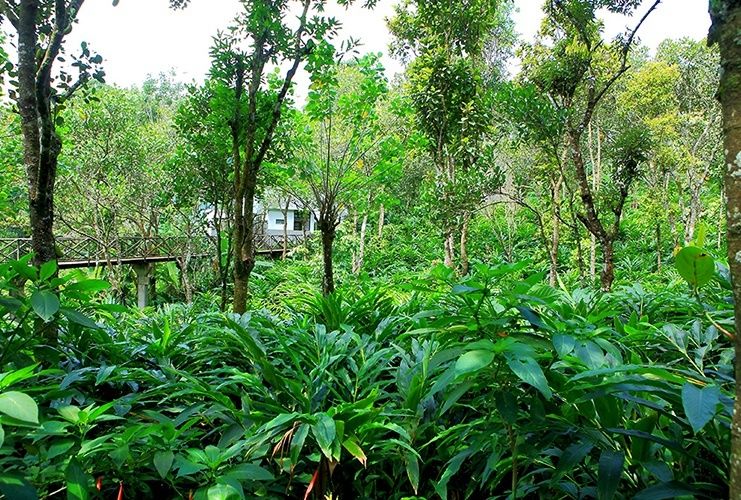 About the property
A personalised country retreat spread across a 7 acres cardamom and pepper plantation, the Aanavilasam Luxury Plantation House is a stunning manifestation of mindfulness to the comfort and fulfilment of her guests and ecological stewardship.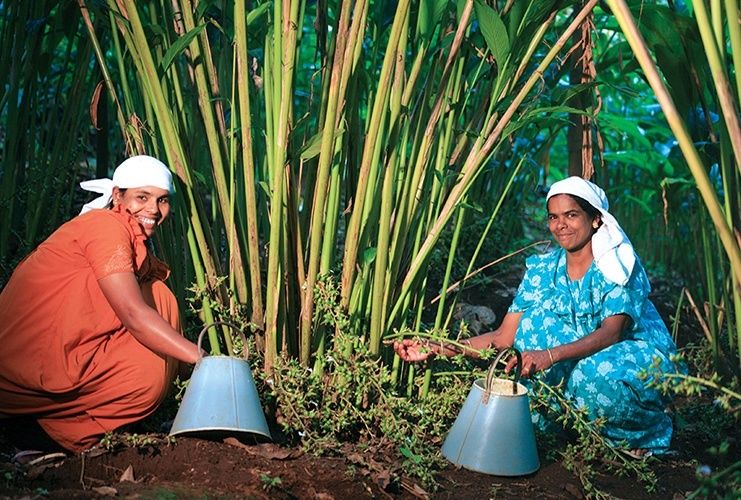 Natural materials are used wherever possible, rainwater is harvested, organic compost is created from waste vegetable matter, biogas is produced at the cow byre, and the trees and foliage on the estate are carefully nurtured to provide a safe natural haven for birds and other fauna. That 30 species of bird have been spotted within the plantation itself, is testimony that they must be doing something right. Furthermore, if you come by car, meals and lodging are provided to your driver.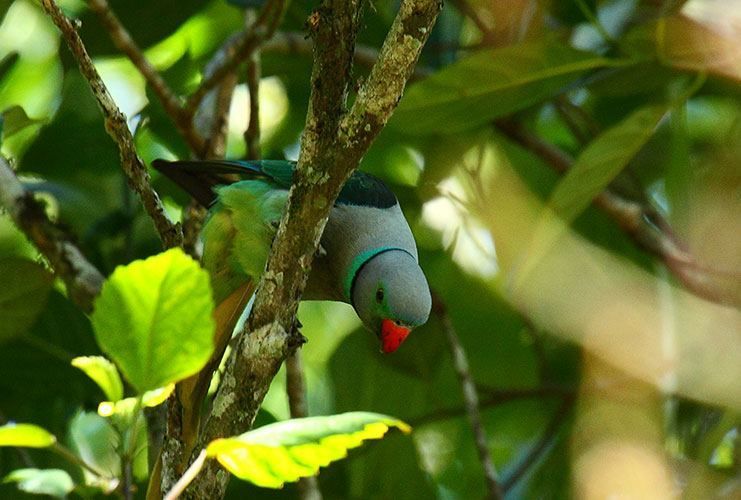 There are 6 rooms, in 4 configurations all starring king-size beds with en suite facilities featuring garden and enclosed showers. All overlook the hills and cardamom plantation. Premium toiletries are offered together with bathrobes, slippers, a hairdryer, coffee and tea making facilities, an in-house safe and a refrigerator with complimentary beverages. Romantic touches such as bath oils and candles are placed in all rooms. Natural fabrics like Indian linen, cotton, silks and wool blend effortlessly with international styling and décor, to create a pleasant and alluring familiarity. The staff amenably conform to the wishes of their guests. There is free Wi-Fi in the foyer and dining area.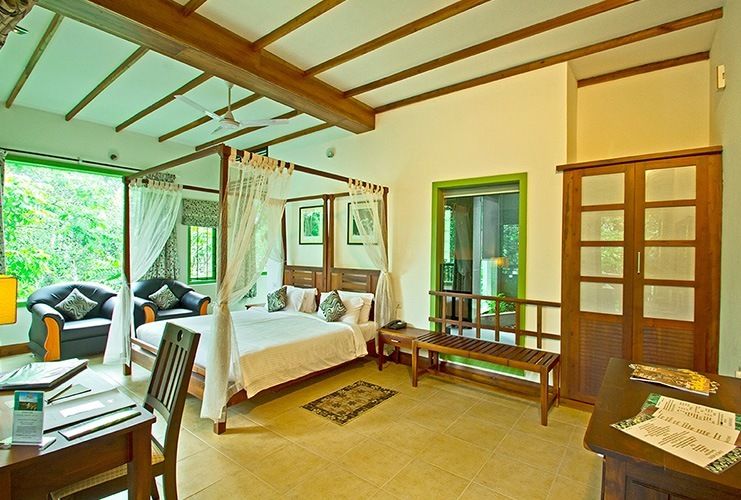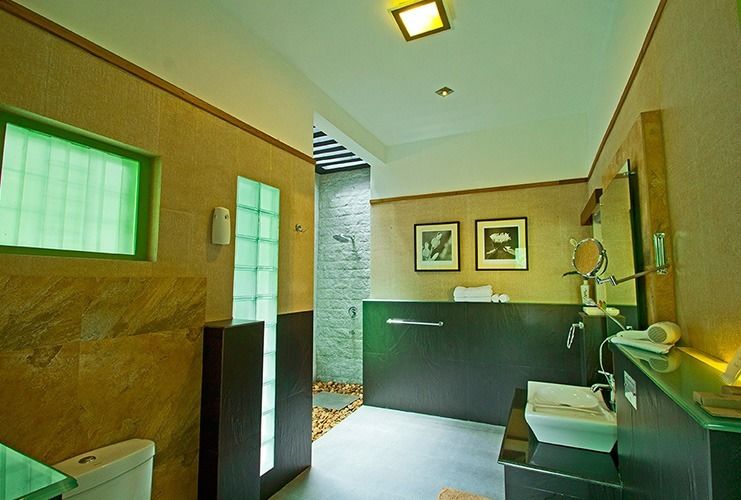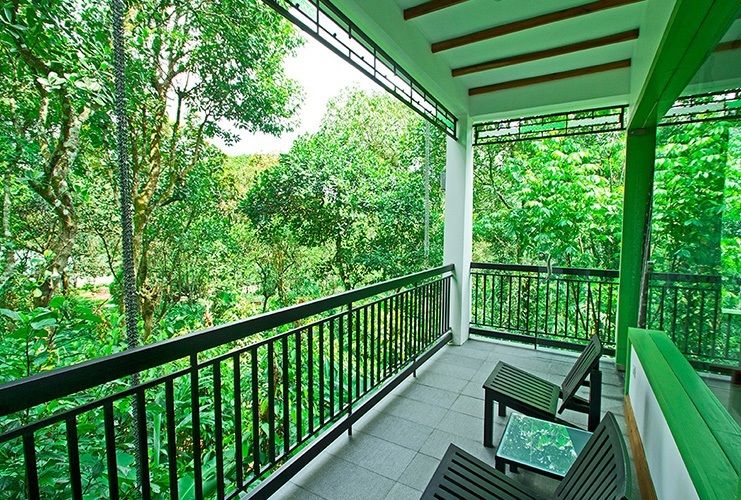 One Deluxe Room
350 sq. feet of indoor space, with a verandah.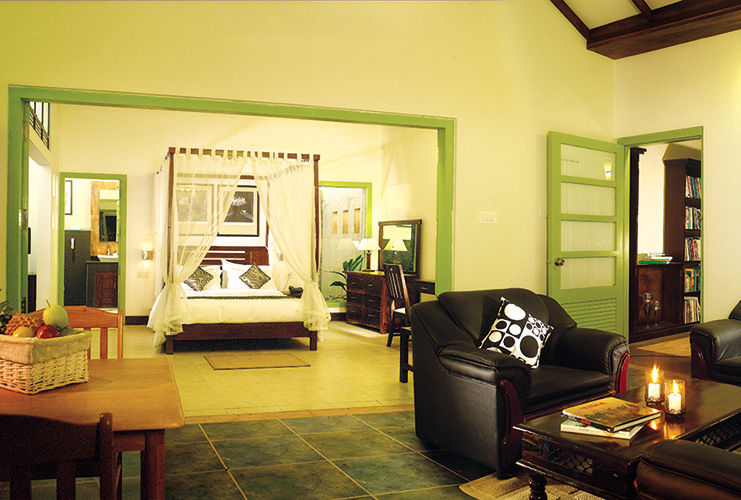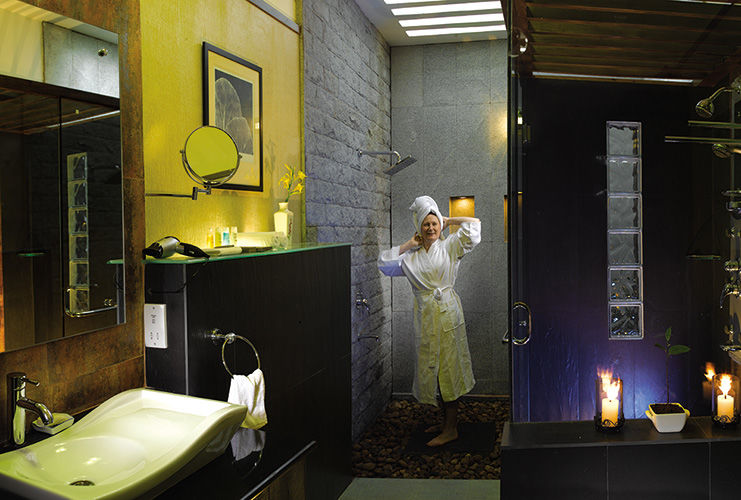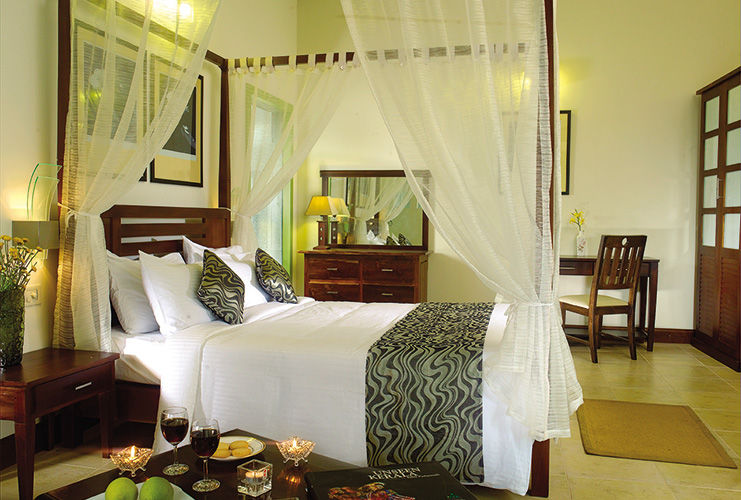 Two Suites
600 sq. feet of indoor space, spacious bathroom, double vanities, and an oversized private living room.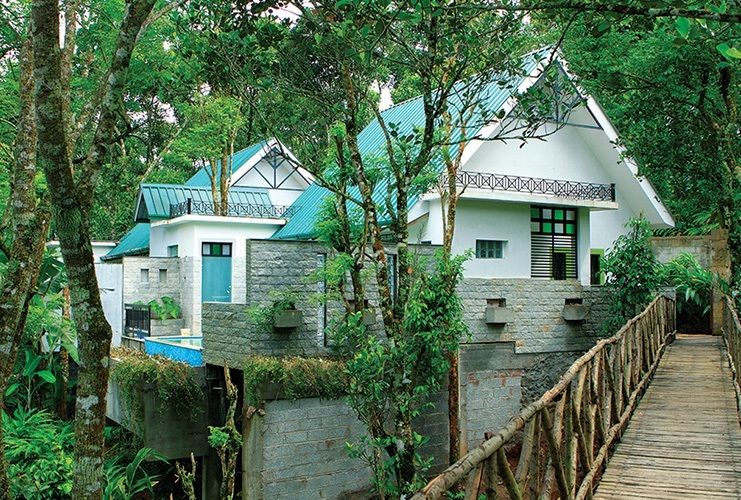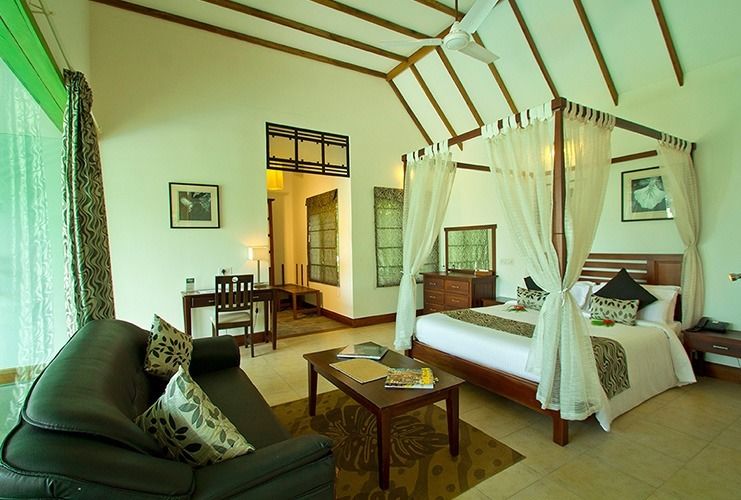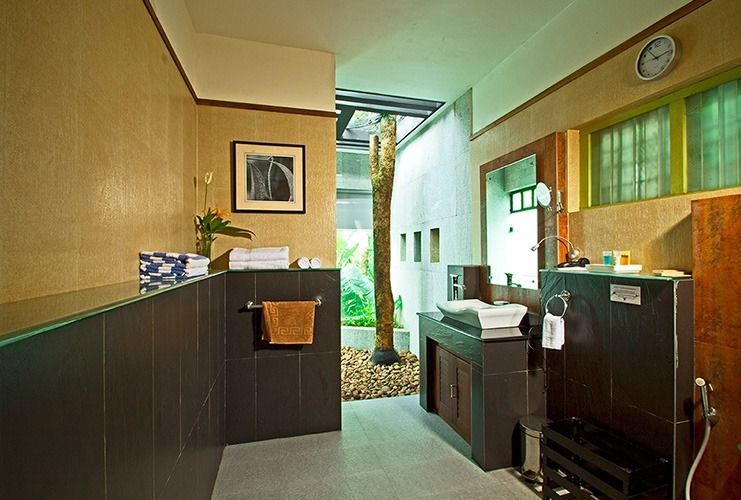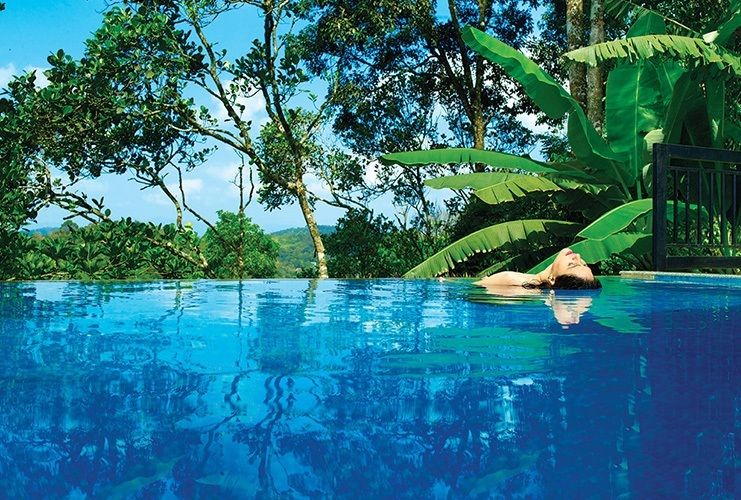 Two Pool Villa
900 sq. feet of indoor space features a private swimming pool. For safety reasons, children are not allowed in the pool villas.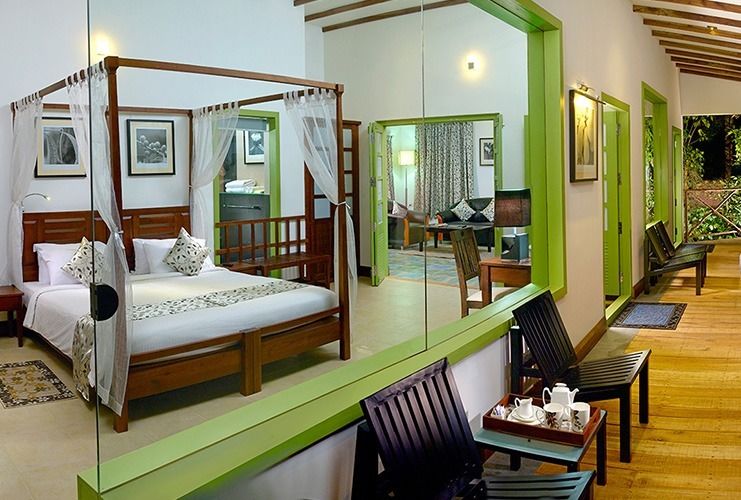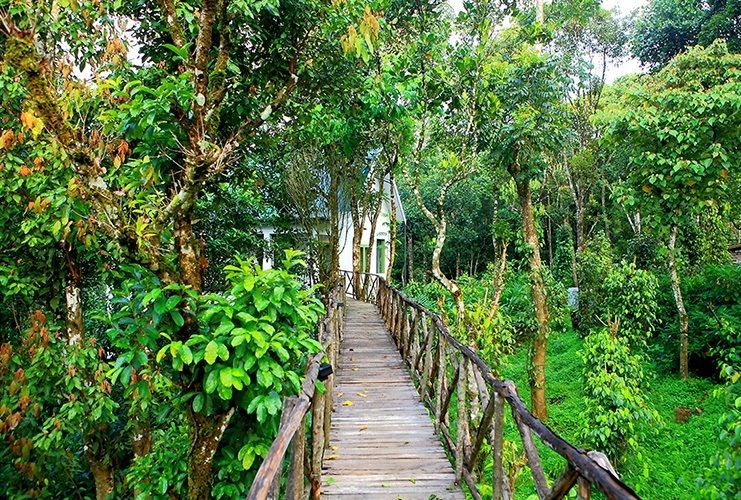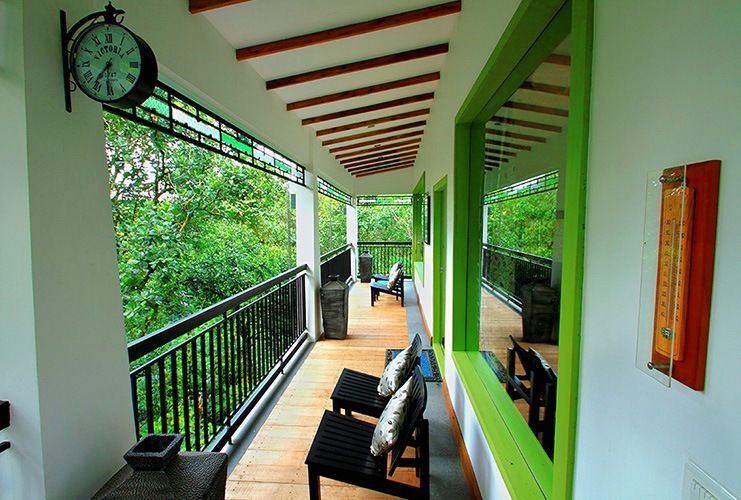 One Presidential Villa
1000 sq. feet of indoor space, 100% private connected with a private bridge, features an oversized private living room, a generous seating area with televisions, work desk and pantry with refrigerator, spacious bathrooms with separate showers and a large garden bath.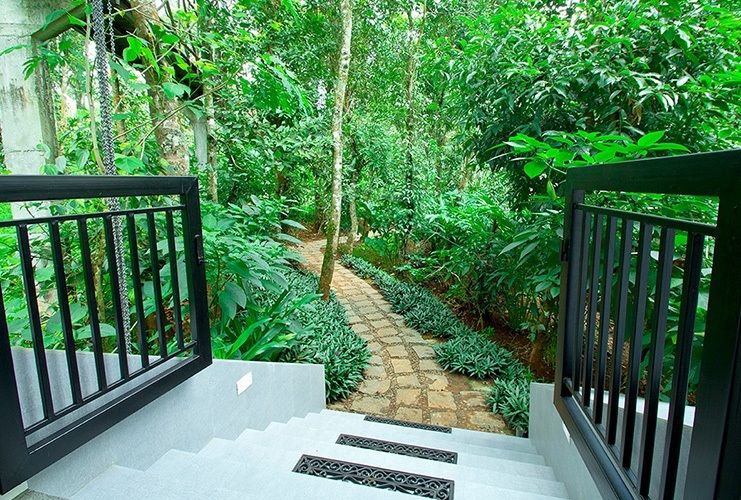 The Experiences
Village Walk
Visit a typical Kerala village and home, walking distance from the plantation.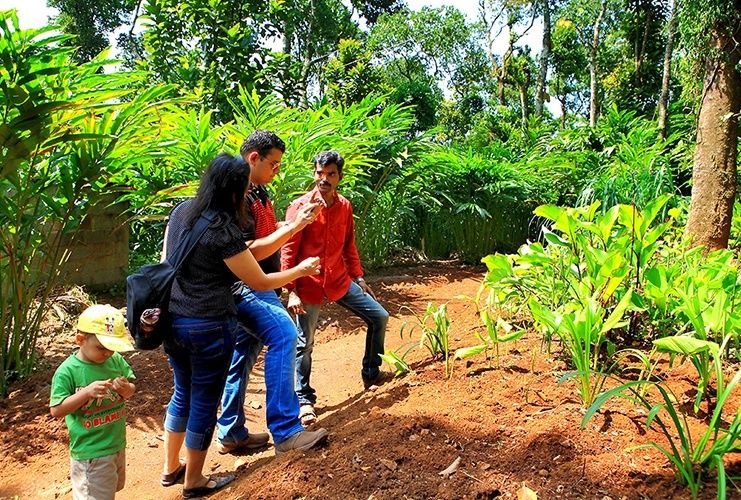 Explore the Aanavilasam plantation
Take a guided tour around the plantation and learn of all the process spices go through before they reach your dining table.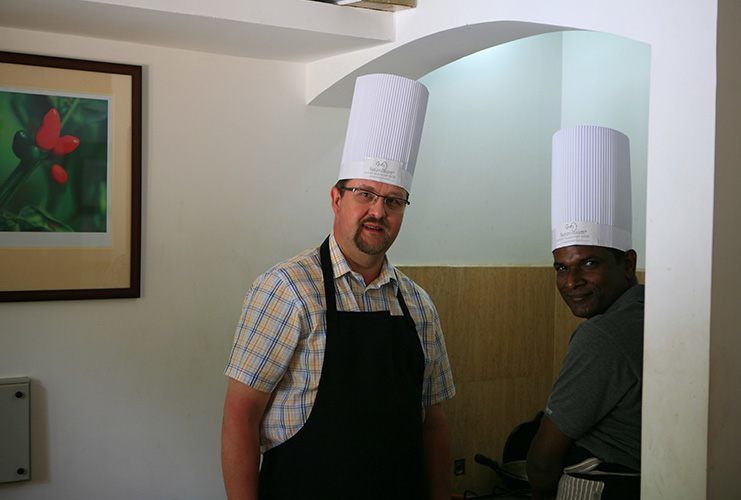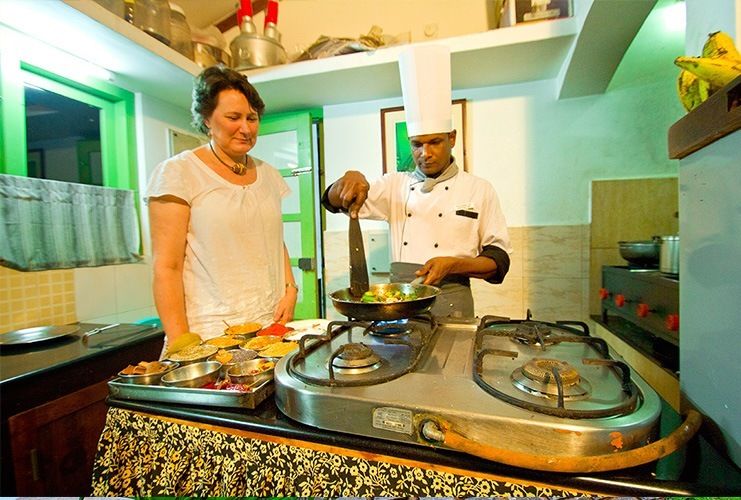 Cooking Class
Learn to prepare an authentic Keralam meal from the Chef. You can eat what you prepare.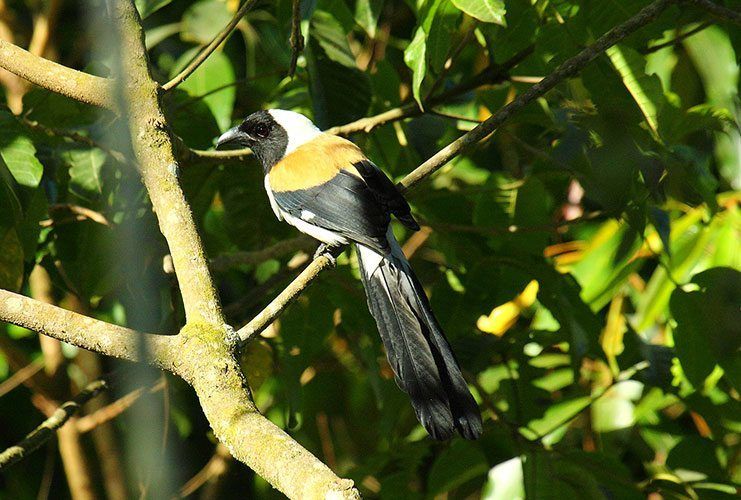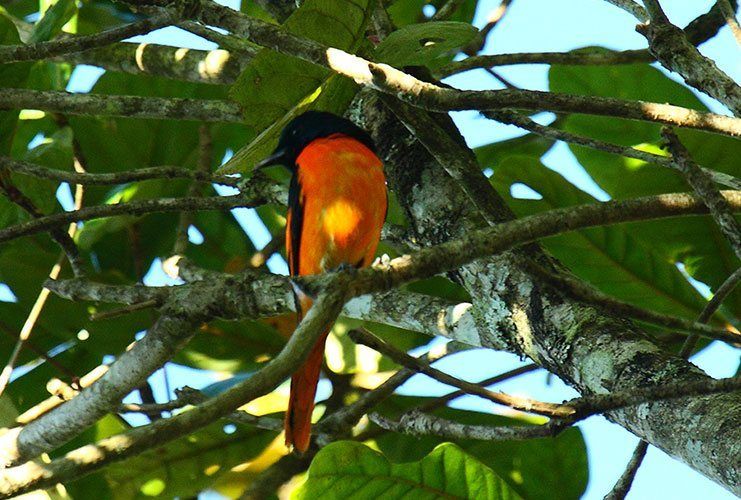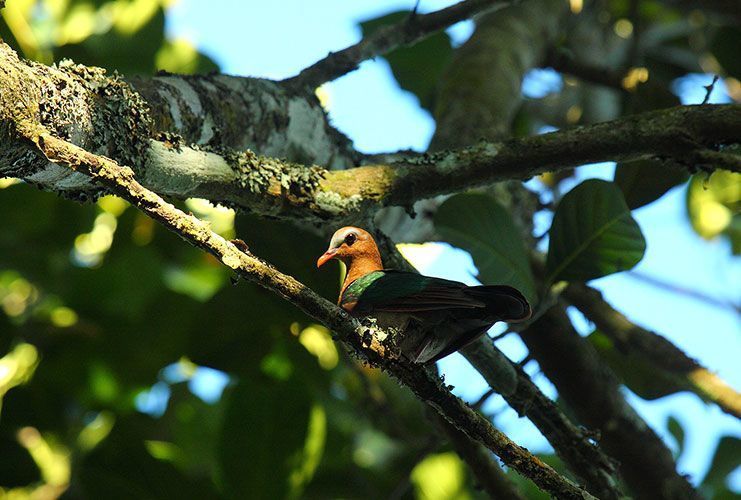 In-house Birding
Some of the birds spotted in the Aanavilasam plantation are White-cheeked Barbet, Black Drongo, Emerald Dove, Frame Backed Woodpecker, Golden Oriole, Grey Hornbill, Heart Spotted Woodpecker, Hill Mynah, Indian Treepie, Jungle Babbler, Jungle Fowl, Nilgiri Wood Pigeon, Owlet, Parakeet Malabar, Racket-tailed Drongo, Red Cheeked Bulbul, Scarlet Minivet, Tailor Bird, Whistling Thrush, White-throated Kingfisher, White-bellied Treepie, White Eye, Yellow Bulbul, Purple Sunbird, Whistling Thrush and the Indian Crow.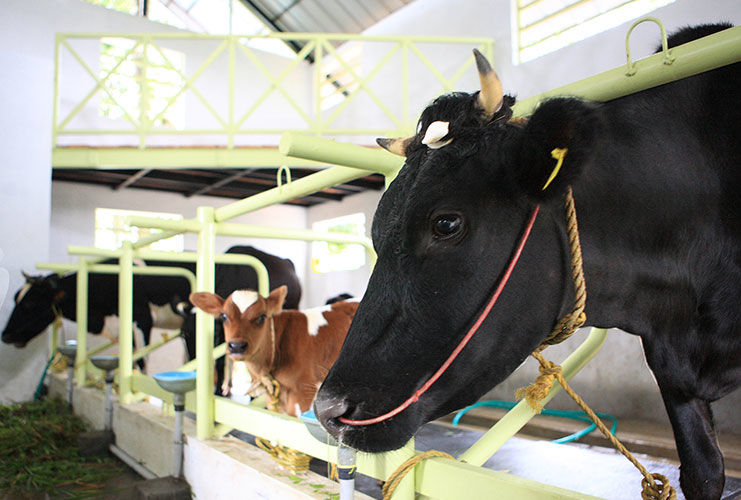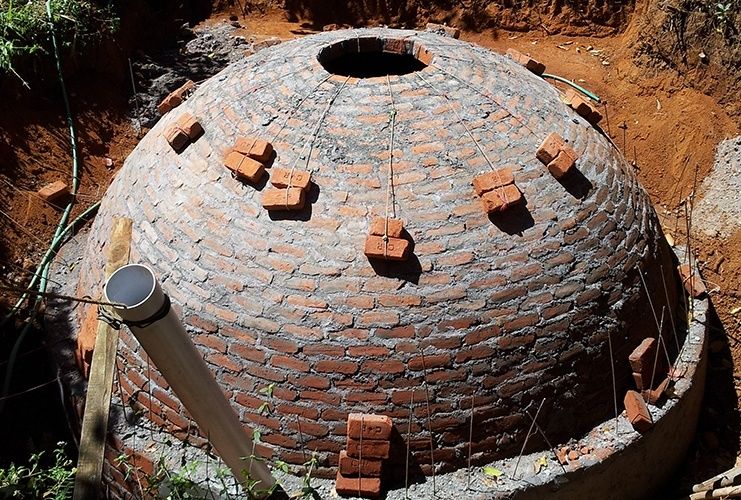 Passu Villa, the home for cows
Visit the cow byre, clean and bright, from where milk and biogas are supplied to the kitchen.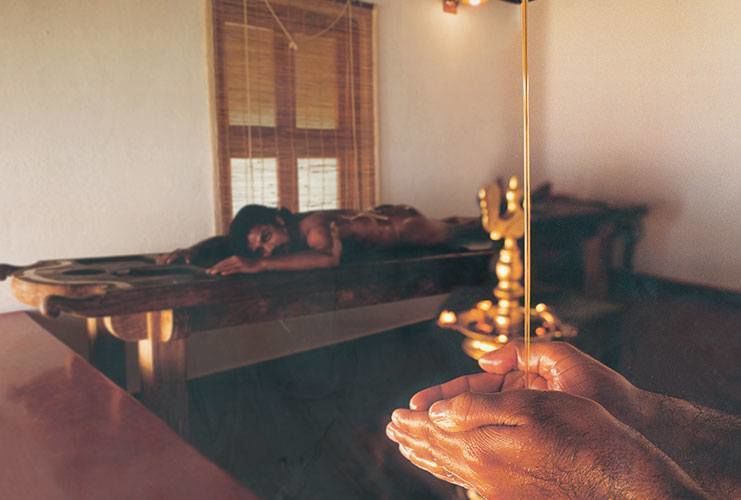 Ayurveda
Aanavilasam offers an array of therapies, each for a different treatment, planned in consultation with the physician.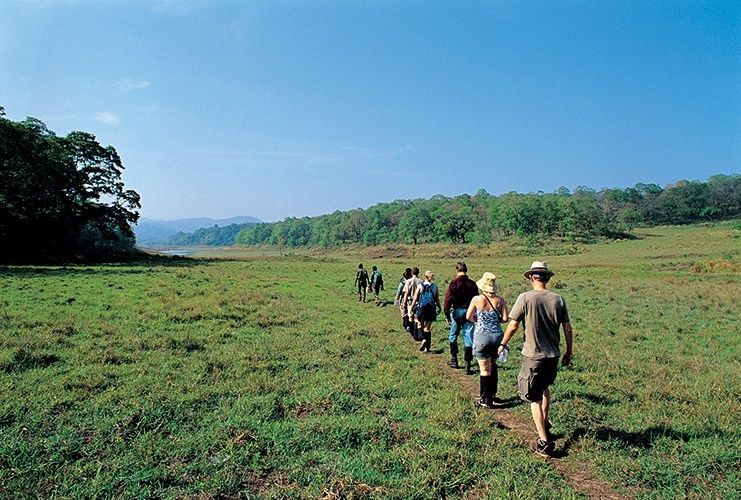 Periyar National Park
Visit the Periyar Tiger Reserve and take a boat ride on the lake. Herds of elephant, gaur, sambar and wild boar wander down to the lakeside and can be observed from the motor launches.
Elephant Ride
Take an elephant ride through countryside plantations.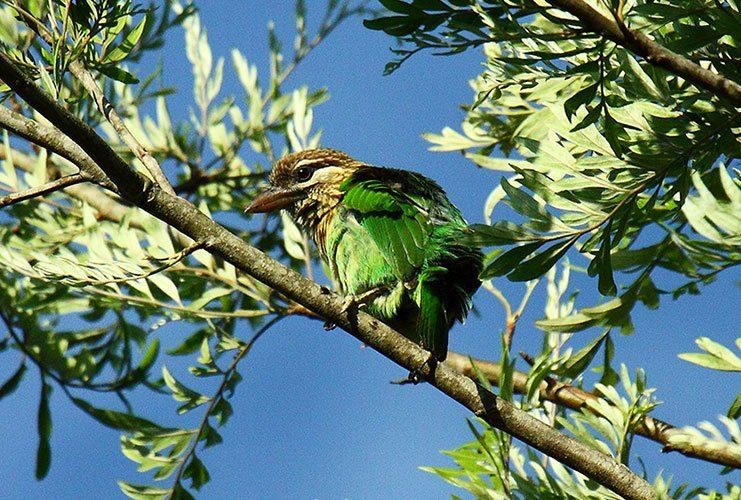 Bullock-cart Ride (especially for birders)
Visit the farmlands of a village hidden in the valley behind the mountains of Periyar Tiger Reserve in a bullock cart. The village is rich in bird diversity.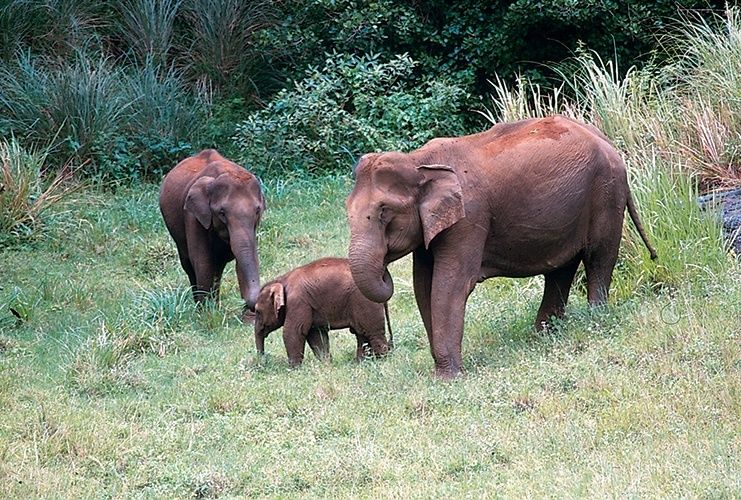 Jungle Patrol
Try the limits of your senses-sight, hearing and smell and take in the totally different world of nocturnal jungle life.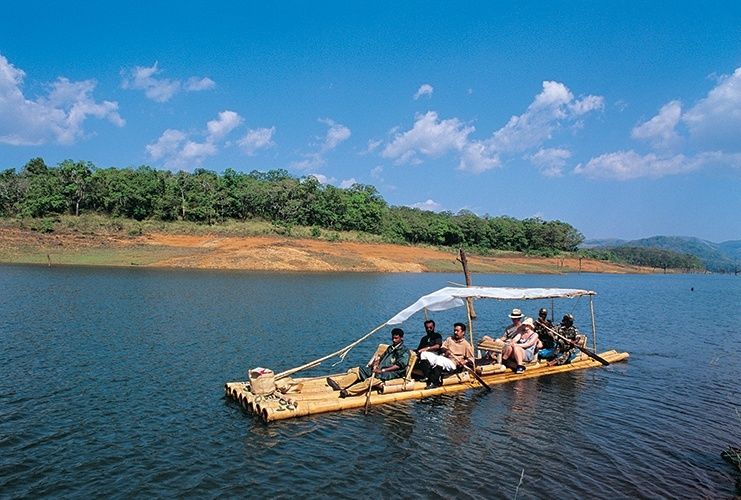 Bamboo Rafting
This is a dawn to dusk range hiking and rafting programme through some of the richest forest tracts of Periyar Tiger Reserve.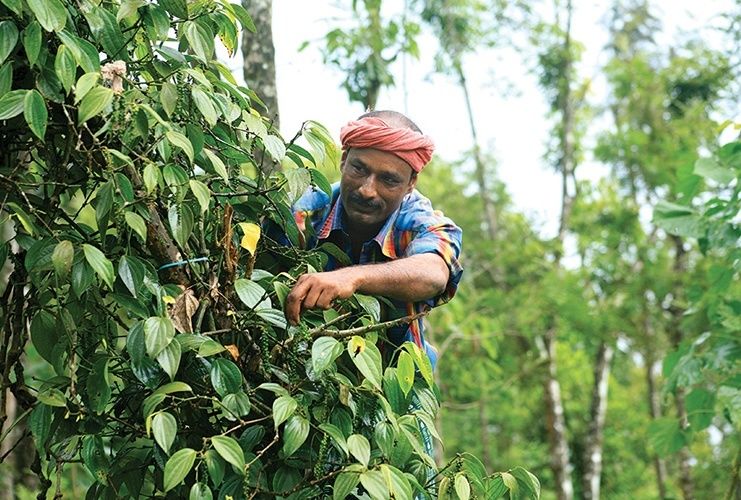 Price per night
The tariff includes breakfast.  Meals are à la carte.
1 July to 31 Oct 2017
Deluxe Room
Single Occupancy Rs.5500
Double Occupancy Rs.6500
Suite
Single Occupancy Rs.6000
Double Occupancy Rs.7000
Pool Villa
Single Occupancy Rs.7000
Double Occupancy Rs.8000
Presidential Villa
Single Occupancy Rs.8000
Double Occupancy Rs.8000
Extra Bed Rs.2500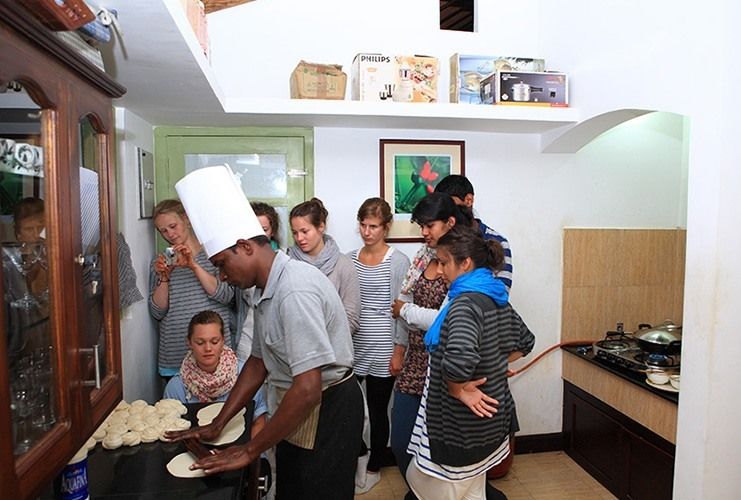 1 Nov 2017 to 15 Apr 2018
Deluxe Room
Single Occupancy Rs.9500
Double Occupancy Rs.12000
Suite
Single Occupancy Rs.10500
Double Occupancy Rs.13000
Pool Villa
Single Occupancy Rs.13500
Double Occupancy Rs.16000
Presidential Villa
Single Occupancy Rs.16000
Double Occupancy Rs.16000
Extra Bed Rs.2500
Rs.2500 per person Mandatory Dinner and Cultural Program Supplement for 24 Dec and 31 Dec 2017
Prevailing taxes are extra, on the billed amount.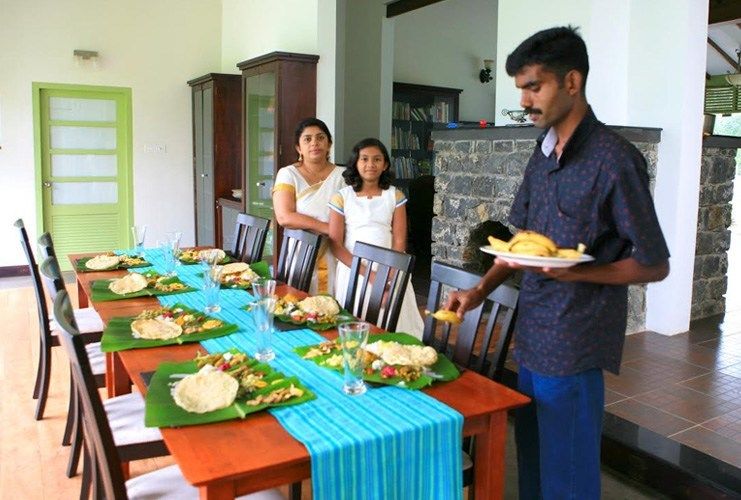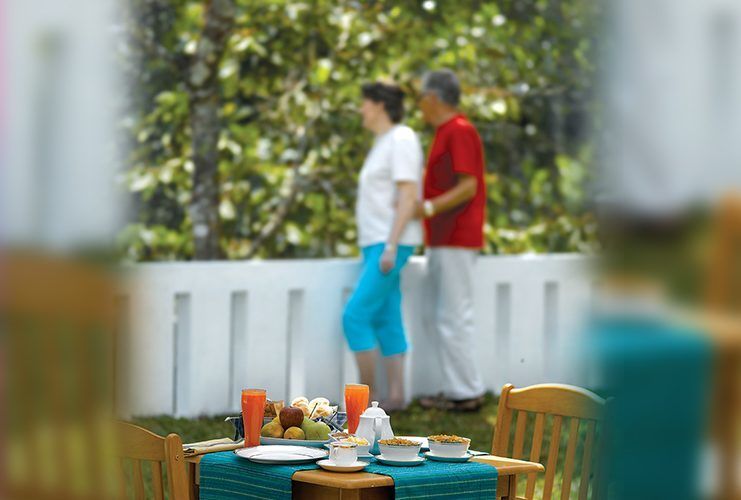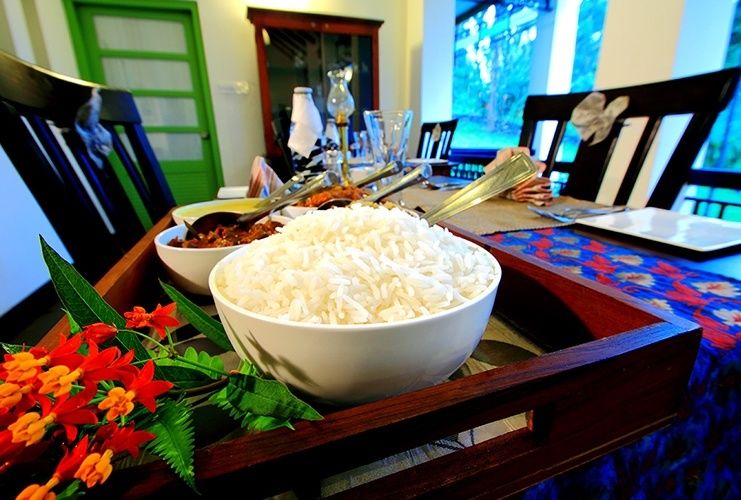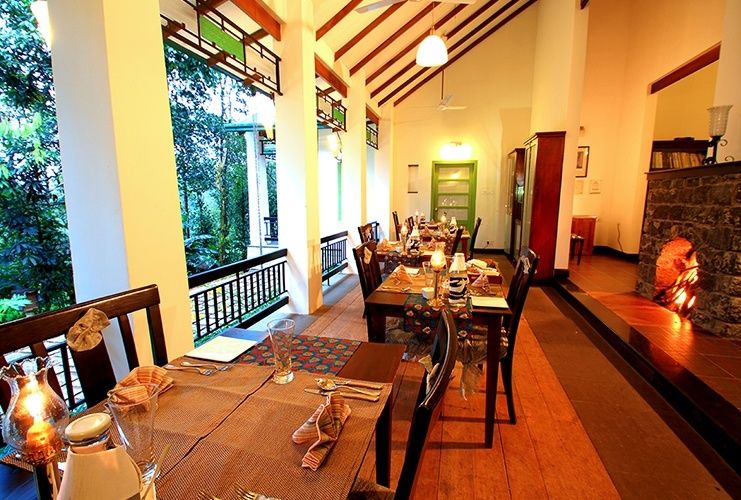 Slow Food
'Slow Food' means that patient attention is invested in preparing your meals. Nothing is pre-cooked, and all ingredients are fresh-of-the day, reflecting the seasonal harvest.
Best time to go
October through March is peak tourist season. April and May are warm. June to September is the rainy season and can be windy. Use leech-proof socks if you decide to go off-road.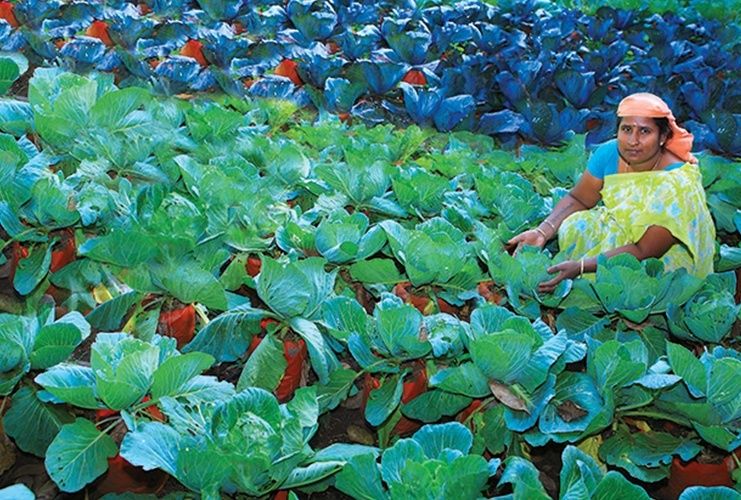 How to reach Aanavilasam Luxury Plantation House
The nearest airport is at Kochi, for both national and international flights. Kottayam is the nearest railway station. Both Madurai and Thiruvananthapuram have airports and railheads. Busses to Kumily are available from Tamil Nadu and Kerala.
Periyar/Kumily 11 km, 30 minutes
Munnar 80 km, 3 hours
Kottayam 110 km, 3 ½ hours
Kumarakom 120 km, 3 ½ hours
Alleppey 140 km, 4 hours
Kochi 140 km, 4 hours
Madurai 150 km, 3 hours
Varkala 180 km, 5 hours
Thiruvananthapuram 210 km, 6 hours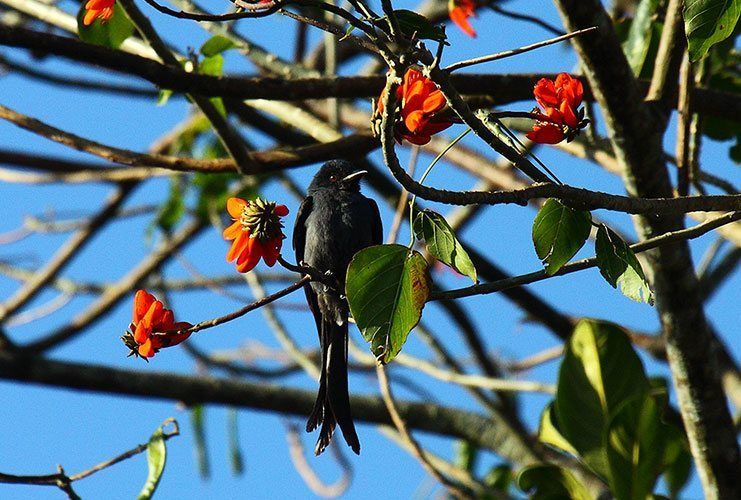 Know of a hotel, homestay or resort that made you fall in love with the destination? Write about it on Tripoto and help the traveller community discover something new.