Before I start writing about my first solo trip, I want to let you know something. I am a physically challenged person with 69% disability, my legs being affected the most. When I was doing research for this trip, I couldn't find much relevant content on internet, people have hardly written anecdotes about solo trips for people with disabilities.
When I was planning my trip, one of my friends suggested that why don't I write a blog about it once I complete the trip. And I absolutely loved this idea. I'll be discussing the challenges, planning, and most importantly the happiness that you get when you travel solo. I believe this could be of help to people with disabilities(PwD) and even if one person is benefitted from this, I'll be proud of my effort.
Let's begin...
I chose Mussoorie for my first solo trip... the reason being
I had never been to a hill station, so I wanted to go to a hill station. Since this was my first solo trip, I didn't want to take much risk. I wanted a destination where once I reach, I don't have to travel a lot. I wanted to go to a place which could provide some respite from Delhi's scorching heat.
And Mussoorie fitted all these criteria.
It was a 2 days trip which began on 28/03/2018 night and I returned to Delhi by the night of 30/03/2018. I took a bus from Delhi at 9:30pm and reached Mussoorie by 7:30am the next morning. You can book the bus ticket through many websites like Redbus.in, Paytm, etc. It costs around Rs. 1000 for Delhi to Mussoorie journey. The bus had halted once around 1:30-2:00am for refreshments at a dhaba. You can also take a bus for Dehradun and then take another bus for Mussoorie. But I didn't find it to be a wise decision, specially when your destination is Mussoorie and a direct bus is available. It is always difficult for PwD to change means of transportation in the middle of a journey. However, if you can't travel in a bus for 10 hours at a stretch, there is another option for you. You can take a train from Delhi to Dehradun and then take a bus from Dehradun to Mussoorie, which is a 1:30 hrs journey. The bus stop in Dehradun is right outside the railway station, it is hardly 150-170 meters away the railway station. The journey from Delhi to Dehradun in train is of 6-10 hours depending upon the train.
I had taken a bus directly from Delhi to Mussoorie. I reached Mussoorie at 7:30am. The journey so far was amazing, specially from Dehradun to Mussoorie ... when the bus goes uphill and you witness the sunrise amidst the mountains, it's a marvelous view (specially for a first timer like me! :P). But once I reached Mussoorie, I started facing challenges about which I'm going to discuss.
My advice to you at this point would be "Do not panic! Keep yourself calm and you will definitely find a solution. And if you are unable to find a solution, take help from people. But DO NOT PANIC. Once you start panicking, you won't be able to take right decisions."
When I reached Mussoorie bus stop, I searched for my hotel on google maps. My hotel was on Mall road which was at a distance of 3.5 km. I enquired about the possible transportation methods and the only method of going there was taxi, fare for which was Rs. 400-500. This appeared very costly and unjustified too, they were merely taking advantage of the situation. The roads there were much steeper than what I had thought. In mountains, you are very less likely to find plain areas. It'll either be uphill or downhill.
This was my moment of panic. I didn't want to pay 500 rupees for a 3.5 km journey. I walked for around 500 meters to see how the roads were and if I could find another means of transport. After walking for 500 meters, I did realize it wasn't a wise decision at all and walking for another 3km will be a very uphill task, literally!
I looked around... no other means of transport was there except a few local people using two wheelers. Suddenly an idea popped in my head. What if I ask for a ride?! I had never done this before, but I also realized this was probably my last shot! So, I asked a scooter rider if he could give me a lift and he agreed! My joy knew no bounds, he was such a nice person. He made it sure that I was sitting comfortably, and he dropped me right outside my hotel. I felt so grateful to him. I had only heard it before that pahadi log bahut achche hote hain, and I met one of them. It kinda made my day. This is one of the many experiences that I encountered which I would have probably never experienced if I were traveling with any of my friends or family.
I reached hotel around 8:30 am, but usually the check-in time in hotels is at 12pm. I should have talked to hotel earlier about my arrival and check-in time, this was something unplanned. But I didn't panic, instead I requested the manager for any alternative accommodation till I get my room. He was kind enough to provide me one. After putting my luggage in that room and getting fresh, I went around and found the famous south Indian restaurant chain, Udupi. My friend had advised me to go as it was one of the oldest restaurants of the chain! Before going to Mussoorie, I was craving to go to Udupi restaurant near my hostel in Delhi which is hardly 1km away, but I couldn't go there that week. Then finding Udupi restaurant in Mussoorie was a bliss! I had my breakfast there and then returned to my hotel. They provided me room around 11am. By then the weather had become slightly hotter because of the sun. I was also feeling tired because I couldn't sleep well in bus, so I took a nap.
Around 4:30pm I went out of my room after having lunch in hotel itself. Sun was still there, but now it was very pleasant. I walked on Mall road for a while before heading towards the Gun hill point, which is one of the highest peaks in Mussoorie. My friend had advised me to take a ropeway to go there, but I saw the road to the Gun hill point and decided to go there walking as I wanted to enjoy the beautiful view around. It was around 700-800 meters away, but much steeper as compared to Mall road which is more or less an even road. I thought it was not very steep and that I could walk/trek up to the Gun hill point. But I was proved wrong later when I reached half the destination. The road became more steep and when I called my friend who has been there multiple times, he told me the road would become only worse if I go any more uphill and that there were stairs at last which were not in good condition to climb at all. Since the sunset was approaching too and the ropeway would also be closed after sunset, I decided to come down instantly as going any further would have been problematic. I went to the Gun hill the next morning via the ropeway (details later).
Then I came back down to Mall Road. It is around 1km long even road compared to other roads of Mussoorie. I spent almost 2-3 hours there... and it was truly worth it! The pleasant weather, decent crowd, multiple street food options, shops and most significantly the amazing view of Dehradun and the surrounding mountains! I could look at them for hours without even blinking. As the night approached, the Dehradun city looked even more beautiful in the presence of little shimmering light. Although those were artificial lights, but they gave the impression of twinkling stars!!! It was mesmerizing. I stayed on Mall road till 9:00-9:30pm and enjoyed various street foods! My day was already successful as it was very peaceful, and this is exactly what I was searching for!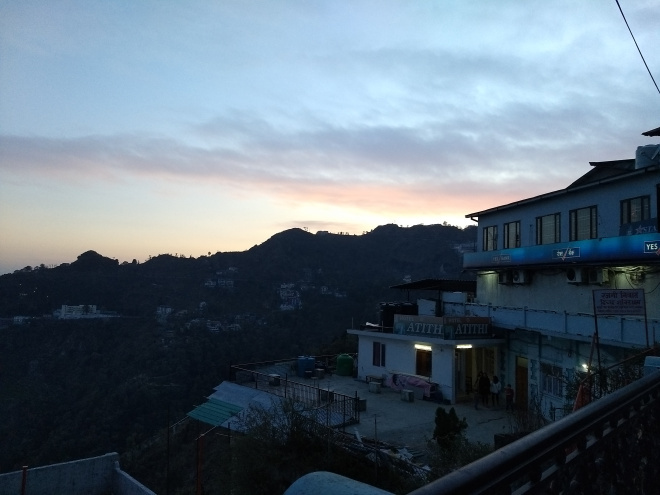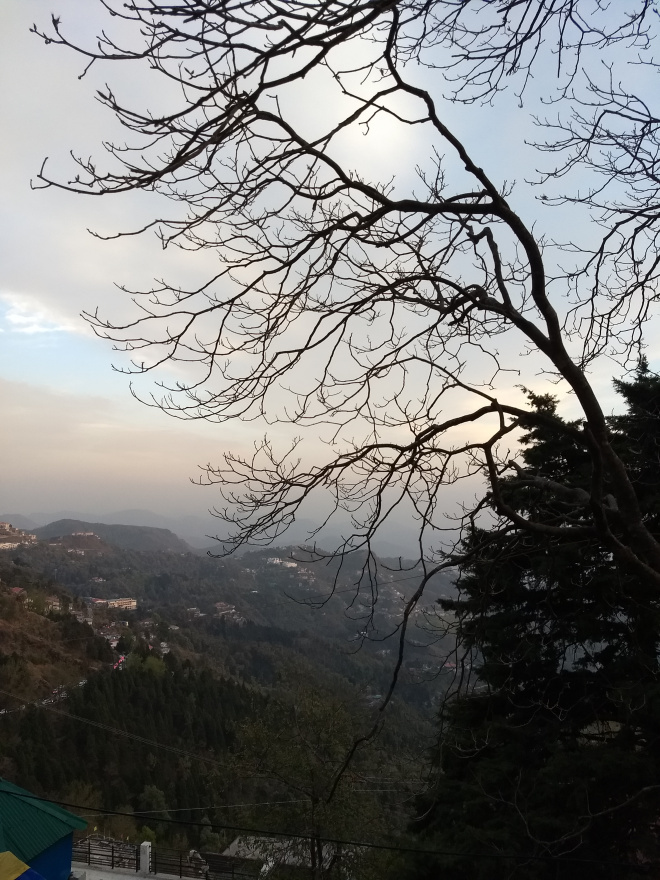 Then I returned to my hotel and took a happy nap. I was very tired by then but delighted, for sure!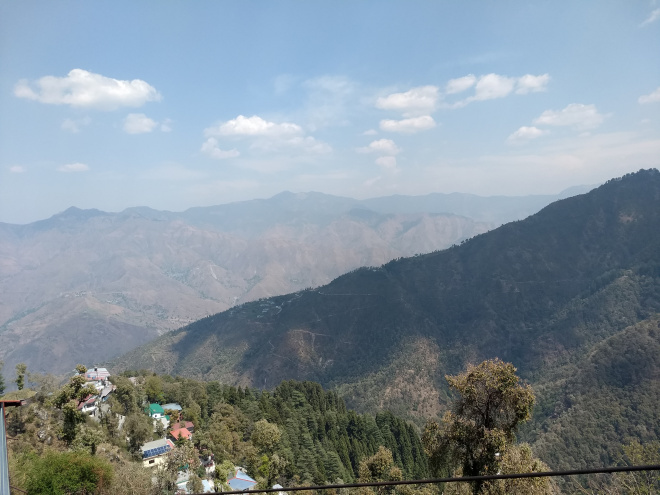 I woke up the next morning, got ready and took breakfast in hotel itself. The food in my hotel was good enough so I wasn't wasting any time for finding food elsewhere. Then I headed towards the Gun hill point through the ropeway as I thought saving energy was a better idea rather than being heroic and wasting energy in climbing to the top of the Gun hill by foot. I had to return to Dehradun and take my train back to Delhi. The ropeway hardly took 5 minutes, so it was time saving as well. There is a café at the Gun hill point where there are telescopes and they show you different sites which you might miss with naked eyes. However, the view from the Gun hill point was unparalleled even without a telescope. It was a jaw dropping sight and definitely a better view than what I had seen the earlier evening from Mall road. This café serves Maggie, and this was one of the must-do-thing that my friend had suggested. I'm not a big Maggie fan, but a hot bowl of Maggie on a cool hilltop definitely makes the view better. I stayed there for around 2 hours and loved every bit of it. There are many game stalls on the Gun hill point, when on a trip and looking for fun... play these games however silly this might appear.
I found something very amusing there which I would like to share with you. I wanted to know if there was a western toilet there or not? I was almost sure that I won't find it there, specially at this height. But I was proven wrong and I couldn't be happier! This might sound very weird to you but we, people with disability hardly find western toilets in this country and that too in usable conditions. These are the boons of tourism, it brings basic facilities at such unexpected places.
Then I came down to Mall Road via the ropeway and headed towards the bus stop. I had to leave for Dehradun from where my reservation for Delhi was in Shatabdi express. Here, I had reserved at least 2 hours extra in case any emergency arises. I was going to Dehradun for the first time as well and therefore the city was new to me. It took 1:30 hrs to reach Dehradun from Mussoorie. There are two bus stops in Mussoorie, I had taken bus from the Library road bus stop. Whatever is your plan, just confirm it one day prior to your journey so that you don't face any problem on the final day. This is what I believe in, and since it was my first solo trip I had planned it thoroughly with a friend who knew this place like back of his hand.
Anyway, I reached Dehradun at 2:30pm and my train was at 5pm. I had some spare time which is always advisable, particularly when you are travelling alone and that too for the first time. When you have time you can find a way, but when you don't have time you panic! My journey from Dehradun to Delhi was beautiful too. It was kind of those moments when everything was falling into right place. I had a great time in these 2 days. I reached Delhi around 12am. And thus, my first cherished trip completed.
Okay the essential point is... if you have been thinking about a solo trip... go ahead! Not many people have the courage to take challenges and overcome them. It helps in overcoming the fears that we all live with and unfortunately all our lives. And you feel so confident when you actually take trips like these. At least, this is what I felt.
There is one more point i would like to mention here.. my plan was not to visit every tourist place in Mussoorie, I wanted to enjoy the view even if i go to 2 places which i did eventually. There are other places to visit as well like Lal Tibba, Kempty falls, etc.
However, there are few points I would like to discuss here with my friends with disabilities...
Nobody understands your capabilities better than you. Not your family, not your friends, maybe not even your doctor. Decide for yourself if you can go for a solo trip? Do you actually want to do it?
Go for a solo trip only if your heart wants it, and you realize that you have capabilities to do it. If you are not able to travel solo, there is no problem at all. Go with your family or friends, you can still enjoy with them.
Once you are through point 1 and you've decided to go for it... this is the most important step.. PLAN YOUR TRIP WELL. Book your tickets in advance and make sure you get a confirm ticket. Do not travel during weekend, you will obviously enjoy it more when there is lesser crowd, also finding ticket is easier. Find out what is the best time to visit your destination and know what to expect... do not expect snowfall in June-July!
Plan your trip with someone who has been there and knows the place well. This proved to be very crucial in my case. Stay in touch with this person throughout this trip.
Do not panic! Even after much planning, some things may not go as planned. You must keep yourself calm and find a solution. Take help from people, people are generally kind in these places. Always have some extra time in hand. For example, in between two events or places you are planning to visit. Always travel with the minimum luggage possible. Obviously, your luggage should cover all your basic needs. You might have different needs and you know better. In my case, I took an extra elbow crutch rubber which proved to be a great decision. Make a list of things you want to carry and ensure you have everything beforehand.
If you are comfortable with trolleys, prefer taking a bag pack with trolleys.
Some of the things you might consider packing... these obviously depend upon your requirements and weather of your destination...
Power bank, umbrella, woolen clothes, Odomos, suitable shoes, valid id proof, and the list goes on...
If you have been thinking about it... go ahead buddy, travel solo! Good luck!!!
In case of any enquiry about my trip or my blog, send me a mail at drabs6296@gmail.com