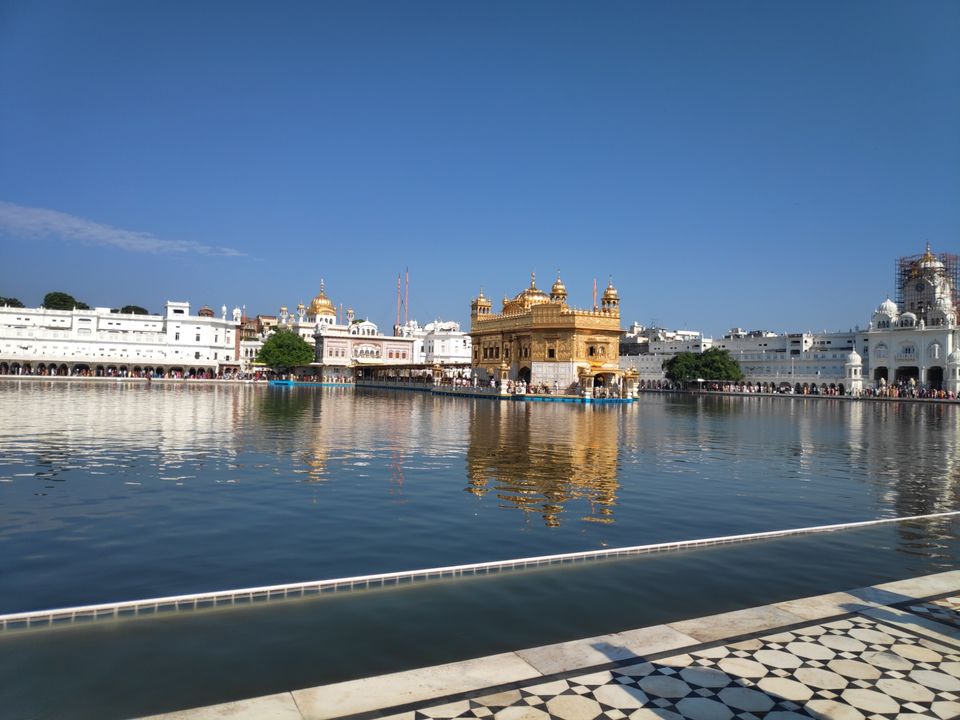 Reached Amritsar early morning via train from delhi,  you can travel either in train or bus both are suitabke for travelling and they are less expensive as compared to flights. 
I was travelling with bunch of friends we planned it for one day trip as we were short of funds..
Amritsar is a perfect place to travel in one day with less expenses.. 
So here we are at Amritsar railway station,  now autowallahas are approaching us like bhaiya Golden Temple dikhau,  kasam se sab chape ho rahhe hai (try to avoid them)..
Finally we took E-rickshaw to Golden Temple,  as we reached there we were provided with orange rumaal type thing to cover our heads ( take your own rumaal along,  otherwise the orange thing will cost 15 per head),  now we were inside the golden temple it's one of the beautiful creation in world, so peaceful environment,  I loved it completely. We walked in whole temple and then we had paarsad (it's actually halwa but it's delicious,  you can't get thing like this anywhere)  after all this we made our entrance to langar area we had our food there it was okay but seriously these guys feed 200k people daily that's a big achievement and great work for society.. 
After visiting Golden Temple 💛 we walked towards Jallianwallah Bagh the place where thousands died for freedom of billions like us.  This place is Mark of their sacrifice,  we cannot even understand the situation they went through..  The bagh is nicely built and it's on walking distance from temple..
It was already 10 am in clock we were little bit hungry so we asked around for best food joint,  after all asking process we managed to get one place which is famous for lassi (they make delicious lassi)  it is situated near to bagh.. 
After drinking few glasses of lassi we got our strength back and moved for partition muesum....  This muesum indicates about whole scenario which took place at a time of partition of two nations...  All the memories are preserved here..  It's a nice place to visit..
After visiting three places in few hours we were left with one place only that is wagah border we booked a cab for same and we were at wagah order by evening ( the flag ceremony happens in evening only,  they take respective flags down in evening),  before travelling there we had our lunch at famous food joint of Amritsar  maqbool kulcha  point...  After attending wagah border show we came back to station and board a train for Delhi...
This is how our trip ended on good note..
When we calculated our expenses,  each one had to spend only 710 for this trip we were 5 persons..
Take more people with you expenses will be less for this day trip..