After a tiresome twelve and a half hour long flight from England, when I landed in the city that I had missed everyday, over the last one and a half years that I had spent abroad, my breath caught. Having travelled extensively in Europe, the reaction came as no surprise to me. I had grown familiar with this feeling that came with every opportunity to explore a new city. I hadn't been an ardent traveller before leaving Bangalore. So here I was, to see my own city from an entirely new perspective. Travel had taught me to appreciate the nuances of a place and I was all set to get going.
But this time around, I was on a vacation and not on any stringent travel budget or schedules. All the pampering that I had demanded off my parents and best friends on Skype was finally coming true. I was overwhelmed by their treatment even as I just stepped out of the airport. My parents awaited my arrival with a box of my favourite home made badam barfi & my best friends, who would otherwise say , "Yene Katte ( Kannada slang)?", greeted me with the warmest of hugs. It felt good to be back home.
BANNERGHUTTA
After relaxing for a bit at home, I kick-started my tour of Bengalooru on day 3. I was off for a sleepover to my friend's (Vidya) place, that day. We chatted past midnight. Also, as her house was located on the outskirts of the city, the immediate next plan was to visit the Narasimha Swamy temple and Suvarnamukhi. We set out early next morning. Even the sun hadn't risen yet.
As we strolled through the village near by, the silhouettes of the tall coconut trees against the orange-blue dawn lights had us spellbound. The temple was located on a hilltop and as we noticed the sky turn a deeper shade of orange, we quickened our pace. It was a good 20 minute climb to the top of the hill. Upon reaching the hilltop, as we watched eagles and hawks encircling the temple gopura high above, I remembered how my mother told me stories of them being protectors of the bejewelled idols. Also, the sun cast its rays on the entire village and gradually, the golden hour faded; just the way travel bathed me in some refreshing knowledge every time. Vidya was familiar with the village history.
As we watched a spectacular sunrise from the hill, I learnt from her that the temple was constructed during the reign of the Hoysala kings(1346 AD). The dynasty is known to have contributed some marvels to the Karnataka architecture.
Even though, as kids we had accompanied each other to this ancient wonder, never before had we treaded off on the restricted path to the Suvarnamukhi shrine of Lord Shiva. Just with the confidence in the meagre fact that the gentry used that path to visit Suvarnamukhi, we decided to take a chance and trek through the dense woods bordering the Bannerghutta national park.
Just as we were about to commence the walk along the seemingly isolated path to the shrine, we came across a lonely dog lying outside the premises of the Narasimha Swamy temple. Due to my obsession with photography, I simply took a few shots of him and proceeded with Vidya. To our surprise, he followed us all the way to Suvarnamukhi and back. Till then, I never believed in myths such as animals being protectors. Further, only people had made my journeys very meaningful, so far. Not animals. I was deeply touched by how little one needs to give to receive a lifetime worth of loyalty & love from a creature, that can express nothing else.
On our way, we also came across the sacred Hanuman pada. It is believed to be the footprint left behind by the monkey God, Lord Hanuman. After spending some time there, admiring views of the distant hills, we continued. Our guardian angel decided to rest there and never once, did he leave our side. Vidya also showed me some stone houses near the Hanuman Pada. Many who pay a visit to Suvarnamukhi, build these wish-houses. It is believed that people's wishes come true if their houses don't fall apart. But I had learnt to believe in myths now and refuse to doubt any!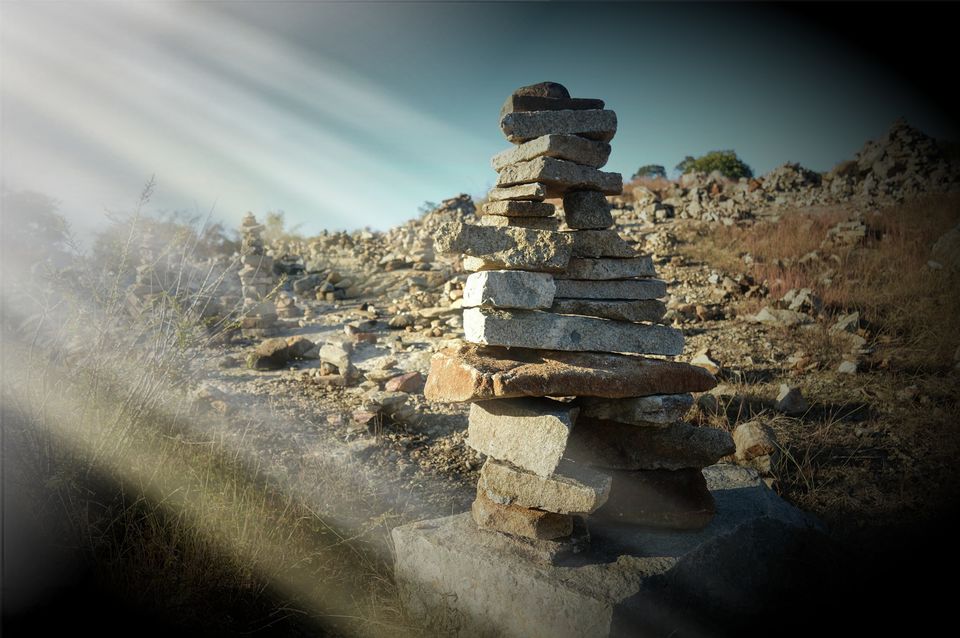 SAVANDURGA HILLS
My encounter with ruins from the Hoysala age did not stop at the Bannerghutta village. A visit to the Savandurga Hills highlighted their work even more. The refreshing ride through villages flanked by paddy to Asia's largest monolithic hills with my freinds, Vivek and Rajeev, only nourished us for a trek up the steep and rocky Savandurga hills.
At first, when the kind villagers directed us to the spot where we could commence the challenging trek, we felt we didn't have it in us to complete it. Although we struggled to climb higher up, our craving for some more fantastic views of the Arakavathi river kept us going.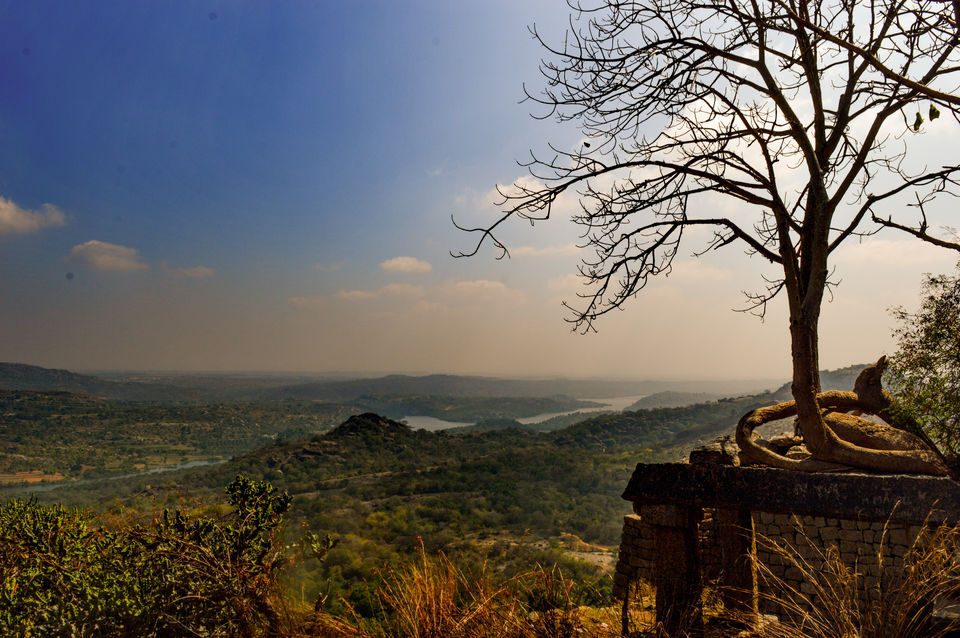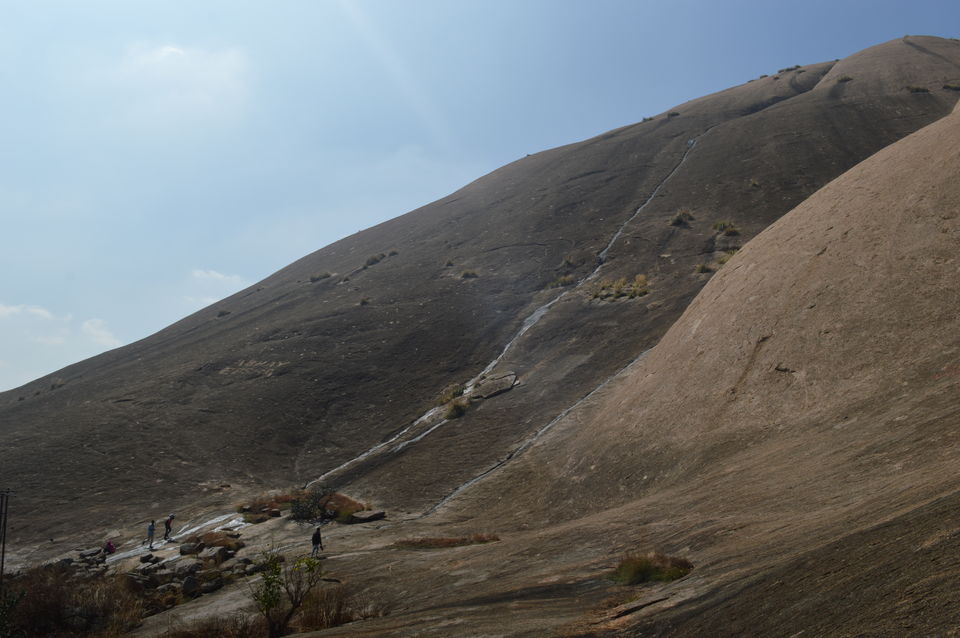 LAL BAGH BOTANICAL GARDENS
During my course of travels in the Europe, I had learnt the benefits of interacting. In fact, mostly it is always a pleasure to meet somebody and learn about their life. The peaceful walk along the path beside the lake at Lal Bagh, is one of the best I have been on. It enlightened me about the different occupations that people adopt, even today. I approached an old lady to find out why she was was gathering the brown seeds scattered on the ground. She told me how she sowed them, nurtured the saplings and sold them to nurseries to earn a living. There are some facts that you learn only by talking to locals. Its a a trait you will eventually value, because there are things that the internet still can't tell you about.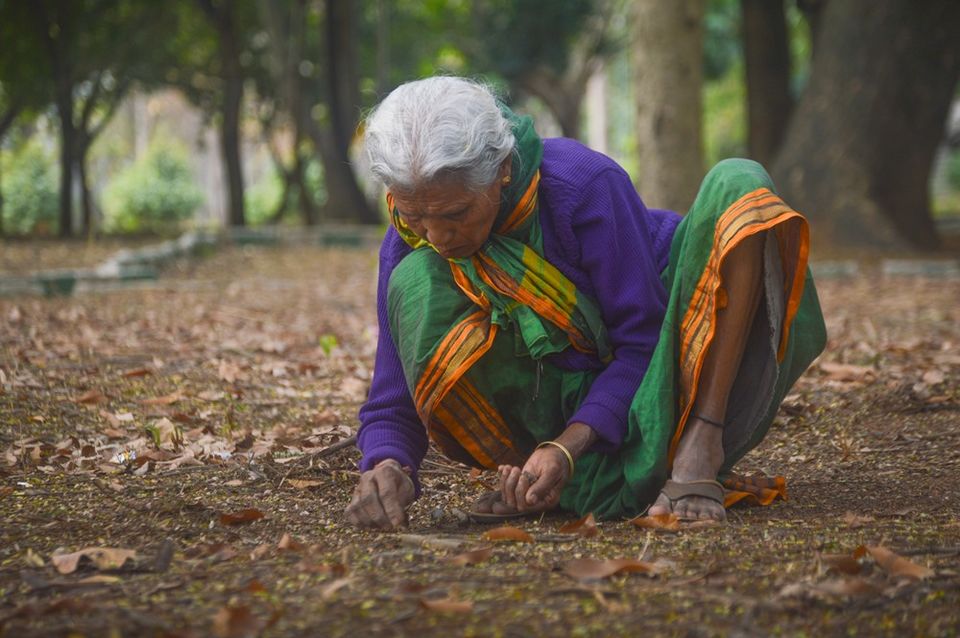 Due to the lack of time, Rajeev and I made a pact to visit Lal Bagh another time and cover its other attractions. My adventures in Bangalore are almost coming to an end, as I go back in a week's time, to embrace the life of an engineer, again. But everything from the dog to the old woman to my family and friends have made this holiday one of my best vacations, by far :) :)