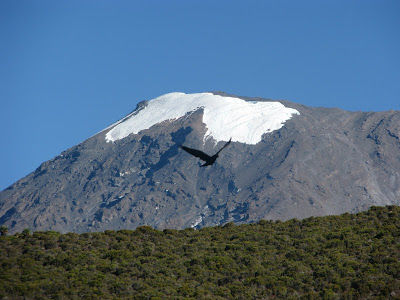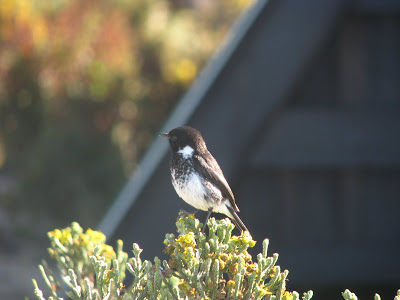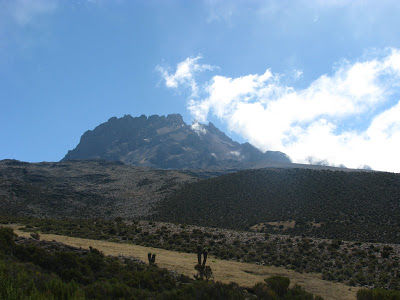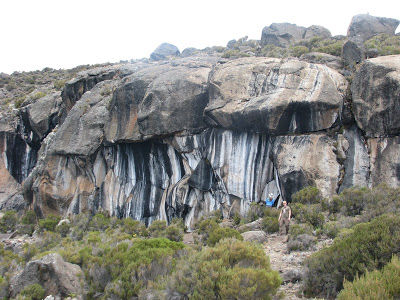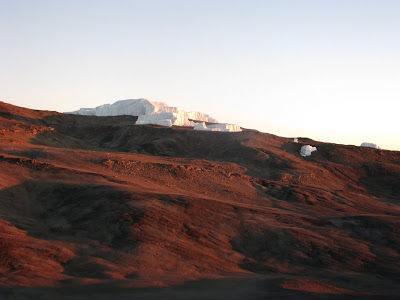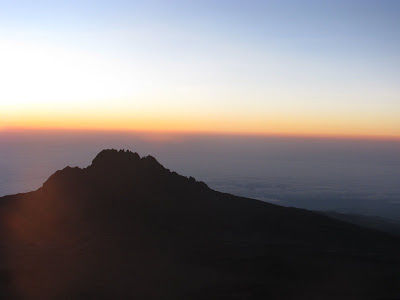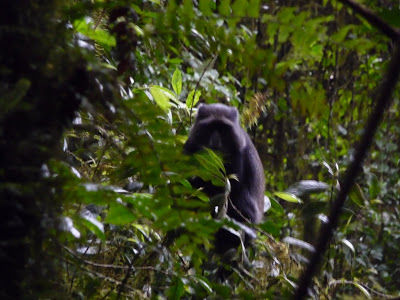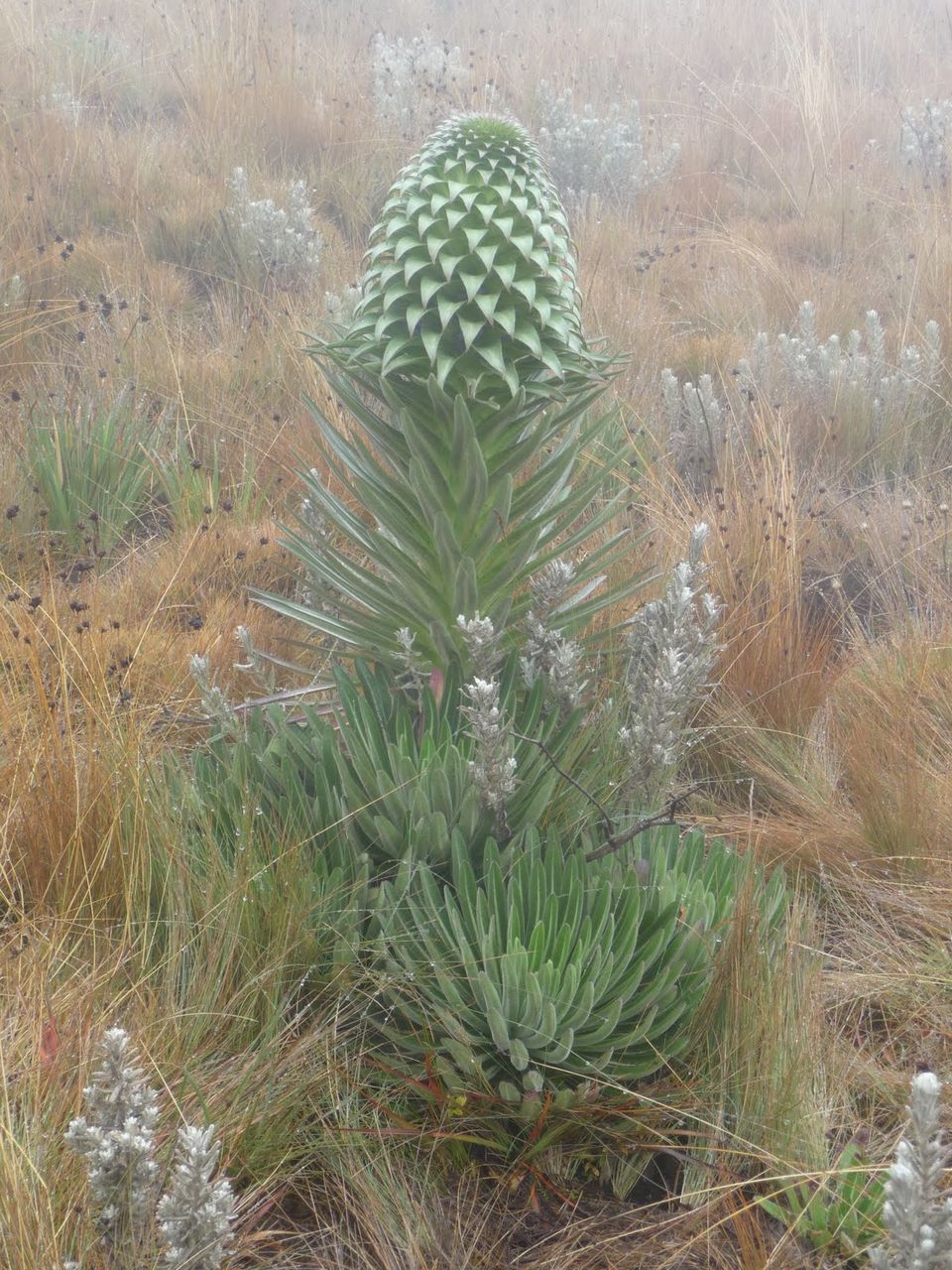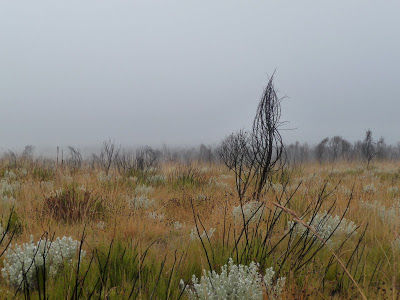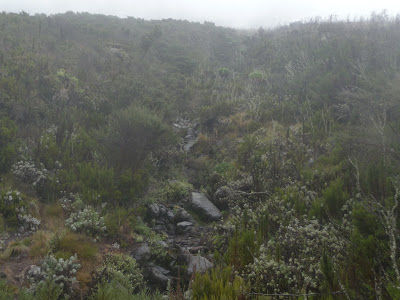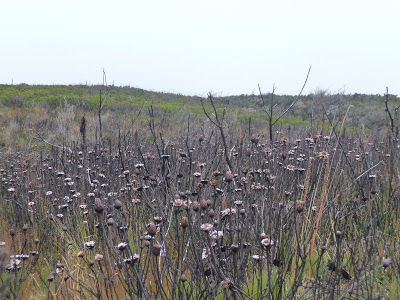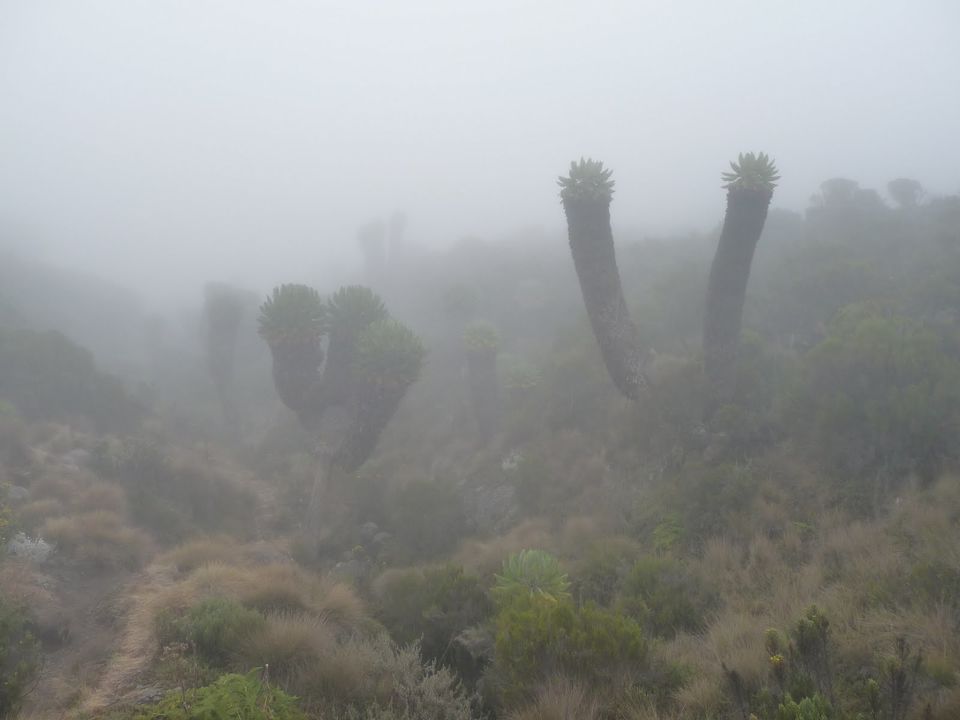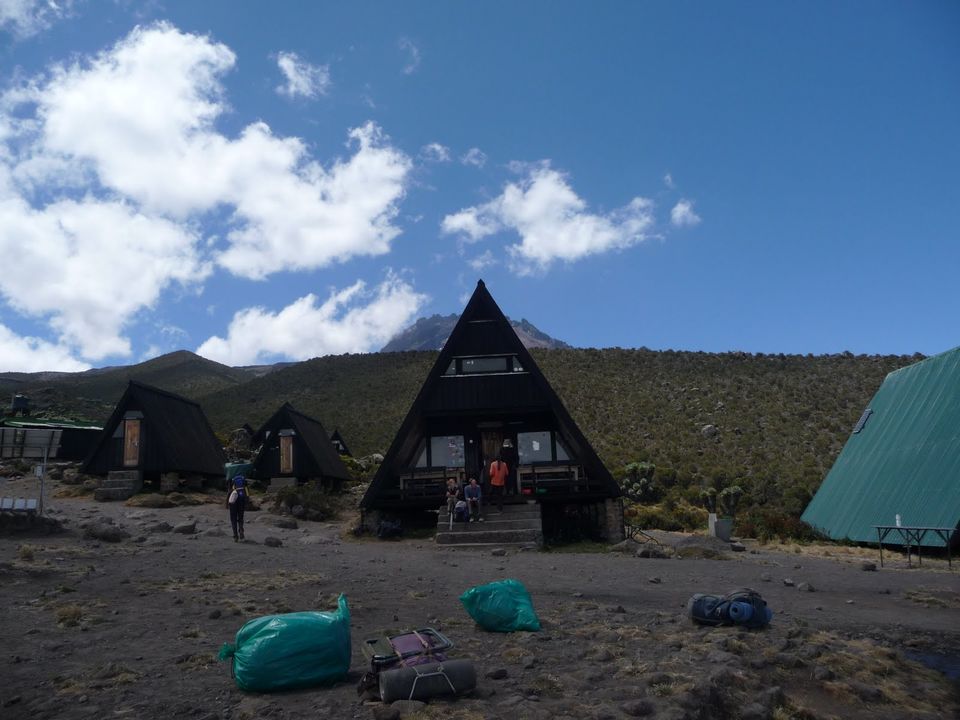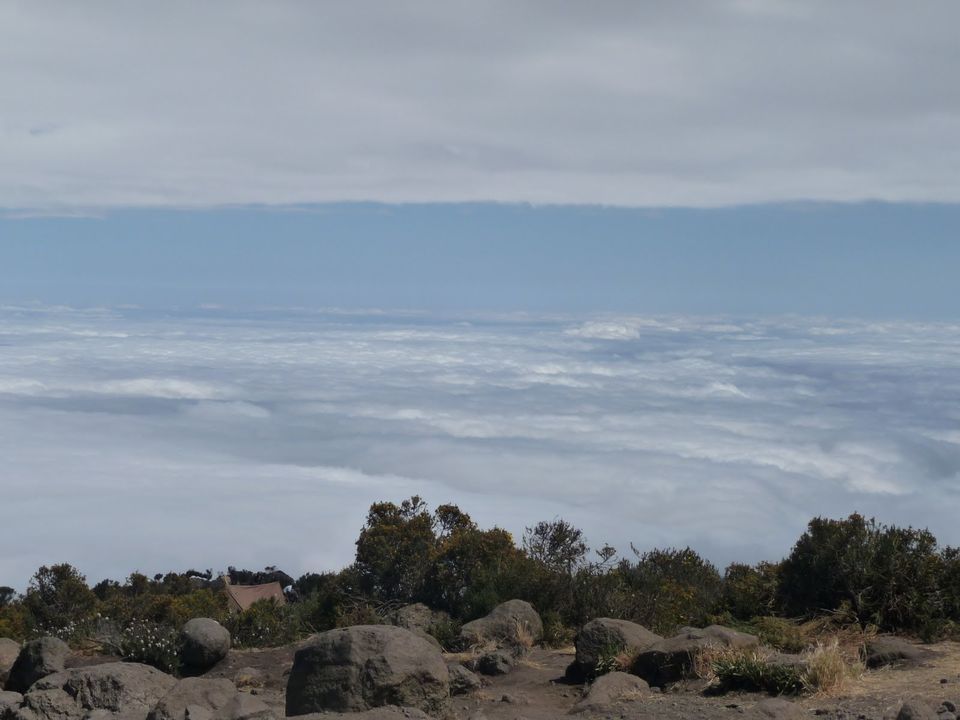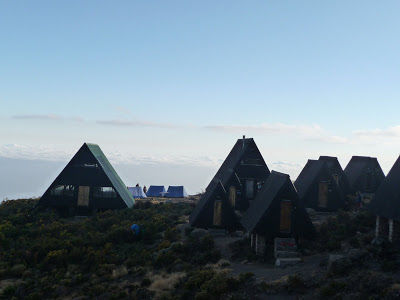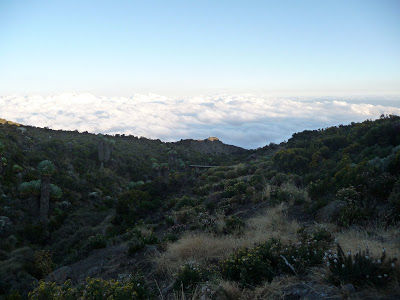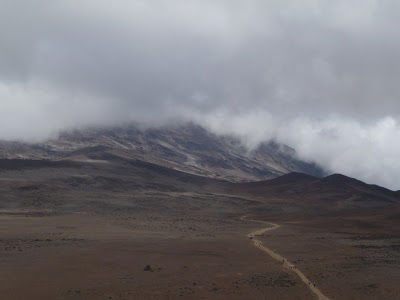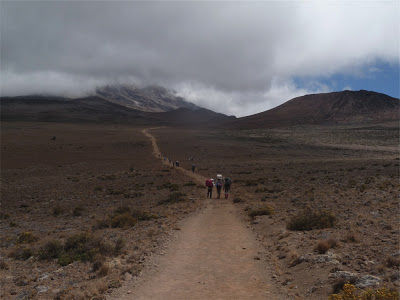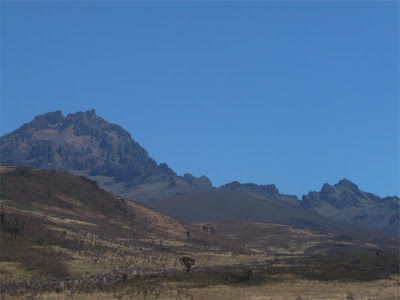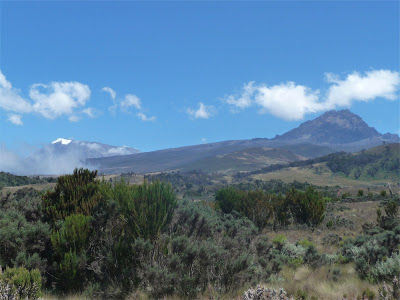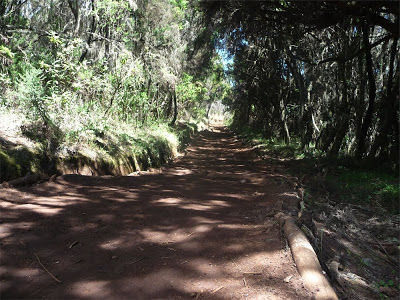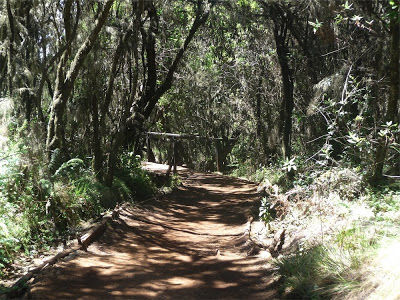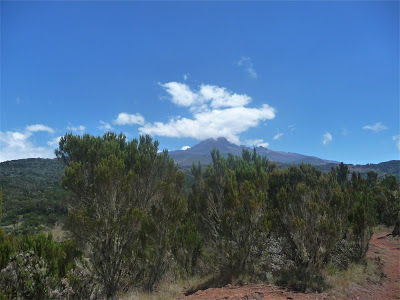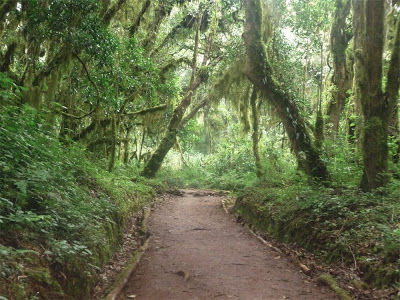 This trip was originally published on travelfreak

A 3 part story of trip to Africa (Kenya and Tanzania)
http://travelfrreak.blogspot.co.uk/2009/11/africa-calling-Nairobi.html
http://travelfrreak.blogspot.co.uk/2009/11/trek-up-kili.html 
http://travelfrreak.blogspot.co.uk/2009/11/africa-calling-3-sights-and-safaris-of.html
Day 3 (contd):

After our bumpy 5-6 hours of ride, from Nairobi to Tanzania, we reached Arusha, which is the tourism hub in Tanzania, for both the safaris as well as the climb to Kilimanjaro. Arusha is also apparently the centre of Africa! 

Our travel agents were Iris and Jordan D'souzas, owners of Tanzania Serengeti Adventures. At Arusha, we stayed at the bungalow of the D'souzas to rest before our climb the next day. We also got a briefing about our climb to Kili the next day, inspection of our climbing equipment was done, and we were introduced to our guide for the trek, Everest.
We also found a restaurant close to the bungalow, serving Indian food (which really helps after the looong rickety drive across from Nairobi)! Though even to go to a place 100 meters away, you need to take a local with you just to be safe!!! 

Day 4:

Next day, after a good relaxing sleep, we left for Kili, with our guides, porters, equipment as well as our high hopes!! On the way, we crossed Moshi town which is the town of Kili. Also, we never ever got to see a full view of the Kili throughout, either before or after the climb. It was covered with clouds throughout our climb, and is supposed to be a sight to behold..

It takes about 2 hours from Arusha, to reach the start of the Marangu trek. We reached the start of the Marangu route, where it takes some time for registrations etc. Here is a photo of the two peaks of Kili from somewhere on the trek later on.


The Marangu route is supposed to be one of the easiest of the climbs up Kilimanjaro. The trek can be done in 5 days, but it is advisable to take an extra day for acclimatization (which we did). There are huts on this route, so you do not need to camp in the open. Its one of the most popular routes to climb up Kili, and hence is also called the 'Coca-Cola' route. After the paperwork, off we started, day 1 of the climb...

The first day is actually the easiest day of the climbs up, though it takes its toll still on you as its the first day (especially if you haven't been exercising regularly and are unfit!). The trek for the first day is about 8 kms which takes about 3-4 hours to complete. You start in the afternoon of reaching there, have your lunch on the way and reach Mandara huts by the evening. You climb from a height of about 1860 mtrs to 2700 mtrs this day, gaining about 840 mtrs in 4 hours.

The landscape on this part of the trek consists of rainforests, huge trees covering the path, along with a lot of undergrowth. The trees have moss hanging from the trees, hence this part is also called the 'bearded forest'. 


Also, this part of the trek, it generally does rain, so you need to be prepared for that. There are couple of small wildlife to see on the way too, huge white-headed crows, and blue and white monkeys.


Due to the trees shading the whole trek path, you however still feel fresh on this part of the trek. The path is actually quite steep though, which you realize only the day you are coming back down!! Our guides, Everest and August were quite experienced in these treks and they set the pace for us as we were not walking at a constant pace initially, so that we would not tire ourselves too soon. In fact, August who was the more experienced of our guides had once completed the whole trek of 96 kms in 21 hours! It's also advisable to talk, joke or laugh during the trek as that keeps your mind off the tiresome trek. You also need to drink water regularly, every 15 minutes.


After the 4 hour trek, we reached the Mandara huts, where we stayed for the first day. The huts are at a height of 2700 mtrs. I don't even remember too much of this place as I think I was too tired to notice anything! The weather had become cold and rainy by the time we reached there. We settled into the huts, wore more layers of clothing, freshened up and then had snacks. We were given tea along with popcorns and sandwiches to refresh us. At the end of this day, we just relaxed and then had dinner.

In the dining halls, there would generally be many other groups climbing at the same time, so there would be lots of people eating together, discussing their trek of the day, giving the place a lively atmosphere. You would make friends while dining, and chatting with people going up with you, sharing stories and complaining together about the cold too!! The meals that were provided to us on the trek were amazing! Soups, then main courses (including pastas, chicken curry etc..) including salads and then sweet dishes (too!!) everyday.

In fact the kind of services provided to us at such a height was very good, almost like 5 star services :)! The guides, porters, cooks, the entire team pampered you like anything, taking care of you to make sure you eat a lot and sleep well. Our cook, Samson made tasty food too, which after a long trek tasted like heaven. And our head butler, Benson was the one who would wake us up everyday and make sure we ate a lot!! It was really amazing to see the simplicity and zeal and sincerity with which everyone tried to take care of you (even if their English wasn't great)! As I said before, sightseeing was just one part of this Africa trip, but the experience completely different and out of this world!

The way it works on the treks is that you would have a group of porters and cooks carrying your luggage up the mountain. They carry about 20 kg per person, as well as food, utensils, water and other essentials all the way up. You would just be required to carry your own day pack with you, which will have water (about 3-4 liters per day) some snacks you may want to much on the way, critical medicines, an umbrella, some rain gear, your lunch pack which is given to you everyday, a camera and such stuff you may want to use on the way. 

The first day of the trek is the only day where you are the most enthusiastic about carrying your own stuff! The first day, in our enthusiasm, we had a lot stacked in our daypacks. That's when we realized how each 100g of weight in the backpack makes a difference to you when going up!!:)) And that's also the day when we just put everything into the bigger packs and carried ourselves just the minimum amount we had to. Wish we could have managed without carrying the water too! It was the heaviest part of our bag pack.


Also, during the trek, we saw some people crossing us on their way down and some crossing us for the way up. However the route wasn't as crowded as people had told us it would be! Another thing you notice while trekking is that the porters keep crossing you again and again while trekking up, they walk soo much faster than all of us even though they carry so much more weight! Quite impressive...

Day 5:

The second day of the trek, you walk about 11 kms in about 5-7 hours, from the Mandara huts to the Horombo huts. You climb from a height of about 2700 mtrs to 3700 mtrs this day, gaining about 1000 mtrs.

You start the trek early at 8 or so after breakfast (we were always late though!!) The trek this time is through alpine scrubland, also called moorland. 


This part of our trek was through rain the whole time, as well as covered with fog. This part of the climb was just about putting your head down and to keep walking without thinking! You just keep drudging along, your body complaining, and you wonder, why you are there at the first place!!

Again, you have lunch on the way, and water all through. Something we noticed here was that there is always a very steep climb just before the lunch spots as well as the huts where you stay. Guess its the push you give yourself, for some impending rest! 


The weather actually improved when we were having our lunch. I just wanted to rest there once we stopped for lunch. Also, the lunch spot was where we got a first look at the Mawenzi peak.
It's covered by a bit of snow most of the year. And the peak has not been conquered much, as it's a technical rock climb and been tried by very few till now. We still did not get to see the Kili peak here either. This part of the trek also had some interesting flora and landscaping... These below are plants you encounter a lot during this part of the trek, don't they look like plants from an alien land??


and these looked like paper flowers we have in the plains...


We crossed serene streams and bridges on the way.... Drinking water and taking photo breaks, as an excuse to give rest to oneself:).


Breath-taking landscape, and its in this part of the trek that you first get above the clouds. Its amazing up there, that is if you have strength enough to look around...!!

And then you get the first view of the Horombo huts. It's at the perfect location, above the clouds, with view of the Moshi town below (only when the clouds clear!!). 
Horombo has wooden huts, with place for 4 in one hut. We stayed in Horombo for 3 nights total, two now itself and one more when we were going down.


Horombo huts are actually the most popular of the huts on the trek, as people stay here both while going up and down. As usual, food was amazing and we were eating excessively.
Day 6:

This was an acclimatization day for us.. When you just get used to the cold and the low oxygen at these levels. This is the day we went trekking to Zebra rocks. Walked up 3 hours and then back 1 hour.


And also got a view of the saddle which was the next day's trek...
This is also the day we met our team, who had made this whole trek possible. Here are a couple of photos we took this day.

Otherwise it was pure relaxation day for us, to get us ready for what was to follow.
Day 7:
This was by far the toughest day of the trek. The distance to the Kibo Huts was about 9.5 kms, to be covered in 5-7 hours. The height to be covered this day was again about 1000 mtrs, from 3700 mtrs at Horombo Huts, to 4700 mtrs at the Kibo huts.

We started in the early morning (again!) from Horombo huts and clothed in multiple layers. Another day of drudging along, on and on. The vegetation soon changed from the shrubs to completely barren ground, with small scrubs scattered here and there. You need to cross the saddle, which goes up and down multiple time! The climb here is tough, even though it doesn't seem as steep, and the worst or the best part of this part of the trek is that you can see where you have to go, except it takes bloody too much time to reach there! So near, and yet so far..

You can get a view of the Kili peak to be climbed the next day, as well as the Mawenzie peak from this part of the climb.We of course got to see only Mawenzie again!! 


The weather on that day was clear completely, with the clouds giving striking poses for photo shots. It does get very chilly all the way though, chilly and windy. The oxygen levels get very low by this time and every step is an effort.
Once you cross the saddle, you can see the Kibo Huts on a raised platform. This part of the trek kills you, you can see where you have to go, but climbing that last part takes all your strength! I was almost half dead at this time, all I wanted to do was go back!!
Anyways, somehow you reach Kibo huts, but after that you have no strength left in you for anything. We all just crashed, and did not even want to have our evening snacks or dinner either. Anyways, we had an early dinner and then off to sleep for a couple of hours, to restart climbing at midnight. It's that part of the trek, where you stop caring about what's happening around you! You just don't care, your trousers are muddy, you have dust on your jackets, you JUST don't care! Just want to crash onto the bed and forget everything!

Day 8:

The last part of the trek is just(!) rising up a height of 1000 mtrs again, walking about 5.5 kms, from 4700 mts at Kibo hut to 5700 mtrs to Gilman's point and upto 5895 mtrs at Uhuru Peak. The trekking time for this day, including the ascent and then the descent till Horombo may take anywhere between 10-16 hours.

We started trekking at midnight, clothed in all our clothes that we had (about 4-5 layers of clothing!!). You leave Kibo huts, and start climbing up the peak. Its pitch dark, and you depend on the light from your head lamps. Everyone walks in a straight line, up the completely steep peak, where you can't see anything in front of you or on the side. Its cold (with even your drinking water freezing), chilly winds up the walk. God! What a scary part of the trek this is.

I walked up couple of hours, but then decided to come back without reaching the peak. So the rest of what I write is just based on what I heard. The climb is killing, chilly, and you just keep walking slowly mustering all your strength. You reach Gilman's point at 5700 mtrs sometime in the morning, at 6 or so. The view from there is breathtaking, and if you get to see the sunset, you've got your effort's worth of returns.
Though, by that time, you don't even have the strength left to click photos there!
Uhuru peak at 5895 mtrs is again slightly higher, just about 200 mtrs or so ahead from Gilman's Point, though by then even the 200 mtrs seems too much. 
I met two guys though from Slovakia, at the Kibo Huts, who had come down from Uhuru by 8 am. They were completing the whole climb in two days! Anyways, after reaching the peak, you somehow come back to Kibo huts, dead tired, sleep there for a couple of hours and then walk back to Horombo huts. The climb back also stretches you, as you just keep walking down, like a zombie. Even going down kills you and the landscape does not interest you much by this time.

One thing to note, if you are planning to climb Kili is that you definitely need to take Diamox while you are climbing. It really helps in avoiding altitude sickness. Altitude sickness affects a lot of people and we even saw some people being taken down the trek on stretchers. We took Diamox daily though, and thankfully did not have any of the symptoms for altitude sickness.

Some other observations from the trek. When you go to relieve yourself, its called "leaving a message" or "hotmail". Don't know the reason for it, but it actually is funny and very commonly used and understood on the mountain.

While trekking, people sing local songs, one of the most popular one is given below
Jambo, jambo iguana..
Habari gaani, mazoori sana..
Wageri, Makar bishua
Kilimanjaro Hakuna matata
(am not sure if I remember it correctly or not.. And the spellings I have used are what I sang, am sure they are incorrect!!)
Our guides were very friendly and understanding, I think it's the guides who make the difference in inspiring you to complete the climb. The meals are out of this world, tasty and healthy. We all ate so much, that we actually gained weight on the climb! The porters carry most of the water with them or fill them from the streams on the way. You will have to purify the water they supply using water purification tablets. The huts are well maintained and very clean.

The park fees are high, about 700-800 USD for 6 days or something but well deserved. The services and quality of the trek path is very good.


Sun cream is essential, though it doesn't help too much. Rain can ruin your climb, thankfully it didn't rain much in our case. Remember to carry lots of face tissues and munchies on the climb, they will always help.
Day 9:

You continue the climb down, from Horombo to Mandara to Moshi. Keep walking, and not think about anything. Just running down the way, though your thigh muscles do become stiff by the end. It's also the first time you realize that while going up, you were going down also many times

Anyways you reach the end by sometime in the afternoon, finish thepaperwork, get the certificates for the climb and off you go.. Dead completely!