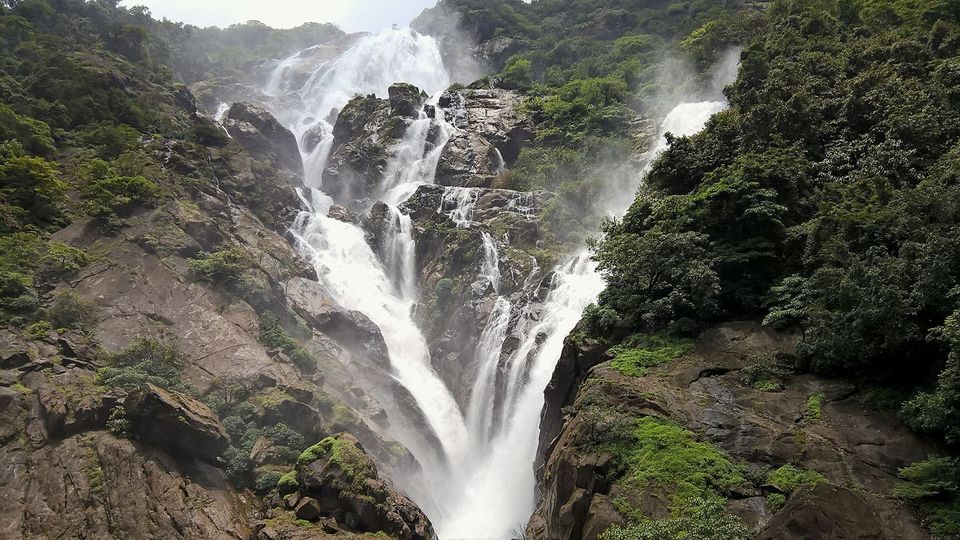 Remember, when we got the question in our English exam papers.
Your Most or Unforgettable day of Life.
Those times, I wrote almost anything for the sake of writing.
It could only fetch me 4-5 marks in my exam.
But, the true meaning of it or the true such moment happend to me recently, just few days back on Tuesday.
The feeling is still strong and the picture is still bright and crystal clear in my mind.
I am talking about the Majestic Dhudhsagar Falls. The Sea of Milk if we translate that in English.
I am actually in a state of dilemma, that I am unable to find a suitable adjective to the magnificent art of the Mother Nature.
I'll not write too much about this. Just say, Make time and Reach this place, before it become more famous or gets shut because of us.
We or would say some have no respect for beautiful things.
Ok, Lets not make things boring.
I had planned a 4 days trip to Waterfalls near North Karnataka which ended on a finest note - Dhudhsagara, Goa.
This falls lies on the border of Goa and Karnataka.
I said, it could shut because of us for a reason.
The credit goes to Rohit Shetty's movie Chennai Express that brought Dhudhsagar to the public.
Since then, people are flocking towards it, which is fine. Even I dreamt of it.
But we are not respecting it. We are destroying it.
When I reached Kulem , I was told by the Station Master that the trekking to the falls are prohibited.
Recently, due to death of someone. They told me that such incidents became common near the falls. As people ventured there in drunken state and met with accidents.
It is such incidents and carelessness which hampers and blocks entry of other people to such beautiful location.
Goa is around 30-40 KMs from Kulem. The best place in the whole of India to get drunk and sloshed. Drink till you die, that too in complete desi konkani Goan style. With fish, Urak, Fenny and what not. Even Pawsar - Local liquor which are mostly illegal.
I was annoyed with this news.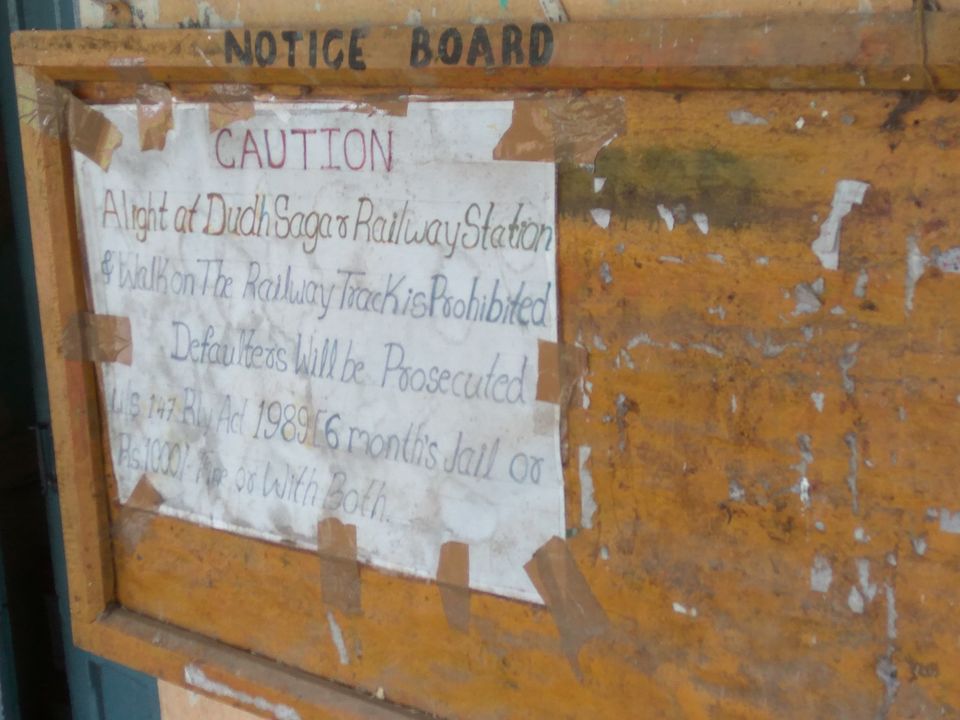 But, then I know about bikers who can drop you there. I came to know about them during my last visit to Goa, whose article I have shared already.
It was during October and the bikers had asked me to pay Rs,1,500 which I didnt pay. I left without dismay as I had gauged that the force and intensity of the fall would be less, compared to what I experienced. Hence, I left.
This time they asked to pay Rs.1,000 for to and fro service. They work in an organised manner. The Rs.1,000 includes everything forest entry fee and some panchayat fee and so on, who cares.
But I chose to trek instead of taking the bike ride. I thought they are unnecessarily taking undue advantage of the situation. I have no issues with them. Earning and making money is birth right of every individual if it is not harming someone.
But paying Rs.1,000 for a budget traveler like me, is not a good deal. As I had cover some other falls also.
Rs.1,000 is a huge amount, folks.
I took to the railway track.
This trek is simple one. It will take you to a post created by the forest department.
From here, one can reach the railway track. Cross the final two tunnels to reach the falls.
and then this Happened.
I sat there for a good period. So it remains in my mind for a longer period of time.
I will be again visiting this place.
Because I love repeating places.
I hope you like this article.
and Please ask people who you come across to respect nature.
I will share my other trips experience in my next articles.
Till then, Good Bye.
Regards,
Da Punter !!!