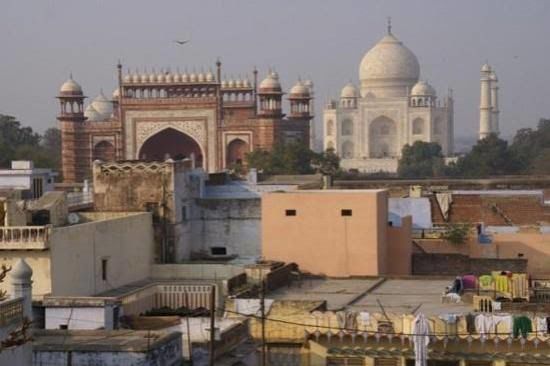 Top 6 Things to Do in Agra
Located on the banks of Yamuna, Agra is best known for the iconic Taj Mahal. However, the appeal of this historic city is not limited to this magnificent monument alone. There's a lot to explore and experience, from monuments and mausoleums to parks and bazaars. Make sure to book your stay in one of the best budget-friendly hotels in Agra and get ready for a tour through the city. To help you out, here's a list of things to do in Agra.
Things to Do in Agra:1. Soak in the Beauty of the Taj Mahal
Taj Mahal | #1 of 18 Best Things to Do in Agra
The majestic Taj Mahal is the most fascinating ode to love the world has ever seen. Thanks to its exquisite architecture, a visit to this white marble mausoleum built by Shah Jahan for his wife Mumtaz Mahal is one of the best things to do in Agra for couples as well as for everybody else. Plan an early morning visit to this monument to experience its ethereal beauty against the rising sun, minus the rush of tourists.
Entry Fee*:
₹ 50 for Indians
₹ 1100 for foreign nationals
₹ 200 for mausoleum entry for all
*Free entry for children below 15 yearsTimings: 30 minutes before sunrise to 30 minutes before sunset; closed on Fridays
Book Budget Hotels near Taj Mahal
2. Watch the Light and Sound Show at Agra Fort
Agra Fort | #2 of 18 Best Thing to Do in Agra
The Agra Fort, which was once the lavish residence of the Mughal Emperors of India, showcases immaculate architectural grandeur. Walk through this historic fort and explore its impressive buildings and structures, including the Moti Masjid, Musamman Burj, Diwan-i-Khas, Shahjahani Mahal, and Jahangiri Mahal. In the evenings, you can enjoy one of the best light and sound shows from across India held inside this fort. The show takes you on an expedition into the fort's past, heightened by impressive visuals and music.
Show Charges:
₹ 70 for Indians
₹ 200 for foreign nationals
₹ 40 for studentsLight and Sound Show Timings: 30 minutes after sunset; every day (Show in Hindi followed by English)3. Enjoy the Beauty of Mehtab Bagh
Mehtab Bagh | #3 of 18 Best Thing to Do in Agra
Mehtab Bagh is a Persian-style garden complex built by Emperor Babar. Replete with airy pavilions, plastered walkways, fountains, and pools, the enticing garden is a green haven where you can spend some time away from the touristy crowd and still enjoy stunning views of the Taj Mahal. If you are a shutterbug, it is one of the best spots from where you can capture some amazing shots of the Taj.
Timings: 6:00 am to 6:00 pmEntry Fee:
15 for Indians
₹ 200 for foreign nationals4. Take a Trip to Fatehpur Sikri
Fatehpur Sikri | #4 of 18 Best Thing to Do in Agra
Fatehpur Sikri, which once served as the much-famed capital city of Akbar, carries a grand heritage legacy. It boasts of impressive edifices like the Buland Darwaza, Diwan-i-Khas, Diwan-i-Aam, Jama Masjid, Mariam-uz-Zamani's Palace, Panch Mahal, the tomb of Salim Chishti, and many more. You can spend a day discovering the beauty of this heritage city that is an integral part of almost every 5-day Golden Triangle Tour covering Delhi, Agra, and Jaipur.
Distance from Agra: 36 km (approx.)Timings: 6:00 am to 6:30 pm; closed on FridaysEntry Fee*:
₹ 40 for Indians
₹ 550 for foreign nationals
*Free entry for children below 15 years5. Go on a Shopping Spree
Shopping | #5 of 18 Best Thing to Do in Agra
The bustling markets and emporiums in Agra are a shopaholic's paradise. Pay a visit to these places to relish the vibe of the city like a local, but remember to bargain well when making a deal. Here are our suggestions:
Kinari Bazaar
This wholesale market in Agra is where you can shop for a wide range of textiles, handicrafts, leather items, glassware, spices, marble works, and more, all at reasonable rates.
Timings: 11:00 am to 9:00 pm; closed on TuesdaysSadar Bazaar
This famous shopping spot entices shoppers with its range of ethnic garments, accessories, handicrafts, footwear, leather products, and mouth-watering sweets, among other things.
Timings: 11:30 am to 6:00 pm; closed on Tuesdays