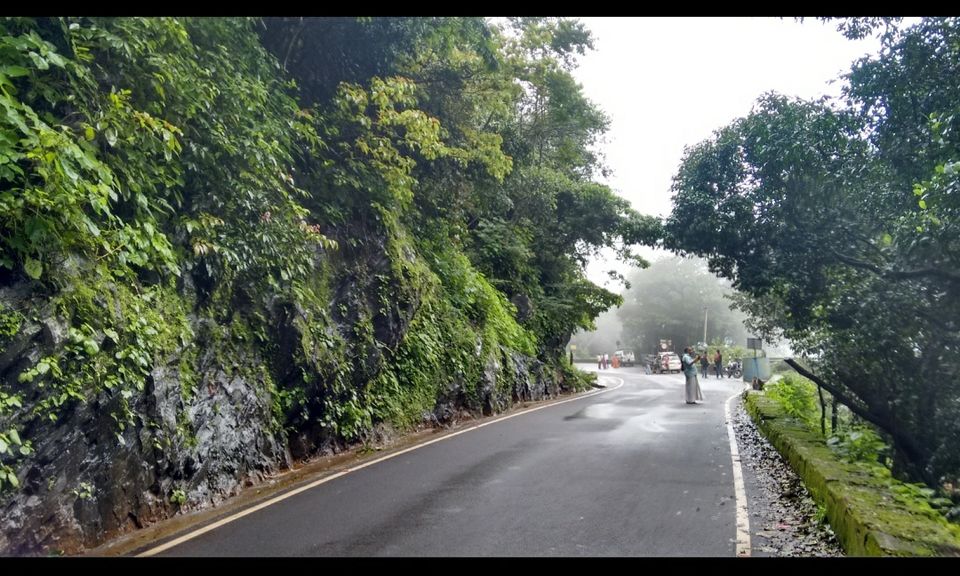 Western ghats is bountiful! Absolutely stunning, picturesque locations can be seen across the length and breath of the mountain range. One such spectacle is Agumbe Ghat. It is the highest rain fall spot in South India and is called the Cherrapunji of South India. If you want to see Falls, Valley, Mountain Range, Reserve Forest, all in one place then Agumbe Ghat and the Sun set spot is for you.
We were traveling from Sringeri to Mookambika via Agumbe during late July. In total, it's close to 3 hours drive. Sringeri to Agumbe was a beautiful 45 minutes drive drizzling all along through the thick Forest. There are few falls in Agumbe, Wild Life Sanctuary and park. But we travelled only to the Sun Set Point. The Google maps shows that the sun set point is in the wild life sanctuary area. Not sure though.
Vans, cars are allowed to wait just for few minutes at a walkable distance from the sun set point as the width of the road is small and is an accident prone area. It was raining slightly as we reached the Sun Set Point. The sight of the rain water falling slowly on, through, from the greenish mountain range looked like a natural fountain and coursed itself to a water puddle leaving it's trail along the road side.
As we walked to the Sun Set Point through the canopy of trees accompanied by the gaint mountain range on one side and steep downhill on the other is the most memorable part of the journey.
From the Sun Set Point we had a breath taking view of the green carpet valley below, falls at a distance and the wide spread blue expanse, Sky. It was 12 at noon and cool breeze swept over our faces gently. Completely contradicting atmosphere to Chennai at 12 PM.
We spotted few monkeys busy in cleaning lice,  Plucking water bottles from travellers, trying to snatch mobile phones, photo bombing selfies. Though we descended from the Ghat, heart still recalls every bit of the bountiful place to the tee.
That was supposed to be a spiritual trip but it turned out to be a beautiful scenic drive in Western ghats and that is it's innate beauty!