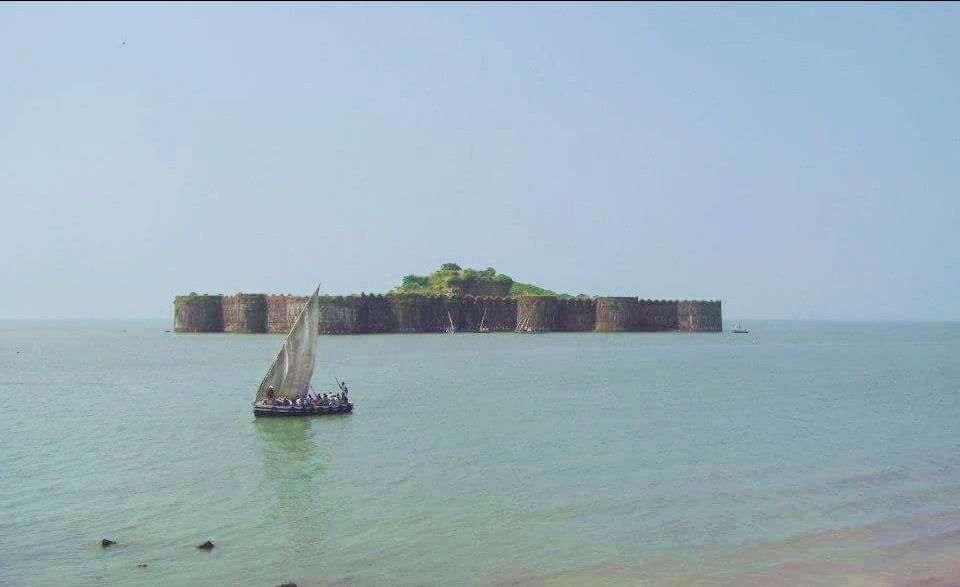 Me, Dipankar, Belinda, Ashish and rest of our gang members became close friends during our Banglore classes of two weeks. And then Ashish came up with the plan of Alibaug for two days. It was also his native place from Mothers side so there was no need to book hotel for stay. Plan was awesome as his mother was also coming there to cook  for us.
As planned we all left  our respective offices as early as possible, gathered at Gateway of India, booked tickets for the boat and then on the time of departure we bid Tata Good Bye to the Taj hotel and great gateway of India and caught comfortable seats in the boat. It took 2 to 3 hours to reach other side that is Mandavi, the harbour of Raigarh district from where we caught a bus arranged by boat service people which left us at Alibaug Market. There it was home of Ashishs one of cousin, whose wife greeted us with tea n light snacks. From there he took keys of cousins car, and then from there we started our journey by car. Off course Ashish was driver for us. That day we visited nearby beaches Alibaug n other which I could not recollect right now as they were not so worthy too. We reached his home after drive of few minutes which was  in a small village. There was his mother at home who was too kind to come a day before just because for us. She cooked all types of non veg food that day for dinner, ranging from chicken, fish and prawns. We attacked food and then washed dishes thereafter to help aunty. We went to terrace, arranged chairs, ignited small bonefire thing in the metal pot kept there and took out bottles of drinks. It was fun to booze under moonlight, in open air, at chilled weather with people we are most comfortable with. Off course  it was all without giving any hint to aunty.
Lazy morning started with breakfast of "Kanda pohe" I also did cycling, had walk in the farms of Ashish n also tried the skill of climbing tree.
Then we all had bath one by one with hot water, heated on traditional chullah, where we all tried the skill of keeping fire on, in chullah and that too without smoke. 
That day we visited janjira fort. This is the fort, which Shivaji maharaj tried to conquer, but failing which he was inspired to build sea fort of Sindhudurga. We had to catch traditional yatch, which took us to the sea fort of janjira which is in the middle of the Arabian sea. There were many groups like us, we enjoyed yelling with them. "Shivaji Maharaja ki jay", all time hero of Maharashtra who is also worshipped like god. Ashish was telling us untold history like any guide at each point. We took lots of snaps there. Also had snacks. It was awesome experience.
And then we were free for beach fun, we reached kashid beach. I will tell you, it is awesome of awesome beach which will give u feel of Goa, we changed our dresses for water fun and ran in water like kids, had lots of fun for next 3 to 4 hours, and then came and swinged on netted swing, ordered food, had it, it was dark when we left the place. That was Awesome night, we all tired after playing in water, ashish was driving, and we started singing old melodious Bollywood songs.....it gave me feeling of "Jindagee na milegee dobara"
Next day morning we packed our bags, with heavy heart we bid good bye to the people at home. Ashish's granny was a sweet lady I fall in love with her, I missed my granny truelly that day. Caught boat at Ravadanda which left us at Bhaucha Dhakka in Mumbai and thus again we became a part of routine.....