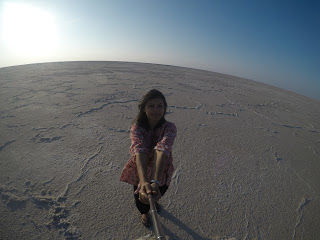 2019 is here and so are our New Year resolutions. For travel freaks like you and me, many new places must have been added on your to-do list this year too. If the list includes Great Rann of Kutch, let me assure you, you're on the right blog. This blog is going to be all about the beauty that Rann offers and my experience with some real information, hard to find anywhere on the internet.
THE DILEMMA
Rann was never on my bucket list until I came across a random picture of Great Rann on Instagram. I was home that time for Diwali and had my exams starting in next two weeks. That picture left me awestruck and I knew at the back of my mind that this is going to be the destination for my next trip. I read and researched a lot about the place but could not find much on the internet. There were though some really good and informative blogs but my questions like.. "Would it be safe a solo girl traveler?" "What should be the budget?" "What could be the perfect itinerary?" etc etc. were still unanswered. I had almost dropped the idea of going to Rann but I still could not get over that picture. I got busy with my exams and only after my last exam I realized that I would be committing a sin if I let go off the opportunity of visiting this place.
REACHING DELHI AND BOARDING TRAIN
My exams got over on 21st, I booked a tatkal ticket (INR 655- sleeper class) on 22nd and there I was in the train sitting amidst strangers-turned-family talking about life, love and how technology ruined our lives. I live in Chandigarh and my train (Be Bhuj Express) was from Delhi. So I left early on 23rd for Delhi, reached at around 10:30 am at the Old Delhi Railway Station.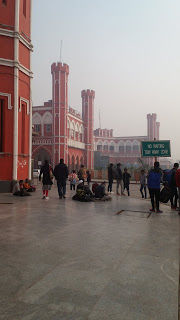 I patiently waited for my train to arrive only to realize a little later that it got delayed by an hour. I rested for a while at the waiting room. The train finally arrived at 12:50 pm. The journey was fun and a memorable one. An aunty (an old lady somewhat in her late 60s) who sat next to me made sure I feel comfortable. From offering her home cooked methi paranthas to narrating her cruel yet entertaining life experiences, she rocked the show. I could not sleep the whole night because it was extremely chilling. It was rather a big mistake for not booking an AC class. But it was cool for me since I was on a budget trip. We reached Gandhidham at around 8:30am and bid adieu to all my co-passengers. The train got empty after that.
I took an auto to taxi stand for 20 bucks. (Autos were cheap pricing not more than 20- 30 bucks for 4-5kms). The plan was to visit Mandvi and stay there overnight. On reaching taxi stand, I had two major tasks to accomplish. First, to book a cab for the next day for Rann and second, to find a transport for Mandvi. Public transport in the Kutch area cannot be much relied on. Buses are irregular. So the only option one has is to hire a cab for Rann. After talking to some 5-10 cab drivers and negotiating prices, I had to settle for INR 2500 for the day. Nobody was ready to settle for less than that. The rates were really high considering the peak season. Food + the permit expenses was to be borne by me in addition to that. One can also hire an auto (INR 1500 bucks). I took the driver's no. and asked him to meet me at 10 the next day. I then took a shared taxi (referred to as Toofan by the locals) for Mandvi (50 bucks per head). Mandvi is 60 kms (i.e 1 hour) from Bhuj One can also take a local bus for Mandvi. We reached Mandvi at around 12:30pm. Another big task awaited for me-finding a budget accommodation for the night. There are no hostels nor any dorm facilities in Mandvi. However, many guest houses do offer a room with 3 - 4 beds separate for families or groups. I did not book the hotel online because I found them overpriced on the internet. So I decided to personally look out for a hotel/ guest house. I visited 2-3 guest houses but none of them were ready to offer a room for less than 1K. I was tired, hungry and exhausted. I thought of asking a local and that was when an auto wale bhaiya came to rescue. Let me tell you Auto drivers there, were really helpful and kind. He took me to Swami Narayan Temple but sadly, booking was to start at 4 and it was only 1 pm.Luckily, I read a signboard with "Jitendra Guest House" written on it. I called on that number and asked him the price for a room. He quoted 800 bucks. That was the lowest of all that I had found till then. So I asked the driver to drop me to this place. After personally bargaining a little, he agreed for 750 bucks. The guest house was located in the market itself, rooms were clean and spacious but bathrooms were in pathetic condition. After taking bath and resting for a while, I left to explore the local market. I visited Osho Dining Lodge, famous for their Gujarati thali (130 bucks). If you're in Mandvi and missed onto this wonderful place, you would be committing a blunder. The food was awesome, very much beyond expectations.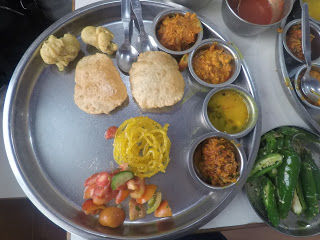 I then left for the most awaited destination for the day "Mandvi Beach". I had only seen a beaches in my dreams or movies. To me it was going to be a complete new experience. I could not hold my excitement. I took an auto from the market for 30 bucks. A few minutes later, I was there (finally!). It was a beautiful feeling which cannot be expressed in words. It felt surreal.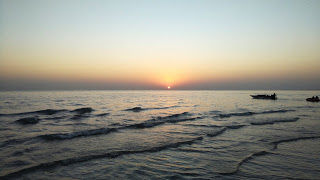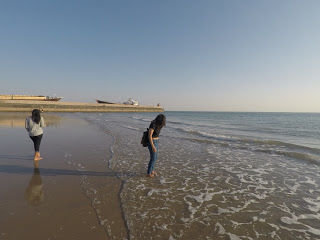 The beach was moderately crowdy yet lively. I looked for a corner, away from the hustle and bustle and sat there for a while admiring the nature and its beauty. Mandvi beach is not like any other Goan beach. U would not find sexy girls exposing their perfect bodies in Bikinis. The place was more of a family picnic spot. So if you go with this impression in mind, you might get disappointed a little. There are one or two tourist attractions in Mandvi including the Vijay Vilas Palace. I skipped them due to paucity of time. After witnessing a magical sunset, I went back to my room and dozed off to sleep.
DAY 2 - GREAT RANN OF KUTCH
We decided to first visit Kalo Dungar (Black Hills). After 10-20 miles, we stopped at BSF check point to make our permits (INR 100 per head + INR 50 for 4 wheeler) since one is not allowed to go beyond that point without a permit for security reasons. So, do not forget to carry your ID cards along. On our way to Kalo dungar, we took another haul at a village famous for its handicraft items. We finally reached Kalo Dungar at 1 pm. Kalo Dungar is probably the only place in Kutch which gives a bird's eye view of the Great Rann of Kutch. The hill is also the site of a 400-year-old temple to Dattatreya, the three-headed incarnation of Lord Brahma, Lord Vishnu and Lord Shiva in the same body. Legend says that when Dattatreya walked on the earth, he stopped at the Black Hills and found a band of starving jackals. Being a god, he offered them his body to eat and as they ate, his body continually regenerated itself. Because of this, for the last four centuries, the priest at the temple has prepared a batch of prasad that is fed to the jackals after the evening aarti. Reaching the hilltop by public transport is difficult. There is a dharamshala next to the temple if you plan to stay there overnight. The sky was not clear so we could not have a clear view of the salt marsh. This disappointed me a little.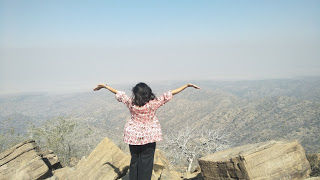 We then headed for Dhordo, the tent city which hosts India's Biggest White Desert Festival, Rann Utsav in Kutch. The tents are highly expensive starting from INR 5500 going up to till INR 12000 per head for a night. I had already booked a dorm online at Royal Guest House (INR 400 for a night) in Bhuj. So if you are on budget, going back to Bhuj after watching the sunset at Rann is the best option since stay options are really expensive in nearby villages too. After strolling for a while in the tent city and eating lunch (Kutchchi thali- 130 bucks), we left for our final destination - THE GREAT RANN OF KUTCH. In no time, I was in the middle of a white desert which is reputed to be one of the largest salt deserts in the world. "It's a little bit like the Taj Mahal -- people think they have already seen it in pictures, yet its size, scale and beauty still take your breath away when it's actually right there before you." I roamed around, took a zillion pictures and waited eagerly for the sunset.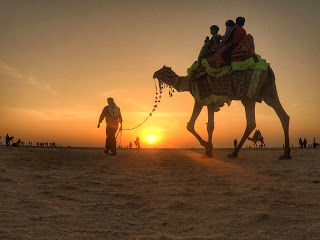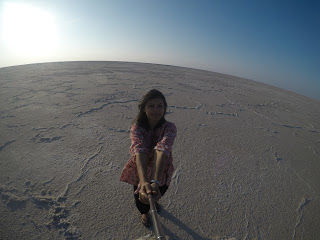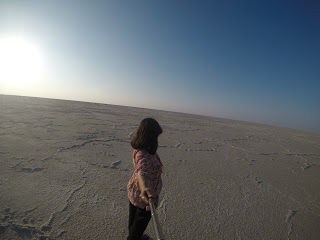 The sunset was nothing less than miracle. Everything about the place was surreal. I was overwhelmed with joy seeing the sky changing colors. After witnessing the most beautiful sunset of the year, I got back to the car and we drove back to Bhuj. The guest house was in the market itself. It was easy to locate it. To my surprise, the guest house was everything I did not expect it to be (in a good way!). The dorms were amazing (far far better than any zostel or leading hostel chain). It also has a kitchen, so you can cook your own meal.I made Maggie for myself, sat on the terrace for some time, recollecting all the memories I made in these 2 days and went to sleep by 10 pm. It surely was one of the best days of my life.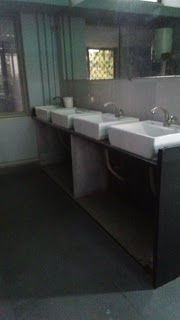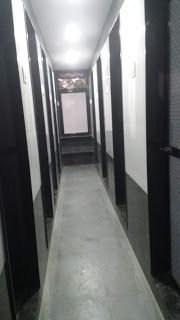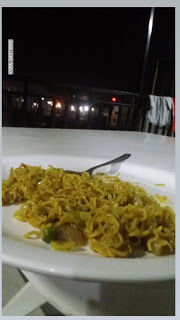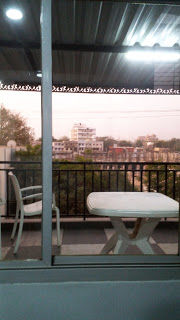 I then took an auto (for 150 bucks to and fro) and visited the Khari Nadi Bridge (4-6 kms, at the outskirts of Bhuj) which is famous as "Grand Canyon of India". A scene from Raees was shot here.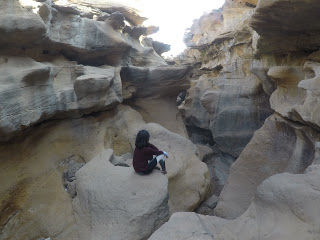 Do visit Mata No Madh, Lakhpat village and Koteshwar temple if you can afford an extra day. I visited the Praag Mahal and Aina Mahal (ticket- INR 50 each). Make sure to check out their timing before you visit. (TIP- Buy a normal ticket. Do not pay extra for carrying camera or mobile. Nobody inside really checks if you bought the ticket which includes photography or not.) Kutch museum was closed that day so could not visit it.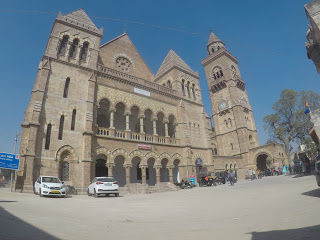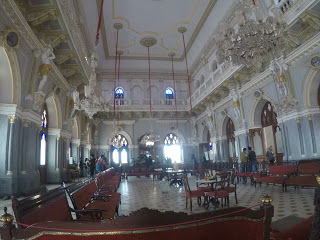 Strolled the local market and made a few purchases. Had lunch at Hotel Green Rock which I found to be highly expensive but the food was delicious.If you don't want to spend much on food, you easily survive on street food (very much pocket friendly), Dabeli being the most common one (INR 10 only). I left for the railway station at 3 pm. The train was to depart at 5 pm. Waited for 2 long hours at the station. Reached Old Delhi Railway Station the next day at 3 pm. And this was how my 5 days journey came to an end.
MOST ASKED QUESTION- Is it safe for a girl to travel solo in Gujarat?
Answer- Yes! it is absolutely safe.There's always some staring but it's ok. It's ok for people to stare. It is because you are probably new to them. Take it positively. Start trusting people. I had left my luggage (with wallet and all my valuables in it) in autos a no. of time and went on to stroll around. Not even for once I felt vulnerable. Interact with locals. Talk to them with a smile on your face and they'll smile back at you. Keep your friends and family updated about your whereabouts. Stay a little aware of the things happenings around you. Do a little research before you go. Read reviews, blogposts and watch travel vlogs. Rest I can assure you that you'll have the best time in Kutch kyunki "Kutch nhi dekha toh Kuch nahin dekha."
ITINERARY
Day 1 - Arriving at Bhuj, Visiting Mandvi and staying their overnight. Day 2 - Vistitng Kalo Dungar, the Handicraft villages, Dhordo and the Great Rann of Kutch.
Day 3- Exploring Bhuj (Swami Narayan Temple, Aina Mahal, Praag Mahal, Khari Nadi, Kutch Museum, Bhujia Hills).
RECOMMENDED STAYS-
Swami Narayan Temple, Bhuj and Mandvi
Jitendra Guest House, Mandvi.
Royal Guest House, Bhuj.
Taxi Driver's no. - 9638570692.
BEST RESTAURANTS-
OSHO DINING LODGE, MANDVI
GREEN ROCK RESTRAUNT, BHUJ
PARK VIEW RESTRAUNT, BHUJ
EXPENSES
TRANSPORT- TRAIN- 655 + 505= INR 1160
TAXI- INR 2500
TOOFAN SHARED TAXI-INR 50+INR 50= INR 100
AUTO- INR 300 APPROX
TOTAL - INR 4060
ACCOMODATION (PER NIGHT)-
JITENDRA GUEST HOUSE, MANDVI- INR 750
ROYAL GUEST HOUSE, BHUJ- INR 400
TOTAL- INR 1150
PERMITS
2 PERMITS (for me and the driver)- INR 100+ INR 100= INR 200 VEHICLE PERMIT - INR 50 TOTAL- INR 250
ENTRY TICKET
PRAAG MAHAL - INR 50 (EXCLUDING PHOTOGRAPHY) AINA MAHAL- INR 50 (EXCLUDING PHOTOGRAPHY) TOTAL 100
SHOPPING- INR 1500
FOOD (all days (approx.)-
WATER BOTTLES- INR 200
BREAKFAST- hardly INR 100 (ate street food and fruits mostly).
LUNCH- INR 400
DINNER- INR 300
SNACKS- INR 200
TRAIN JOURNEY- INR 200
TOTAL- 1500 (approx.)
TOTAL EXPENDITURE- Less than INR 7000.
However, if you travel in a group of two or more, the entire trip would not cost you more than 4000 bucks.
P.S- Feel free to contact. Follow me on Instagram @the_oddnaari and subscribe to my youtube channel @the_oddnaari