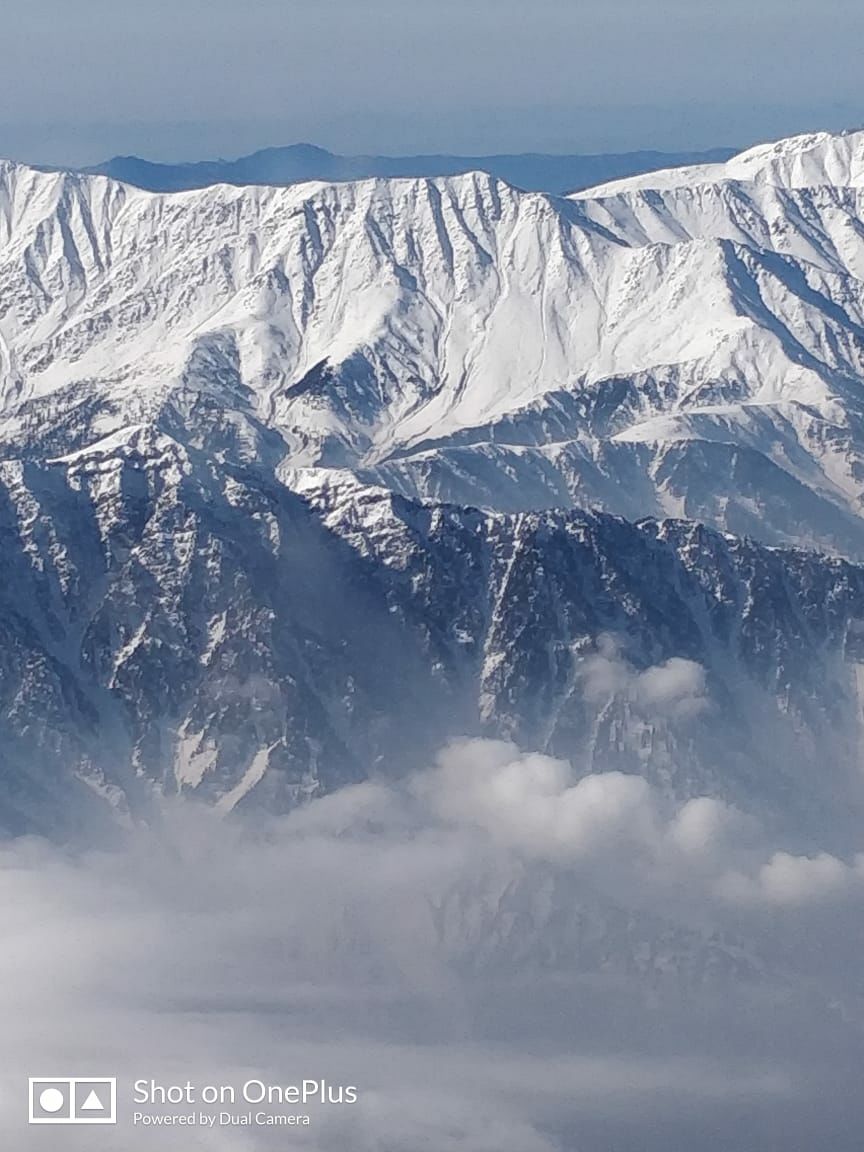 Let me keep this simple n short..
There are only two seasons to visit Kashmir...
1) If you visit in June Kashmir will be full of greenery and it is the best time to visit kashmir
2) Nov/Dec winter full cold and u may see snow fall if u r lucky..
I preferred winter as it suits my budget and I like to see snow..
We have taken a package at tripfactory.com
They have organised the trip very well..including hotels, fights, cab..e.t.c costs me 55K for couple. Best right?
If you are planning for  Kashmir below will be worth reading..
Lets see the iternary.. It was total 5 nights and 6 days.
Day 1: Nov 21st 2018 Srinagar
Nishat bagh, pari mahal, chashme shahi, shankaracharya temple.
we have reached Srinagar by 10:30 am..we have checked in and went for local sightseeing in Srinagar..we have been to Shankaracharya temple, Nishat bagh, pari Mahal, Shalimar Bagh, chashme Shahi on our day 1. Out of these Shankaracharya temple and pari Mahal are 5 star rating.. it's ok to see one either Nishat bagh or chashme Shahi as all these are gardens all are same Moghal gardens. If you are visiting at june don't miss tulip gardens at the time I visited it is not the season for tulips so I missed it.
Stay at : Asian park hotel, chinar bagh, srinagar
Though they claim it as 3* or 4*. I rate this as 2 star hotel as there is no 24×7 hot water facility and no 24×7 room heaters also. Available in fixed timings only. Common man it was 10 degrees out there. Rooms are very good, service and restsurant is also good.
Day 2: Nov 22nd 2018 Srinagar - Sonmarg - Srinagar
Thajwas glacier, bat factories
We have headed to Sonmarg famous for Thajiwas glacier..full of snow :) we liked it a lot. Sports like skeeing, sledging will be available here. If possible you can do a small trek of 2 KM's in snow here instead of sledging.
Don't waste your money here for sports activities because something bigger than this is coming i.e., Gulmarg. If Gulmarg is part of your trip don't waste money here.
Stay at same hotel as day 1.
Tips: Don't waste money if gulmarg is part of your trip. Spend wisely. Use your bargain skills. Don't forget to have maggi and kashmiri kawa(local drink green tea like) on top of glacier.
Day 3: Nov 23rd 2018. Srinagar - Gulmarg. Night stay at Gulmarg.
Finest of our trip. Loved this place. Cable car ride world's 2nd largest. Enjoy the sports skeeing, sledging, motor bike ride...enjoy every activity here..it was fun and awesome experience. Use your bargain skill as much as possible.
A prt from this shiva temple , maharaja palace,church are some other sight seeing places.
If you visit in june you can also see park, golf court, lake also...but in winter all these places will be covered with snow.
Cable car here is divided in to two phases if you are visiting in winter you can find snow at 1st phase it self so don't need to go for 2nd phase. In June tourists will go to phase 2.
Stay at: Hilltop residency, Gulmarg. Amazing place. 24×7 hot water and room heaters.
Tip: Try to cover as many sports as possible. Use bargaining skills and spend wisely. Don't miss snow bike riding.
Those small food shops in gulmarg sports area  are worse to eat. Don't fall in trap of local guides don't believe all things they say. You don't need a local cab for local sightseeing in winter as most of the places are covered in snow, most are walkable so don't fall in their trap.
Day 4: Nov 24th 2018 Gulmarg - Phalgam
Aru valley, beetab valley, chandanwari, Apple archeries.
Travelled to phalgam. One more amazing place. Aru valley, Beetab valley, Chandavari(starting point for Amarnath Yatra). Every place has its own mark. Through out you visit in Phalgam you can see lidder river passing by. Among this I like Beetab valley and chandanwari. Chandanwari is full of snow as visited in winter. You can do some pony ride at Aru valley to see some small places around Aru valley. Else u can hire a local cab to see aru, beetab and chandanwari. We have taken the cab.
Stay at: kalhoi green resorts, Gulmarg. Veey nice and luxury hotel.
Tip: spend wisely if you choose pony. Choose right choice btwn pony and cab. I prefer cab(economical, complementary by tripfactory).
*Start your day early, as there are lot of places to cover. Choose night stay here so that you can spend more time in phalgam.
Day 5: Nov 25th 2018. Phalgam - Srinagar
Awantipora ruins, lal chowk, house boat, dal lake, char chinar, shikara ride.
Return to Srinagar from phalgam. On our way back we visited Awantipura ruins temple. Very nice old historic place to visit.
Shoppong at lal chowk.
Amazing night stay at new Jacqueline house boat. Taken shikara ride in nigeen and dal lake. It totally took 4 hours to cover diff places in lake. Char chinar is an amazing place to visit ask your shikara driver to take you there and you can see floating market and backwaters of srinagar. We started our shikara ride by 3:30 pm and returned back at 8:00 pm. This shikara ride is an amazing part of our trip.
Stay at: New Jacqueline house boats. Amazing place to stay warm welcome and very good service. Chacha is the best here.
Day 6: Nov 26th 2018
Check out at houseboat Srinagar and fly back to Hyderabad
Some local places to eat good food at low cost.
Krishna vaishno veg dhaba, Srinagar
Evergreen resort, Anantnag on the way to Phalgam