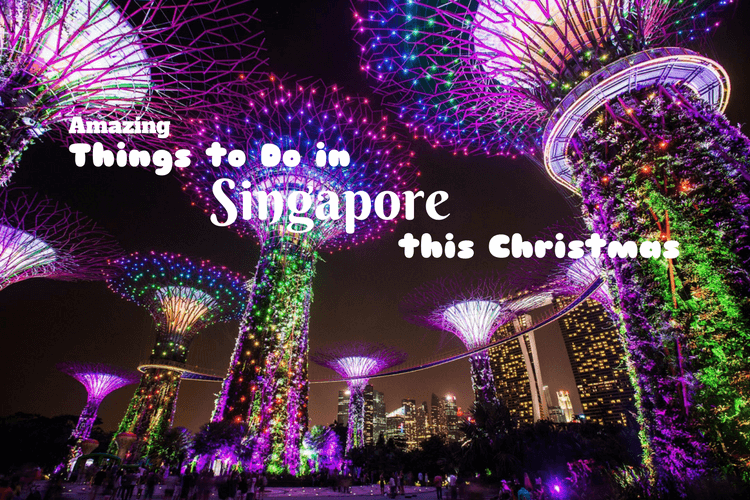 The festive season is fast approaching and December brings in a spirit of festivity everywhere. Preparing for the Christmas merriment, everyone is busy deciding where to head to enjoy the seasonal holidays. If you plan to head down to Singapore this Christmas, you are in for a real treat. Though the country looks very tiny, Singapore is bursting at its seams with loads of attractions and events which become two folds with thrill and excitement during festive seasons. Here's a quick guide as to what you can expect on your Christmas holiday in Singapore.
• View Gardens by the Bay in Christmas spirit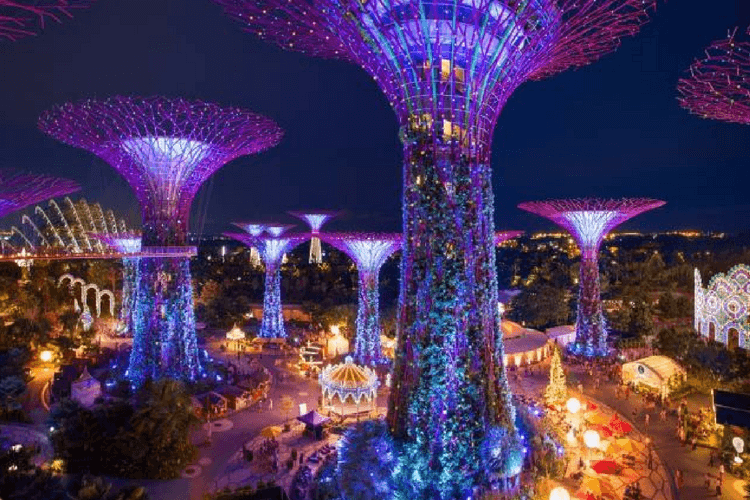 The marvellous Gardens by the Bay completely transforms into a winter wonderland during Christmas times. The mystical giant Super Trees illuminated in dazzling neon lights, several attraction spots blended beautifully with lit up fairy lights and light sculptures converts the entire ambience into a gleaming winter paradise. Every year, Gardens by the Bay hosts a variety of festive activities, live shows, carnival games and markets for locals and guests to enjoy the joyous spirit of Christmas amid spectacular settings.
• Enjoy Christmas among your favorite characters at Universal Studios Singapore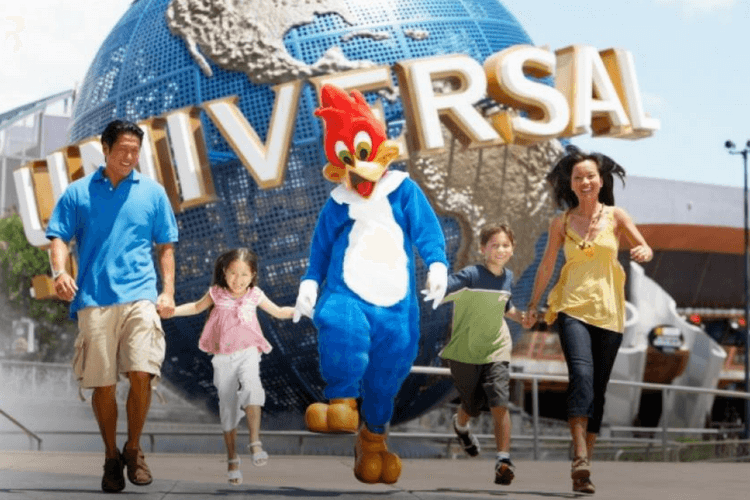 The Christmas fever spreads through Universal Studios Singapore every year and the whole theme park gears up for the occasion with live shows, performances and rides that are all based on the Christmas theme. During Christmas, Universal Studios Singapore decks up in beautiful festive decors and lines up an entire range of thrilling activities and recreations for guests to enjoy. Your favourite characters will be swaggering around in festive costumes and you can have a photo moment along with them. Certain arenas will have sets that depict actual Christmas towns where you can even witness a snowfall. Live shows and street performances mould their act in tune to Christmas tales. Don't forget to watch the spectacular fireworks over the Hollywood lake which is a perfect way to unwind an exciting Christmas Eve.
• Stroll around Christmas Markets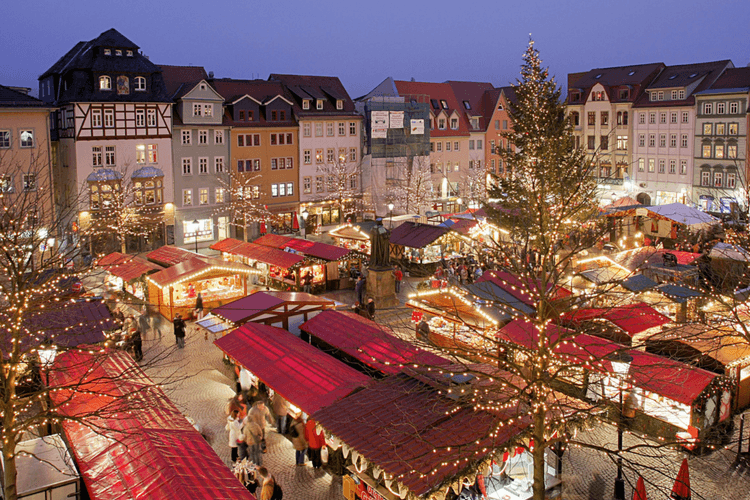 Christmas season also means loads of shopping and you will get immense choices at Singapore markets during the festive times. Some of the best fairs and street markets pop up during the holiday season which sells a wide range of merchandises from local retailers as well as international brands. Look forward to a visit to Artesania Christmas Markets, The Eurasian Family Carnival, Clarke Quay Christmas Markets, Festive Market at Gardens by the Bay which are abuzz with activity, where apart from shopping, kids can enjoy street carnivals, magicians performing, live dance performances as well as try delicious festive foods, snacks and delightful desserts. These markets make perfect spots to tick off your gift checklist and get presents for your loved ones for Christmas.
• Witness Christmas Flair at Orchard Road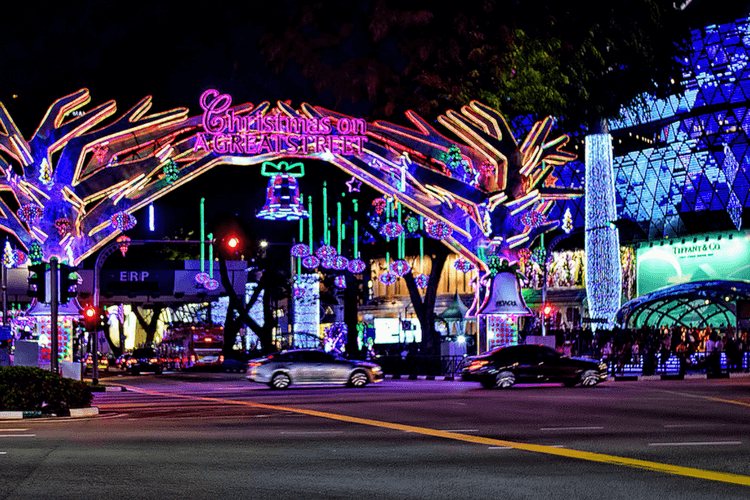 One place you will regret if you missed to visit while on a Christmas holiday in Singapore is a trip to the Orchard Road. Every year, the avenue becomes unrecognizable being a normal busy boulevard as hundreds of twinkling lights, neon illuminations, festive ornaments, baubles and bells are hung to create a spectacular surreal world of radiance. A leisurely stroll down this enigmatic lane takes you to a kaleidoscopic world of colors and lights that are a spectacle to watch. The elaborate decorations lift your festive mood and let you have a merry time shopping and dining at Singapore's favourite hotspot.
• Take a stroll down Marina Bay Promenade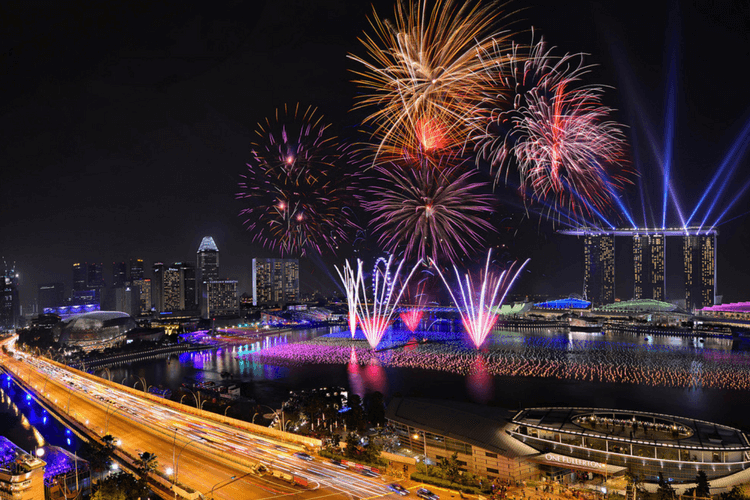 Singapore's famous waterfront promenade is the perfect place to view the Singapore's city skyline which dazzles incredibly during Christmas nights. Saunter around this precinct and you can come across an assortment of small Christmas tree installations which are also known as Chari Trees, each representing stories of lives changed by a charitable organization. Enjoy the festive vibe, the colorful illuminations amid a collection of charming dining outlets, stunning malls and recreational areas along with a spectacular backdrop of the Singapore skyline and the streaming river at Singapore's premier waterfront hotspot.
• Enjoy a Mall Hopping Experience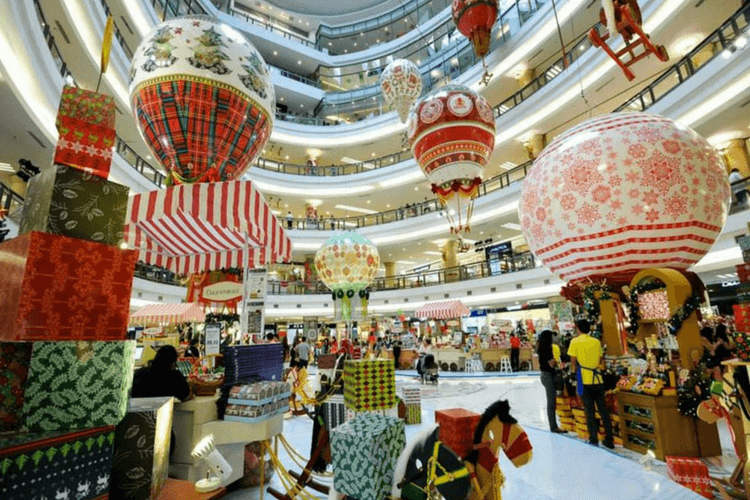 Christmas is a shopaholic's preferred season to splurge and there is no other place like Singapore to fulfill those shopping wishes. In fact, during Christmas Season, every one becomes a keen shopper. Singapore has an electrifying Christmas aura that reflects in its many exquisite malls which enthusiastically prepare itself to entertain the masses adorning itself in festive embellishments. With numerous glowing lights, hanging snowflakes and stars, massive installations of Santa and reindeers, every shopping mall is a sight of incredible festive exhibitions as they compete each other to look their best and be named as the best dressed mall of Singapore. Hop in and out of elegant malls such as Vivo City Mall, ION Orchard Road to name a few and wander around at your own leisure. You could end up having the perfect Christmas experience watching lovely carol performances, disguised Santas entertaining kids and enjoy live events and performances while you shop.
• Explore Singapore's Festive Food Scene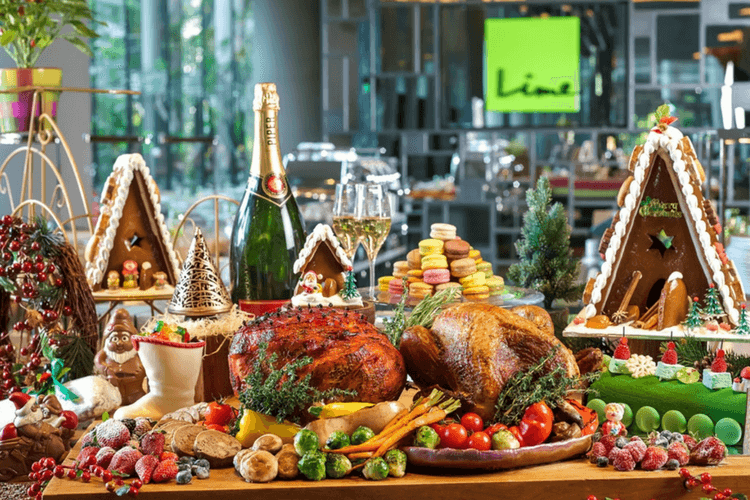 Festivals are synonymous with good food. Grander the food scene, grander the celebration. Almost every festival has a special soft spot for delicious cuisine and it is indeed a priority during festivals. Singapore being a multi ethnic country, the food scene explodes during festive times with a myriad of delectable options right from local, Asian to International delicacies that are served at classy restaurants and food outlets. This Christmas, let the foodie in you go crazy at fabulous Christmas menus that add a twist to the present dining scenario and treat yourself to some lip smacking festive feasts that sets the mood just right for rest of your vacation.
The idea to celebrate Christmas in a tropical destination feels odd but Singapore lives up to your expectation and lets you indulge in spectacular Christmas vibes. With sparkling lights, colossal decorations of Santas, snowflakes, reindeers enriching the malls, lanes and buildings, Christmas carols being sung at random junctions, fascinating shopping, dining and festive happening being held throughout the city and a plethora of attractive choices of things to do in Singapore, the feel of Christmas can be felt in every corner of this stunning destination. Every Singapore tourist spot enhances its appearance to suit as per the Christmas theme offering its visitors delightful festive moments. A Christmas holiday in Singapore is a wonderful notion and to turn it into a real life experience you should be well informed about how to get entry into Singapore. As with any other country, while travelling to Singapore, you need to have a passport with at least 6 month validity from your date of arrival in the country. If your nation falls under the category where you need a visa for Singapore, then you need to acquire a visa before your travel commences. To get a visa, you are require to submit a duly filled and signed application form along with these documents

- A passport sized photo in white back ground not older than 3 months and shows your complete facial features.
- Confirmed return/onward air ticket and your Singapore holiday itinerary
- Sufficient funds for your stay in Singapore
- A letter of Introduction from a local resident in Singapore or the Singapore embassy stating your purpose of visit and confirming your employment status in your country. If a local contact is representing you for your letter of introduction, that person should be a Singapore citizen as well as above the age of 21.
Once you submit these documents, you will receive your Singapore Visa within 3 to 5 working days. Singapore has strict immigration laws, so keep in mind that a valid Singapore visa is not an immigration pass. Even if you have a valid Singapore visa, the decision to grant entry into Singapore lies solely with the Immigration & Checkpoints Authority officials at the point of entry, hence obtaining a Singapore Visa does not guarantee you an entry into the country. The official's decision if you are suitable to gain entry into Singapore plays a vital role; only after the scrutiny you will be issued an immigration pass. Hence it is important that travelers should check their passports and documents to confirm these are in order and as per the requirements for Singapore immigration. It is essential to check your period of stay granted on your passport by the immigration officials as they differ from the period of stay provided in your Singapore Visa. Once you have the visa and immigration formalities sorted, you can enjoy your stay in Singapore during Christmas that would leave you with etched memories of illuminations and Christmas spirit like never before.