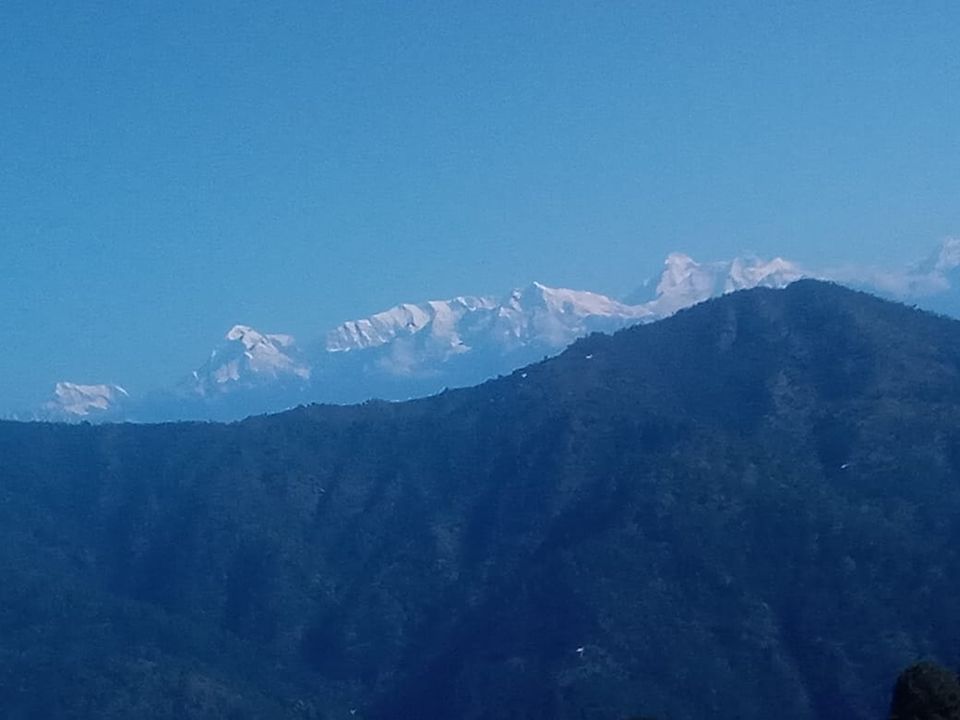 Time for round two ....visited the awesome Uttarakhand once again after a gap of two years. For the uninitiated, check out my blog on my earlier trip there ..."Weekend exploration...Kumaon chapter "
This was my first trip to the hills where I chose not to go by my car. So needed to do a bit of planning and booked myself of the Kathgodam Shatabdi that left New Delhi station at 6.20am... dot on time. Super comfortable and clean coaches, friendly staff. We reached Kathgodam a little before time and went out looking for a cab to Ramgarh, (which is a little short of Mukteshwar).It was going to be our first destination. I wish things were more sorted here, because the cab drivers literally pounced on you, each shouting louder than the other to attract customers.
We negotiated and  managed a cab  and drove into the beautiful clean air, cool weather and fantastic roads. We crossed Bhimtal the magnificent Taal/ lake on the way....much larger than the famous Naini lake with absolutely clean waters.
Kathgodam to Bhowali is 28 KM's.
Bhowali is an important road junction for Nainital, Almora, Mukteshwar and Ranikhet. It is also the main  fruit and vegetable town around these area.
So commuting in the hills with out your personal vehicle requires a bit of planning and walking too. But trust me, it's worth it.
The cabs from the railway station are in abundance, but there is no concept of shared cabs here. So you book a cab or negotiate and hire a one-way ride to your destination. This is ofcourse a bit expensive.
The other option is that you hire a cab for the whole day, in this area for around Rs 2,500/-. In the hills max you can drive for around 80-100kms in a day. Pick up and drop from your hotel.
If you want to save money, then ofcourse the public transport is available in the form of a bus or shared cabs from Bhowali. They charge anything between Rs 10 to 35, depending on the distance of your destination. There is a good frequency of buses before 10 clock in the morning, and mostly the last bus leaves around 5pm from Bhowali. So you need to hurry up and leave the comfort of your hotel in time to catch the  bus at 10. There are more buses later, but the frequency is long and delayed and you don't get enough time to sight see if you take the later buses.
So guys catch the morning Shatabdi for Kathgodam, and cab it or bus it to the places around very conveniently and with zero stress of driving yourself. Make friends with the locals as you share transport. The paharis are simple, warm people who have lots of  anecdotes to share with you. Try it, ditching your personal vehicle, is not a bad idea.
From Bhowali road junction,
Mukteshwar is 35 KM's.
Ranikhet is 46 kms
Almora is 53 kms
Nainital is 12kms
There are various temples on the way which are also worth a visit, then you can stop by at these quaint coffee/ tea cafes.
So next time give Uttarakhand a try this way, I promise you, it will be fun.