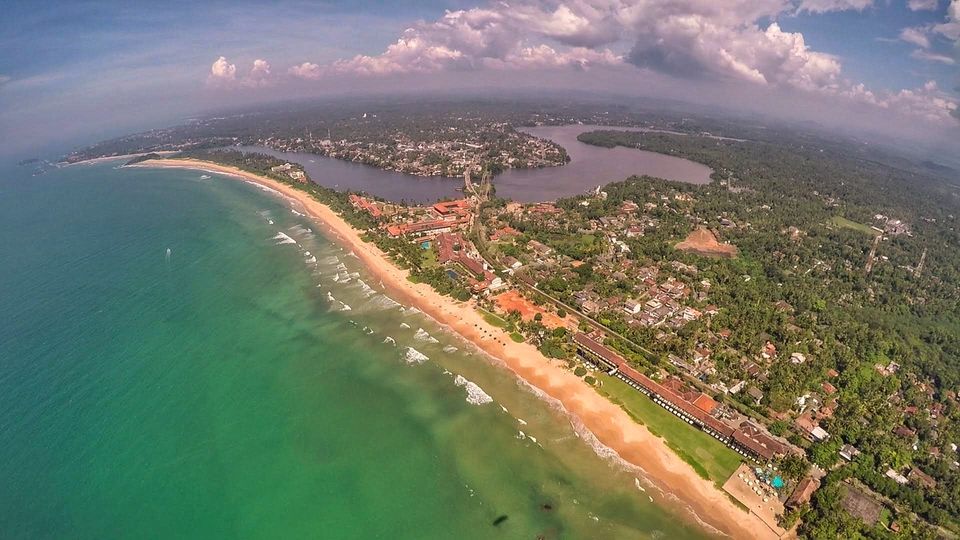 The earth is not flat, sorry flat earthers, i went up in a flying machine to check it out.
On our recent trip to the beautiful island country of Srilanka, we indulged in some adventure sports too. The highlight was going high up in the air in a para motor. It was only by luck that we got aware of the paramotoring around our resort. We were busy making sand castles when we heard the whirr of an engine and looked skywards to find a colourful parachute skimming across the sky. On enquiring we go to know that one can enjoy the beauty of Bentota beach from up in the air with the paramotoring team who were around 5kms down the road from our resort. We negotiated the price and off we went in a 4*4 pickup truck to the secluded patch at the end of the Bentota beach. Hidden amongst the mangrove trees was a clear patch of sandy flat beach strip used for takeoffs and landings.
We signed the indemnity documents, geared up , got weighed, and were ready for the flight. The next few minutes were pure bliss as we soared high in the sky and soaked in the beauty that lay below. The emerald green sea, the backwaters and the beautiful resorts surrounded by greenery presented an unparalleled vista. The long awaited bucket list to soar like an eagle finally came true. In an aeroplane one is safely cocooned in the cabin and does not get the feel and thrill of flying high. In a paramotor the experience was in your face and alive. After a flight of around 10 minutes it was time to land, and i was sad that the eagle had to land.
This was for me #TravelAdventure2019