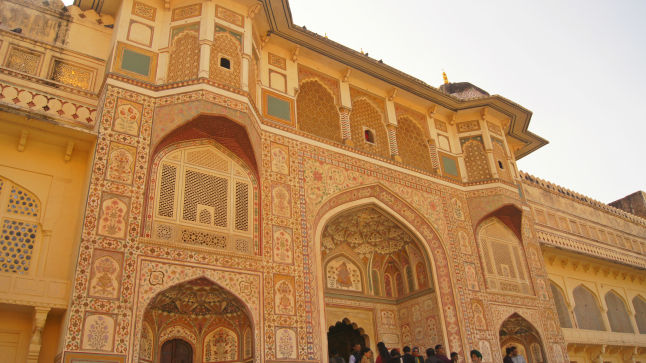 I slowly, steadily with every passing ruin turned into something I shouldn't have. Had I not turned into an admirer of antiquity, I could take control of my urge to trace my fingers on the rugged walls of a palace that once belonged to a mighty maharaja. And I could take control of  the sound of those constant tinkling of ghungroos at the back of my head. I could then perhaps stop my mind from thinking of maroon carpets and bejeweled nooks. But I turned into an enthusiast of royal  history. And Amer Fort emerged as a gentleman patting my back slowly to calm me down.
Amer Fort, the one seen from a few kilometers away, is the one that will push you deep into fantasy. I hired a jeep since Golden Chariot passengers had booked all the elephants and they climbed up the hill as the elephants jiggled their asses, as if to tease. The route wasn't too long but it took longer than usual to reach. Yes, good things come slowly. And this speed is a testimony of Amer Fort's fan-following. More than 5000 visitors come to experience it. On reaching, some men strumming ravanahatha and singing some folk song would welcome you (not literally! they are sitting on their own singing and chilling). Their voices are bold and clear. Their curlicue mustaches and colorful pagdi speak volume of Rajasthani culture, which is full of colors and royalty.
The facade of Ganesh Pol is beige in color, embellished with detailed work of art; jalis, arches, inlay work and floral designs. There are six hill-forts out of many in Rajasthan which have been collectively regarded as a UNESCO World Heritage Site, included the much-deserved Amer Fort. Raja Man Singh built it in 1592 and he mainly used sandstone and marble for the construction. Finest and flawless work of architecture mending with complementing interior decor is what Amer Fort is about. On reaching at the top, prepare yourself for a calming view of the vicinity, the Moata Lake and the lazy hillocks of Aravali. For me gentle December-breeze worked its way for an even better session of indulgence and forgetfulness of the world. Tunnels, domes, passages, the precision doesn't seem accidental at all.
Amer Fort is rough and so is its vicinity but there is a sense of grace and beauty that you can find in most of its corner. Amer Fort is what correctly defines Rajasthan.