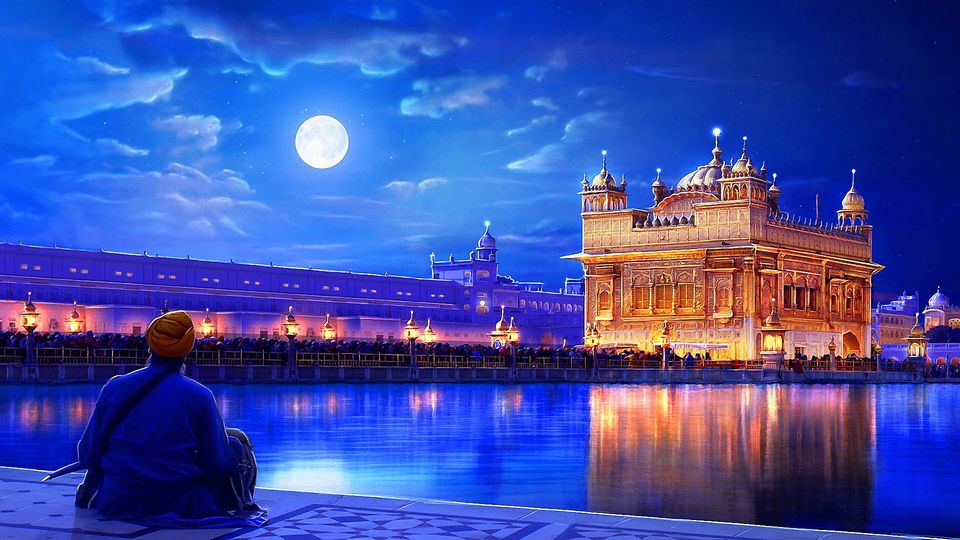 Amritsar, the home of Graceful Golden temple also known as Sri Harmandir Sahib is believed as the holiest shrine for Sikh community is sublimed by serene chants and shabad kirtan – you will feel to surrender yourself in feet of this divine presence. Golden Temple was founded in 1577 by the fourth Sikh guru, Guru Ram Das Ji.
Same cannot be said for the noisy and hyperactive streets outside the Gurudwara and area around Jallianwala baug, but for me walking through these narrow lanes and playfully dodging cycle rickshaws has always been a delight for exploring food, culture and people.
Punjabi food has always enhanced the flavours of Indian taste. When I talk about Punjabi food my mind always wanders around the memories of my street food exposure at Amritsar. For me Amritsar, with no doubts has always been the favourite choice when it comes to food. Whether its vegetarian or non-vegetarian this city has casted its magic all over it.
So, sit back and enjoy reading my food walk exposure in this paradise.
Guru ka Langar:
You cannot start your day without taking a round of the holy parisar and seeking blessings in the gurudwara. Followed by my favourite part at Golden temple which is having multiple helpings of the heavenly Karah Parshad.
Guru ka langar is the best meal you will ever have. Langar is signified as a communal free kitchen. This kitchen is open 24/7 and more than 20,000 people contribute in this seva of serving the food with love and devotion, showing their desire of surrendering before Guru.
Langar offers tasty black dal (lentil) with rajma (kidney beans) along with rice and delicious kheer that will bless you with sweetness.
Everyday more than 1 lac people from all caste and religion have this form of blessing and signifies the language of brotherhood and equality.
Restaurants:
Brother's Amritsari Dhaba:
You will a find many outlets of Brother's Dhaba but this one which I am referring is right above the Domino's pizza outlet. This place is situated in Town hall which is easily accessible from Golden temple. They are well-known for their hot, buttery Amritsari Kulcha served with curd and boiled chhole. Panner Tikka is something you cannot afford missing. I had been there in the month of November and so got lucky to taste the seasonal sarson da saag with makke di roti which stole my heart away.
Address:
Phawara Chowk, Town Hall, Amritsar
Kesar da dhaba :
The very famous Kesar da Dhaba is located amidst of the old market and has been serving delicious vegetarian food cooked in pure desi ghee since 1916. After reading about this place I decided to have my lunch here and I started to walk towards this place. On the way, I was advised by few locals to take a cycle rickshaw as this place is hard to locate by tourist but I had my Google maps which was guiding me and also informed that this place is just 20 mins away so I chose to continue walking inside that old narrow market road filled with rusty vintage shops, hawkers attracting customers to their food stall and how can I forget special appearance of the cows and cycle rickshaws blocking my way. After enjoying this hustle bustle, I finally reached to the destination with growling stomach.
The layout of the restaurant may disappoint you a bit just like me but looks can be deceptive, right?
Trust me I had the best meal of the day. They served me with one of their best dish which was maa di daal a perfectly flavoured black lentils along with heavenly kulchas and also spicy aloo parathas with cold curd that made my meal memorable. To add more flavour to it meal I ordered hot, soft Gulab Jamun's and Phirni (a milk and rice based dessert)
Address :
Chowk Passian, Near Telephone Exchange, Amritsar
Bharawan Da Dhaba:
Bharawan means brother. By having the advantage of spot on location, alluring and inviting smell of desi ghee this place is hard to be ignored which I think is the main reason for such hype. I personally was not satisfied by the food served. It was decent, one time visit but also there are plenty of better options which are not in the lime light but has better taste and are around the vicinity.
Address:
Town Hall, Amritsar
Street Food:
Other than local Restaurants, Amritsar also gives us a wide choice when it comes to street food. Only way to experience these mouth-watering delicacies is by being part of the locals and forgetting about your diet.
Kulwant Singh Kulche Waale:
If in Amritsar, you cannot miss to have different varieties kulchas from this place. It is a very small and simple shop which is not easily noticed by people who are new there but locals will happily guide you. I even had a very huge glass of sweet, thick lassi and the taste still lingers in my mouth.
Address:
Bazar Bikaneria, Near Golden Temple, Katra Ahluwalia, Amritsar.
Other street food stalls would be:
Amritsari Chaap wala near Goeka sweets which serves tasty and unique flavours of soya rolls cooked on coals
Rajasthani chaat bhandar
Ragda Patties near rajasthani chaat
Dwarkadas for nutri khulche and chhole chawal
Sweet Cravings:
Gurdas Ram:
Hot and crispy jalebis along with yummy rabadi would definitely tempt you and also make you forget the count of servings. This place lies right opposite to Rajasthani chat bhandar which is in the heart of the market.
Address:
Katra Ahluwalia, Amritsar
Goenka Sweets:
Rassagulla, Gulab jamuns, rasmalai, malai sandwich, cham cham oh and did I miss gajar ka halwa? These were the sweets I ate there. I seriously just gave up on my diet after entering this shop. Every bite just satisfied my sweet tooth so perfectly that I ended up tasting each and every sweet available.
Address:
Katra Ahluwalia Chowk, Shastri Market, Amritsar
Kanha sweets:
They serve the best Phirni in whole vicinity. I just love how these phirni are garnished with nuts adding the nutritional value to it and served in small earthen pots giving it an authentic feel and making it taste even better.
Address:
Lawrence road, Amritsar.
This is where my journey of food trail ends, now it's time for you to go and experience it your way!