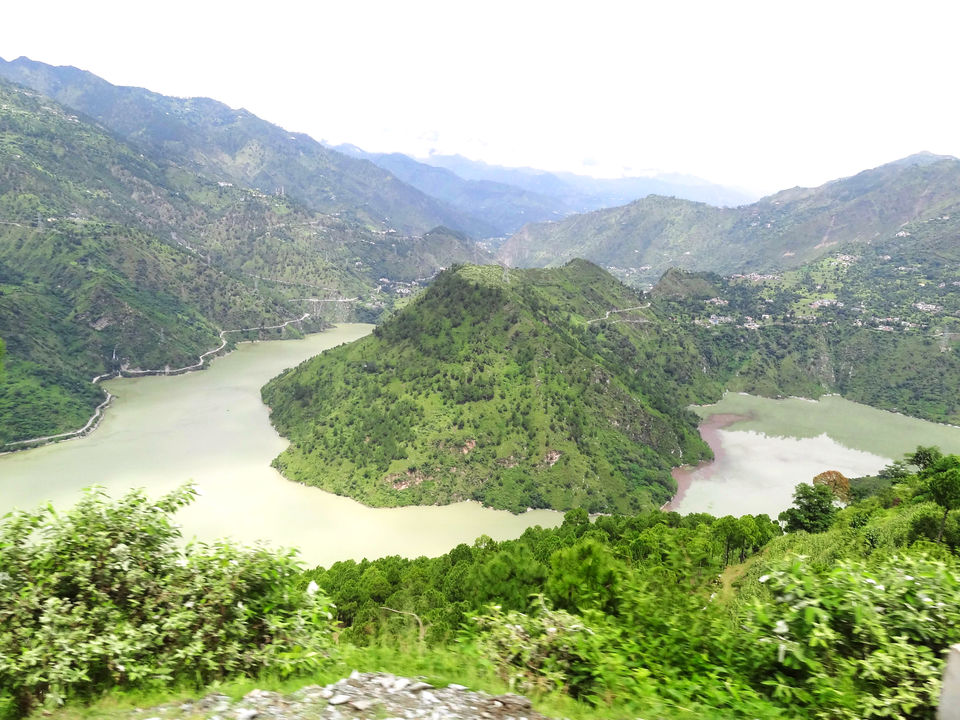 It was a package tour covering some significant places of three states viz. Punjab, Jammu & Kashmir and Himachal Pradesh in 9 Days excluding Journey period . Kundu Special – a renowned Tour Operator in Kolkata that organizes fixed departure package tours all over India. I went to book this trip with them all of a sudden, just two months before the scheduled date of journey and I got two seats in this package trip and confirmed train tickets. Generally mountain should be avoided in the month of August due to rains, landslides. But we decided to visit Mata Vaisnodevi during the monsoon. As this time the shrine will be less crowded and darsan can be made well. So we booked this trip. Everything was happened according to plan by the grace of Mata Vaisnodevi. On the scheduled day, we boarded Amritsar Mail from Howrah to reach Amritsar.
ITINERARY :
Day 1 : Amritsar sight seeing

Scheduled time of arrival of Amritsar Mail was around 9 a.m. but we reached by noon as the train was running late. We were received at Amritsar Railway Station and transferred to a hotel by bus. We were assisted with the checked – in formalities. It was almost 1 p.m. After having quick lunch, we were rushed to Wagha border to watch the Flag lowering ceremony.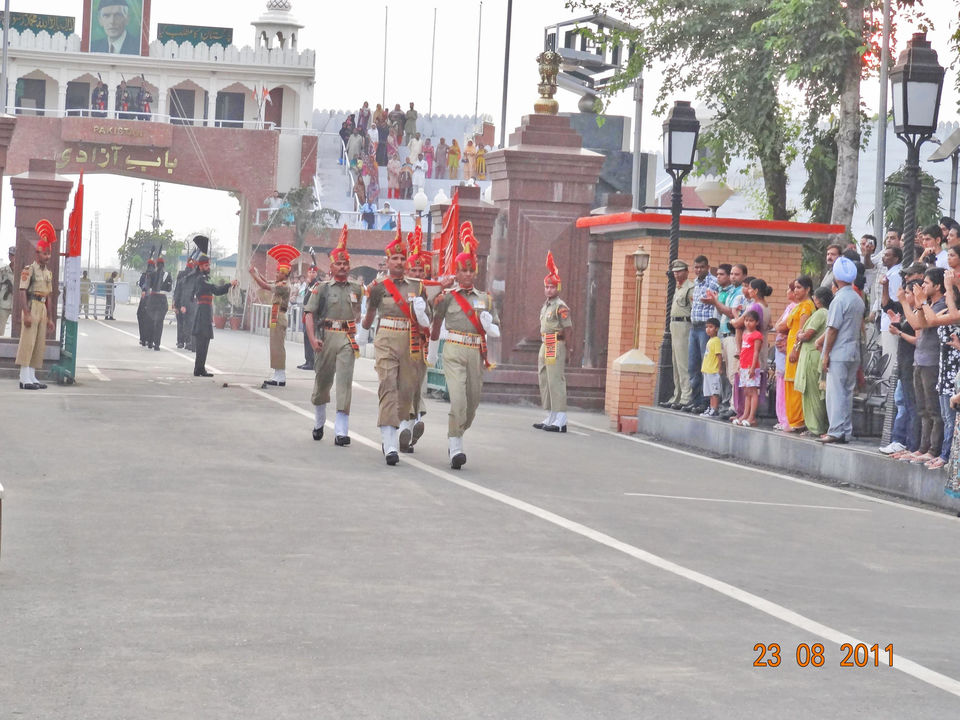 It took 45 minutes to reach the border from out hotel by bus. We luckily managed to take a good place in front row and witnessed the Indo – Pak grand ceremony from the beginning. This ceremony at Wagha Attari Border is a daily military practice and it lasts for 45 minutes. It is free show, no ticket is required.
In the evening we were taken to the famous Golden Temple - the oldest gurudwara for Indian Sikhs. There are four entrance of the Gurudwara. The main entrance has clock tower. Before entering the temple you have to leave your shoes. Thre is a provision of keeping shoes and luggages for free of cost. There is an artificial stream water flowing to wash one's feet before entering the temple. Make sure to cover your head with scarf before entering this holy complex. In case, if you do not have any scarf, lots of scarf are distributed at the entrance for free of cost. As soon as you entered, the grandness of the gurudwara mesmerises you. There is a holy water tank or pond surrounded by marble walk way with milky white building.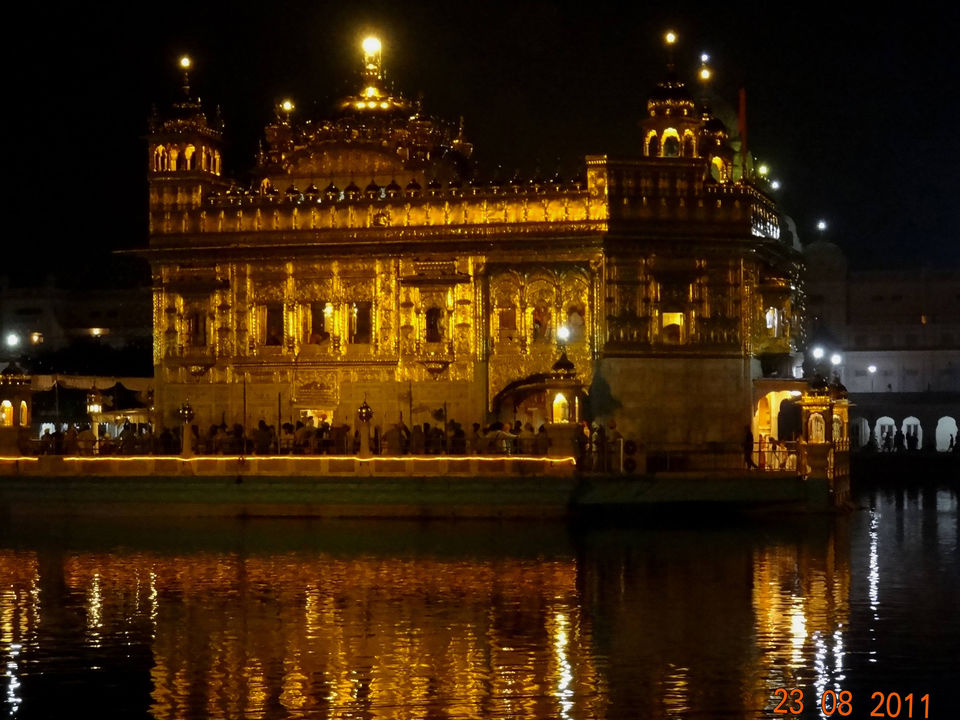 The water of the tank is said to have the healing power and pilgrims come across the world to take bath in this sacred water. In the middle of the water tank the Golden temple is situated. Photography is allowed only the outer periphery of the temple. A causeway connecting the temple with the walkway. The interiors of this Golden temple is a sight to behold.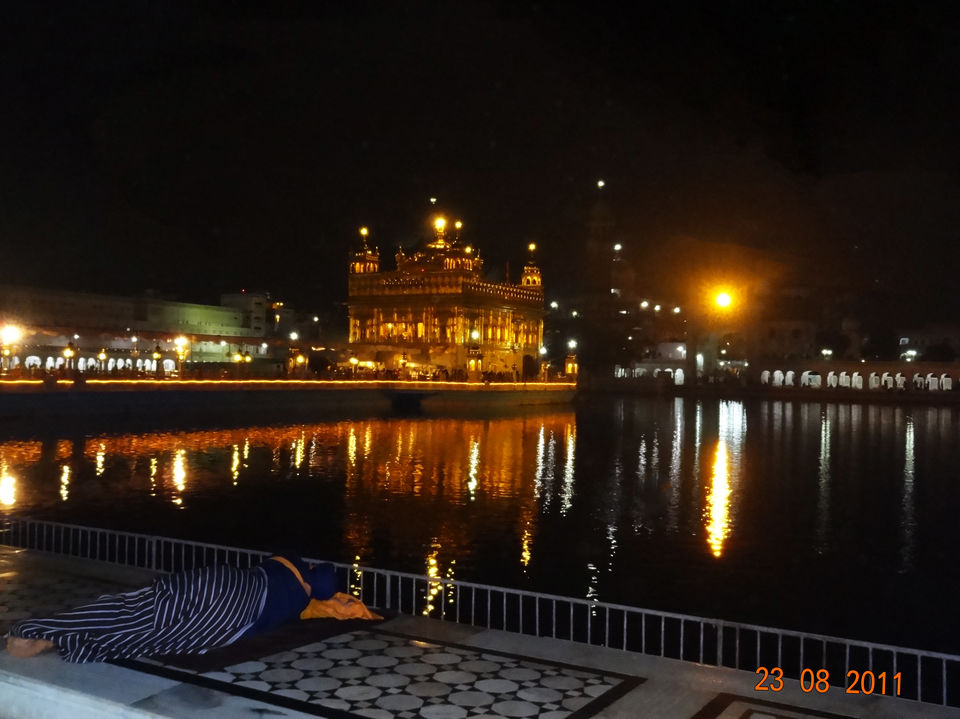 As the temple plated with gold, hence it is called Golden temple. It is also known as Harmandir Sahib and Darbar Sahib.
Had a relax dinner at hotel and retired to bed for overnight sleep.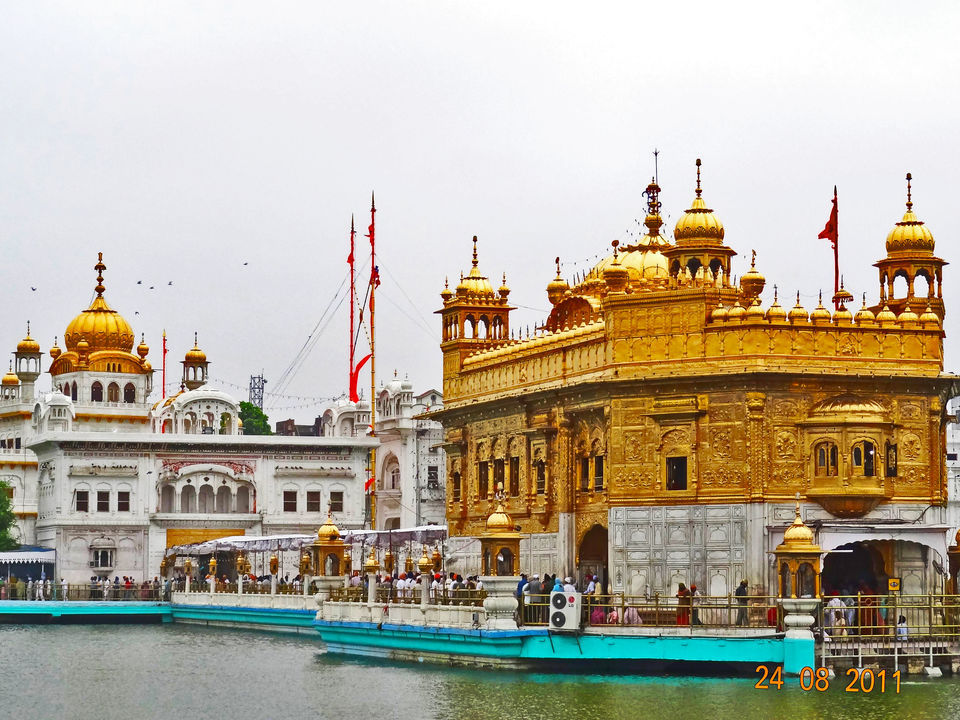 Day 2 : Transfer to Katra ( 260 Km)
Early morning, we paid a visit to Golden Temple once again. The gurudwara was looking magnificent. Number of devotees were much less than previous night.
Some of the devotees was taking bath in the holy tank. You can feed the colourful fishes of the tank.

Spending some time here one can find the peace of mind.
Our next stop was Jallianwalabag. It is very close to Golden temple.It is a public garden, well maintained. It houses a memorial built in honour of the massacre victims. There is a well inside Jallianwala Bagh into which many people including children jumped to save themselves from the firing.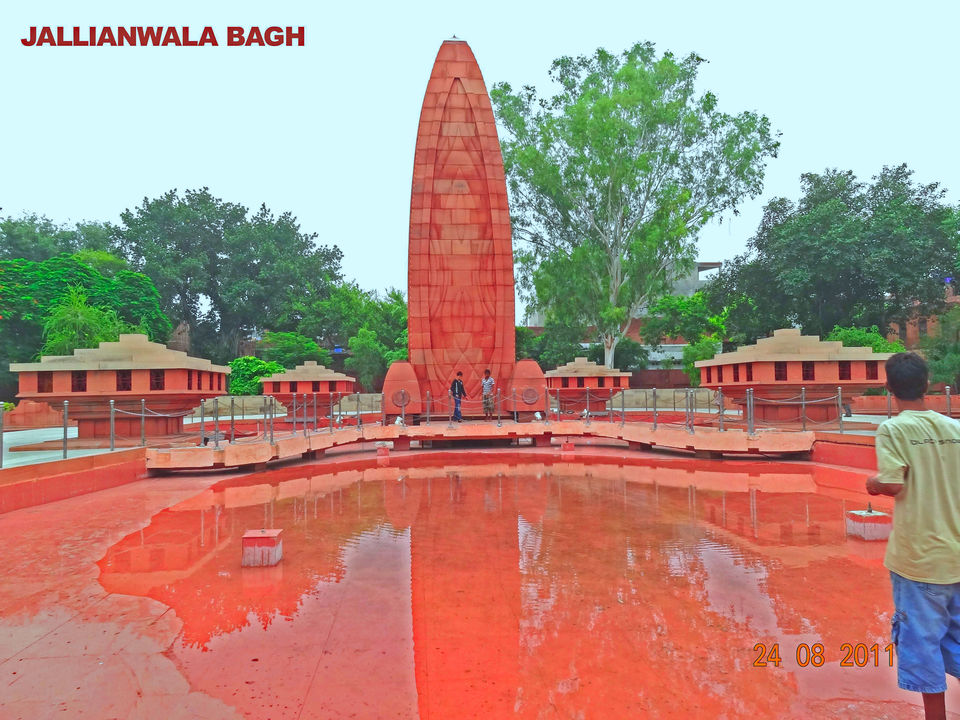 After breakfast,the bus departed for Katra around 10 a.m. There was lunch break enroute. We reached Katra in the afternoon.
After tea break, we were taken to get registered at the Yatra Registration Counter(YRC) near the bus stand, Katra. Relax in the evening at hotel. After having sumptuous dinner, we set out for Mata Vaisnodevi darshan around 10p.m.
The famous and most visited holy shrine of Mata Vaishno Devi is set in the foothills of the Trikuta Mountains in Jammu & Kashmir. It is situated at an height of 5200feet.
There are lot of options available like Duli or Palanquins, Ponies if you do not want to trek. You can avail Helicopter services on a clear day. But this time I opt for trekking.
The Auto-rickshaw took you to the entrance of the Trikuta mountains, Darshan Deodhi. It would take 10 to 15 minutes and distance is 2 km approx. There are several small shops here selling the sticks, use and through rain coats and other puja materials.
I bought a raincoat and Stick. At Darshan Deodhi you'll find security check post where you have to make separate queue for ladies and gents. just after crossing the security post there is a pony stand. You can get palanquins also from here.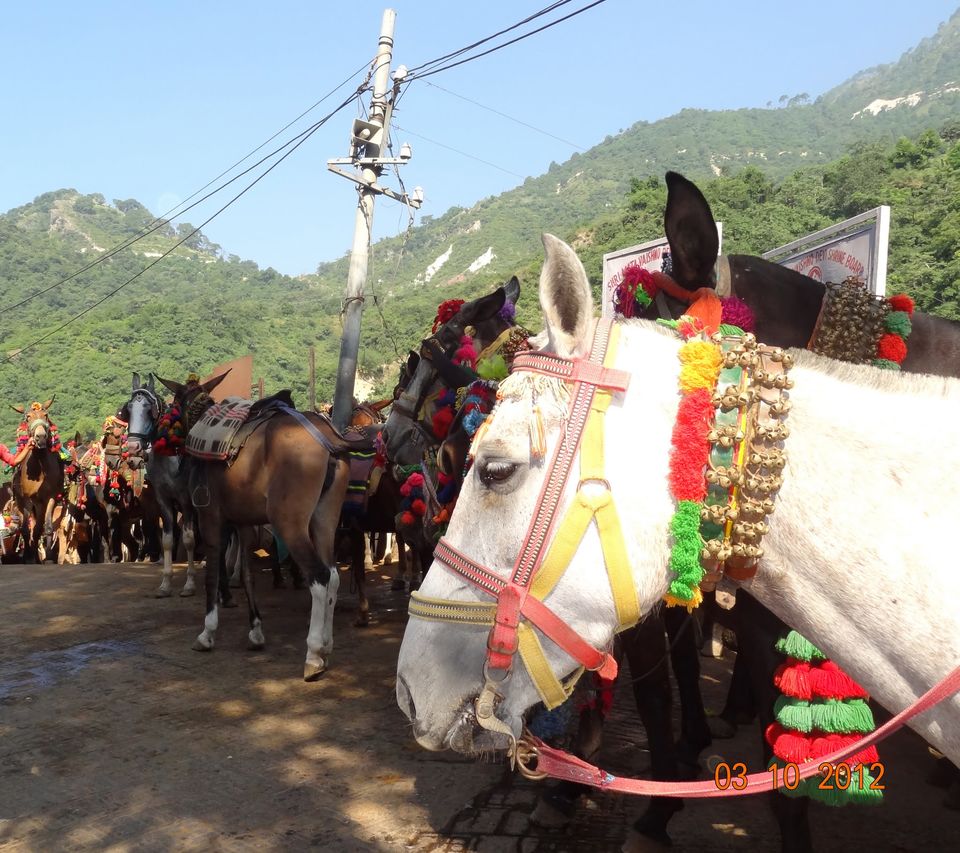 Next, you have to wait at Ban Ganga check post as your Yatra Parchi will be stamped by an official personnel.Then the trek begins.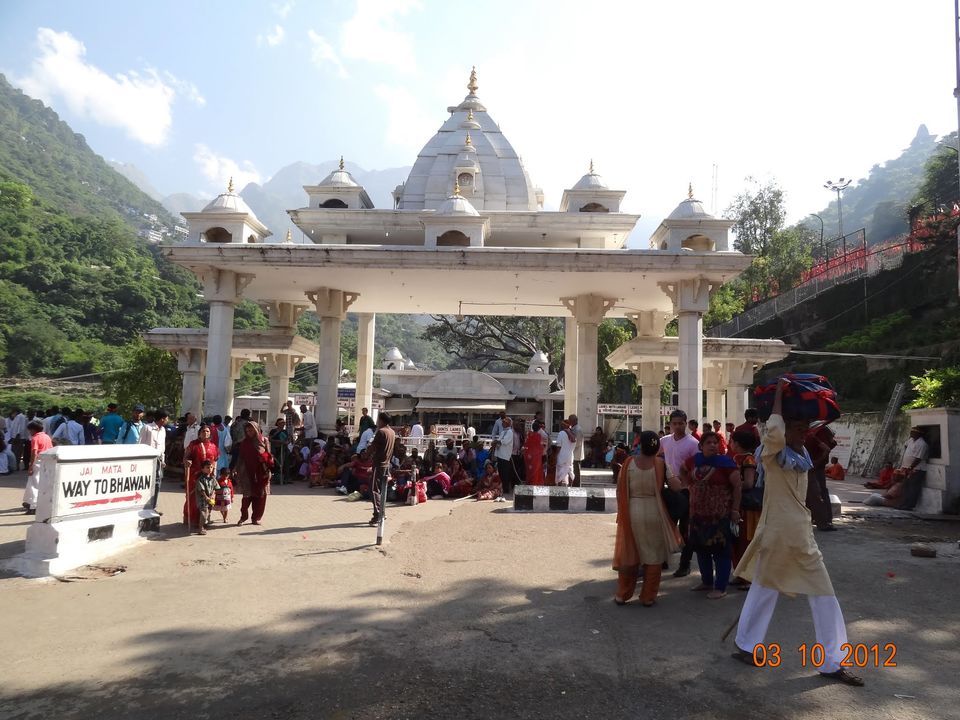 Upfront was quite steep. But the entire trail is paved one with fencing. Most of the path has shades. But crowed was much less due to monsoon season.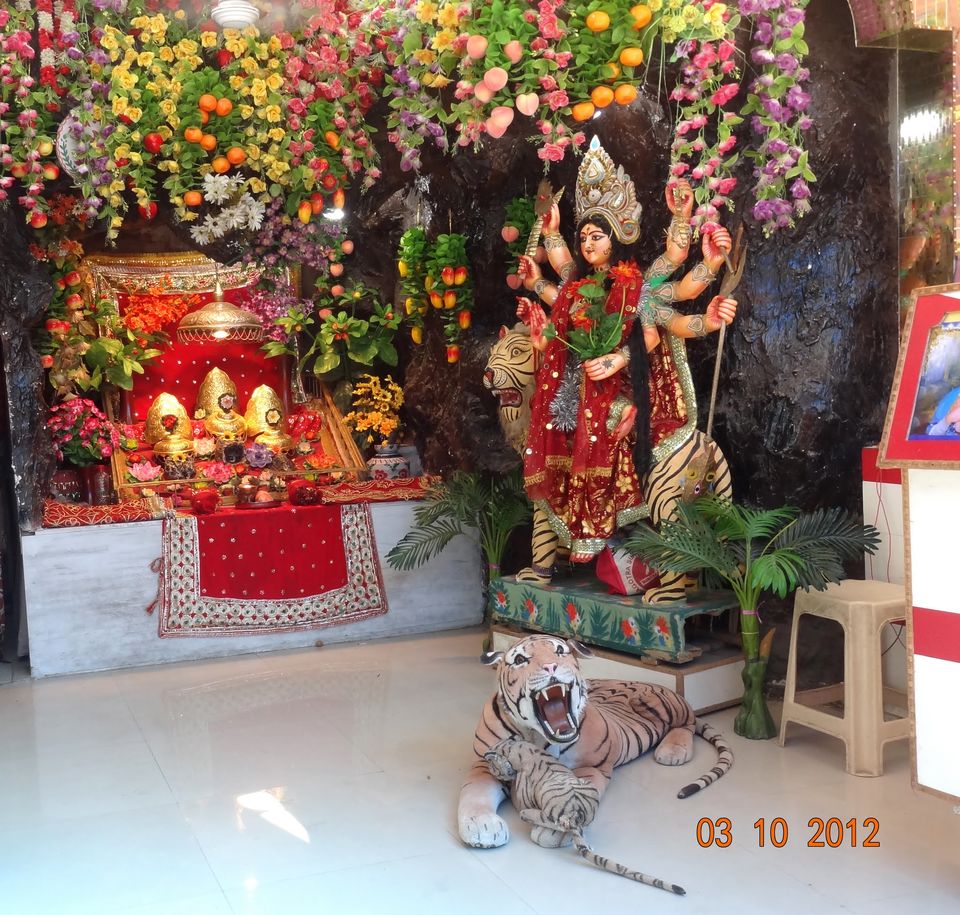 There are a number of just born streams traverse the path.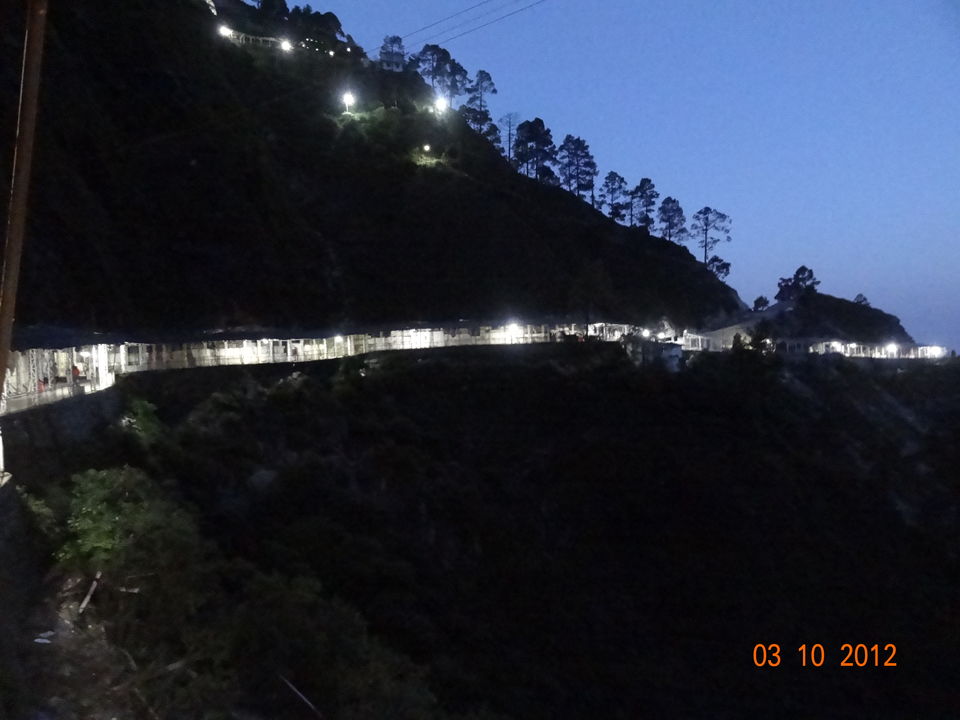 Day 3 : Leisure Day at Katra
I reached to the temple by 5 am. After puja and darshan I started coming down by 6 am. Rached at the hotel around 11. am. Totally exhausted. After quik refreshing and having early dinner, I slipped to bed. Evening was free.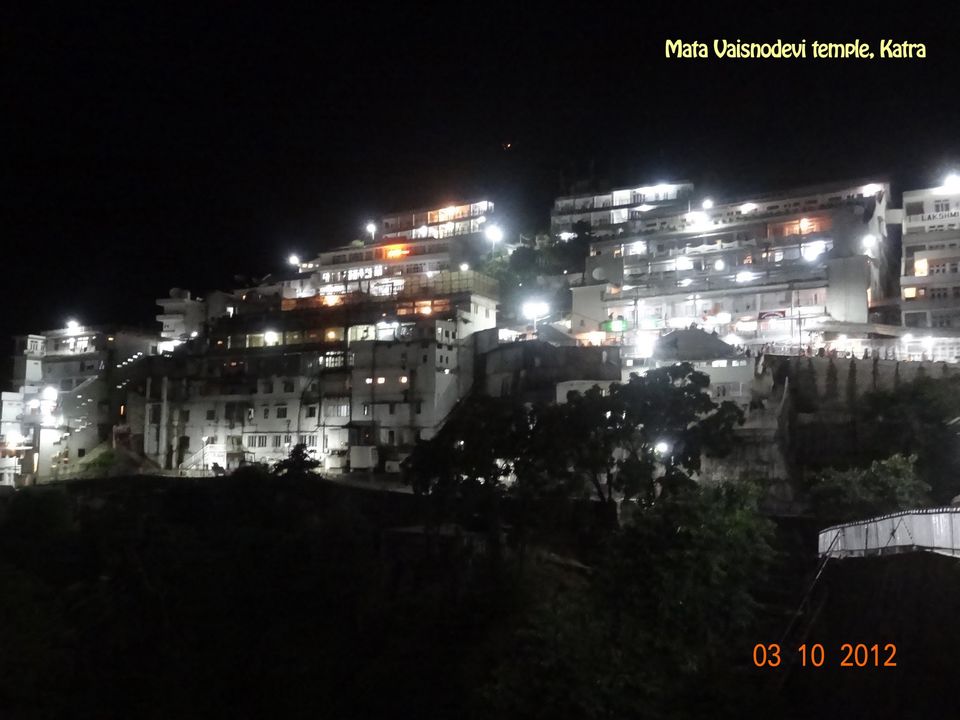 Day 4 : Transfer to Dharmashala, Himachal Pradesh (240Km)
After early morning breakfast at Hotel, we started for hill town Dharmashala, HP which is bestowed with natural serene beauty.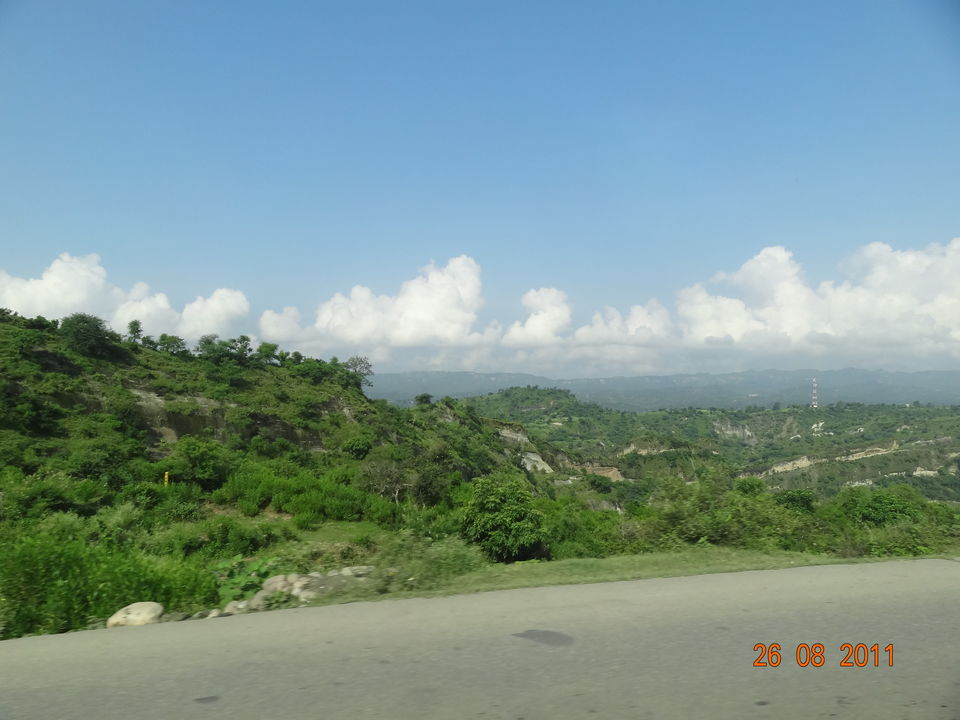 The windy road with tall pine trees along side and blu sky with floating white clouds mesmerises you.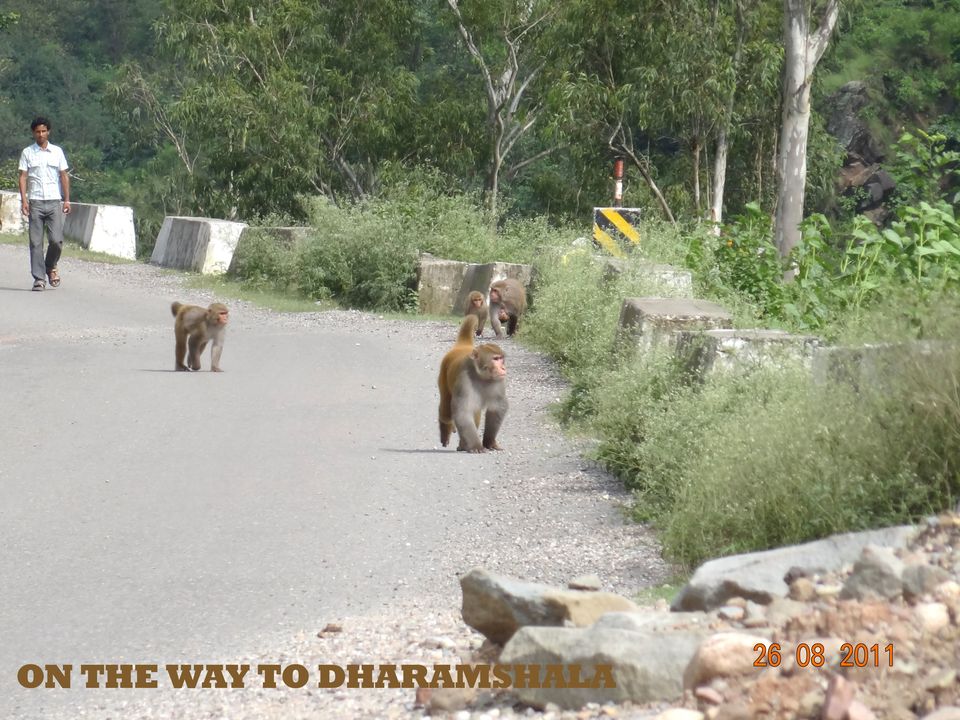 By the time we reached dharmashala it was raining. We were transferred in Akriti Hotel, Lower Dharmashala.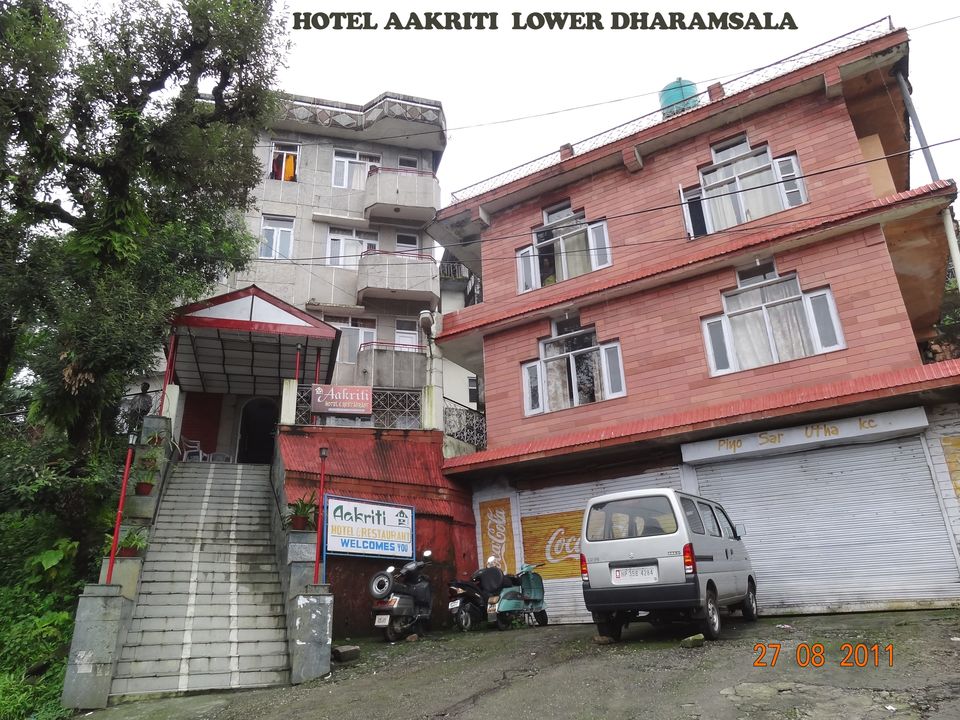 Hotel was good but full of spider in each room. Some of us chased and hit the spider in their room all night. Luckily in my room we did not find any. The evening was free. Weather was foggy. It started drizzle too. Visibility was very poor. Still we went to the market for shopping amidst rain by a local bus. After hopping some shops and buying some woollens came back by Bus.
Day 5 : Sight seeing in Dharmashala
After quick breakfast, we were taken to the renowned Chamunda Devi temple – the famous holy shrine in H.P.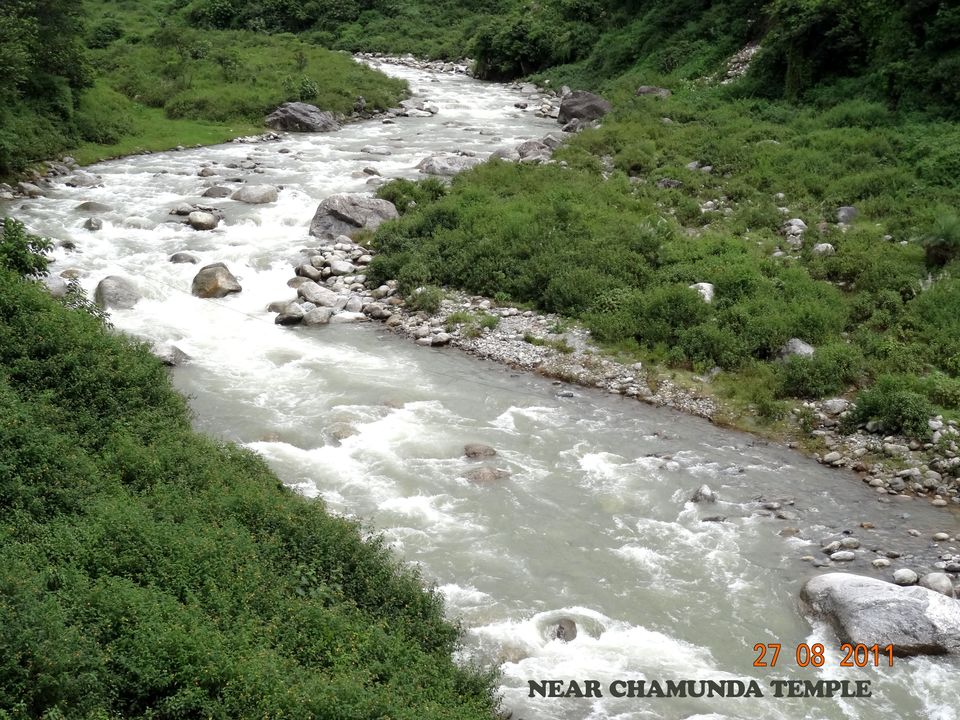 It stands on the bank of famous river Ban Ganga at a height of 8500 ft. The main deity of the temple is kept under cover and is not accessible by the visitors because of its sacred importance.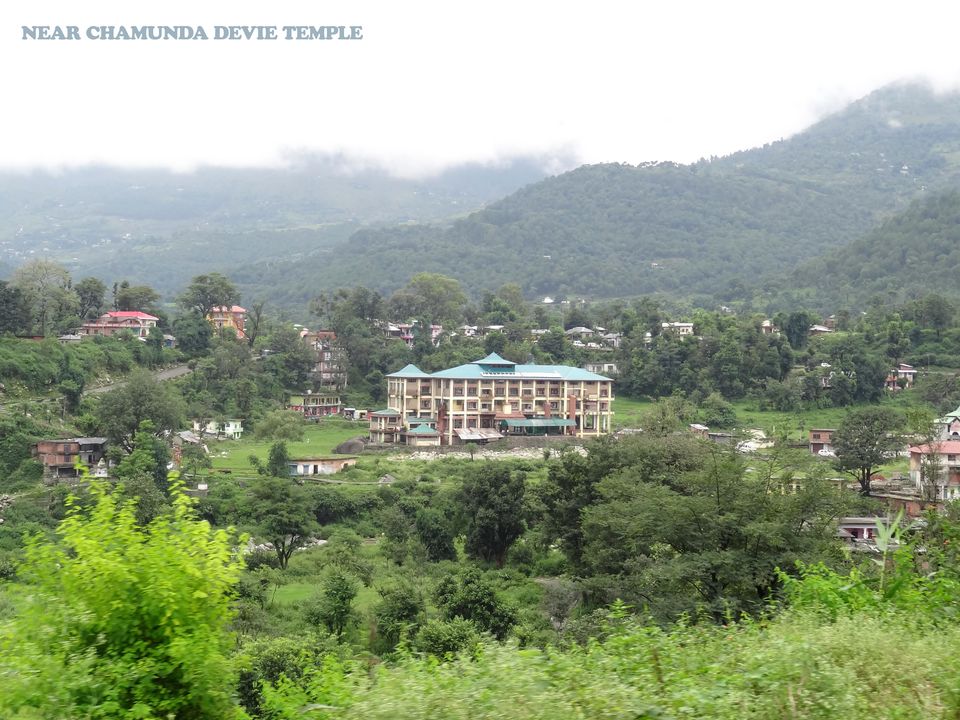 Inside the temple, there are the images of Hanuman and Vairo.The Chamunda devi temple comprises a big complex with a Kund in it. The surroundings of the temple is spectacular.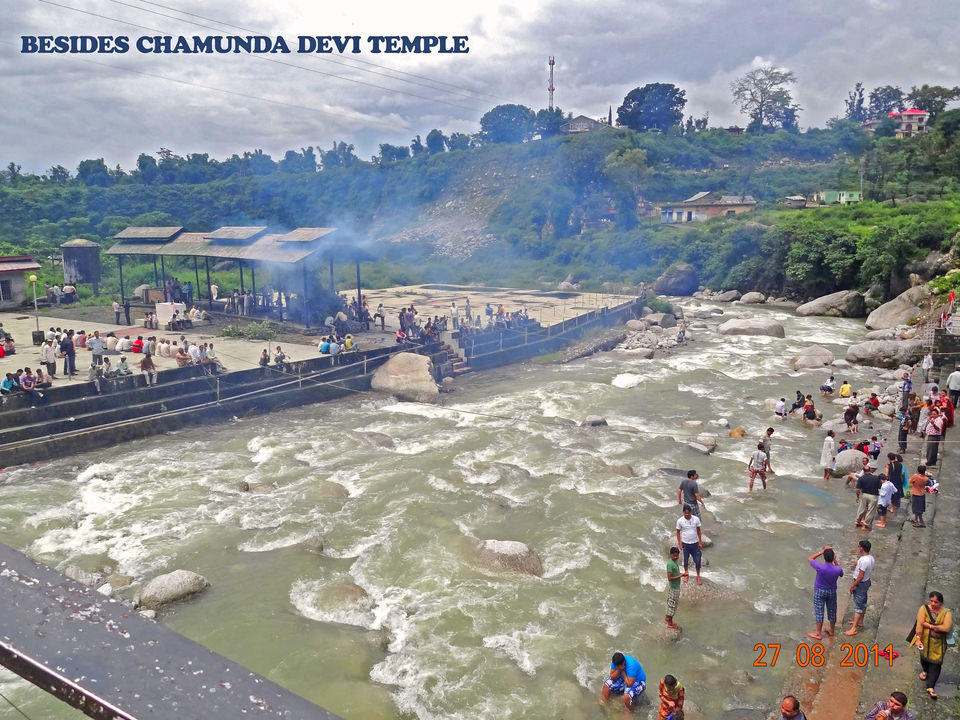 There is a cave-like scoop located at the back of the temple, representing the stone lingam ( embodiment of Shiva).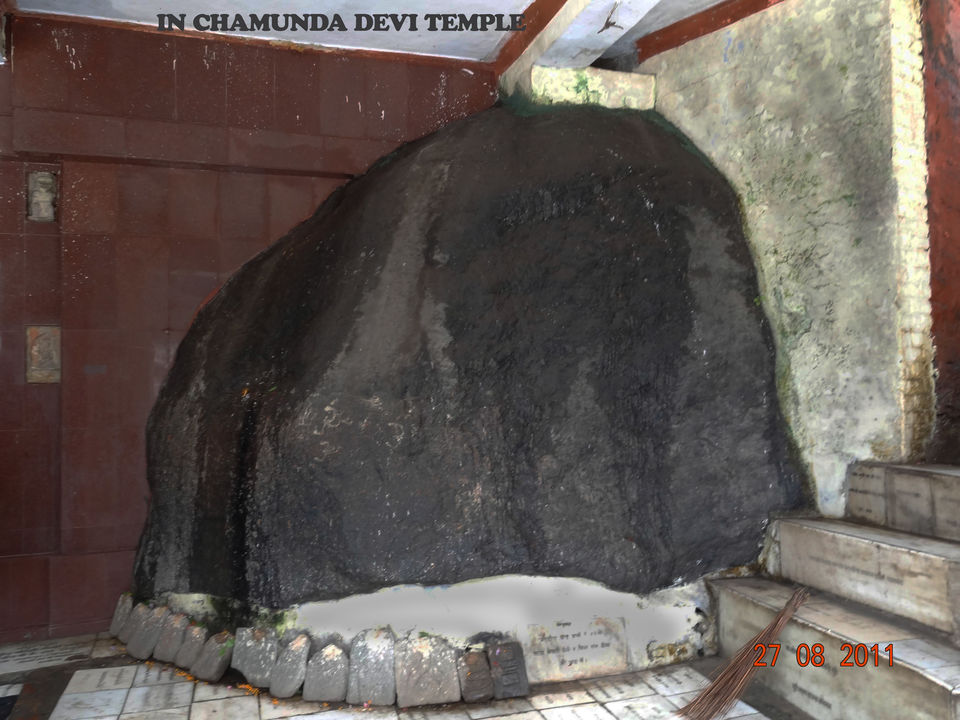 Apart from these attractions, there are many brightly painted images of gods and goddesses located in the vicinity of the Chamunda Devi temple. There is a creamatorium on the other bank of the river.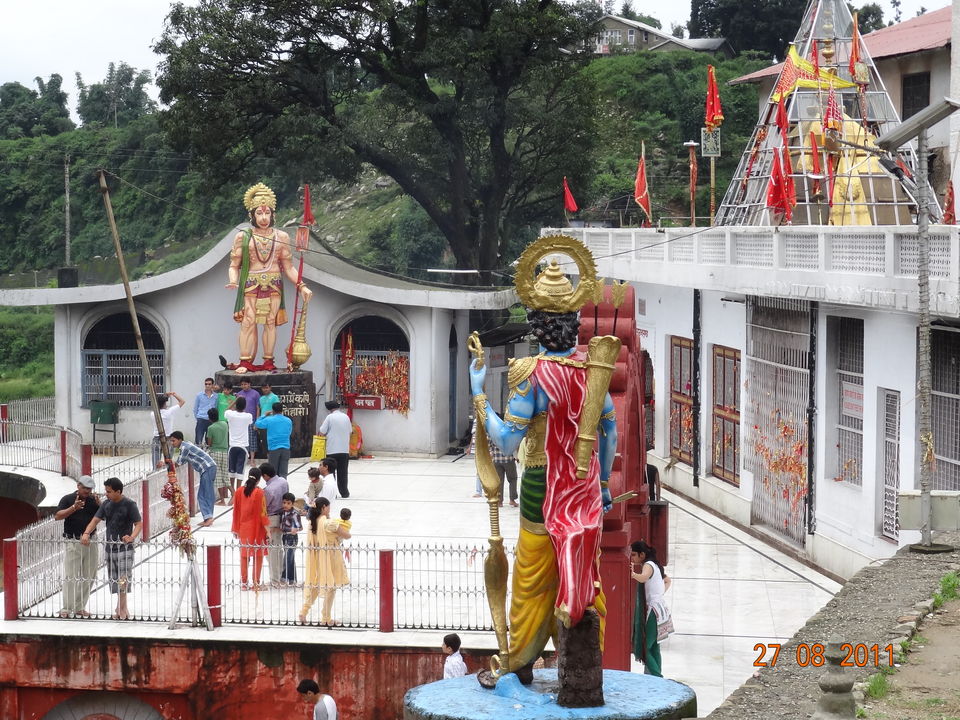 Our next stop was Jawlamukhi temple. It is one of the most renowned ancient temples of Goddess Durga.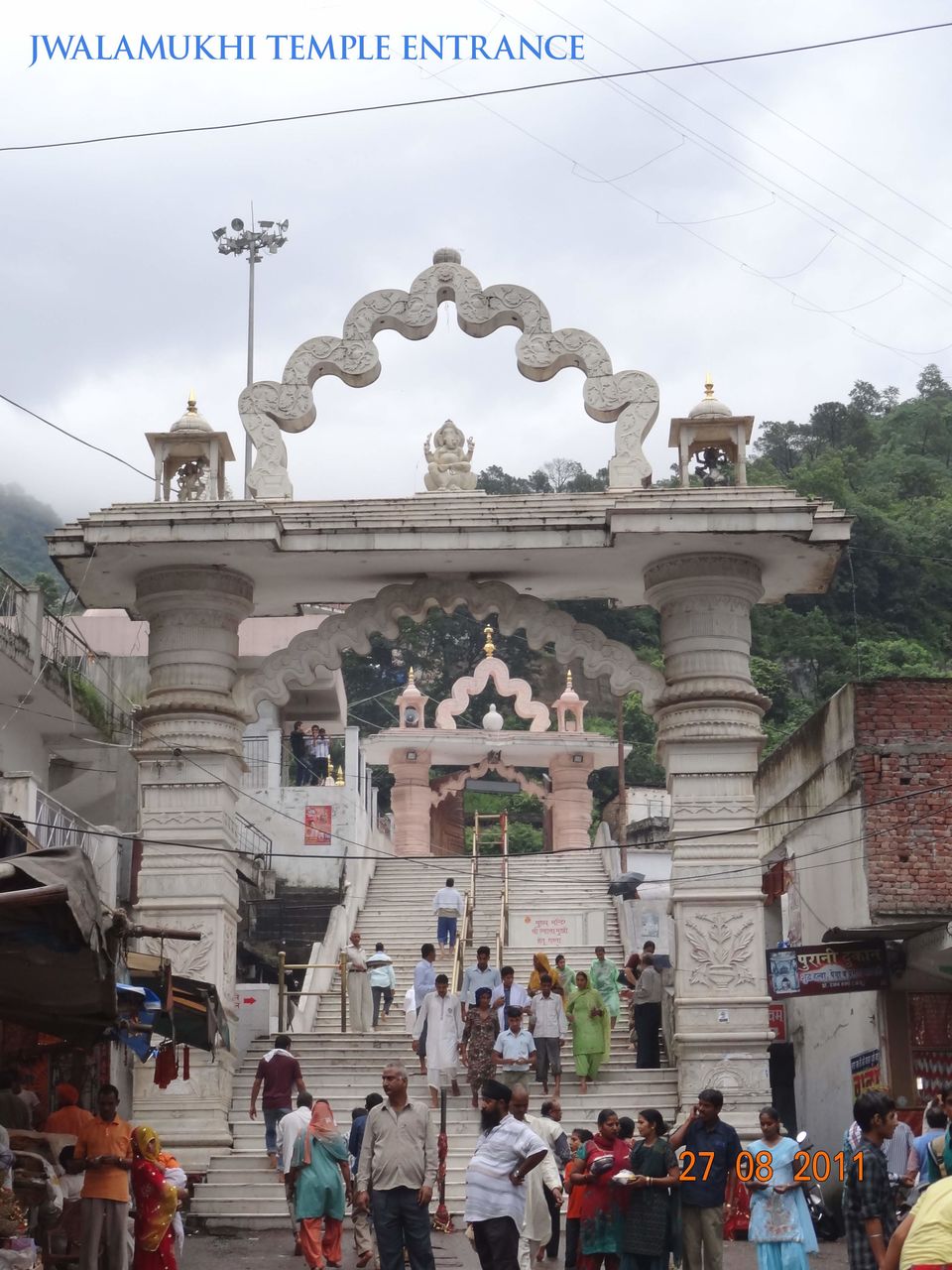 There is no idol located in the temple as it is believed that Sati's tongue fell here and the goddess is manifested as small blue flames that burn through fissures in the old rock.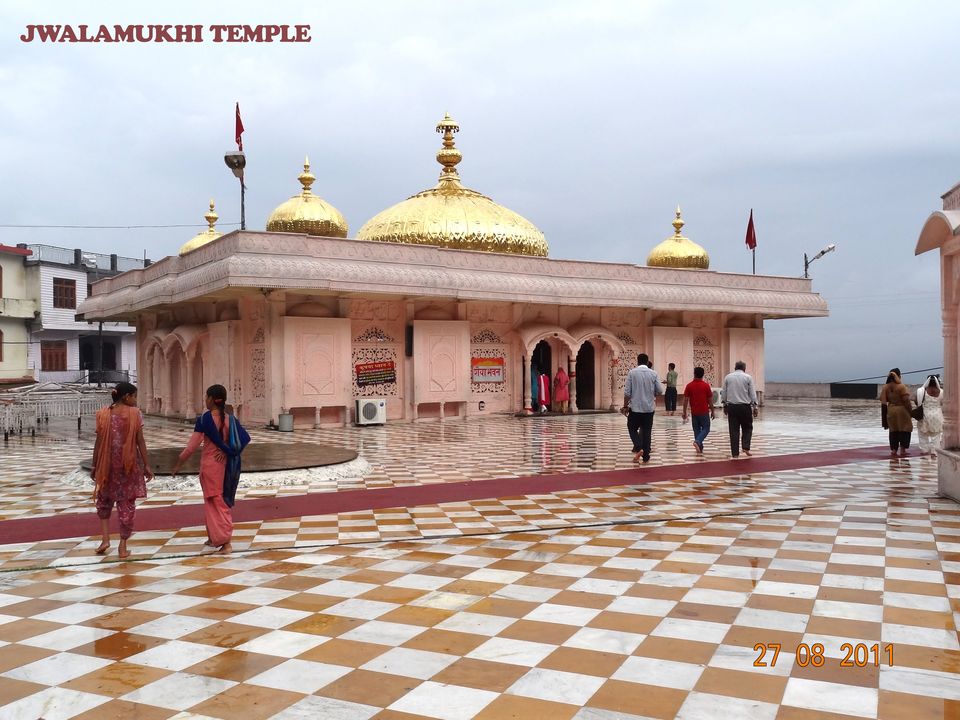 So, the name Jwalamukhi or the deity of fire is worshipped in the form of flames coming out of the rock. The temple has a small platform in front and a huge brass bell. The temple also has a mystic Yantra or diagram of the goddess, which is covered with, shawls and ornaments.
The temple has the most beautiful location with the Dhauladhar range in the backdrop. Although for the monsoon season, peaks were covered with clouds.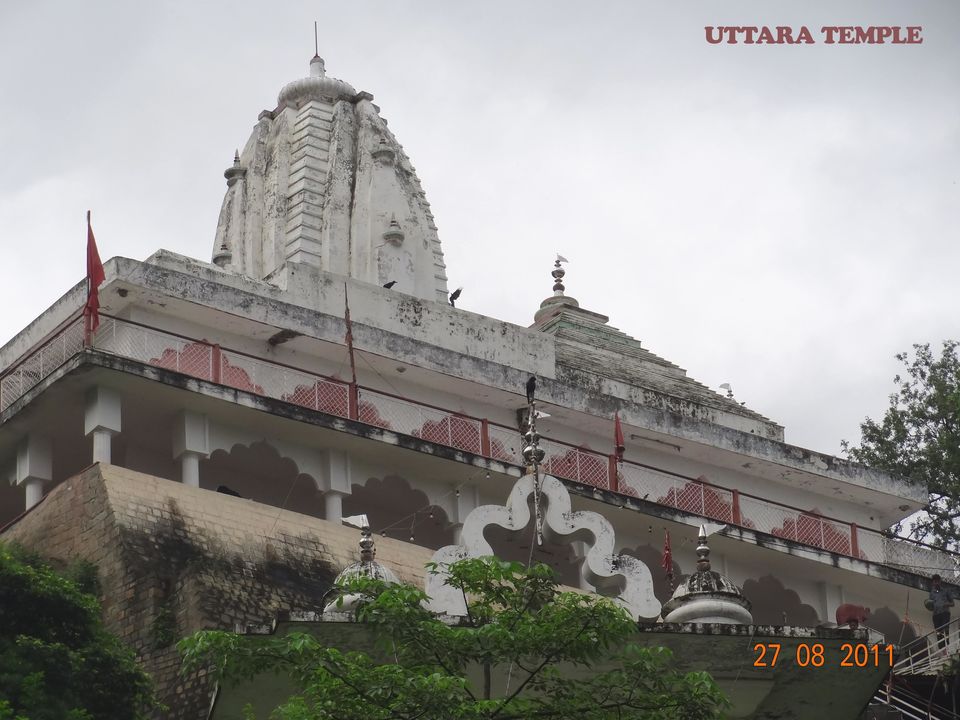 Evening was free. It was cloudy but there was no rain. We simply roam around. The road was empty, only one or two bycycles were going. One kind of peace and solitude was there. Only the sound of a mountain streams breaking the silence. There were road sides concrete high places for sitting the people.We were sitting there and realise the vast solititude of the place. In the evening it seemed that someone lit thousands of lamps on the hill slopes. It cannot be expressed in words.
Day 6 : Visit Mc Leod Ganj and transfer to Dalhousie
Next morning we went to visit Namgyal Monastery at Mc Leod Ganj. It is situated in the Tsuglagkhang complex. It is also the Home of Dalai Lama. Our next destination was Bhagsunag Temple, surrounded by lush greenery, it is one of the oldest ancient temple located approx. 3 km away from Mc Leod Ganj.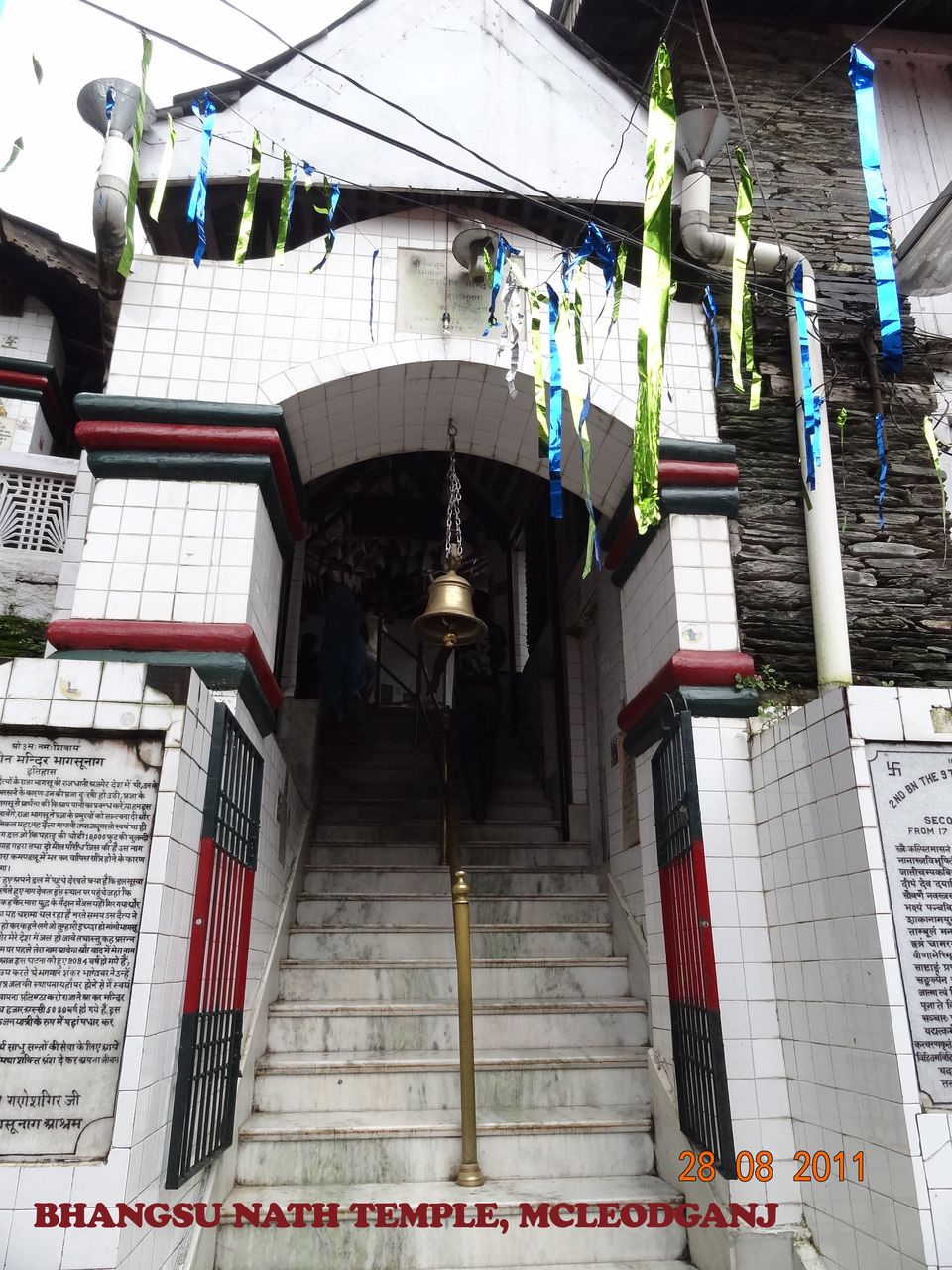 It is also popularly known as Bhagsunath temple.Next to this temple, there is a beautiful waterfall called Bhagsunath waterfall.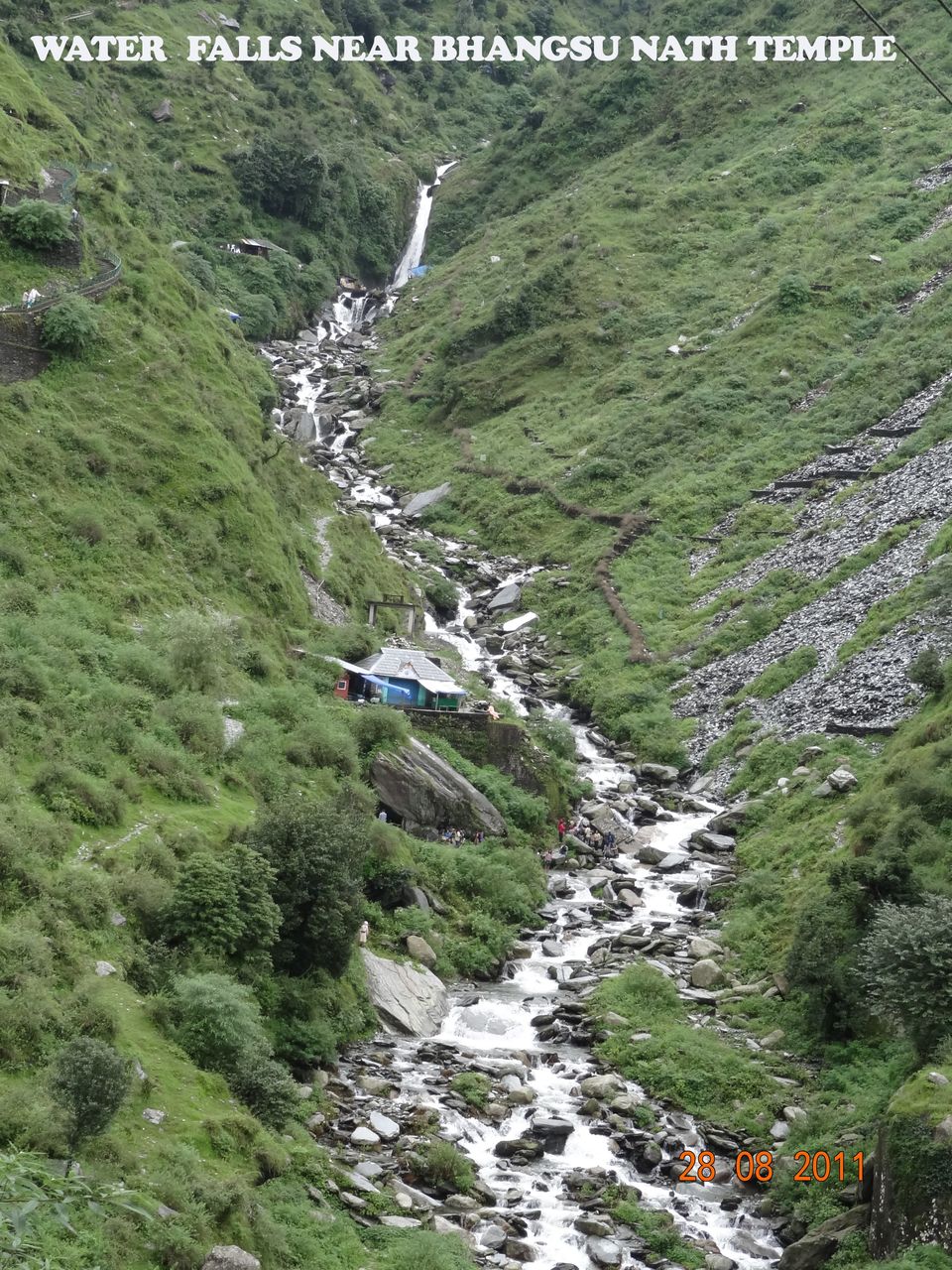 After lunch, departed for Dalhouse another scenic, peaceful small town of Himachal Pradesh. Narrow & curvy hill roads going through dense greenery of sky touching Pine and deodar trees and evergreen vegetation makes it most attractive tourist destination. Reached Dalhosie in the evening.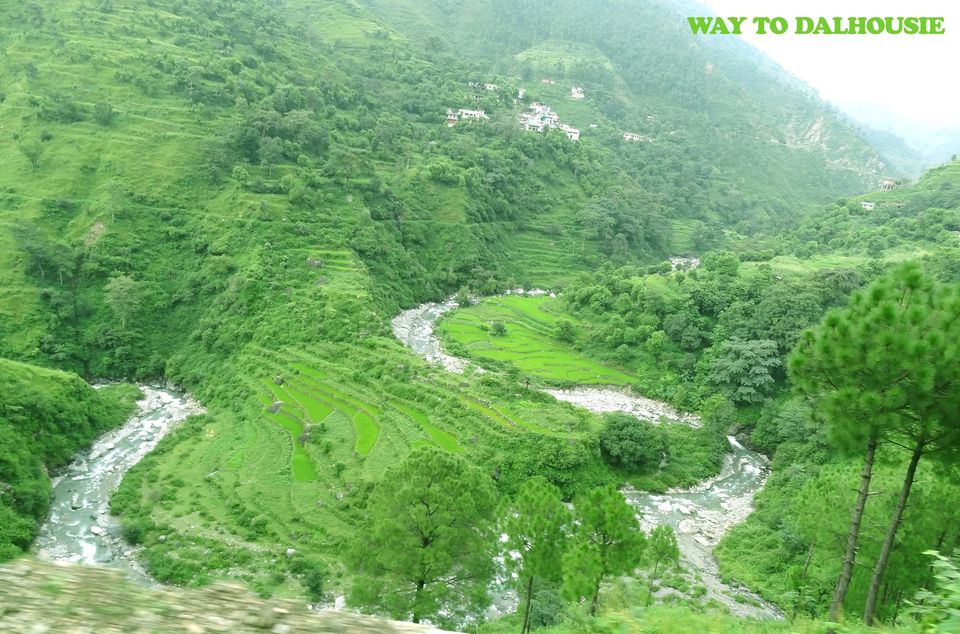 There are two main chowks in the Dalhousie. Gandhi chowk and Subhash chowk. Out hotel was near the Gandhi chawk. It was just walking distance from our hotel. It has thriving Tibetan market. We just wondering the market . It felt cold in the evening. So went inside the hotel and relaxed.
Day 7 : Visit to Chamba
We left for Chamba by 5 a.m. Out first stop was Lakhsi Narayan Temple at Chamba. It is one of the oldest and largest temple in Chamba.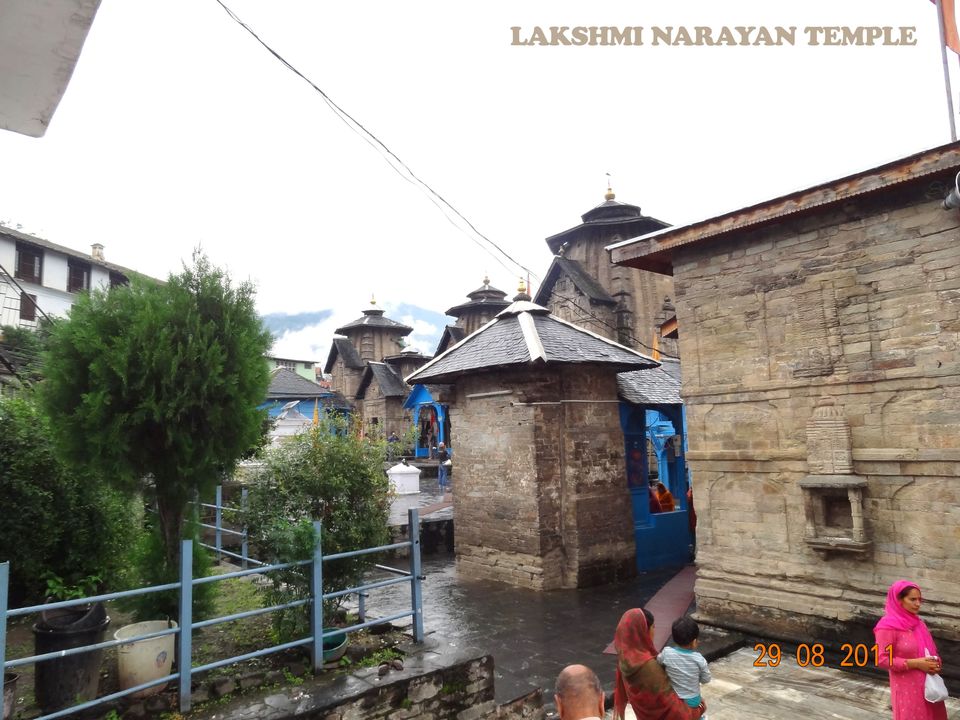 The complex of Lakshmi Narayan temple has around six temples in total, all dedicated to either Lord Shiva or Lord Vishnu.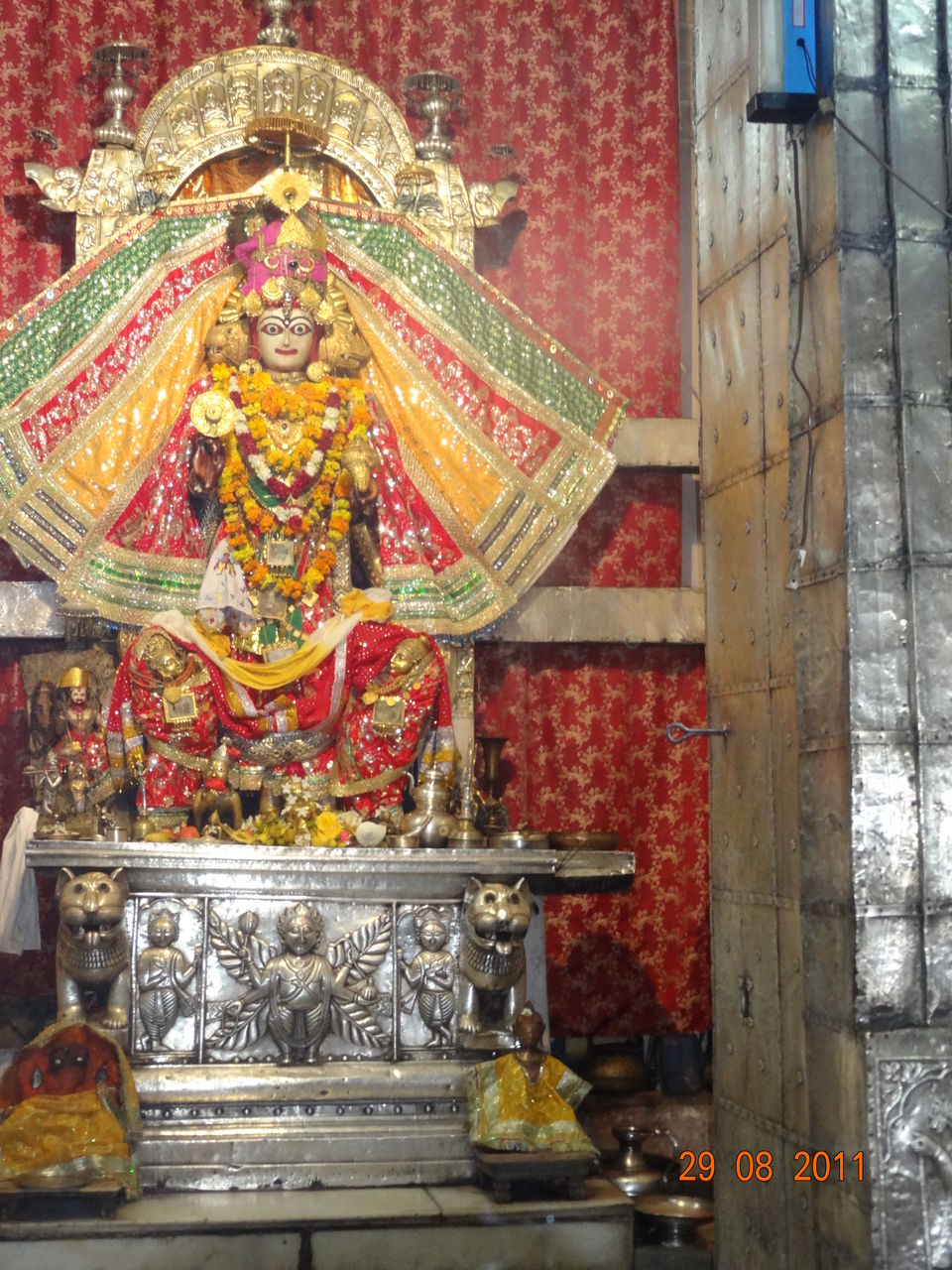 The main idol of Lord Vishnu is made up of rare marble, apart from the six main temples, there are three more temples in the complex, namely Radha Krishna Temple, Gauri Shankar Temple, and Shiva Temple .
Next on the way we visit Chameri Dam. We had out breakfast by the Dam.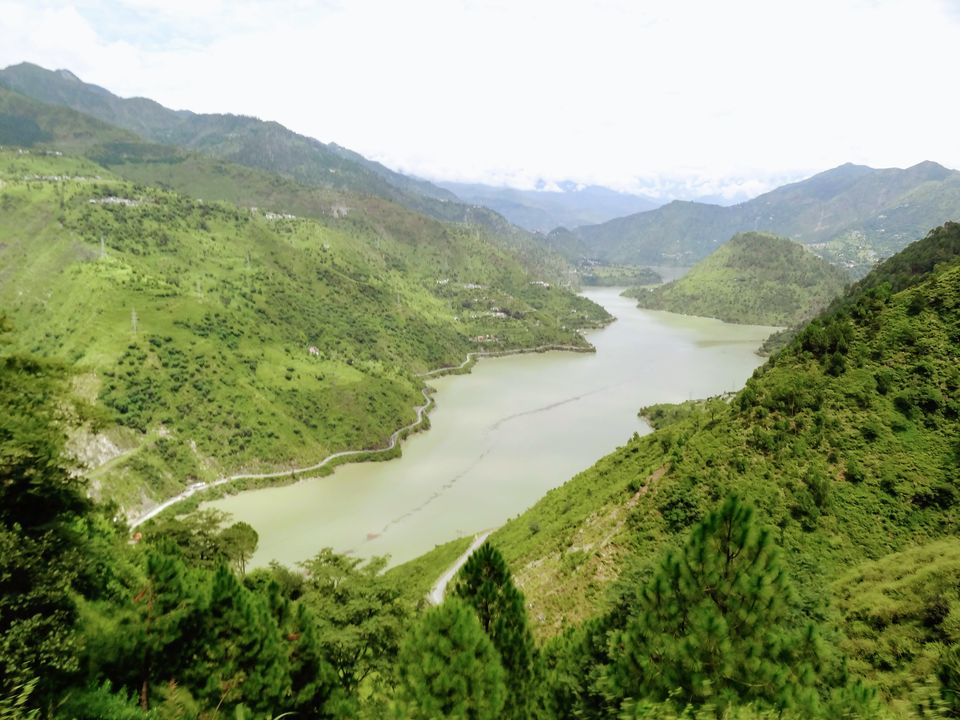 After having done with the breakfast, we continued our journey through lush green mountains and beautiful valleys with terrain cultivation.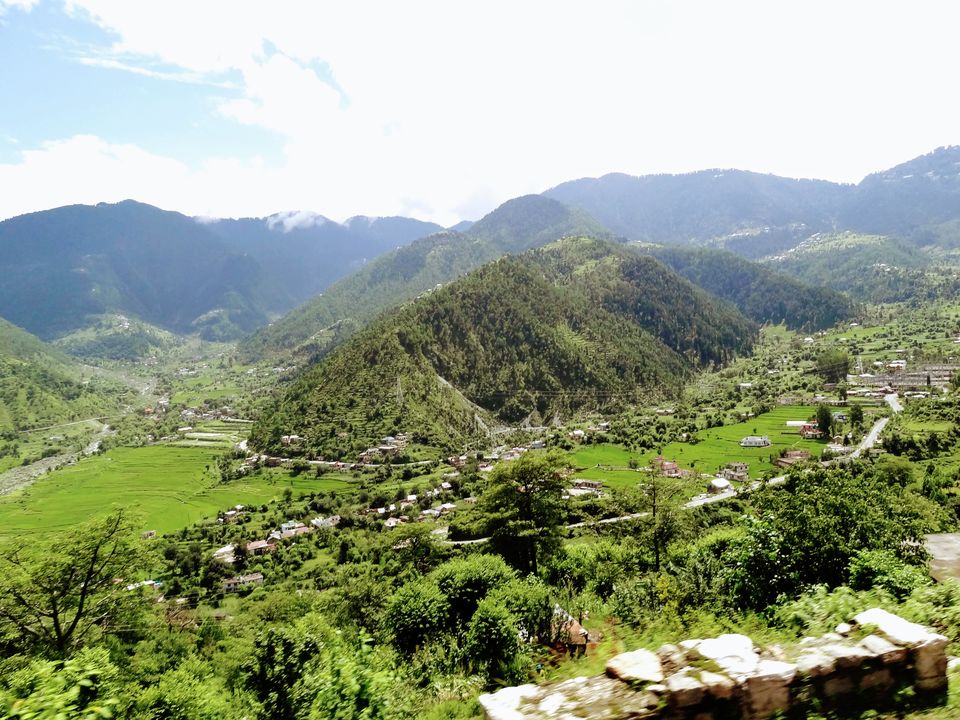 We reached to the Chamunda Devi temple by 10 am. The temple is situated on hill top. The temple is dedicated to the Goddess Chamunda.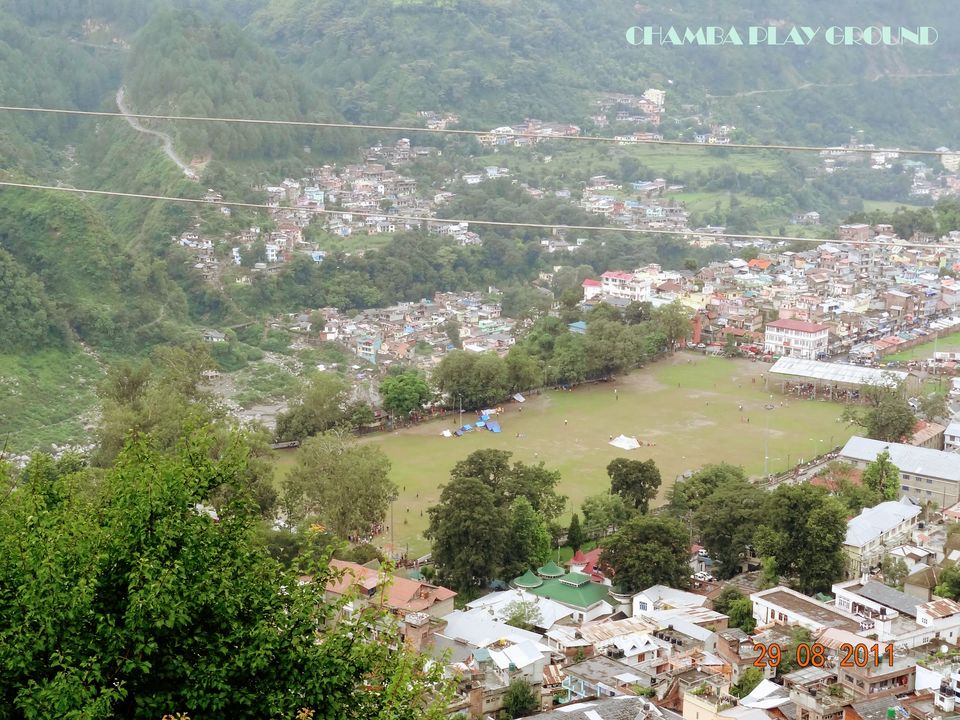 Here devotees offer the little brass bell to fulfil their blessings.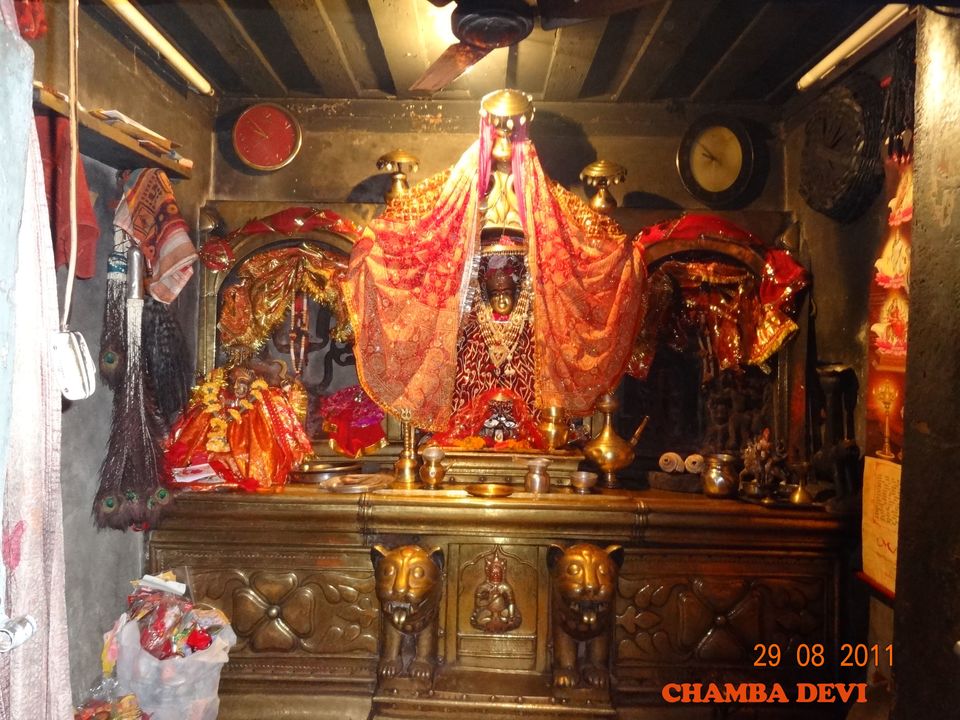 you can get a clear view of chamba valley from temple premises.

We reached our hotel during lunch. Evening was free. We ourselves hired a cab for local sightseeing of Dalhousie and covered the following places :-
Subhash Chowk is another busy chowk of Dalhousie. Then we went to Panchpula waterfall. The picturesque Panchpula is the most imporatant tourist spot in Dalhousie.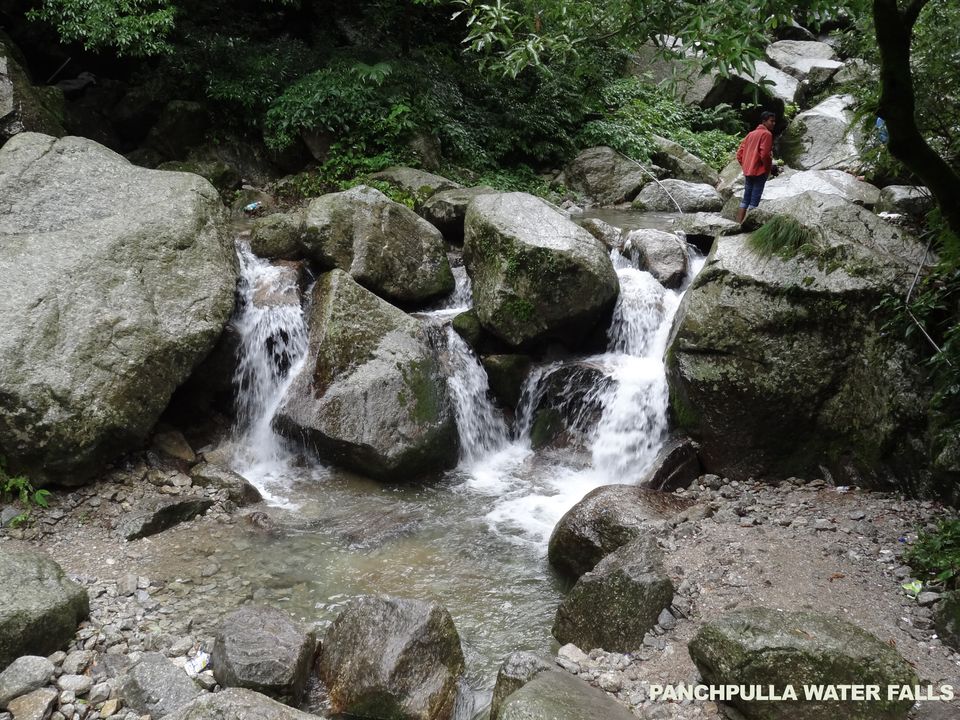 Another popular spot near Panchpula is memorial monument.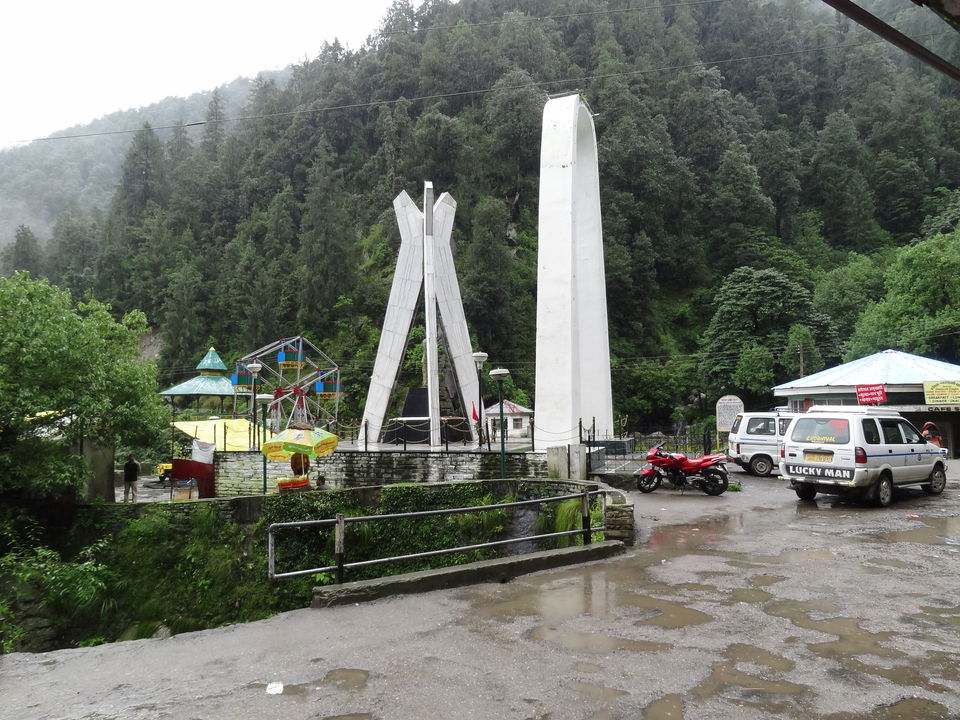 It started raining by this time. After doing some shopping, we back to our hotel.
Day 8 : Visit to Khazihar
Khajihar is one of the best spectacular site in Chamba district.

Green meadows surrounded by dense vegetation of cedar forest makes this place spectacular. It is situated at an height of 6000 ft.
Day 9 : Boarded the train from Chandigarh.
Early morning after having brekfast, we srated our journey from Dalhousie to Chandigarh. It took almost 7 to 8 hours by bus. On the way we had our lunch and in the afternoon we reached Chandigarh and board the train in the evening for our return journey to Kolkata.