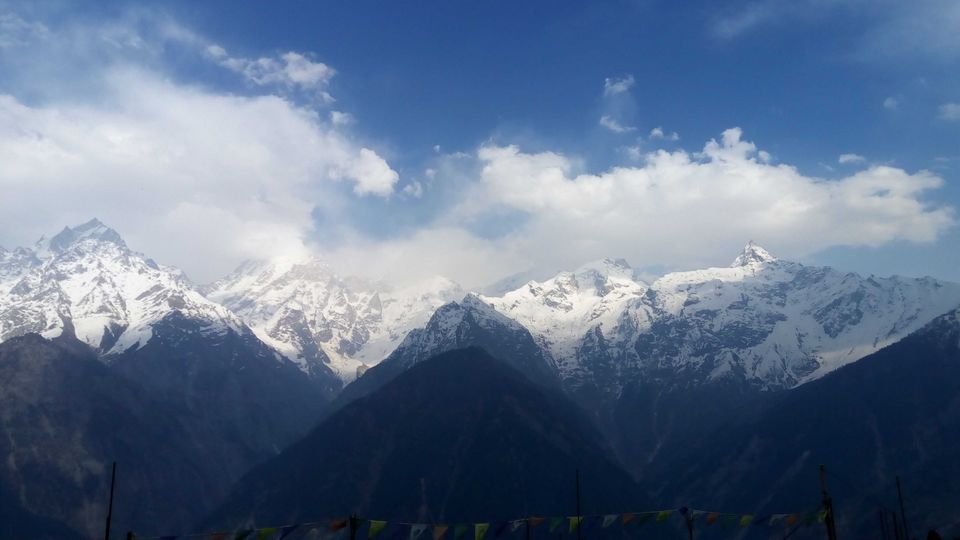 Part 1 - The Toy Train: Kalka-Shimla Section- Longest Narrow Gauge Railways
We reached kalka an hour and 25 min late from scheduled time around 5:55 am. Thanks to our luck Shivalik Express also reschedule to leave kalka at 6:30 in the morning.
We boarded the train in time. The morning sun looks amazing behind the Shivalik Mountains. Shivalik Express is a luxury train which stop only at Barog and take around 5 hours to reach Shimla.
This train route defined as "The greatest narrow gauge engineering in India" by Guinness book of world records. It's a Heritage train line of India. The section was constructed by the British for the smooth transportation of the entire government machinery during the summers and the line started opening from Nov. 9, 1903.
Some Stats:
Start Functioning: 1st January, 1906.
Starting Station: Kalka ( attitude -654 Mt)
Last Station: Shimla ( altitude- 2075 Mt)
Total Distance: 96 KM on 762mm gauge.
Total no. of stations: 20
Time taken: 5 to 7 hours.
Name of stations: Kalka- Taksal(6)- Gumman(11)- Koti(16)- Jabli(21)- Sanwara(26)-Dharampur(33)- Kumarhatti(39)- Barog(42)- Solan(46)- Solan Brewery(50)- Salogra(53)- Kandaghat(58)- Kanoh(65)- Kathleeghat(72)- Shoghi(78)- Taradevi(85)- Jutogh(89)- Summer Hill(93) - Shimla(96).
Toy Train
The laying off the track is a wonder of civil engineering. 103 tunnels were bored through the Shivalik mountains and 869 bridges were erected. The longest tunnel on the route is at Barog, which is 1144 metres long. The train meanders around the hills and crosses the valleys moving with ease and grace, through the Alpine region. The journey is an exciting experience for the visitors. We reached Barog at 9:30 am. It's the biggest station on this route. It is named after Colonel Barog, an engineer involved in building the railway track in 1903.
Barog, the engineer, was responsible for designing a tunnel near the railway station. He commenced digging the tunnel from both sides of the mountain, which is quite common as it speeds up construction. However, he made mistakes in his calculation and while constructing the tunnel, it was found that the two ends of the tunnel did not meet. Barog the engineer was fined an amount of 1 Rupee by the British government. Unable to withstand the humiliation, Barog committed suicide and was buried near the incomplete tunnel. The area came to be known as Barog after him.
The train stops here for 15 mins. Breakfast and snacks were served in train..hospitality of the staff is appreciable. The fare included Tea/Coffee and biscuit, Veg(veg cutlet and sandwich)/Non Veg( omelette and sandwich) for breakfast and a soft drink. One coach accommodates 15-18 peoples only.. It has big windows to take the view.. You will get to see village boys and girls going to school, some playing games, some small house built by side.. Overall a different and nice experience.
Shimla: Queen of Hills
Shimla, the capital city of Himachal Pradesh situated at an altitude of 2276 m ( 7467 ft) is the largest hill station of India. It was named after the temple of goddess shymala, which was situated here. Shimla became the favorite hill resort of the British and also summer capital of India during the British Raj.
We reached Shimla around 11:55 am. All kinds of traffic is banned in the middle portion of shimla. So, to reach hotel around Mall road you have to book a cab or walk till tourism lift, take lift and then walk through Mall road to reach your hotel.
We hire a coolie for Rs. 100 ( not without any bargaining) from station to reach our hotel( Hotel Hilltop) through the steep road in AG Chawk near Kali bari.
The positioning of the hotel is very unique as it was situated around halfway mark between lower cart road and the road we walked. We reached hotel around half past twelve. As we approach to the owner, he suddenly came up with the room key in his hand and asked my name from below to confirm the reservation.
It was a deluxe room with attached bathroom.
View from the window is just awesome. At that time we are feel very hungry, so we freshened up quickly and start to walk towards Kali bari to grab some food, which is approximately 10min distance from our hotel.
Kali Bari: The temple was built in 1845. It is dedicated to the goddess Kali. It is believed that in an ancient temple of Shimla, the goddess Kali existed, near Jakhoo. In the temple a wooden image is worshiped locally.We reached there around 2 pm, make our prayer to Shymala maa and search for kalibari restaurant, which is situated in lower part of the kalibari. You can book your launch and dinner in advance. Foods are good and basic in nature but reasonably priced. 
After that we decided to visit "That Mall" for some site seeing.
Our first stop is Tourist Information Office by HPTDC, which is situated left side of the Lala Lajpat Rai statue in the mall. We are planning to visit Shimla local site seeing on next day by HPTDC conducted tours. So we brought two tickets for Naldehra-Mashobra-Kufri-Fagu tour [11am-5pm, fee- Rs. 270 per head, distance-85km] for next day. The other two famous tours are -
1. Narkanda- fagu- matiana-theog tour [10am-5pm, fee- Rs. 310 per head, distance- 130km].
2. Kufri-chail-kiarighat tour [10:30am-6pm, fee- Rs.300, distance- 120km].
You can brought tickets in advance from here. Ph-0177-2652561.
We proceed further towards the ridge. Our next stoppage is Gaeity Theatre, which was opened on the 30th of May, 1887. Many popular film personalities have performed on its stage.Today, the Gaiety is primarily known for its social club. Schools in Shimla use this theater for performing arts. The theater has been renovated with the original structure untouched to keep its heritage preserved while making it more attractive. Then we spend some time in the adjacent park. Here we found a statue of Dr.Y.S.Parmar, founder of Himachal Pradesh and varieties of flower blossom. We moving further and stopped at Angolian Christ Church, is the second oldest church in North India.It is designed in the typical Elizabethan style and consists of a great collection of books and ancient scriptures.
Christ Church 
The church contains five fine stained glass windows. One represents the Christian virtues of Faith, Hope, Charity, Fortitude, Patience and Humility. The pipe-organ of Christ Church is the biggest in the Indian subcontinent and was installed in September 1899.
State Library 
Besides the Christ Church there is one small two storied colonial style building, It is the State Library in Shimla that was built back in 1860s. Today it's an important structure in the city from a cultural point of view and has preserved numerous rare and age old books that awaits keen readers. It is open only for members.
Between Christ Church and state library, there is a upwards way to the Jakhoo Hill, Located at an altitude of 2,445m, Shimla's highest point, is one of the most beautiful tourist destinations in Shimla. From the peak of the hill, one can have a panoramic view of the Shimla town and its surroundings. The landscape all around is a feast to one's eyes. At the top is an old Hanuman temple. We tried to climb it up but due to tiredness of the journey we had in morning, we can't able to. So we walk around The Ridge a bit. It is the center of Shimla's cultural and social life - an excellent place to view the surrounding mountains. There is a place back side of Indira Gandhi statue, from where you can view seven hills of shimla.
Town Hall 
Continuing from there we move towards scandal point, here we found the famous Town Hall, It is now used as Municipal Corporation building of Shimla. Built during the British regime in 1910, the Town Hall exhibits architecture reminiscent of the pre-independence era, preserved in its original form. But on that day renovation work is going on.
On the way to the Tourism Lift just opposite the town hall we found a restaurant called "wake & bake". We decided to visit the restaurant and grab some snacks for our evening hunger.
On the way to the Tourism Lift just opposite the town hall we found a restaurant called "wake & bake". We decided to visit the restaurant and grab some snacks for our evening hunger.
It was six in the evening when we ordered chicken pizza's for us with hot coffee. After the food episode is over we proceed towards Tourism Lift and hanging around for some times in lower bazaar. We made the booking for dinner in the kalibari canteen. By that time we are fully exhausted and eager to back Hotel as soon as possible. By that time temperature dropped significantly from earlier in the day and the view of Shimla from kalibari is dazzling. After dinner, we walk back to hotel Hilltop, to our room and curled under the
quilts and thought about the rest of our trip.